Ravenna is a beautiful city in the eastern half of Emilia Romagna. It is a lesser-known destination that offers an authentic getaway, with far fewer crowds than other places in Italy!
Ravenna is a destination packed with history and culture. From basilicas, mausoleums, tombs to the ancient and contemporary mosaics for which the city is famous. From visiting the many UNESCO World Heritage Sites, to sampling delicious fresh seafood, cycling in the nearby pine forests and swimming in the nearby Adriatic Sea, there are plenty of things to do in Ravenna.
So if you're looking for somewhere in Italy that is full of charm and traditional, I recommend considering Ravenna. Here's my travel guide to the beautiful city, including all of the best things to do in Ravenna!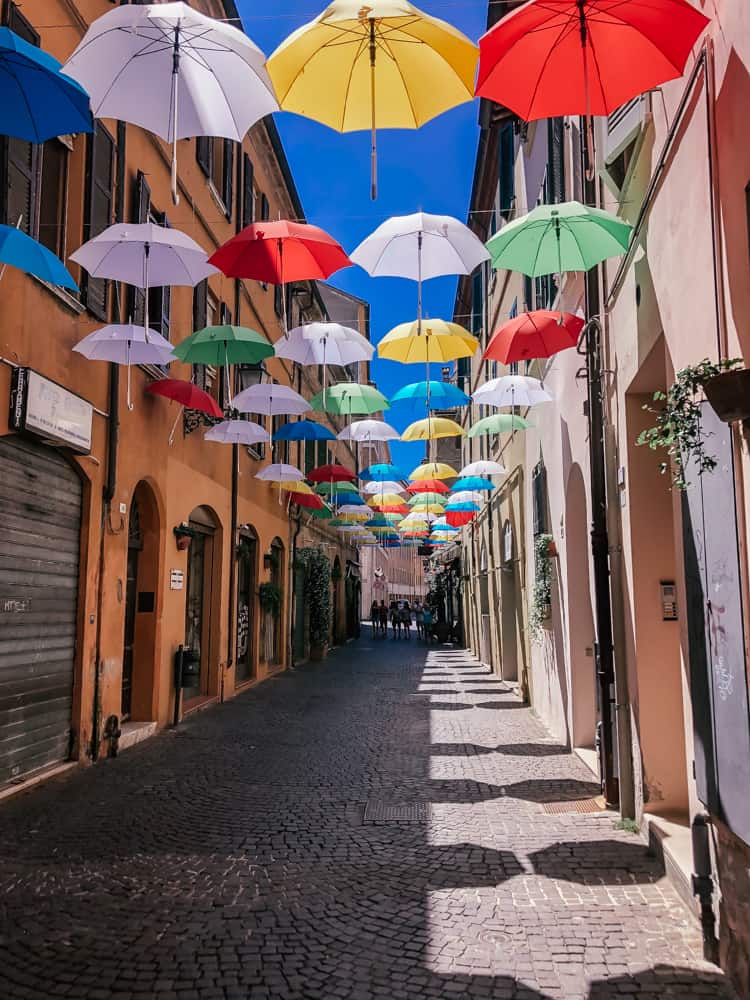 Ravenna Travel Guide: Essential Information
Ravenna is located in the region of Emilia Romagna, in the north of Italy. The region itself stretches from Milan, along the Via Emilia, all the way to Rimini on the Adriatic Coastline. Ravenna is located in the eastern half of the region, known as 'Romagna'.
The region of Emilia Romagna is world-renowned for several things, but the most famous exports are from the western half of the region, known as Emilia. For example, Emilia Romagna is famed for its fast cars, with Ferrari, Lamborghini, Pagani and Maserati all originating in Modena. Emilia Romagna is also home to some iconic Italian foods. Emilia is the home of ragu sauce (better known as bolognese), lasagne, Traditional Balsamic Vinegar, Parma ham, Parmigiano-Reggiano cheese.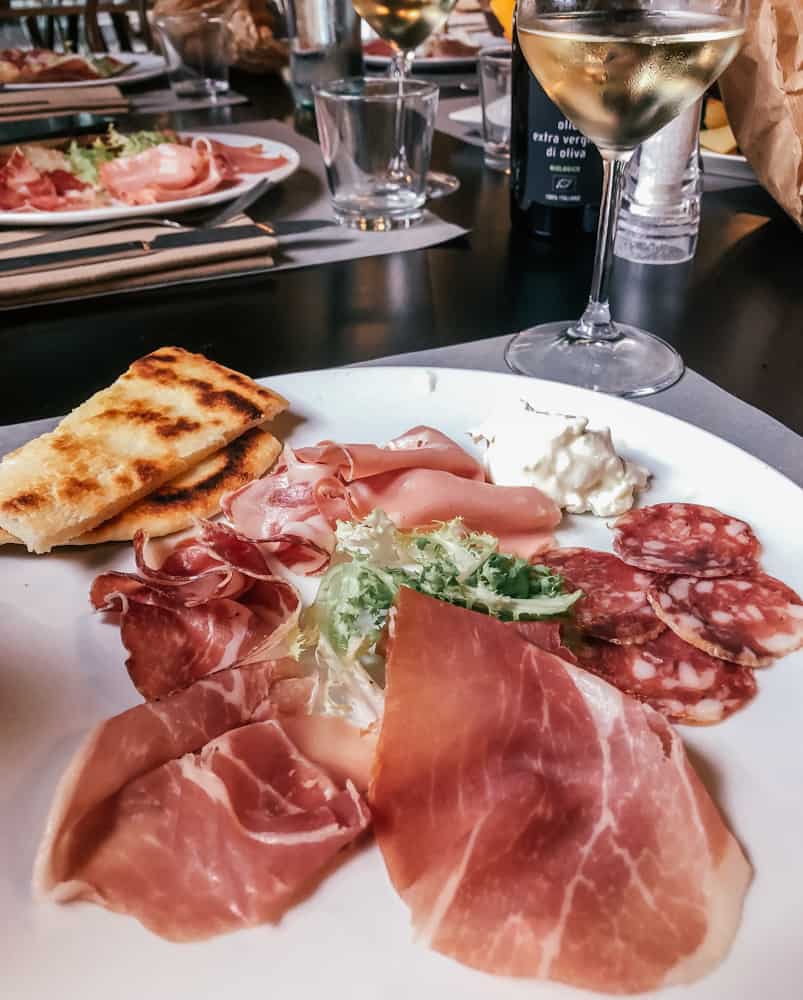 But despite Ravenna's richness in historical and cultural gems, there are far less visitors going here over Florence or Venice.
Ravenna, together with Rimini are the two largest towns in Romagna and both date back to Roman times. In fact, Ravenna was once the capital of the Western Roman Empire for over 250 years between the the 5th-8th century. Later, Ravenna became the heart of the Byzantine Empire. As a result, the city is a blend of Byzantine mosaics and Roman architecture.
How to get to Ravenna?
The nearest major airport is in Bologna, which is the principal gateway to Emilia Romagna. Flights arrive in Bologna from all over the world.
There is a smaller airport in nearby Rimini which is served by Ryanair fly from London Luton airport.
Ravenna is around a 1 hour train from Bologna or 1 hour on the road. So the city is easy to visit as a day trip from Bologna. But there's plenty to of things to do in Ravenna for two or three days.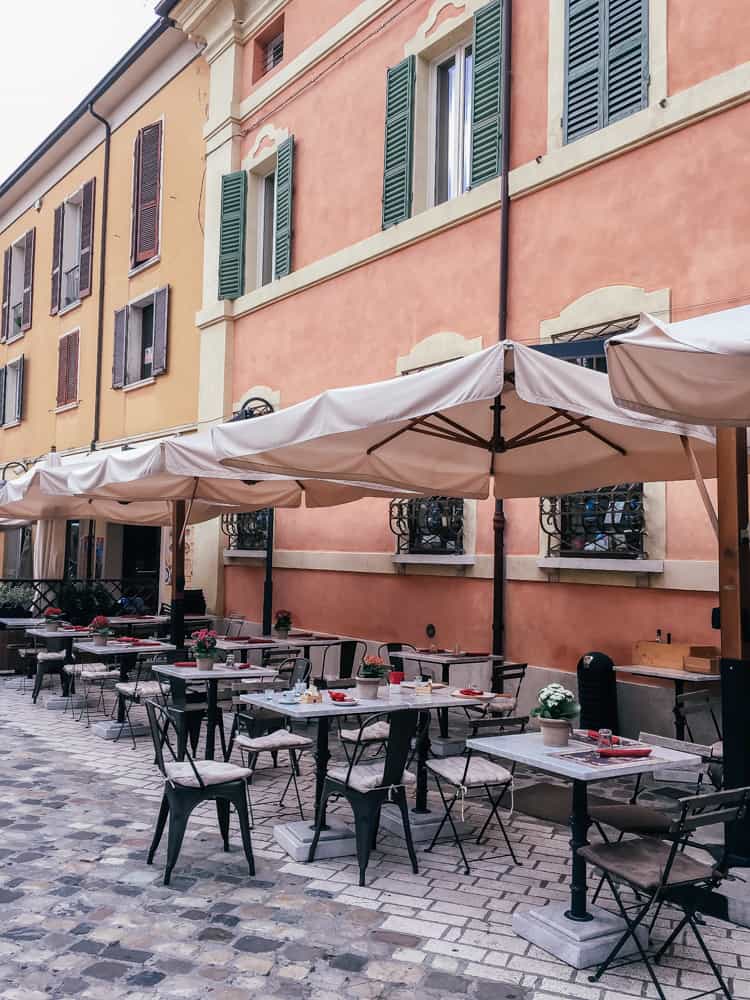 When is the best time to go?
To see Ravenna and the wider Emilia Romagna region at its very best, I recommend the late spring and early autumn months. So ideally May, June and September. The crowds are fewer during these months, but you're likely to be blessed with glorious sunny, warm days and little rain.
July and August can be a little too hot, unless directly by the coastline.
April and October are also pleasant months to visit, but there is an increased chance of rain.
Where to stay in Ravenna?
Ravenna is small, so most hotels have central and convenient locations. I love the Exclusive Hotel Residence La Reunion (£76 per night) and highly recommend staying here. I've also stayed in Casa Aurora (£64 per night), where I enjoyed a two-storey, two bedroom apartment. You can check for all hotels in Ravenna here.
You could also stay nearer the beach at Marina di Ravenna. It's very straight -forward to use the efficient bus system to travel back to the city centre.
Check for hotels in Marina di Ravenna here.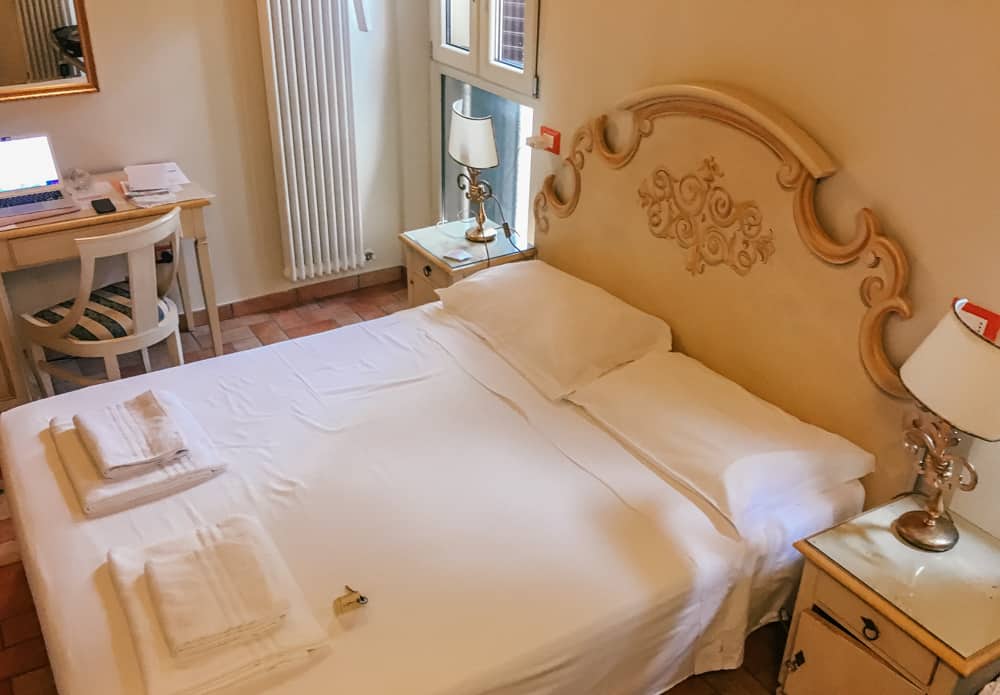 Best Things to do in Ravenna & surrounds
Take in the Beautiful Basilicas
As mentioned above, Ravenna was once the capital city of the Western Roman Empire, and the Byzantine Empire. As such, the city is packed with historical and religious sites. Impressively, many of these are in superb condition despite later conflicts in Europe.
Whether or not visiting religious sites is something you tend to do, you must take in the Basilica San Vitale even if just for a short visit.
This magnificent Basilica is a stunning example of Christian Byzantine art, with spectacular intricate mosaics adorning the ceiling. The art has to be to be seen in person!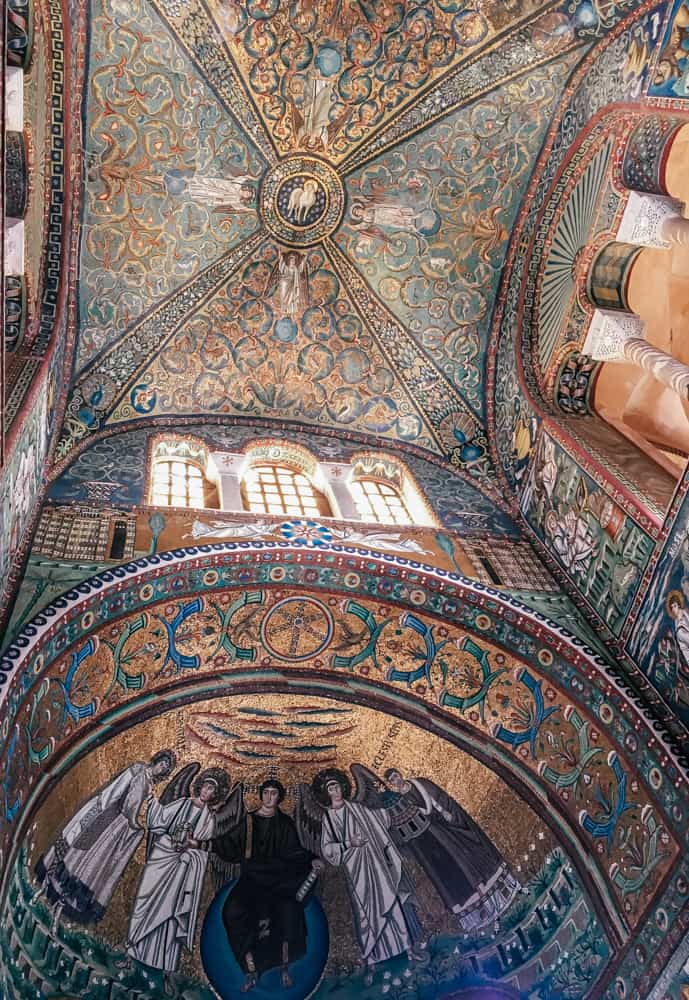 The Basilica San Vitale, which dates back to 525AD, looks like any other church from the outside, but inside is truly magical.
The acoustics are also exceptional with concerts regularly taking place inside the Basilica. If you visit in June, you may also be able to enjoy some of the concerts that are put on by the Ravenna Festival.
Other churches and basilicas in Ravenna that are worth visiting include the Basilica di Sant'Apollinare and Basilica di San Francesco. Both of these are of huge cultural and historical importance. Basilica di Sant'Apollinare is home to magnificent mosaics and Basilica di San Francesco has a hidden sunken crypt under the alter which is full of giant goldfish.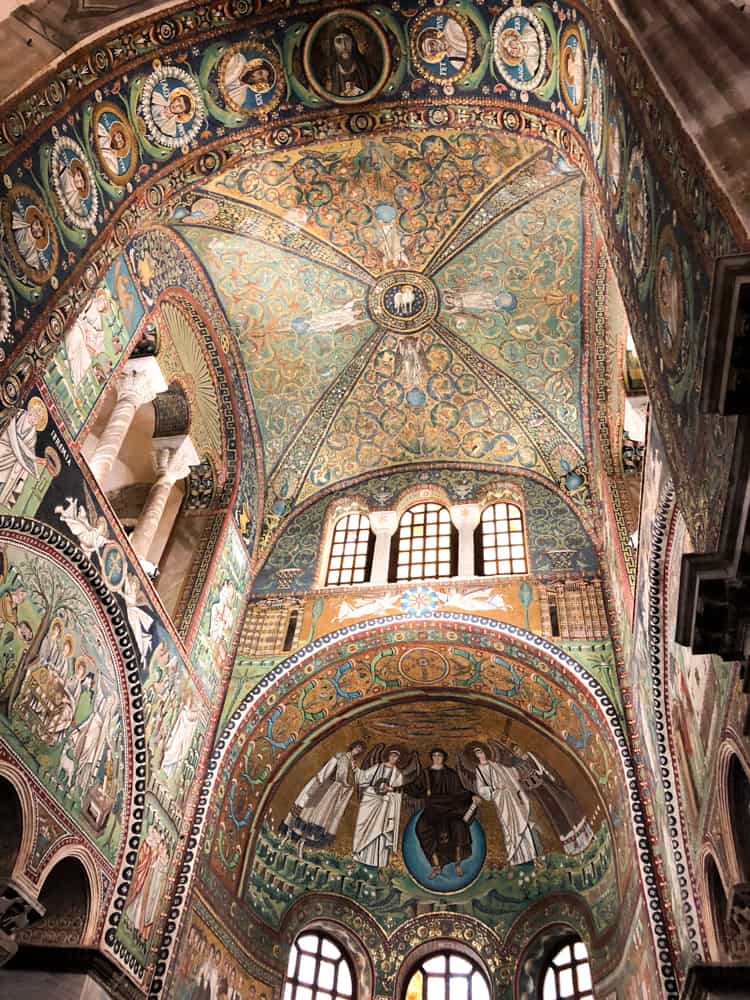 The best way to visit the six key UNESCO World Heritage Sites in Ravenna is to purchase a combination ticket, costing €9.50 per adult. Alternatively, you join a guided group sightseeing tour of Ravenna or a private tour, with skip-the-line admission.
Join a tour of Ravenna's mosaics
Ravenna is famed for its mosaics. These range from from 5th and 6th century masterpieces, to modern versions by local artists.
The most spectacular Byzantine mosaics are in the Basilica di San Vitale, the Basilica di Sant'Apollinare Nuovo and the Galla Placidia Mausoleum. I would recommend a locally guided tour for these, to fully appreciate their historical and religious significance.
This 2-hour private tour of the mosaic masterpieces is with a local english-speaking guide and costs £105 for a group of up to 8 people.
One of my favourites is the Galla Placidia Mausoleum, which is adjacent to the Basilica di San Vitale. From the outside, it's quite unassuming, but inside, the intricate mosaic work is spectacular and depicts a night sky.
Modern mosaics are dotted all across Ravenna, particularly as road signs or quirky street art. Make sure to also visit the Mar City Art Museum for colourful and unusual collection of contemporary mosaics, covering the quirky (such as unicorns), to the Italian lifestyle, in particular food!
Another fun thing to do is to make your own mosaics in a local workshop such as at KOKO Mosaico. This is also a great place to buy your own mosaics pieces to take home.
Stop by Dante's tomb
One of the most famous attractions in Ravenna is the tomb of the poet and author, Dante Alighieri. Famed for two pieces in particular, The Divine Comedy and Paradise, Dante chose to live in Ravenna, despite being born in Florence in 1318.
After Dante died in 1321, Pope Leo X demanded that his remains were taken back to Florence, however locals chose to remove and hide his bones. In 1865, there were later discovered during renovation work and today, his remains rest in his tomb in Ravenna.
You can find his tomb on Via Dante Alighieri, near the Basilica di San Francesco.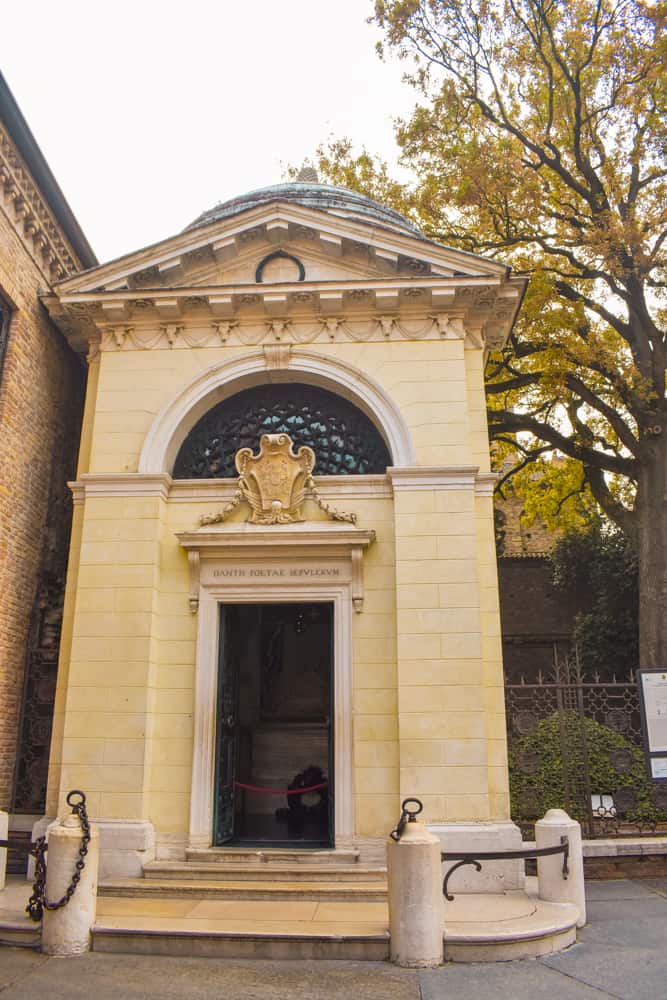 Sample Ravenna Cuisine
So of course, Emilia Romagna is famous for its excellent Italian dishes and ingredients, but what about the cuisine from Ravenna?
The popular Italian street food called piadina is from Ravenna and is a essential to try. Piadina are stuffed flatbreads and you'll see piadina all across Italy in small stands, but Ravenna its true home. There are all kinds of stuffings to choose, but one of the best combinations is Parmigiano-Reggiano cheese or mozzarella, with salami and green leaves.
Ravenna is also known for excellent seafood, due to the close proximity of the city to the coastline. Menus in local restaurants often include seafood risotto, fresh mussels and octopus.
In the nearby port town of Comacchio, pickled eels have been part and parcel of daily life for centuries. In fact, Comacchio is pretty famous for its marinated eels!
To learn more, visit the Manifattura dei Marinati, a museum and former eel pickling factory. And one of the best restaurants in Comacchio to sample eel is at Locanda del Delta.
And in the nearby town of Cervia, salt production dates back to ancient times. Today, you can see the traditional method of salt production in action and visit the Salt Museum to learn more. Make sure to buy some delicious salt to take home and stop by Officine del Sale for a delicious lunch.
Local pasta dishes here are also some of my favourite, with several dishes I've never found elsewhere in Italy. Make sure to try the hat-shaped pasta called cappelletti and gramigna, a type of pasta made of breadcrumbs. One of the best restaurants in Ravenna is Ca' de Ven and I recommend having at least one lunch or dinner here.
Explore the canals of Comacchio
Venice isn't the only Italian city built around canals. Comacchio, which is just a short drive from Ravenna is a mini Venice, but without the crowds.
This peaceful and colourful town is dotted across a series of islands in the Po Delta. They are all connected by a web of bridges, offering plenty of scenic viewpoints around the town. The best things to do in Comacchio are to explore the waterways by foot or by boat, as well as some of the delightful local producers and small cafes. The main canal is Canale Maggiore, which is linked by the beautiful Ponte dei Trepponti.
Visit the Po Delta
As an area of outstanding natural beauty and the largest wetland reserve in Italy, the Po Delta is definitely worth visiting on a trip to Ravenna. Spanning 11 acres, the peaceful lagoons of Comacchio are one of the biggest attractions in the Po Delta. Most interestingly, the Po Delta is home to a huge colony of wild red flamingos. Rent bikes at the tourist centre to explore the bumpy waterside trails. If you're lucky, you'll see the beautiful flamingos take flight.
Alternatively, you can join a local boat tour which is a relaxing way to spot the flamingos, as well as other local wildlife.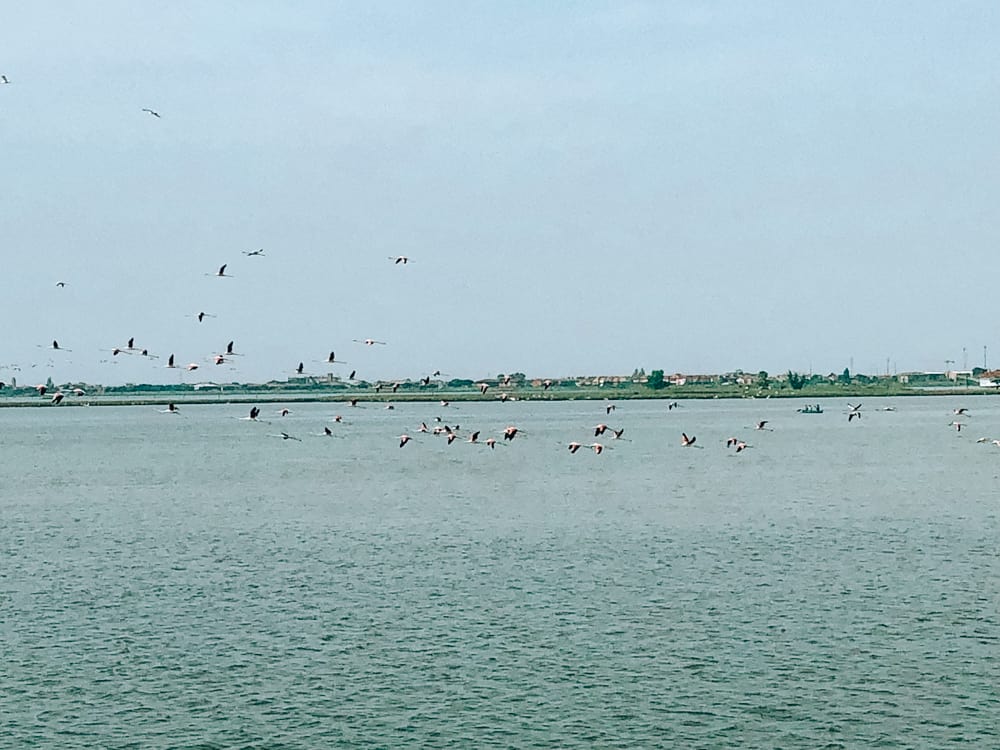 Bike through the local pine tree forests
Near to Ravenna is the charming port of Cervia. An extensive pine forest called La Pineta surrounds the area, stretching along the coastline to Milano Marittima. The trails are shaded and well-maintained, which is perfect for hot days. All the route, you'll see traditional fisherman's huts and scenic lakes. Milano Marittima itself is an upscale, beach resort for wealthy Italians, and it's well worth stopping here for a gelato.
Enjoy an aperitif
Of course, when in Italy, do as the Italians do!
A pre-dinner drink is an essential part of the Italian lifestyle, and often comes with a platters of delicious bite-size snacks.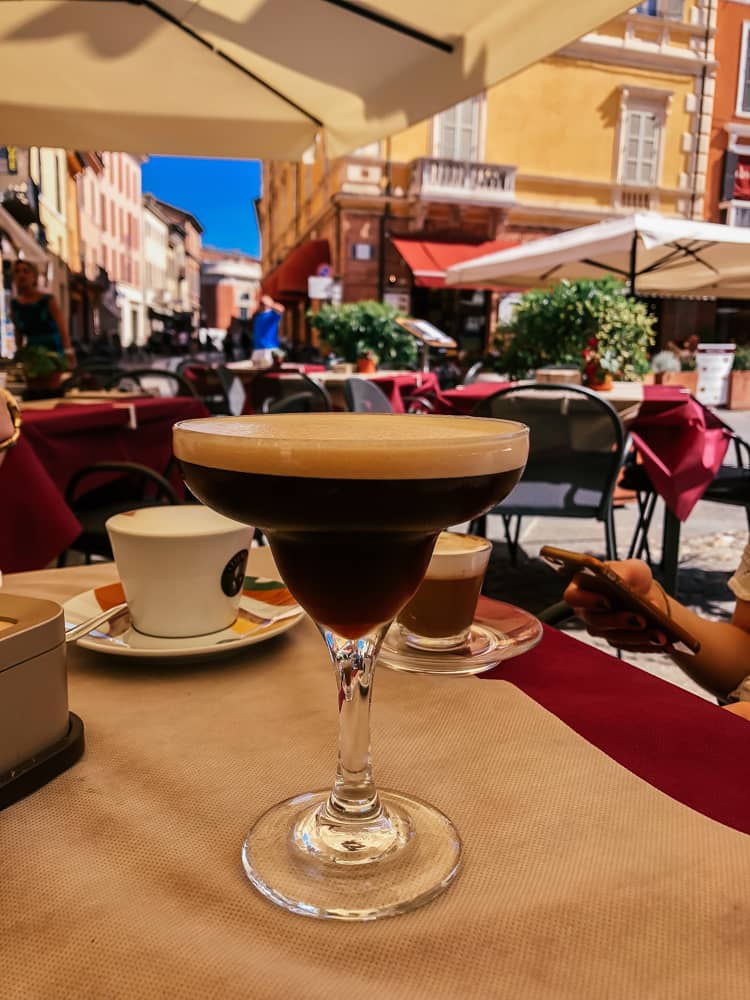 Piazza del Popolo is the main square in Ravenna and is located in the heart of the city. Pretty cafes border the piazza and there is plenty of outdoor seating and shaded umbrellas. It's the perfect spot for people watching. On some of the side streets stretching from the piazza are some other charming places for an aperitif. This is also a great place for a morning coffee, and you can watch the locals go by on their way to work.
Back in Cervia, you could also finish off a day cycling with aperitifs at one of the hip waterside bars. Some of these are so quirky and unusual. The Tiki-style bar called Henua is my favourite spot.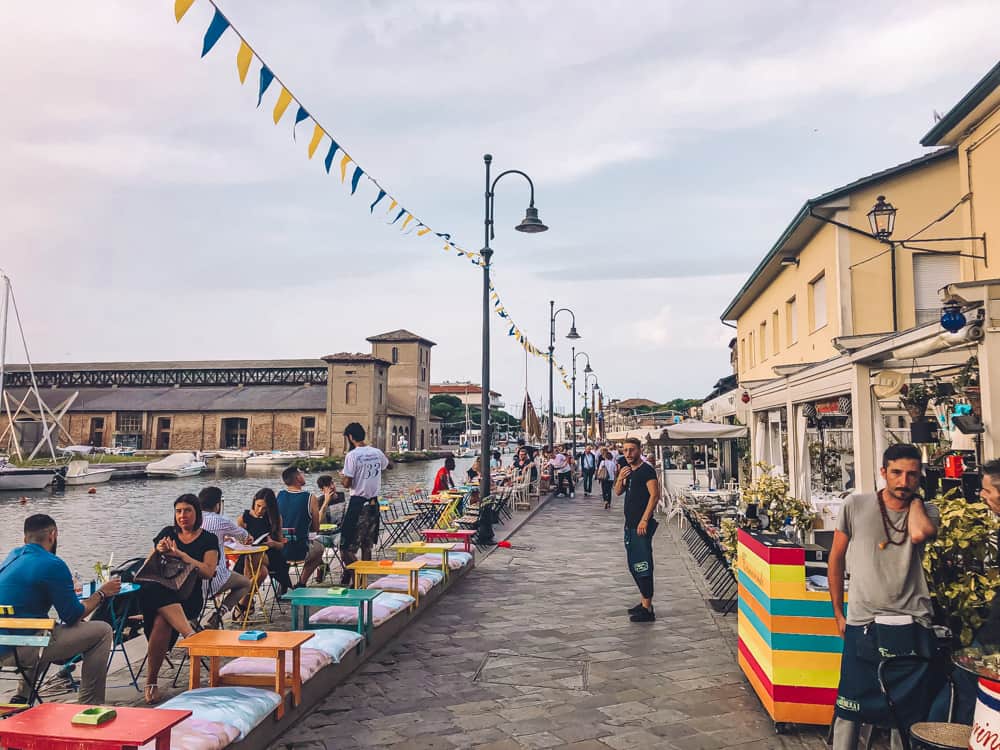 Another area in Ravenna for aperitifs is the up-and-coming docks on the northern side of town called the Darsenale Popup. The area was once disused wasteland, but it has recently been transformed with brightly coloured shipping containers and plenty of outside seating. Each container houses a quirky collection of bars, eateries and breweries.
Hit the Beach at Marina di Ravenna
The golden sands of Ravenna's beaches stretch for miles and miles, with sun loungers dotted in endless lines. It's somewhat reminiscent of the golden age of Italian beach holidays. There are dozens of cool beach bars and clubs and upscale restaurants where you can spend the day.
One of my favourite restaurants is the atmospheric Saretina 152. Here you you can dine on excellent seafood with your feet in the sand. They often have a live DJ so you can eat, drink and dance into the evening.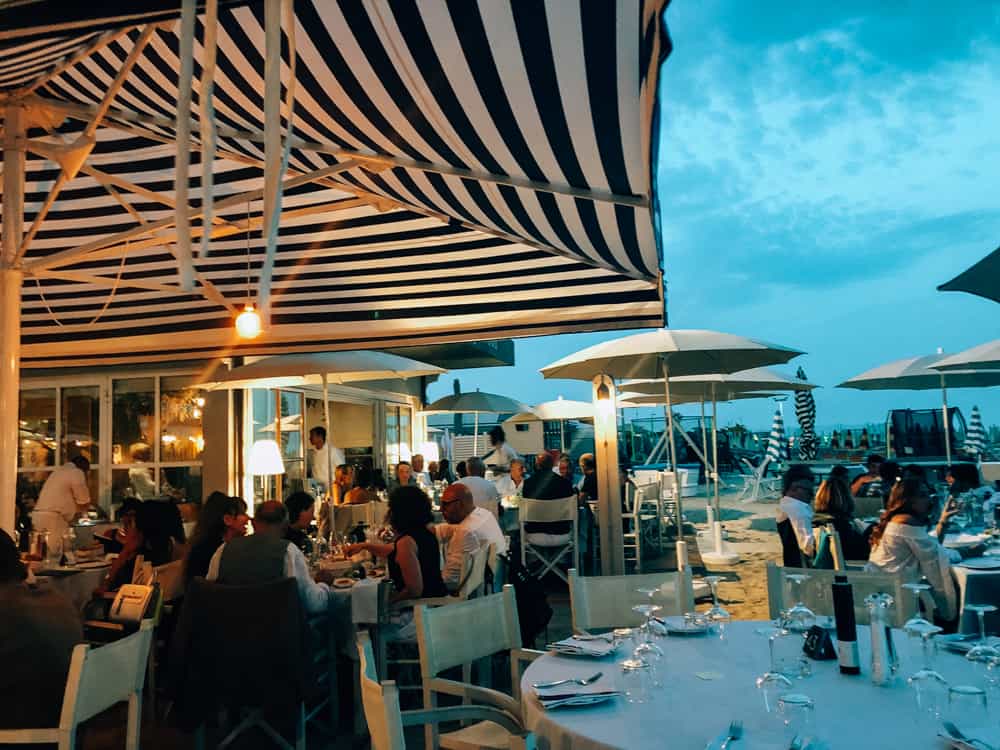 The best beach club around in Singita, a beautiful boho-chic bar surrounding by white linen daybeds. Make sure to try the delicious mussels here!
Ravenna Travel Guide
So there's my guide covering all the best things to do in Ravenna, including where to stay, where to eat and what to see.
I hope this is useful but feel free to drop me a line if you would like any further information. Whether you're visiting for a couple of nights, or going to Ravenna as a day trip from Bologna, the city has plenty to offer. If you are short on time, I recommend a local city tour taking the main attractions and the local cuisine.
Don't forget to also check out my Italy guides too, from spending a weekend in Venice to visiting Murano and Burano as a day trip from Venice too!
Wanna see more? Check my Instagram here, my Facebook here or my Twitter here!
Disclaimer: This guide is based on multiple visits to Ravenna. The tourism board has supported some of these visits.
Enjoyed my guide to the best things to do in Ravenna? Pin it!