China, the second largest country in the world, is one of the most diverse and contrasting destinations on the planet. Ancient traditions and complex history are sharply contrasted with the modern and futuristic architecture and transport. China can be loud and chaotic, and also rustic and remote. Having travelled extensively through the country, it really is like nowhere I've even been. And planning our China itinerary was one of the biggest challenges.
The country is vast, with so many stunning national parks and natural wonders, bustling cities and ancient UNESCO World Heritage Sites. It's certainly overwhelming to work out where to include in your China itinerary.
I travelled around China with my Dad, which was incredible. Despite the extreme July temperatures we faced, we kept up with each other and were definitely on the same page when it came to deciding where to go and what to do.
So here's my suggested China itinerary. It's ideal for first-time visitors who are keen to absorb as much as possible in two weeks. This itinerary will take in the bustling metropolises of Beijing, Shanghai and Chengdu, home to an awesome panda sanctuary. Away from the cities, it will take in Suzhou, known as the 'Venice of the Orient' and the magical riverside town of Yangshuo. It will also visit the otherworldly landscapes of Zhanjiaje National Park and the dizzying heights of Tianmen Mountain.
Let's jump in!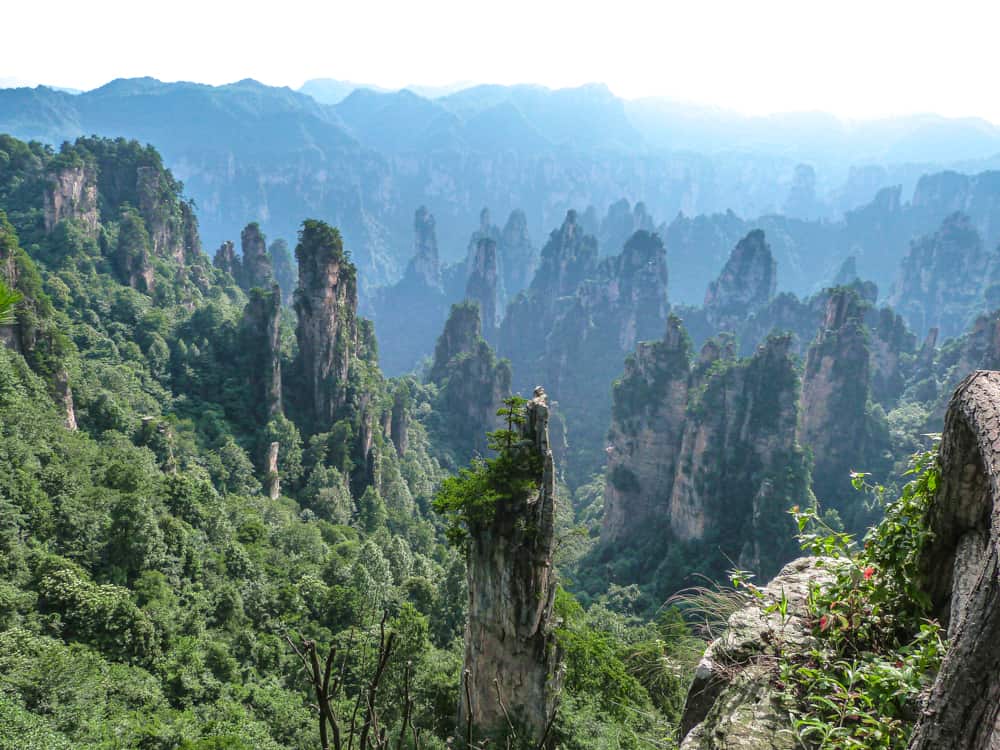 China Itinerary: Essential Information
Visa Requirements for China
First things first, how to travel to China!
Most nationalities need a visa to enter China, including those from the US, the UK, EU and Canada. It's most likely you need to visit your nearest Chinese embassy to get this.
In the UK, the Chinese embassies are located in Manchester and London. Check the latest on China entry requirements on the FCO website here.
Top tip: Your passport needs to be in good condition in order to apply for visa. Mine had water damage from 5 years prior, and was rejected. Luckily, I had enough time to apply for another one!
Some countries's citizens are exempt from needing Chinese visas, including Singapore and Japan. Definitely check the most up to date information at your relevant country's travel advice page.
How to get to China
There are a large number of international airports in China, with many offering direct flights to the UK. However, for tourism purposes, it makes most sense to land into Beijing Airport (PEK) which is the capital of China. Alternatively, you could land into Shanghai Pudong Airport (PVG).
Other airports with direct routes to the UK, and other major international destinations include Chengdu and Guangzhou.
For this itinerary, I suggest flying into Beijing and departing from Chengdu. We found this straight forward to book with British Airways, who offers direct flights for both of these airports.
Other airports serving the main airports in China including:
China Southern
Air China
China Airways
China Eastern
Qantas
United Airlines
Delta
American Airlines
Getting around China
Flying
China is vast, but fortunately, well connected. Flying is the most efficient and convenient way to travel around China, and the domestic network is very comprehensive.
The main airlines covering domestic routes include:
China Southern
Air China
China Airways
China Eastern
Shanghai Airlines
Sichuan Airlines
Shenzhen Airlines
To explore the country, we used a mixture of domestic flights and train travel to ensure an authentic experience. I've flown on Air China, Shanghai Airlines, China Southern and China Eastern. I can definitely recommend all these airlines for a safe and comfortable flight, but they can all be a little delayed sometimes.
Train travel
Trains in China are awesome – especially the high speed trains, many of which reach speeds of up to 400mph. I recommend including several trains throughout a China itinerary for the experience. It can also be more convenient as the stations are typically closer to the town/city centre than airports.
Whilst the train experience is often air conditioned and comfortable, the ticket purchasing experience is not.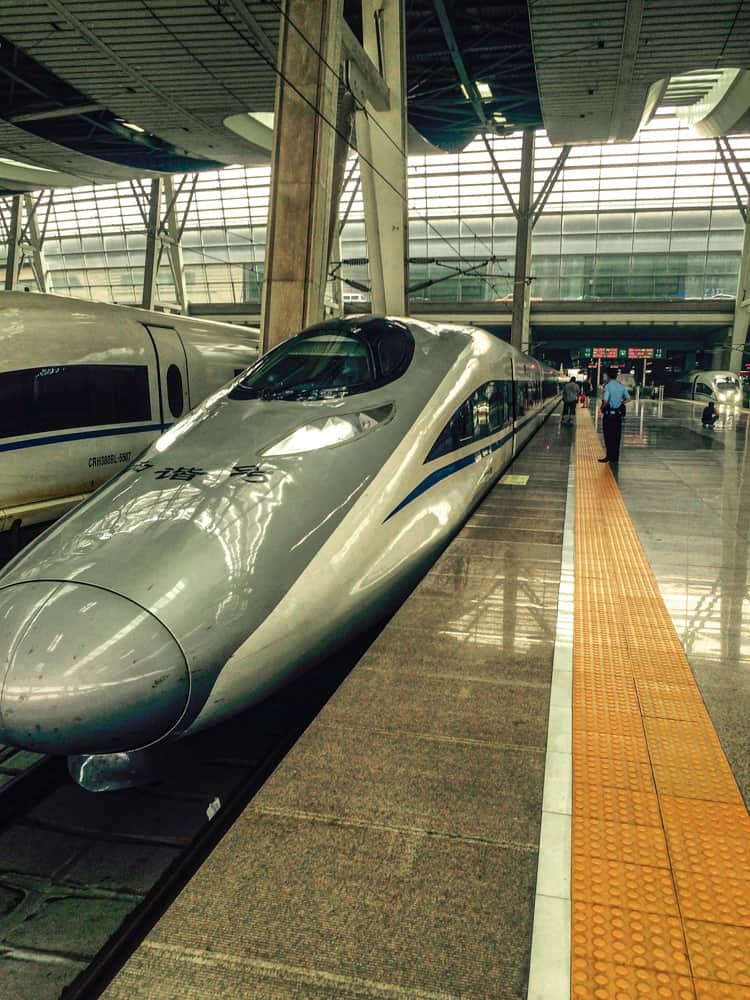 You can book the tickets in advance online, but there's two challenges here. Firstly, the official website is nearly entirely in Chinese. Then, there are tiny subtle differences in the language that can mean you book the wrong station. For example, Suzhou and Suzhou. One is the popular town consisting of beautiful waterways near Shanghai, and the other is in the middle of nowhere. But their names are the same.
Furthermore, the tickets either need to be collected at the station, or be delivered to a Chinese address. For many travellers this wouldn't be feasible.
After making the above mistake, we chose to arrange the rest of our train tickets at the train station the day before. Some of the train stations in China are massive, particularly Beijing and Shanghai. So we found this to be a great way to familiarise ourselves with the station beforehand and without bags.
The high-speed trains in China aren't cheap, but are efficient, comfortable and an exciting experience. You definitely pay a premium for business class too.
If you're travelling around China on a budget, then consider opting for the older trains which still operate. They're a fraction of the cost.
The Seat61 guide is the ultimate resource for booking all train travel in China.
The Maglev train
This train serves Shanghai's Longyang Road Station to Pudong International Airport (PVG). It's an 8 minute journey, covering 30km at a top speed of 430km/h (267mi/h).
The unique element of this train is that it runs on magnetic levitation and Shanghai is the only place in the world to have this kind of train.
The Maglev train reaches its ultra-high speeds by using magnets' opposite poles on the railway track to create levitation. In fact, it is the world's fastest train!
Fares for the Maglev train in Shanghai are CNY50 (approx. £5.75/USD$7) which is more expensive than subway the whole way. But for the unique experience of travelling by maglev train, I highly recommend!
You can buy tickets at a machine at Longyang Road Station, and the train departs every 15-20 minutes.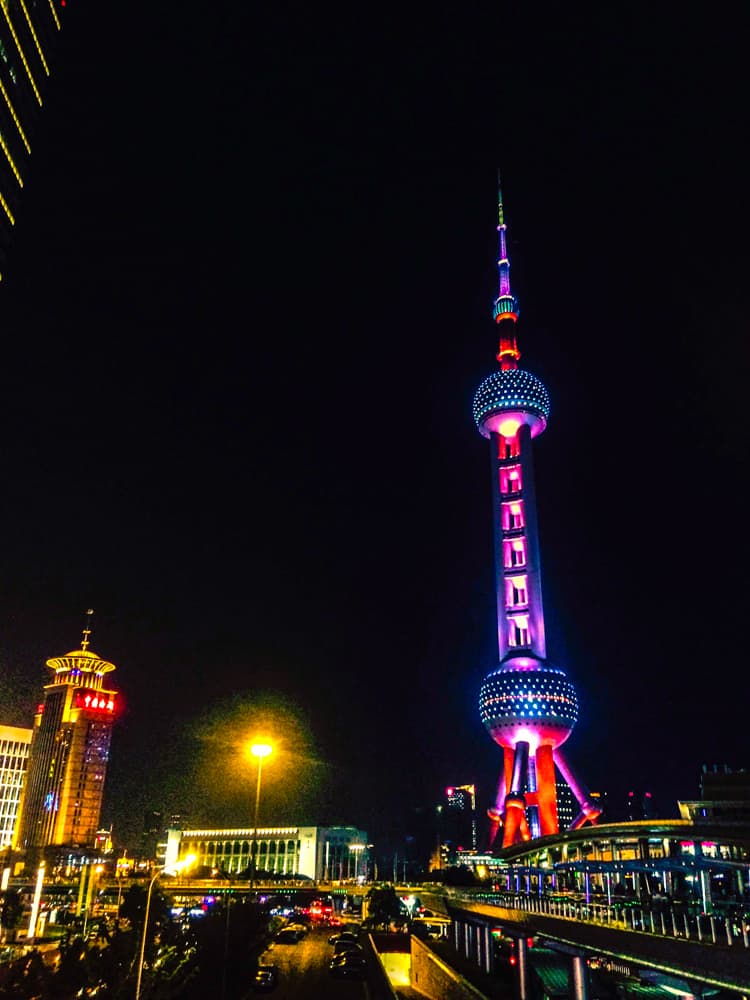 Bus
Travelling by bus is the cheapest way to get around China, but definitely the slowest. In a two week trip, I wouldn't recommend opting for buses as it will highly impact the time you can spend in each place.
Furthermore, bus stations (particularly the one in Beijing) are huge and confusing, with few signs in English. It could easily become a stressful experience with luggage if you're running late.
Buses within the cities are often modern, clean and frequent, but again the language barrier can prove challenging on the bus system.
Subway
The subway is an extremely efficient way to get around, and it nearly always has the station name translated into English. Subway trains are modern, clean and fast and easy to navigate for first time visitors.
We used the subway extensively in Beijing and Shanghai and found it to be excellent. And despite the sheer number of people using it, they manage to scan every bag and every person before you head underground on the escalator. Very impressive!
Like many cities around the world, you need a rechargeable smart card which you can buy from a machine or a cashier. The fares are super cheap (normally around 2-5 CNY) which is 20-50p or USD$0.30-0.70).
Taxi
Taxis are plentiful and generally quite cheap. The drivers rarely speak English, even in Beijing or Shanghai so always take a business card from your hotel with the address on it.
We found some taxi drivers to be somewhat unwilling to take us as foreign tourists. We're still unsure why, but one driver even refused to take us from the bus stop to the Great Wall of China, despite us pointing at a picture of it in a guidebook.
When is the best time to travel to China?
As China is such a vast country, spanning five different time zones and dozens of different climate zones, deciding when to go very much depends on what you're planning to see and do, and personal preferences.
Generally, the best times to visit are during the transition seasons of spring (April and May) and autumn (September to October). During these months, the temperatures are warm but comfortable. Best of all, the crowds are lower!
The summer months, particularly July and August can be scorching hot, with extreme humidity and heavy rainfall. The crowds can also be high during this time.
I wouldn't necessarily say avoid visiting during these months. But I'd prepare for extreme heat and humidity. I went in July and although we experienced a heatwave with daily temperatures in excess of 45c (113 degrees), we had an amazing time.
A key time to avoid visiting is during the Chinese New Year, which depending on the lunar calendar, tends to fall in January or February each year. Lasting around 10 days, this is a major holiday period for Chinese people and everywhere gets seriously busy.
Visiting China in the winter means much of the country is very cold, particularly Beijing. However, if you want to see the Great Wall of China covered in snow, then this is a great time to visit!
Other useful information
Internet
It's a well known fact that China is very strict on internet and social media use. Internet use is heavily controlled and sites such as Facebook, YouTube and Instagram are blocked. However, the way around this is to use a VPN (Virtual Private Network). You can set this up in your home country before arriving. Some of the best VPN apps for your phone or laptop are:
ExpressVPN
Surfshark
NordVPN
This guide here on the best VPNs in China may be useful, as well as this detailed guide to the best Apps in China.
In terms of WiFi on the go, I found it could be quite hit and miss. I would generally recommend a local prepaid SIM if you want to stay connected whilst travelling in China. You can arrange this in arrivals at the airport, as you need ID and you'd already have your passport on you.
You can arrange a 30-day SIM card to be delivered to your hotel using this service, which I highly recommend.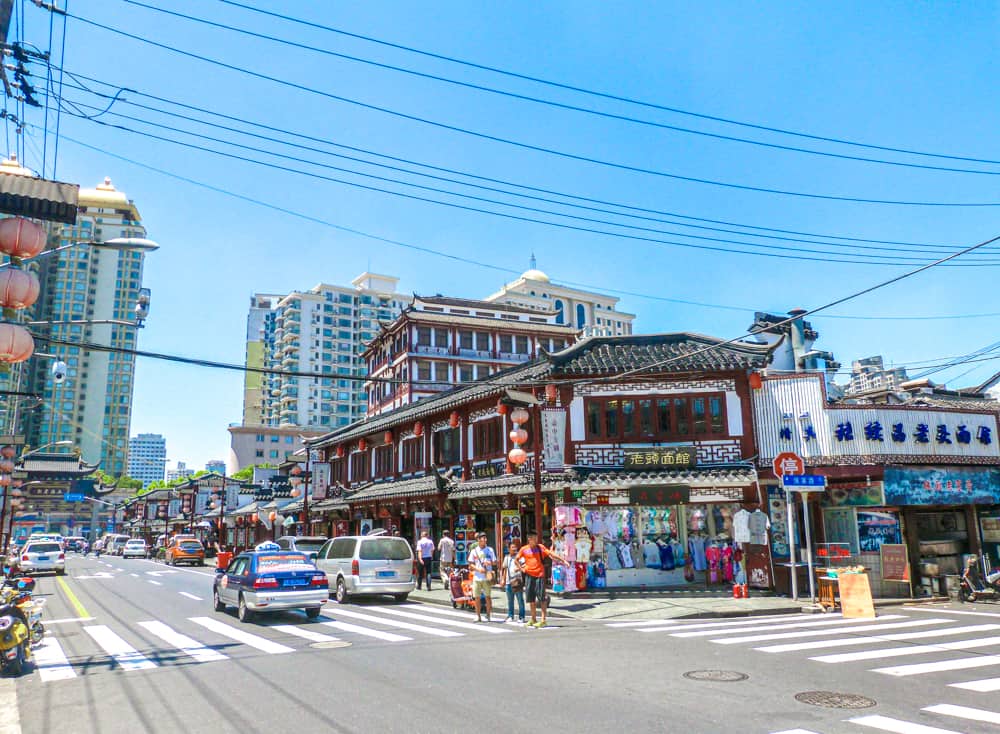 Food in China
Everyone in the world knows something about Chinese food. Whether it's the familiarity of your local takeaway, or the much discussed fact that the Chinese eat meats such as dog.
I'm pleased to report that I found it fairly easy to avoid unusual meats I didn't want to eat. You can avoid going to the markets that sell and prepare these meats, and you can opt for the vegetarian option on menus.
We often selected chicken with our meals, and as much as we certainly hope we only ate chicken, we can't ever be 100% sure.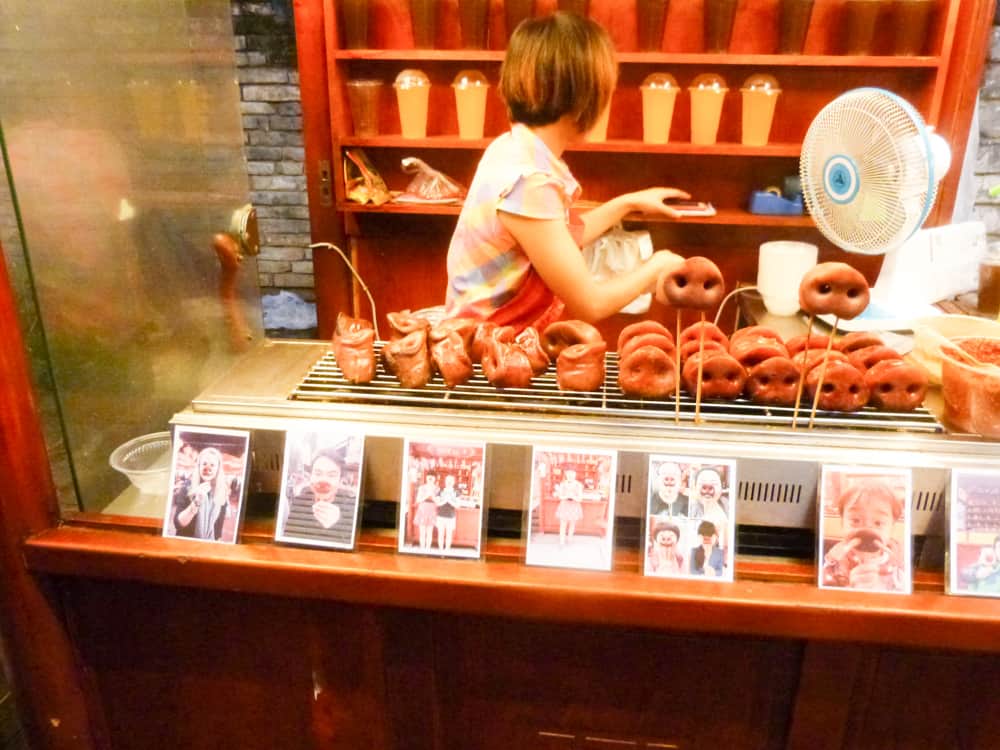 If you are very unwilling to eat anything too foreign, it's best to politely refuse any gestures from locals to eat at their homes. This could happen, and if it does, you may run the risk of being presented with a meat you don't want to eat.
You could join a foodie tour, such as this small-group Lonely Planet food in Beijing tour with a local guide. This is a great way to get to grips with the cuisine, with the guidance of a local!
We found a good mix of international and Chinese restaurants all over China. In some more rural places, such as Zhangjiajie, there was a short street of restaurants, so we picked one and hoped for the best. In other places, such as Chengdu or the other big cities, there is a great variety of restaurants.
Yangshuo, the penultimate place in my China itinerary is famous for mangos during the summer months. This charming town is packed with smoothie stands, so you can enjoy the most fresh and delicious mango drinks all day long.
Food is generally really affordable throughout China, but at major tourist attractions, such as the Great Wall of China, we found the food to be extortionate.
We also found beer was readily available throughout China, even in cafes during the day.
Language in China
One of the most challenging aspects of travelling in China is the language barrier.
The official language of China is Mandarin, which differs to Hong Kong, where the main language is Cantonese. There are also hundreds of dialects throughout the country. We quickly found out that actually, speaking English is quite uncommon, even in the big cities. In more rural areas such as Zhangjiajie, it was rare.
Unfortunately, we found more local people who didn't want to try and help us than those that did. I don't want to say this is a poor reflection of the Chinese people, but few people wanted to let us even attempt Mandarin using the translations from our guidebooks.
We also found entire receipts passed to us in Mandarin, and to be honest, we had no idea what they said or what the amount came to.
Overall, I would say China is the most challenging place I have travelled around. With so little written in English, and often little help from locals, there were times we spent totally lost and wandering around.
Google Translate app has definitely helped things along, you just need to find someone who's willing to stop and help you.
Cultural customs
Although China isn't conservative like the Middle East, I do recommend dressing without bearing too much skin if you're a woman. I wore shorts and a t-shirt most days and this was fine.
In terms of the Chinese people, it depended where we were as to our interactions. At a colourful night fair in Yangshuo, a local family thrust their baby into my arms and crowded round me for a photo and were so friendly, despite the language barrier.
But in Zhangjiajie, we couldn't get a single local to stop and help us with the walking routes on a map. In Ghangzhou, we had our only really bad experience where some airport taxi drivers were nasty verbally. They even put their middle fingers up when we asked how much to a hotel.
On the other hand, we had some wonderful experiences where despite the total language barrier, a train station steward patiently helped us when we had got on the train to the wrong Suzhou. He allowed me to type into Google Translate to ask questions and responded back by typing in my phone. Another man at an airport hotel which was fully booked in Ghangzou arranged for a friend to pick us up and take us to a hotel in town, for a very good rate.
You will also notice things like spitting in the street and throat hacking, but it isn't normally as bad as you might have expected.
Travel independently or join a tour?
Joining a tour to explore China can be a great idea, especially to help you navigate the very tricky language barrier. With a local guide leading the way, it can be a great way to visit all of the top places without getting too lost or stuck along the way. You also have the added benefit of a wealth of local knowledge, particularly around the dinner table or at cultural attractions.
We travelled independently, which made for an exhausting but rewarding experience. It allowed us to also make last minute changes, such as deciding to forfeit a night in Guilin and add an extra night in Yangshuo, as it was so amazing. We were also able to add in down time when we needed to, or upgrade hotels when we urgently needed an extra good shower.
So it is definitely down to personal preference, and if you're looking to travel around China solo, it may be nice to join a tour. We didn't often see that many other Western tourists along our way.
Alternatively, you could travel around China independently, and joining guided tours to complement this. For example, the Great Wall of China is actually a bit of a headache to get to on local bus and taxi, and this is a great example of an activity best done as a tour.
Ultimate China 2 Week Itinerary
So let's go! This China itinerary is aimed at first-time visitors who want to take in some of the country's best known destinations, such as Beijing, Shanghai and Chengdu as well as lesser known charming corners. I've picked Zhangjiajie for its incredible landscape and scenic routes, as well as Yangshuo, my personal favourite place in China. However, I've also included some alternative destinations in China to visit.
I suggest using a mixture of trains and planes to keep the travel times lower, but this China itinerary will still be fast-paced and action-packed!
If you'd prefer to slow this itinerary down, I recommend removing one destination and spending longer in other places.
Here's an overview of the route:
Beijing: Day 1-3 (including a day trip to the Great Wall of China)
Suzhou: Day 4
Shanghai: Day 5-6
Zhangjiajie: Day 7-8
Tianmen Mountain: Day 9
Yangshuo: Day 10-12
Chengdu: Day 12-14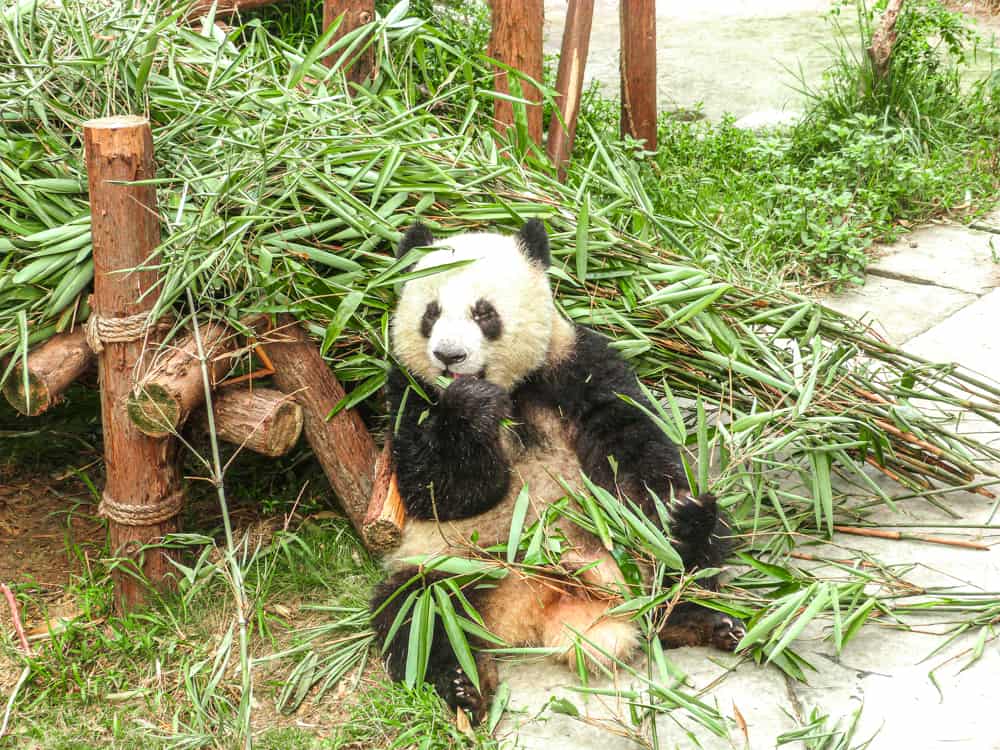 Beijing: Day 1-2
The capital of China and an ancient city dating back over 3,000 years. Today, Beijing is a city of extreme scale and size, both traditional and technologically advanced.
For one, it is the world's most populous capital city with almost 21 million residents, but the second most populous city in China (after Shanghai). Beijing is also home to the world's busiest and longest subway, as well as the second busiest airport in the world.
To put simply, Beijing is both vast and hectic, but also organised and contained. That being said, as a tourist, the main sites to see are in a fairly concentrated area in the heart of Beijing. It is easy enough to see the key tourist attractions over the course of two days, complemented by a day trip to the Great Wall of China. So let's dive in on what there is to see in Beijing in three days.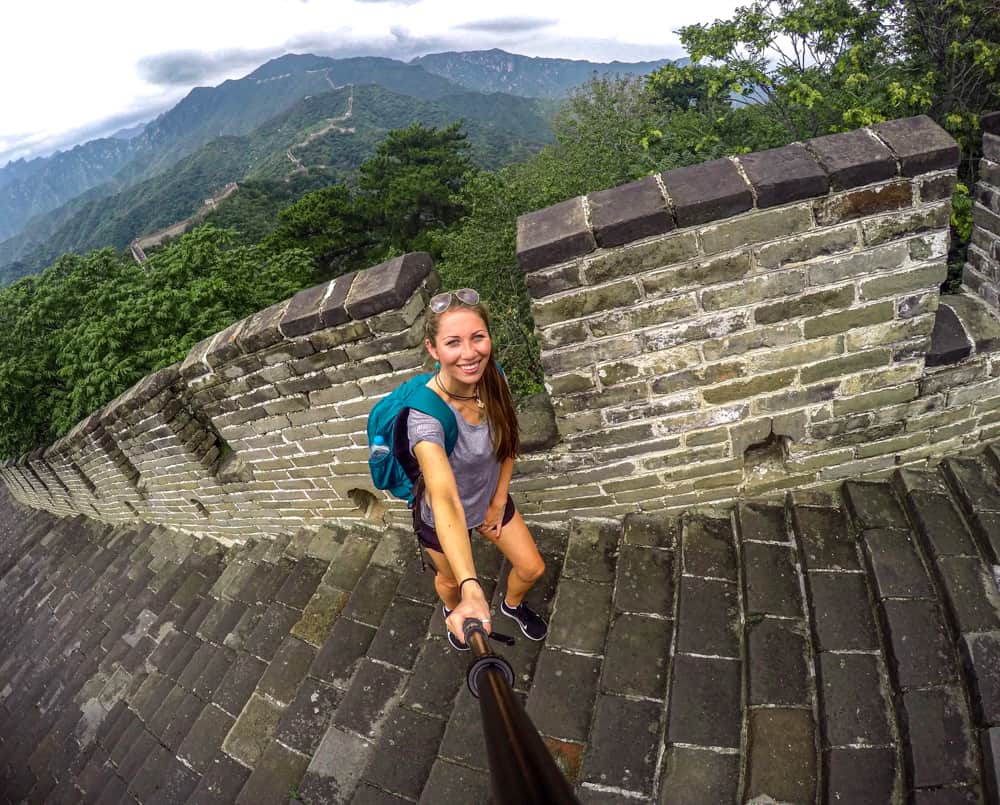 Forbidden City
This was the first attraction in Beijing that I visited after landing at Peking airport, and I found it fascinating, despite the poor weather we endured that day.
Visiting the Forbidden City was a great crash course in Chinese history, as this imperial palace has served as the home of Chinese emperors for almost 500 years. The whole complex is vast, but due to the extreme July heat and some impending jetlag, we managed to explore the highlights of the Forbidden City in a full afternoon.
Arriving at lunchtime, (which I wouldn't normally recommend for a key tourist attraction), actually worked in our favour and we got through the line to buy tickets quite quickly.
However, if you are visiting in the morning for a full day, I would strongly recommend booking a guided tour which includes skip-the-line access too.
Tiananmen Square
Opposite the Forbidden City is the famous Tiananmen Square. Take in the huge Mao Portrait over the entrance to the Forbidden City. This has been the setting for many protests, particularly those in 1989 pushing for democracy. There is no entry fee here, and you may find yourself here several times throughout your visit, as it is located above a central and convenient subway station.
If you visit at dawn or dusk, you'll have the opportunity to see the huge national flag raised or lowered by the guard, which is a great spectacle.
Jingshan Park
Located behind the Forbidden City is Jingshan Park, a former private imperial garden. There is no entry fee here either and you'll regularly see locals practicing tai chi or walking in small groups.
Inside, there is also a small hill to climb for excellent 360 degree views of the city and the recently restored Shouhuang Temple, which was originally built in 1749.
This excellent tour here takes in the Forbidden City, Tiananmen Square and Jingshan Park with a local English-speaking tour guide over a half day.
Explore the Hutongs
Hutongs are older-style residential areas based around a network of traditional alleyways. There are several sprawling hutongs throughout Beijing, but some are more geared towards tourists.
We loved spending a half day exploring Nanluogo Xiang. It's packed with boutique stores, cafes and restaurants, that is equally popular with locals and tourists. You'll see lots of young cool Beijing locals and plenty of interesting fashion.
Nanluogo Xiang is the home of hip cocktails bars tucked away in hidden courtyards, alongside locals gossiping and catching up over xiangqi, a version of Chinese chess.
Another hutong area worth visiting is Wudaoying Hutong which is quieter and offers a more authentic experience.
These are easily self-explored, but you can join a local rickshaw driver for a guided tour which is awesome or a small group cycling tour.
Eat at the Wangfujing Street Market
We loved this market, although we stumbled upon it by accident as our hotel was very close. Turns out, this is one of the best places to go to in the evening in Beijing. The street food section is an curious array of insects and seafood on sticks, but there are some more normal options too, such as delicious fruit salads.
This market is loud and chaotic but a great way to feel part of local life.
Make sure to also try the famous Peking duck at a local restaurant such as Sheng Yong Xiang.
This awesome evening foodie tour by tuk tuk takes in the best of the Beijing food scene, from peking duck to street food and locally brewed beer.
Visiting the Beijing Olympic Park
As a huge fan of the Olympics, this was a must for me. Seeing the Bird's Nest stadium was awesome, and this is now a popular area for locals to spend their evenings amongst the fountains and enjoying the light display.
You can also see the Water Cube venue, which came back into use for the 2022 Winter Olympics.
You can visit the Olympic Park and the nearby Beijing Zoo with this excellent tour here.
798 Art District
This neighbourhood is home to the burgeoning artistic scene in Beijing, and there are dozens of world-class art galleries here to peruse. Located within a former factory complex, this area has been transformed to house exhibitions from local artists, to world-famous artists.
Where to stay in Beijing
There are a huge number of places to stay in Beijing, covering all budgets and preferences. I've popped some suggestions here:
Budget hotels:
For those looking for great value, but authentic stays, one option is to stay in a small guesthouse along one of the narrow alleys of a hutong. My suggestion for this would be The Orchid, in the local hutong of Gulou, where a double room starts from £91 (USD$111).
Another option is LeZai Hotel located in Shajing hutong, where rates start at about £40 per night (USD$40).
Mid-range hotels:
We chose to stay in the Crowne Plaza Wangfujing for its excellent location and comfortable stay, and would highly recommend.
The Hotel Eclat offers amazing bang for buck, with 20 of the rooms offering private pools in the heart of the city. The rooms are also themed so book ahead for greater variety to choose from. Rooms start from £147 per night (USD$180).
Luxury hotels:
PuXuan, also in Wangfujing and opened just last year. It has a fabulous spa and excellent views across the city. Double rooms start from £215 per night (USD$263)
Or for the ultimate luxury stay, consider the Rosewood Beijing where double rooms start from £225 per night (USD$276).
Great Wall of China: Day 3
The iconic Great Wall of China is highly likely to be top of your list of things to do and see in China. And for good reason. It's an incredible day trip, and one I'd love to go back to do again. We chose to do it our trip entirely by public transport, which was quite fiddly however we were some of the first to arrive and therefore had an incredible experience of being some of the few people on the wall.
How to get to the Great Wall of China
There are several points where you can see the Great Wall of China – after all, it is over 13,000 miles long!
The area of Badaling is the closest to Beijing's city centre, and unsurprisingly is the busiest section. It's also very touristy.
Mutianyu is a little further, and although it is still really popular, it is far less busy than Badaling. There's also the added bonus of a cable car to head up to the Great Wall, and the thrill of a luge to descend again.
If you want to see the Great Wall with far less crowds, the sections you should consider are Jiankou, Simatai, Gubeikou, Jinshanling and Huanghuacheng. These take a little longer to get to, but a return trip can still be done in a day. You could also take a day trip to these sections:
We chose to go to the Mutianyu section. Although we followed instructions to the bus station and onwards, we actually found it a very frustrating journey. The route is:
Take the subway to Dongzhimen 东直门 Station.
From here, head to ground level and to the Dongzhimen Bus Station (Jiaotongju 交通局) to take the #916 to Huairou 怀柔
Take a taxi on the street to Mutianyu 慕田峪
So this sounds wonderfully straight forward, I know.. I wish it had been though.
We got to the Dongzhimen Bus Station fine, but spent probably 30 minutes or more on a wild goose chase around the station looking for the right bus stop. We asked locals and were sent in so many different directions. However, we eventually boarded and carefully watched for 怀柔 (Huairou) to come up on the electronic board at the front of the bus, so we knew when to disembark.
When we finally got to Huairou, we had a far harder job getting a taxi than we expected. We actually found a local hospital and waited to jump into a taxi there instead, but once in it, our taxi driver really struggled to understand where we wanted to go. Despite us pointing to a very clear picture of the Great Wall of China (that was displayed in his taxi..).
Somehow, we made it to Mutianyu fine, and fortunately were some of the first people to arrive that day. We were there well before the tourist buses. You can buy tickets on the day as the gates, before proceeding through to the tourist village. Naturally, there's every kind of souvenir under the sun to buy.
There is a cable car to take you from the tourist village at Mutianyu to the actual Great Wall which was awesome. The views were phenomenal. At the top, we explored in both directions, but there's only so far you can go, as some of the wall has crumbled and the path has been destroyed.
Arriving early is definitely the way to go, as well as going on a midweek day. The proof is in my photos!
When we were ready to head down, we joined a short queue for the luge (like a toboggan on a metal shute). I highly recommend doing this – it was thrilling and a totally unexpected highlight of our day.
Back in the tourist village, we stopped for a very overpriced lunch before navigating the bus system back to Beijing city centre.
Suzhou: Day 4
It's time to leave the hustle and bustle of Beijing. Suzhou is a logical next stop as it is on the train route between Beijing and Shanghai.
This beautiful town is made up of waterways and is referred to as the 'Venice of the Orient'. I personally thought it was a little bit like Hoi An in Vietnam.
I would recommend a full day and night in Suzhou, so you can explore this beautiful town in light and darkness, when all the red lanterns are lit up. You could alternatively visit as a day trip from Shanghai, but it means coming back on yourself if you travelled there from Beijing.
When leaving Beijing, ensure you have the correct Suzhou on your ticket so you don't repeat the mistake we made (see travelling by train above).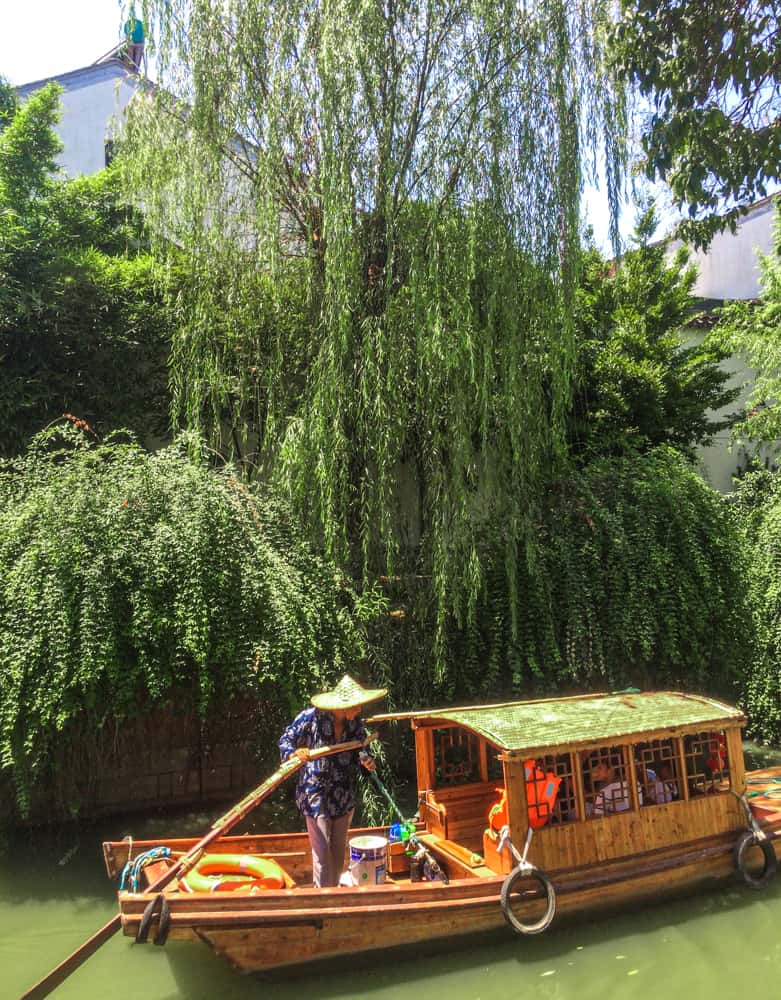 Just under half of this city's area is covered by water, including streams, ponds and waterways. The city dates back more than 2,500 years, with the traditional design of the city still preserved today.
The best things to do in Suzhou are centred around boat rides on the Shantang River or exploring one of the 60 beautifully kept gardens, with the Humble Administrator's Garden being my favourite. It dates back to 1509 and was built under the rule of the Ming Dynasty. The entrance fee is CNY90 (£10/USD$12.50).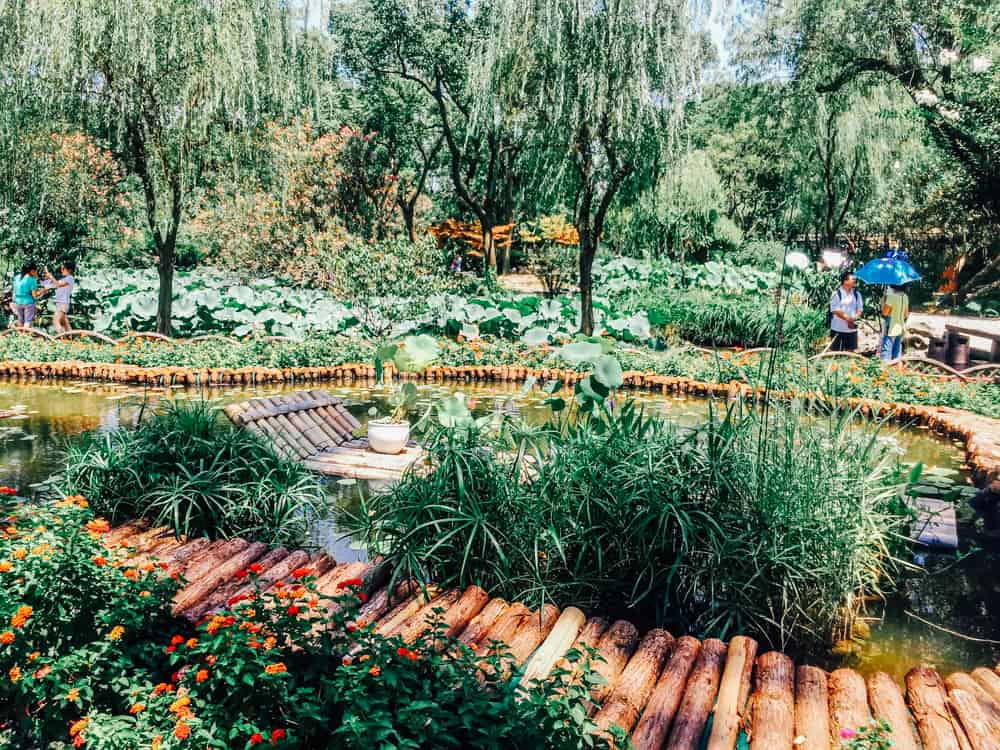 Suzhou is also a wonderful place to soak up day-to-day life by stopping by local teahouses, sampling the local Jiangsu Style dishes or buying some of the best silk products in the world.
I recommend staying in the Holiday Inn Express Suzhou New District.
Shanghai: Day 5-6
Wow, Shanghai. What a city. Shanghai is China's largest city and is positioned on the Yangtze River Delta. It serves as the economic and trade centre in China, and is one of the key economies in Asia.
People say you either love or hate Shanghai. I really liked it and preferred it to Beijing. Although I enjoyed my time in Beijing, and particularly all the sightseeing, I did find the city felt rather grey.
Shanghai on the other hand is full of colour and light, and there is a real a buzz and energy around this cosmopolitan city.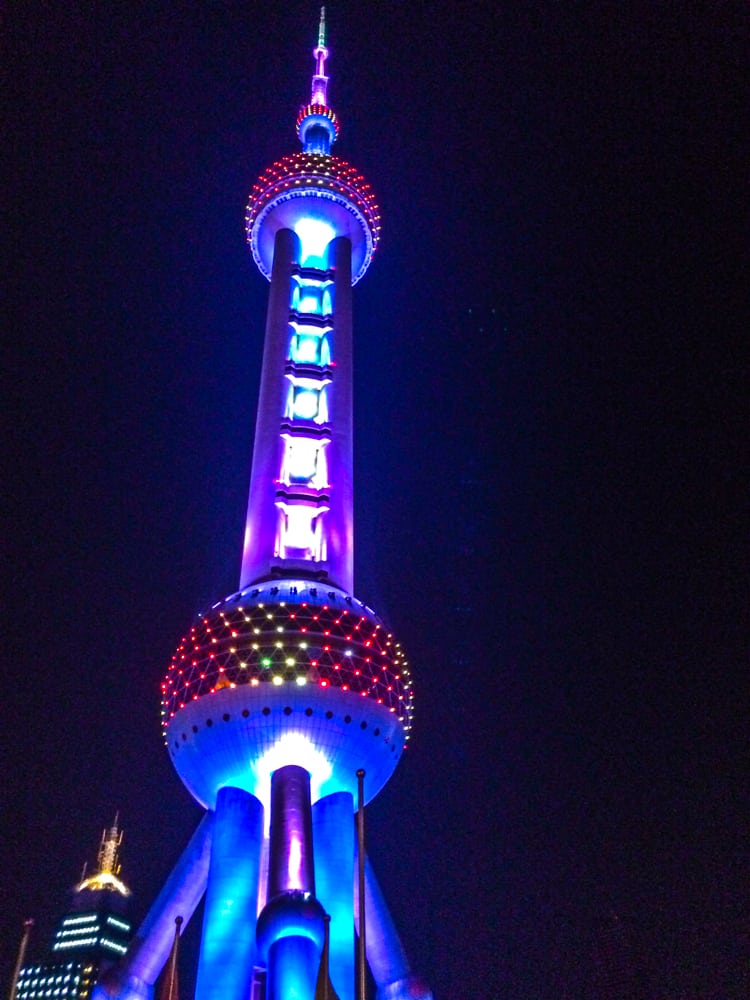 Whilst there are less historic attractions in Shanghai, the city is considered one of the cultural hubs in China with a world renowned opera and popular cuisine.
A really nice way to see the city is on a hop-on hop-off bus tour, which will give you live commentary from a guide on board as you drive around the city.
Visit the Bund and Modern Shanghai
The Bund is a wide promenade along the river, where visitors can experience stunning panoramic views of the city. On one side is the futuristic skyline, comprising some of the tallest skyscrapers in the world and the dazzling Oriental Pearl TV Tower. Did you know, you can go to the top of this awesome building? Buy your skip-the-line ticket to its viewing platform here.
On the other side, behind the promenade are beautiful colonial buildings, offering a true contrast of old and new.
Book a half-day Bund sightseeing tour here.
Explore the French Quarter
One of the oldest parts of Shanghai is the Former French Concession (FFC), an area known for its unique architecture blending European style with old-style Chinese homes, called Shikumen.
This area is big (almost 8km wide), and stretches west from the Bund. One of my favourite aspects of the French Quarter are the beautiful tree-lined avenues, which also provide some much needed shade. There's also countless cafes, bars, restaurants, boutique stores, art galleries and antique stores to browse, and even some hip breweries. This area is popular with expats in Shanghai and also with tourists.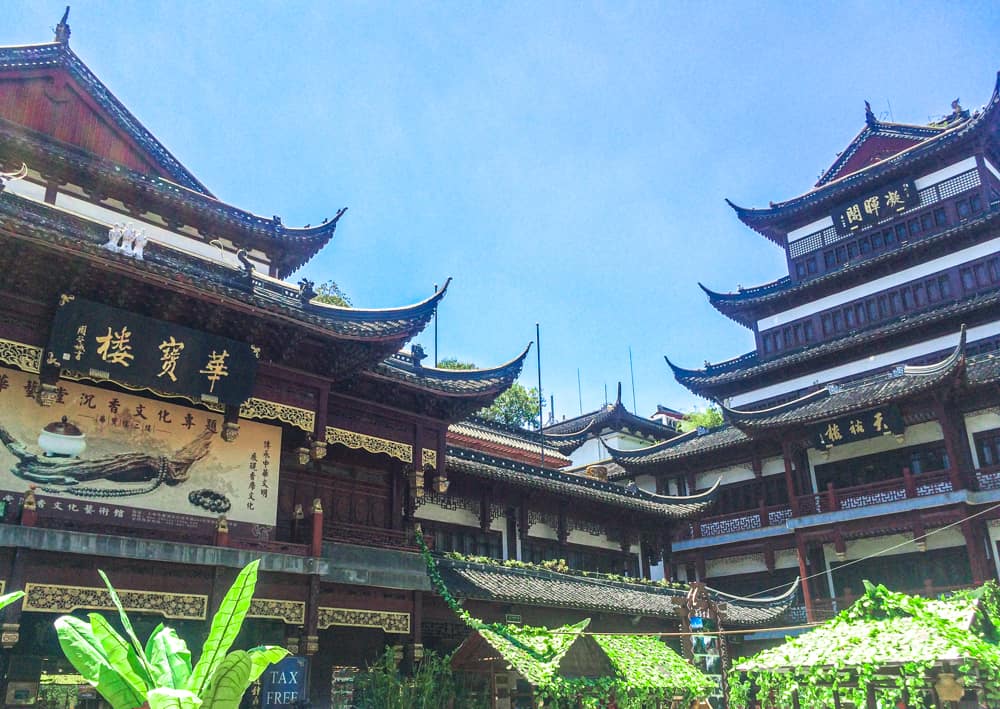 In my opinion, one of the most beautiful streets is Wukang Lu, which has cafes with plentiful outdoor seating and is very charming. Other highlights of the FCC include Fuxing Lu, which is full of cool art galleries or Wulumuqi Road, which has some awesome antique stores.
The French Concession can easily be explored on a self-guided tour using a paper map, but it's also an excellent idea to consider a guided tour to learn more about the history of the area. Here's a few suggestions:
Find zen in Shanghai's Gardens and Temples
Shanghai, like most cities in China has countless gardens, each housing traditional Chinese buildings or classic temples.
Some of the gardens are like finding an oasis in the heart of the city, and one of the best is Yu Yuan (Happiness Garden). Another highlight is visiting the serene Jade Buddha Temple, surrounded by peaceful Chinese Gardens.
Arrange a 2-hour walking tour of the beautiful Yu Yuan gardens here.
Where to stay in Shanghai
If your budget can stretch to a stay in one of the hotels lining the Bund, then this certainly would make for an incredible stay. Not only is this close to many of the main attractions in Shanghai, but is an amazing opportunity to sleep in one of the beautiful buildings.
We stayed in the InterContinental Shanghai Pudong, which is an amazing luxury stay near the main train station, which is also an excellent location. Make sure to read my review of the Intercontinental Shanghai Pudong here.
Here are my suggestions of the best hotels in Shanghai, covering all budgets:
Affordable: Shanghai Fish Inn East Nanjing Road. At around £11 per night, this is a great value stay, in an excellent location with some very good reviews. Also, the Bund Riverside View also has some great reviews (from £26 per night).
Mid-range: The Radisson Blu Shanghai New World Hotel (£64 per night) or the Ji Hotel (£63) a night for comfortable stays, with a few extra amenities.
Luxury: There's no shortage of luxury hotels in Shanghai. As well as the Intercontinental Shanghai Pudong, these are some of the best:
Zhangjiajie: Day 7-8
We knew with our two weeks in China that we wouldn't want to spend the whole time visiting different cities. We researched for hours to decide which natural wonder or national park to visit in China.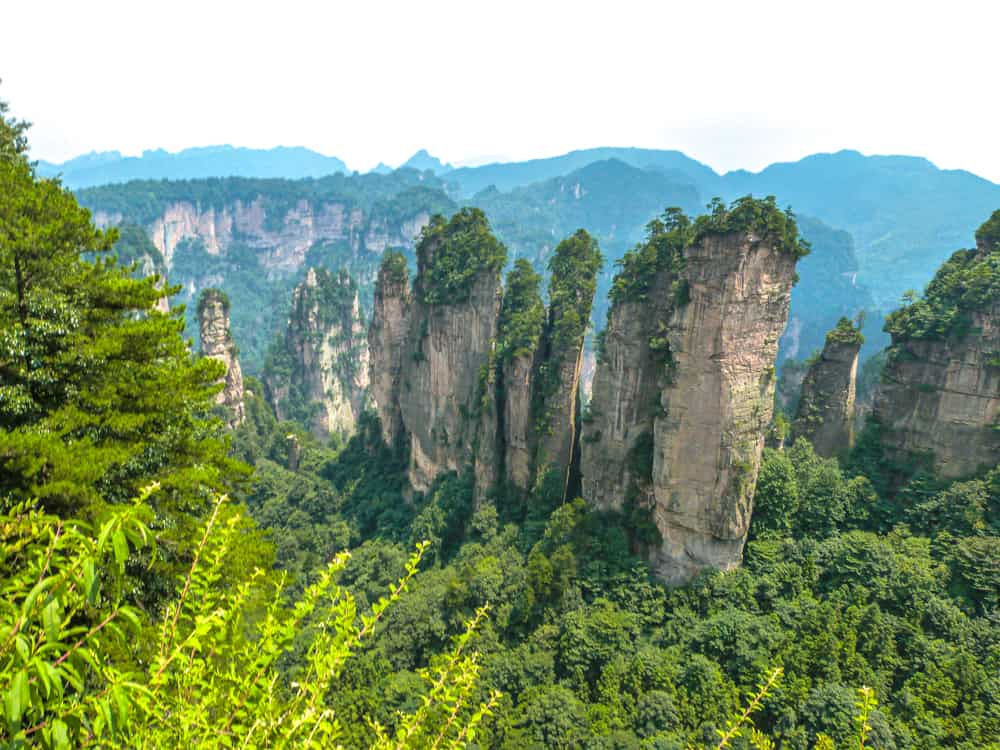 Zhangjiajie was chosen in the end for its otherworldly landscape, which are huge towering karst pillars, some of which reach dizzying heights of over 1,000m. This national park is also said to have been the inspiration for the popular movie 'Avatar', although this has led to a huge increase of daily tourists to the park.
Zhangjiajie is actually China's first designated national forest park (awarded in 1982), and it clear to see why. Spread across 30sqkm within the wider Wulingyuan Scenic Area of Hunan Province, days in Zhangjiajie national park can easily be spent exploring and hiking through this magnificent natural wonder.
We flew from Shanghai to Zhangjiajie, so this section of the trip could easily be switched for another national park in China, if you prefer.
Hiking in the national park
Our days in Zhangjiajie were some of our most challenging, as it was very hard to know where to go and how to do it. For example, the maps have very little English on them, and a lot of the routes are inaccurate. There are also shuttle buses to jump on, but these were not clear which route they were going to and as mentioned, few people were keen to stop and help us. The queuing system was also hectic with a bit of pushing and shoving.
In the end, we spent two full days hiking in Zhangjiajie. We chose to start early and make long full days of exploring. At the entrance were always huge Chinese groups waiting to start walking and they always had a guide with a flag on a stick and a huge speakerphone. We just felt we had to get away from the sheer number of people and noise quite quickly. It would take just 10 minutes to be in complete peace and quiet. Honestly, despite trying to use the map/incorrect signage and work out the shuttle bus systems, we never really knew where we were going.
But somehow, we managed to hike nearly 35km each day, plus more than 50,000 steps and saw all of the amazing sites. The temperature was around 35c in July, and it was definitely exhausting work as most the paths are staircases. It can be very tiring and taxing on the legs, especially in the heat. But there are plenty of local stalls on the paths selling food, snacks, water, ice lollies etc, so you don't need to carry too much with you.
On the second day, we did end up finding a cablecar to take us all the way back to the entrance which saved our legs, but cost a little extra. There is also a huge elevator (lift), called the Bailong Elevator. It's said to be the longest outdoor elevator in the world, stretching nearly 330m up the cliffside. We considered it for a while, but at 72 CNY (£8.50/USD$10) each way, we chose to walk. I don't think we fully appreciated the extent of walking we were set to do in Zhangjiajie National park, but it was sure worth it – especially to avoid the crowds.
There is also the world-famous glass bridge at Zhangjiajie National Park. We didn't do this, but you can read a full guide to the bridge walk here.
You can definitely arrange day tours to Zhangjiajie in advance, which could be a good idea if you don't do well with getting lost or confused! Here are a few ideas:
Or, if you don't fancy walking, you can pay for a lift on one of these seats carried by local guides (when they're not napping!).
Entrance fee
The entrance fee to Zhangjiajie national park is CNY245 (£28/USD$35). Although the ticket covers you for unlimited entry over 3 days, you're likely to only use it for a couple of days. The entry fee, together with the elevator ticket can make it a more expensive few days. But, I really do believe it's well worth the cost and the landscape is like nowhere else on the planet.
Which routes to take?
Our favourite day was following the Golden Whip Stream trail. It took us straight away from the crowds, and pass trickling streams, crystal clear lakes and along the base of the huge towering cliffs. The path was flat for the first few kms, going over stunning bridges before ascending steeply into the mountains. Choosing to hike means you'll also see far fewer people on the route, but we did see a few elderly Chinese locals actually speed past us in both directions which was quite disconcerting!
Where to stay in Zhangjiajie National park
You can't actually stay in the park, but the main accommodation area is in the nearby town of Wulingyuan. From here, it's a 20 minute walk to the park entrance.
I would really make sure to pick a comfortable hotel here, even though you'll only be in the hotel to sleep. You're likely to come back from the hiking so exhausted, hot and sweaty, you'll want a proper shower and a comfortable bed.
My top suggestions would be:
Tianmen Mountain: Day 9
This beautiful mountain is located back in Zhangjiajie and is well worth visiting during your time in the area. It is not in Zhangjiajie National Park.
We managed to visit Tianmen Mountain as a full day outing, before heading onto the airport in the evening. So therefore we didn't need to stay in Zhangjiajie overnight. We simply took a taxi arranged by our hotel in Wulingyuan back to Zhangjiajie early in the morning, which took around 40 minutes. Then we left our bags at a local hotel right by the cable car ticket office (for a small cost), before collecting them at the end of the day and before going to the airport. The cable car ticket office is very close to the bus station and train station, so this works really well.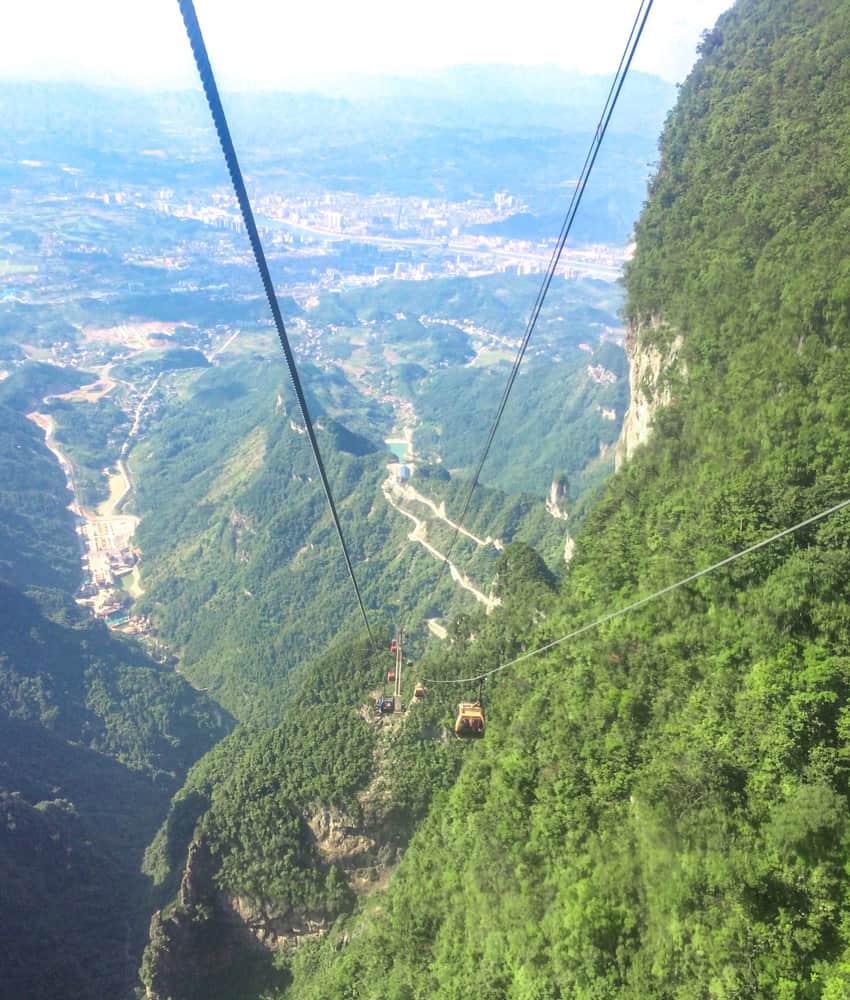 Although left luggage is not a formal service they offer, they were happy to do so and others had done the same thing.
Tianmen Mountain is also known as 'Heaven's Door Mountain', due to the huge opening at its summit. It's the largest hole of its kind, almost like a giant doorway at the top of the mountain. Known as the 'Stairway to Heaven', there are 999 stairs up to this huge hole, and it's a challenging climb!
The main things to do at Tianmen Mountain is to enjoy the journey to the summit (an adventure in itself), as well admire the stunning views from the top. There's a cliff edge walkway, which winds its way around 1.6km along the cliff face with a drop of more than 1,400m. The railing is pretty sturdy, but this is not for those with a fear of heights! This one has a solid floor, but there are two other glass walkways for those looking for a thrill!
There are two options to ascend to the summit: take the world's longest cable car or one of the world's most precarious drives – with 99 hairpin bends! If you are prone to car sickness, I do not recommend doing this drive!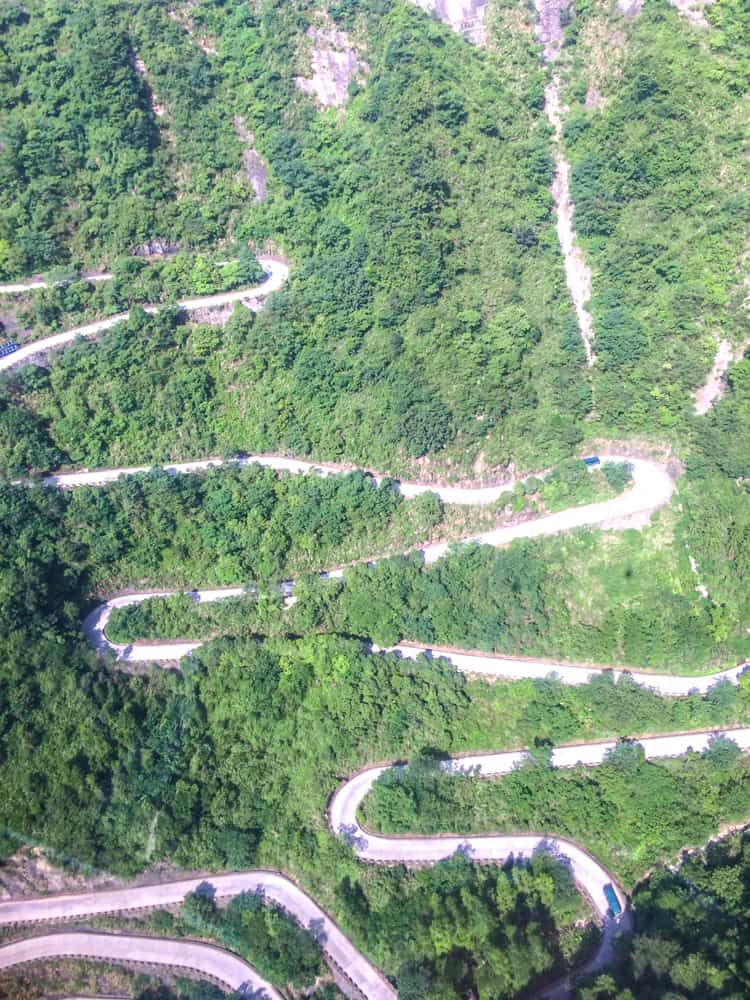 We chose to jump in a minibus for the drive up (doing this road downhill seemed way too scary), and then take the cable car for the descent. The cable car is very steep, and covers 7kms in about 30 minutes.
The cable car starts at 7.30am in the summer months (8am in winter) and I strongly recommend getting there at least 30 mins before this opens. The lines can get very long and the Chinese tour groups join en masse, making it very noisy and chaotic.
Yangshuo: Day 10-12
My favourite place on this China itinerary! We initially planned to do one night in Yangshuo, and one night in Guilin. But upon arrival, we were just so blown away by Yangshuo, we decided to cancel visiting Guilin.
Yangshuo is like a South East Asia backpacking town, but in China. It is charming, quaint and a wonder to explore, but the best bit is the humour of the locals. At some point, someone must have decided to place a giant stuffed teddy bear at a bar stool at the front of their restaurant. And before long, all other venues in Yangshuo followed suit. So now as you explore the pretty town, nearly every bar or restaurant has an oversized bear sitting at the front! Sometimes he has his big paw wrapped around a beer glass or he might be sitting at a table waiting for you to join. We even saw one bear with his head in his paws. He must have had too much to drink…
Aside from the local humour, and the charming laneways, Yangshuo has a lot to offer. The mesmerising Li River winds through both Guilin and Yangshuo. It is flanked on both sides by towering limestone karst mountains, and teeny villages.
Days in Yangshuo can be spent exploring the beautiful countryside and calming riverside settings backed by the magnificent karst scenery. We chose to hire bikes to cycle alongside the river to rice terraces. It was a lovely, relaxing day where we jumped in the river to cool off.
In the evenings, make sure to head back to the river at sunset to watch the local fisherman. The age-old technique uses their beautiful cormorant birds who assist them in the fishing.
We explored ourselves but we did get quite lost at times along the river and amongst the karst towers. One idea would be to join a guided hiking tour with a local English-speaking guide. Not only can you take in the scenery whilst following them, but they will share interesting facts about the area.
If you end up being short on time you can visit Yangshuo from Guilin on a full day guided tour along the Li River.
Longji Rice Terraces
An iconic image of China is of course, the rice terraces located a few hours from Guilin. Construction of the Longji Rices Terraces started back in the late 1200s during the Yuan Dynasty. However, they were not completed until the Qing Dynasty in the early 1500s.
We chose not to visit after deciding to spend more of our time in Yangshuo, but these are highly impressive and often a highlight on visitors' itineraries in China.
A day at the Longji Rices Terraces can be spent hiking along the maze of trails between the terraces. There are stunning viewpoints along the way.
If staying in Yangshuo, it's likely to be easier to join a tour to the Longji Rices Terraces to take care of the logistics and planning.
Where to stay in Yangshuo
As a huge fan of the Banyan Tree group, I highly recommend staying at Banyan Tree Yangshuo (£226 per night) for the best luxury stay in Yangshuo.
Other great options covering all budgets in Yangshuo include:
Chengdu: Day 12-14
Another city we loved in China was Chengdu. Famed as the home of spicy Sichuan cuisine, Chengdu is also the place to go in China to see pandas!
Together with the Great Wall, seeing the pandas in Chengdu was one of things I was most excited about. It was an incredible day out, and even better than I expected. Chengdu itself is also a great city to spend some time in too, with some awesome shopping and markets.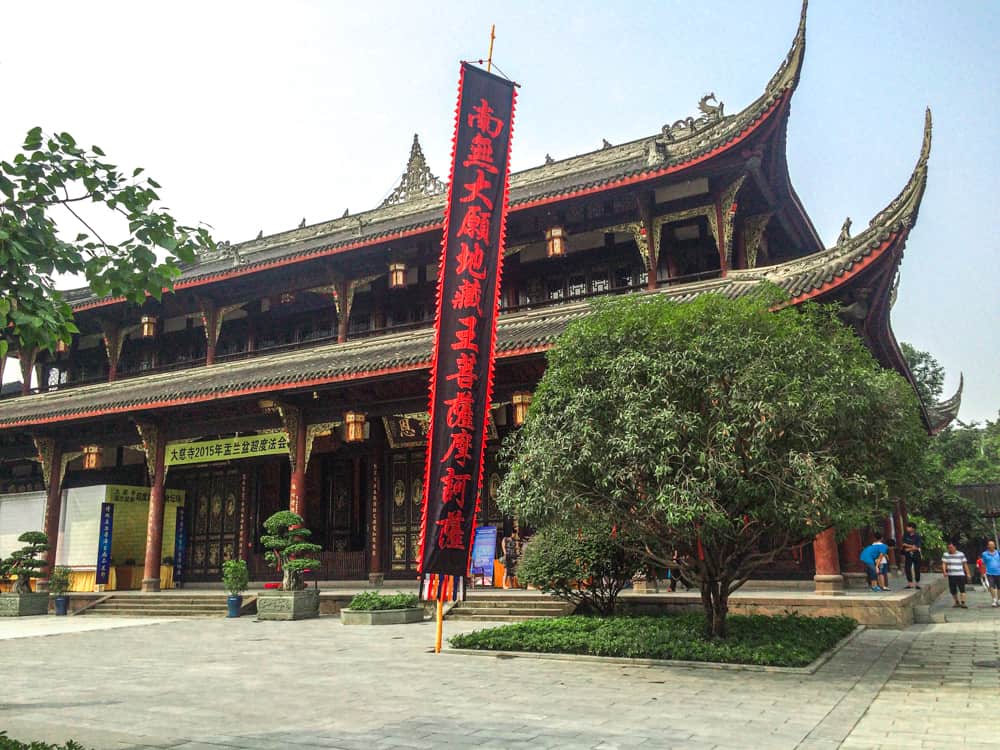 Chengdu Panda Reserve
Where do I start! This is one of the best things to do in China, and in my opinion, totally unmissable.
The panda centre is easy to get to from Chengdu. Simply jump on bus #198 or #198A from the Chengdu zoo stop in the city. Or grab a taxi for CNY 50, which takes 30 minutes from the heart of Chengdu, depending on traffic. Or arrange a 4-hour private your with drop-off and pick-up here.
Ensure to arrive early in the morning in order to see the pandas at their most active. They're lazy creatures and after spending the morning tumbling, rolling around and chomping on bamboo, they often snooze for the rest of the day. The park opens at 7.30am and ticket entry is CNY 58 (£7/USD$8.50) per person, with children under 1.3m free.
The panda reserve in Chengdu is awesome, and you can easily spend a full day here. There are plenty of huge enclosures to see the pandas, and they have lots of climbing frames and toys. My favourite part was the baby enclosure, were we even saw tiny baby pandas in an incubator!
If you want to interact and hold pandas, you can visit as a volunteer for the day. However, it is rather expensive and we didn't do this. You can book this online here, and it is approximately £285 per person for the full day interaction.
Explore Chunxi Lu
This 1km long pedestrianised shopping street is a must-visit in Chengdu. From authentic antiques and local goods, to boutique stores, there are 700 shops to tackle. Make sure to also visit the six storey Chunxi Road Market too.
An evening foodie and beer tour is a great way to explore Chunxi Lu.
Leshan Buddha
Leshan, which is a 1.5hr bullet train ride from Chengdu, is home to the world's largest carved stone Buddha in the world. You can visit this as a day trip yourself on one of the tourist buses, or book onto a local tour such as this one.
The sheer size of the Buddha is overwhelming, as he stretches more than 71m into the sky.
Where to stay in Chengdu
As with the other big cities in China, there's a huge number of places to stay in Chengdu. You can definitely find some excellent value hotels in Chengdu. Here's my pick of the best:
Other Places to Visit in China
In my opinion, this suggested two week China itinerary covers a number of the key highlights. If you have 3 weeks in China or longer, or if Zhangjiajie or Yangshuo do not appeal perhaps, then you could consider the below destinations:
Xi'an
Xi'an was once known as the gateway to the Silk Road, today it is best known for the Terracotta Warriors. There are over 8,000 life-size statues who were created during the reign of China's first emperor to guard his tomb. Another highlight in Xi'an is to explore the old city walls and enjoy the view across the city and of everyday life.
You can book your train ticket easily online using this tour service from Beijing to Xi'an here.
Hua Shan
Mt. Hua Shan is a great place to visit for thrill-seekers, and visiting here can be easily done as a day trip from Xi'an. The infamous Hua Shan plank walk is located here, where you side step along a plank fixed to the side of a cliff. This is considered the world's most dangerous hike and supposedly over 100 people have died here. If anything, the mountains themselves are worth visiting even if you don't do the plank walk and you can ascend to the summit of Hua Shan by cable car. You can visit all five peaks which each having stunning views and provide glimpses of the Yellow River below on several different hiking routes.
Jiuzhaigou and the Jiuzhai Valley National Park
Located north of Chengdu in Sichuan is this magnificent world of crystal clear alpine lakes, stunning cascades and ancient forests. At the heart of the national park is the multi-coloured, striking Five Flower Lake.
There is a limit of 5,000 people per day to this national park, so it could be a good idea to join a tour from Chengdu or to arrive very early.
The national park is both a UNESCO World Heritage site and a UNESCO Biosphere Reserve.
To get to the national park, you need to fly to Jiuzhaigou from Chengdu (or other cities in China). As it is located high in the mountains, there is no train here but there are long distance buses going from cities around China to Jiuzhaigou.
You can also arrange this excellent 4-day tour in advance from Chengdu taking in both Jiuzhaigou and Tibet.
Two weeks in China
So there's my guide to two week China itinerary for a first-time traveller. As you can see, there are some amazing experiences on offer in this China itinerary and that's just selecting a handful of places to see in China.
There are countless destinations to visit in China, but we picked each of our places for very distinct reasons. Beijing and Shanghai to visit the two biggest cities in China, both of which are packed with history and culture. Zhangjiajie and Yangshuo to explore rural China and enjoy some outdoor adventures, and then Chengdu for the pandas, of course!
And Suzhou and Tianmen Mountain were included in our China itinerary as they slotted in nicely to our plans.
I hope this proves useful in planning for your trip to China!
Feel free to drop me a line if you would like any further advice on anything to do with travel in China. And if you've enjoyed this guide, then please do share using the below links!
Wanna see more? Check my Instagram here, my Facebook here or my Twitter here!
Disclaimer: This visit to China was entirely paid for by myself, and there was no involvement from the tourism board or a hotel. This is an independent guide.
Enjoyed my China itinerary guide? Pin it!