If you're looking for picture-perfect paradise, lazy days under swaying palm trees and a laid back island vibe, El Nido is the place for you and needs to feature on your travel bucket list. Located on the island of Palawan in the Philippines, El Nido is growing in popularity and is now a firm fixture on most visitors' itineraries to the Philippines.
Palawan offers beautiful beaches across the whole island, but it is El Nido that has become the tourist hotspot. I've put together this detailed guide covering every aspect of a visit to El Nido, from where to eat, where to stay, getting around and things to consider before arriving in El Nido,
If you're looking for a guide to the must see attractions in El Nido, I've written a long detailed post on all of the top things to do and see in El Nido.
So read on for all the essential information you need for a successful and fun trip to El Nido, and get excited to plan your own El Nido adventure!
Guide to El Nido, Palawan – Essential things to know
How to get to El Nido
Over the last few years, it has got conveniently easier to get to El Nido.
Previously, the only real way to get to El Nido was to fly to Puerta Princesca further north of the island of Palawan. Then, it would be a 4-6 bus hour ride straight from the terminal door of the airport to the town of El Nido
However, in the past few years, a small local airline called AirSwift, has started to offer more convenient flights right into El Nido on small aircraft. These are between Manila, Cebu and most recently (and conveniently), from Caticlan by Boracay.

Where To Stay in El Nido
Depending on your budget, there is a huge range of accommodation options in El Nido.
The first time I visited in 2014, I stayed at Our Melting Pot hostel (OMP). It's right in the centre of town, and I would highly recommend it. The dorms are clean and comfortable, with excellent lockers and storage too.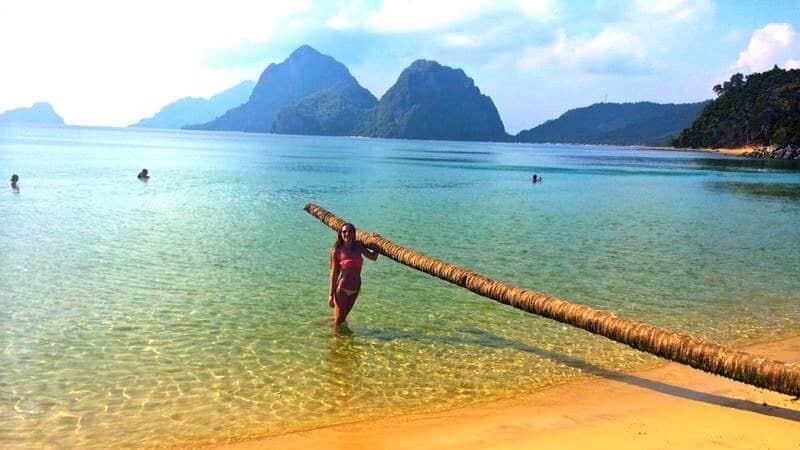 Some other brilliant hostel options to pick from, include:
The second time I visited, I stayed at El Gordo's Guesthouse. While I would say it was slightly overpriced for its standard of accommodation (very much a basic wooden treehouse), it offered spectacular views of the bay. Gordon, the owner, is fantastic and really helpful and it's slightly to the side of the main El Nido town, meaning a perfect opportunity to get to mingle with the locals.
Another incredible place to stay at is Las Cabanas Beach Resort. During the day it is busier with day trippers coming by but in the evening, you really are the only people located on this slice of paradise.
Three of the very best luxury hotels are all run by the same group, offering idyllic and serene island experiences: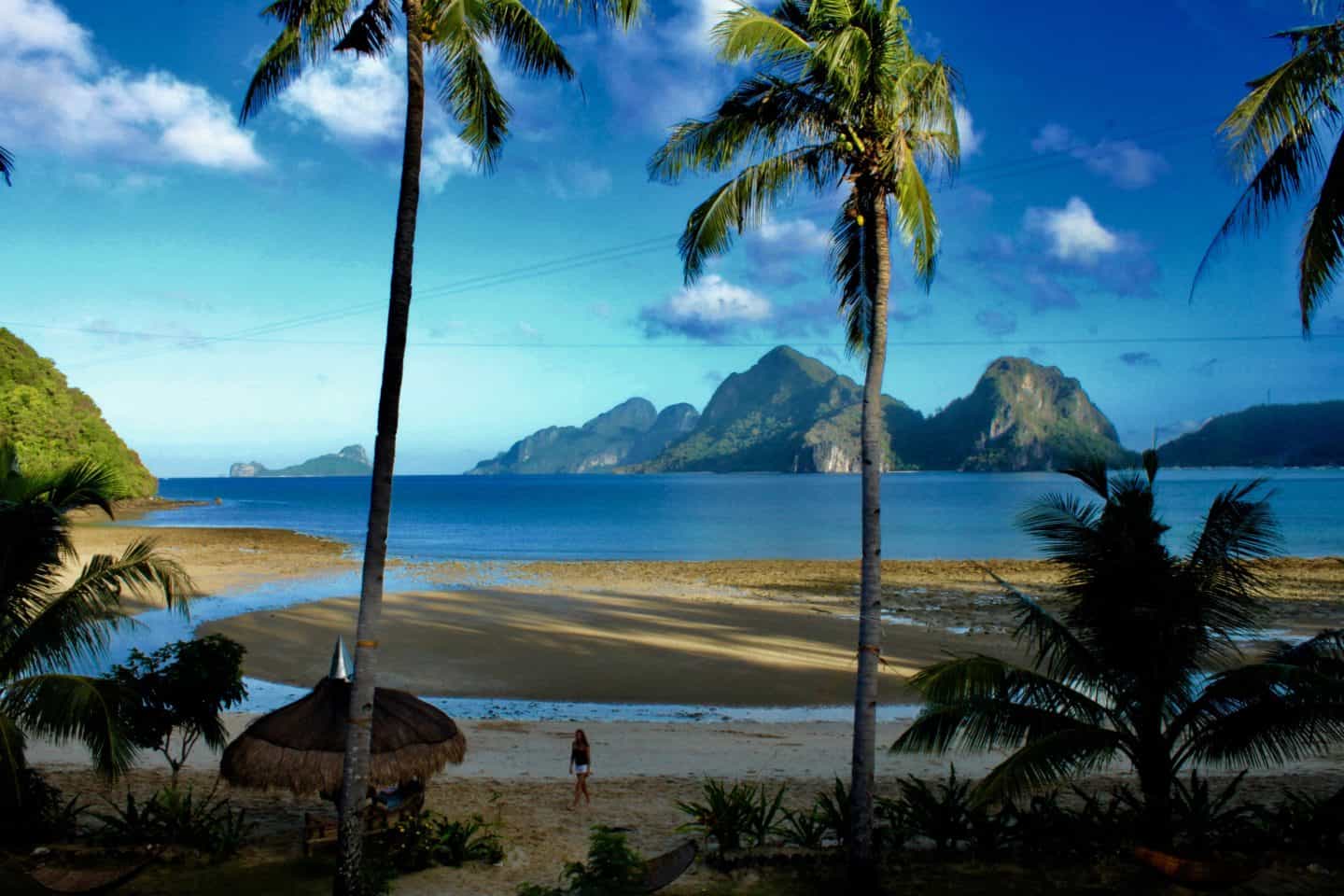 What To Do in El Nido
The main attraction of El Nido is the stunning water and everything here revolves around the sea.
The best things to do in El Nido are the water-based activities, particularly boat trips around the Bacuit Bay to visit the famous lagoons and secret tucked away beaches.
These tours are labelled (unimaginatively) as Tours A, B, C, D. These are sold everywhere and at the price which is regulated by the local tourism authority. These tours are the same wherever you buy them and you can even combine them.
Other alternatives around El Nido are to visit the beautiful beaches of Las Cabanas or Nacpan.
Also, ask around to see if the locals know someone with a paddle board. We found a local guy with a few top quality boards and got to spend the most amazing days exploring hidden unknown beaches and lagoons in El Nido away from the crowds. Incredible!
For more information, check out article on my top 20 things to do in El Nido!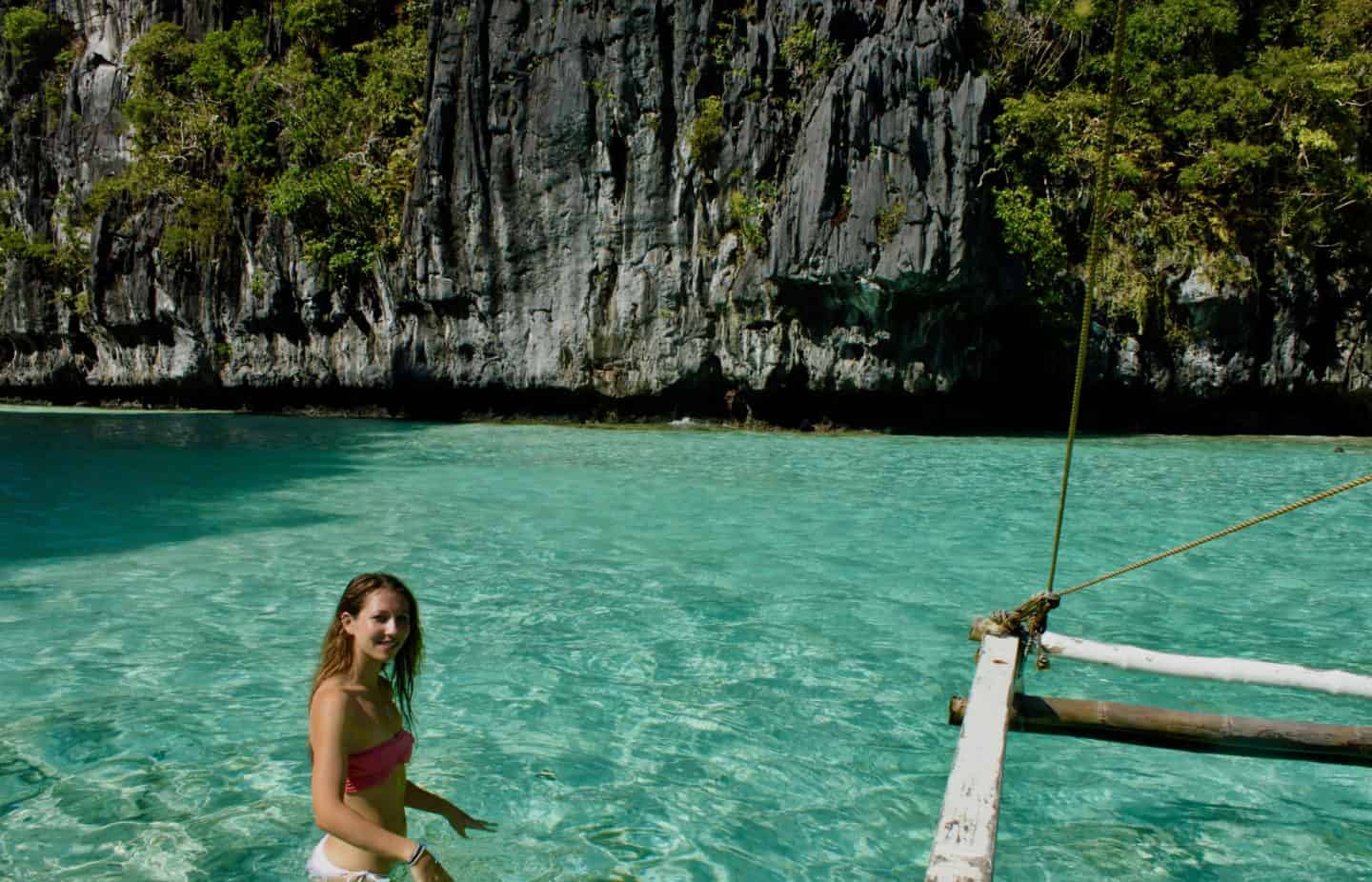 Nightlife in El Nido
The nightlife scene is growing in El Nido. Back in 2014, there were only a few tiny beach bars to pick from and everyone chilled out on the beach into the evenings.
On my last visit in 2017, Full Moon party fever had spread from Thailand. While it was nowhere on the same scale as Thailand, El Nido was definitely more lively with a lot more themed parties and nights out. We managed to avoid this nicely.
Eating Out in El Nido
El Nido has a great selection of restaurants and places to eat. My favourite breakfast spot is V&V Bakery – but the queue can be very long.
For dinner, I love Mezzannine by the beach, Bella Vita and the well known Arts Cafe.
Practical Information for El Nido
El Nido, whilst incredibly beautiful has surprisingly poor infrastructure.
Internet is still weak and mostly almost non-existent. I found it was actually better in 2014 when there were far fewer tourists visiting El Nido.
Electricity supply in El Nido has massively improved over the past few hours, but it often cuts out for several hours during the day. A lot of hostels and hotels use generators.
Unfortunately, water sanitation is really poor. Many areas in El Nido may smell and do not drink the water. Be very careful.
Lastly, El Nido does now have an ATM (it didn't use to), but it does run out of money quite often, so definitely bring some extra.
I hope you've found my ultimate guide to El Nido in the Philippines useful, and that maybe I've inspired you to visit this gorgeous area on your travels!

If you've already been to beautiful El Nido, let me know in the comments! I'd love to hear from you.
You might also find some of my other posts useful, including my 3 week itinerary for the Philippines and my top tips for travelling in the Philippines here. 
If you've enjoyed this post, feel free to share using the below links!
Wanna see more? Check my Instagram here, my Facebook here or my Twitter here!
Disclaimer: This visit to El Nido was entirely paid for by myself and there was no involvement from the tourism board or a hotel. This is an independent guide.
Enjoyed my guide to El Nido in the Philippines? Pin it!