The stunning island of Palawan is one of the most popular places to visit in the Philippines, and it is stunning El Nido that is Palawan's real jewel in the crown.
Offering some of the twinkliest blue seas and uninhabited islands that dot the unbelievable Bacuit Bay, El Nido is unmissable on any trip to the Philippines.
This blog post details all the best things to do and see in El Nido, from island hopping to camping, to sampling the best delicious smoothies.
Having visited a couple of times now, I feel I know El Nido pretty well so I've listed the top things to do below. Take a look and let me know your thoughts!

The top things to do in El Nido:
1. Explore Big Lagoon by kayak
Without a doubt, kayaking in the Big Lagoon is one of the most popular activities to do in El Nido, and it is completely unmissable. You can rent kayaks from the floating pontoon at the entrance whilst on one of the local day trips (nearly every one of them will visit Big Lagoon.
It's magical, although getting busier as the crowds grow year by year.
2. Have a beer on one of remote islands dotted in the archipelago
Tucked away amongst some mangroves and near to Snake Island is a secret bar. It's as rustic as you get, with a small bamboo hut offering up cold beers and the most chilled environment.
3. Head off the beaten track and get to know the locals in El Nido
I say this about every destination I visit, but it's nearly always my favourite thing to do on my travels. On my most recent visit to El Nido, our hostel was located to the edge of the main El Nido beach, where we had to navigate our way through giant rocks, small wooden homes and hundreds of kids to get there. We loved it!
4. Enjoy a smoothie at V&V
In my opinion, it's the best breakfast place in El Nido! The queue could be fairly long it seemed when I returned in 2017 – but totally worth it! On a hangover, it's like heaven in a glass. Just look at my happy exhaustion below!
5. Play with all the cute puppies and kitties that are everywhere!
6. Explore small lagoon by paddle board
Look for a company along the beach in El Nido offering paddle boarding out on the lagoons and you't regret it.
We spent amazing days out on the water paddle boarding and often could explore even more remote and quieter areas.
7. Dive deep underwater to marvel at the marine life
8. Visit Seven Commandos Beach
And go early before the crowds do! It's a very popular beach these days but still very much worth a visit.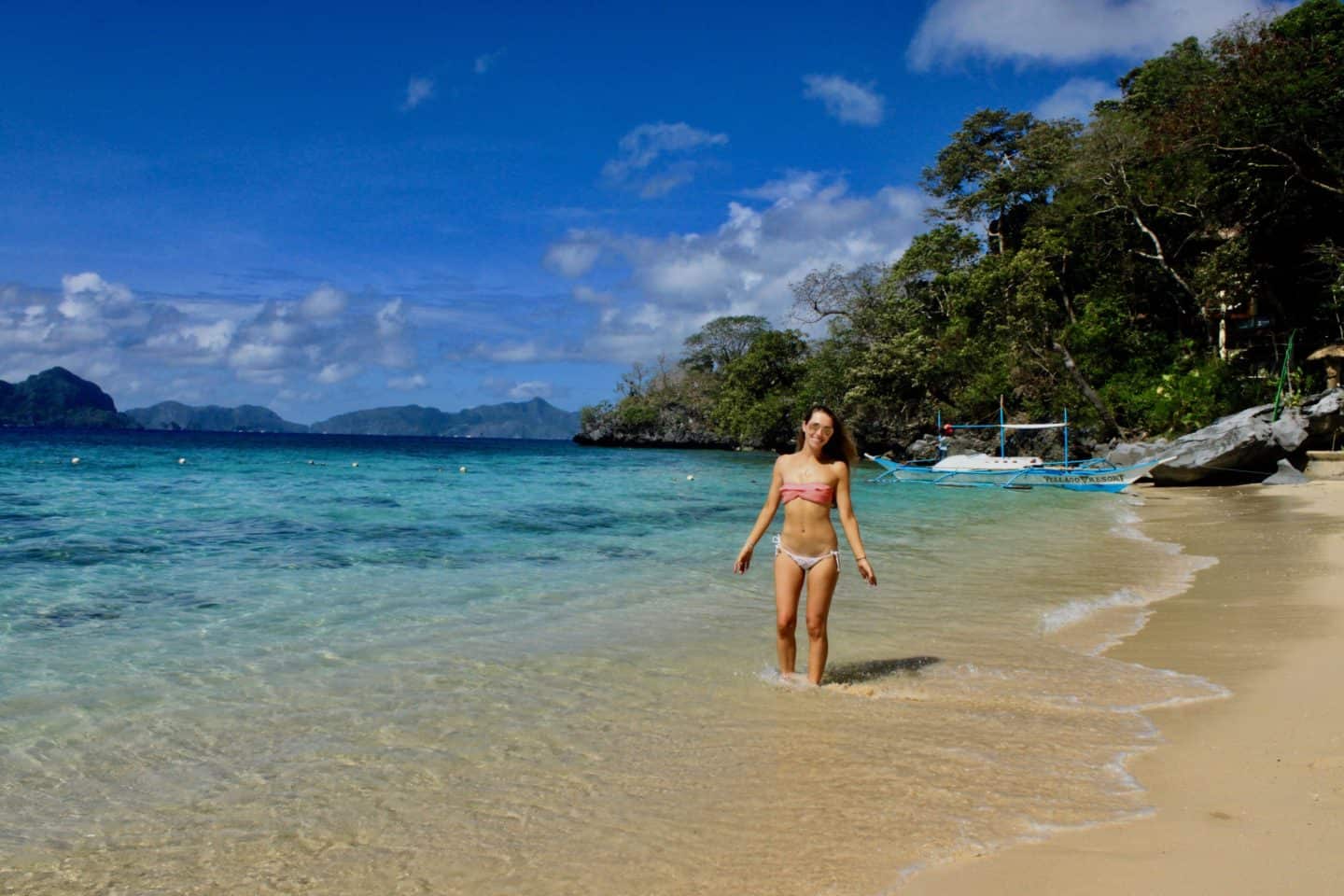 9. Stay at the amazing Las Cabanas Beach Resort in El Nido
One of my favourite places in all the Philippines. Las Cabanas Beach is great for a sunset drink but it's even better when you wake up there!
10. Have dinner by candlelight on the beach
A peaceful dinner under the stars is definitely one of my top romantic things to do in El Nido. This is at Las Cabanas and the team made it very special!
11. Charter a boat or join a tour
El Nido is brimming with tour operators. Head to any stall in town – you don't need to shop around as they all sell day boat trip excursions A,B,C and D at a price set by the local tourism authority. A boat tour is the very best way to see El Nido, and gliding through the arcipelago's turquoise waters is an incredible way to spend a day.
13. Find a hammock and stay there all day
'Cos you can!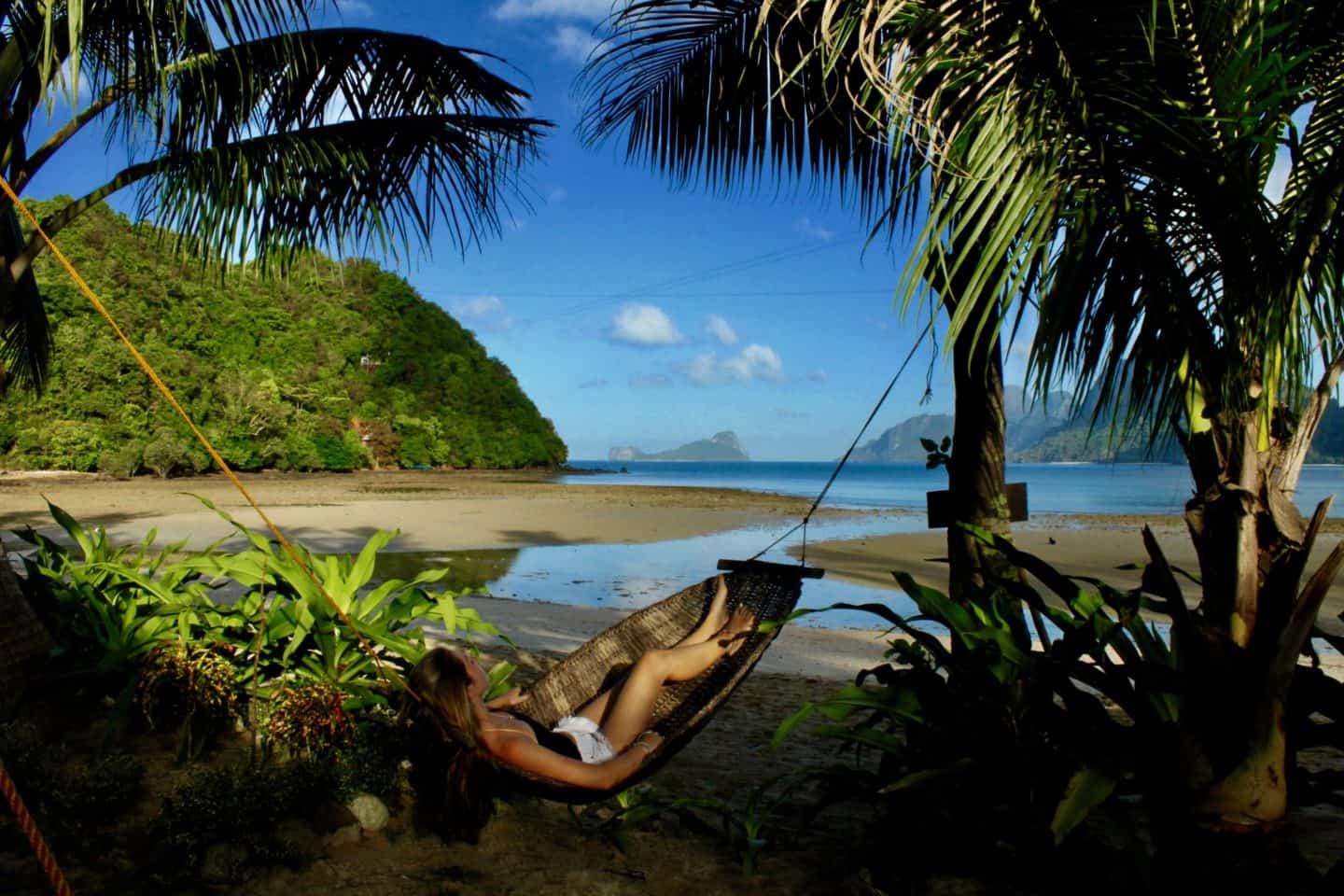 14. Catch an El Nido sunset
They're famous for a reason. Find a beach bar, grab a drink and enjoy the view.
15. Explore the amazing Snake Island in El Nido
This sandbar is not to be missed. Included on several of the boat trips, this sandbar is incredible and you can walk at waist height water for hundreds of meters.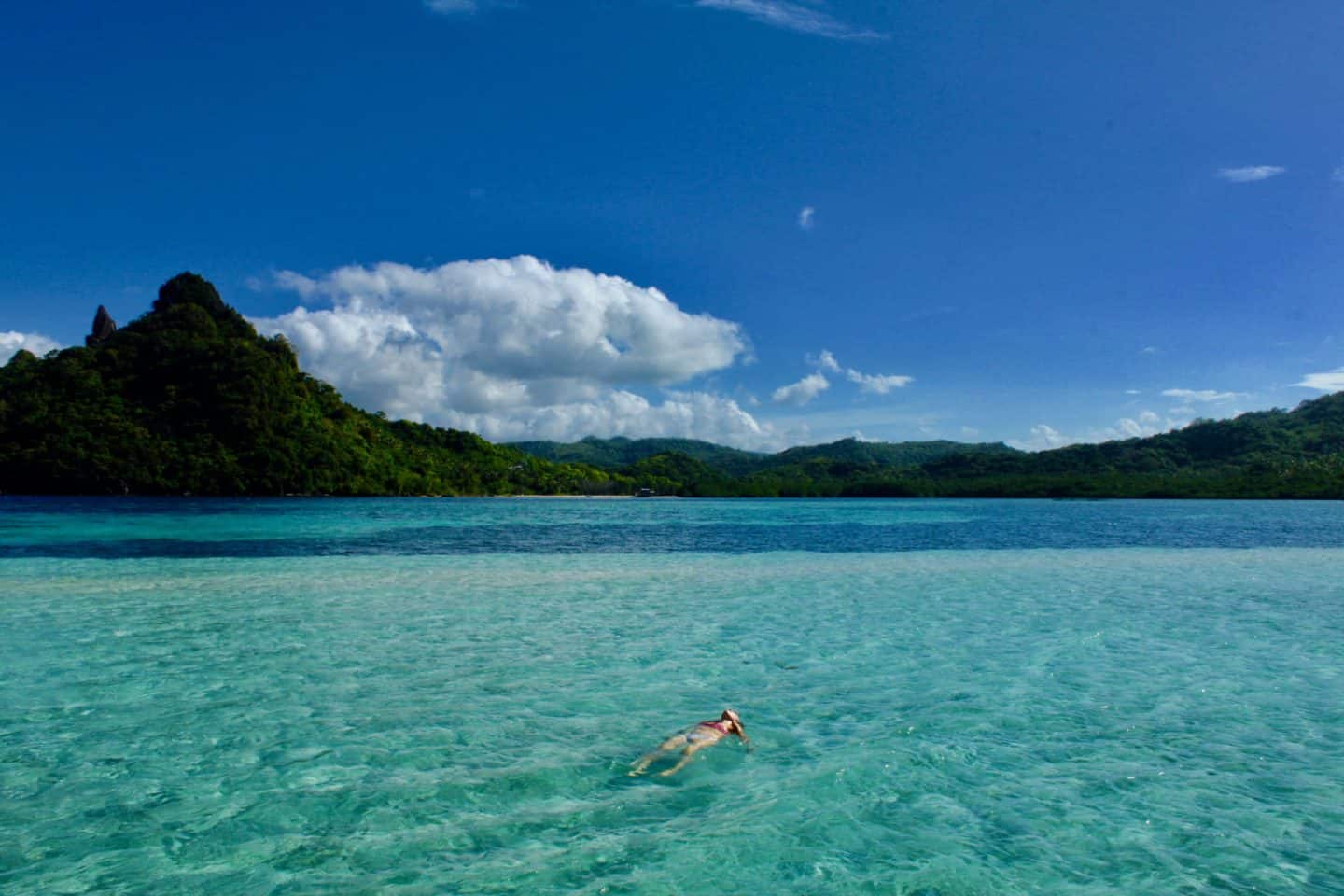 16. Enjoy cocktails and smoothies all day long
This dreamy spot below is at Las Cabanas Beach, which is lined with small beach bars serving up fresh fruit smoothies.
17. Marvel at the twinkly waters in El Nido
Honestly, the water around El Nido and the archipelago has got to be some of the clearest in the world!
18. Sail past empty and deserted beaches
Most the islands are uninhabited, and totally untouched by humans. Some of the islands near to El Nido and Coron were some of the most pristine scenery I had ever seen in my life.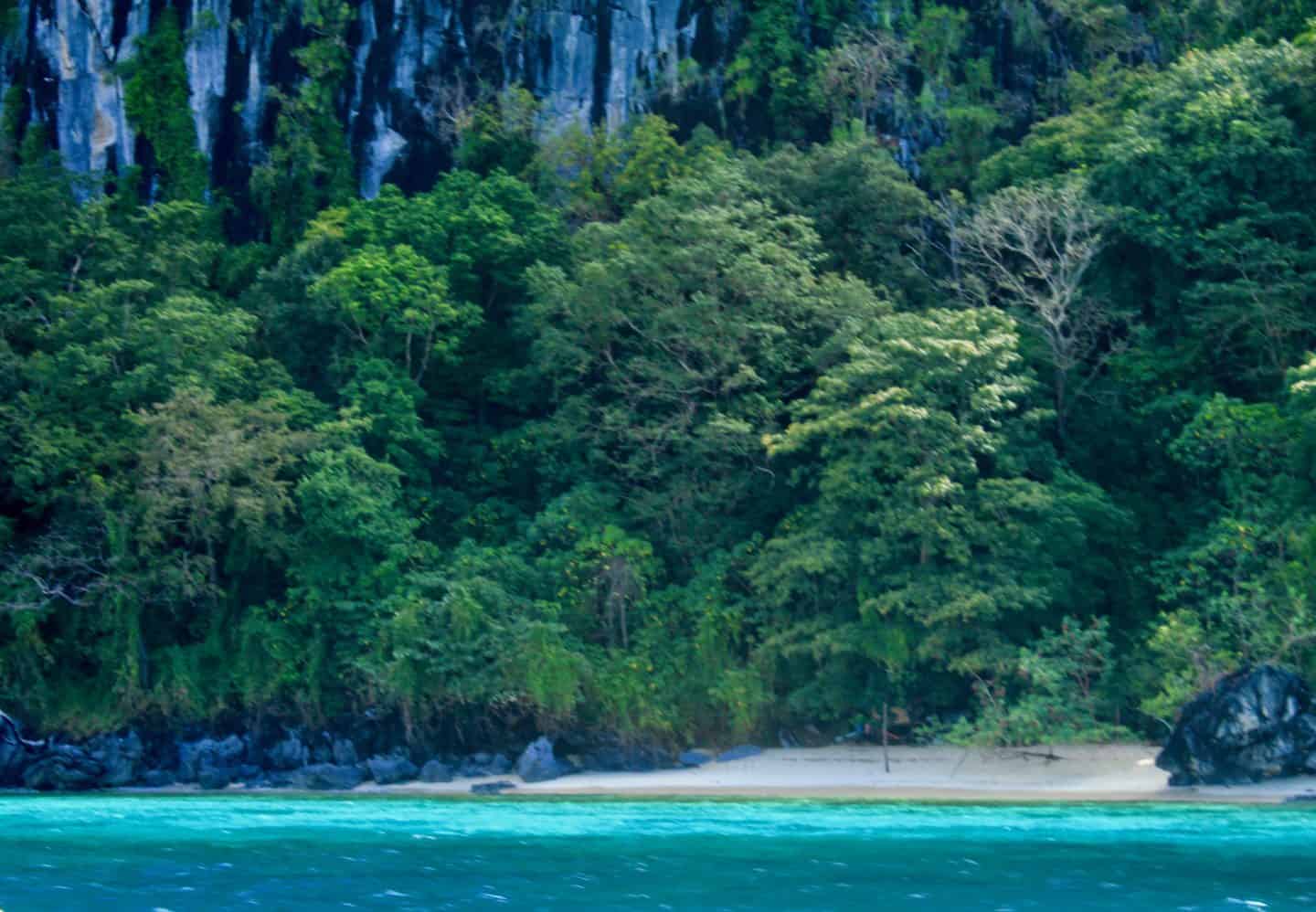 19. Head into the jungle interior of El Nido
Ask the locals or other tourists where to find the jungle paths and go exploring. The jungle interior is leafy and wonderful to wander in.
20. But most of all, RELAX
You are in paradise after all! 🙂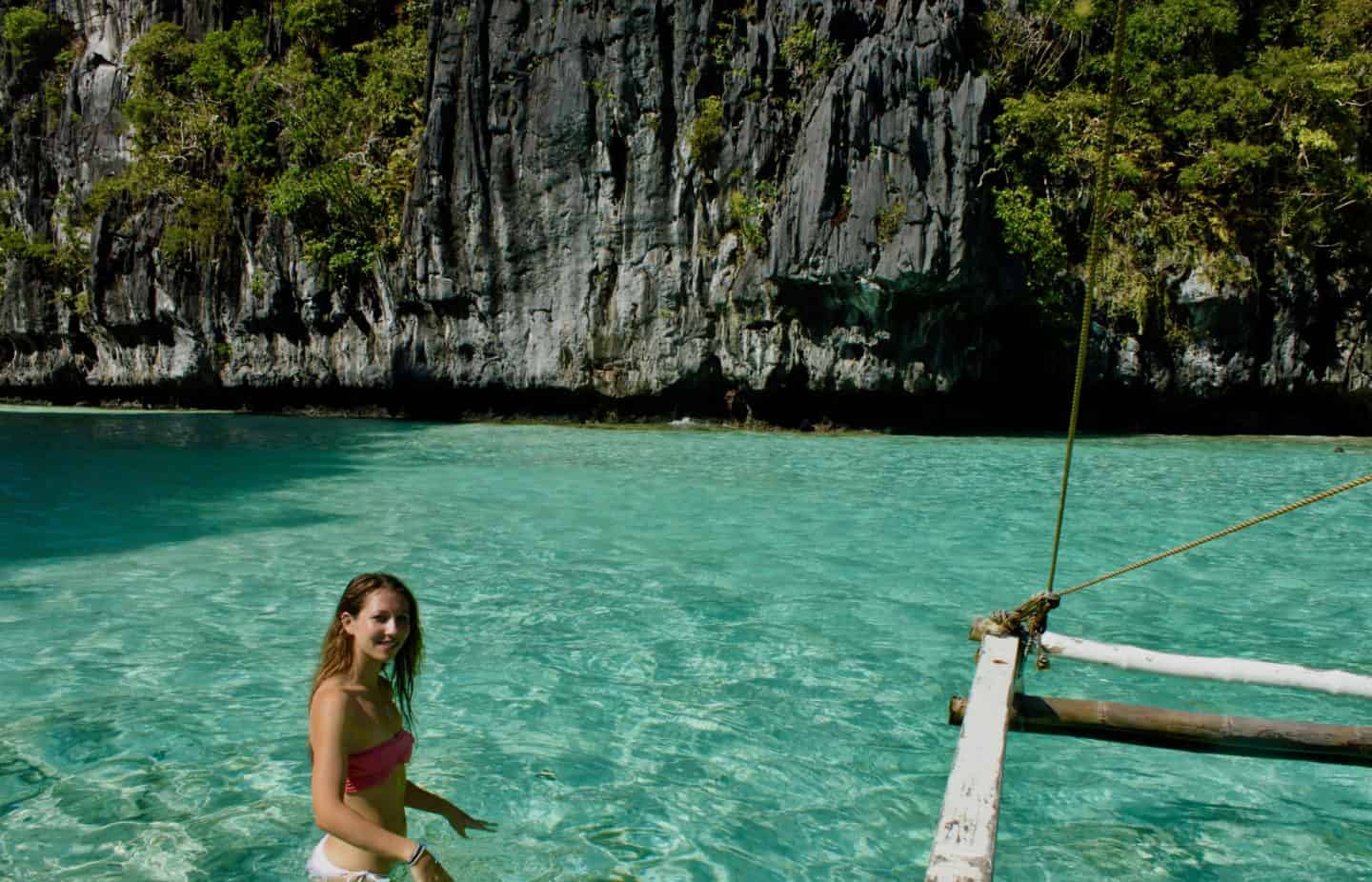 Top things To Do in El Nido
I hope you've found my guide to the top things to do and see in El Nido useful and that maybe I've inspired you to visit this gorgeous place on your travels!
If you've already been to beautiful El Nido, let me know in the comments! I'd love to hear from you.
You might also find some of my other posts useful, including my 3 week itinerary for the Philippines and my top tips for travelling in the Philippines here.
If you've enjoyed this post, feel free to share using the below links!
Wanna see more? Check my Instagram here, my Facebook here or my Twitter here!
Disclaimer: This visit to El Nido was entirely paid for by myself and there was no involvement from the tourism board or a hotel. This is an independent guide.