The stunning island of Palawan is one of the most popular places to visit in the Philippines. And beautiful El Nido is Palawan's real jewel in the crown.
Offering the twinkliest blue seas, El Nido consists of hundreds of tiny uninhabited islands dotting the Bacuit Bay. It makes this paradise unmissable on any trip to the Philippines.
This is my detailed guide to El Nido, covering all of the best activities on offer. From days spent hopping around the islands, to camping under a blanket of stars on your own slice of paradise, there's endless options to embrace island life in El Nido.
Having been to El Nido several times now, I feel I know the island pretty well so I hope this guide is helpful. If you're planning a trip to El Nido, read on to discover all of the must see attractions in El Nido and start planning your own Palawan trip!
Guide to El Nido: The Best Things to See and Do
Explore Big Lagoon by kayak
Without a doubt, kayaking in the Big Lagoon is one of the most popular activities in El Nido, and it is completely unmissable. You can rent kayaks from the floating pontoon at the entrance whilst on one of the local day trips (nearly every one of them will visit Big Lagoon).
It's magical, although getting busier as the crowds grow year by year.
Have a beer on one of remote islands dotted in the archipelago
Tucked away amongst mangroves and near to Snake Island is a secret bar. It's as rustic as you get, with a small bamboo hut offering up cold beers and the most chilled environment. Make sure to visit at some point during your stay in El Nido. It's might be included on one of the day tours or you might need to ask around for a local boat.
Head off the beaten track and get to know the locals
I say this about every destination I visit, but it's nearly always my favourite thing to do on my travels. On my most recent visit to El Nido, our hostel was located to the edge of the main beach, where we had to navigate our way through giant rocks, small wooden homes and hundreds of kids to get there. We loved it and it was a great way to meet the locals in El Nido.
Enjoy a smoothie at V&V
In my opinion, it's the best breakfast cafe in El Nido! The queue can be fairly long but it is totally worth it! On a hangover, it's like heaven in a glass. Just look at my happy exhaustion below!
Play with all the cute puppies and kitties that are everywhere!
Explore small lagoon by paddle board
Small Lagoon is another of the most iconic places in El Nido. Look for one of the local companies along the beach in El Nido offering paddle boarding. You won't regret it!
We spent some amazing days out on the water paddle boarding. Exploring on SUP is a great way to discover remote and quiet areas that the larger boats can't get to.
Go diving to marvel at the marine life
If you're into diving, then you don't want to miss the chance to go in El Nido. There are plenty of diving companies who can take out, no matter what your previous experience is.
Visit Seven Commandos Beach
This is one of the most beautiful beaches in El Nido. Make sure to early before the crowds arrive!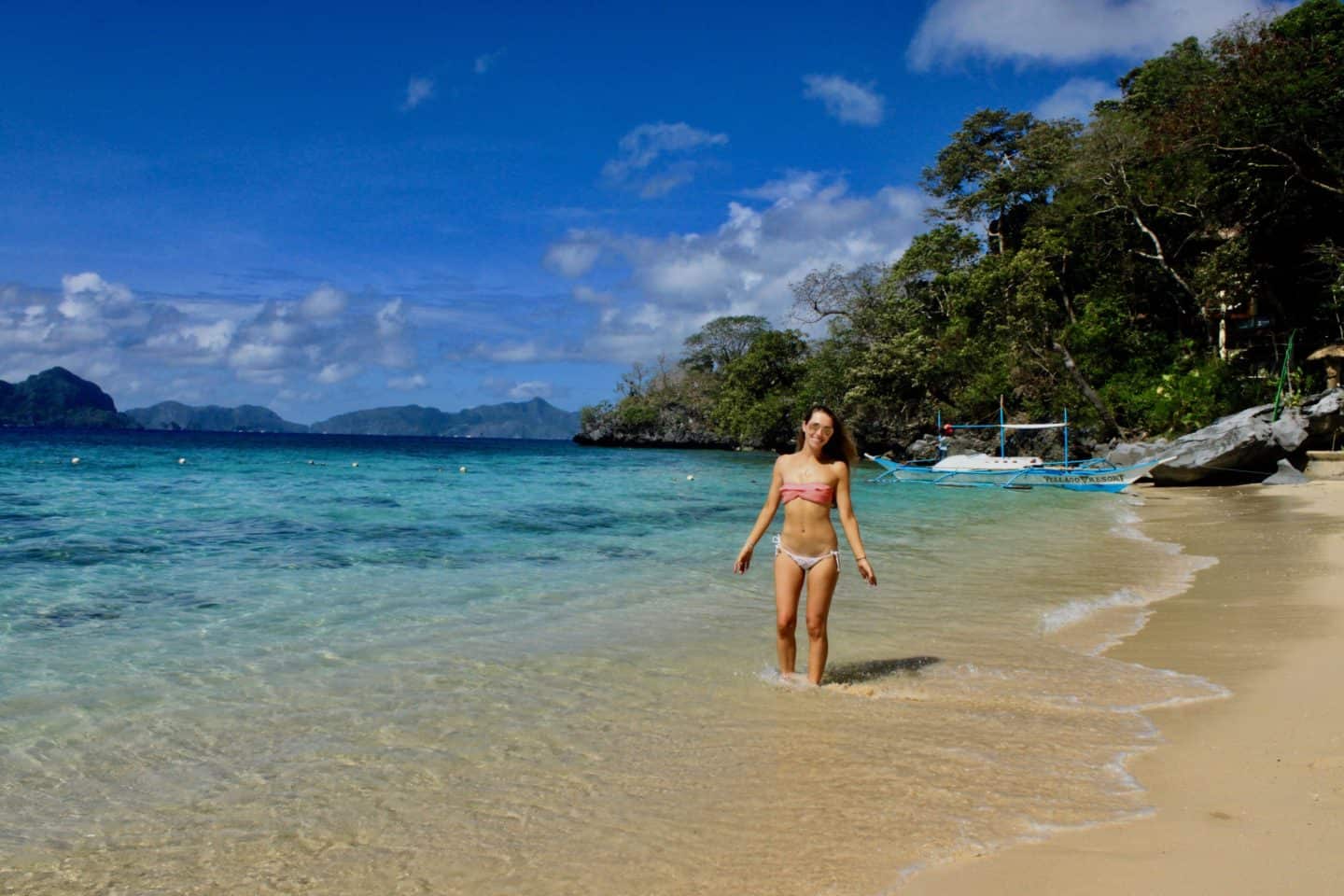 Stay at the amazing Las Cabanas Beach Resort in El Nido
One of my favourite places in all the Philippines. Las Cabanas Beach is great for a sunset drink but it's even better when you wake up there!
Have dinner by candlelight on the beach
A peaceful dinner under the stars is definitely one of my top romantic things to do in El Nido. This photo is taken at Las Cabanas and the team made it very special!
Charter a boat or join a local tour
The town is brimming with tour operators. Head to any stall in town – you don't need to shop around as they all sell day boat trip excursions A,B,C and D at a price set by the local tourism authority. A boat tour is the very best way to see El Nido, and gliding through the arcipelago's turquoise waters is an incredible way to spend a day.
Find a hammock and stay there all day
'Cos you can!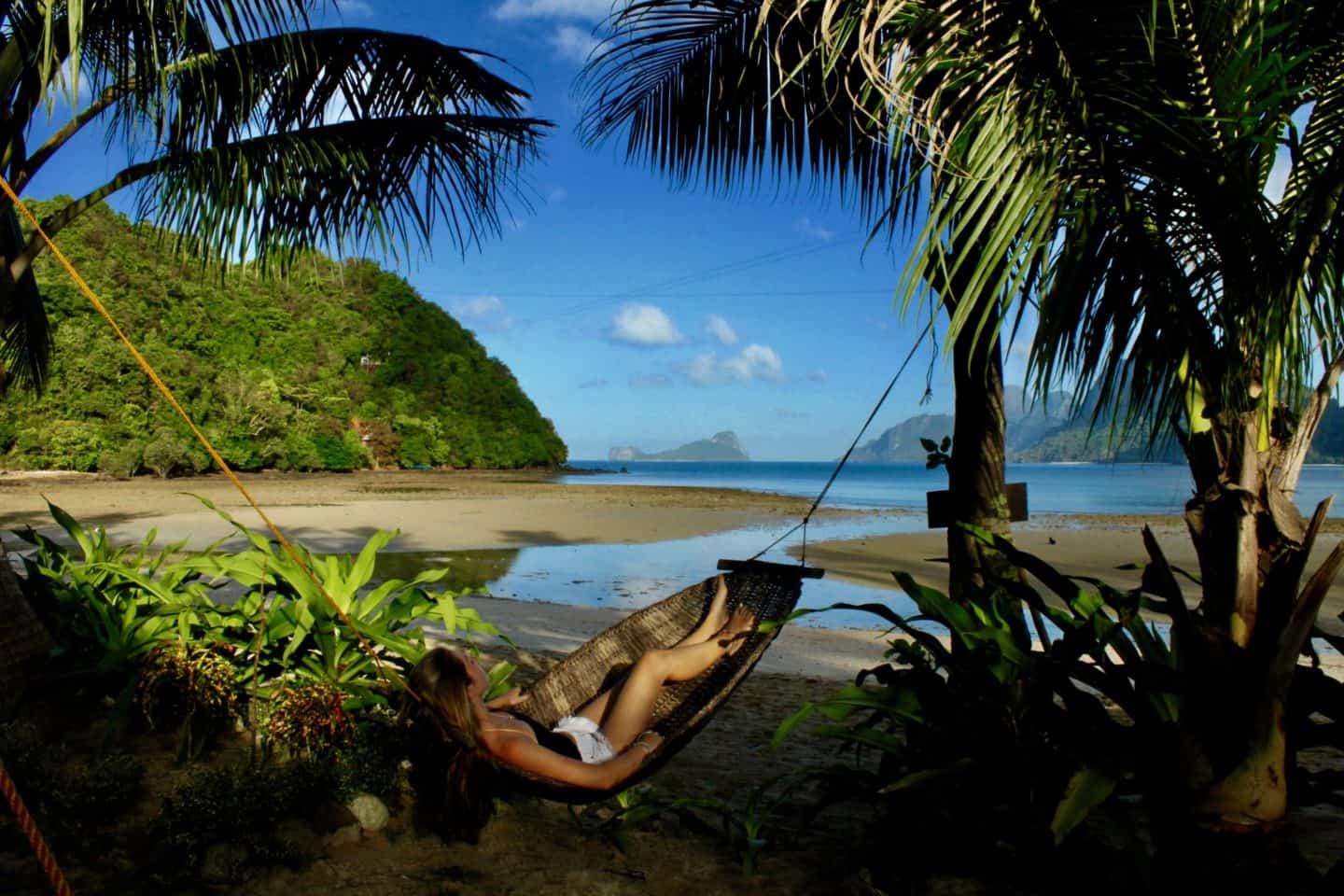 Catch the sunset
They're famous for a reason. Find a beach bar, grab a drink and enjoy the view.
Explore the amazing Snake Island
This sandbar is not to be missed. Included on several of the boat trips, this sandbar is incredible and you can walk at waist height water for hundreds of meters.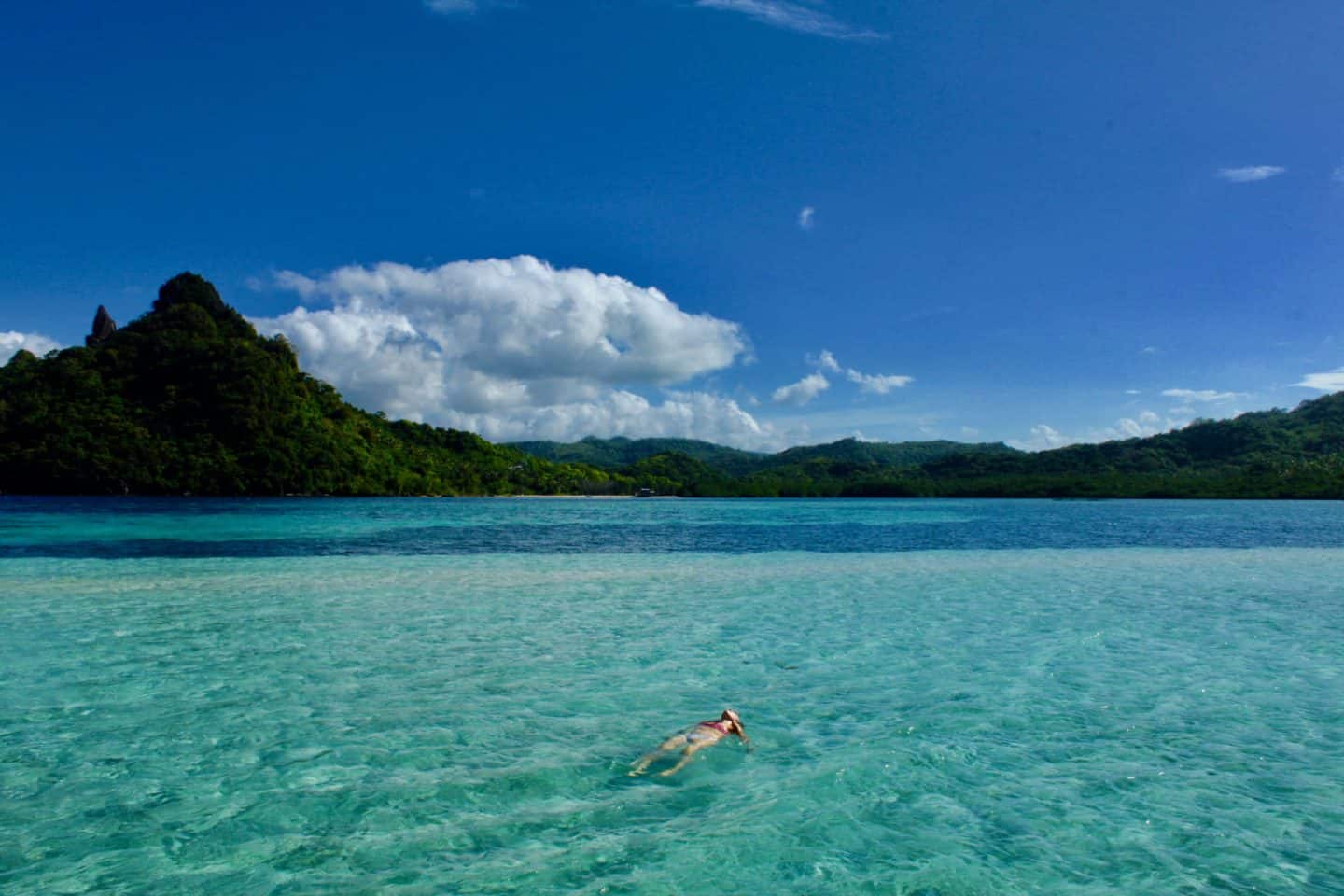 Enjoy cocktails and smoothies all day long
This dreamy spot below is at Las Cabanas Beach, which is lined with small beach bars serving up fresh fruit smoothies.
Marvel at the twinkly waters
Honestly, the water around El Nido and the archipelago has got to be some of the clearest in the world!
Sail past empty and deserted beaches
Most the islands are uninhabited, and totally untouched by humans. Some of the islands near to El Nido and Coron are some of the most pristine scenery I had ever seen in my life.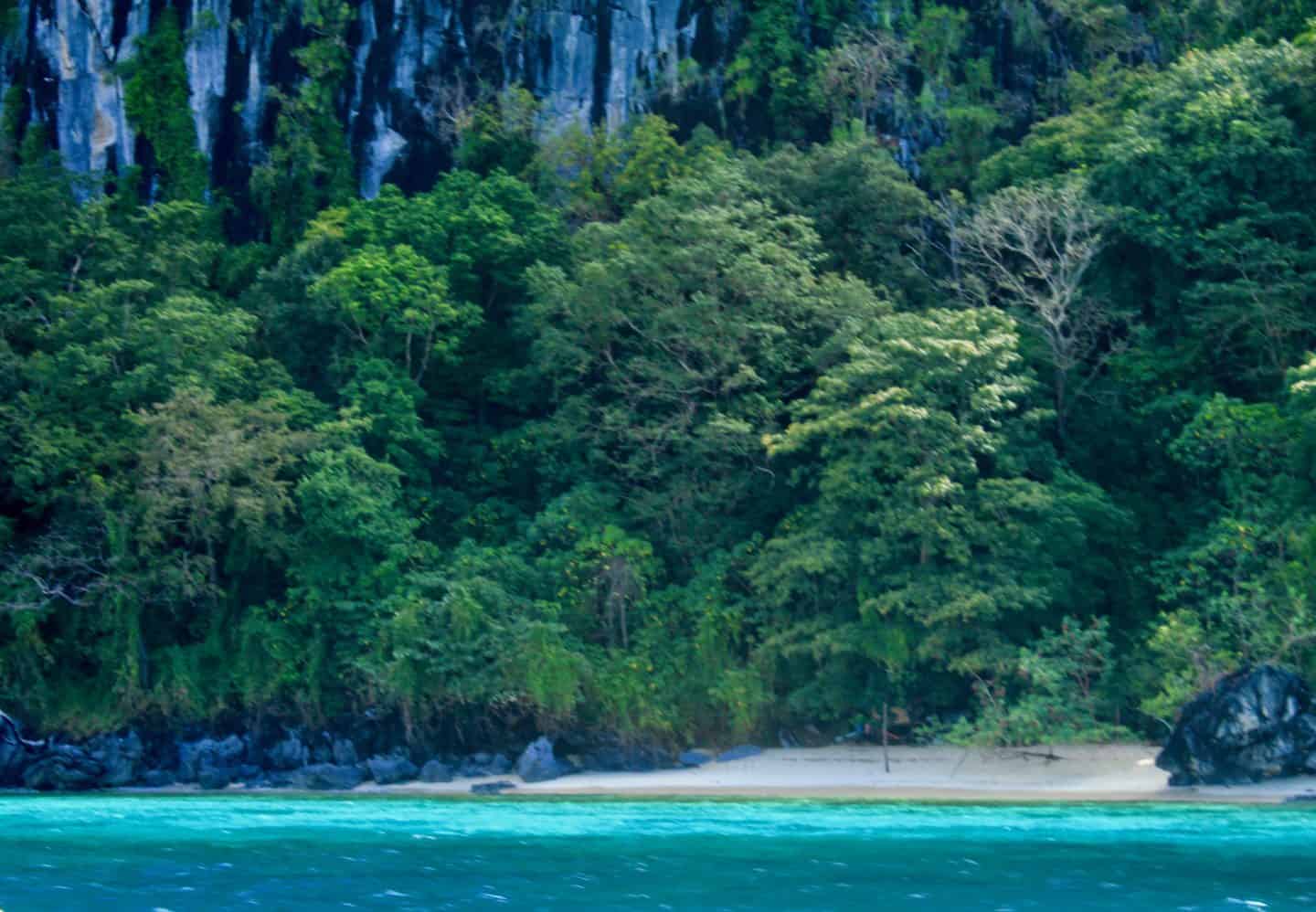 Head into the jungle interior
Ask the locals or other tourists where to find the jungle paths and go exploring. The jungle interior is leafy and wonderful to wander in, but few do, making it one of the more unusual things to do in El Nido.
But most of all, RELAX
You are in paradise after all!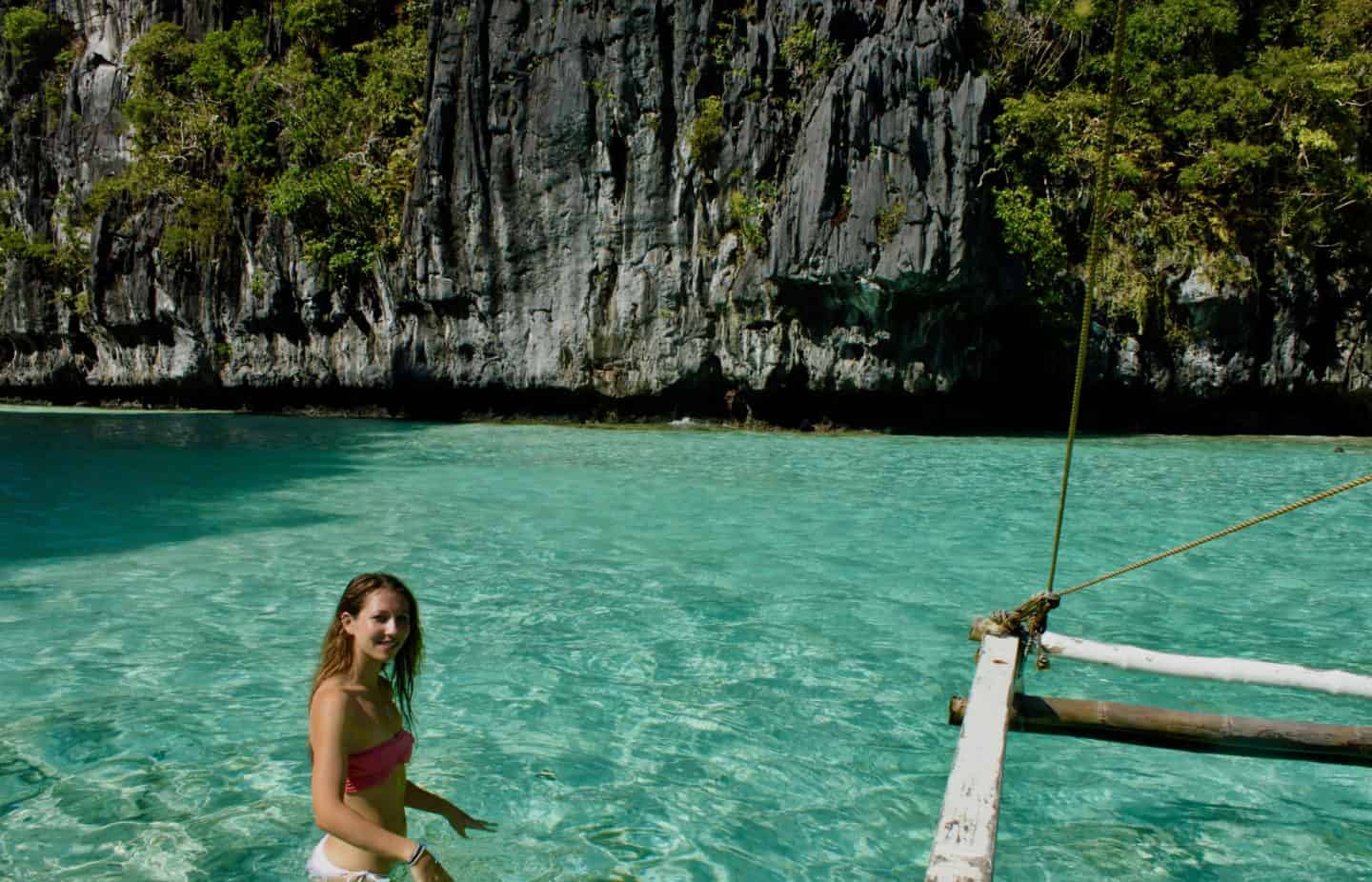 Organise tours before you go
You don't necessarily need to pre-arrange tours, but you can to avoid things being booked up or busy. I've put together a selection of the best tours here:
Essential information to know
A real backpackers town, the town of El Nido is still very basic in many ways and its location means improving infrastructure is quite the challenge.
There are several factors to take into consideration before arriving in El Nido, for example the lack of ATMs or they fact that they regularly run out of cash. I've written a much longer detailed post on this everything you need to know before visiting El Nido here.
Where to stay in El Nido
There's a huge range of accommodation in El Nido. There are definitely less luxury hotels, but that's sure to change over time as this town grows in popularity.
These are some of the best hostels to pick in the area:
As I said, there aren't too many ultra luxurious hotels yet, but these three below are some of the very best luxury hotels in El Nido. All are operated by the same group, offering idyllic and serene island experiences:
I hope you've found my guide to El Nido useful and that maybe I've inspired you to visit this gorgeous place on your travels!
Have you been here before? How did you find it? Let me know in the comments below!
As I mentioned, I have been to the Philippines a few times and loved it every single time. It's one of the most beautiful corners of the world, for sure. Make sure to check out my other Philippines posts here:
If you've enjoyed this post, feel free to share using the below links!
Wanna see more? Check my Instagram here, my Facebook here or my Twitter here!
Disclaimer: This visit to El Nido as entirely paid for by myself and there was no involvement from the tourism board or a hotel. This is an independent guide.
Enjoyed my guide to El Nido? Pin it!