The tiny but beautiful Gili Islands are a must-see on any visit to Bali. Fortunately, the island are easy to include so read on to find out how in my ultimate Gili Islnds guide!
Long dreamy days on the Gili islands can be spent soaking up the rays, snorkelling, and cycling. With no traffic and no large hotels, it's an easy-going slice of paradise. Although things have changed over the past few years, with an increase in rubbish or garage coinciding with the increase of tourists, it's still a beautiful set of islands well worth visiting.
Gili Islands Travel Guide: Essential Information
Located just over 100km from the Bali mainland, the three islands that make up the Gili Islands are fairly straight forward to get to. I say fairly, because the ferries are fairly unreliable and can really vary in quality and experience.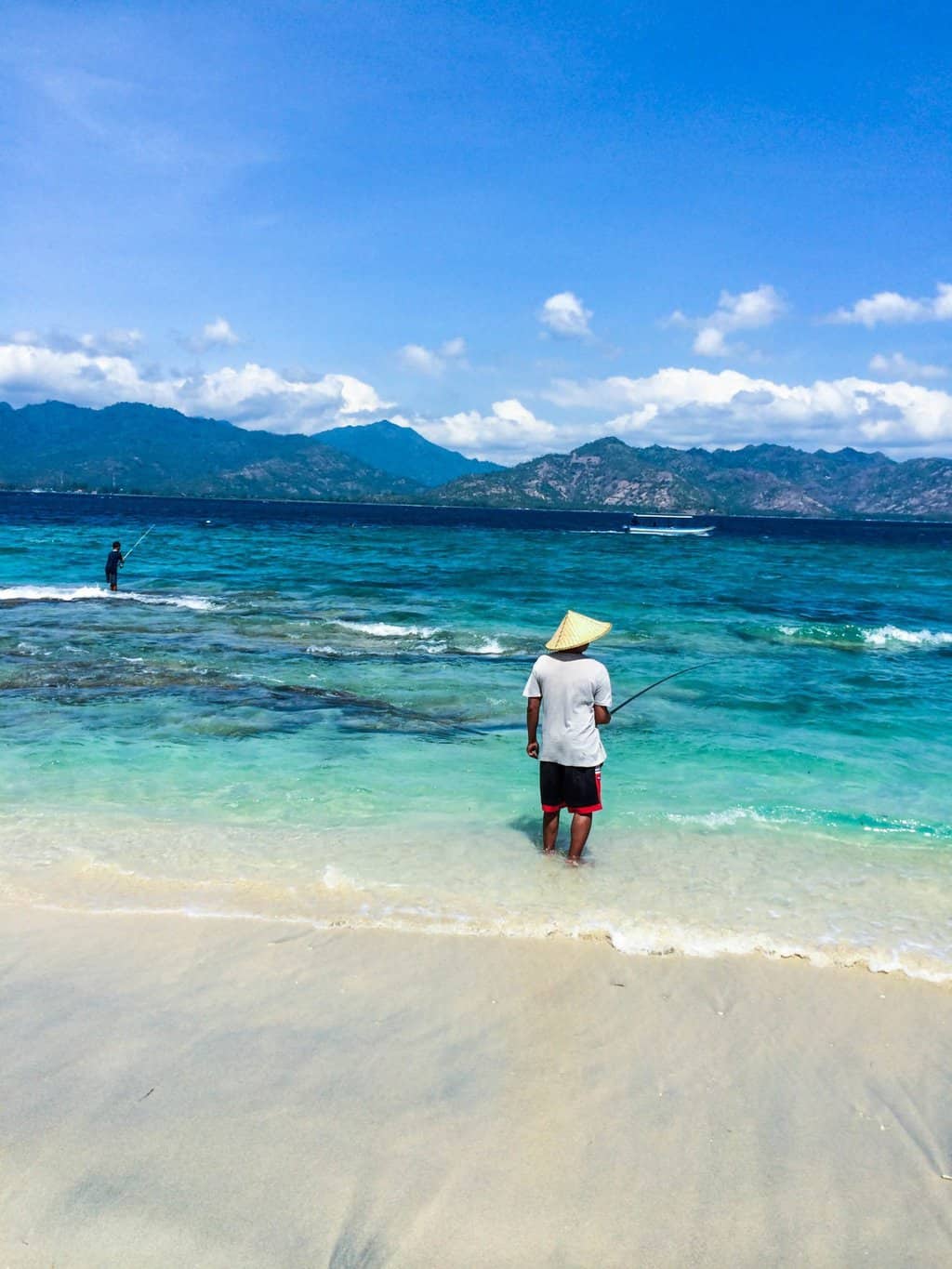 Location and How to Get to the Gili Islands
The Gili Islands are made up of three islands. The largest is Gili Trawangan, and two smaller less populated islands are Gili Air and Gili Meno. The Gili Islands are located off the west coast of nearby island Lombok. However, most travellers arrive on the Gili Islands from Bali, rather than Lombok.
The fast boat to the Gili Islands goes from a few ports on the Eastern side of Bali, including Padang Bai, Sanur, Benoa and Amed.
There are two options – the more expensive speedboat or the cheaper public ferry – I would definitely recommend the first. The speedboat takes about 2.5 hours and is a perfect time to top up the tan!
Tickets from Bali to Gili Trawangan or Gili Air can now cost about IDR 250,000 (£70) for a return journey. Most tickets include pick-up and drop off in Bali too. Can you believe that when I first went in 2014, it was just £13 for a fast boat!?
Generally, it's a rule that the more expensive the ferry is, the more reliable it is.
You can buy tickets from tourists shops all across Bali, but it can be more reliable to buy them in advance online beforehand.
I've linked several ticket options here:
You can also book a tour package from Bali that takes care of your ferry and accommodation here as a two day trip. Or enjoy a private three day snorkelling trip around the Gili Islands from Bali too.
Getting Around the Gili Islands
An important thing to know about the Gili Islands is that none of them have cars, or public transport! Instead, there are dirt tracks circling the perimeter of each island. The main transport options are bikes or walking, and if you're on Gili T then you can take horse and cart – if you prefer.
Useful tips
All three islands have ATMs but it's wise to bring cash over with you from Bali, just in case they run out.
There are no cars, and it's very enjoyable to get around by bike or walking. Gili T, the largest of the three, is no less than a 3 mile walk around the island. Just to give you an idea how small they are..
You will however see horse-pulled carts. I personally wouldn't use these but each person can make their own decision on this. It is the only form of 'public transport' on the island.
How to Choose which Gili Island to Visit
Gili Trawangan (or commonly known as Gili T) is definitely the most lively of the Gili Islands. It's got plenty of bars and fun nightlife in the centre of town, and is easily the most popular with backpackers.
Gili Air and Gili Meno are the calmer and more quieter of the three island. They are ideal for honeymoons or families.
Although the Gili Islands are often visited by travellers on most Bali trips, they have actually managed to hold on to their natural charm.
The islands have also managed to steer clear of huge hotel developments so it's really just small villas, hostels and guesthouses.
Best Things to See and Do Whilst on the Gili Islands
The main order of the day in the Gili Islands is relaxation. Don't expect much cultural or historic sightseeing, or many organised tours. These are just tiny paradise islands.
Beach time
Nothing beats a day or two of kicking back on the beaches here and looking out onto the azure waters. No matter which beach you visit on each of the islands, you're bound to find a quiet patch of sand to relax on.
Snorkel or Scuba Dive
The Gili Islands are renowned for their diving and underwater marine life.
In fact, the Gili Islands are popular with people coming to gain their PADI diving qualification.
However, if you just fancy snorkelling and looking for turtles, this can easily be arranged in town at any travel agency shop.
Explore the islands by bike
As I mentioned, bicycles are the main mode of transport on the islands. Exploring the Gili Islands by bike is a really fun activity, and you might find your own secluded paradise beach!
Enjoy local bars and nightlife
Gili T is definitely the most lively of the islands. You'll have no problem finding where the party is at, as you'll definitely hear it! The main bars on the islands are:
But exploring the islands, you'll also find quieter spots for a sundowner too.
Catch a sunset
Sunsets in the Gili Islands are beautiful. Beach bars are putting things like swings in front of their bars to entice people in – it works.
Eating Out
All three islands offer small local eateries, but in my opinion, the best food in the Gili Islands can be found in the popular local night markets. They start up around 6pm, and you can really enjoy a feast for less than £3!
Where to Stay in the Gili Islands
There are plenty of accommodation options across the three islands. Many of these cater to backpackers but there are some more luxury high end boutique hotels opening now. I've broken down the islands and share some excellent places to stay on each here:
Gili Trawangan
Luxury: Pondok Santi Estate or Gili Eco Villas. Probably the best luxury hotels on Gili Trawangan.
Mid-Range: Vila Ombak, Pearl of Trawangan or Ponte Villas. All great value stays with delightful swimming pools.
Budget: I highly recommend the Aaliku Bungalows. Beautiful accommodation and a great price too!
Compare all accommodation on Gili Trawangan here.
Gili Air
Luxury: Slow Gili Air. Private pool bliss. Or Rimba Villas for beautiful boho chic decor.
Mid-range: Sunrise Resort or Camilla Resort for chilled out comfort at a great price.
Budget: Captain Coconuts A great value stay and an excellent vegan cafe.
Compare all accommodation on Gili Air here.
Gili Meno
Luxury: Villa Kinagu. Beautiful accommodation with a gorgeous pool area or Meno House for dreamy paradise villas.
Mid-range: Avia Villa Resort or Meno Colanta, for great value and stylish accommodation. Another great choice is Meno House United Colours of Meno, for cool and vibrant accommodation.
Budget: The Rabbit Tree Hostel for good vibes and good value.
Compare all accommodation on Gili Meno here.
Gili Islands Travel Guide
So there's my travel guide for the beautiful Gili Islands. The perfect slice of paradise to spend a few days chilling and relaxing, plus an easy add-on to your time in Bali.
If you only have a week in Bali, then I probably wouldn't recommend visiting the Gili Islands. But for any visits that are 10 days or longer, I'd definitely suggest a couple of days chilling out in the Gili Islands. It's a welcome break to the hustle and bustle of Bali!
I've written several other guides to Bali, including the best temples in Bali, the best beaches in Uluwatu, the best plant-based and vegan cafes on the island, and the best beach clubs in Bali. I've also written a review of this dreamy hotel in Canggu, as well as a guide to visiting Sundays Beach Club for the day.
Feel free to drop me a line if you would like any advice or further recommendations. If you've enjoyed travel guide to the Gili Islands, please do share using the below links!
Wanna see more? Check my Instagram here, my Facebook here or my Twitter here!
Disclaimer: This visit to the Gili Islands was entirely paid for by myself and there was no involvement from the tourism board or a hotel. This is an independent guide.
Enjoyed my Gili Islands Travel Guide? Pin it!