Heading to Bali soon? This beautiful destination is not only known for fascinating Hindu temples, dreamy beaches and island-hopping in paradise but now its epic beach clubs.
Bali has no shortage of brilliant beach clubs, most of which have opened in the last 5 years or so . Many beach clubs don't charge for day access, and are open throughout the day and into the evening. Unlike other destinations around the world, beach clubs in Bali are far less exclusive and are open for any tourists in Bali to visit.
Furthermore, if you're planning a trip to visit several of the best beach clubs in Bali, then make sure to go in the months offering better weather. This detailed guide here explains the best time to visit Bali.
The Best Beach Clubs in Bali
From Canggu to Seminyak, Kuta to Uluwatu, all of Bali's main tourist areas have beach clubs. They are are perfect for long days lounging in the sun, or sunset sessions into the evening.
Here are my favourite beach clubs in Bali, so read on and get planning which beach clubs to visit on your Bali trip!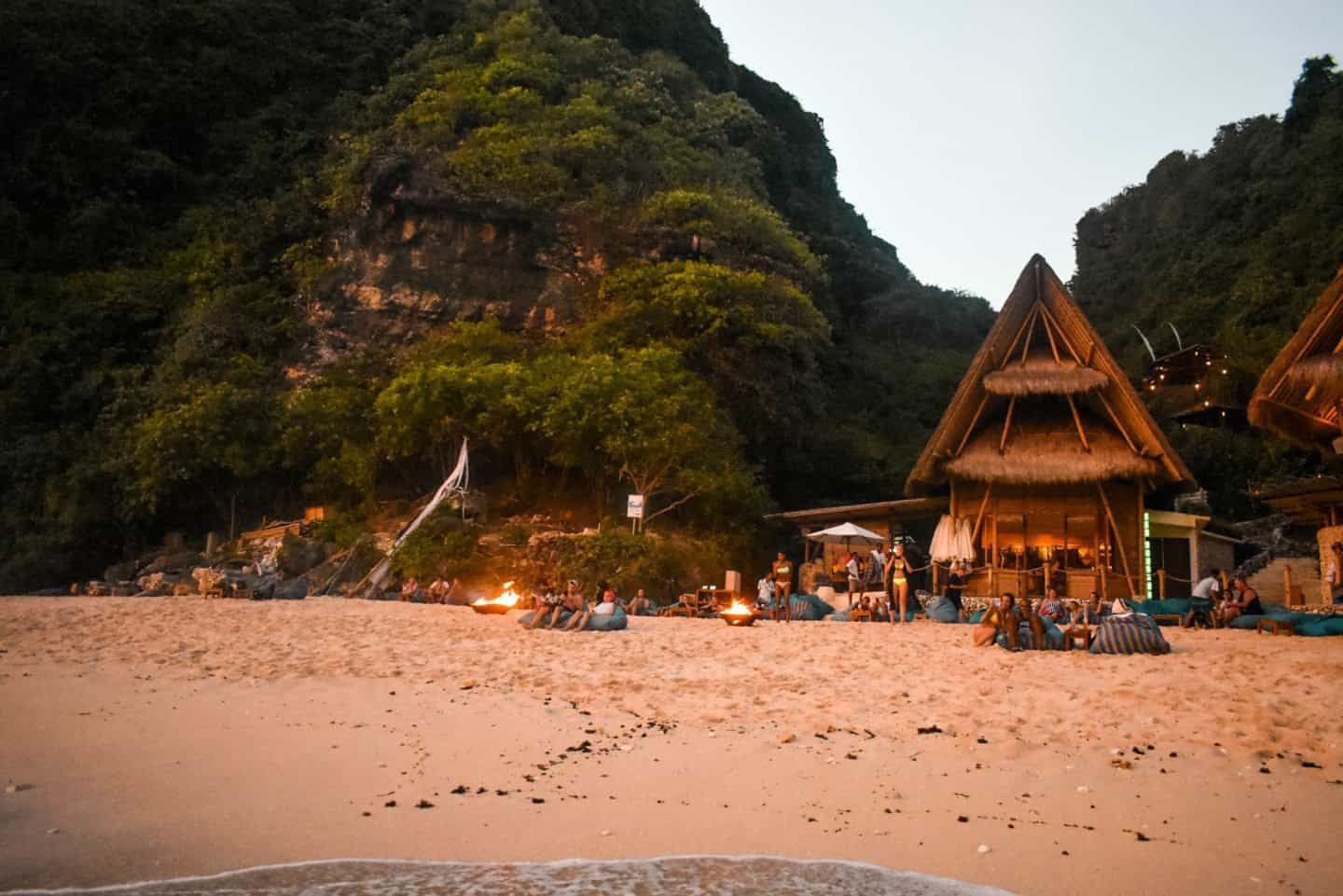 Potato Head Beach Club, Seminyak
A rather iconic Bali destination. From its architecturally amazing amphitheatre-style building, to the famed pool parties occurring every day of the week, it's a must visit in Bali. The Potato Head brand has a number of outposts across Asia, but none are as spectacular as this beach club located in Seminyak.
Overlooking the glittering Indian Ocean, the beach club has a stunning infinity pool with a swim-up bar as well as three restaurants, another two bars and a large lawn, famed for one of the best sunset views in Bali.
Top tip: The daybeds operate on a first come, first served basis so if you're planning to spend the day there, arrive early.
There's also new ultra-cool accommodation at Potato Head, and it looks divine! Check rates for a stay here!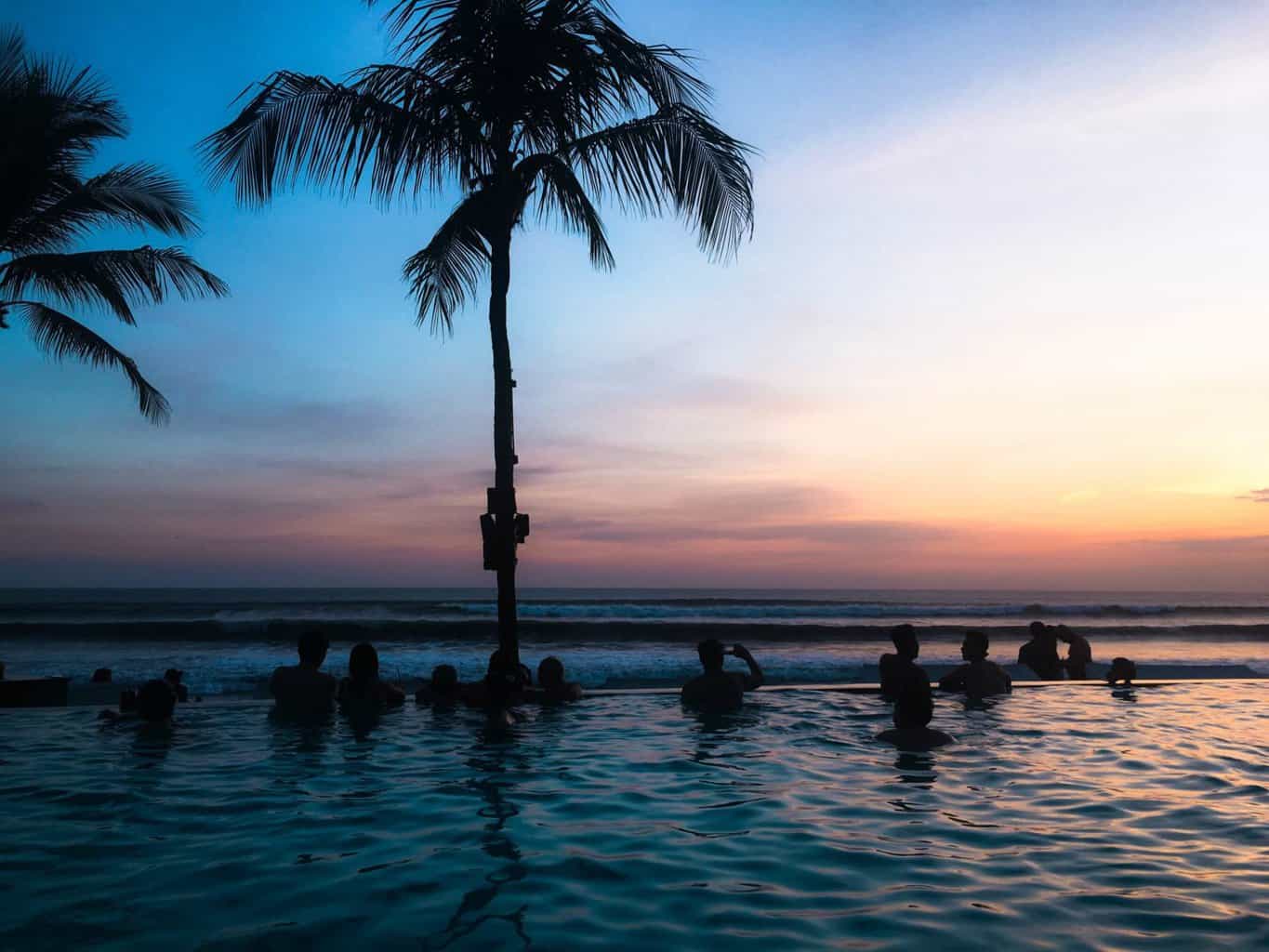 Cafe del Mar, Canggu
Bringing a slice of Ibiza to Bali, this dreamy beachclub is the place to be seen. Home to a two-level beachfront pool club, plus a huge infinity pool, there are plenty of places to lounge for the day. There are even several swim-up bars with a dazzling array of cocktails on offer.
Tip tip: Check its website regularly as international DJs often come to perform here!
La Brisa, Canggu
Serving up some truly tropical vibes is this epic shabby-chic beach club right in heart of Canggu's beachfront. It's seriously chill and the perfect way to spend a super lazy afternoon on a bean bag or recycled wooden sun loungers.
The Lawn, Canggu
Located in Canggu, in the heart of the action, this beach bar has a great pool and a huge amount of seating 'lawn-style'. Open throughout the day with direct access to the beach and its own infinity pool, it also offers up great dishes in its restaurant.
Top tip: Definitely book if you're planning to get a table at sunset time for dinner
Finns Beach Club, Canggu
This is one of the most popular beach clubs in the whole of Bali. It's got something for everyone, from sun worshippers, foodies and party people. In fact, it's known for its epic pool parties and incredible sunset sessions. With 4 pools, daily yoga and 6 restaurants, you could come here everyday and still not get bored!
Mrs Sippy, Seminyak
Another iconic Bali beach club and a complete haven away from the busy streets of Seminyak, Mrs Sippy is a great place for the day, and for the night. It's also home to the biggest salt water pool on the island. Mrs Sippy also regularly hosts some of the world's biggest DJs in its vast open-air club.
The W Hotel – Woo Bar, Seminyak
Another Seminyak hotspot! Not only is the entrance pretty incredible (a real bamboo tunnel), but it's huge and you can nearly always grab a table.
Top tip: Technically, you're only supposed to sit in the Woo Bar area to enjoy drinks, food and also the pool. However, you can get away with enjoying the sun loungers – just don't order food sitting here or they will ask for your room number!
Tropicola, Seminyak
From the team behind the epic Mexican restaurant Motel Mexicola, is this ultra-tropical beach club. Bright, colourful and fun, it has all the ingredients you need for a chilled out day. There are three bars, two giant pools and excellent food.
Sundays Beach Club, Uluwatu
This beach club is my longtime favourite in Bali. In fact, I've written a complete guide to Sundays Beach Club here!
A mid-week adult day pass to Sundays costs IDR 400,000 (£22) which includes beach club access (via super cool lift), a towel and fast wifi. Within this, you also receive a IDR 200,000 (£11) voucher towards food and beverage. This amount definitely helps towards your lunch, but wouldn't completely cover it.
A weekend day pass for adults costs IDR 450,000 (£25), and you receive a IDR 250,000 (£14) voucher towards food and drink.
Sundays Beach Club also offers kayaks, snorkeling equipment and SUPs as well as an evening bonfire sunset session!
Top tip: Firstly, arrive 11am or early to guarantee entry as they do have a quota and secondly, there is a happy hour at sunset (5-6.30pm) so save your boozing until then!
Ulu Cliffhouse, Uluwatu
Located on the beautiful Bukit peninsula that's home to the surfers paradise of Uluwatu, Ulu Cliffhouse is a great new opening on the island. Perched on the beautiful clifftops with unbelievable views across the Indian Ocean, this is a stylish place to spend the day. The cuisine here is Peruvian, crafted by the famous chef, Diego Munoz.
Single Fin, Uluwatu
Not exactly a beach club, but more of a cliffside bar, this legendary hotspot is known for its infamous Sunday evening sunset parties. However, it's a vibe any of evening of the week.
It's the perfect spot to watch the surfers line-up and take on the Bali waves.
Top tip: Arrive early to grab a seat for sunset.
Azul Beach Club, Legian
This huge sprawling beach house in the heart of Kuta is a whole world of fun, and is home to Bali's first Tiki Bar. What it lacks in poolside fun, it makes up for in excellent food and drinks!
The Best Beach Clubs in Bali
So here's my take on the best beach clubs in Bali. All offer something a bit different and are a unique experience not to be missed!
I hope this post has been useful for anyone visiting Bali and looking for all of the best Bali beach clubs.
Feel free to ask any further questions regarding Bali beach clubs in the comments section below and if you're looking for a beautiful hotel to stay in, check out my review of Kalapa Resort & Spa here. If you're looking for a guide to the island of Bali, or a guide to the Gili Islands, look no further!
If you've enjoyed this post, feel free to share using the below links.
Wanna see more? Check my Instagram here, my Facebook here or my Twitter here!
Disclaimer: This visit to Bali was entirely paid for by myself. There was no involvement from the tourism board or any of the beach clubs. This is an independent guide.
Enjoyed my guide to the best beach clubs in Bali? Pin it!