On my third trip to the Philippines (and in fact, my honeymoon!), I decided that experiencing Tao Philippines was top of my bucket list. I didn't really know about Tao Expeditions on my previous visits, but after my now-husband joined a trip 6 years ago, we both agreed it was something we really wanted to do together. And wow, I am glad we included this on our Philippines trip.
Tao Expeditions means sleeping in small elevated bamboo huts (called a Tuka) on tiny paradise islands dotted in the Bacuit Archipelago in Palawan. Tao Expeditions means no WiFi, eating locally sourced and fresh food, and spending days snorkelling, swimming, fishing and getting to know your fellow travellers. In some ways, it's as simple as travel comes. There aren't many places left in the world where you can break away from society like this. Because other than a few locals living on some of these tiny islands, and maybe a handful of fisherman who might sell an octopus directly from their canoe to the Tao boat, you won't see another soul.
It's definitely not for everyone. But if this kind of travel experience appeals, then read on for my complete guide to island hopping with Tao Philippines.
Tao Philippines: A Complete Guide to the Who, What, Where and Why
Why Tao Philippines?
If you're looking for an adventure with like-minded travellers, but not one where you're following a strict itinerary, then Tao Philippines is for you. As you may have gathered from above, the Tao Experience is an epic back-to-basics way to explore this gorgeous country.
Air conditioning? No chance.
Mosquito nets? You'll definitely need to be sleeping under one.
Power showers? Nope.
But if you want to catch tuna straight from the side of the boat, and enjoy freshly cut sashimi, that's Tao. And if you fancy waking up in pure paradise mere metres from the beautiful sea, then that's Tao. And if you're willing to go without your home comforts for 5 days – in exchange for one of the best adventures ever – then you're definitely reading the right blog post!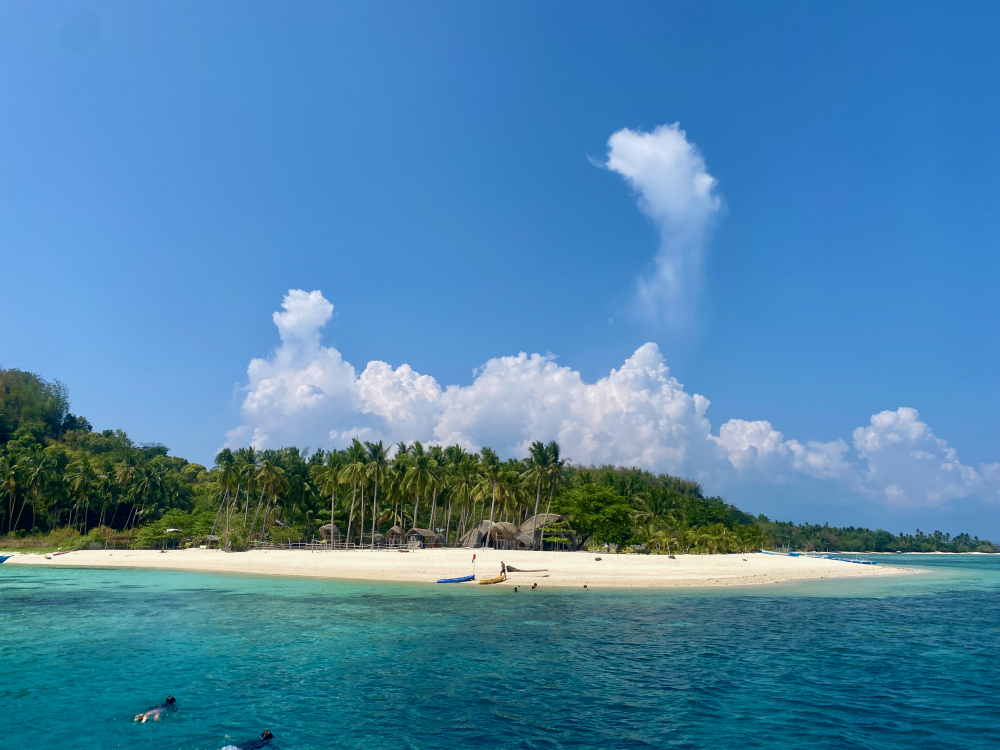 What kind of travellers do the Tao Experience?
I was surprised to find that all of our fellow travellers were above the age of 28 or so, with the vast majority being in their early to mid thirties. There were even a couple in their 50s, who had adult kids.
There were some other couples, a few friendship duos and a handful of solo travellers. We were the only couple on their honeymoon. Probably because it's not the most common way to spend a honeymoon!
It most definitely isn't a booze cruise. Which is something the Tao Philippines' website is quite clear about. And due to the price point (over USD$500 for 5 days), it doesn't typically attract backpackers on a shoe string. In fact, most our fellow group were on simply on a two or three week holiday from their day jobs. And we had a very diverse and interesting job variety amongst our group. From an aerospace engineer, a life coach, a physio, developer for a start-up, a writer from a Runner's Magazine, a nightclub owner from Berlin, and even a professional poker player!
The nationalities amongst our group were primarily British, Dutch and German. We also had a a couple of guests from other countries such as Argentina, Spain, the Philippines and Switzerland. The group size is typically between 20 and 25 travellers on board.
Who runs Tao Philippines?
Tao is locally run, and was established in 2006. On each sailing are a team of 'Lost Boys', who are local islanders who know this archipelago like the back of their hand. They all have a particular role and gradually climb up the Tao ladders to be expedition leader. On board there'll be a mechanic, a barman, a chef, a captain, a sub-team leader and the expedition leader. There's often a boat pup too!
The Lost Boys take care of every single aspect of the trip. They are responsible for your safety – there is a proper safety briefing at the start. They source and prepare all the food (more on that later), they maintain the boat, the island camps and also keep up the vibe on the boat. They're fun but equally relaxed, and make the sailing feel like you're travelling with a great group of friends instantly.
Where does Tao Philippines sail?
The Tao Expeditions primarily sail between two main ports in Palawan, which is El Nido and Coron. The sailing routes vary, and are dependent on a variety of factors including weather conditions and the other sailboats.
Each night, you sleep on a different island, each of which are run and maintained by Tao. Each island varies in size and in terms of the facilities on offer. Most sailings will visit Tao Base Camp or Tao Farm for at least one or two nights. Tao Farm was my favourite stop, in fact. These two island stops are the most established with better facilities (like toilets). Other camps are just a series of straw huts, plus a larger communal hut, on tiny paradise islands.
We did the 'Original Expedition' offering, which is 5 days/4 nights from Coron to El Nido.
There is also an 'Express Expedition' (3 days/2nights) and a Combination Expedition (6 days/ 5 nights).
Finally, there is also a Tao Paraw sailing experience which is on a traditional Filipino sailboat.
What is included on Tao Experience?
Everything is included except for alcoholic drinks and soft drinks, on-island massages, locally crafted goods and a couple of local taxes which are collected in cash.
After the briefing, which is done the night before departure, everyone has the option to get a wristband which is pre-loaded with money. This means you can be entirely cash-free, and the bar staff simply tap your wristband to take payment for drinks. They recommend for a 5 day sailing that you load about xx PHP which is approx. £50. Greg and I loaded £80 for 5 days between us which covered all our drinks, both alcohol cocktails, beers and a lot of mango juice!
At Tao Base Camp and Tao Farm, local villagers are employed here in various roles, including women who give massages. I highly recommend doing one or two – they're amazing and enjoying an al fresco massage listening to the swaying palms and birdsong is quite magical.
You can also buy a handful of locally made items, including beauty products and woven gifts.
What is the food like on Tao Philippines?
In one word? Amazing!
I had heard the food would be good, but actually, it's really delicious and incredible how they cater for 25 or so people from the tiny kitchens at the back of the boat. Each meal was an experience. One breakfast for example was freshly made porridge served up in hollowed out coconuts, with fruit and coffee alongside.
Lunches on board were meals like freshly caught seafood, served with rice and delicious vegetables. In fact, we always felt we ate really healthily. Dinners really varied. One night we even did a full Lechon experience, which is a Filipino tradition. This is a pig on a spit, and it took hours to carefully prepare to perfection. It served dozens of us and all the island workers joined too.
At Tao Farm, they have a very cool open-air dining experience. Here, all the guests sit around an open kitchen area on high stools in a big U-shape. We were presented with course after course of magical food. It was so delicious. For breakfast, they have a bread oven outside and we ate delicious plant-based breakfast burgers one morning.
The food was always so surprising and every day it was so exciting to find out what was next. In the afternoon they always brought around snacks on a tray, typically gooey goodness of caramelised bananas or something similar. In short, you will never go hungry!
The Tao team can cater for dietary restrictions within reason. And because so many meals are served with rice and delicious veggies, even vegetarians will likely find the food pretty good. If you don't like rice, vegetables and are vegetarian, you might find it hard.
Where do I sleep and shower?
As mentioned, each night, you sleep in a small, elevated bamboo hut called a Tuka.
If you're a couple, you will always get a hut to share. If you're travelling solo, you will 98% of the time have your own hut. On each island, there's always more huts than people so you should never have to share with strangers.
On arrival, the expedition leader gives everyone their hut and bag of bedding. Time permitting, they wll help set up our bedding and mosquito net each night. The bedding is a mattress that's a couple of inches thick, covered by a white bed sheet. Then a pillow, pillow case and white sheet on top. It is extremely hot at night so you definitely don't need anything more than this.
There's normally a large lower level or giant step on each Tuka where you can place your belongings and dry bag. There's rope attached between the palm trees to dry your clothes from the day.
The bathroom situation varies on each island. The more simple camps have a pipe in a small communal shower area. The Tao base camp and Tao farm have a bigger showering area with more powerful showers and local coconut body scrub in giant bottles.
The toilets on the smaller camps are normally flushed by using a bucket of water. And there isn't a light in the in the toilet hut so you need your flash light. It's not as bad as it sounds, and oyu're often only there for a night.
At the larger camps, the toilets have flushes and are in proper toilet blocks with lights (and light switches)!
Other useful tips for Tao Philippines
Staying well
Although it seems pretty obvious, it's worth noting the risk of sun stroke in the islands. Particuarly, because around 5 of our group became extremely sick for about 24 hours each due to sun stroke. The suns rays here are no joke.
And because you're outside and in the water for so many hours a day, it's really important to take care with sun exposure on the boat and on the islands. Make sure to bring a rash vest, plenty of sun tan lotion and a hat. Purified drinking water is available at all times and they regularly remind you to stay hydrated and sit under shaded canopies on the boat when not swimming.
At sunset and at night, make sure to use a lot of mosquito repellent. The mosquitoes and sand flies on the islands can be quite pesky, so it is recommended to wear long, loose trousers in the evening.
If you're prone to seasickness, it's recommended to bring suitable medication juts in case. But for the most part, the crew aim to avoid rough sea patches and try and follow sheltered, calmer routes.
Make sure to check out this page here on the Tao website for more detailed information on taking care of yourself in the islands.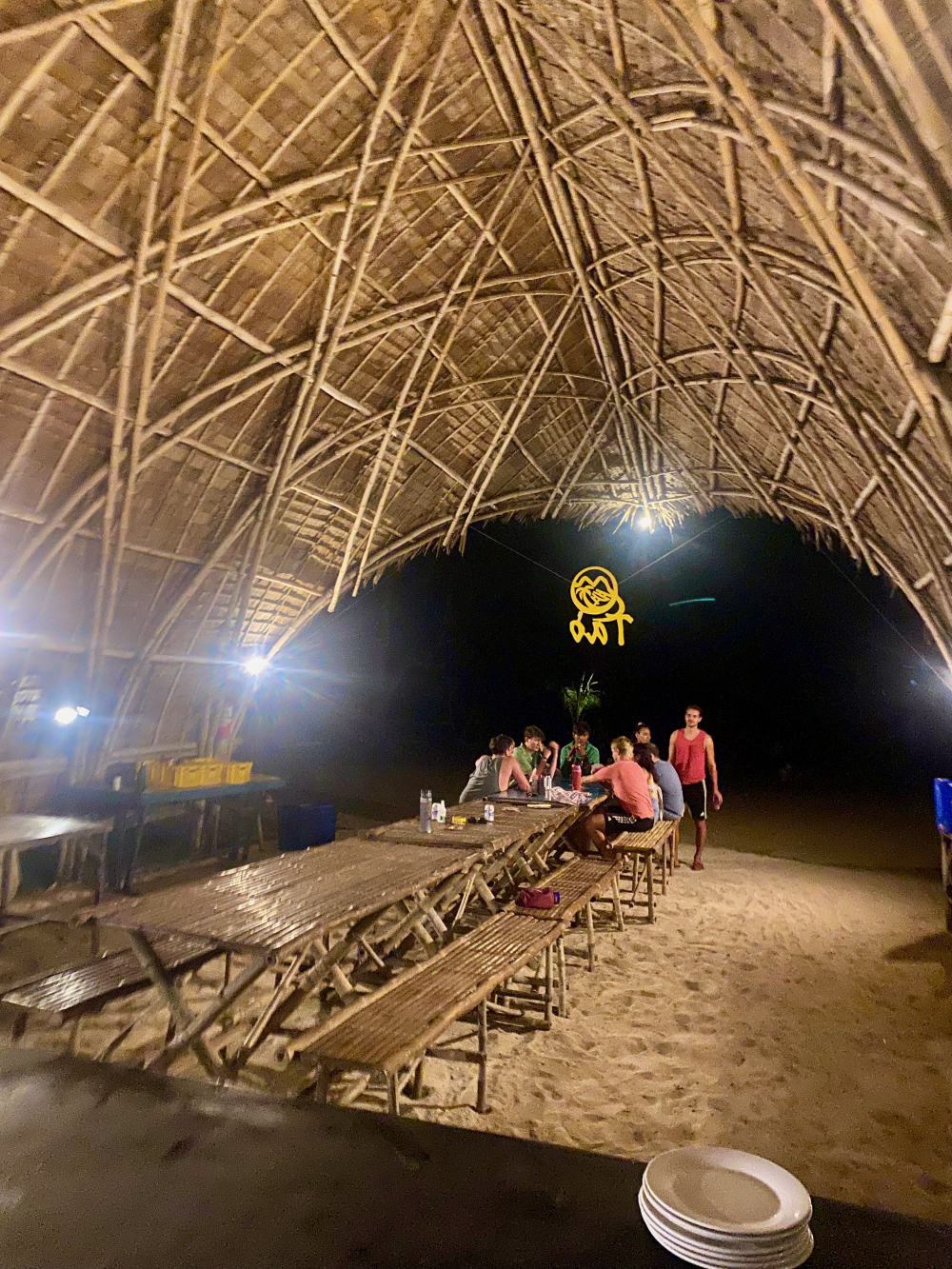 What to take on a Tao Expedition
Firstly, you will need a dry bag that is about 25-35l in size. In this you'll pack everything you need for each night on the island. Your suitcases or larger bagpacks are stowed away and although you can get to them once a day, for the most part, you just use your dry bag.
You really don't need much for Tao.
During the day, you will need:
Swimwear
Beach towel
A sarong/beach cover up
A rash vest for snorkelling
Sun tan lotion
A hat
Sunglasses
Shorts/tshirt for arriving on the island later in the day
Reef shoes / flip flops (The TropicFeel shoes are really good for this!)
A camera, a book, cards etc
A must is a also a refillable water bottle, which you can fill up again and again all day long to keep hydrated.
In the evenings, you will need:
Light weight long trousers and a long sleeve loose top
Bug spray
A thin towel for showering and essential toiletries
Flashlight or headtorch
Lightweight PJs to sleep in
You don't need a mosquito net or bedding. All huts are equipped with these.
Don't bring any layers or warm clothing. It is SO hot, all the time.
As mentioned, a couple of camps do have a few charging points, so bring a US adaptor and your charging wire for a little juice for your phone and camera!
How do I book on Tao?
The only way to book Tao is directly through their website. Simply head to this page and fill in a booking request form, and one of their team will be in touch to discuss the trip. They do ask a few questions to check you're the right kind of traveller for the Tao Experience. Payment has to be made in full. I ended up having to pay as a credit card transaction as the bank transfer method didn't work for me.
For all other key questions, make sure to visit the website here: https://www.taophilippines.com
Which direction to do the sailing?
I personally think sailing from Coron to El Nido is better, as you will probably want to relax and spend some time on land afterwards and I think El Nido has more to do and offer.
Coron is small, developing town with a busy, hilly, central road that he can be quite hectic walking up and down. There is less natural beauty and sites to see in Coron Town, so the main attractions are full day trips away.
El Nido, on the other hand, is a small but bustling town surrounded by huge karst limestone towers, with an abundance of cafes, bars and accommodation to opt for. I've spent a lot of time in this town over the past 10 years or so, and have written several detailed guides to El Nido. The first covers all the practical points you need to know before visiting El Nido, and the second covers all the best activities in El Nido.
If you do start in Coron, as we did, then the airport to fly into is Busuanga (USU), served by a handful of flights each day, mostly from Manila. The flight is very quick and incredible scenic on the approach. Busuanga airport is tiny and you're out in the pickup zone within minutes of landing. Most accommodation providers can offer a transfer for the 40 minutes drive to Coron Town, which I'd recommend arranging beforehand.
Where to Stay in El Nido
There are distinctly more places to stay in El Nido, which is another reason why I suggest staying here after the trip. From budget-friendly backpacker hostels, to small guesthouses or opulent luxury villas, there's accommodation in El Nido to suit everyone. I've stayed in a great variety of different hotels and guest houses in El Nido, some in the heart of the town, and others located on different nearby beaches.
Here are a couple of my favourites:
El Nido affordable, backpacker options:
Some guesthouse options include:
For honeymoons or luxury stays, these three are all run by the same hotel group, each offering idyllic island experiences:
If you're really keen on scuba diving, another alternative option, is to stay at the Tao owned and run Sangat Island Dive Resort. You can see more on the resort and how to book here.
Where to Stay in Coron
Coron has distinctively less choice, and quality is a bit hit and miss. We stayed at Coron Bancuang Mansion, which I would highly recommend. Our room was huge, the staff brilliant and the pool area was lovely. It was also right by Sharky's, a great evening spot up the hill.
Book your stay at Coron Bancuang Mansion here (approx £45 per night).
Other affordable places to stay:
Things to Do in El Nido and Coron before and after Tao
Your Philippines adventure doesn't just sit with Tao. Both start/finish points offer amazing adventures in their own right. I've spent significantly longer in El Nido, so can definitely recommend a whole host of excursions and adventures in and around El Nido. Most famously are the A,B,C and D tours, which are still worth doing, but are the most 'touristy' thing to do.
Other key activities to consider doing including visiting Nacpan Beach, Las Cabanas Beach, Marimegmeg Beach and Corona Corona Beach.
Why not book your El Nido tours before arriving:
The best things to see in Coron are not actually in Coron Town, which is where the Tao boat departs from, but instead short boat rides away. The Coron area is home to the mesmerising Twin Lakes, a must see. These consist of Kayangan Lake and Barracuda Lake. Other things to do in Coron include world-class diving and nearby sites such as Maquinit Hot Springs, Cabo Beach, hiking up Mount Tapyas or even visit the indigenous tribes on Coron Island.
Guide to Island Hopping with Tao Philippines
So, there's my complete guide to island hopping in the Philippines with Tao Expeditions. I really hope this blog post has helped in your research and planning for your Tao trip, or if you were unsure if it was you, I hope this helps guide your decision.
As always, let me know if you have any questions.
If you're planning a longer trip around Philippines or South East Asia, then make sure to check out my other posts here.
Feel free to drop me a line if you would like any advice or further recommendations 🙂 If you've enjoyed this guide to island hopping with Tao Philippines, please do share using the below links!
Disclaimer: This experience with Tao was entirely paid for by myself and there was no involvement from the tourism board or Tao. This is an independent guide.
Enjoyed my guide to island hopping with Tao Philippines? Pin it!