Visiting Ephesus in Turkey is one of the best things you can do in Turkey. Exploring Ephesus is high on the list for many travellers to this beautiful country, with the ancient ruins drawing more than 2 million visitors.
I went as a seven year old and have fond memories of clambering over the rocks and exploring the vast ruins. So when I returned during my two-week trip around Turkey, I made sure to visit again.
Visiting Ephesus in Turkey – Essential Things to Know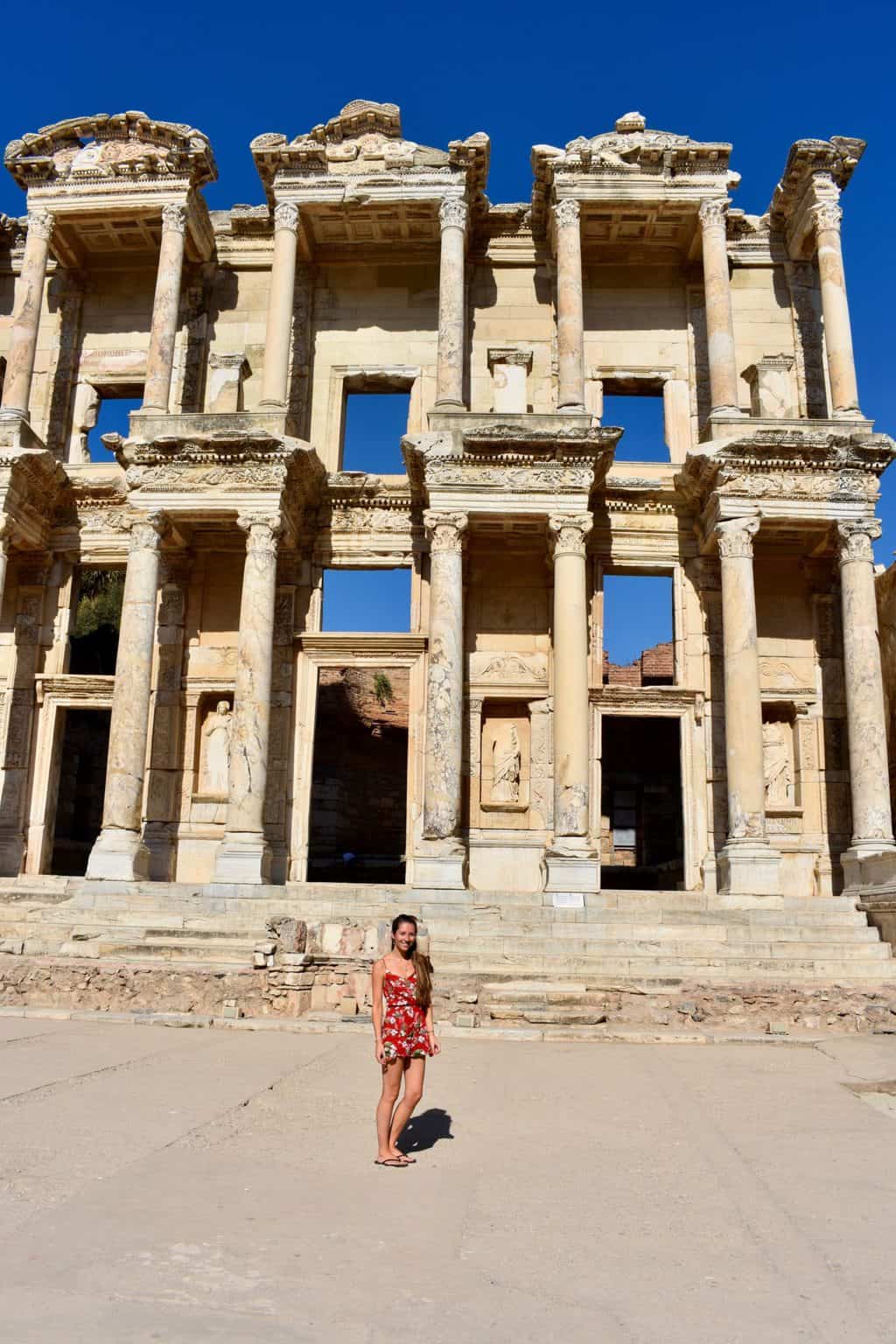 The history of Ephesus
The great city of Ephesus was built in the 10th century BC during the Classical Greek Era. It is estimated that at one point, as many as 225,000 people lived there.
Ephesus is considered Europe's most complete ancient city, making it some of the best ancient ruin to see. Apparently, only 20% of the land has been fully excavated, which has already taken more than 150 years of evacuation. Yet there's plenty to explore. Some of its most popular locations include the marble Temple of Artemis, the Basilica and the Library of Celsus, all of which are thought to be some of finest archeological sites in the world.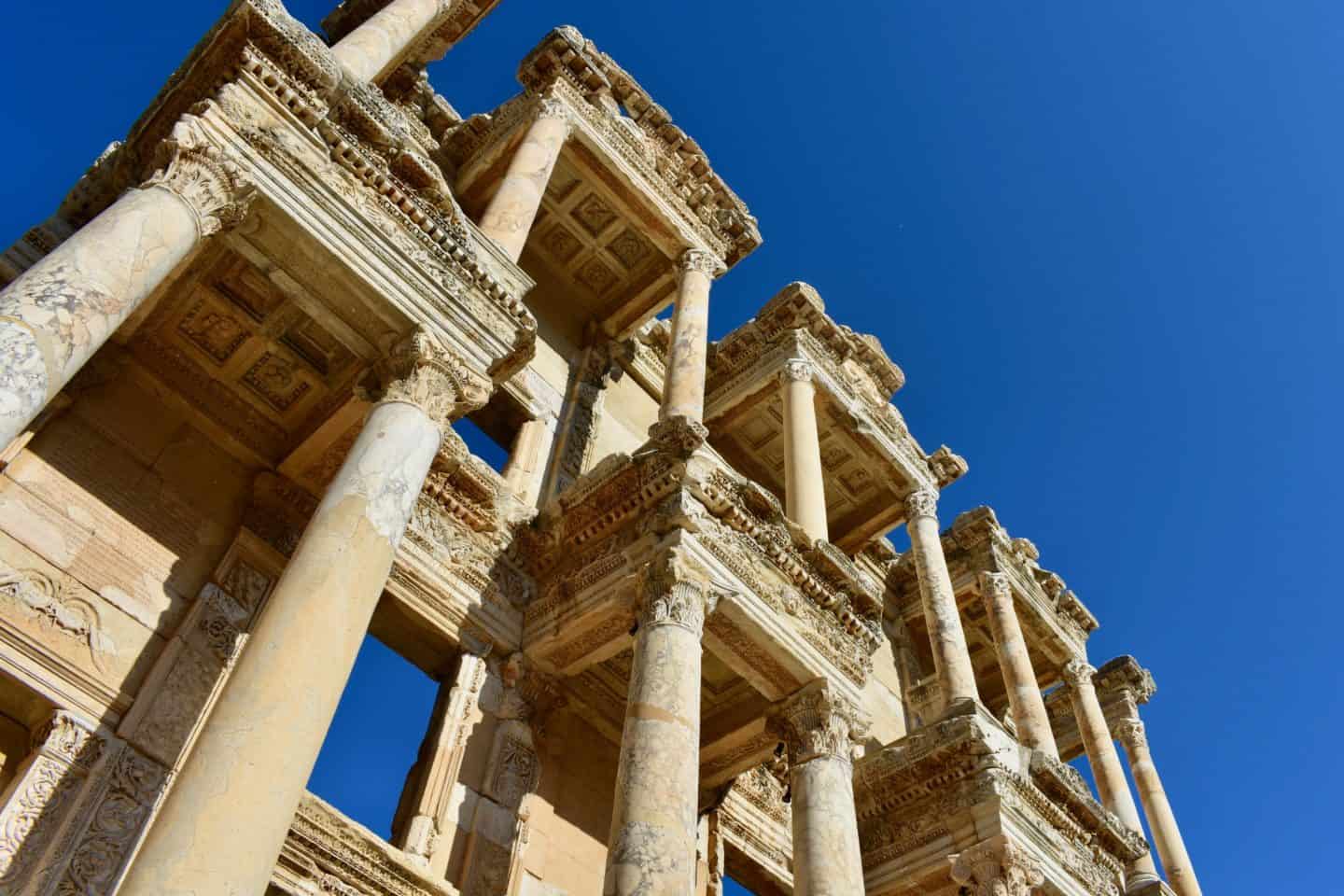 When is the best time to visit Ephesus?
Season-wise, the high season is through the summer but the temperatures can be very high during these months. The shoulder season months (April, May, September and October) are a brilliant time to visit Ephesus.
In terms of what time of day to visit Ephesus, the earlier the better. Cruise ships dock in nearly Kusadasi port every day, bringing thousands of day visitors to the archaeological sites. They walk around in huge tour groups and make it very difficult to explore.
If you do visit in the height of the summer season, I would advise arriving when it opens if you are visiting independently. The gates to Ephesus open at 8am. Not only will you beat the harsh midday sun, but you'll enjoy the ruins almost entirely to yourself.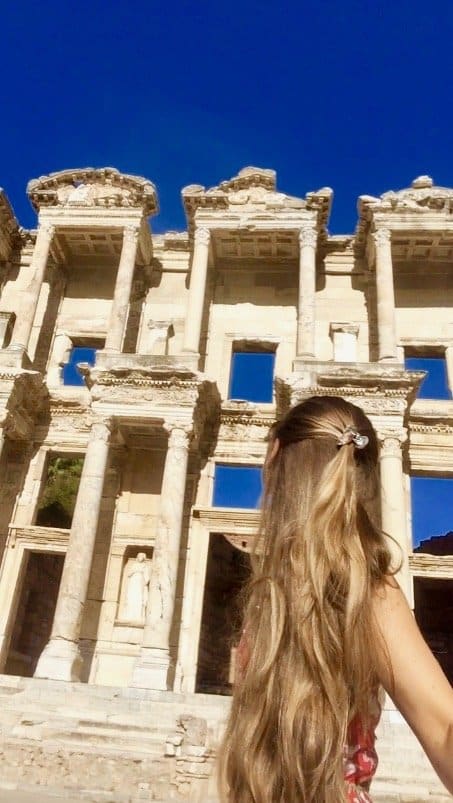 I went in August and enjoyed a few hours with few other tourists at all, it was pretty magical!
The alternative is to visit late in the day as the crowds begin to thin out and tourists head back to the cruise ship port.
In the summer months (April to October), Ephesus is open from 8am – 7pm and in the winter, from 8am to 5pm.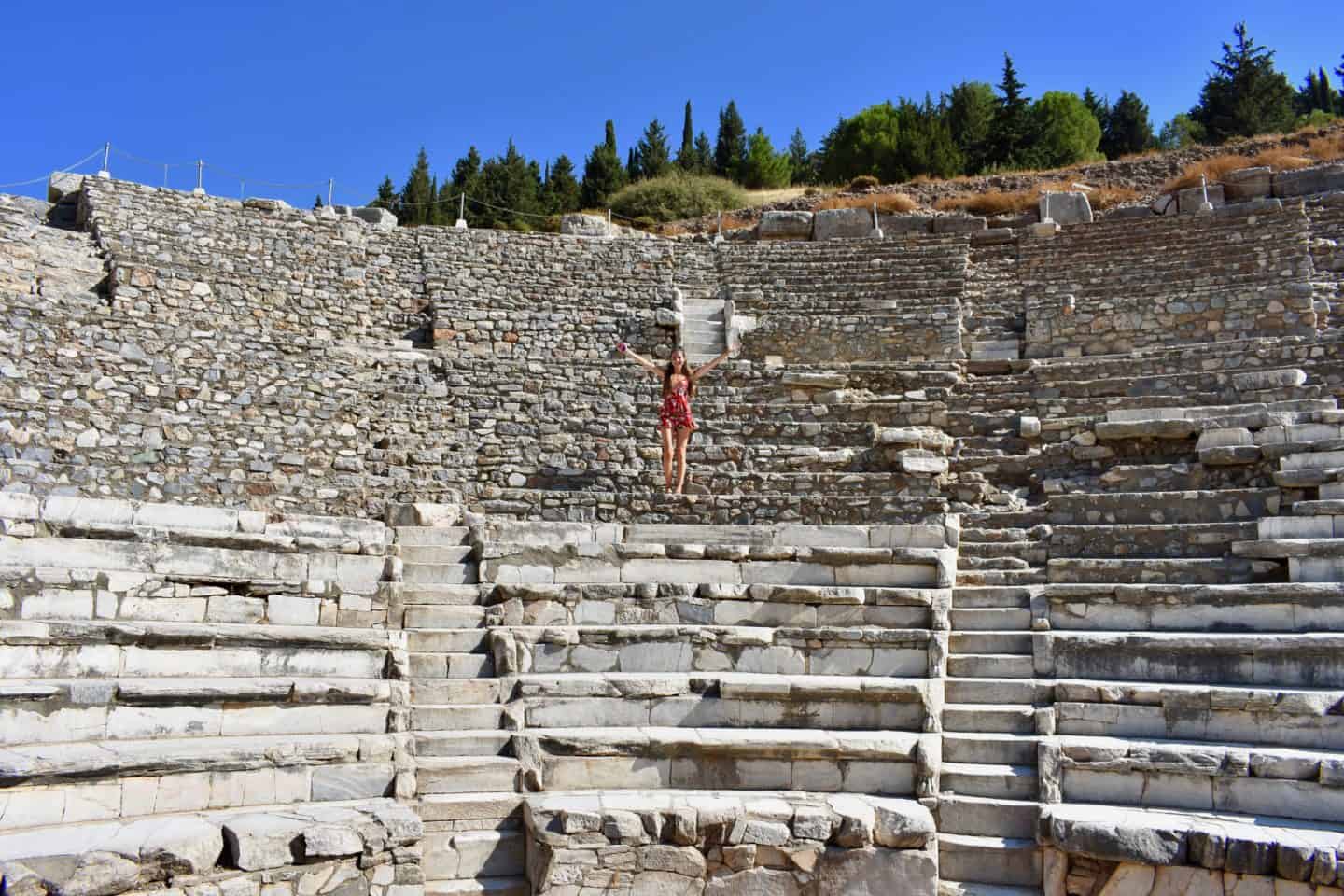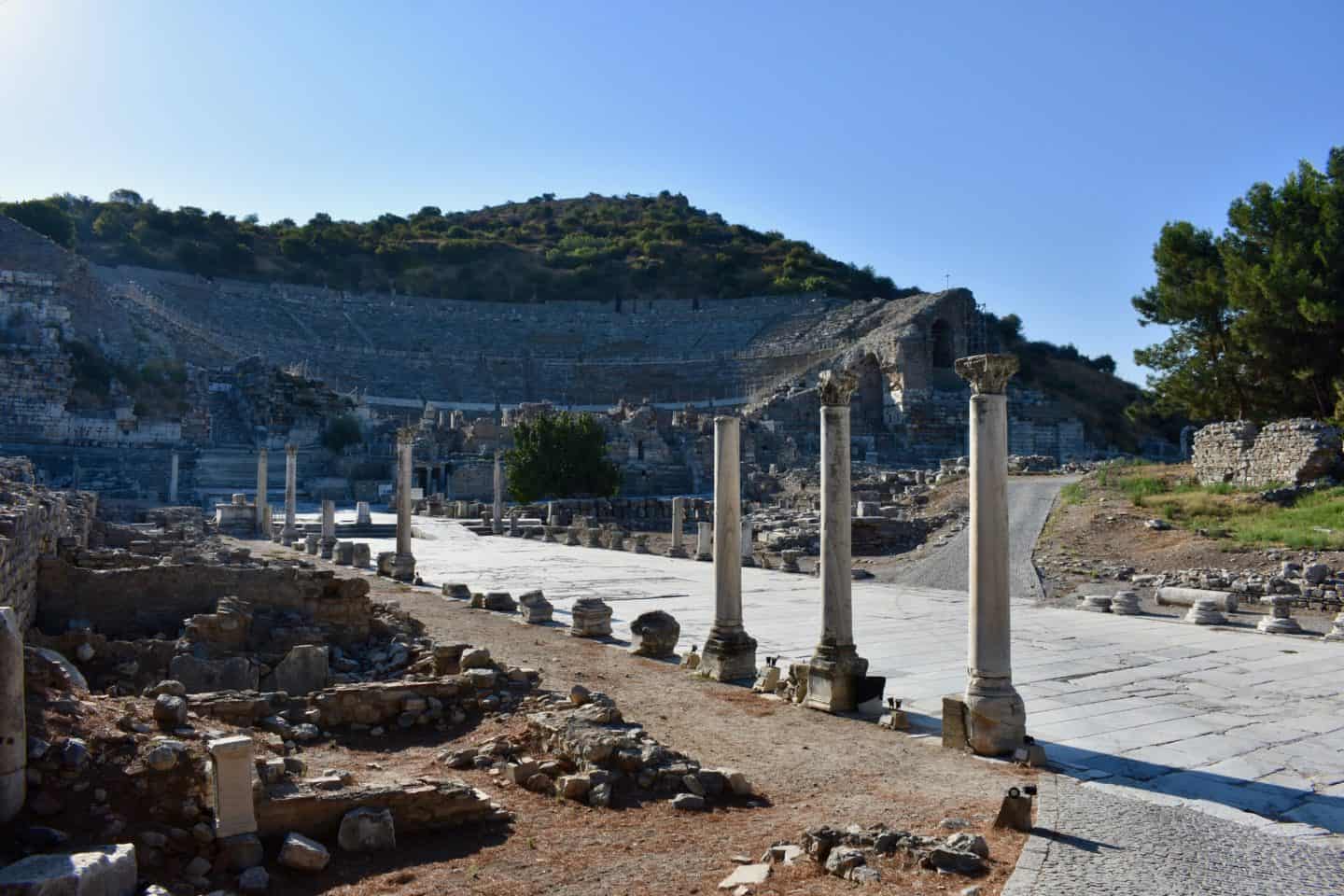 How to get to Ephesus
The ruins of Ephesus are located just outside of the pleasant town of Selçuk. There is both a bus and train station here, making it fairly easy to arrive here. The nearest airport is Izmir. Unless coming on an organised tour, I would strongly recommend arriving the evening before. This means your start doesn't need to be quite as early, as the ruins are a simple 5 minute dolmuş (minibus) journey from the centre of town.
Where to stay near Ephesus?
If you are going to arrive the evening before, I can highly recommend Saint John Hotel. I enjoyed a really pleasant stay here and was so well looked after by the team. It's about a five minute walk from the train station and although the area is a little dusty and run-down, the hotel is absolutely beautiful. I even had a circular bed here!
The historic hotel is family-owned and run, and I had the pleasure to meet the father, the mother, the daughters, the sons, the in-laws.. basically everyone! It was an amazingly friendly hotel atmosphere and they made me feel right at home.
Check rates for Saint John Hotel here.
The main archaeological sites
Prioritising seeing the main sites first means that once the crowds do start to arrive, you'll have already seen the main sites and can focus on the lesser visited ruins.
Doing this makes it easier to capture the photos you want, enjoy the sites to yourself and really soak up the atmosphere.
Oh, and you have time to make friends with the resident cats!
My top tip here is to start at the lower gate (there is more than one gate). You will come to this gate anyway if arriving by dolmuş from Selçuk. This gate is very close to the Library of Celsus and the bigger of the two incredible amphitheatres.
It is also useful to know that the other gate is where the coaches park up and the hordes of tourists arrive, so it's better to enjoy the quieter side of Ephesus.

What to wear to visit Ephesus
If you visit Ephesus in the summer months, it's going to be really hot. There is not a lot of shade around and the heat even reflects of the smooth white rock.
You don't need to be covered up for religious reasons but it would be a good idea to cover up against the sun. Definitely wear a hat!
In terms of footwear, it's important to know that the rocks are very smooth and quite slippy. It would be advisable to wear shoes with some grip, as I wore flip-flops and I spent my day sliding along, eek!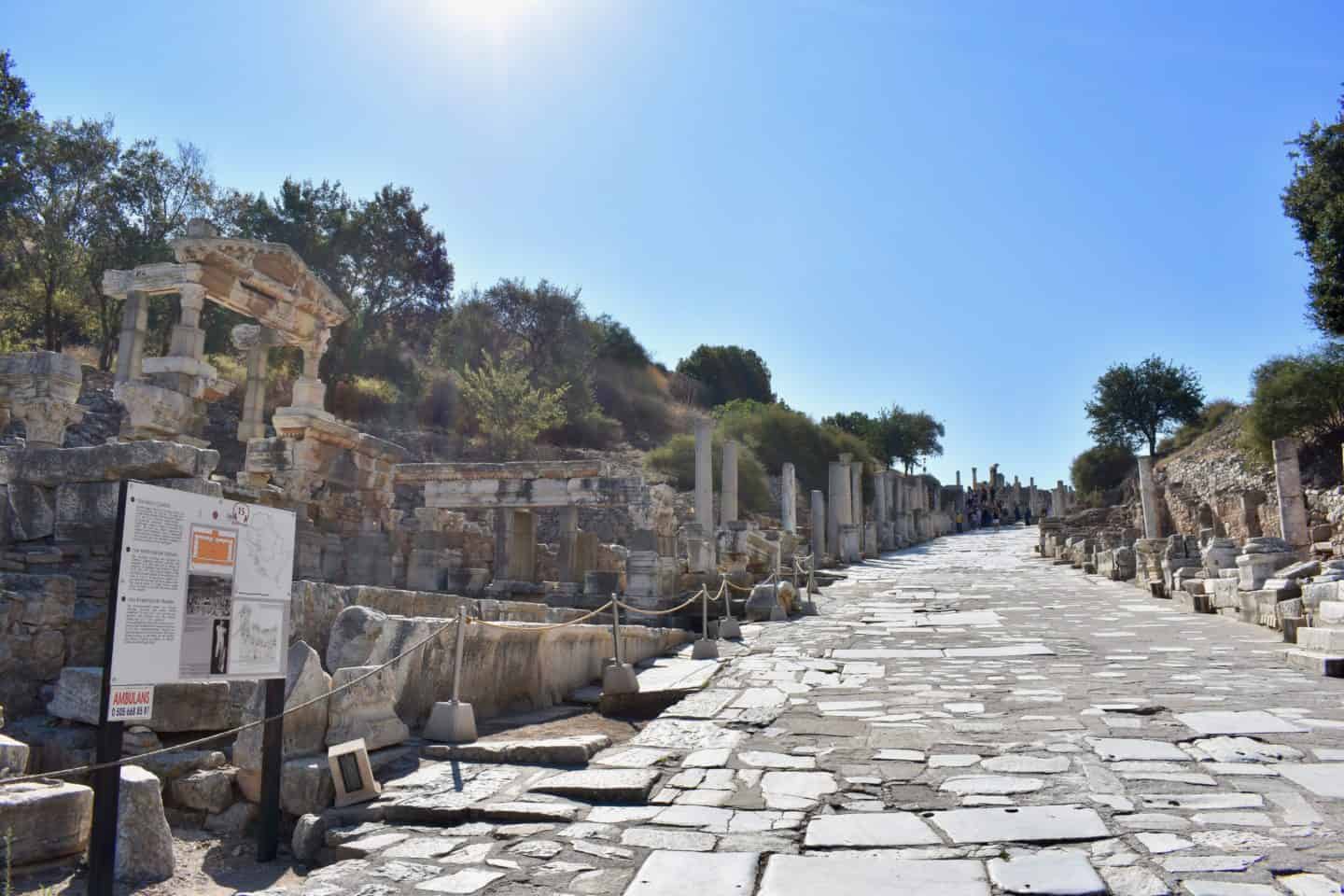 What to take for a day visit to Ephesus
Unlike other tourist attractions, there really aren't any stalls or shops inside. There are a few cafes and stalls at the edge, but once you're inside Ephesus, you'll need to be self-sufficient. I'd recommend bringing enough water and snacks for your visit.
There are toilets on the edge of the site, near the gates.
How long do I need to spend to visit Ephesus
I enjoyed a good four hours or so from 8am to 12pm exploring Ephesus. A half day was the perfect amount of time for me. I avoided the heat of the day, the crowds and didn't have to carry lunch with me, as I left to have it back in town.
Cruise ship visitors tend to visit the ruins at Ephesus for three or so hours, but the drive from Kusadasi and a stop for lunch probably makes it into a full day visit.
Can I go on a tour to Ephesus?
Definitely. GetYourGuide has some excellent options which I've shared below:
Visiting Ephesus in Turkey
Have you been to Ephesus in Turkey? Do you have any other tips for visitors that I should include? I'd love to hear if so – drop a comment below!
Returning to Ephesus was as good as I had hoped it would be. I had such an enjoyable day avoiding the crowds at Ephesus and staying the night beforehand in Selçuk, For me, one half day was ideal for exploring Ephesus and I'm so glad I included it in my two week itinerary around Turkey. I hope you've found this post useful in planning your own day out at Ephesus.
If you're considering a longer Turkey adventure, you might find my two week itinerary useful, as well as my guides to Pamukkale, Bodrum, sailing the famous Turquoise Coast, Istanbul and Cappadocia here.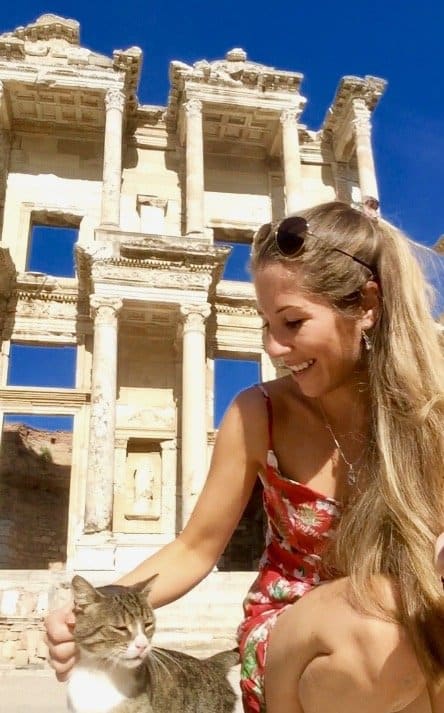 If you've enjoyed this post, feel free to share using the below links! Wanna see more? Check my Instagram here, my Facebook here or my Twitter here!
Disclaimer: This visit to Ephesus, Turkey was entirely paid for by myself and there was no involvement from the tourism board or a hotel. This is an independent guide.
Enjoyed my guide to Visiting Ephesus in Turkey? Pin it!