Turkey is an excellent country to explore using just public transport. Its buses and trains are particularly efficient and well-connected across the whole country. In fact, Turkey has one of the most comprehensive inter-city and regional transportation systems I've come across.
I personally love the independence of using public transport, and as a solo female traveller in Turkey, I found the trains, buses and dolmuş (like a minibus) to be safe too. The public transport was efficient, convenient and affordable.
Turkey is a beautiful country with so much to explore. Many travellers to the country are likely to be visiting Turkey for one or two weeks, and fortunately, public transport in Turkey is efficient to rely on for visits of this length. The buses and trains in Turkey really open up this incredible country and give a wonderful insight into daily life. Whether you want to go from Bodrum to Pamukkale, or Denizli to Fethiye, there's most likely an efficient route on public transport to get there.
So here's my guide to getting around Turkey by public transport. I've included all of the essential information you need to know before using public transport in Turkey. The includes Turkish language terms to learn and how to plan your trip getting around Turkey on buses, trains and planes.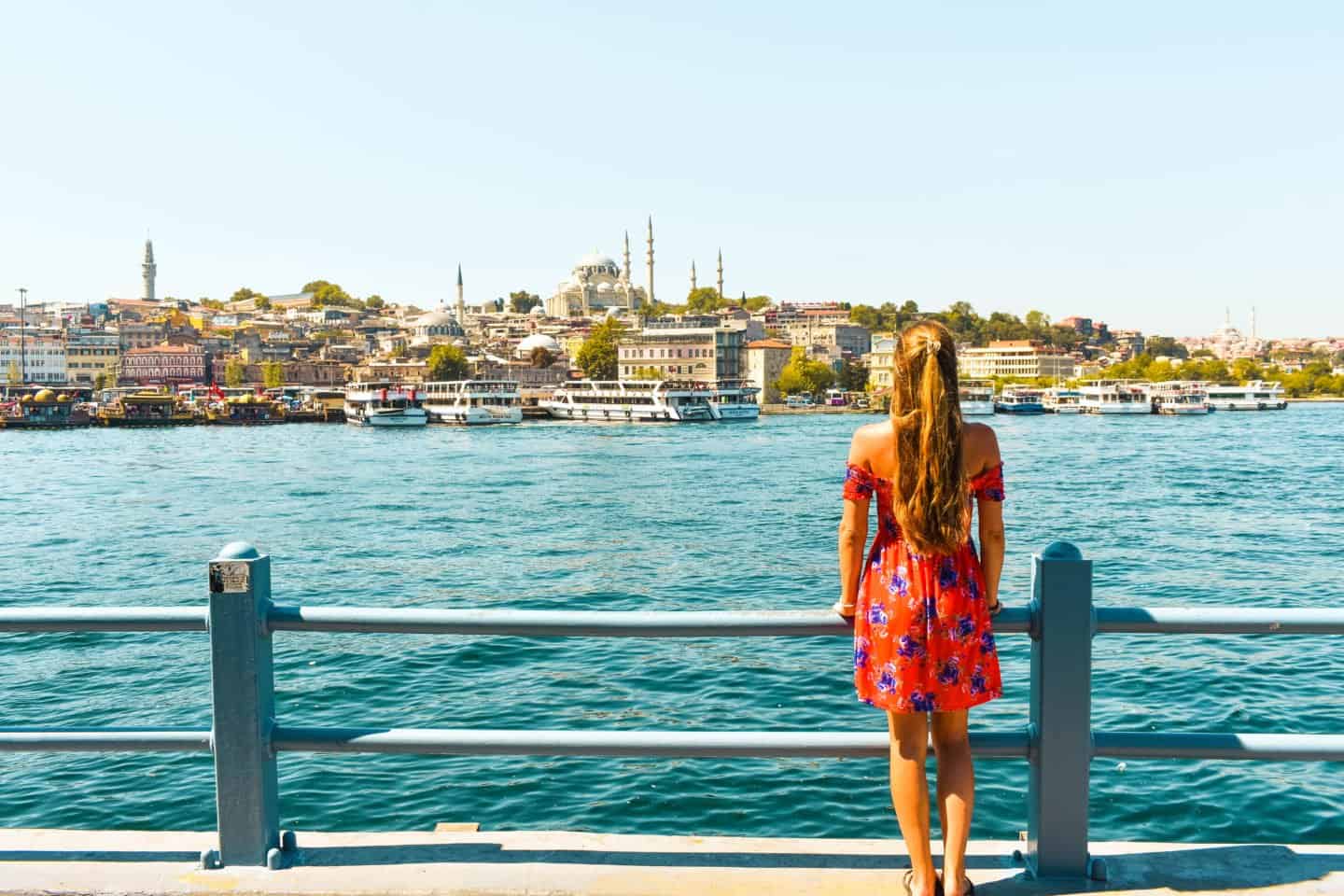 Using Public Transport in Turkey – Essential things to know
Key public transport language in Turkish
Otogar – Bus Station

Otobüs – Bus

Dolmuş – Local minibuses that run on set routes

Tren istasyonu – Train Station

Tren – Train

Kaç para? – How much?

Taksi – Taxi

Bilet gişesi – Ticket Office

Getting around by bus in Turkey
Using buses in Turkey is very straight forward. I took several buses around the country, including a bus from Bodrum to Selçuk (for Ephesus – check my guide to Ephesus here) and also from Denizli (for Pamukkale) to Fethiye on the coast.
I was really impressed with the service on board the buses I took around Turkey. With every company, the seats had working phone chargers, there was air conditioning, the seats reclined and they offered pillows. Best of all, there was waiter service. Yes, on many buses in Turkey, there is food and drink service on board.
Dressed in a shirt and a bow tie, the waiter offered me a selection of sandwiches, snacks and drinks. Even on journeys which were only 2 or 3 hours.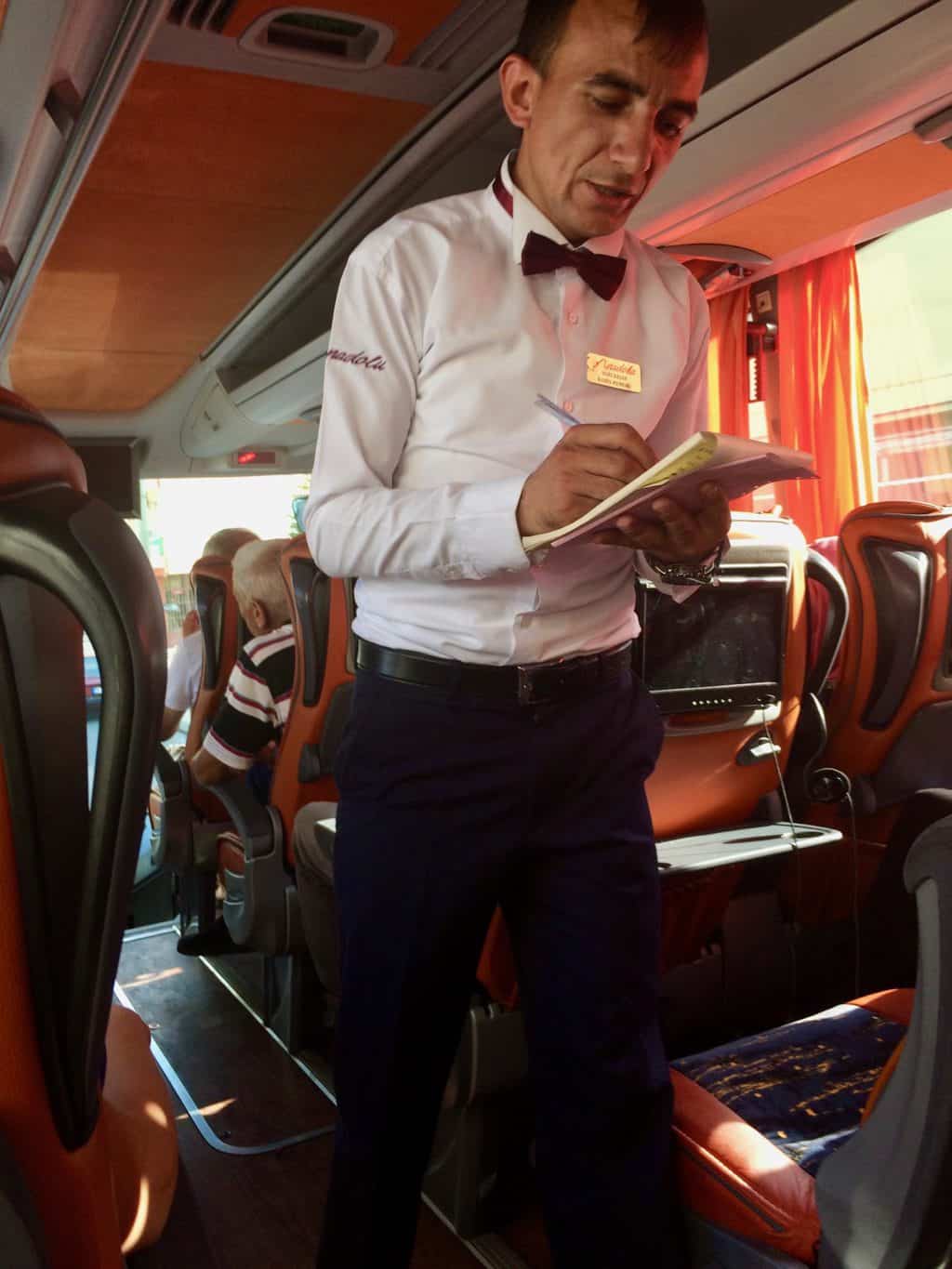 Which bus company to use in Turkey?
There are many bus companies in Turkey to pick from and deciding which to use can feel a bit overwhelming. I did some research prior to arriving in Turkey and decided to opt for the Pamukkale bus company (from Bodrum to Selçuk) and the Anadolu bus company (from Denizli to Fethiye). I was very impressed with the service on both bus companies. They both offered very comfortable buses, safe driving and unlimited drinks and snacks.
Anadolu even offered TVs with complimentary headphones, showing mostly Turkish TV shows, films, games, music and the news. Out of interest, I do believe the two companies are part of the same umbrella company.
All of the various bus companies sell their tickets at the bus stations. You can generally buy tickets on the day, but for some really popular routes, it wouldn't do any harm to buy the ticket the day beforehand if you can.
I generally think the standards of public bus/coach companies in Turkey is really high and the competition keeps prices reasonable.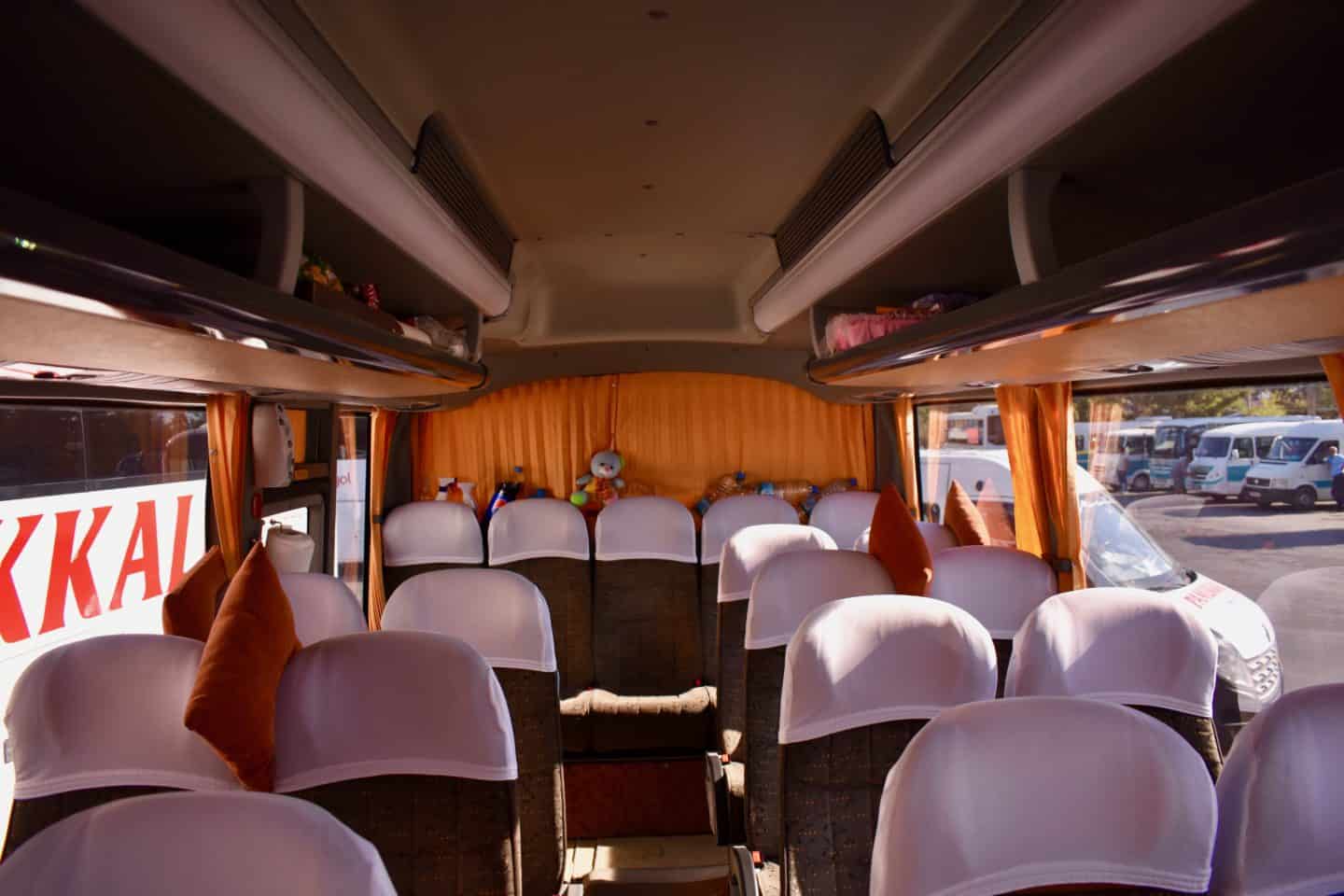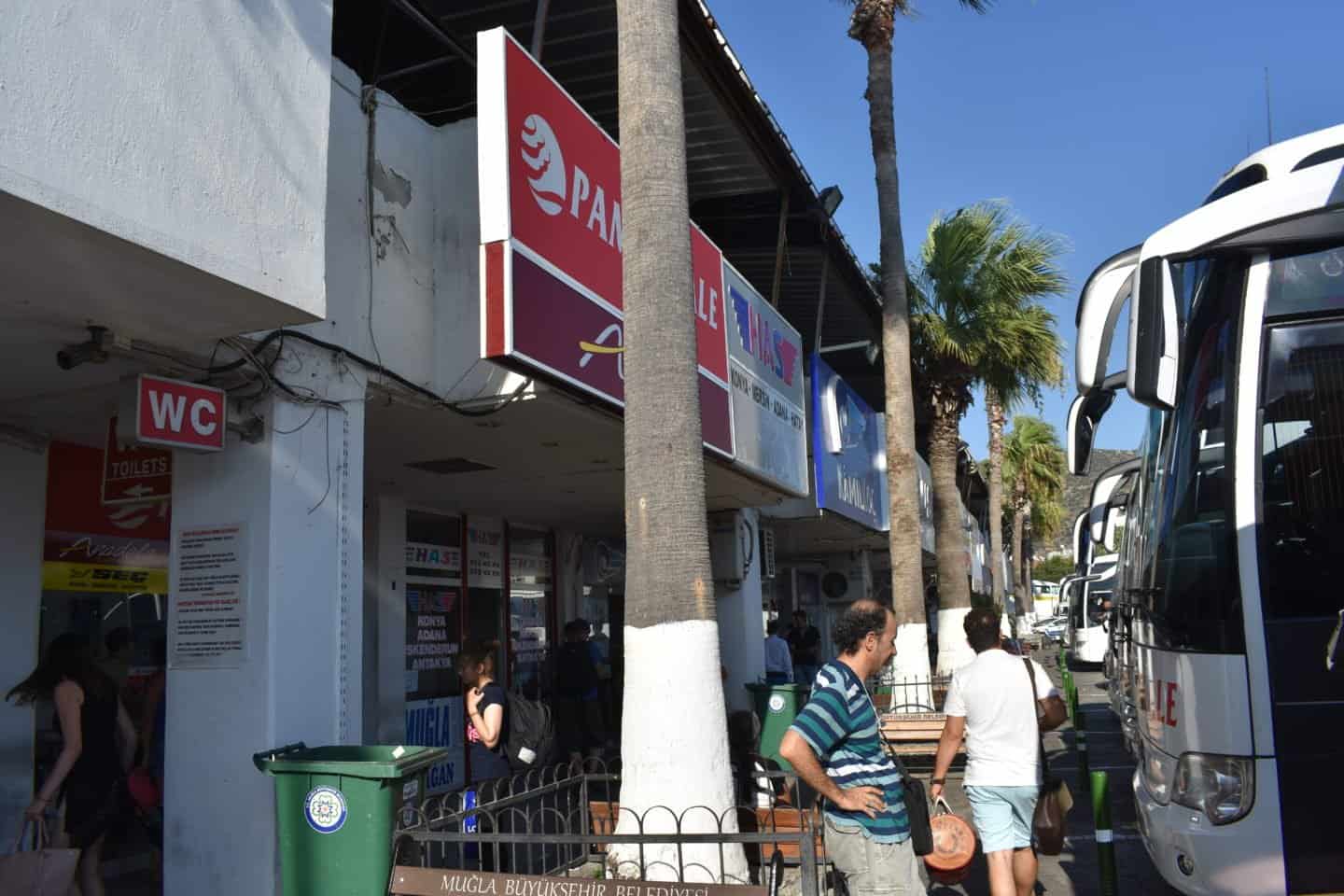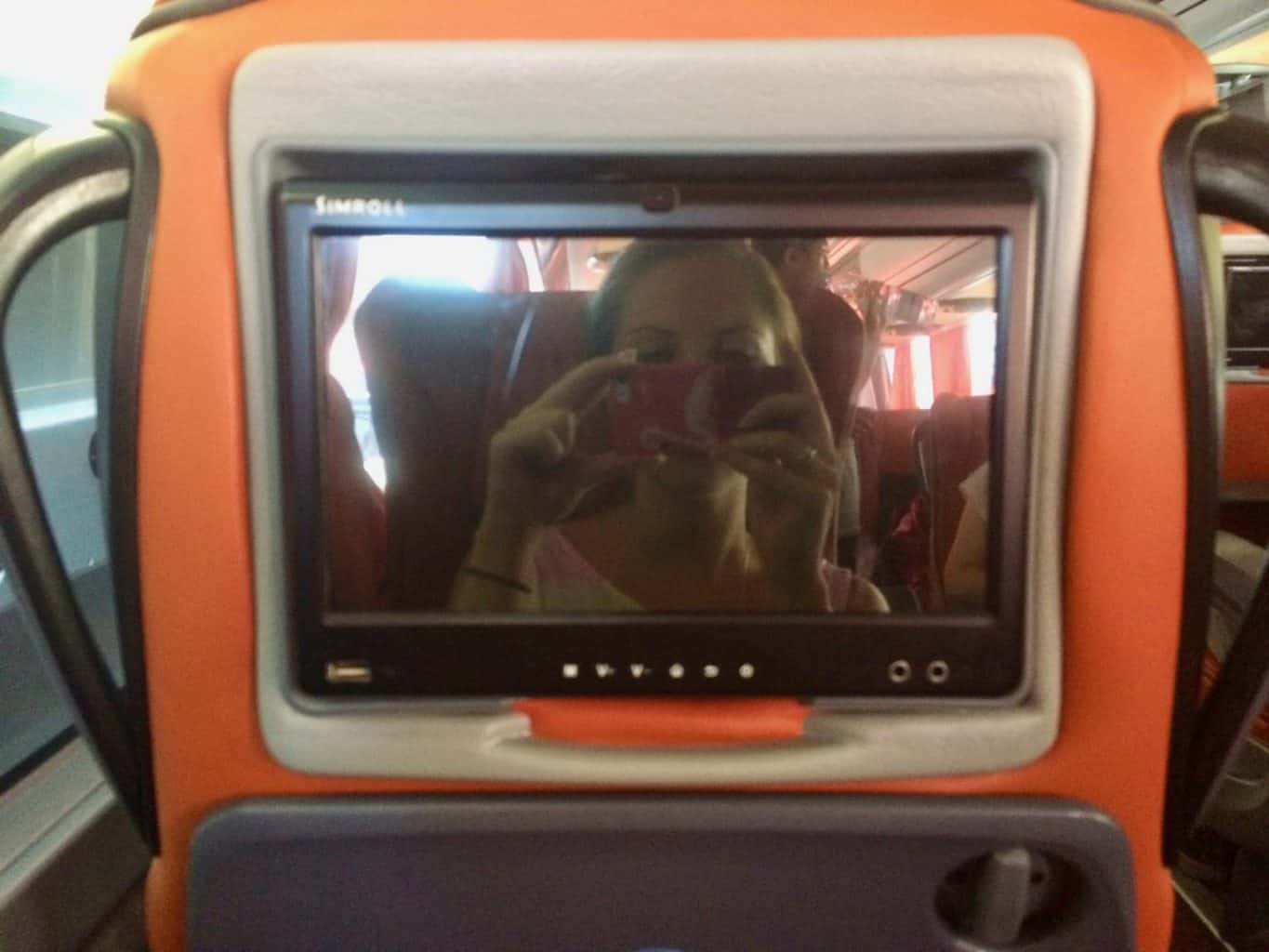 Should I book my bus trips in advance in Turkey?
For both those journeys, I booked by turning up at the bus station.
For the Pamukkale journey out of Bodrum, I went to the bus station a few hours ahead of the time I wanted to leave as fortunately, the station is really close to the town centre. The staff didn't speak much English but we got by fine. I went back to my day exploring Bodrum with a printed ticket for that evening and a reserved seat.
For the Anadolu bus out of Denizli, I knew I was travelling on a public holiday in Turkey. So to be on the safe side in case it was really busy, I went to the bus station the day before to purchase my ticket. Apparently, it would have been fine to have bought it on the day but I didn't want to take the risk.
You can purchase bus tickets on online in Turkey, but the websites are mostly in Turkish and a little tricky to navigate.
Getting around by trains in Turkey
Luckily, using trains in Turkey is really simple and another great way to get around. I love trains as you may know, so I was rather excited to experience my first Turkish train.
The first train I took was from Selçuk (near Izmir and home to Ephesus) to Denizli to go to Pamukkale. I was really impressed – the train was clean, uncrowded and had a charging point.
Should I book my train tickets in advance in Turkey?
Luckily, you don't need to plan too far ahead and buy tickets in advance for Turkey.
In Selçuk, I went to the train station hours ahead to buy my train tickets, but I was informed that the ticket hall doesn't open until just before the train leaves. So I headed back to my hotel's pool and then returned just before the scheduled departure time.
Buying the train ticket was easy and straight forward, but the train was pretty late.
When the train did arrive into the station, I expected a scrap for a seat but it wasn't hard to get a window seat at all. The other Turkish passengers were very courteous.
The train stopped frequently at different stations and there was a ticket inspector regularly checking, so I wouldn't ever recommend getting on a train in Turkey without a ticket.
I believe there were toilets on board, but I didn't use them.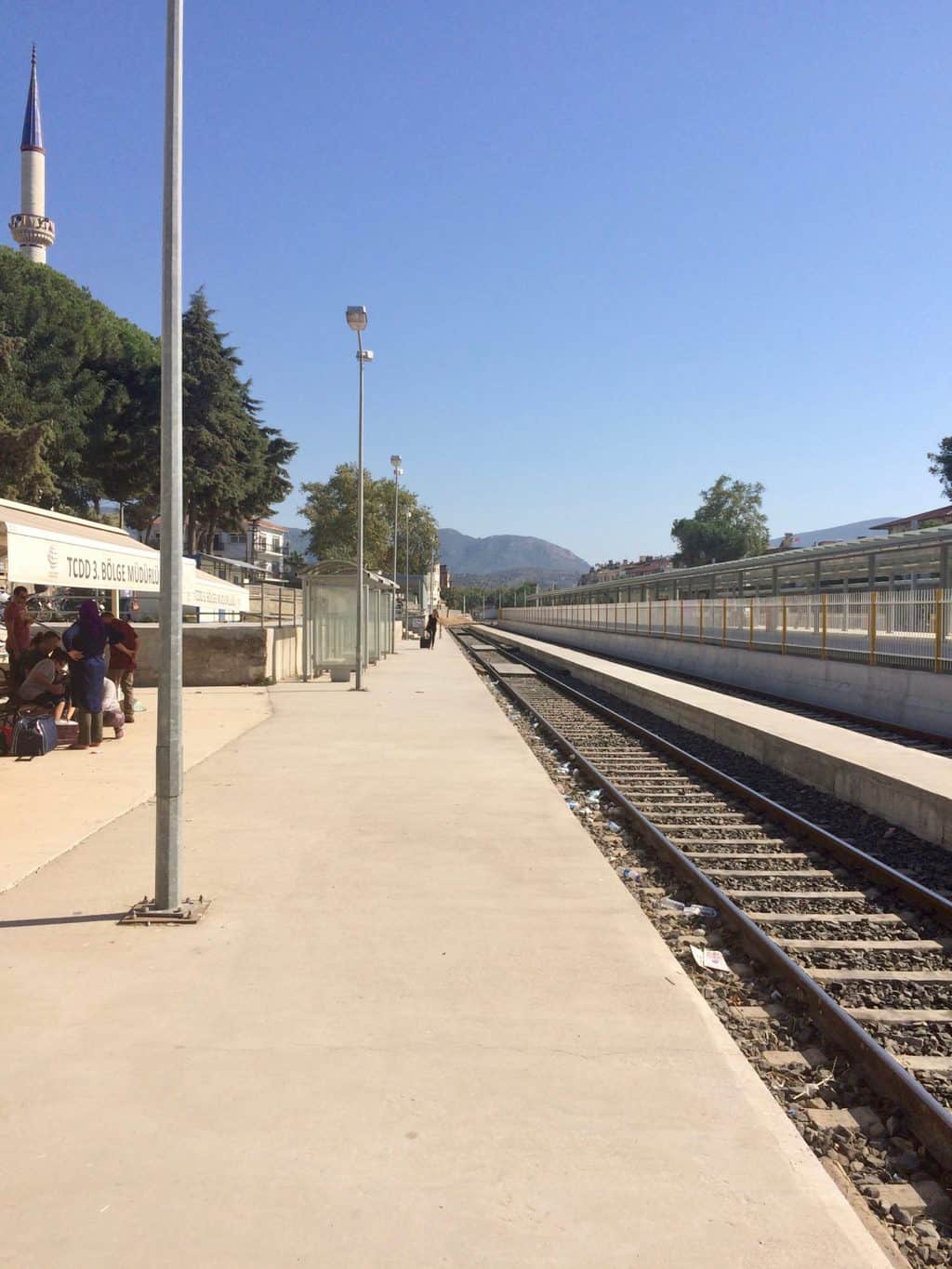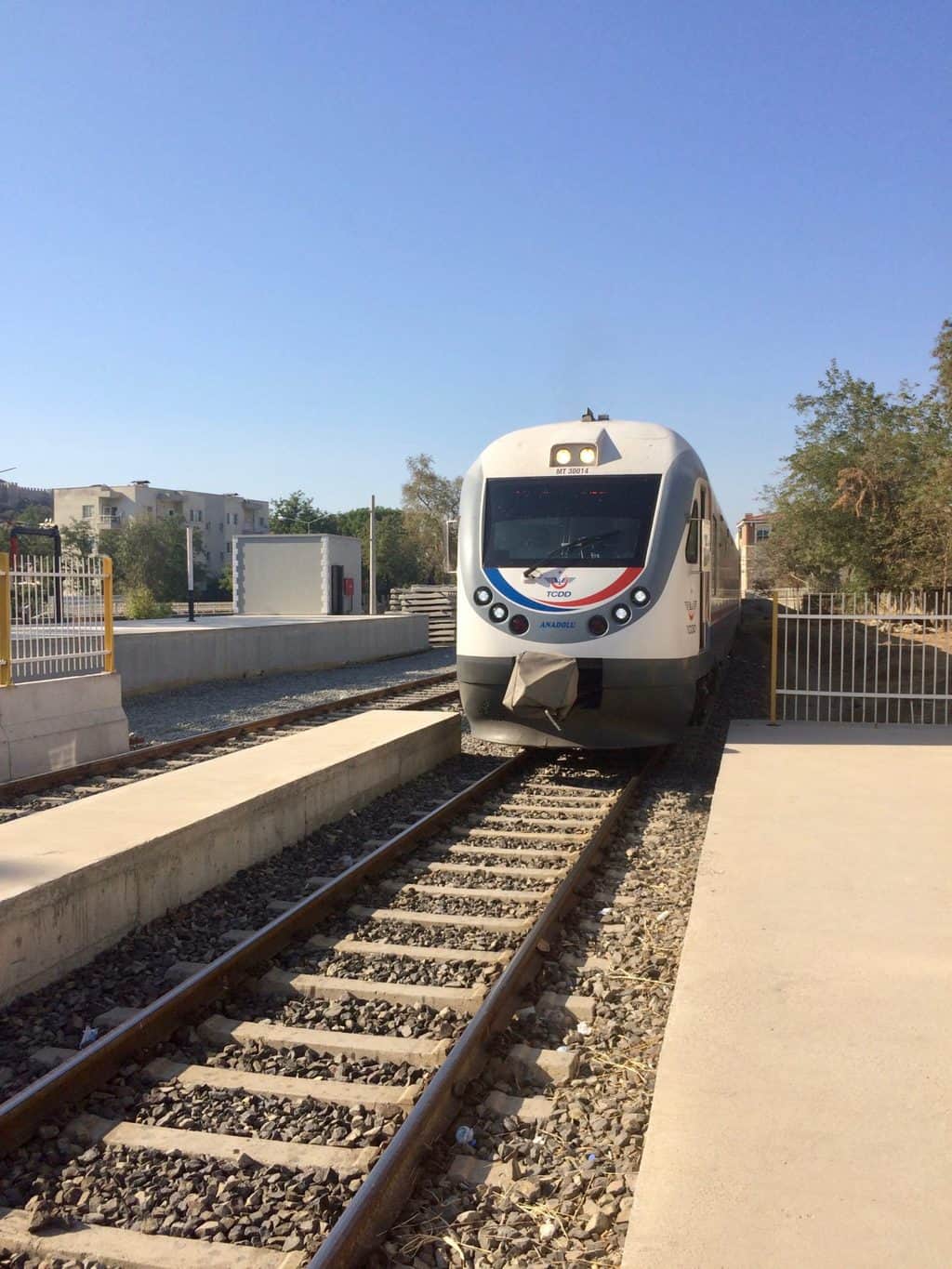 Using a Dolmuş in Turkey
The dolmuş (pronounced dolmush) is the local minibus/taxi service, available in every city/town in Turkey. Dolmuş offer an incredibly easy service, where users jump on and off, and the service is very orderly.
Fares are super cheap and making getting from A to B in towns really easy. They also depart from the the same stations as the larger longer distance buses – so nice and easy to transfer between dolmuş and bigger bus.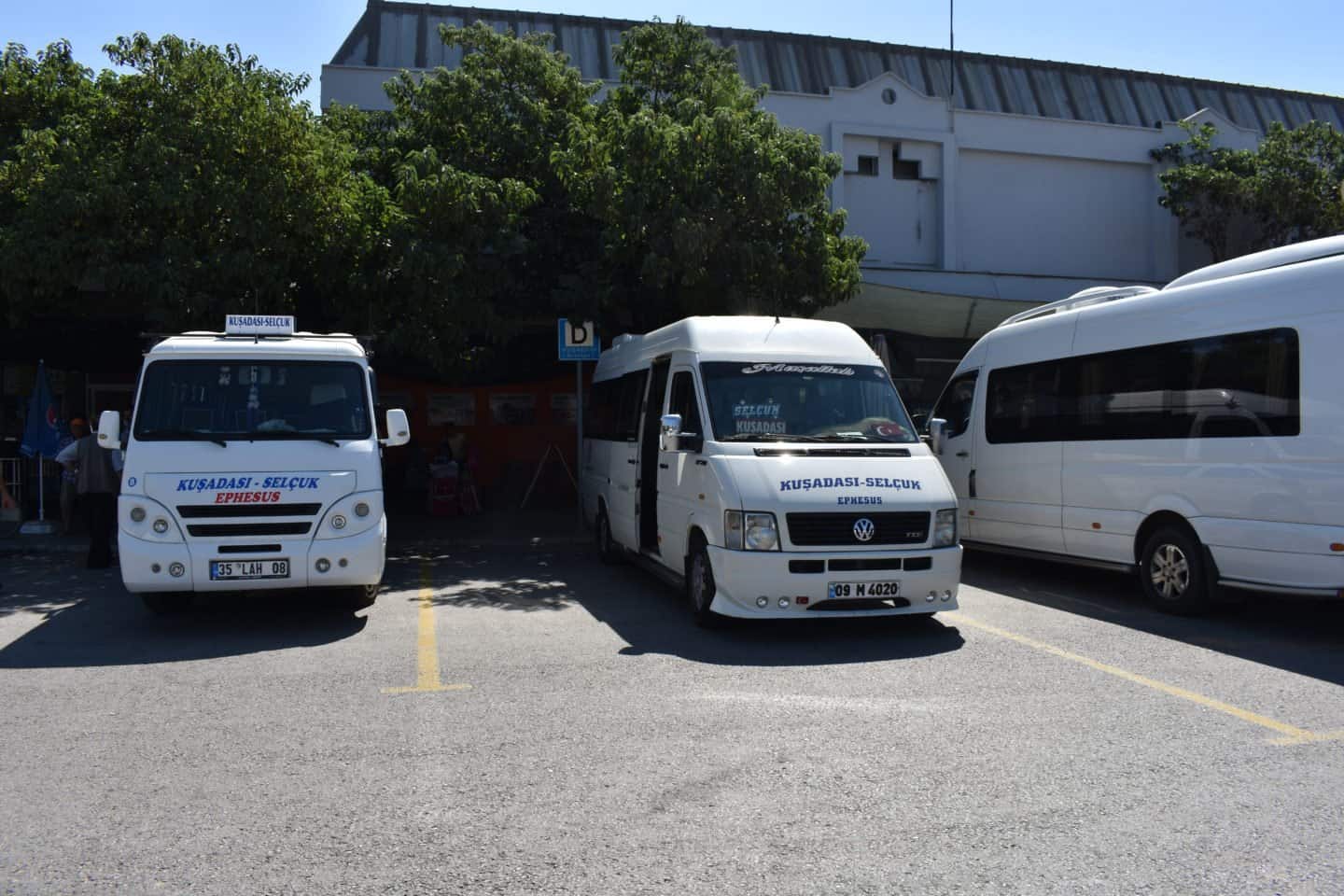 Taking domestic flights around Turkey
Turkey is blessed with one of the best national carriers I have experienced – Turkish Airlines. Turkey also has a very extensive budget airline called Pegasus. Honestly, both airlines are great and I found flying around the country very easy and straight forward. Best of all, it was a real time saver in my two-week Turkey trip.
The airfares for both airlines were surprisingly well-priced and sometimes, when looking online, I found there wasn't a big difference in the fares between Pegasus and Turkish Airlines.
One factor to note however, is that Pegasus uses the second Istanbul airport (Sabiha Gokcen International Airport). Personally, I didn't really like this airport. It was further from the city centre (an hour's drive)and I found the security lines to be so so low. Generally, flying into Ataturk (Istanbul's main airport), is much easier and the airport offers a more pleasant experience in my opinion.
Turkish Airlines' seats are comfortable and the planes are new and modern. Best of all (and despite most internal flights being just 1 hour long), many of Turkish airlines' planes have TVs for each seat as well as delicious food and drinks. I really love flying on Turkish. They also have a brand new Business Class Lounge at Istanbul airport too.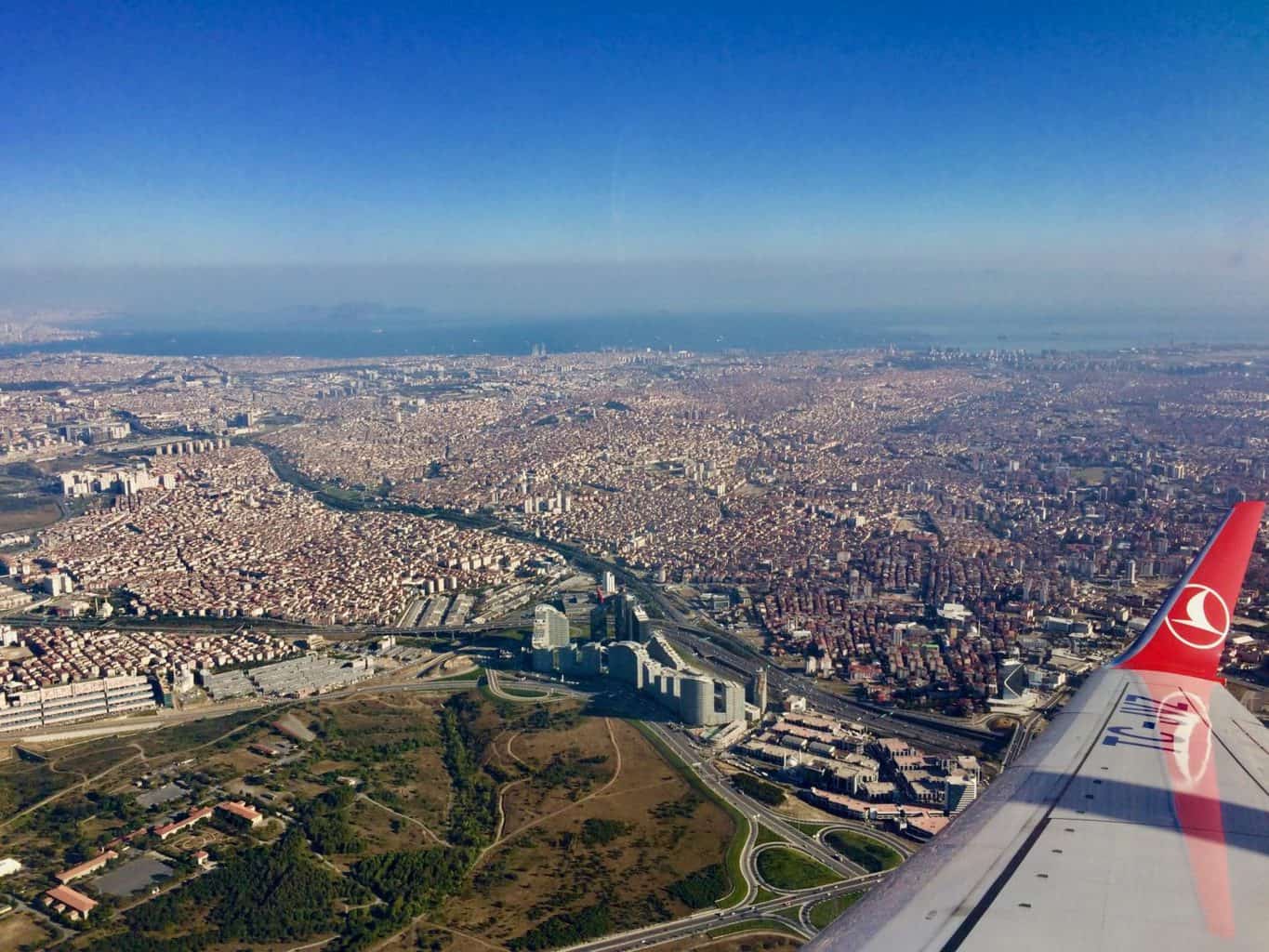 Using public transport in Turkey as a solo female
Well, I am happy to report that I felt very safe using public transport alone in Turkey.
I never once felt unsafe, uncomfortable or had any unpleasant moments. From engaging with the ticket counter staff at bus and train stations, to the service on board, I found the Turkish people to be very kind, patient, unthreatening and actually, extremely helpful. So many times, a man would help me with my suitcase on stairs or lifting it into overhead compartments.
Families tried to share their snacks with me and not a single man made me uncomfortable or looked at me, other than to smile or say hello.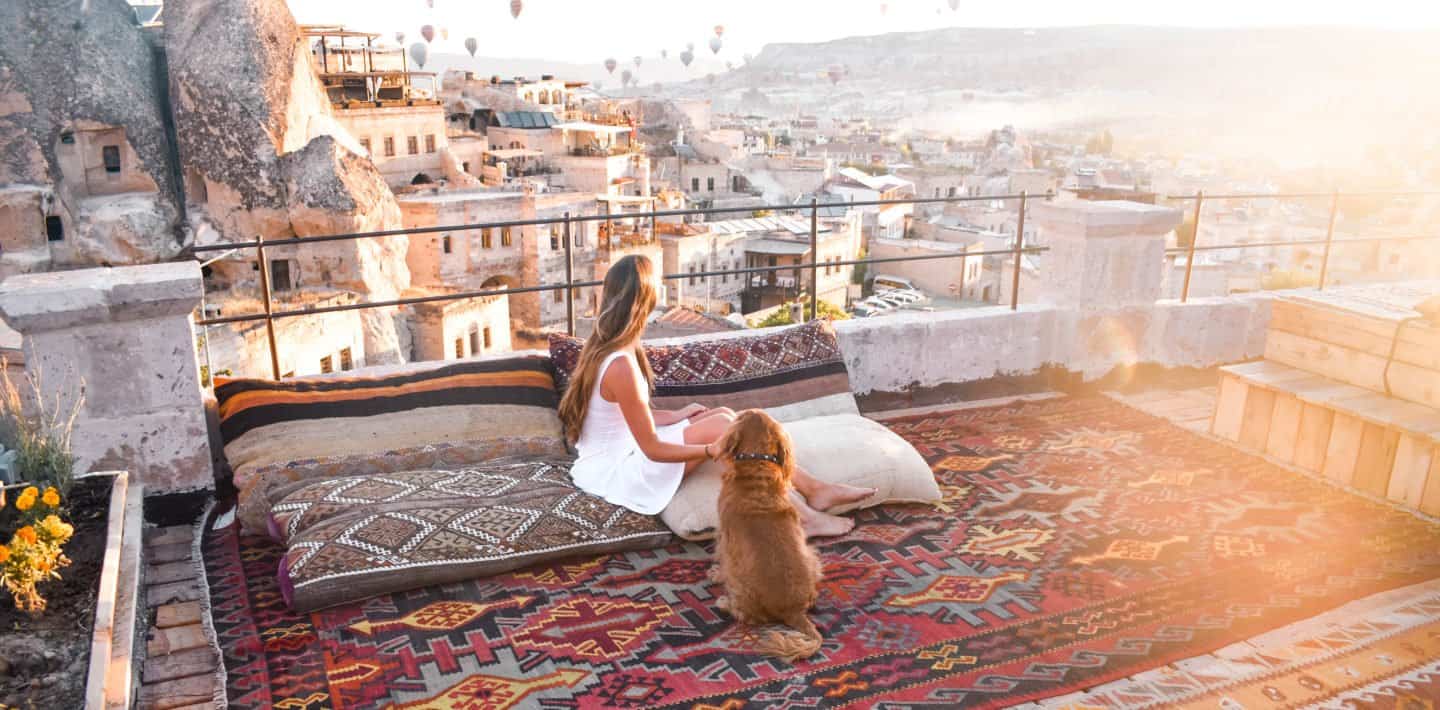 Using a local tour company to arrange tickets or transfers
If you're pushed for time or the tickets for your desired routes have sold out, another option is to arrange a transfer or tour through a local company. GetYourGuide makes this really easy and bookable in advance online, so I've included some of these ideas below:
Have you been to Turkey before? How did you find getting around on public transport? Let me know in the comments below.
I found using public transport to get around Turkey extremely simple and generally all-round pleasant. So I hope my guide to public transport in Turkey has proved useful and that it makes travelling around this lovely country by bus, train or plane much less daunting. Using public transport in Turkey completely opened up the country to me and I loved being completely independent. It also gave me a real feel for daily life in Turkey.
If you're considering a longer trip, you might find my two-week Turkey itinerary here useful.
I also visited several other places around Turkey and wrote detailed guides on each. Please find my guides to Bodrum, Pamukkale, Ephesus here, as well as my experience sailing the famous Turquoise Coast and how to spend one day in Istanbul.
If you're heading to Cappadocia, check out my review of my incredible stay at Sultan Caves Suites and also, how and where to capture amazing sunrise photos in Cappadocia.
If you've enjoyed this post, feel free to share using the below links!
Wanna see more? Check my Instagram here, my Facebook here or my Twitter here!
Disclaimer: This visit to Turkey and was entirely paid for by myself and there was no involvement from the tourism board or any local transport companies. This is an independent guide.
Enjoyed my guide to using public transport in Turkey? Pin it!