Located on the Iberian peninsula, Portugal is a country packed with attractions. From beautiful landscapes to cities and towns bursting at the seams with history and culture, as well as fantastic food. Portugal truly has something for everyone, and best of all, it's pretty affordable too! Of course, Lisbon the capital is famous for its steep trams, colourful buildings, rooftop bars and bygone traditions. And the south is known for golf and rugged beaches, but there's plenty more to see in this beautiful country. So this guide covers all of the best places to visit in Portugal, from the north to the very south, and everywhere inbetween!
Although I've been fortunate enough to visit Portugal several times, I haven't been lucky enough to traverse the entire country. So with this in mind, I've enlisted the help of some top travel bloggers to share their pick of the best places to see in Portugal.
Visiting Portugal: Useful Information
How to get to Portugal?
Portugal is bordered to the east and north by Spain. This means bus and trains into the country from cities such as Madrid and Seville are quite straight forward.
However, the main way to arrive is by plane, with Lisbon as the main gateway. The secondary airports are Faro in the south (for the Algarve) and Porto in the north. Dozens of international airlines arrive in Lisbon, especially from South America as it is the main entry point from to Europe from countries such as Brazil.
For arriving on the Portuguese Island of Madeira, or one of nine islands in the Azores, you'd land at Funchal Airport and Ponta Delgada Airport respectively.
Buses across the border from Madrid to Lisbon, for example, are quite affordable (£15/EUR15) and take around 8 hours. The train for the same route is a little more expensive, but as a sleeper train, you can expect a better night's sleep.
There are cities from which to depart Spain, including Vigo in the north and Seville in the south. You can check all of the train options here.
Portugal visas and entry requirements
As an EU member, any citizen from another EU country, or holder of a Schengen visa, can easily enter Portugal. This is for visits up to 90 days. Other nationalities who can also enter with the same entry requirements are US, Canada, Australia, Hong Kong, New Zealand and UAE. For the full list, please see here.
How to get around Portugal?
Trains in Portugal are comfortable and efficient, and often quicker than flying.
You can travel from Faro in the south to Lisbon in around three hours – without any of the hassle of customs and security at the airports.
Trains from Lisbon to Porto also whisk you there in less than 3 hours.
There also also trains to Lisbon surrounds, which are frequent and quite, including to places such as Sintra and Cascais. There are several major train stations in Lisbon though. For longer journeys, you'll need to go to Estação do Oriente, which is to the northeast of the city. But trains to Sintra depart from Rossio station, and trains to Cascais depart from Cais do Sodré station.
For other journeys, you'll need to consider buses.
To travel from mainland Portugal to Madeira or the Azores, the main way would be to hop on a flight. There are no ferry services between Portugal and the Azores. However, there is occasionally a ferry service plying the route between Funchal and Portimão in the Algarve, which takes around 24hours. Check online for updates, as it doesn't operate every year.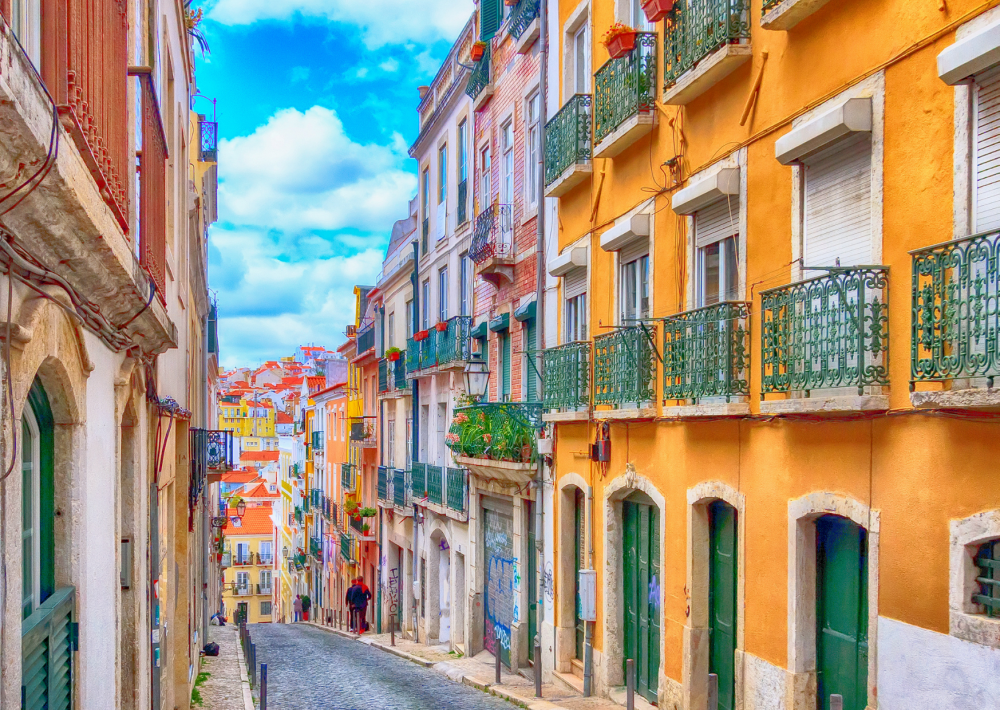 When is the best time to go to Portugal?
Portugal is the ultimate, gorgeous summer destination! The months from May to September are blessed with long, sunny, hot days and low levels of rainfall. The coastline, particularly the beach towns near Lisbon and The Algarve, are very busy with both locals and other Europeans during this time. Generally, a great time to visit Portugal is Spring (March-May). During these months, the country is in bloom and warming up nicely, but without the heavy crowds.
With so much on offer in Portugal, from whale watching to wine sampling, hiking, sightseeing and beaches, different times of the year are better depending on which activities you're doing. So working from the north to the south, here are the best times to visit each major area:
Porto: Located in the north of Portugal and renowned for its wines, Porto is best visited in from spring to winter. However, it receives far heavier rainfall year round – especially in the winter months. Porto is also adjacent to Portugal's famous Douro Valley. The best time to visit here in the autumn for the grape harvest season and all the buzz and activity that comes with that.
Lisbon and surrounds: Lisbon has year-round appeal, and although it is cooler in the winter, it isn't normally too bad. Summer draws the crowds, but also the atmosphere and the steeper prices. Spring and Autumn can be great times to visit Lisbon for great weather and more affordable prices. If you're heading to one of the surf areas near Lisbon, the best season for surfing is September to November for favourable conditions. The winter months can be quite stormy.
The Algarve: Portugal's gorgeous southern coastline is heaving in the peak summer months of June to August. This is the best weather time to visit, but the crowds can be intense and the prices high. May and September are great alternative months to visit, with warm, sunny days and significantly less people! Note that the water temperature in the Algarve can be quite cool year round.
For the islands of Portugal, the weather patterns are a little different.
The Azores are best visited in April through to September. If you visit in the winter months, it can be very cool and rainy. In fact, up until March it can also very stormy too.
As one of the world's best locations for whale watching, many people head to The Azores between April and June, as this is the best time to see the whales migrate.
Madeira has a subtropical climate, meaning warm, mostly sunny weather year round. The highest temperatures are between August and September, but January is still a very pleasant month to visit.
Best Places to Visit in Portugal
Lisbon and Surrounds
Lisbon
Portugal's pretty, hilly, coastal capital Lisbon is packed with an almost endless list of sightseeing attractions, as well as charming cafes and beautiful nearby beaches.
One of the city's highlights is the atmospheric Alfama district, a maze of narrow laneways and tucked away courtyards. Hours can be spent here in the soul of Lisbon, from sampling local food to listening to the soft rhythm of faco, the local music. The cobbled laneways are steep here, so it's common to hop on one of the trams like a local. But make sure to also get truly lost on food in the labyrinth of pathways in this historic neighbourhood.
Another area worth visiting is Belém, home to the largest plaza in Europe at Jardim da Praça do Império. There's also an impressive number of galleries and museums in this district, but make sure to also visit Pasteis de Belém, a top notch bakery. The nearby Tropical Botanical Gardens, dating back over a century, are also a must-visit in this part of the city.
Lisbon is the perfect beach and city break. Estoril is the closest major beach to Lisbon, a gorgeous stretch of sand and popular with locals. Then of course, there's nearby Cascais or even the stunning Costa da Caparica, but you'll need to head there by ferry and bus.
Makre sure to also see Lisbon from above and visit one of the lively rooftop bars. There are dozens around the city, but Park is one of the best. Located in a magical garden setting, you access through a parking garage in Barrio Alto, but when you emerge on its roof, you're greeted with stunning views.
Where to stay in Lisbon
Lisbon has a wide variety of accomodation options, many of which are very reasonably priced.
The best budget hotels in Lisbon include:
Mid-range:
Luxury stays in Lisbon:
Sintra
Submitted by Claire from talesofabackpacker.com
Sintra is a special place.
It's only about half an hour's drive from Lisbon, or about an hour on the train. So many people choose to visit Sintra on a day trip from the capital. However, if you have enough time then spending at least 2 days in Sintra will give you plenty of time to explore.
Sintra is famous for the castles and palaces here, once home to Kings and Queens of Portugal. The castles in Sintra vary from a Moorish Castle, now in ruins but with beautiful views from the walls to the bright yellow and red Pena Palace, set high on a hilltop.
You should also visit the Quinta da Regaleira, an eccentric millionaire's home with fantastical gardens. It has become more popular in recent years thanks to images on Instagram of the "Well of Initiation".
The National Palace of Sintra is a popular stop-off for most tours to Sintra too, but if you do plan to take a tour check how much time you have to explore each destination.
The easiest way to get to Sintra is by train, as there is an excellent rail service from Lisbon. However, if you do come by car you can have the chance to head to the beautiful coastline and beaches near Sintra, although you may struggle to find parking in Sintra itself.
Cascais
Contributed by Sarah from cosmopoliclan.com
Cascais became the go-to seaside destination for a classy escape after the Portuguese royal family and their aristocratic entourage made it their summer retreat in the late 19th century.
The direct train connection from Lisbon makes Cascais the ultimate leisurely day trip destination and a welcome escape from the bustling capital.
Stylish pastel-hued mansions, pretty patterned pavements and wide palm-fringed lanes characterise this glamorous town along the Portuguese Riviera. Whether you choose to stroll along the promenade to Estoril, shop at one of the high-end boutiques, eat as much seafood cataplana as you can handle or cycle along the coastal biking trail to the Boca do Inferno rock formation and the gorgeous Praia do Guincho, there's a wide range of Cascais activities to choose from.
And with so many intriguing museums, the iconic Farol de Santa Marta Lighthouse Museum, the Casa das Histórias Paula Rego and the Cidadela Art District to name a few, it's the perfect place to jazz up your Portuguese vacation with a cultural escapade.
In summer, when the Silver Coast's beaches get a bit crowded, you can easily head to the nearby Sintra mountains to visit some of Portugal's most enchanting palaces. Cascais is the kind of place you'll want to linger and the splendid resorts that dot the area make for the perfect excuse to do so.
There are some wonderful places to stay in Cascais, including the upmarket InterContinental Estoril (from £114 per night) and the amazing value Albatroz Hotel (from £19 per night).
Cabo da Roca
Contributed by Venaugh from venaugh.com
Cabo da Roca, one of the most beautiful places to visit in Portugal, is also the most westerly point on the entire European continent.
The small town sits in the Sintra-Cascais National Park and is just 45 minutes drive from the centre of Lisbon.
Cabo da Roca is dominated by its cliffside location, which offers picture perfect views of the sea and and the lighthouse. The cliffs are a made of a mixture of granite and limestone, which makes for a stunning view and a great location for taking photos. And even better, the entry and parking are free. There is little else around this area except for the lighthouse, a gift store, and a coffee shop.
It is widely agreed that the best time to visit Cabo da Roca is at sunset as the sun illuminates everything surrounding it. Many people usually spend around 15 minutes here which is just enough to enjoy the view and take some pictures. However, please take note that it is extremely windy at Cabo da Roca.
There is also a stone monument which is inscribed with: "Where the land ends and the sea begins." These words were written by Luis Camoes, a famous Portuguese poet.
Peniche
Contributed by Milene & Paul from surfandunwind.com
Located approximately 1 hour north of Lisbon, Peniche is the perfect off-the-beaten-path break away from the popular azulejo-clad buildings of the Portuguese capital.
You can easily get to Peniche by hopping on a regular coach service, by joining a day-tour or by driving, if you prefer to have a more flexible visit.
Baleal and Supertubos are the two main beaches in Peniche and sit a few miles away on either side of the Old Town. Baleal, a rugged headland that divides the area between North and South beaches, has a unique geographic location. Each beach faces opposite sides of the cape, so whilst one side has the ideal waves for surfers or those learning how to surf, the other has calm waters perfect for swimmers. Supertubos is also another long stretch of an unspoiled, sandy coastline but in a more developed area where you can find a greater choice of accommodation and amenities.
Other than having fun in the sun, make sure to visit the main attractions in and around the Old Town like the 16th-century São João Batista's Fortress, Museu de Renda de Bilros, Cabo Carvoeiro and its uneven rock formations, as well as Berlengas Islands, a UNESCO's World Biosphere Reserve.
Nazaré
Contributed by Ella from manymoremaps.com
On Portugal's west coast you'll find the beach town of Nazaré. What was once a sleepy fishing port is nowadays firmly on the map for being one of the best places in the world for big wave surfing!
Ever since it rocketed to fame when Garrett McNamara broke the world record for the biggest wave ever surfed, right in Nazaré, people head to the town specifically to visit the Nazaré giant waves! Although Garrett McNamara has gained a God-like status among the people of Nazaré, the title is currently held by Brazilian surfer Rodrigo Koxa. He surfed a terrifying 80 foot wave!
To find the huge waves, visit the Nazaré lighthouse, which overlooks the Praia do Norte beach. You can get here from the main town centre via the Nazaré funicular. At the lighthouse you'll find a surf museum which costs €1 to enter. The museum documents the history of surfing in Nazaré and explains why the waves get so massive here.
Even if you're not interested in surfing, there's plenty to do in Nazaré, such as eating deliciously fresh seafood, riding the funicular, and sunbathing at Praia de Nazare.
To get to Nazaré from Lisbon, you can drive, join a tour or catch the Rede Expressos bus. The journey takes around 1 hour and 50 minutes on the bus.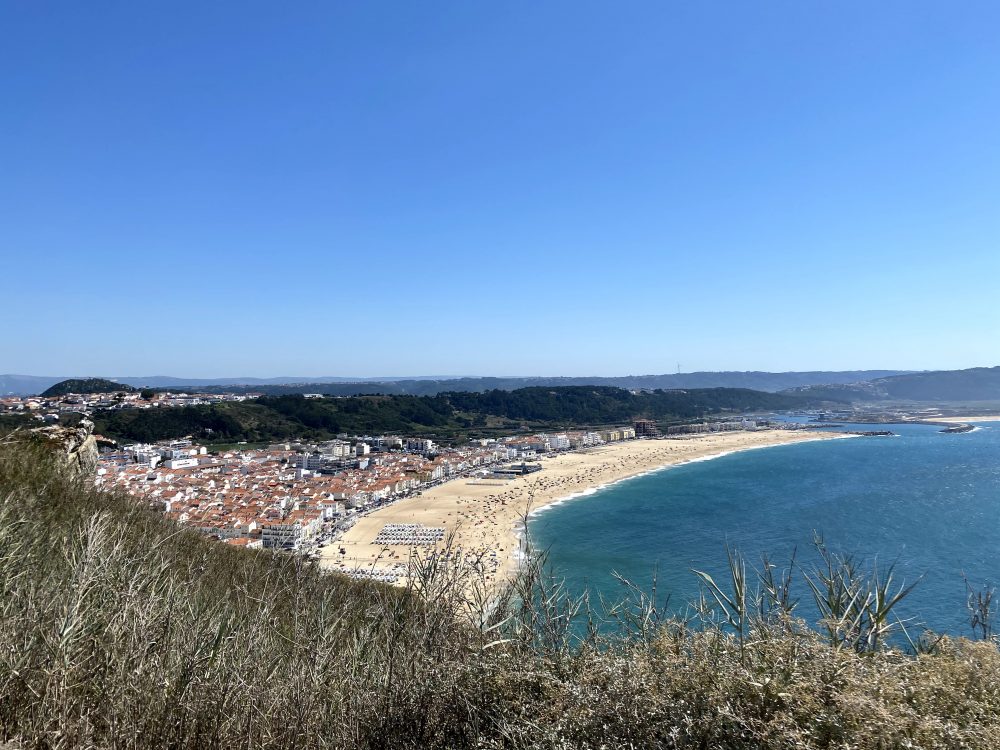 Santa Cruz
Contributed by Victoria from bridgesandballoons.com
Santa Cruz is a little beach town between Porto and Lisbon (1.5 hours north of Lisbon and 2.5 hours south of Porto). It's the perfect place to stop on a Portugal road trip. The town is famous for its surfing and huge sandy beach. There's even an annual pro Santa Cruz surf competition.
The town itself is tiny with few attractions, but the main reason people visit is to relax, enjoy the beach and, of course, surf. It's also a gorgeous place to walk along the oceanfront, and there's a coastal path that has epic views out to sea.
Santa Cruz is home to one of Portugal's best hotels, Noah Surf House, which is a reason in itself to visit the little town. The destination hotel is a relaxed surf hub with a striking design that celebrates nature, the sea, and surf culture. There are all sorts of activities and lessons on offer, including surfing, SUP, long boarding, and yoga. Many of the activities are available for children too.
The hotel also has two excellent restaurants, which are open to the public. One is a seafood restaurant right on the beach, and the other is in the main hotel, serving seasonal food, much of which is grown in the on-site garden.
Óbidos
Contributed by Cath from passportsandadventures.com
One of the most stunning villages in Portugal to visit is Óbidos. This medieval walled town is one of the prettiest places to visit in Portugal and an ideal stop for a road trip in Central Portugal.
One of the best things to do in Óbidos is simply wandering the narrow, cobbled streets. On every turn, you will be greeted by white-washed walls with colourful window and door surrounds which are typically Portuguese. Narrow steps lead to even more delightful streets to be explored. Take your time and savour the moment, and don't forget your camera as you'll be stopping as you will be wanting to take a picture every few steps.
Another thing to do in Óbidos is admire the castle and walk the medieval town walls. The castle is now a luxury hotel, so unless you are staying in it, you'll need to admire it from outside. Many of the medieval walls can be walked but be warned, there is no guard rail so take extra care if you are venturing up there!
Óbidos is full of amazing architecture and beside the castle and medieval walls, you can see the aqueduct just outside the town. The Porta da Vila arch at the entrance to the medieval town must be viewed. Just make sure to look up!
Óbidos is also famous for its cherry brandy liquor, ginjinha, so make sure to either sample it or buy some from one of the local vendors. It is traditionally served in a chocolate cup, so if you are buying some, buy one of the sets that include the cup.
Whether you visit Óbidos as a day trip from Lisbon (just over 1 hours' drive) or are staying close by, you are sure to fall in love with this little gem of Portugal.
Évora
Contributed by Renee from dreamplanexperience.com
Évora, a beautifully preserved medieval town, is the capital of the Alentejo region in Portugal. Only a 90-minute car or train ride away from Lisbon, this city offers visitors an abundant amount of history and charm.
As a designated UNESCO World Heritage site, Évora is full of well-preserved landmarks that have been shaped by more than 20 centuries of history. The city walls, temple and ruins of Roman rule still remain today. The Moorish influences, from when they ruled in 715 to 1165, can be seen in the fortified gate and the Cathedral. The city really began to flourish in the 15th century, when convents, churches and royal palaces began to spring up everywhere. This includes the long Aqueduct standing just outside the city walls. All of these significant monuments remain undamaged by the great earthquake of 1755, which destroyed many of Portugal's great cities including Lisbon.
Spend the entire day in Évora by getting lost inside the walls of the old city. Gaze upon the stunning architecture of the low whitewash houses, decorated with painted azulejos tiles, mustard-yellow trim and intricate wrought-iron balconies. Simply wander and discover every hidden corner of it, and fall in love with its charm.
Central Portugal
Batalha
Contributed by Lotte from Gezond Weekmenu
Batalha is a small city (approximately 7500 residents) about 90 minutes northeast of Lisbon (by car). The main reason to visit Batalha is the magnificent Batalha Monastery. This UNESCO World Heritage was built in the 14th century and is officially known as the Mosteiro de Santa Maria da Vitória.
This imposing monastery was built to thank the Virgin Mary for a victory won in 1385. As you can imagine, constructing this huge building took a long time (no less than 121 years in total!). The opening hours of Batalha Monastery are dependent upon the season. From April to mid-October, you can visit between 9 am and 6.30 pm. Mid-October until April the Monastery closes 30 minutes earlier.
Besides visiting Batalha Monastery, also give yourself some time to stroll through the compact city centre. Here you'll find plenty of restaurants, cute souvenir shops, and of course several pastry shops where you can grab a coffee to go and a pastel de nata.
To learn more about the history of Batalha and the surrounding area, pay a visit to the Museu da Comunidade Concelhia da Batalha (MCCB). Opening hours are a bit limited (Wednesday-Sunday between 10am-1pm and between 2-6pm) so time your visit well. The entrance fee is only €2.50 and while the museum is only small, it's money well spent if you are interested in learning a bit more about the past of this beautiful small city in Portugal.
Note: if you don't have your own transportation you can easily join a day tour from Lisbon. Tours often combine a visit to Nazare, Batalha, and either Alcobaça or Fatima.
Serra da Estrela Natural Park
Contributed by Cath from movingtoportugal.com
One of the best places in Portugal to visit is the stunning Serra da Estrela Natural Park. Located in the Central region of Portugal, this natural park is an area of outstanding beauty, and is located just over three hours northeast of Lisbon. However, this is not day-trip material. To enjoy the park you will need to spend an entire day and more exploring its nooks and crannies.
The Serra da Estrela contains the highest mountain peak in continental Portugal, denoted by the Torre. This is located close to Portugal's only ski course, where many Portuguese flock in winter to enjoy skiing and snowboarding. During summer, the ski lifts still operate, giving you panoramic views across the mountains and valley below.
At the Torre peak there are also two radar towers, one of which is owned by the GNR (Guarda Nacional Republicana) and there are produce and crafts shops at the summit where you can buy cured ham, cheese and other souvenirs. Enjoy a coffee and pastel de nata in the café while enjoying the views.
Another must-see is the Senhora da Boa Estrela, an amazing carving in the rocks of a cliff face, the Covão dos Conchos which is a waterfall-like hole in the middle of a lake, and the pretty villages in the valleys of the park.
If you are going to be visiting Central Portugal, make sure to put the Serra da Estrela on your itinerary!
Coimbra
Contributed by Jorge & Claudia from portugalthings.com
Coimbra is a beautiful riverside city in the centre of Portugal.
The city is well-known for its university – one of the oldest in the world, founded in 1290. It is listed as a UNESCO World Heritage Site since June 2013. The University of Coimbra is the heart of the city, so visiting the university complex is a must-see!
Make sure to visit its mains features: Paço das Escolas, Joanina Library (one of the most beautiful libraries in Portugal), S. Miguel Chapel, the Botanical Gardens, the Science Museum, and the Chemical laboratory. Apart from Paço das Escolas which is free, to visit the university you need to buy an entrance ticket. It is recommended to buy a ticket that includes all the main buildings, as this offers the best value for money and facilitates your visit.
The city also has a cool vibe, with interesting academic traditions and costumes, plus it has plenty of lively bars and restaurants. Besides the university, the city has much to offer. The riverside is a beautiful place to walk or even go on a boat trip. The lovely Quinta das Lágrimas is famous for being the scene of the love of D. Pedro and D. Inês de Castro. Finally, the Old Santa Clara Monastery and the New Santa Clara Monastery are also noteworthy landmarks.
Coimbra is easily reachable by train from Porto or Lisbon, and we advise you to stay there for at least 2 days, as there is so much to do.
Fatima
Contributed by Victoria from guideyourtravel.com
Fatima is a beautiful little town located 120km north of Lisbon. It takes just over an hour to drive there and is perfect for a day trip or a stopover on your Portugal road trip.
Fatima is not as popular with regular tourists as other towns like Nazare or even Porto. However, Fatima still sees thousands of visitors every month who come here for religious reasons. Fatima is actually a huge pilgrimage destination for Catholics.
The town has a huge plaza with multiple churches and places of worship which are a must-visit even if you aren't Catholic. The Sanctuary of our Lady of Fatima is an impressive construction and can't be missed on any visit to Fatima. Everything is built out of white marble and stones and almost seems like it came from another planet. Make sure you dress modestly and are respectful when you visit the Sanctuary. It's a place of worship and although tourists are welcome you should always make sure to pay your respects.
After visiting the religious sites in Fatima you should explore the little alleyways in the centre of town. You'll find plenty of shops and restaurants here where you can enjoy the rest of the day.
Northern Portugal
Porto
Contributed by Angela from whereangiewanders.com
Porto is Portugal's second largest city and the perfect place for a 3-night break. It is predominately known for being the origin of port wine and with many port cellars located along the banks of the magnificent Douro River, it is easy to think that this is Porto's biggest attraction. While taking a tasting tour of the port cellars is one of the best things to do in Porto, the city holds so many other treasures to be seen.
Harry Potter fans will want to pay a visit to Livrario Lello, the ornate bookstore that was an inspiration to J.K.Rowling, while history lovers will find a visit to Igreja de São Francisco and its gruesome catacombs extremely interesting.
Of course, Porto's trendy Ribeira district leading to the river is where visitors will find restaurants, bars and river boat rides. Book a trip to see Porto's 6 bridges and glide underneath the astounding Dom Luis 1 Bridge, built by one of Gustave Eiffel's students. This double-decked bridge allows pedestrians to walk across on one level and vehicles to cross on the other. The bridge is the focal point of the city and links Ribeiro to Vila Nova de Gaia on the other side.
Porto is also famous for its blue and white "azulejo" tiles which are highly decorative and portray scenes from Porto's history. They can be seen all over the city but one of the best places to view them is in Porto's train station!
Before leaving the city make sure that you taste two of Porto's regional dishes. The first is Francesinha – a sandwich made with bread, meats, melted cheese, tomato and beer sauce and the second is Pastel de Nata – an egg custard pastry. Of course, when in Porto do as the locals do and wash them down with a glass of port!
Guimarães
Contributed by Marco from travel-boo.com
Unbeknownst to many, Portugal is in fact one of the oldest countries in Europe, with the Kingdom of Portugal, officially recognised by the Pope in the year 1139.
Interestingly, the city of Guimarães situated just over an hour by train from Porto, set in the north of the country, is also considered the birthplace of Portugal and one of the country's most important heritage sites.
This city, which is said to be the birthplace of the first king of Portugal, King Afonso Henriques, boasts not only a gorgeous historic city centre, but also numerous other sights that are all well worth visiting. Before exploring all the intriguing sights that charming Guimarães has to offer, be sure to swing by the tourist office where a local guide will provide you with a map and outline all the city's most important sites.
Start off by wandering through the quaint and cobbled streets of the historic city centre and stopping off at the Largo da Oliveira square. Thereafter, you can head uphill towards the Guimarães Castle as well as the nearby Ducal Palace. If I'm completely honest, there isn't much to see at the castle itself as only its ruins remain today, but, the Ducal Palace is definitely worth the visit.
Afterwards, be sure to pop into the small and somewhat unassuming Igreja de São Miguel church, at the foot of the castle. Legend has it that King Afonso Henriques was baptised here as a small child, although this myth is widely disputed. Regardless, it is still a fascinating sight to visit during your time in Guimarães.
Given the close proximity to Porto, a visit to Guimarães is a fantastic day trip option from Porto. Departing from Porto's São Bento train station and lasting roughly 1h15 mins, tickets will set you back only €3.25 one-way per adult, perfect for those wanting to explore Portugal on a budget!
Aveiro
Contributed by Marie from alifewithoutborders.org
Just one hour from Porto by train, the picturesque city of Aveiro, is the perfect day trip or stopover when travelling between Lisbon and Porto. Nicknamed the Venice of Portugal, the city is most famous for its charming canals and painted gondalas, known as Moliceiros, which ferry visitors along the maze of waterways in the city centre.
Apart from its ancient maritime history, Aveiro charms with colourful Art Nouveau heritage buildings, interesting museums, and lovely cafes and restaurants lining the main waterway. Wander the quaint side streets and alleys to discover the traditional Portuguese tiles adorning the Old Train Station, the Misericordia Church and many of the shops and homes in the city.
Discover the history and traditional methods of salt production in the region, by visiting the open air eco-museum and salt pans, or pop into the Aveiro Fish Market for freshly cooked local fish. And no visit to Aveiro is complete with samplingthe regional delicacy of Ovos Moles de Aveiro, a sugary-sweet egg-yolk treat.
Take a ten-minute trip to the nearby Costa Nova, a Portuguese seaside fishing village, famed for its brightly striped wooden cottages. Traditionally used to store fishing gear, these colourfully painted houses are now highly sought-after accommodation – as well as being one of the most instagrammable spots in Portugal.
Braga
Contributed by Lotte from phenomenalglobe.com
A must-visit city in Portugal is Braga, one of the oldest cities in the country and one which is steeped in history. Allow yourself at least two whole days to explore Braga, preferably three if your Portugal itinerary allows. Braga is located in the north of Portugal, about an hour from Porto by car (or train). It's one of the oldest catholic cities in the world and has over 2000 years of history.
Therefore, it's not surprising there are many historic sights to visit in Braga such as the Arco da Porta Nova and the Castle of Braga. However, the number one place to visit in Braga is without a doubt the Sé de Braga. Sé de Braga is a beautiful cathedral that was built in the 11th century and is visited by the people living in Braga until this day. Opening hours are from 8.30 m until 6.30pm, and the entrance fee is €2. This should go without saying, but be sure to dress respectfully as this is an active place of worship.
Next on your Braga itinerary should be the Bom Jesus do Monte. This amazing UNESCO World Heritage Site is located a couple of kilometers out of Braga city center, but can easily be reached by bus (or Uber). Bom Jesus do Monte is an important pilgrimage site on top of Mount Espinho. Bom Jesus do Monte can be reached by climbing a 577 steps staircase. So if you are traveling with young children, be sure to leave the stroller in your accommodation in Braga and bring a baby carrier instead. Alternatively, you can take the small cable car.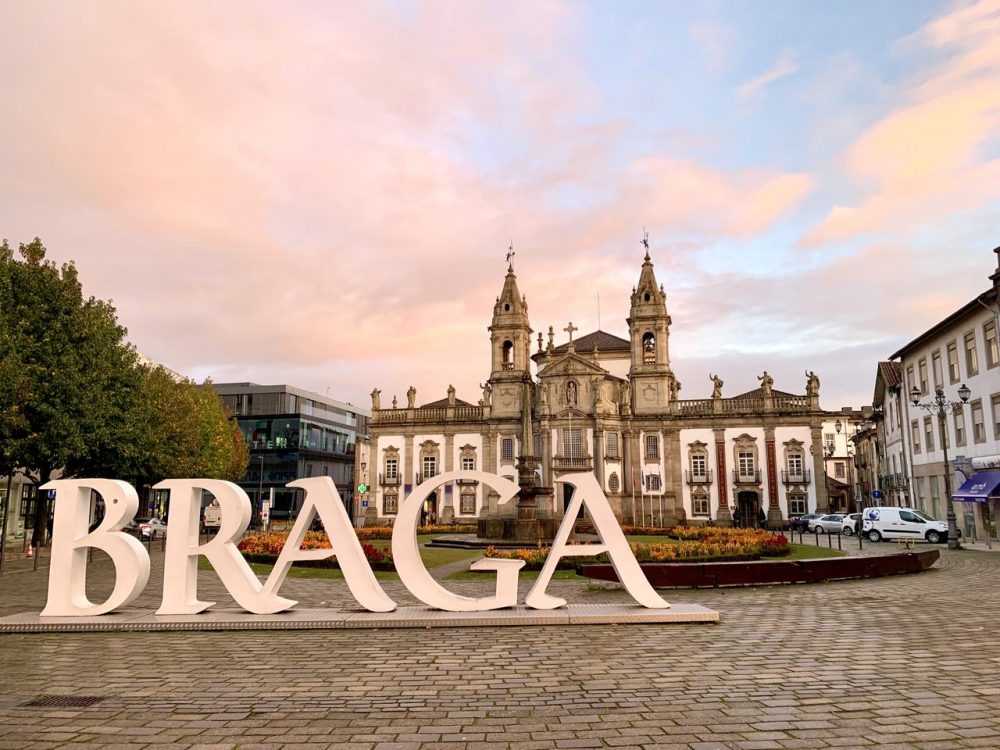 Peneda-Gerês National Park
Contributed by Jorge & Claudia from traveldrafts.com
Peneda-Geres National Park is one of Portugal's most beautiful nature spots. Located in the north of Portugal, it is just 1 hour from Porto.
The park is a paradise for nature and adventure enthusiasts. It is abundant with streams, rivers, waterfalls, and lagoons, all of which are perfect for swimming and other water sports. There are also dozens of great hiking trails that take from a few hours to several days, all traversing through dense forests with wild animals, such as horses and bucks.
It is also a good region to discover more about Portugal's history and culture, as there are several castles spread through the national park like Lindoso and Castro Laboreiro castle. Plus, there's an old military Roman road (the Geira) in the Albergaria Forest, a magical forest predominantly of secular oaks.
Inside the park, there are small cute villages like Castro de Laboreiro, Lindoso, Fafião, Soajo, and Pitões de Júnias, all of which ideal places to spend the night and eat delicious homemade bread or meat in the region.
The best time to visit the park is in summer or spring, and you need at least 2 or 3 days, but if you don't have that much time, you can easily visit it as a day trip from Porto.
Southern Portugal
Costa Vicentina
Contributed by Alya and Campbell from stingynomads.com
The Costa Vicentina is a fantastic area in the Alentejo region, 200km south of Lisbon. It's easy to get here by public buses from Sete Rios bus station.
The Costa is famous as the wild coast; unspoiled beaches, rugged cliffs, beautiful sea, dramatic drops, hidden bays, and charming fishermen villages.
The coast is a real paradise for outdoor and adventure lovers, and hiking is one of the main activities here. There are many spectacular coastal routes including the famous Fisherman's Trail, a 4-day hike along the coast. The trails are easy to access, well-marked, and suitable for anybody regardless of their age and fitness level.
Surfing is another reason many people come to the Vicentina Coast. There are spots for both experienced surfers and beginners. For those who want to learn to surf, there are a couple of surf schools along the coast that offer lessons and board rental. The water along the coast is quite cold even in the summer, so a wetsuit is a must-have for surfing here.
Spring, between April and May, is the best time to visit the Costa. During these months, fields along the coast are covered with wildflowers and hundreds of storks make their nests on the cliffs along the coast. The weather in the spring is nice and warm but not too hot. There are not too many tourists, unlike in the summer season accommodation is a bit cheaper and easier to find.
Portimão
Contributed by Alice from adventuresofalice.com
Located in the west of the Algarve, Portimão is a charming, traditional market town and fishing port. One of the largest of the southern region's coastal towns, Portimão is perfect for families and couples and you can enjoy both the working side of Portugal and some of the most beautiful beaches in Europe all in one go.
There are plenty of wonderful things to do in Portimão. It tends to be less busy than the neighbouring towns of Lagos and Albufeira and it's certainly less touristy. Instead of touristy restaurants, you'll find local taverns selling freshly caught seafood and wine from the local vineyards (I recommend trying the Cataplana – it's utterly delicious!).
Walking the streets of the town you'll find squares lined with shops and restaurants, a delightful local market, a museum that goes into the history of the area, fortresses, a tranquil harbourside walk lined with trees and some of the friendliest locals in Europe.
However, one of the main reasons people visit the Algarve is for the beaches and Portimão doesn't disappoint. The centre of town is just a 6-minute drive from the famous Praia da Rocha, one of the most gorgeous white-sand beaches in the area which is framed by Portugal's signature red and yellow cliffs.
Overall, whether you want to explore a traditional town, or chill out by the beach, Portimão is definitely one of the best places to visit in Portugal.
Albufeira
Contributed by Linn from brainybackpackers.com
If you want beaches, water sports, and nightlife, Albufeira on the Algarve coast is the place to be.
The town is not too big, so it still has this cosy atmosphere so typical of the Algarve towns, but there is still a lot of tourism and life. Especially throughout the summer months.
With stunning view points over the beaches and coastline, you can enjoy a gelato before heading down to the beach working on your tan. There are many tour agencies that offer canoeing, paddle boarding, or surfing if you want to spend the day in the water. The incredible Algarve cliffs are also just around the corner and you can go on day trips by boat to the astounding Benagil Cave or to explore the incredible cliff formations at Ponta da Piedade.
Although Albufeira is the perfect stop on an Algarve road trip, the distances are so short that you can also use the town as a base for day trips to nearby cities and towns like Faro, Tavira, Olhão, or Lagos. There are a lot of luxury hotels with swimming pools in Albufeira, but if you are looking for something more budget friendly that is still in the center close to the beach, check out Maria Guest House. It is really cosy with a lovely local feel to it.
Sagres
Contributed by Nichola from familyhotelexpert.co.uk
Sagres is one of the most fascinating places in Portugal to visit. There's something very atmospheric about this corner of the Algarve and it's a great place to spend some time on any Portugal trip.
Sagres is the most south westerly point of Portugal and somewhere the Europeans thought the world ended. Indeed the Romans would come here to watch the sun bleeding in to the sea at the end of the day and were convinced they could hear it hissing as it was extinguished. There's something very evocative about standing here looking out to sea at this point.
Today, it is one of the world's busiest shipping lanes. The cliffs here feel dramatic and you can see numerous sea birds nesting amongst them. It's perfect for a walk at any time of the day to see the waves crashing below and imagine the history that has passed here. There's also the great lighthouse at Cape St Vincent to visit and enjoy.
Some of the best family resorts in the Algarve are based near to Sagres so it can be a lovely place to base yourself, although there's often a strong wind that blows through here. Take a wander through the small town that accompanies the cliff edges here to see the Algarve at its best.
Lagos
Contributed by Roxanne from wildaboutbc.com
In the south of Portugal, in the beautiful Algarve region is the small town of Lagos. This amazing coastal town is a popular destination for tourists and locals alike and one of the best places to visit in Portugal.
The Algarve region is famous for its stunning sandy beaches that are paired with rock formations that jut out from the water and towering cliffs along its rugged coastlines. Lagos is often considered the favourite destination in the Algarve due to its historic charm, vibrant atmosphere and beautiful beaches.
Lagos' town centre consists of narrow cobbled streets and whitewashed buildings and is worth exploring. In the summertime, expect to find the streets lined with bustling outdoor patios and quaint shops.
Due to its unique coastline, one of the most popular activities in Lagos is taking to the water to explore the natural bridges and grottos formed by the rock. Boat tours cover more ground, but kayak tours allow visitors to easily explore the nearby caves.
Exploring Lagos' coastline from shore is also a must-do while visiting the town as there are numerous stunning beaches and viewpoints. The most picturesque beach is Praia do Camilo, a little sandy cove tucked in between towering cliffs. A 30 minute walk from Lagos's historic centre, followed by a set of stairs on a wooden boardwalk leads down to this stunning beach. While often busy, it's for good reason and worth the visit while in Lagos.
Olhão
Contributed by Paulina from paulinaontheroad.com
Olhão is a coastal town in Algarve, located just 10km east of Faro.
This town was once known for its fishing industry in the seventeenth century, and is still one of the main ports of Algarve today. It is also where the first canning factory was established in 1882, with canned tuna and sardines at one point being the main source of income in Algarve.
Today, one of the main draws for visitors to Olhão is the fish market on the waterfront. This energetic market with fresh local products is the reason why visitors must visit Olhão once, and you can find fresh fruit, chicken, honey, and a large variety of local fish here.
Make sure to experience the whitewashed houses, flat terraced roofs and traditional chimneys in the old quarter of Olhão. This area has been strongly influenced by Moorish design, including the seventeenth-century built church of Nossa Senhora do Rosario. The chapel behind it is where the wives of fishermen come to pray for their husbands' lives in the chilly and stormy weather, a tradition they have upheld for centuries.
Other things to do in Olhão include taking a short ferry ride to some of the nearby Algarve beaches, or enjoying the lively Festival do Marisco, a fantastic seafood festival taking place in mid-August
One of the best places to stay is Alojameto Bela Vista, but make sure to check out this detailed guide on where to stay in Algarve.
Tavira
Contributed by Džangir from drjamtravels.blog
Tavira is a town in the Algarve region of Portugal, between Faro and the Spanish border. The main way to arrive is at Faro airport, which is 40 mins away by train, or from Seville in Spain, which is 2.5hours by bus.
The area surrounding Tavira has been populated for over 3,000 years, since the bronze age, and it actually flourished in the Moorish period. After the Reconquista in medieval times, many buildings and areas remain from the Moors. For example, there is a Moorish castle and museum dedicated to their culture, as well as an impressive Moorish quarter – Mouraria with white façade houses. There is also the "Roman" bridge with 7 arches over river Gilao which was built by Moors, as well as the church of Santa Maria do Castelo, rebuilt from a Moorish mosque. Make sure to also visit the old part of town with mainly 18th-century buildings.
If you would like to spend some time on the beach, there is a ferry in town that will take you to Ilha de Tavira which has a beautiful 11km stretch of beach, with one part dedicated to naturism. There is also a Graveyard of Anchors on the island in memory of the once-blooming fishing industry.
In the past few years, several golf courses were built close to town and if you're a foodie, then you will delight in the some of the excellent, well-priced seafood restaurants.
Islands of Portugal
Madeira
Contributed by Sinead of mapmadememories.com
The island of Madeira offers something for everyone. In the bustling capital of Funchal, there are museums, churches and pretty parks to explore. Football fans will love CR7, the museum dedicated to the achievements of locally born Cristiano Ronaldo.
Visitors to Funchal can catch a scenic ride on a cable car to Monte, a charming village high up in the hills behind the city. After visiting the beautiful Monte Tropical Gardens, enjoy a thrilling ride down the hill in a 'carro de cestos', a traditional wicker toboggan, expertly steered by the feet of a straw boater wearing driver.
Make sure you allocate time to explore the rest of this friendly island as Madeira offers many fantastic attractions outside popular Funchal. You could marvel at the stomach-churning views at Cabo Girao (the highest sea cliff in Europe) or enjoy a cooling dip in the naturally formed swimming pools at Port Moniz and explore the island's volcanic history at the Sao Vicente caves.
Many visitors come to Madeira purely to hike its famous 'levadas'. Levadas are hand cut irrigation channels lined with walking paths that criss cross this mountainous island. Hikes range from cliff hugging coastal walks to attractive walks through eucalyptus forests and meadows of wildflowers. There are hikes for all ages and abilities but each walk promises spectacular views of the stunning, dramatic landscapes of Madeira.
The Azores
Contributed by Greta from gretastravels.com
If you're looking for the best places to visit in Portugal, then you have to add the Azores Islands to your bucket list. The Azores Islands are an archipelago in the middle of the Atlantic, and are every outdoors fan dream destination.
The Azores are characterised by stunning landscapes, quaint fishing villages, green rolling hills and picturesque salt-water rock pools. There are many awesome things to do, but the beautiful hiking trails in the Azores are without a doubt one of the most popular attractions.
There are many incredible hikes dotted all over the islands, covering all lengths and difficulty levels. The hikes are as varied as the islands, ranging from lunar volcanic landscapes to picturesque forests, or from dramatic green cliffs to floral trails.
Whatever your fitness level, you're guaranteed to find a panoramic hike that will fit your needs. During your trip to the Azores, you can alternate between hiking and other fun activities like snorkelling, whale watching, tasting the delicious local cuisine and visiting the colourful fishing towns.
If you want to explore gorgeous natural landscapes while eating delicious Portuguese food, then you have to add the Azores to your Portugal bucket list!
Best Places to Visit in Portugal
So there's my guide to the best places to visit in Portugal. As you can see, there's plenty of different places to see from north to south. So many of the destinations in this guide lend themselves to weekend breaks, but can also be combined to create epic road trips or longer adventures.
I do hope this guide to the best places to visit in Portugal is helpful and inspires you visit this beautiful country. Please, as always, do let me know if you have any questions!
If you're planning a longer trip around Europe, or want further inspiration, then make sure to check out my other posts here:
Disclaimer: This guide has no involvement from the local tourism board or a hotel.
Enjoyed my guide to the best places to visit in Portugal? Pin it!