One day in Athens may not seem like a long time to explore the capital city of Greece, but you can visit and see a surprising number of top attractions with just 24 hours in Athens. Of course, if you're planning a weekend city break in Athens, then you can do all of these essential attractions and more.
Visiting Athens in one day is most likely if you're stopping by at the start or end of a Greek island hopping itinerary. A one day Athens itinerary might also be useful if you're visiting Athens as a port of call on a cruise.
Fortunately, Athens is a manageable destination to visit in one day, with lots of attractions concentrated in a fairly compact area. Its central vibrant neighbourhoods are dotted with ancient ruins, so you can enjoy a cocktail in one of super cool bars one minute and be visiting another awesome ruin the next.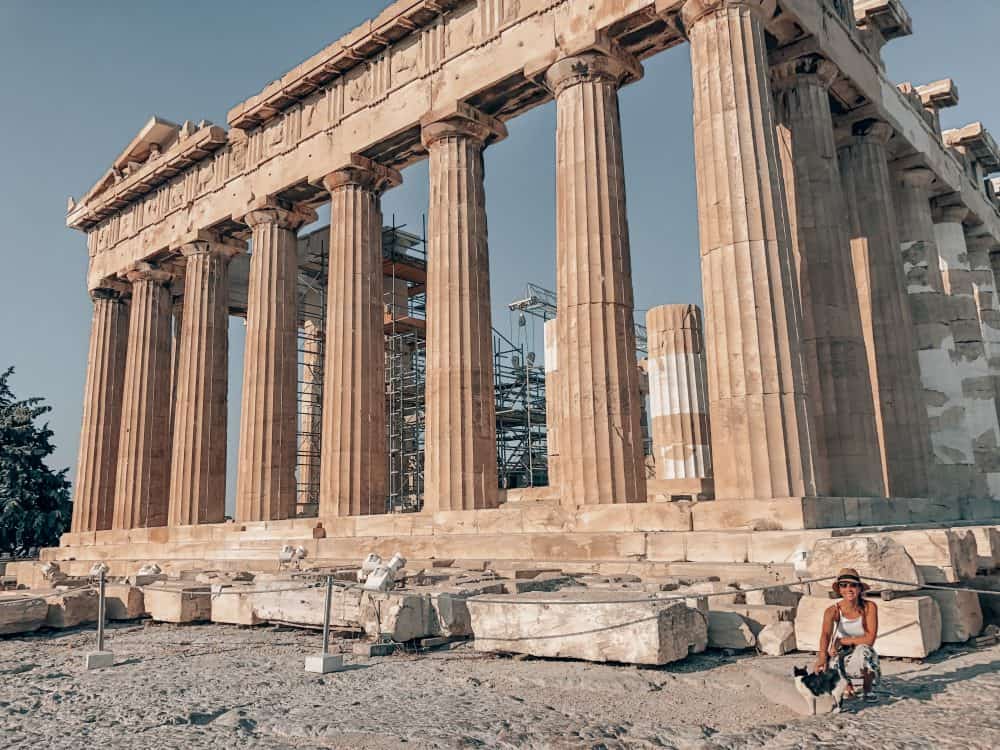 One Day in Athens: Essential Information
If you're planning to see Athens in one day, I'd recommend being smart with your travel and accommodation location in order to maximise your time in Athens. Read one for my guide to getting around Athens and where to stay in this ancient city:
Getting to Athens
From the airport to the city centre, there are two main options. The metro which takes around an hour is a flat cost of 10 Euros per person, or a taxi. The taxi from the airport has a fixed price of 35 euros in the day and 50 at night.
If you're arriving from the Pireaus Port, you can either take the xx bus which runs 24 hours, the metro line or jump in a taxi for about 20-30 Euros.
Much of the city is highly walkable and especially this one day in Athens itinerary. Even if you need to take a metro, a 24 hour pass is just 4 euros per person, which is very reasonable (but excludes the journey to the airport).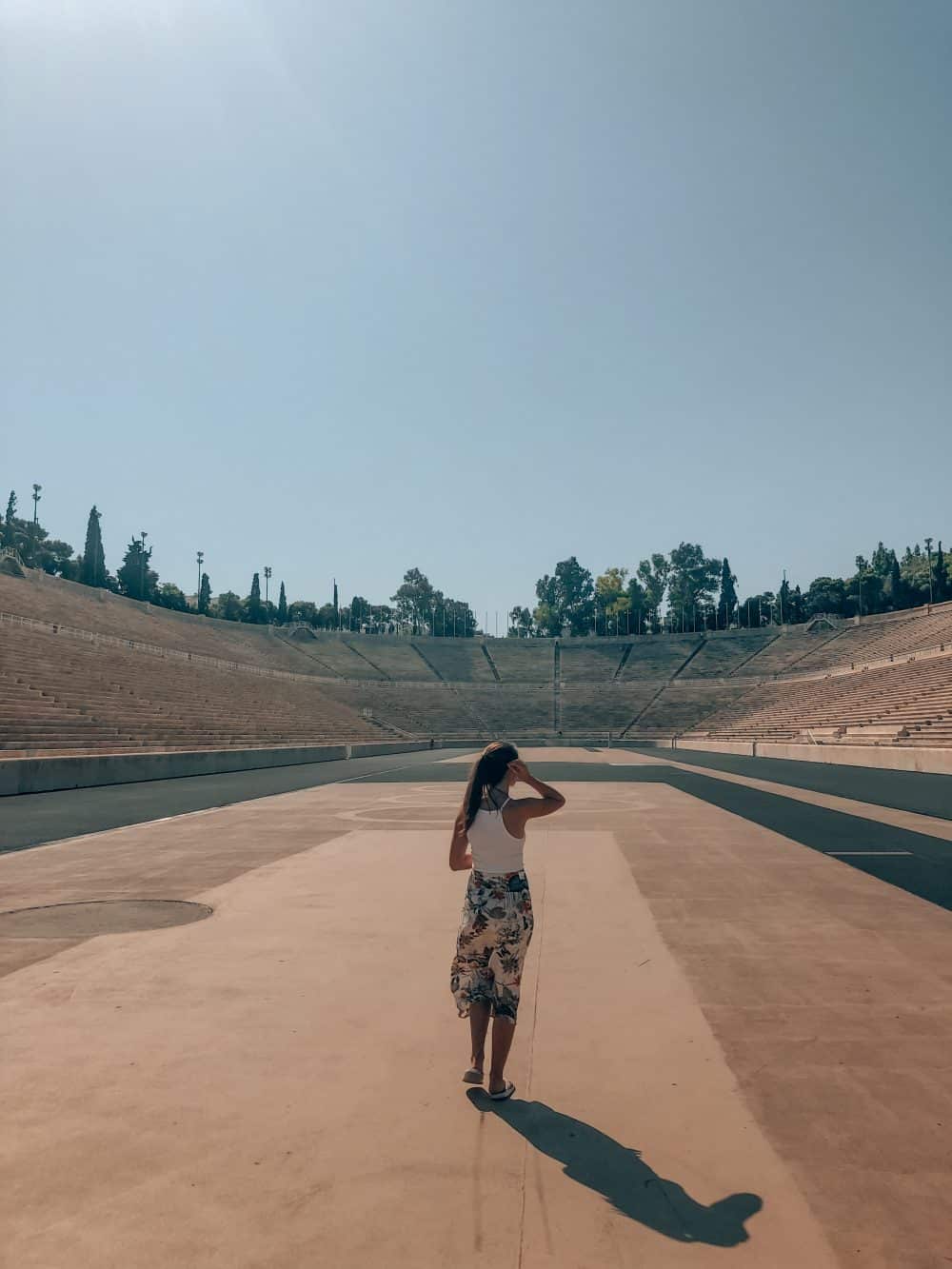 Where to Stay in Athens
If you only have one day in Athens (and one night), I'd make sure to stay as central as possible. Being near to the main sites, and to a metro stop, will really help you maximise your time in Athens.
Syntagma Square is considered the heart of Athens. From here it is walking distance to the Acropolis, but you can also nip there in two stops on the metro too.
There are some excellent hotel options covering all price ranges located in the Syntagma Square area:
Budget hotels in Athens:
Mid-range options in Athens:
The best luxury hotels in Athens:
Also, Airbnbs in the city are often good too, so don't forget to check these out also.
Top Things to Do in Athens
Athens is one of the best cities in Europe to explore on foot. Even with just one day in Athens, you'll be pleased to know you can visit the Acropolis and many of the main historic sites in this time.
The city is of course one of the oldest in the world, and no visit is complete without visiting some of the ancient sites. Even if you're no history buff, it's incredible to wander amongst such impressive sites and architecture.
The Acropolis was built in 5th Century B.C and is today one of the most famous Greek monuments. People come from across the world to lay eyes on these impressive ruins, and to explore them in person. The Acropolis is actually a complex of sites, including the Theatre of Dionysos, the Parthenon and the Odeon of Herodes.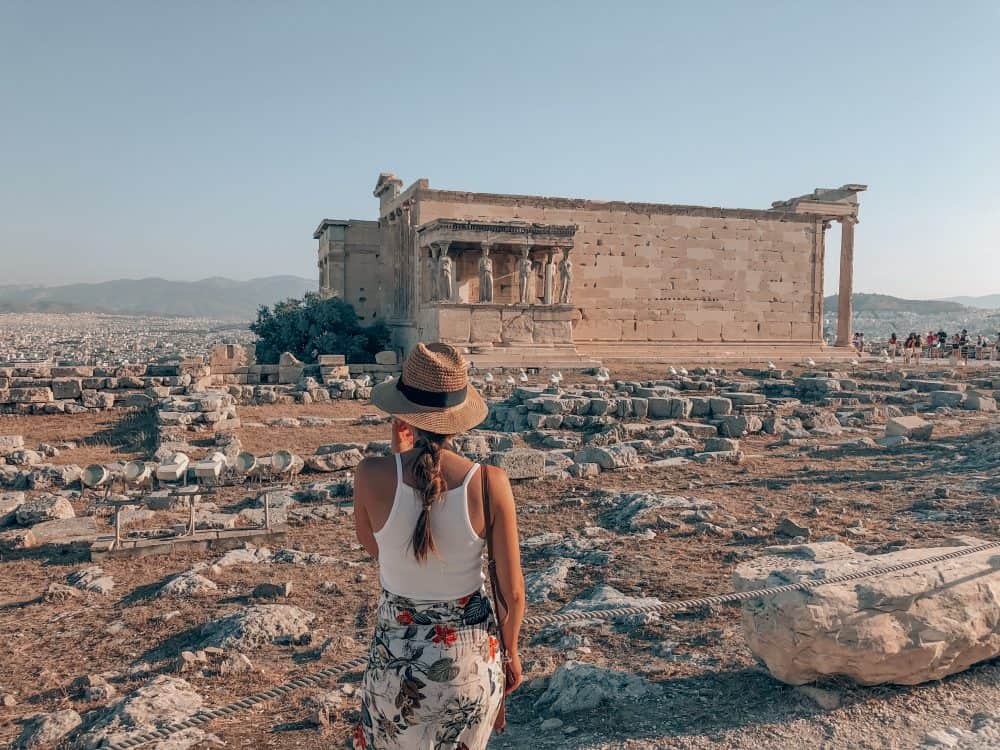 In particular, the Parthenon blew me away. Considered a symbol of both Greek democracy (which was born here), and acknowledged as one of the most significant cultural monuments in the world, the Parthenon is something else. Do note however, that ongoing reconstruction efforts are taking place so whilst the monument is beautiful, your view will have scaffolding covering a large portion of it.
One of the best things about the Acropolis is the unbelievable views visitors are afforded. Stretching across the whole city of Athens and towards the Aegean Sea, it is surely breathtaking.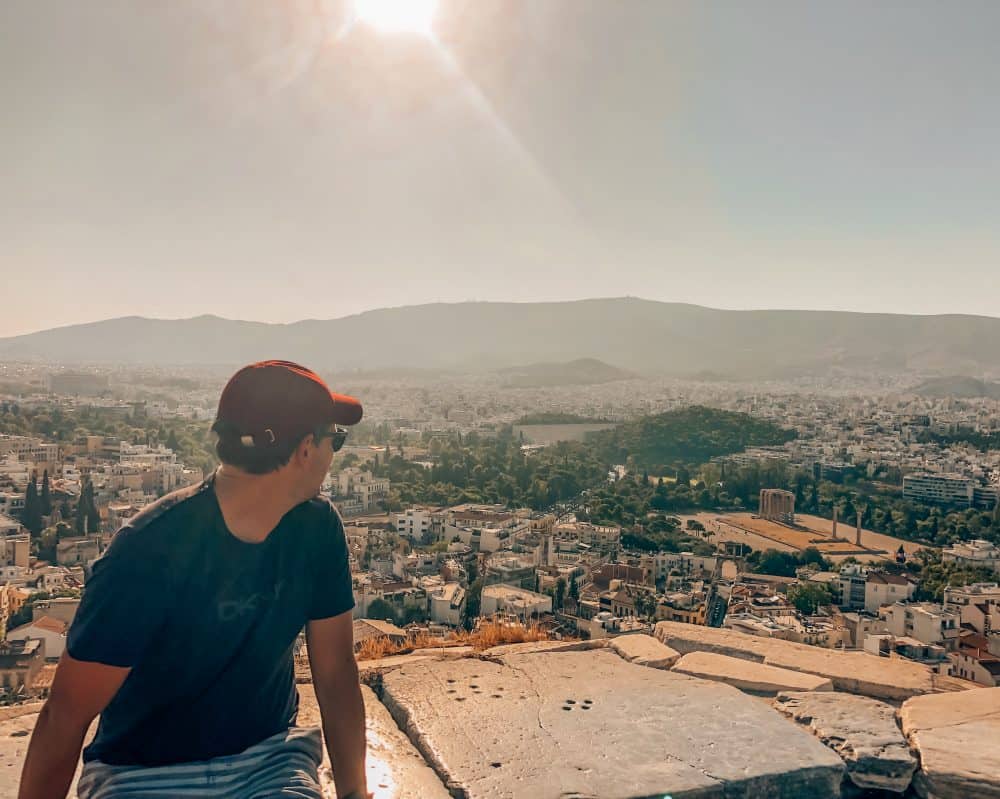 Finally, do not miss out the incredible Panathenaic Stadium which hosted the world's first modern Olympic Games in 1896.
Aside from visiting historical sites in Athens, the city has several vibrant and cosmopolitan neighbourhoods that definitely have to visited. From picture-perfect Plaka, home to excellent shopping and characterful tavernas, to buzzy Monastiraki Square. Visiting the colourful quarter of Anatofika nestled under the Acropolis is also a must do!
If you're looking for some green space, don't miss stopping in the National Gardens near to Hadrian's Arch and home to the Zappio Palace.
Another area not to miss (and likely you'd be staying near to here too), is Syntagma Square. A great spot for people watching, it is also home to the Greek Parliament building which was built in the mid 1800s. It was originally the residence for King Otto, who was the first monarch of modern day Greece. .Every hour, in front of the Tomb of the Unknown Soldier is the Changing of the Guard ceremony. Expect some high kicking – surprisingly from men wearing short kilts.
Places to Eat and Drink
Art Lounge – Exceptional views and truly brilliant food. The Kritharoto is unbelievable and one of the best things I've ever eaten in my life! It's a kind of risotto, with slow cooked pork, sun dried tomatoes, feta cheese and lemon. Just wow!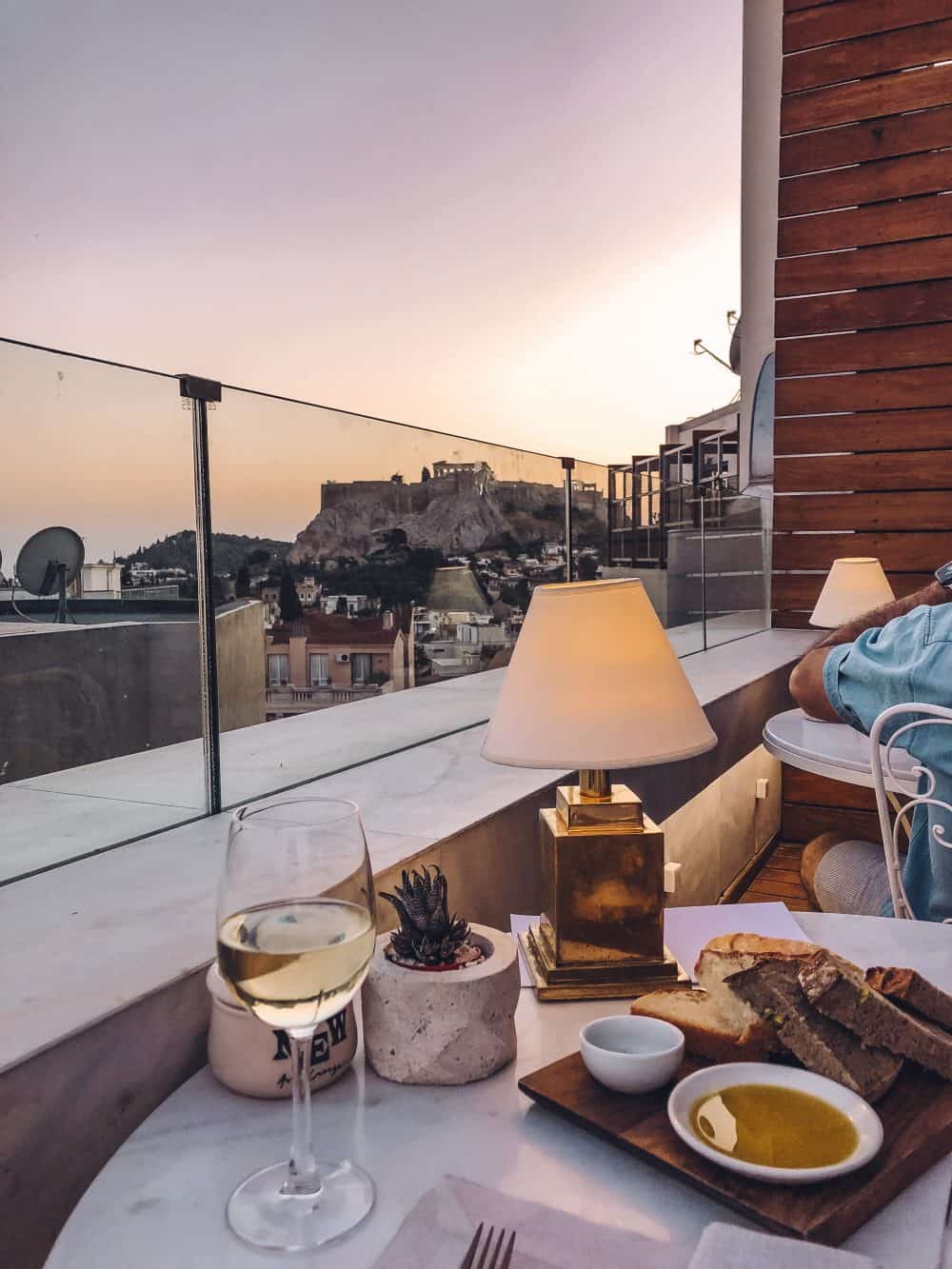 Just Made 33 – excellent sandwiches and toasties. Location on Google Maps here.
Falafellas – not too far from Syntagma Square, this place makes the best falafel dishes in town. Located on Google Maps here.
Baba au Rum – a cocktail bar you have to visit, especially as it's listed on the world's top 50! Located on Google Maps here.
Six Dogs – this awesome inside/outside eatery is very popular with locals and tourists. A great place to eat and drink from day to night. Location on Google Maps here.
A for Athens – Located on Monastiraki Square, this bar has a perfect rooftop location for sunset and Acropolis views. Location on Google Maps here.
Couleur Locale – this bar is popular with locals, partly because they must be the only ones that can find it! I walked past the entry a couple of times before finally realising it's tucked away location. Great staff and great drinks, I highly recommend. Location on Google Maps here.
For local cafes, I recommend strolling along Ermou, the long road connecting Syntagma Square and Monastiraki Square.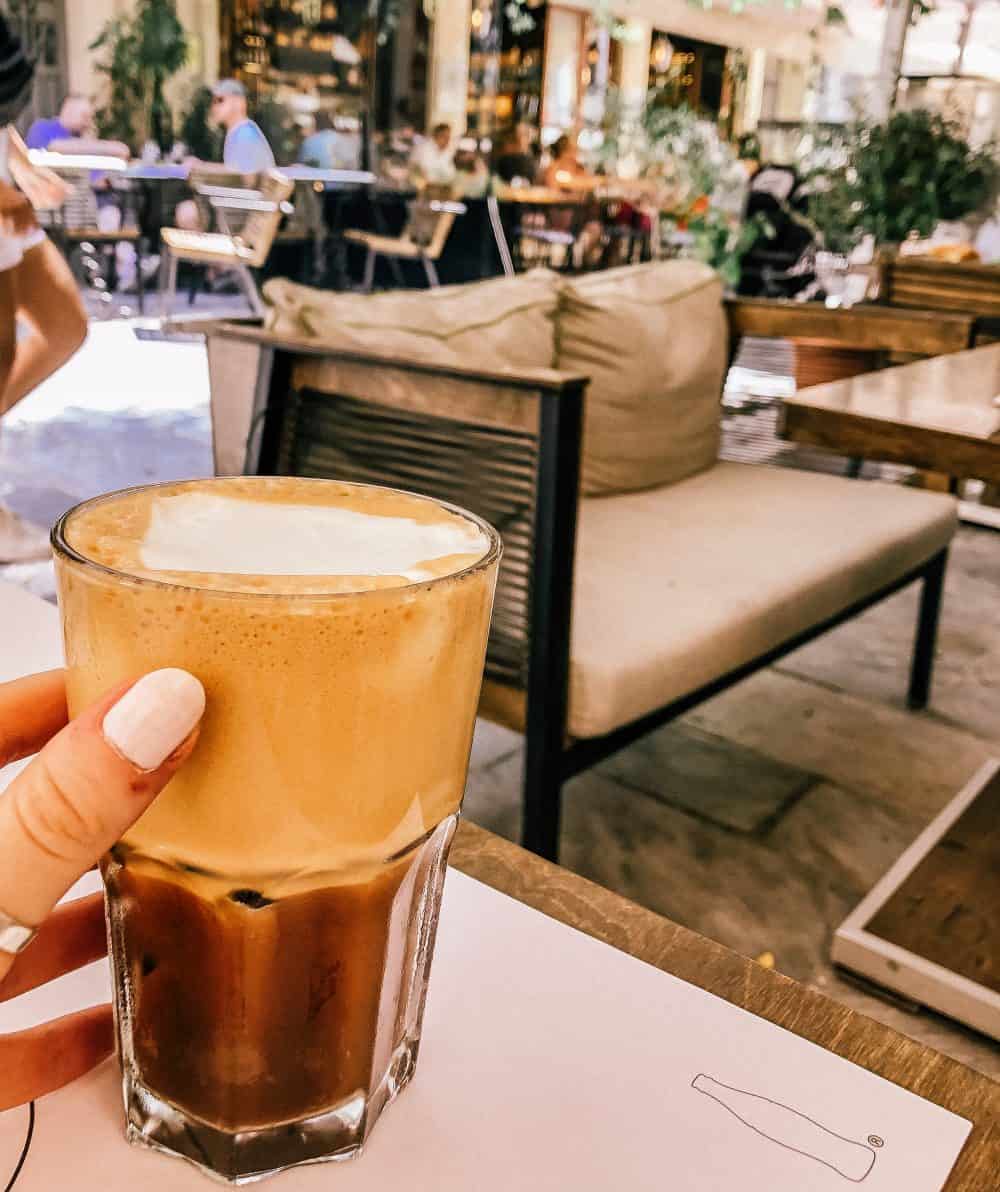 Things to Do in Athens at Night
Rooftop bars are a big thing in Athens, especially since so many of them have incredible views of the Acropolis. There are plenty dotted all over the city and non-hotel rooftop bars will definitely be more affordable.
Later into the night, one of the main areas for locals to go to for nightlife is the Gazi area.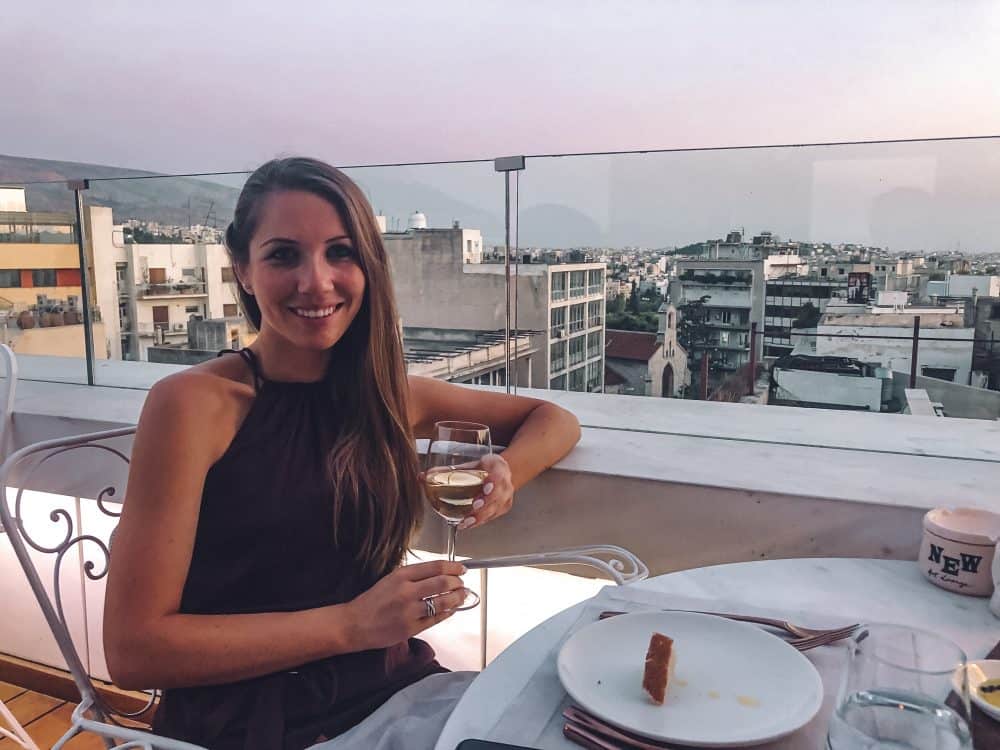 One Day Self-Guided Walking Tour Itinerary in Athens
7.30am: Leave your Athens hotel
Well, with one day you need to get started early. Coffee shops, cafes and bakeries open early at Athens so I'd straight to one to get a freddo cappuccino – an amazing iced Greek coffee. Also, I recommend popping into a supermarket/convenience store and pick up water and morning snacks.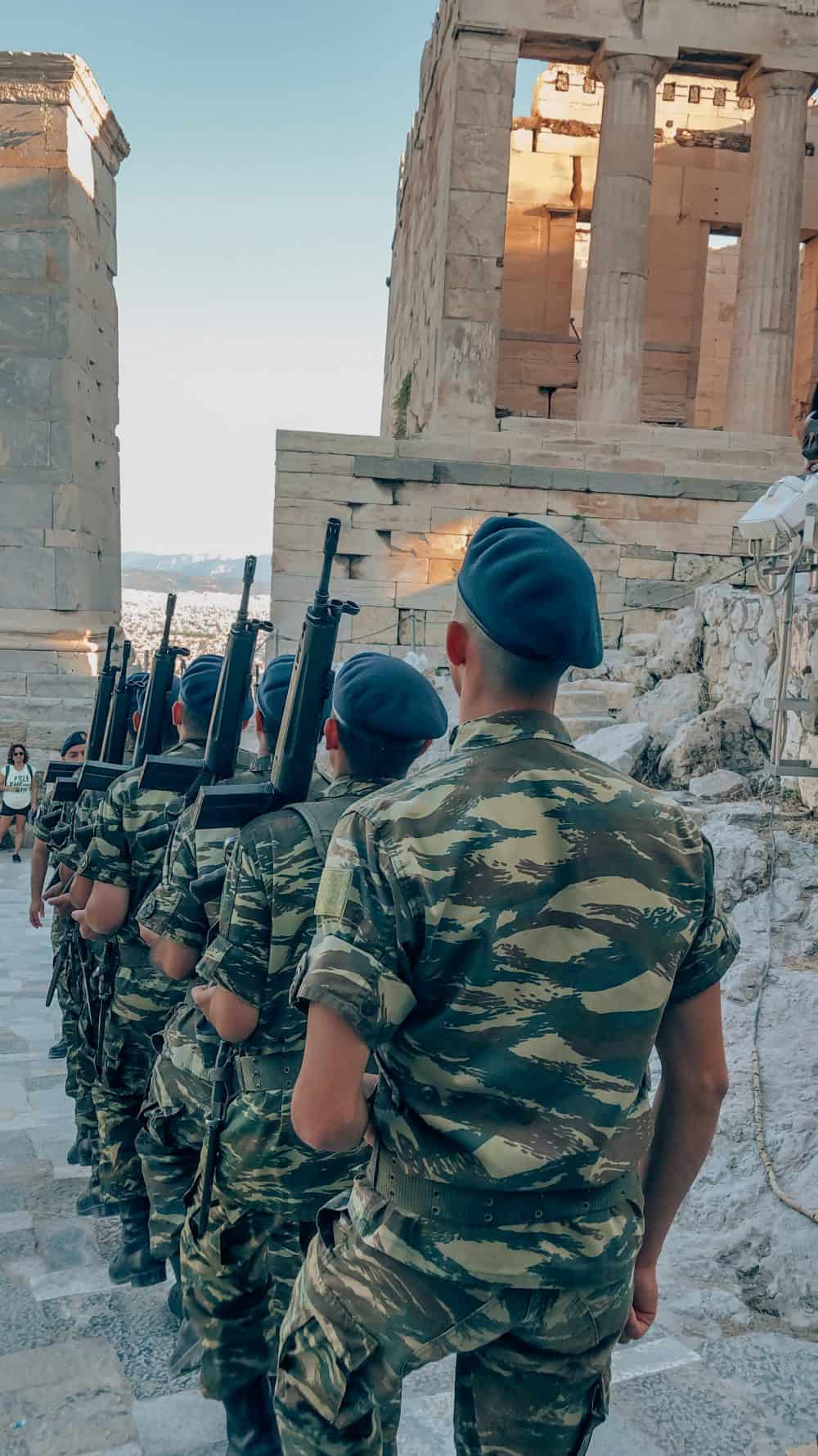 7.50am: Go to the Acropolis
The Acropolis should be the first stop on one day itinerary. Not only does the midday heat make exploring the Acropolis quite challenging, but the crowds that descend on the Acropolis from 10am onwards make sightseeing here almost unbearable.
It opens at 8am, so I'd recommend getting to the gates for 7.50am and being first in line. The ticket booth is located at the south slope, which is also the one you come to from the metro station.
Top tip: Buy your multi-attraction day pass the day before if you can. Just scan your way in at exactly 8am when the gates open. However, note this pass is one-use only so don't visit the evening before and try to visit again the next morning.
Or you can buy your tickets online in advance, and join a small group tour. Check rates here.
The Acropolis is actually an ancient complex made up of several temples, the most famous of which is the Parthenon. We found 2 hours to be sufficient time at the Acropolis. Make sure to take in the amazing views across the city from up here.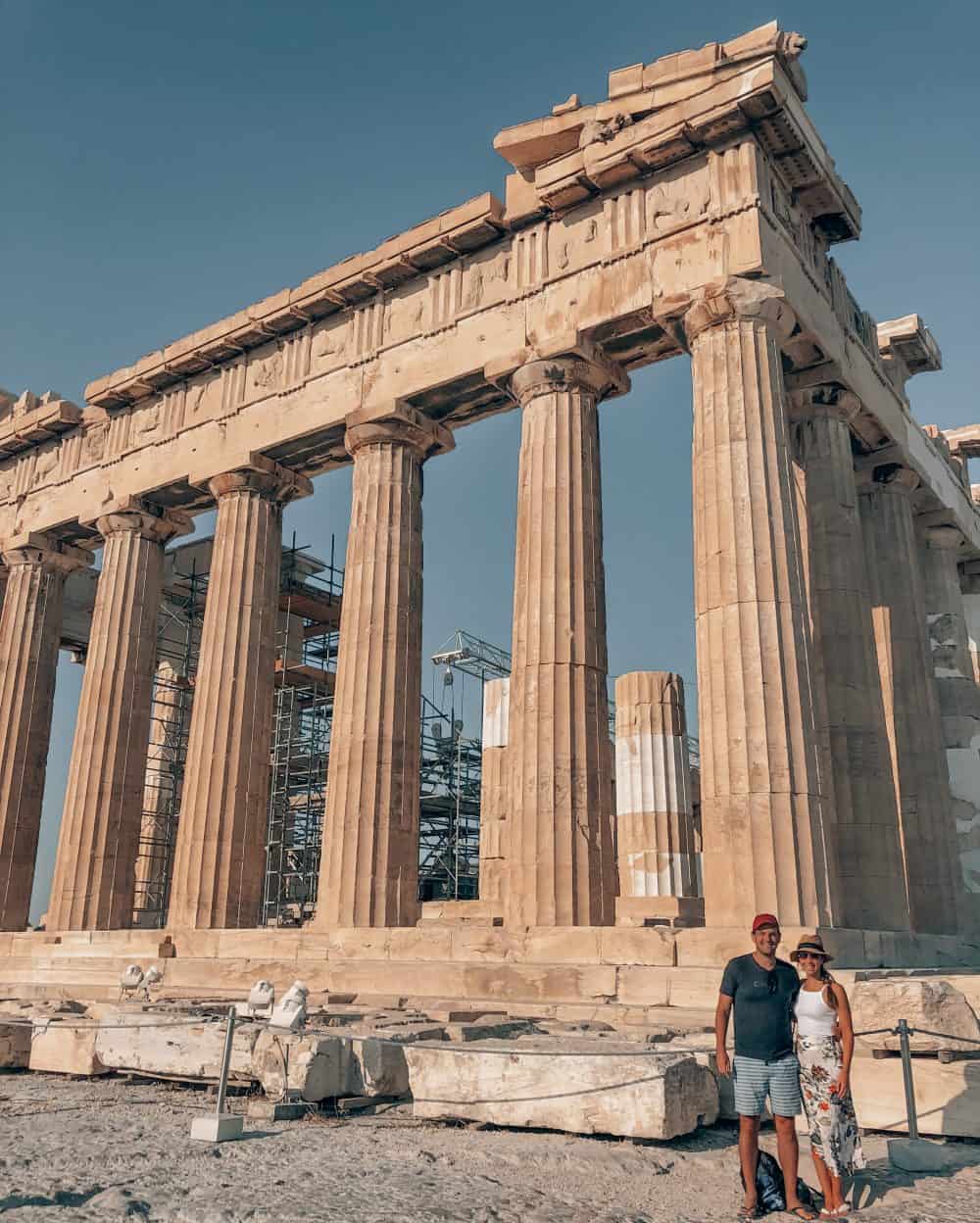 10am: Make your way to Hadrian's Arch and the Temple of Zeus
After the Acropolis, head down Amalias Avenue towards Hadrian's Arch and visit the Temple of Zeus which is located behind. Although it is one of the biggest ancient temples of the Greek-Roman Empire, we actually didn't need very long to look around here. Maybe 15 minutes maximum.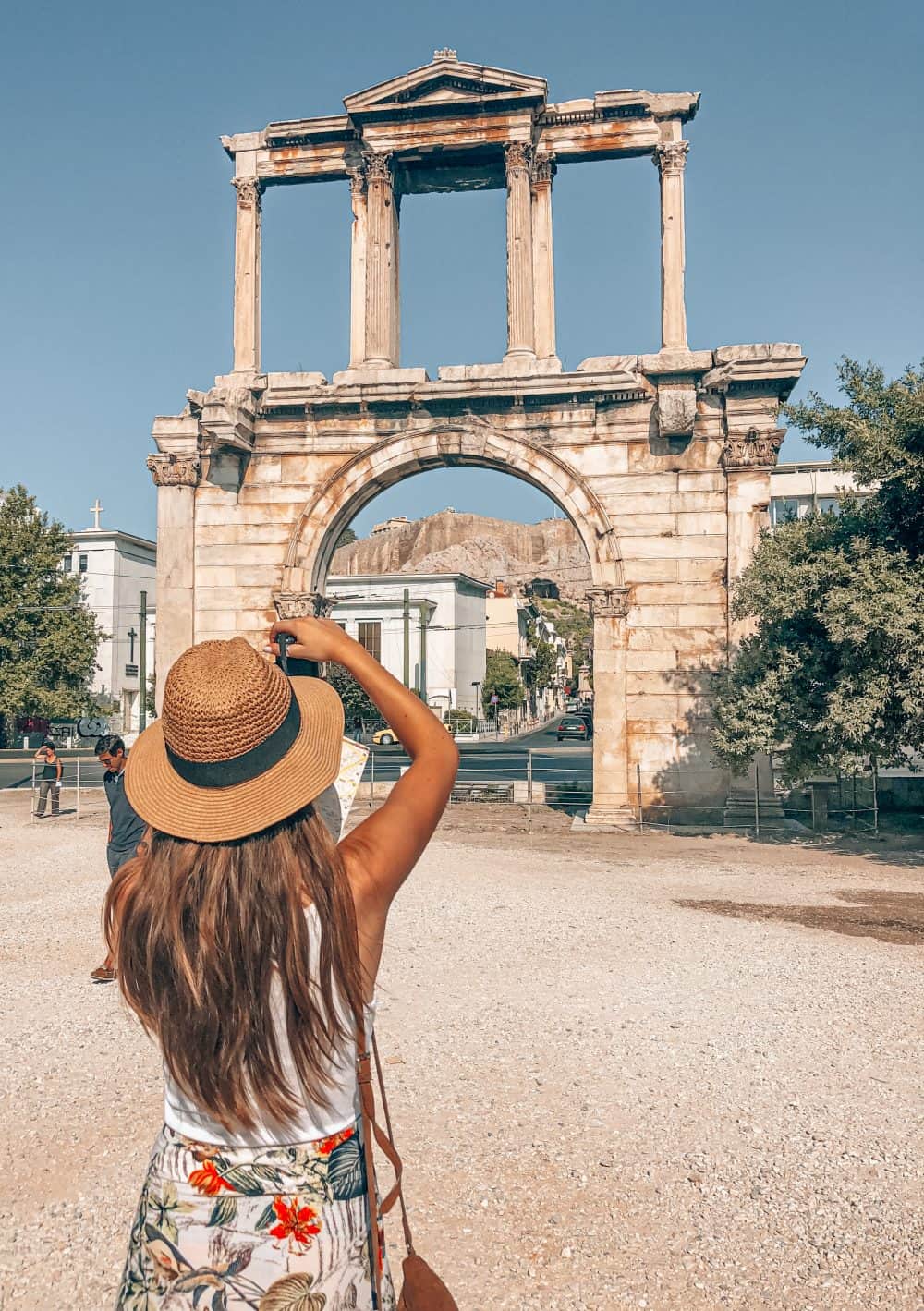 10.45am: Head to the Panathenaic Stadium
From here, continue along Amalias Avenue and turn left at the end, and you'll see the epic Panthetanci Stadium. Entry to this stadium isn't included in the 5 attraction pass, so you'll need to buy separate entry at the gate. I would say this was 100% worth it and we ended up spending more than hour in the stadium. Between climbing the stands, to running on the track and posing on the podium, we ended up spending a long time here. It was such fun!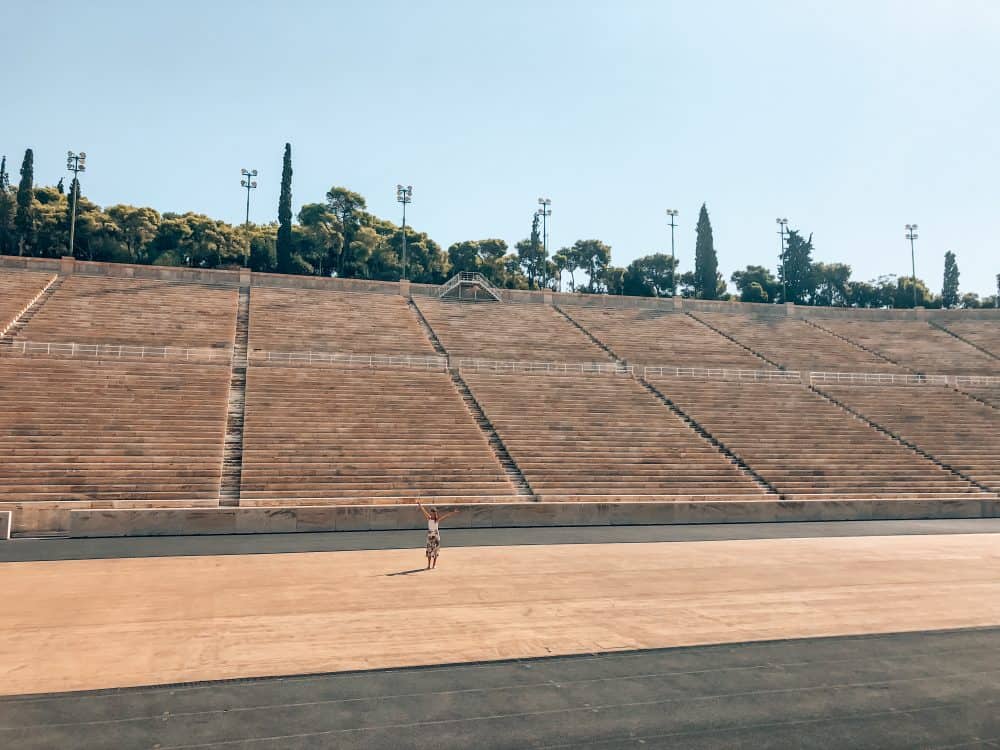 12pm: Walk towards Plaka for lunch
Walking back towards Plaka, I recommend walking through the National Gardens. Plaka has some excellent cafes for lunch, although all are open for breakfast and dinner too. We had a great meal at Trattoria in the main square.
Take a browse of the kitsch souvenir shops and stroll along the main shopping street of Adrianou. Don't forget to get some post lunch gelato!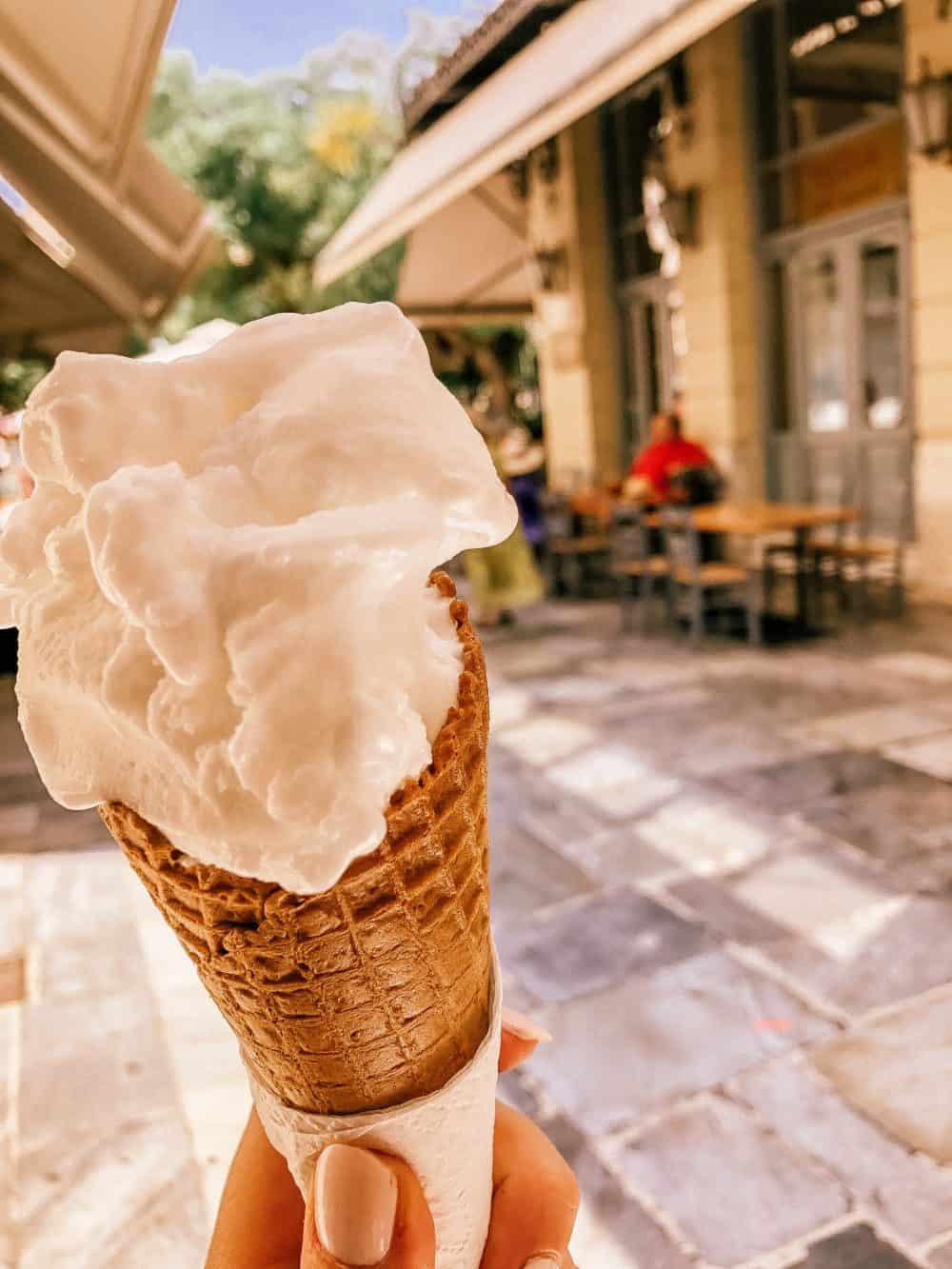 2pm: Explore Anafiotika
This cool and hip neighbourhood is literally located in the hillside beneath the Acropolis. We stumbled across it by accident, as we wandered out of the Plaka area. Only afterwards did I realise it was Anafiotika. It's totally different to the rest of Athens, with whitewashed buildings and brightly coloured doors and gardens. We came across brilliant street art too.
Do be mindful that this is residential area, and people are doing all kinds of normal things like laundry and gardening. I would advise being quite quiet and respectful.
2.40pm: Stop by the Library of Hadrian, the Roman Agora and the Ancient Agora
Visit The Library of Hadrian, the Roman Agora and the Ancient Agora. The latter stop is a particularly interesting attraction in Athens to visit – it's literally the birthplace of democracy and the first ever House of Parliament.
4pm Cocktails at Monastiraki Square in Athens
Although the square is very famous in Athens, you don't actually need too long here. The A for Athens bar is located here however, which is great spot for late afternoon cocktails. Nearby is the Monastiraki Market, which is an excellent flea market to spend an hour or so perusing. You can buy all kinds of unusual goods here, as well as plenty of vintage items.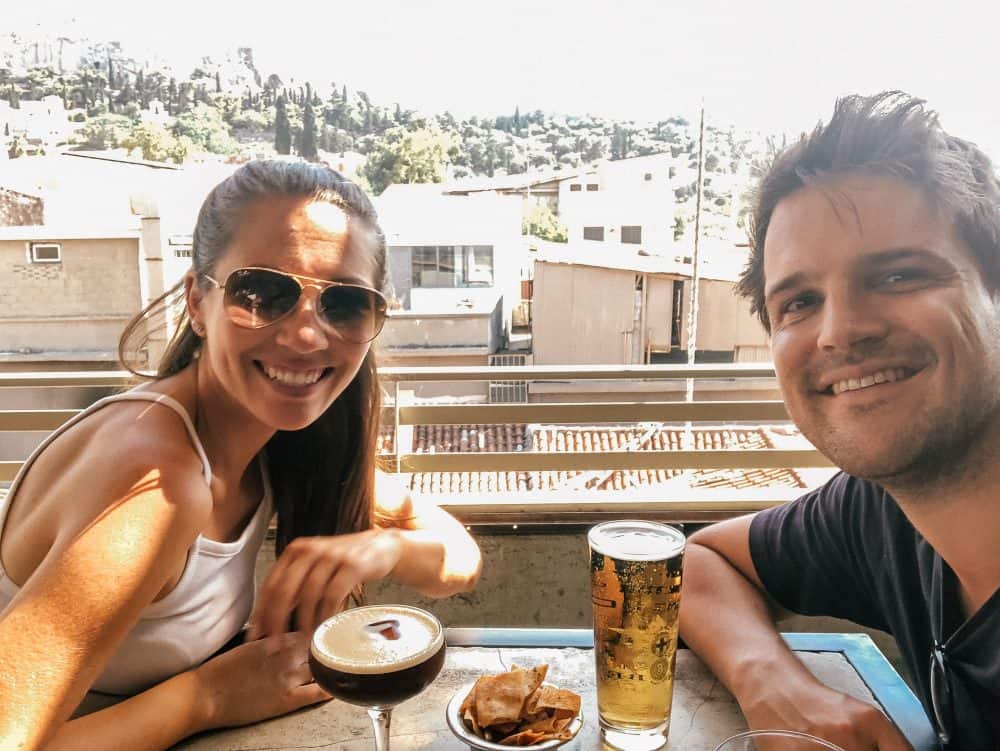 6pm Freshen up back at hotel
You will almost definitely feel the need to shower and freshen up after a full day exploring the city. Wash the dust off and get ready for a lovely evening in the city. Also, if you're departing Athens early the following morning then use the time to prepare for this too.
7pm Dinner and sunset at rooftop restaurant
Many restaurants in Athens offer spectacular rooftop views of the Acropolis, since it sits on a hill overlooking the whole city. The Acropolis is beautifully lit up and you won't struggle to find an impressive shot of the ruins.
We chose to have dinner at the incredible Art Lounge in The New Hotel by Syntagma Square, following a recommendation from another travel writer. Well wow, not only was the view spectacular but I had one of my favourite meals of my entire time in Greece here!
Visiting Athens for longer than one day?
If I had longer in Athens, or if I was returning to Athens for the second time, these are the other places I'd visit or activities I'd do:
The Athens Riviera. Did you know Athens has beaches? And gorgeous beaches at that! You can even get to the beaches in Athens on public transport via metro to Elliniko station on Line 2 and then a bus. People don't even really realise but you could easily spent longer in Athens by combining city and beach!
Athens city hop-on hop-off bus. A great way to see even more of the city, and with a guide sharing lots of unusual and interesting facts. Buy your bus tour tickets here.
Mount Lycabettus. This large hill rises sharply right in the middle of the city of Athens. You can see Mount Lycabettus from all over the city, as it's the tallest hill in Athens. Yet not so many people choose to climb it. Not only does it offer incredible views, but there's also a tiny church, Agios Georgios at the summit.
A guided city tour. Whilst it's liberating and fun to explore the city at your own pace, sometimes it's great to do a city tour with a local. Not only can you learn about Athens from their perspective, but they'll always show you hidden spots and share lesser known facts.
Visit the neighbourhood of Exarchia. I didn't have enough time to visit this district, but it's known for its bohemian population and leftist views towards the government. I hear its streets are packed with alternative stores, creative art/graffiti and inexpensive tavernas.
Lake Vouliagmeni. This unique lake is a bit of a lesser known gem near to Athens. The lake is known for its healing springs and thermal spa. Impressively, people often swim year round in this lake. Not only does it have wellness benefits, but it's beautiful too!
The National Archaeological Museum. Definitely somewhere to consider if you have more than one day in Athens, as it can take around 4 hours to visit. It isn't located close to the other sites in Athens, but it has a comprehensive set of artefacts for history fans.
The New Acropolis Museum. This museum provides another wonderful learning opportunity and to view artefacts that were excavated from the slopes of the Acropolis. It is located just across the street from the Acropolis.
Temple of Poseidon. For some reason, I thought this located right next to Athens. But it isn't. The Temple of Poseidon is more than an hour's journey from Athens, so it's a great one to join a tour. Check rates for tours to the Temple of Poseidon here.
Athens in One Day
So that's my complete guide to visiting Athens in one day, as well as a 1 day itinerary for the city. Hopefully this covers everything you need to know before visiting this awesome city. Whether it's a brief stop on a Greek island hopping itinerary, or one day in Athens during a cruise, this guide should hopefully detail all of the best things to do in the city in the time you have.
Athens is of course, the perfect starting point for any Greek island hopping itinerary. And if you're planning to visit several Greek islands, then make sure to check my detailed guide to Santorini as well as my Milos travel guide here. These are two islands not to be missed!
If you're keen to find quieter and more remote islands, then make sure to check my guide on lesser known Greek Islands here!
Feel free to drop me a line if you would like any advice or further recommendations on visiting Athens.. If you've enjoyed this 1 day Athens itinerary, then please do share using the below links!
Wanna see more? Check my Instagram here, my Facebook here or my Twitter here!
Disclaimer: This visit to Athens was entirely paid for by myself, and there was no involvement from the tourism board or a hotel. This is an independent guide.
Enjoyed my guide to visiting Athens in one day? Pin it!