The dreamy Greek island of Santorini is considered one of the most beautiful places to visit in the world. In particular, it's the town of Oia in the northwestern corner of the island that is the picture-perfect postcard image of Santorini.
Further, it's one of the world's most popular honeymoon destinations. The island really is perfect for couples and Santorini has got to be one of the most romantic places in the world. With this in mind, Santorini has undoubtedly become an expensive place to visit.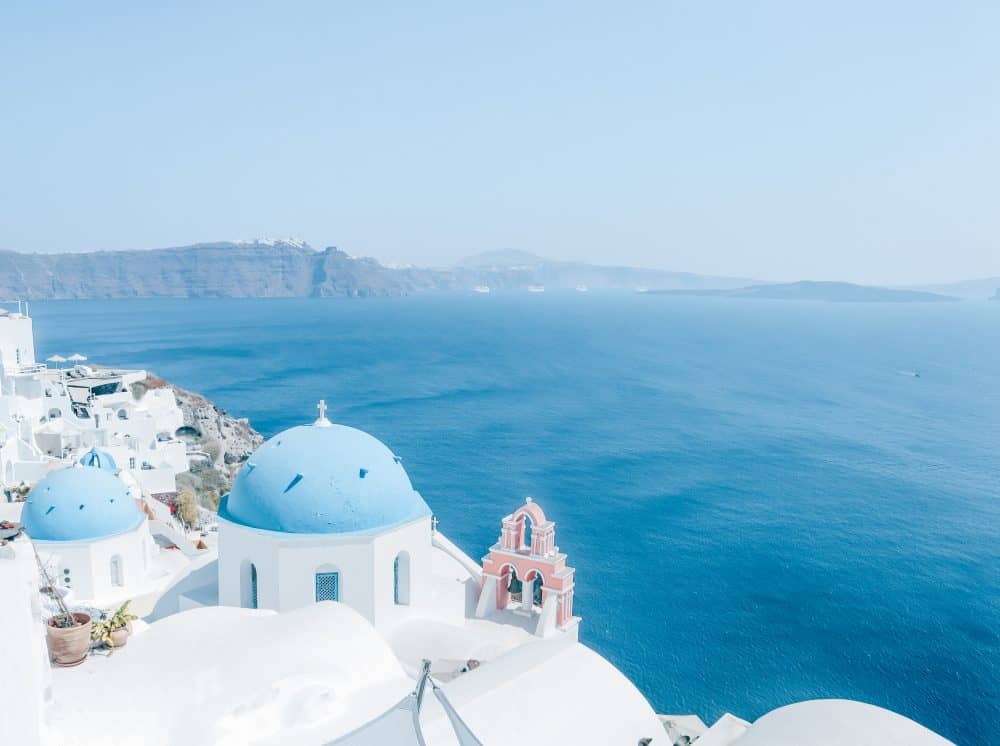 The incredible cave hotels in Oia have become Instagram sensations – and prices have risen steeply to match the huge surge in popularity. Nights at one of these incredible hotels can start as high as £1,000 per night, based on two people sharing. Further more, activities on Santorini such as boat tours will set a couple back in excess of £200 per day. Santorini is also one of the most expensive places for food and drink in the whole of Greece now (if you eat in the main restaurants in Oia and Thira, that is!)
But don't worry. I recently visited Santorini on a dream Greek-island hopping trip and found that Santorini can definitely be affordable. In fact, I was pleasantly surprised that visiting Santorini on a budget isn't too difficult at all.
This guide will share everything you need to know for visiting Santorini on a budget. But without compromising on comfort, convenience and experience. I'll share how to plan an affordable trip to the island, from accommodation to eating out. I will also include suggestions of the best free things to do on Santorini.
Visiting Santorini on a Budget – Money Saving Tips
So here are my top tips on how to save money in Santorini:
When to go to Santorini
The best time to visit Santorini is in the European summer months from May to September. The weather is reliable every day. You could except clear blue skies, consistently hot temperatures and a low risk of storms or rain. However, this is the peak season of course and with this, the price of accommodation rises – just like the temperature. Therefore, it's unlikely you'd be able to stay in Oia if you're visiting Santorini on a budget in the peak season.
Visiting Santorini in the off season months, such as February, March, April and October makes things a lot more affordable. In fact, the incredible cave hotels with pools are way cheaper. However, the weather might not be on your side. It could even be too cool to even swim in your pool.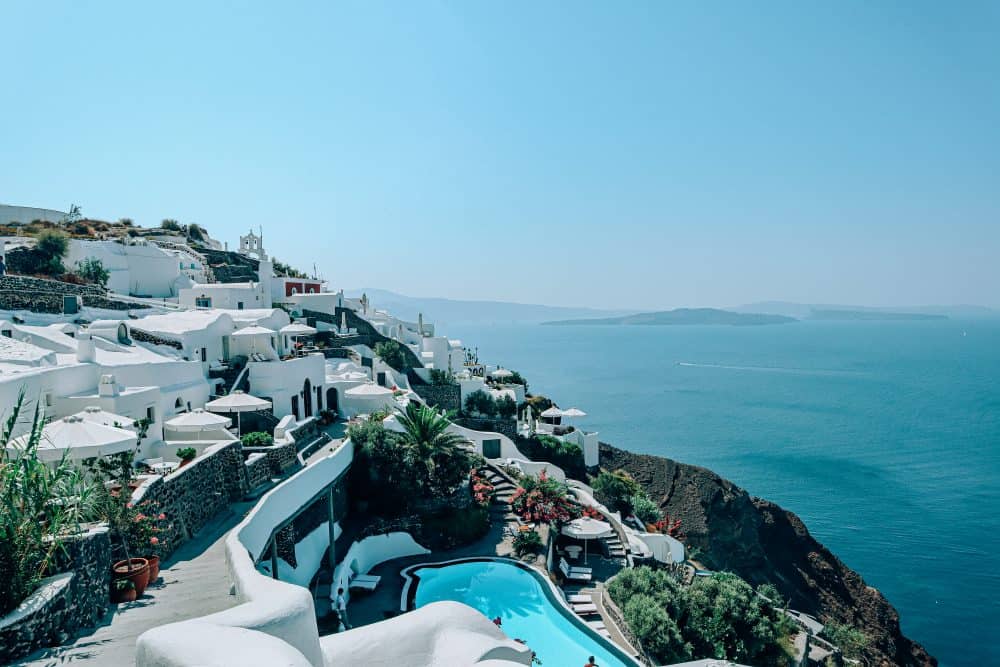 How to get to Santorini
From the UK, there are direct flights on EasyJet and British Airways from London. Otherwise, the other option for most visitors to Santorini can connect in Athens. Athens is the major hub airport in Greece and you can fly to nearly all islands from here. Flying via Athens may also be far cheaper too.
The earlier you book the flights to Athens or Santorini, the cheaper they will be. Airlines increase the flight prices as the summer months approach. Almost to the point where it's the same cost to fly to Thailand!
For example, for a visit at the end of August, I booked the flights in February for £50 from London to Athens and £20 from Athens to Santorini. When I looked again out of interest in July, these totalled more than £300.
Another option is to take the ferry from Athens to Santorini, or if you're Greek island hopping, to take the ferry from another island to Santorini. I found the ferries around Greece to be less reliable and sometimes more expensive than flying. If you find yourself spending time in Athens, make sure to check out my one day guide to Athens here.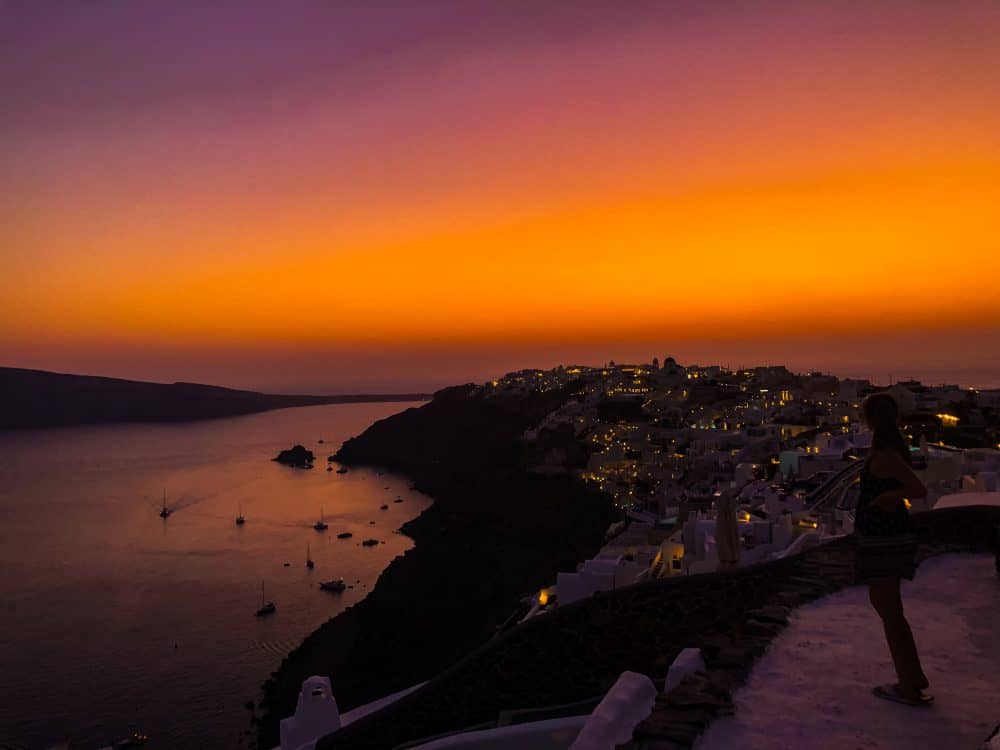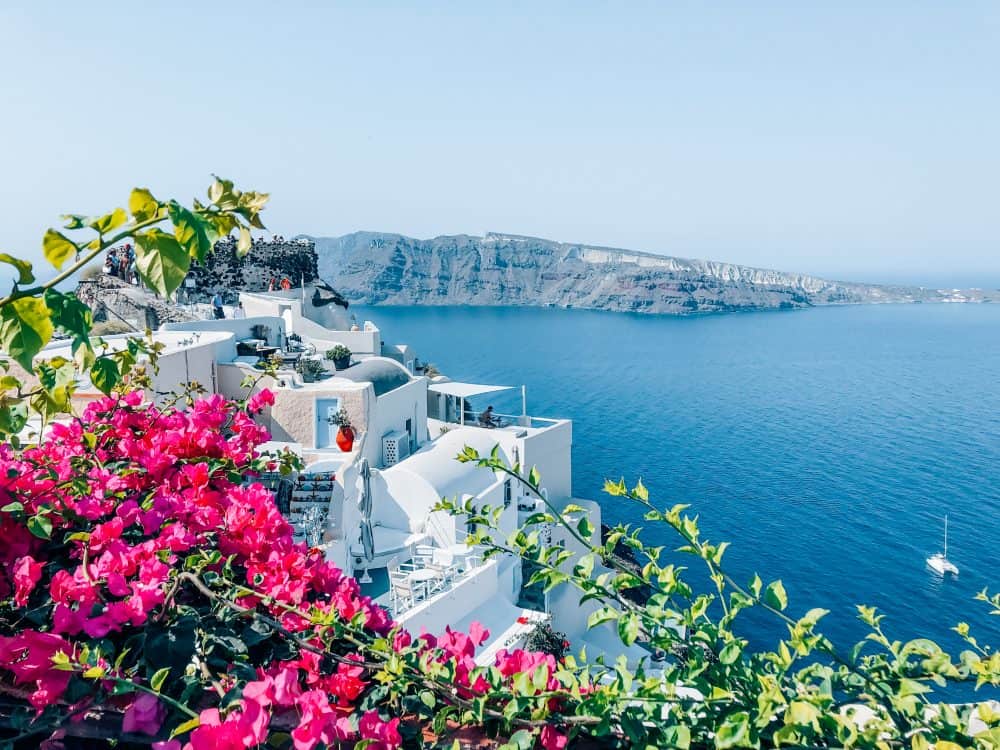 Getting around Santorini
The island has a very comprehensive and reliable bus service, which is also affordable. Bus journeys are €1.80 or €2.30 a time. Using the public bus system to get around the island is one of the easiest ways to save money when visiting Santorini. From the hub of Thira, there are buses to nearly all corners of the island and they run as regularly as every 10 minutes on some of the routes. Santorini is a small island so it doesn't take too long to get from A to B.
There are no trains on the island and no ferry taxi services, so the only other option to get around Santorini is to rent a car or an ATV.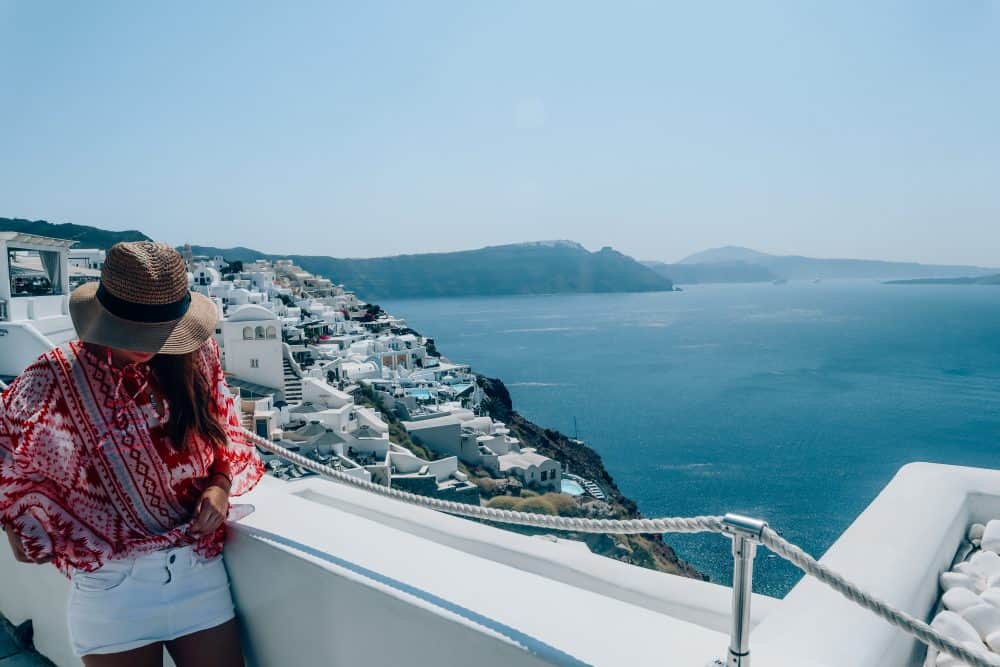 Using an ATV to get around Santorini
Well of course this comes with a cost, but it's far cheaper than paying to join an organised tour around Santorini. The price to hire an ATV for a day or 24 hours is around €40-50 euros, depending on where you hire from. Around €10 will cover the cost of petrol to explore the island for a day. As you can see, for two people, this is a far more affordable way to see the top sites in Santorini.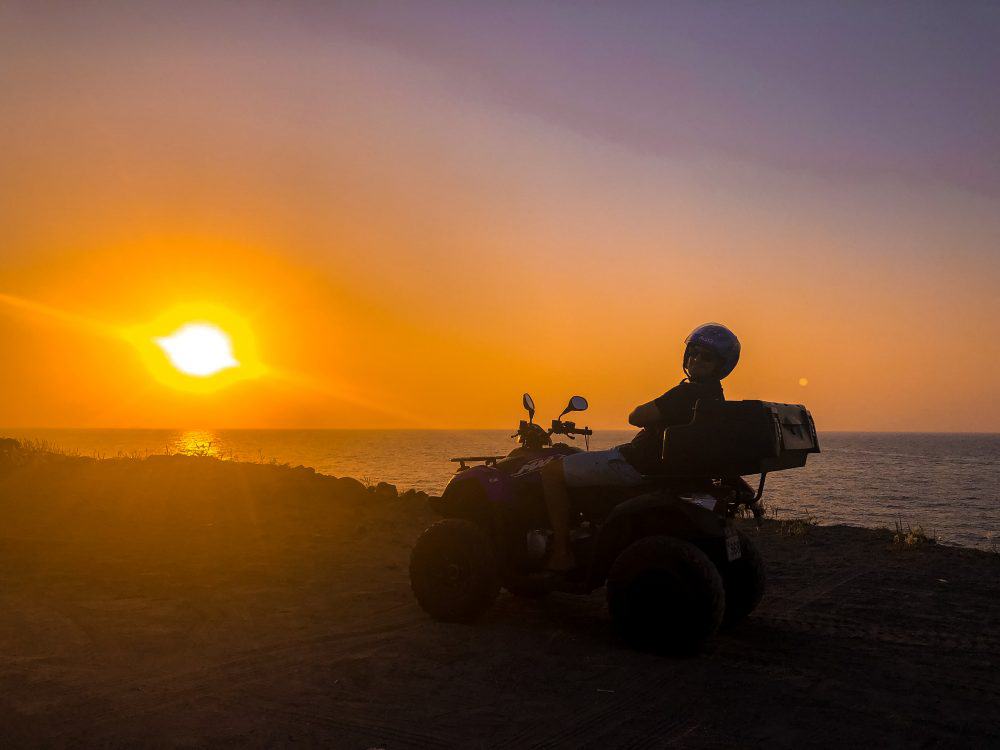 Our ATV route was quite easy to plan around Santorini. We chose to start in the furthest spot from Oia, which is Red Beach, before winding our way back by stopping at other beaches, vineyards and other small towns. You can find further information on all the stops on our ATV route in Santorini below.
Choosing Where to Stay in Santorini
Any visitor to the island will most likely be planning on visiting Oia, whether or not they stay choose to actually stay in the town. However, Oia is the most expensive place to stay in Santorini. As mentioned earlier, a cave hotel with a pool could set you back more than £1,000 per night.
Check accommodation prices in Oia here.
One idea to save money on accommodation is to book a stay in a local hotel or cave room in the nearby village of Finikia. Located just 10 minutes' walk from the heart of Oia, it offers significantly more affordable accommodation. We stayed at Heliophos Boutique Suites in Finikia which was the perfect compromise between comfort and cost. They didn't have a pool but this didn't end up being a problem as we found a public swimming pool in Oia (Read more below).
If you really want a caldera view, then check out this guide to the best affordable hotels offering stunning views here.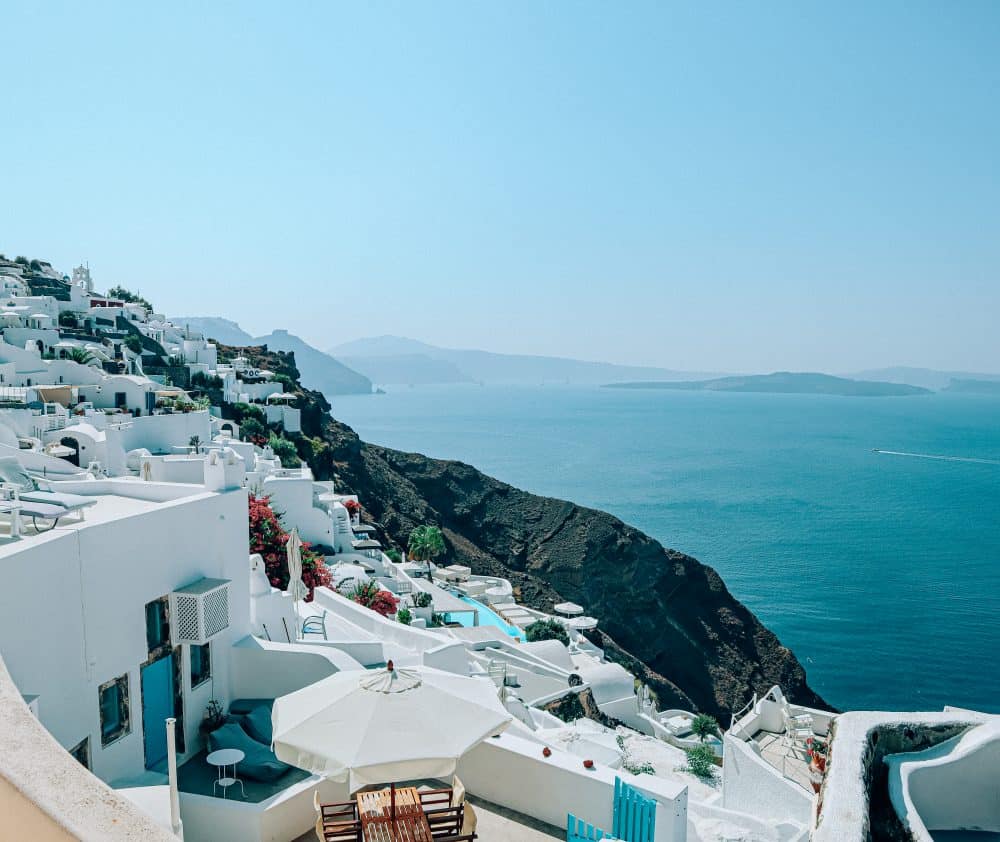 Alternatively, you could stay elsewhere on the island and visit Oia as a day trip. If you're a big beach lover then I'd recommend this as Oia doesn't have any beaches.
Perissa and Kamari, for example, are two big beach towns with good value accommodation.
I've put some options for excellent and affordable hotels in Perissa and Kamari here:
Perissa:
Kamari:
Some guides suggest staying in nearby Imerovegli, a town just 7km from Oia. This beautiful town is remarkably similar to Oia, but without any of the cruise ship crowds. Some of the hotels here are just as expensive in Oia and some even more opulent. So I wouldn't necessarily recommend staying in Imerovegli to save money.
Another final option is to stay in Thira, the capital of the island. Whilst Thira is the best place for using public transport, there are no beaches within walking distance. Plus, the crowds from the cruise ships can be unbearable. However, check out Villa Soula – a great value hotel in Thira.
Budget accommodation is available in Santorini, you may just have to stay away from the main tourist areas of Oia and Thira!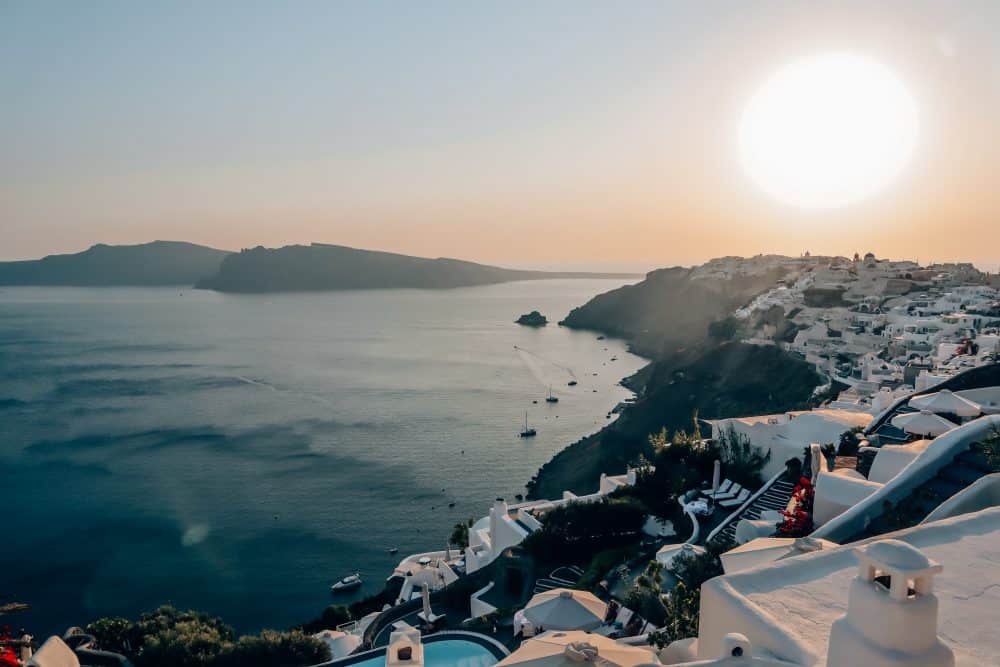 Discovering Greek street food
Oia in particular is an expensive place to eat. Main course meals in most restaurants start at €12 for the most simple of dishes, and can easily stretch up to €20 per plate. Drinks are even worse value. A coffee almost anywhere in Oia is about €5, a juice about €7 and I saw a smoothie for €12. At today's exchange rate, that's about £12! I would never pay that for a smoothie in the UK. Prices for food and drink are definitely inflated in Santorini.
Most hotels will include breakfast, which is good. However, paying €40 or more for each meal time for two people will really add up. One money-saving tip for lunches on Santorini is to pick up a famous Greek gyro from one of the small shops in Thira, Oia or at the beaches. It should cost around €2.60 – €4.00. Restaurants will charge you €10 or more for the same thing, so I recommend looking out for a gyro place.
A gyro is thick pita bread, stuffed with shaved pork or chicken, salad and a couple of chips. It might not sound appealing but it's delicious and a great lunch-sized meal.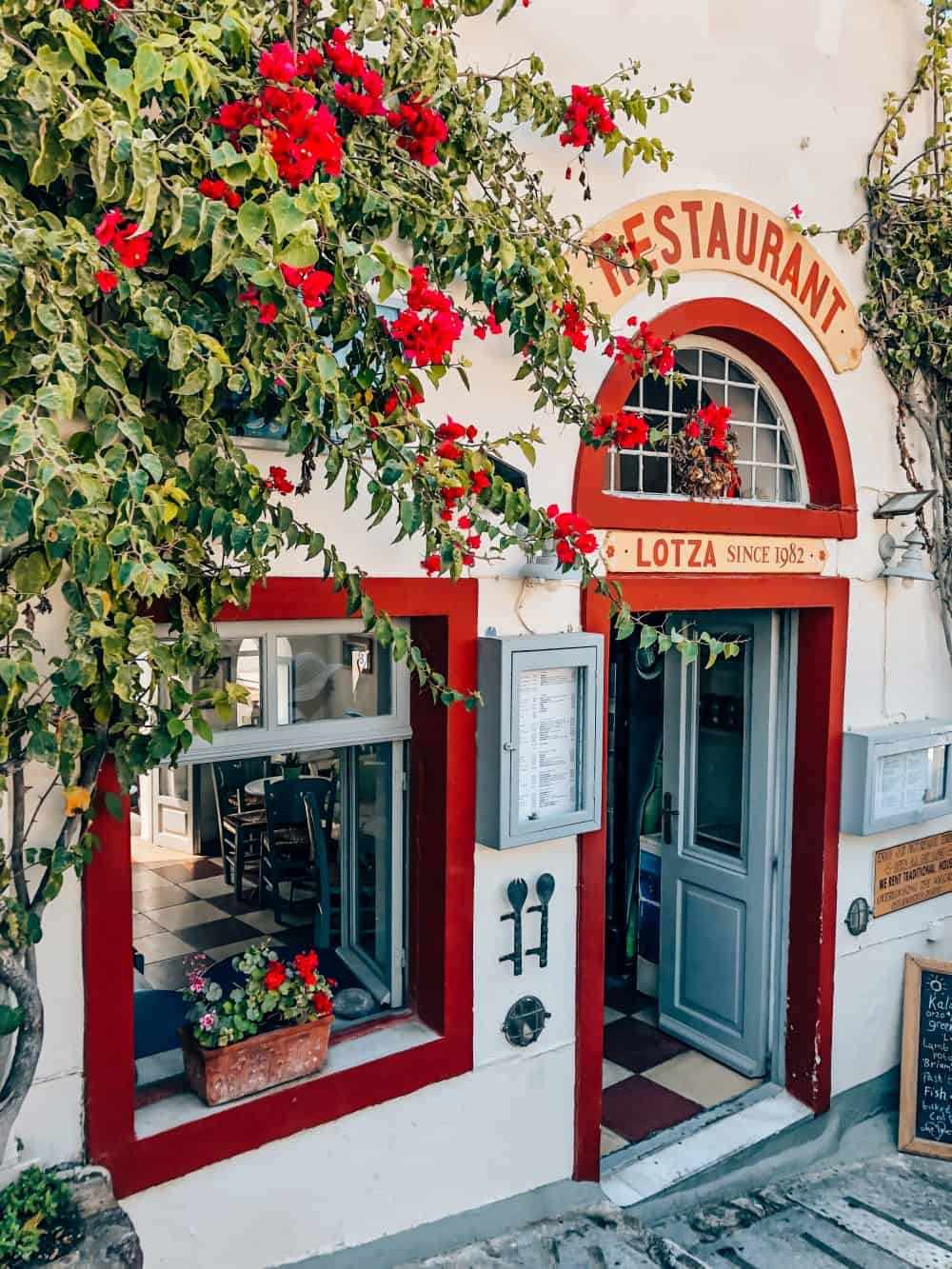 Another idea for lunches is to buy bread and spreads from the supermarket shops you'll see all over the island.
For dinners, make sure to browse all of the menus outside of restaurants so you don't have a surprise once you've sat down. A moussaka for example can range from €8 in one restaurant, to €18 in another in Oia.
As we were staying in Finikia, we tried some of the nearby restaurants in the town. Our favourite was Meze Meze which also has amazing reviews on TripAdvisor too. Prices were much less than eating in Oia.
Chances are that food, especially in the evenings, will be your biggest expensive in Oia no matter how hard you try. In other towns in Santorini, you'll find better value restaurants and bars for dinner.
On the other hand, other goods from the supermarket can be quite expensive – for example sun tan lotion. This can be in excess of €20 for a small bottle – the same brand that can be £6 in the UK! So I'd recommend bringing all the essential items you need if you're visiting Santorini on a budget.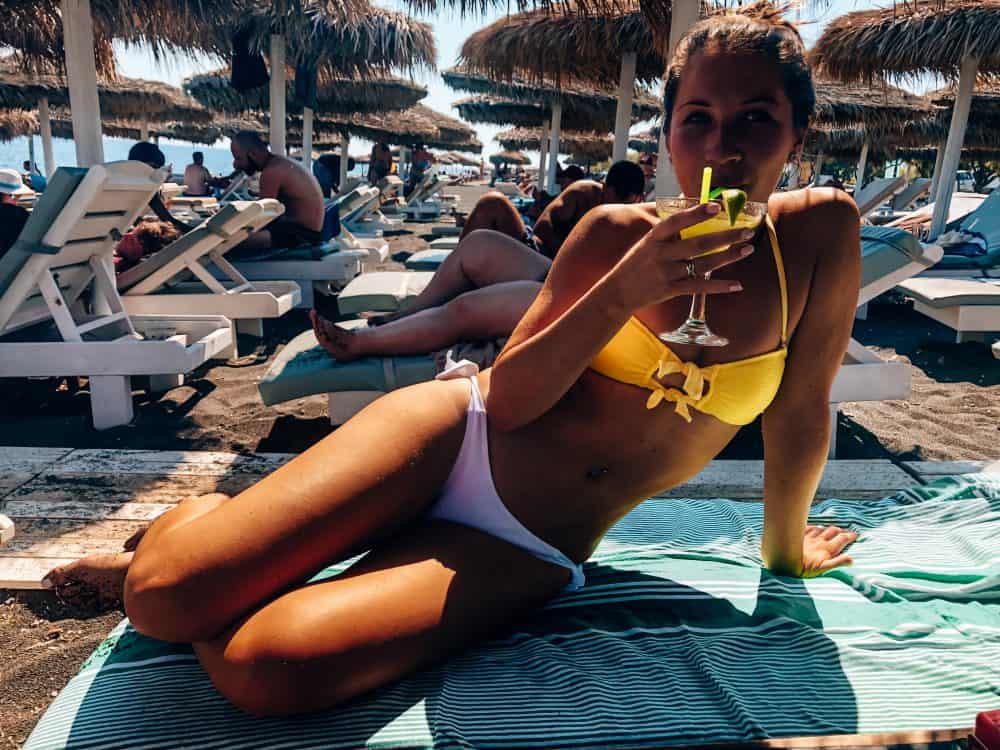 Free things to do in Santorini
There are a surprising number of free and affordable things to do in Santorini, and although the organised tours are excellent, you can definitely explore the island easily on your own too. And of course, don't forget the the biggest attraction in Santorini is Oia itself – and Oia is always free to explore! Climbing the staircases and taking yourself on your own mini photography tour is one of the best things to do in Santorini.
Swim at the public swimming pool
I recommend this first, as if you're on a budget visiting Santorini in the peak months, you'll want to find a way to cool down if your hotel doesn't have a pool. We discovered Lioyerma public pool on the final day and we were so relieved to find somewhere to swim and cool down.
It's free to enter Lioyerma public pool and you find its location here on Google Maps. It's well marked and near the famous Santorini windmills. They do ask that you buy a drink or a snack in order to use a sun lounger, and we were happy to do so to enjoy some pool time for a day.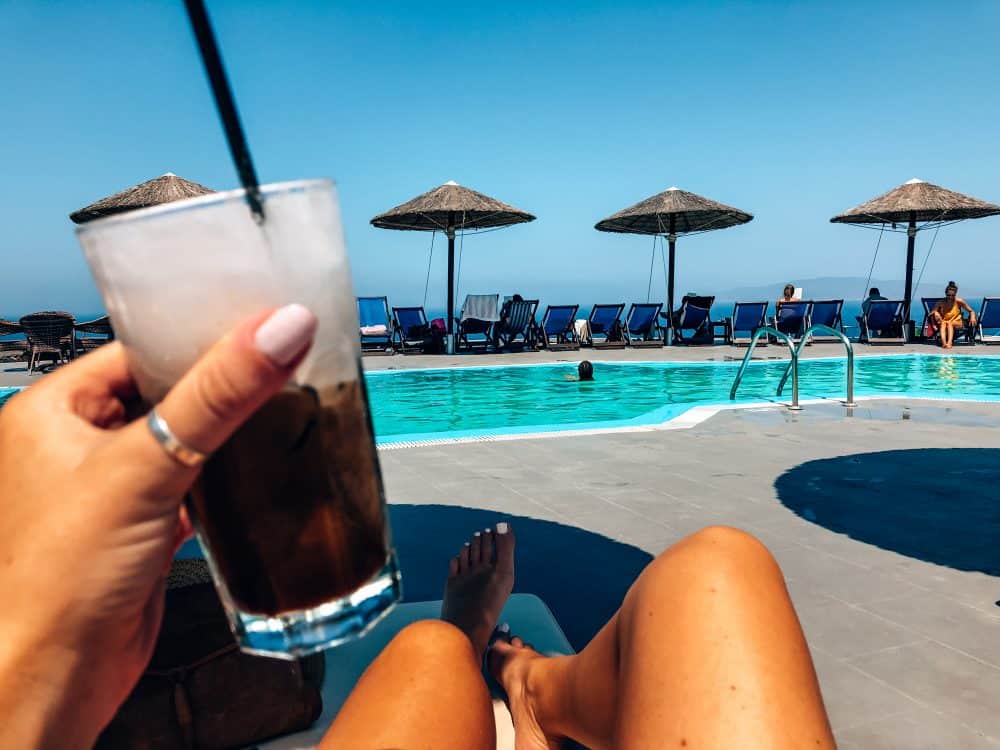 Hike from Oia to Thira (or the other way round)
This is definitely one of the best things to do in Santorini and you'll see lots of other tourists tackling the trek. You can start in either direction and the route is signposted at both starts. It's not clearly signposted throughout, but for the most part, you're following a track on the ground. If you keep the Aegean Sea on the same side as where you started, you can't really go wrong!
My top tip for this hike would be to start early in the day. We started at 11am as we wanted a lie-in and boy, was it hot! There's little breeze and very little shade on this route. There are few shops or stalls to buy water or other supplies from too.
If you start this route in Thira and walk to Oia, you can consider taking a refreshing dip at the Lioyerma public swimming pool or alternatively, and if your legs can take it, hike down to Ammoudi Port for a swim by the rocks there. We chose to do the hike the other way around, so we started in Oia. It took around 2.5 hours to get to Imerovigli, even though we could see it on the horizon the whole way. From Imerovigli, it took about another 30 minutes to get to Thira.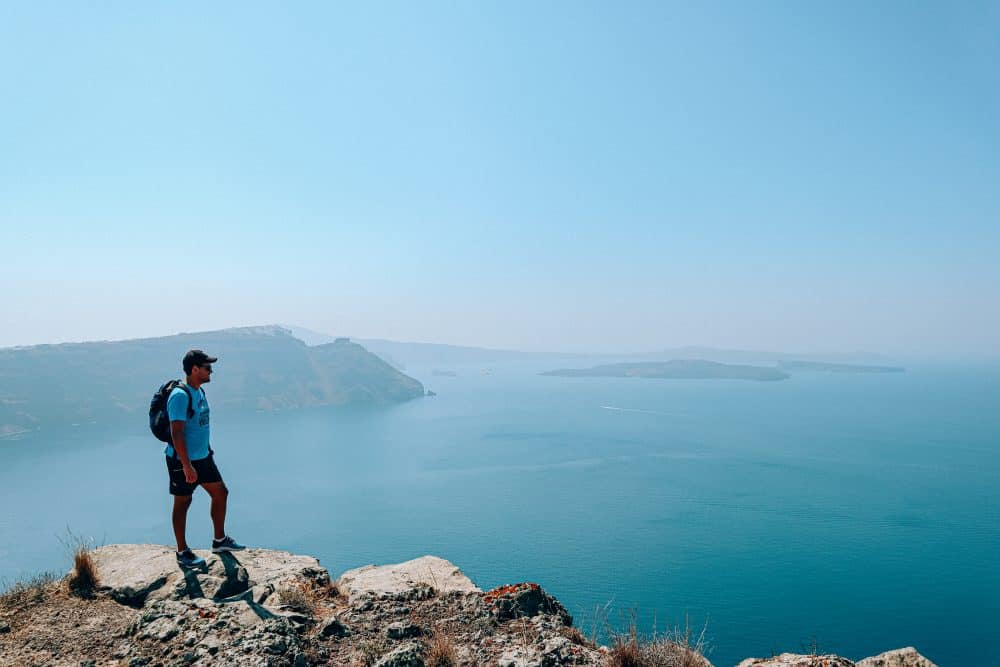 I'd say it would take a fairly fit hiker 2.5 hours to do this route, as we stopped several time to take photos and to watch dogs howling (!).
Arriving in Thira, we were very hot and unsure how to cool down. We decided to take the bus to Kamari, which is just 15 minutes from Thira. This beach town was perfect to spend the afternoon in, and again, sun loungers were free if we bought a drink.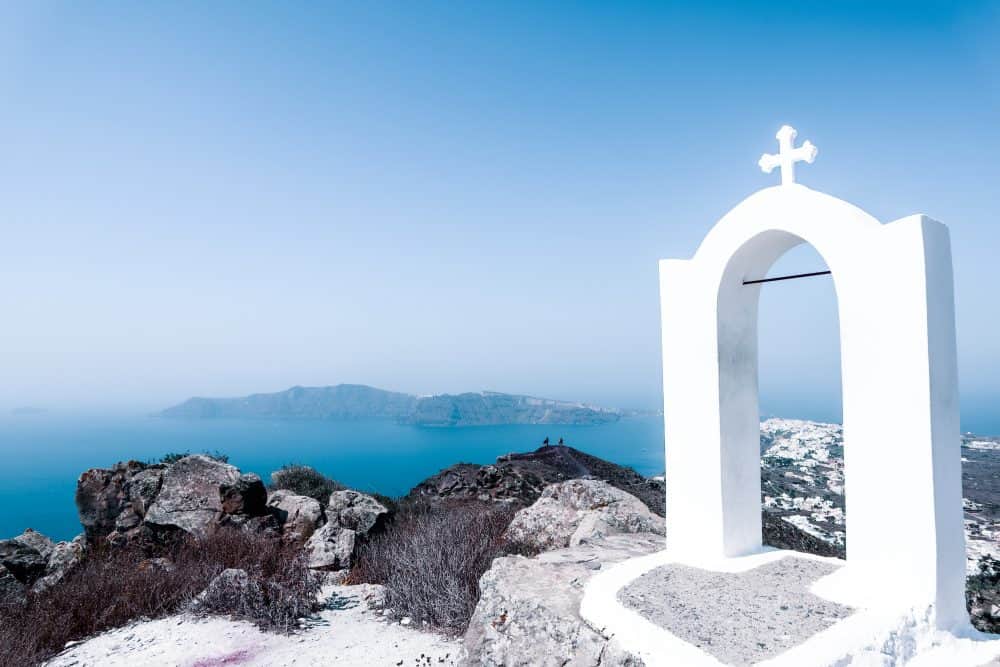 Visit Red Beach
Located on the opposite side of the island to Oia was Red Beach. Quite unusual and a result of the island's incredible volcanic history, this beach is definitely worth a visit for an hour or two. Entry is free – in fact, entry to all of Santorini's beaches is free making it a great activity to do – even if they're not soft, white sand!
Red Beach had a simple café and some sun loungers, but otherwise, the water here is quite nice. A lot of the expensive day trips (by boat or by land) stop here, so it's great to know you can get here yourself too.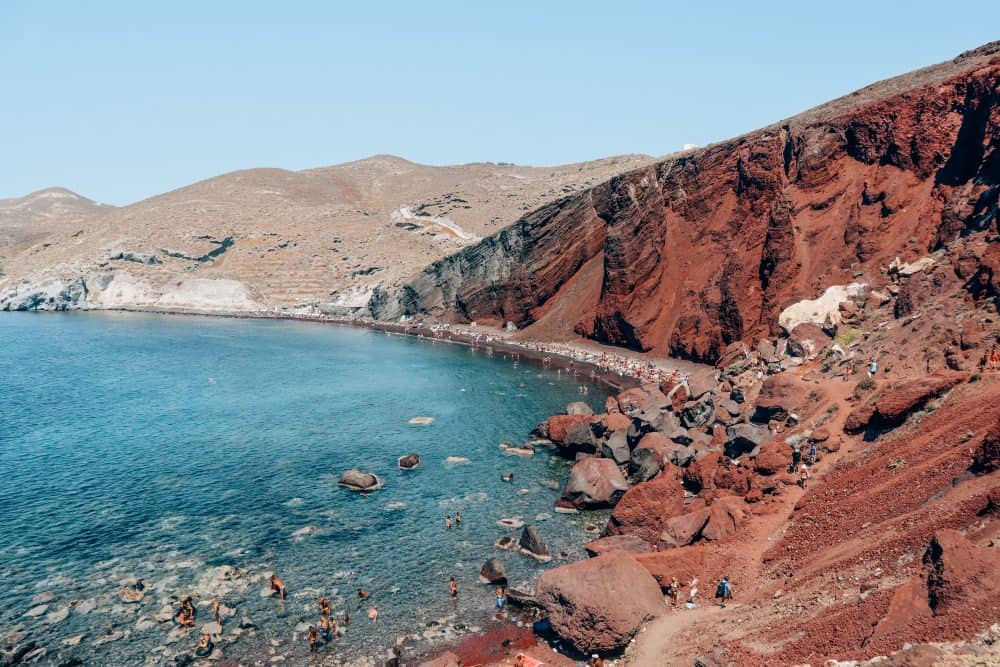 Perissa Beach
A popular beach with families, this black sand beach stretches for 7km. Lined with beach cafes, bars and small restaurants, there's a huge number of affordable places to eat here. As with Kamari, a sun lounger is free if you buy a drink or some food. We could have easily spent all day here!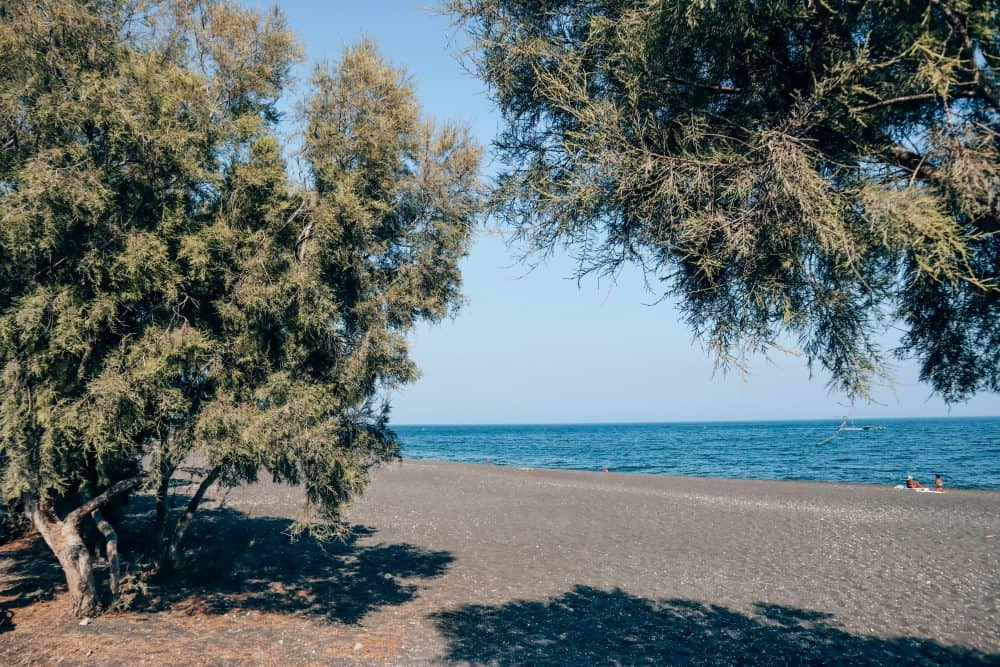 Cliff jumping
Nestled at the foot of Oia is the charming, tiny port of Ammoudi. If you walk to the left and follow the cliff along, you'll find a path winding between the giant rocks. Keep going and suddenly you'll come to a rocky/sandy platform where you can slip into the water carefully(!). From here, there's some excellent cliff jumping from the rocks on the mini island opposite – exhilarating!
Once you're finished jumping off cliffs, drop by one of the small cafes in Ammoudi Bay for a bite to eat or a drink. Cheaper than up the hill in Oia!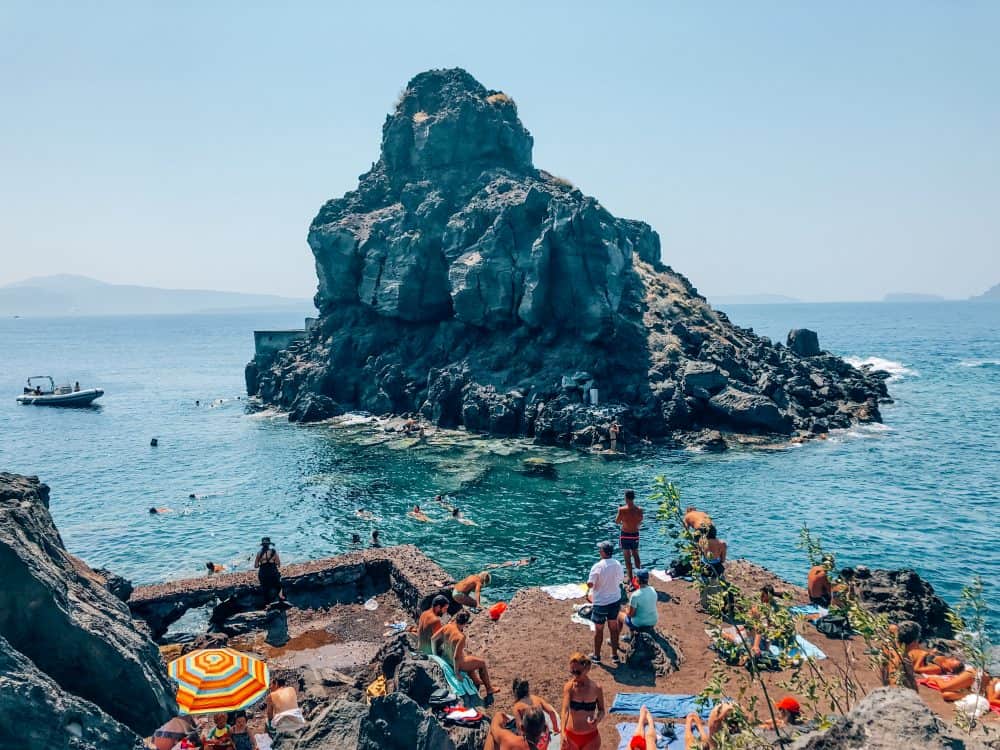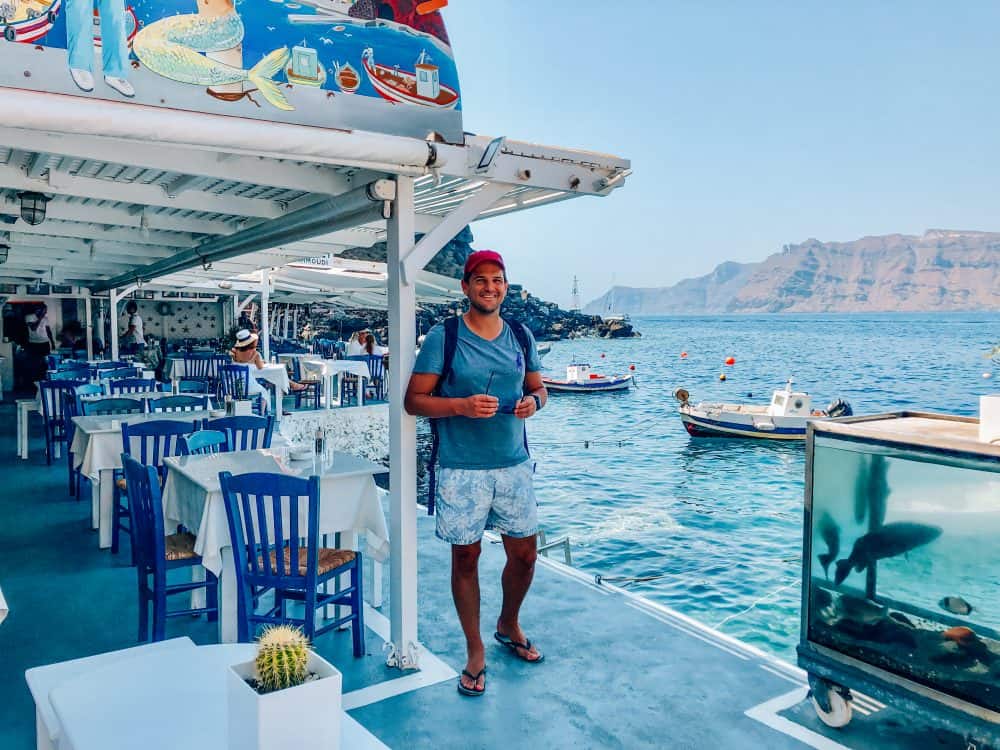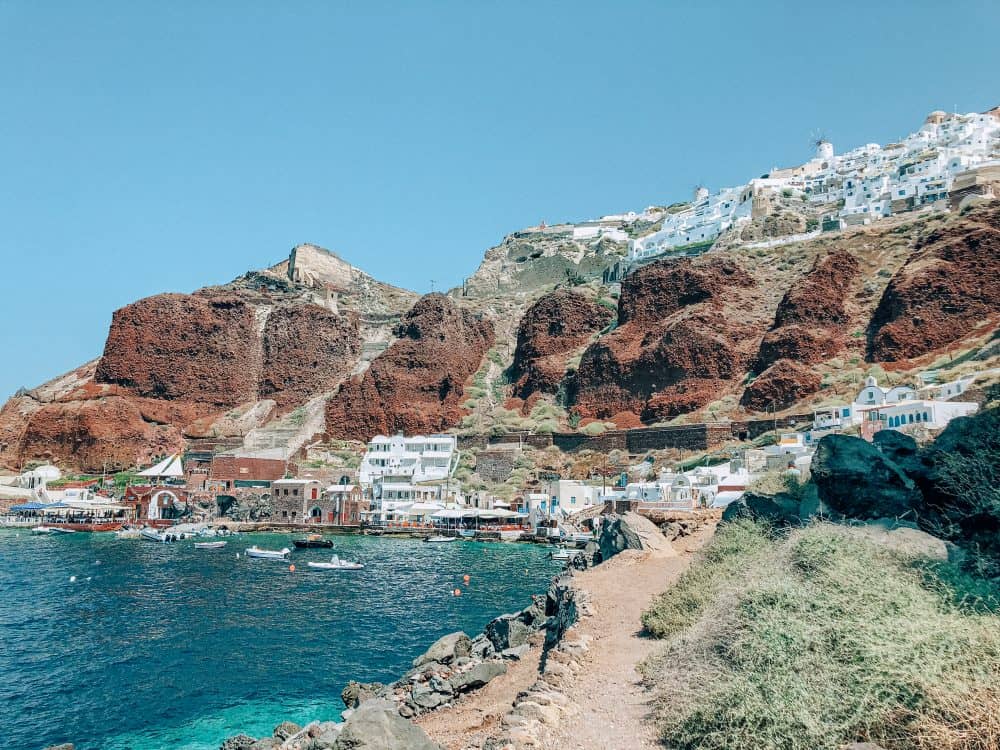 Visit a vineyard
Santorini is famous in Greece and across the world for its wine. Santo Wine Farm is one of the best places in Santorini to do wine tasting. It also has one of the most magnificent views across the caldera too to enjoy while you're there.
Whilst visiting Santo Wine Farm isn't free – wine flights start at €29 per person for 6 glasses, my top tip is to buy one glass instead. This is the best way to sample local Santorini wines but to not spend so much.
Santo Wines doesn't advertise this as much, but it's definitely an option. We turned up around 5pm, just as the sun was slowly starting to dip and had no problem getting a table. There were lots of wine tasting tours there but Santo Wines probably has the most expansive terrace I've ever seen, so you'll have no problem getting a table.
However, if coming here for sunset is your plan, definitely consider reserving a table. We could see with all the 'reserved' signs they were starting to place down on the tables that it was going to get really busy.
Visit the historical sites on Santorini
The Excavations of Ancient Thera is an interesting historical site which actually offers free entry from November to March on the first Sunday of the month. But it is also only €2 for entry on other days. The site is located at the summit of Profitis Ilias, which is the tallest mountain on Santorini. Views from this spot are also incredible!
Another historical site worth visiting is Akrotiri. Similar to Pompeii in Italy, it is an ancient city which was buried underneath volcanic ash in the 17th BC. The entrance fee is just €5 – another great activity to do on a budget in Santorini. The site is located very near to Red Beach. Make sure to read this detailed guide on ancient Akrotiri here before you visit!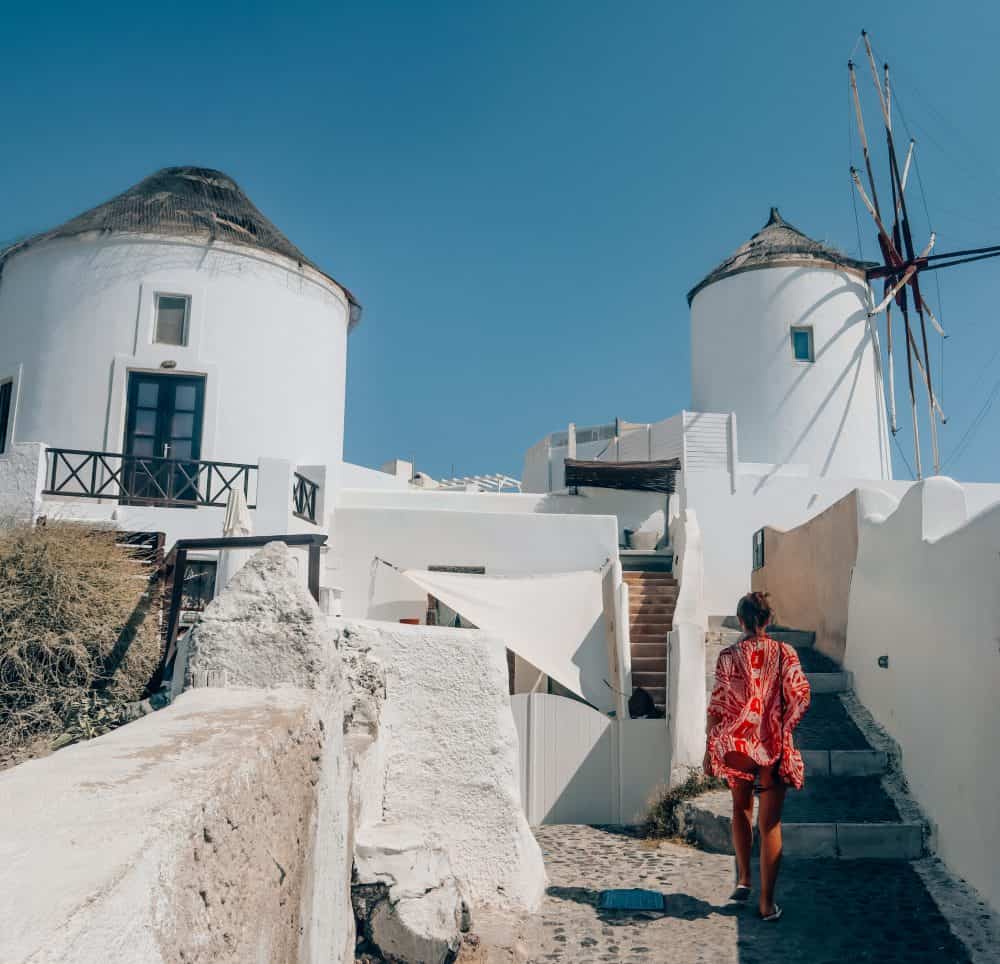 Santorini on a Budget
So that's my complete guide to visiting Santorini on a budget. It's a Greek island that's definitely known to come with a price tag. But this isn't the case, and I hope this guide has helped you realise that Santorini can be done on a budget!
In fact, the island is perfect for a budget Greek holiday or even backpacking in the Greek Islands. I've also written a travel guide to the beautiful nearby island of Milos if you're keen to visiting another Greek island, and one that's far quieter! Do also check my guide to Greek island hopping here, as well as my guide to quieter, lesser know Greek islands here.
If you're looking for another destination that's great on a budget, I'd definitely recommend Croatia. Similar to Greece, it's a destination packed with stunning landscapes, fantastic food and interesting history. Do take a read of my one week Croatia road trip itinerary, a great way to see a lot of the country without spending too much. Also, don't forget to check my guide to luxury glamping at Obonjan – an experience not to be missed!
Feel free to drop me a line if you would like any advice or further recommendations for visiting Santorini on a budget. If you've enjoyed this post, please do share using the below links!
Wanna see more? Check my Instagram here, my Facebook here or my Twitter here!
Disclaimer: This visit to Santorini was entirely paid for by myself and there was no involvement from the tourism board or a hotel. This is an independent guide.
Enjoyed my guide to visiting Santorini on a budget? Pin it!