This summer, I just fancied a road trip in Croatia. I had one week or so to spare, and knew that I wanted to spend my week doing a mixture of city exploring in Dubrovnik, spending lazy days on the twinkly Adriatic Sea and of course, sampling delicious local food. Before I knew it, I had planned an epic one week Croatia road trip itinerary, starting in Dubrovnik in the South, to the very North of Croatia. In fact, we then realised that Lake Bled in Slovenia was really close. And then it made sense to continue all the way north into the Julian Alps of Slovenia.
And what an adventure this was. The roads in Croatia are simple and easy to drive. There's generally minimal traffic and pretty decent driving from your fellow Croatians. Parking is straight forward and there are simply so many brilliant places to stop at. This blog post is focused on a one week Croatia road trip itinerary – I think you'll be surprised how much you can do and see in this time. We loved what we were able to include, so this is a suggested Croatia itinerary based on our amazing experience. However, I realise you may have longer than one week in Croatia, so I've popped some other suggestions lower down in this blog post.
Car or Campervan?
Well, first things first you need a motor for your Croatia road trip! You can either opt for a car from one of the well known hire car companies operating in Croatia, such as Hertz, Budget and Avis.
Or another alternative is to take on a real adventure and rent a camper van for your road trip!
One excellent recommendation is Balkan Campers, a local retro campervan rental company based in Slovenia and Croatia. They have more than 20 funky vans to choose from, of which 13 are legendary old school VW buses (campervan dreams!)
Not only does this help save money on accommodation costs, but it can also serve as your kitchen or BBQ on wheels. A campervan offers complete freedom and flexibility on a road trip through Slovenia and Croatia.
Now my road trip itinerary below is primarily based on a summer adventure, but that's not to say you couldn't explore northern Croatia and Slovenia during the winter months too. Balkan Campers have even kitted out several of their vans with portable heating systems, winter tyres, blankets and a drop of local warming liquor.
One Week Croatia Road Trip Itinerary
So, for the itinerary!
You can of course start a Croatia road trip in either direction. You could start in the north and head south, or start in the south and head north to Pula. It's likely that flight routes and flight prices will have a pretty strong influence on where you start your Croatia road trip. The least expensive place for us to start our road trip was Dubrovnik, and this is likely due to the number of flight options to the city. Another major airport in Croatia to fly into is Split, however this is right in the middle of the country. So starting in Split means you would have to pick one direction to drive in, rather than driving the length of the country from top to bottom.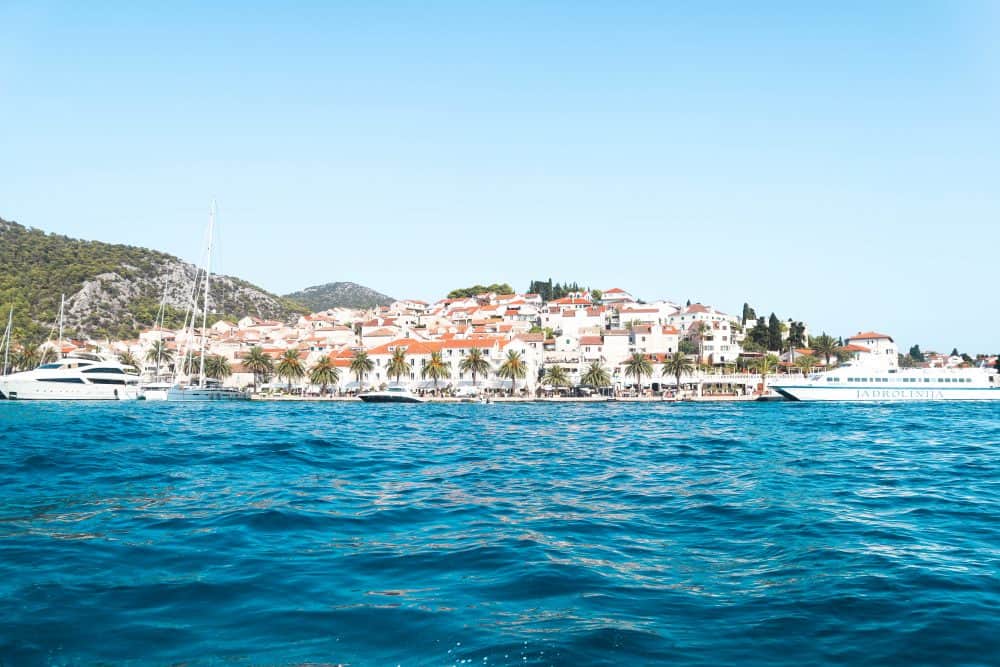 So for this reason, my suggested one week Croatia road trip itinerary starts in beautiful Dubrovnik. From here, we followed the stunning coastal route north. We sampled the freshest of oysters in the tiny village of Ston, passed through Bosnia-Herzegovina for literally less than 10 miles and stopped at the coastal towns of Makarska, Split and Šibenik. We even enjoyed a spot of luxury glamping on the private island of Obonjan, which I would highly recommend.
So without further ado, here's my one week Croatia road trip itinerary. I'll be writing a mini guide on each town covering where to stay, what to do and where to eat. I'll also write a complete driving guide for Croatia, including the essential things to know whilst planning a road trip in Croatia.
Day 1: Dubrovnik
Dubrovnik blew me away. Possibly one of the best city breaks in Europe, it's a destination that has it all. In fact, to be honest, you could easily spend a whole week in Dubrovnik or longer. Not only do you have the Old Walled City of Dubrovnik, a UNESCO World Heritage Site, but the surrounding area is dotted with stunning islands with white sandy beaches. You can even enjoy an array of outdoor activities in the nearby forests or kayaking in the open sea.
Not only is the city steeped in historical sites, it's also the filming location for many iconic Games of Thrones scenes.
This being said, Dubrovnik receives a lot of tourists and visiting in peak high season (July-August) can mean the crowds are almost unbearable. For that reason, visiting in May, June or late August and September can be a very good idea. From less intense crowds to slightly cooler temperatures and lower accommodation prices, the shoulder months can make for a far more enjoyable trip.
One Day Itinerary for Dubrovnik
I'd recommend spending one day in Dubrovnik exploring the heart of the city. You can really see a lot in one day and tick off most of the best things to do in Dubrovnik. And if you're visiting the city for the day from a cruise ship, this cruise guide to Dubrovnik here is helpful!
I would start with breakfast al fresco in the main city square (Gundulic Square) at Gradska Kavana Arsenal or just outside the city walls, at Bistro Revelin.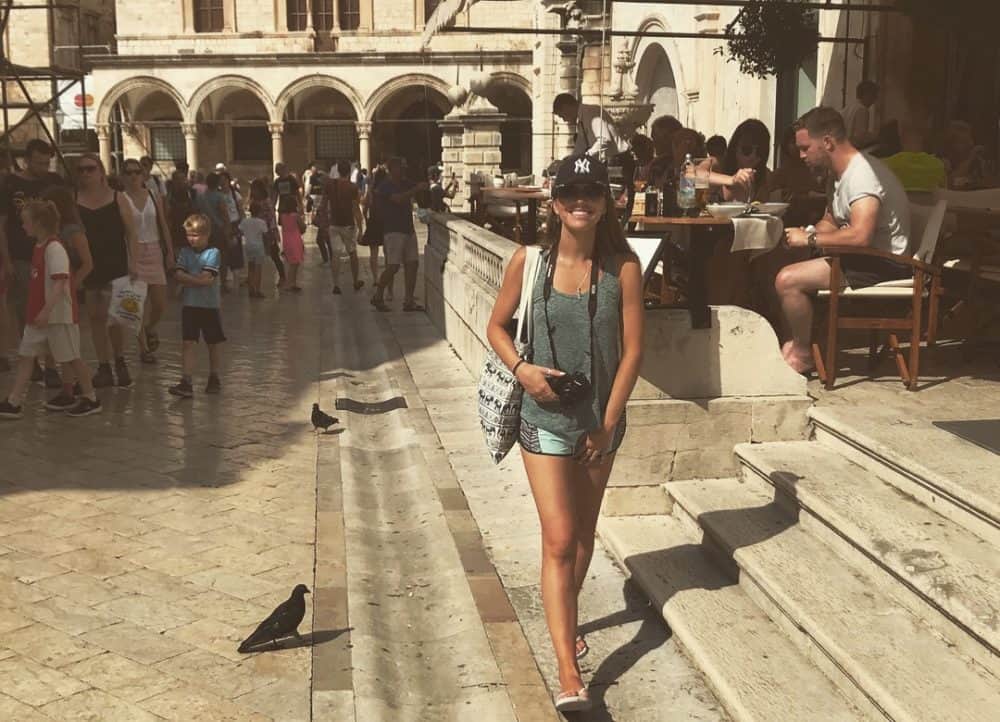 I'd then spend around 4-5 hours walking the medieval Old Town, with plenty of time to get lost in its labyrinth laneways. This is a must-do for any visitor to Dubrovnik. You can also climb and wander within the city walls, which are open to the public and offer incredible panoramic views of the city and the surrounding red roofs. It costs 100 HRK to access the walls and takes around 1-2 hours to fully explore.
Book your tickets for a Dubrovnik walking tour here!
I'd stop for a relaxing drink in one of cliffside 'Buza Bars' and watch the local cliff divers. Then, pick up a delicious gelato on the lanes leading to the main square.
If you've had enough of the historical sites by then, another brilliant activity to do in Dubrovnik is to go kayaking around the City Walls. These tours depart from Pile Gate, which is also one of the main entrances to the Old City Walls. Book your sea kayaking tour here!
Around 3pm, I recommend heading to this point on Google Maps to start the hike to the top of Mount Srd, one of the most scenic locations in Dubrovnik. You can of course catch the Dubrovnik cable car up but if you're feeling like doing a steep but quite brief hike, I'd recommend going by foot! The views are astounding over the Old City, and you can stop whenever you want to take photos.
At the top of Mount Srd is an incredible restaurant, called Panorama, and I recommend making a reservation in advance for about 5.30/6pm. This is one of the best restaurants for a sunset view in Dubrovnik, without a doubt. It is completely magical. I'd say prices are not cheap, but it's no more expensive than dining in the centre of Dubrovnik.
Afterwards, as it will be dark, I would definitely recommend taking the cable car back down. The city views are still phenomenal with the Old Town all lit up. A one way ride on the cable car costs 85 HRK, and a return journey is 120 HRK.
As mentioned, many Game of Thrones scenes were filmed in Dubrovnik. So if you're a keen fan of the TV series, you can spend a morning or afternoon doing one of the very popular Game of Thrones walking tours. The tours take around 2-3 hours and show you all of the famous locations that were used in the filming of the series.
Book your tickets for a 'Game of Thrones' walking tour here!
Where to Stay in Dubrovnik
There's no shortage of places to stay in Dubrovnik. If you want to stay really close to the Old Town, you will pay for this privilege. But you'll then save money on the taxis or ubers.
If you want to save some cash and stay a little further out, you may find your hotel has a beach or access to the sea. In the Croatian heat, this can be quite a nice treat. We chose to stay at a small Airbnb about a 10 minute taxi out of town and it was just wonderful. We didn't mind the taxi as we only had to do it a few times.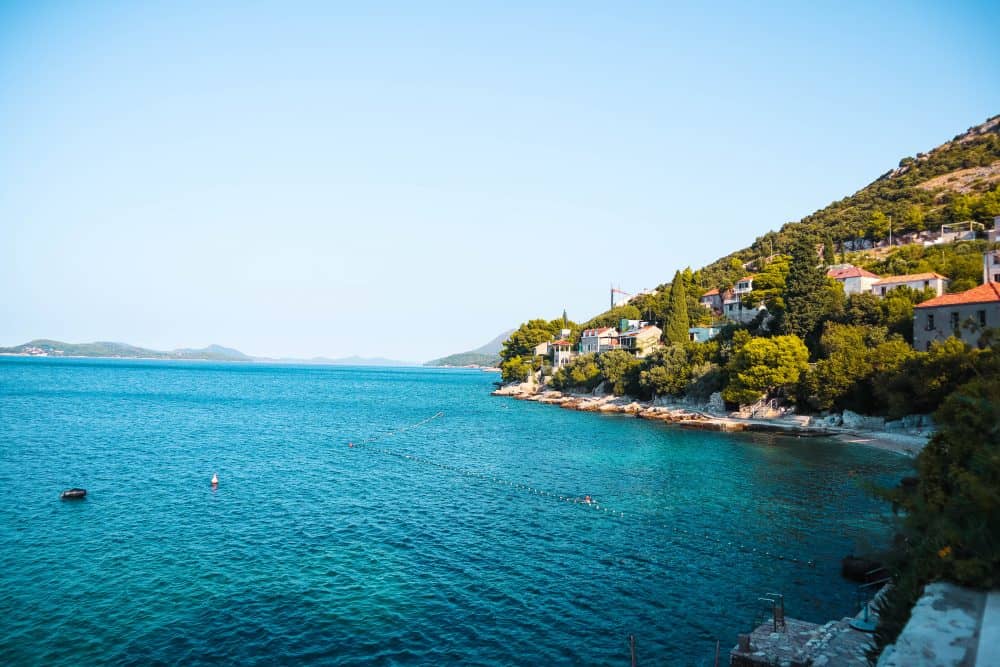 Dubrovnik does have some fairly iconic luxury hotels, here are some of the best:
For a more reasonable price, these are some of the best value hotels in Dubrovnik:
Where to eat and drink in Dubrovnik
One of the best meals during our time in Croatia was actually in Dubrovnik at Panorama Restaurant at the top of Mount Srd. As detailed just above, you can either hike here or take the cable car to the top. This restaurant not only had phenomenal views, but the food was excellent and the atmosphere quite magical.
Another of the best places to eat in Dubrovnik is tucked away in one of the laneways near the main square. Dalmatino Dubrovnik served up incredible local Dalmatian food, as well as Italian dishes with a twist. I highly recommend.
The most romantic restaurant in Dubrovnik is without a doubt, Restaurant 360, offering Michelin-starred food in an unbelievable location.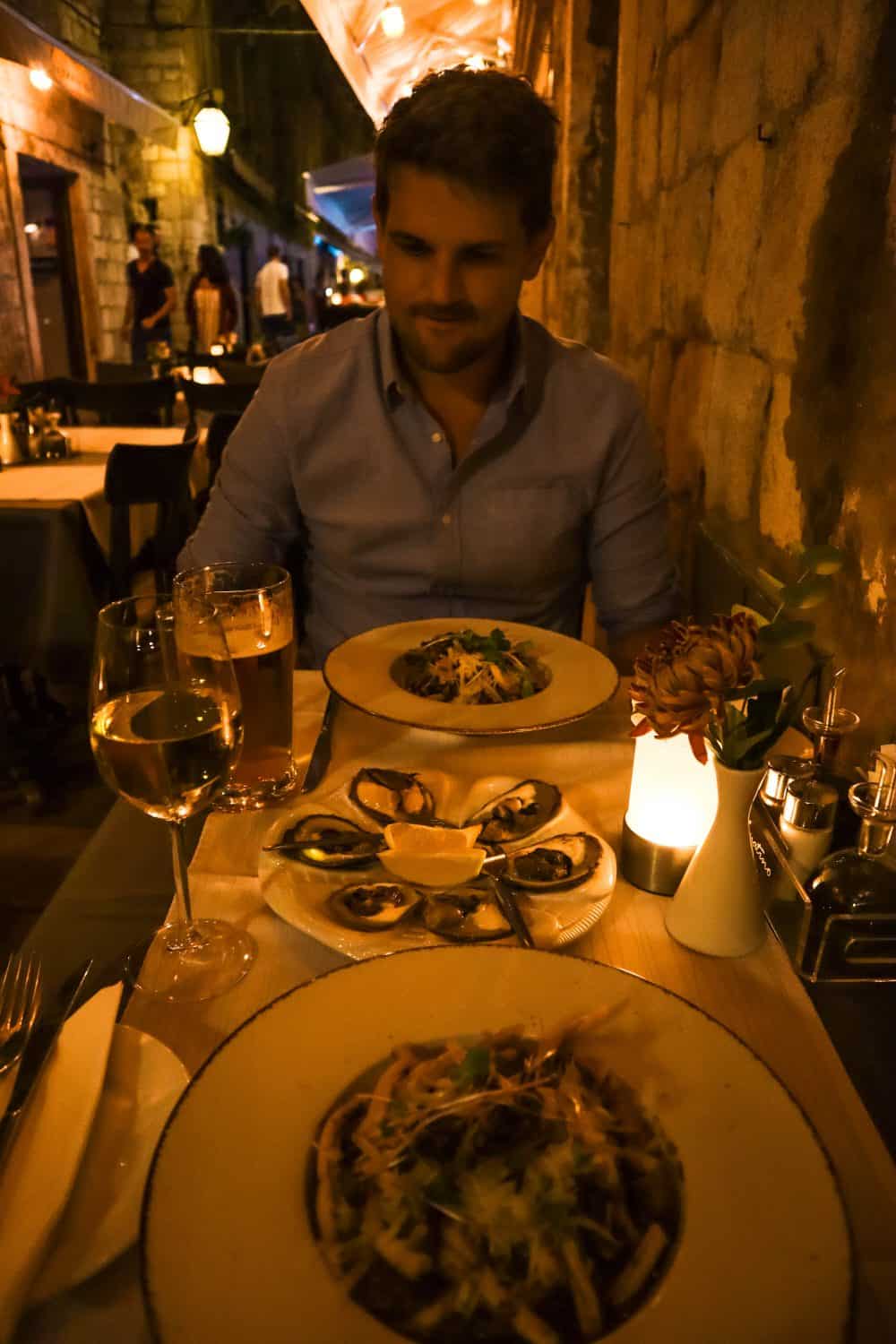 Day 2: Day trip from Dubrovnik
Once you've spent a full day or two soaking up the magic of Dubrovnik, it's time to explore the surrounding islands. There are SO many beautiful islands to visit, all within a 1-2 hour ferry from Dubrovnik. All of the islands near the city can be done as a day trip from Dubrovnik, but many could be a holiday destination all on their own.
Some of the islands to consider for a day trip from Dubrovnik include Lokrum, the Elaphite Islands, Mljet, Cavtat and Korčula. You can actually travel to several other countries as a day trip from Dubrovnik, such as Kotor Bay in Montenegro and Sarajevo/Mostar in Bosnia and Herzegovina.
Spending the day at Mljet Island
We decided to spend the day visiting Mljet. This island is unique in that it is dominated by a National Park. It is covered in thick pine forest and offers wonderful hiking and biking routes.
The island of Mljet is home to two interconnected lakes, Veliko Jezero and Malo Jezero ("Big Lake" and "Small Lake") which are dazzling turquoise. Big Lake is even home to an 800-year-old Benedictine monastery called St Mary located on its own tiny island. You can easily head over to here on a quick (free) speedboat, assuming you'll have lunch at one of the restaurants.
Getting to Mljet from Dubrovnik is easy. From the Dubrovnik port, you need to take a G & V ferry to Polače, a small town within Mljet National Park. Please note this route only operates in the summer months and the trip time is about 1h50.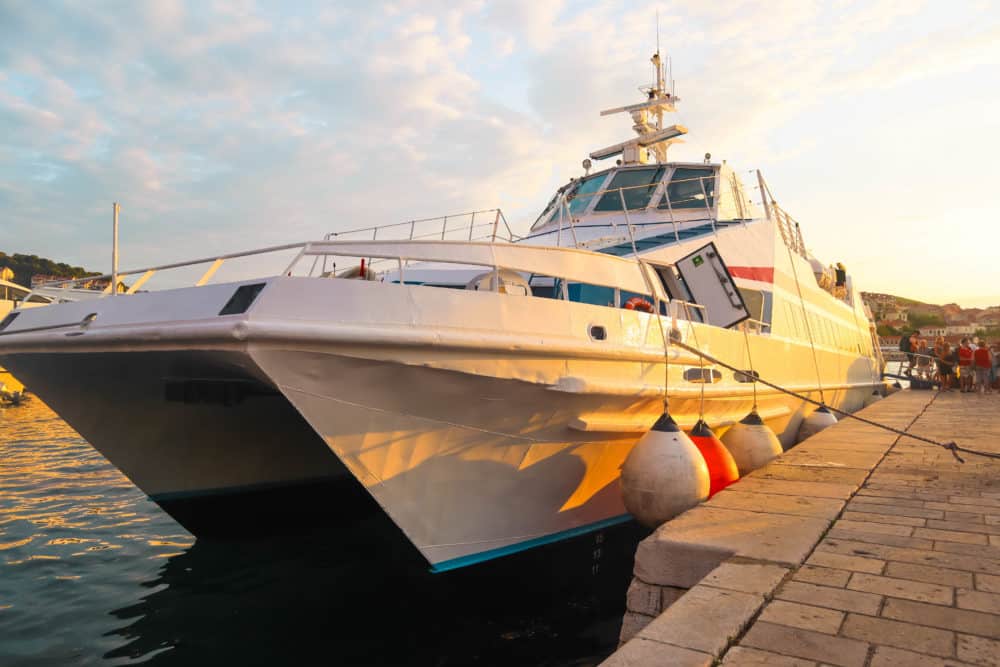 On the island, you can travel into the National Park by two main options. You can buy shuttle bus tickets on arrival that'll take you up the steep hill and into the National Park, or you can hire bikes. The bike route is around 10km and is a brilliant way to explore. However, the hills can be quite steep so make sure you're up for it!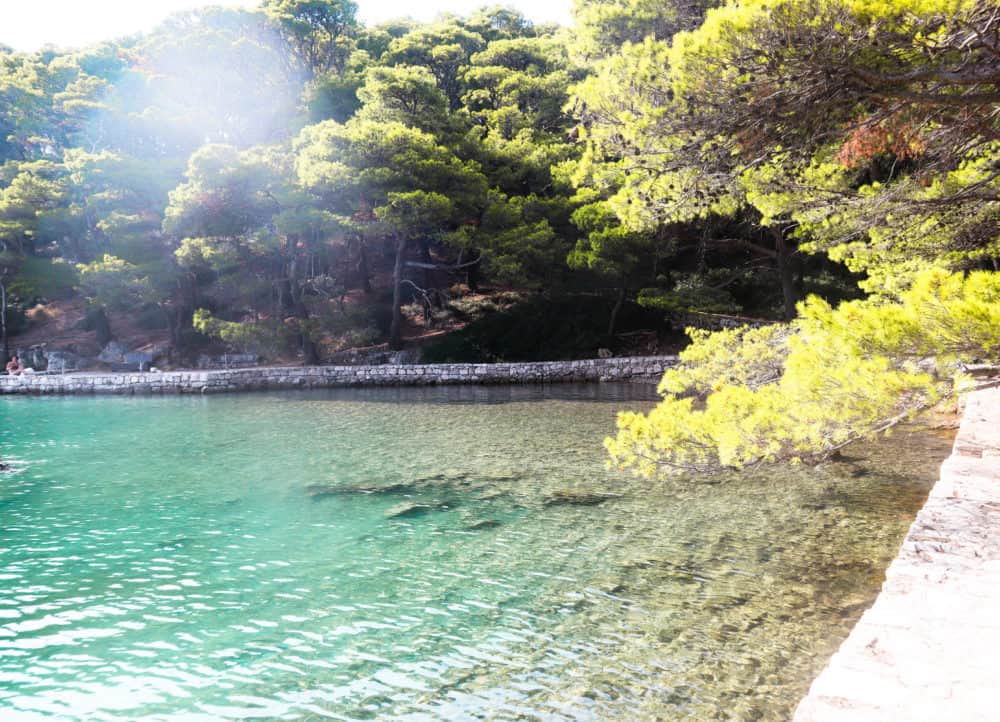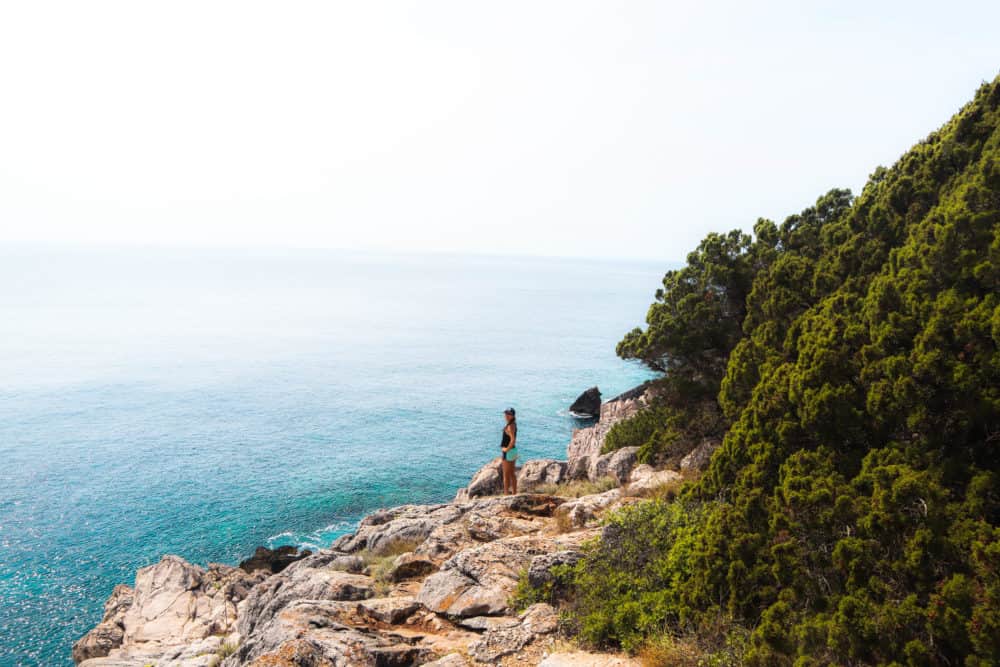 We spent a full day cycling and stopping for swims on Mljet. The island is as stunning as we expected and we didn't see too many other visitors once we got away from the main entrance.
As lunch time approached, we came across the monastery in the middle of the lake I mentioned above and had a pretty tasty lunch stop here.
If you prefer, you can of course join a guided local tour to Mljet or one of the islands. Here are a few suggestions:
Day 3: Ston and Makarska
Assuming you've made the best of two days in Dubrovnik, it's time to get on your way on your Croatia road trip!
We're big fans of oysters and a little prior research led me to the quaint village of Ston. The tiny village is only an hour out of the city (approx 55km) so can be visited as a day trip from Dubrovnik too. Ston was tiny and absolutely wonderful. Like Dubrovnik, the town is dominated by huge medieval city walls. But without any of the crowds! It is famous for the city walls, for its salt pans and for its world renowned oysters.
Having left Dubrovnik at around 9am, we arrived in Ston a fair bit before lunch so we enjoyed a swim in the crystal clear water. We then took our seats at one of just a handful of restaurants right by the water and tucked into what I can only describe as one of the VERY best meals of my life.
Just look at this:
The staff were so wonderful too. Unsurprisingly and despite our very best efforts, we were unable to finish this platter. So the kind waitress took our hams, cheeses and salad and made us delicious baguettes so we could take them 'to go' for the next part of our road trip. Awesome!
I would say you probably only need two or three hours in Ston. Heading north, you will quickly come to the border of Bosnia Herzegovina which has around 20km/12 miles of coastline which lands in the middle of Croatia. Totally fascinating but luckily, no visas are needed at the tiny border control stations you pass through.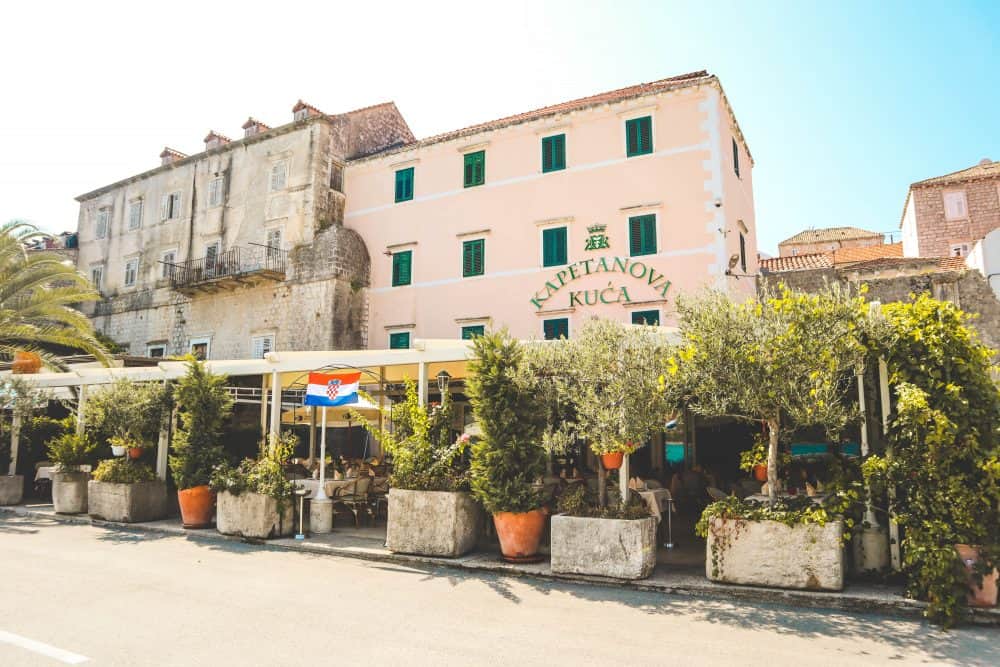 We drove north and decided to stop in the holiday town of Makarska, which took about two hours of driving. Along the route, we didn't stop at too many places but the views were astounding. On one side we had the ocean and the other, we'd see pine forests or occasionally, beautiful deep blue lakes.
Known as the Makarska Riviera, this lesser known area offers beautiful beaches and a huge number of outdoor activities in the nearby Biokovo mountain range. There were few tourists there from the UK, but plenty of local holiday makers. We spent a couple of hours on the main beach which was pretty packed and not overly scenic. It was quite cool to sit alongside all the locals and made for an interesting afternoon!
If I were to stay in the Makarska area for longer, I wouldn't stay on the central strip area. I would stay outside of it , and maybe only come into the centre in the evening for dinner.
Day 4: Split
Beautiful Split is easily one of the best places to visit in Croatia. Second only to Dubrovnik in terms of visitor numbers, Split is the gateway to some of Croatia's most beautiful islands and popular holiday locations, including Hvar. It cannot be missed from a one week Croatia road trip itinerary.
The city itself is so vibrant, nestled between the mountains and the sea. The whole central part of Split is centered around the incredible Diocletian's Palace, which means you can dine in, and wander amongst famous Roman sites. It's quite magnificent. We only spent two days in Split, one of which we did a day trip on a boat. But it would be very easy to spend three days or even a week in Split. If you can only spare a day, then check out this guide on how to spend one day in Split.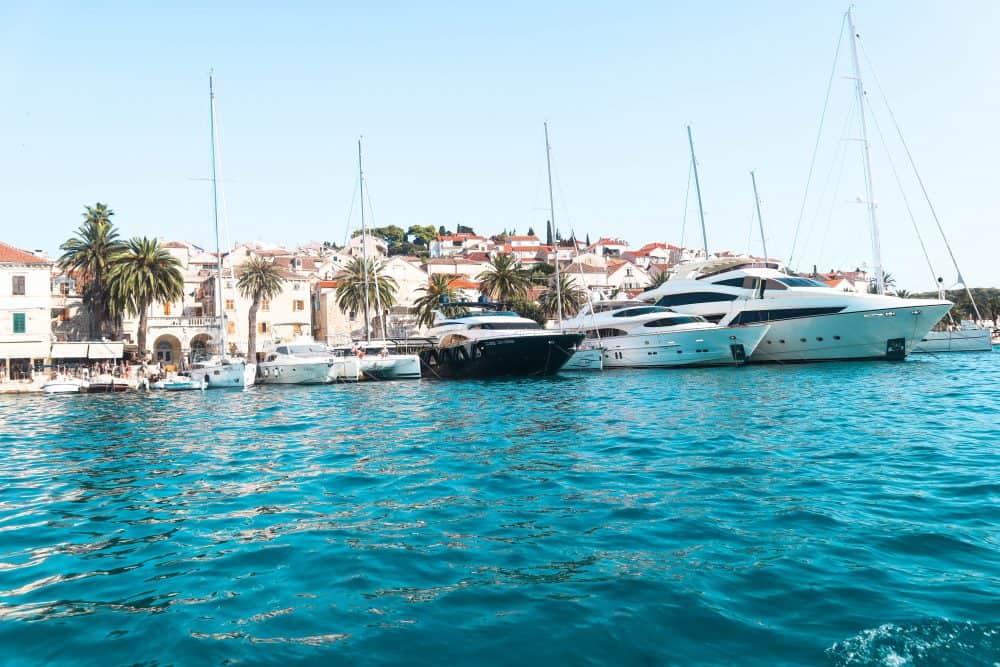 Things to do in Split and the surrounding area
A few hours can be spent wandering the city centre, a UNESCO World Heritage old town. It's very easy to explore Split on foot.
Split feels particularly lively in the afternoon and evenings, when the city comes alive. The incredible Diocletian's Palace, which is more than 1,700 years old, is another famous location in Croatia used in the Game of Thrones series. But today, it is packed with small stores, restaurants, cafes and bars. In fact, one of our most memorable nights on our Croatia road trip was spent in a large square, called the Peristyle, in the middle of the Palace. Live music acts performed to a packed crowd, all sitting on the terraced ledges around the performers. Bar staff even came and took our orders to bring us drinks all evening long. It's wonderful.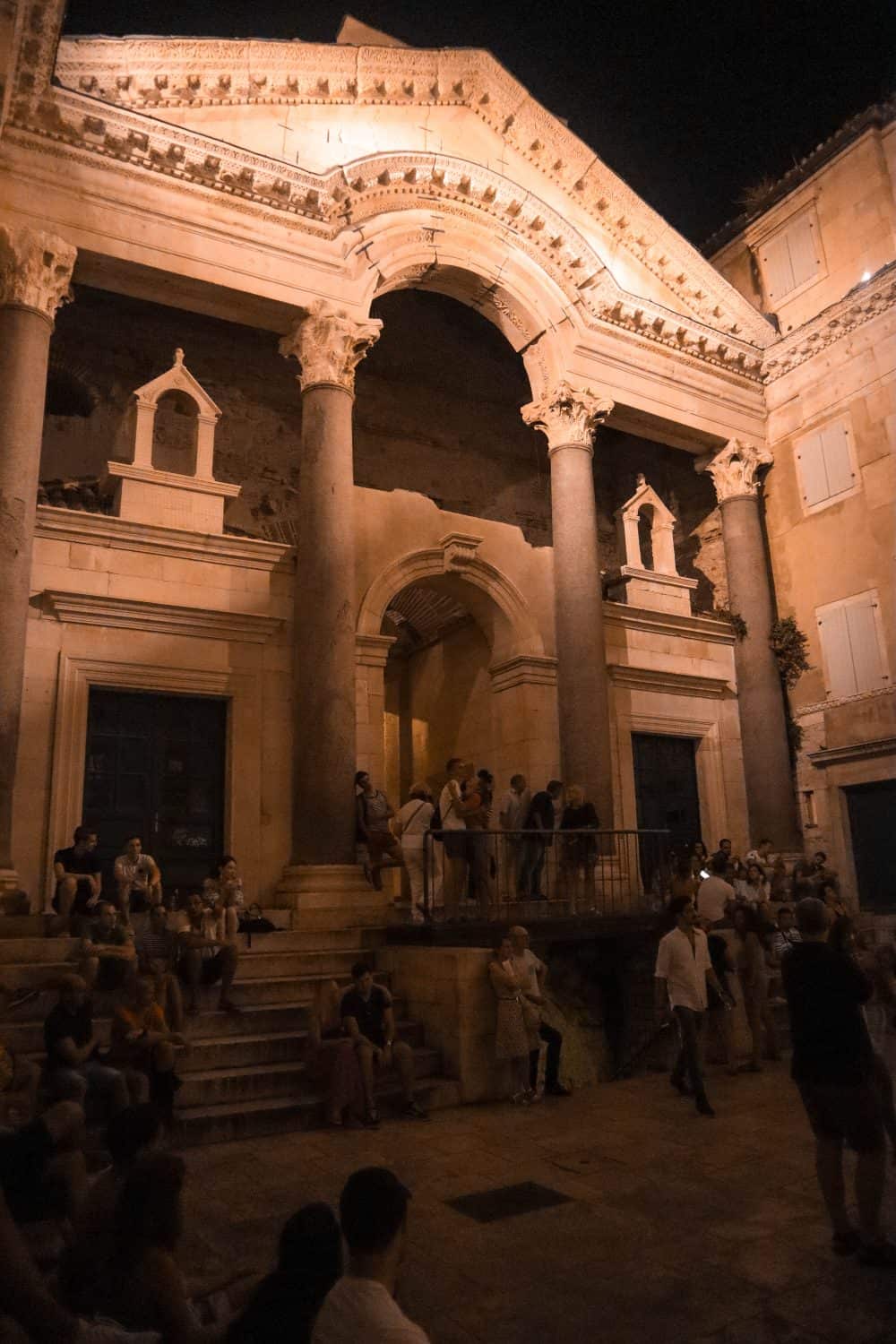 Another popular area to wander around is the vibrant seafront promenade in Split, called the Riva. In the early evenings especially, it's a hive with activity and buzz.
Other things to do in Split include climbing Marjan Hill for panoramic views over Split, as well as tucking into the lively food scene. You can even do Game of Thrones film locations tours here too!
Where to stay in Split
Location is key in Split, and fortunately you can stay pretty close to the town centre for an affordable price. Frank About Croatia has an amazingly detailed post that covers every neighbourhood and a huge number of hotels in Split, which you can read here. The apartment we stayed in is no longer taking bookings, which is a shame. However, do take a browse here for great deals and places to stay in Split.
Boat trips from Split
As mentioned, Split is the gateway to many of the Dalmatian island summer resorts, such as the Pakleni islands, Brač, Vis, Bol and Hvar. Many of these are worthy holiday destinations all on their own, particularly Hvar which is quickly becoming one of the most popular summer holiday places in Europe. It has the biggest party scene in Croatia too!
We chose to spend a day island-hopping. We organised our tour through GetYourGuide and spent a glorious day speeding across the glassy water. The speedboat journey out to the islands was a highlight in itself, we even saw dolphins at sunrise.
A few other highlights included a stop at the famous Blue Lagoon on the island of Bisevo, as well as the islands of Vis and Palmizana, a snorkelling stop at Budikovac and plenty of time in Hvar. We had lunch in Palmizana at Laganini Lounge Bar on the water's edge, which I highly recommend. It's a bit of a place 'to be seen', but it is really cool and has an awesome atmosphere.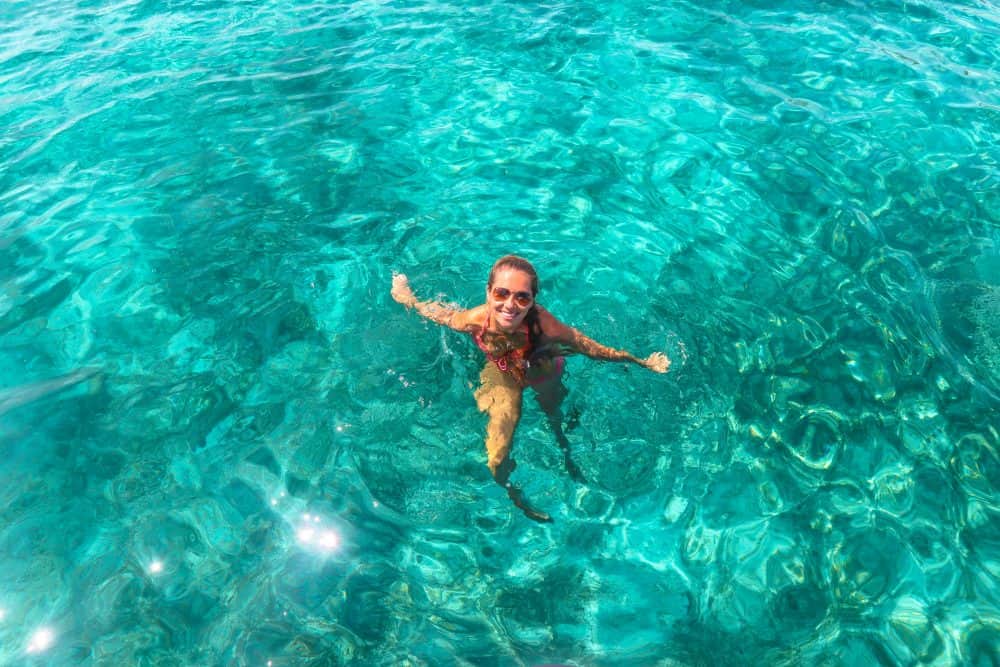 The island of Hvar and its stylish harbour, Stari Grad is definitely becoming the flashy 'St Tropez of Croatia'. I imagine the cost of food and drink might add up if you're spending a week here. But for just one day, it was a wonderful port of call for a late afternoon drink!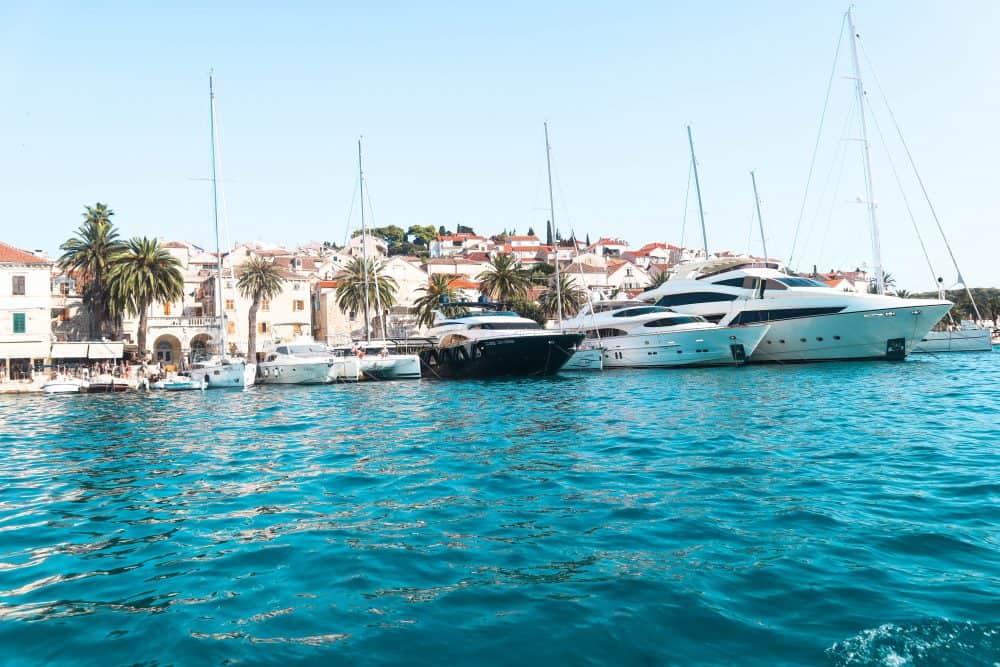 Krka National Park
Another brilliant day trip from Split is to visit Krka National Park. Home to some of Croatia's most beautiful waterfalls, a relaxing day can be spent at Krka, swimming under and around the cascading falls. Go early though, it certainly gets busier as the day goes on.
It's only about an hour from Split, making Krka National Park easily done in one day.
Book your tickets to Krka National Park & Waterfalls here!
Day 5-6: Obonjan Island
You could easily spend several days in Split, but whilst planning our trip, I came across some luxury glamping on a private island called Obonjan. It looked incredible, so I realised we were going to have to leave Split earlier than expected on our Croatia itinerary.
I've written a full blog post on luxury glamping at Obonjan, but in summary – imagine an adults-only private island located in the twinkling Adriatic Sea. That's a pretty good start, right?
Part music festival, part wellness retreat, part pure holiday destination – guests can get as involved as they want or not. We spent three days here lounging around in the sun, taking easy runs around the island and of course, making sure we were free for the daily sunset happy hour. It was a blissful, relaxing few days with a delightful absence of traffic, noise and annoying people!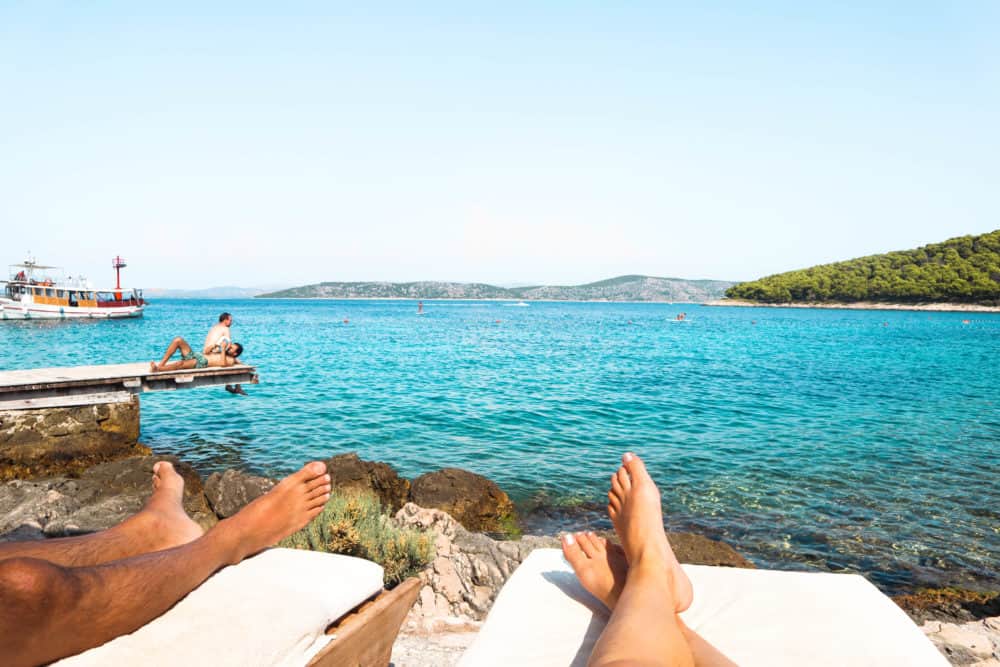 The ferry to Obonjan island departs from the town of Šibenik which is about 2 hours drive north from Split.
Day 7: Šibenik and onwards
From the Obonjan/ Šibenik area, there are several options north from there. As mentioned earlier, we drove a long 5 hours north to Lake Bled, near to Ljubljana in Slovenia. The weather changed drastically as we gained altitude. I couldn't believe how different the environment was, having just spent a gorgeous week on the Adriatic Coast.
Although we chose to do this, I wouldn't necessarily recommend driving from Dubrovnik to Lake Bled. We were really keen to tick Lake Bled off our list, but actually, we could have easily spent more time exploring Croatia. There are still so many beautiful towns north of Split and Šibenik. I've put some alternative suggestions here for a one week croatia road trip itinerary:
Tisno
This small town between Zadar and Šibenik is home to some of Croatia's most famous festivals, such as Love International (next taking place in July 2020). Tisno has its own epic festival set up in an area called The Garden. This area draws revellers from across the globe who want to attend epic music festivals in a stunning location. If you're planning a Croatia road trip around a music festival, chances are you'll be heading to Tisno.
Check rates for places to stay in Tisno here!
Zadar
Zadar is one of the largest towns on the Dalmatian Coast and is about a 2 hour drive north from Split. Despite often being considered Croatia's coolest city, it still doesn't attract the vast crowds that Dubrovnik does, or even Split. There are a great number of things to do in Zadar, not least to explore its iconic monuments and unusual art installations. Playing tribute to the sea and its waves is the world famous Zadar Sea Organ, located on the waterfront promenade. Created by cutting steps into the promenade and then installing underwater pipes, it plays music when the waves roll in. Magical.
Zadar is also the gateway to some of Croatia's most beautiful beaches and untouched islands. It is also a launch point to five National Parks: Paklenica, Plitvice lakes, the Kornati Islands, Krka and Sjeverni Velebit.
Check rates for places to stay in Zadar here!
Krk Island
This is Croatia's largest island and is near to Rijeka on the mainland. The island is full of cultural attractions, a reflection of the many groups of people who've called Krk home through the centuries. It's even believed that Krk was home to the very first Croatians.
Check rates for places to stay in Krk Island here!
Rijeka
Far less visited than Dubrovnik, Rijeka is a 'real' city with a bustling seaport and stunning neoclassical architecture, seen in the theatre and the palaces. An excellent place to get to know the locals and see them going about their daily lives.
Check rates for places to stay in Rijeka here!
Pula
Beautiful Pula is home to some of Croatia's most brilliantly-kept magnificent Roman buildings. Pula is most famous for its incredible and enormous amphitheatre called the 'Arena', built to seat up to 20,000 spectators. In fact, it is the only Roman amphitheatre in the world with a complete circle wall that's still standing. Pula is also the capital of Istria in the North of Croatia, it's close to the Italian border (and was once part of Italy in fact!). This means you'll find some amazing Croatian/Italian food here. When you're not wandering the stunning Roman streets of Pula, you can sample the wines that Istria is famous for.
Check rates for places to stay in Pula here!
Rovinj
Further north from Pula, but still in Istria is the pretty fishing port of Rovinj. Home to some of the best seafood restaurants in Croatia, this town feels distinctly different to the south of the country. This is partly due to its close proximity to Italy. It's cosmopolitan and colourful, and just an easy 45 minute drive North of Pula.
Check rates for places to stay in Rovinj here!
Plitviče Lakes National Park
Another final option for a Croatia road trip, is to head slightly inland and go to Plitviče Lakes. This is Croatia's most-visited tourist attraction. These stunning waterfalls are a bit different to Krka in that you can't swim in them. Visitors can only explore them via a series of inter-connected walkways. But don't let that deter you from visiting, because the falls are stunning! Interestingly, they're good to visit at any time of year too, with winter offering an unparalleled snowy landscape with the cascades peeping through.
One Week Croatia Road Trip Itinerary
I hope this one week Croatia road trip itinerary is useful for planning your Croatia trip or inspires you to visit this beautiful country. Feel free to ask me any questions below if there's something I haven't covered here.
If you liked the sound of Croatia, you might also like Santorini in Greece. Don't forget to check out my guide to visiting Santorini on a budget!
Wanna see more? Check my Instagram here, my Facebook here or my Twitter here!
Disclaimer: This visit to Croatia was entirely paid for by myself. There was no involvement from the tourism board or a hotel. This is an independent guide.
Enjoyed my blog post on a one week Croatia road trip itinerary? Pin It!