There are more than 6,000 islands in Greece, so deciding where to go can be a pretty challenging task. A google search typically brings up the favourites, including Santorini, Mykonos and Crete. What about what the smaller islands? The ones that are just that bit harder to get to? The islands which are almost untouched by mass tourism, offering a slower and more gentle insight into the charm of Greek daily life. You may have read my Greek Island hopping itinerary here, which covers a popular island (Santorini), but also the quiet, laidback charm of Milos.
When I planned our Greek island hopping trip, Santorini was a bit of a bucket list inclusion. But for the second island, I knew I just wanted a tranquil slice of heaven – which is exactly what I found with Milos.
Of course, Santorini is known for its magical caldera views and white houses built into the cliffside in Oia, and Mykonos is known for its charming Old Town and party lifestyle. But these, and other more popular Greek islands can be extremely busy. And add to that the daily influx of cruise passengers that disembark on these islands each day, the magic of Greek daily life can wear away quite quickly as you push through crowds and sit in traffic.
So this guide covers some of the best quiet islands to visit in Greece. I have enlisted the help of fellow travel bloggers to compile this list of the lesser known islands to include in a Greek island hopping itinerary. Each blogger has personally visited each island, so their recommendations are authentic.
Milos
Submitted by myself – Claire
Milos is an unspoilt and lesser-known Greek island without half the crowds of other places in Greece. Tucked away in the Cyclades region, Milos is a beautiful mix of unusual scenery, incredible beaches, traditional towns and excellent food. Whitewashed villages and towns are nestled into the cliffs, with each one consisting of tiny laneways packed with character. Expect friendly locals, lazy cats and pink and purple bougainvillea tumbling from the buildings.
Although Milos isn't as famous as its neighbours, such as Santorini, it is known for its moon-like landscape, particularly at Sarakiniko beach. This is a unique beach made of lava. The rock has been bleached by the sun and shaped by the waves over centuries, making for a very unusual landscape. It's an amazing spot for some cliff jumping into the bright turquoise waters!
There are plenty of other beaches in Milos to visit too, and chances are – you'll have these all to yourself. My personal favourite was Firiplaka Beach, but make sure to stop by Tsigrado and Firapotomos too. Paliochori Beach is the busiest beach on the island, but it's also home to the famous Sirocco restaurant, where food is cooked in the traditional method in the sand.
To get to Milos, you either need to fly from Athens or connect via ferry. Boats arrive daily and Milos connects with Santorini, making the perfect island-hopping itinerary!
Recommended places to stay:
The beautiful Santa Maria Hotel & Spa is an excellent choice, located just outside of the main port of Adamas. Alternatively, another area to stay in is the gorgeous beachside town of Pollonia, located in the northeast of the island.
Some great hotel choices in Pollonia include:
Naxos
Submitted by Sue from suewherewhywhat.com
Naxos is the largest and most fertile of the Cyclades Islands. It's accessible from Athens via internal flights or well linked by ferry (6 hours), as well as to other nearby islands.
The great thing about Naxos is that if you choose to arrive by ferry, you will arrive straight into the main town and everything is within walking distance. This, along with the cheaper price tag than some of it's more famous neighbours like Santorini & Mykonos, make Naxos a very attractive destination.
Naxos has some of the best beaches of all the Greek Islands. If you're looking for fine powdery sand, then this is the place for you! Agios Georgios is basically right by the main port town of Chora or a short bus ride can take you to less busy but even more beautiful Plaka beach.
If you decide to hire some transport of your own then it will allow you to explore more of the fertile interior of the island where they grow olives, grapes, figs & citrus fruit. The island also has many walking paths which you can use to explore on foot between the villages, historical sites & churches.
The old town has a maze of little alleyways where you can get lost in the shops, bars & restaurants in the evenings. However, don't miss a short walk from the port to Portara, Apollo's Temple. Dusk is the perfect time to visit so you can see the sun go down behind the temple. It is breath-taking and well worth the effort.
Recommended places to stay:
Sifnos
Submitted by Derek and Mike from robe-trotting.com
One of the best offbeat destinations that you should add to your Greek island hopping itinerary is Sifnos. It's a hidden gem in the Cyclades island group with a laid back vibe full of white sand beaches, delicious restaurants and just enough island nightlife.
The island is known for its pottery and hand-crafted souvenirs are sold at the boutiques and shops all over the island. You can easily reach Sifnos by ferry and the port town is Kamares. There you'll find a lovely beach with hillside hotels and houses, beach bars, cafes, pubs and other dining options. Kamares also has a bus stop to get you around the island.
The largest city on Sifnos is Apollonia, a hilltop nightlife spot with whitewashed buildings and stone streets. There you'll find a few rooftop bars, restaurants, boutiques and tavernas. It's also a short trip from there to the other gorgeous beaches like Vathy Beach. On the way to Vathy, many visitors pay a visit to Chrysopigi Monastery. It's a beautiful seaside holy building full of art and postcard-worthy photo opportunities.
Besides relaxing on the beaches, dining on delicious Greek cuisine and touring scenic monasteries, Sifnos is known for its sailing culture. The conditions around the island are prime for sailing and a number of local companies offer sailing and boating excursions.
However you spend your time, you'll love getting to know Sifnos, an offbeat gem of the Greek islands.
Recommended places to stay:
Paros
Submitted by Smita from myfaultycompass.com
One of the prettiest islands in the Cyclades, Paros is a uniquely wonderful destination to visit. Stunningly beautiful beaches, fascinating small towns replete with Cycladic charm and spectacular natural beauty. And all without the hordes of tourists you are bound to run across at the other more popular Greek islands!
Paros is located only a 2-hour ferry ride from Santorini (which has an international airport so you can fly in) or a 3-hour ferry ride from Athens. Paros also has a domestic airport if you'd like to fly in, though a ferry ride is a lovely experience to have.
One of the best things to do in Paros is to take a drive around the island exploring the beaches and the small towns. Take a break at whichever beach you love the most and have a swim! Some of the best beaches for swimming are Kolombithres, Santa Maria and Golden Beach. The towns of Paros with their whitewashed buildings and blue doors, framed with flowers are an absolute must-visit! Make sure you include Parikia, Naoussa and Lefkes in your itinerary.
Visiting Paros also gives you a chance to visit the bonus island, Anti Paros! Located only 10 minutes away this island is known for its beautiful beaches and lovely villages.
Recommended places to stay:
Lemnos
Submitted by Anda from travelforawhile.com
Beautiful Lemnos benefits from being pretty far from Athens and has remained a secret from most tourists visiting Greece.
However, it's a fairly large island, offering a diverse landscape as well as extensive sandy beaches. When you are looking for a coastal destination but still wanting to feel safe and not share your vital space with the crowds, consider a vacation to Lemnos island in the Northeastern Aegean.
You can reach Lemnos by ferry from Kavala, or from Lavrion port, about 1 hour south of Athens. Another option is to fly in from Athens or Thessaloniki.
Besides spending time at the beach, there's a lot of exploring to do. Lemnos is the place where Hephaestus had its mythical workshop. The only evidence of that is the volcanic landscape on the north side of the island, the surreal petrified lava formations. Lemnos also has another surprise – a proper desert with sand dunes and everything. It's a small one, but hey, you're on a lush island after all.
The perfect place to stay in is the Lemnos' capital, Myrina. A charming city, similar to the Plaka area in Athens but with extra-points for its two shorelines and the Medieval Castle of Myrina watching over the town.
Recommended places to stay:
Kimolos
Submitted by Chrysoula from travelpassionate.com
The small island of Kimolos in the Cyclades chain is a great option for those who want to get off the beaten track while still enjoying the best of Greece. From stunning beaches, with clear, warm waters, to picturesque architecture, Kimolos is unbelievably photogenic!
The best way to arrive in Kimolos is by ferry to the port near Chorio, which is the only main town on the island. It is here that you will stay, eat and explore for the most part, but of course, there are plenty of other beaches and walking trails to discover too.
Most of the beaches can be reached on foot, by meandering along the island pathways, or by boat. You can just ask a local fisherman or tourist taxi to drop you off at a nearby bay. This allows you to soak up the sun, sea, and sand to your heart's content without having to worry about sharing the space with loads of other travellers. Kimolos features sandy, pebbly, and rocky shore beaches, so you can choose the style that suits you best.
Kimolos is located close to the island of Milos and can be reached by ferry in one hour. Ferries between the two islands run four times a week throughout the summer months.
Recommended places to stay:
Pretty Kimolos is so small that there's only a handful of places to stay! One of the best is the gorgeous Windmill Kimolos (£164 per night), or there is the Psathi Blue Gamma, nearer the port (£147 per night).
Syros
Submitted by Terera from broganabroad.com
A true hidden gem within the Cyclades Islands, Syros has long been overshadowed by neighbouring islands like Santorini and Mykonos.
This little-known island is known as the 'Lady of the Cyclades' and is the epitome of Greek island life with plenty of things to do for every kind of traveller.
Syros was once an important trading centre, and you can still appreciate its rich past in the streets of Ermoupoli, the biggest city in the island. The grand neoclassical architecture, the marble streets and the imposing mansions in the Vaporia district are testament of its former glory.
Today it's a joy to walk around, with its grand Italian-style square, narrow streets and its blue-domed church. Head to Asteria Beach to meet the locals and for a dip in the sea. It's not really a beach, but rather a cement deck built on the edge of the rocks where you can sunbathe and enjoy the views of the coastline. Next to it you will find Asteria Beach Bar, voted one of the top 10 beach bars in Greece by The Guardian.
But if you prefer traditional sandy beaches, Syros is not short of them. Galissas is my favourite, with its crystal clear waters and surrounding hills.
Further up the hill from Ermoupoli you will find Ano Syros, a charming Venetian settlement that was built in the 13th century in the manner of a fortress. Getting lost in its narrow and steep alleyways is the best way to explore this part of the island, with its quintessential colourful balconies covered in flowers and the odd 'yaya' sitting on her doorstep watching the world go by.
Recommended places to stay:
Schinoussa
Submitted by Dave from davestravelpages.com
Schinoussa is the perfect Greek island if all you want to do is chill and relax! It's a tiny island close to Naxos in the Cyclades, with about 200 permanent residents.
If you choose Schinoussa for your holidays, you will probably feel that time has frozen. There's not too much to do apart from swimming, walking and eating at one of the many great tavernas. You will truly be able to get away from it all.
Schinoussa is tiny and fairly flat, so it's easy to walk everywhere. The dry, rocky island has little vegetation, nice sandy beaches and plenty of rocky coves. It's ideal for swimming and snorkelling, and its sheltered harbour is very popular with yacht owners around the Mediterranean.
Even though the island is so small, the food is unbelievably good. Many of the cooks in the local tavernas are grandmothers, so you can imagine how many years of experience they have. Try the local fava beans, and the local cheeses.
Getting to Schinoussa is relatively simple. You can either take a direct ferry running three times a week from Piraeus port, or a smaller ferry from Naxos, running on weekdays. The ferry from Piraeus takes about 7 hours to get to Schinoussa.
The best time to go to Schinoussa is between May and September. July and August tend to be a little busier, though Schinoussa could never be described as a crowded island! That said, September is probably the best time to go, in order to avoid the seasonal meltemi winds that blow in the Aegean in August.
Visit this hidden gem and you will not regret it – in fact, you will want to return!
Recommended places to stay:
Schinoussa really is tiny so there's only a handful of places to stay. Two of the best places to stay are Theasis Luxury Suites (around £191 per night) and Grispos Villas (around £102 per night).
Karpathos
Submitted by Kristin and Tom from travelpast50.com
No giant cruise ships stop at Karpathos Island, and therein lies some of its charm. Between Crete and Rhodes in the southeast corner of the Dodecanese lslands, Karpathos is best reached by air from Athens or Rhodes. Ferry service is also available from neighbouring islands, but the long route from Athens is discouraged.
No matter how you arrive, Karpathos is worth the journey. Karpathos attractions include secluded beaches on the leeward side, a fantastic network of well-signed hiking trails, excellent birding, snorkeling and caving, windsurfing. And of course the food and cultural heritage.
While the finger-shaped island, about 30 miles long and six miles across, is sprinkled with scenic mountain villages, it's the island's history that jumps out.
The northern village of Olympos dates back to the 5th Century, when islanders built fortifications as protection from pirates. Later, homes and chapels were built into the rocky mountainside. A nearby valley still provides valuable agricultural plots. Today the best of Greek artisan crafts– custom-made musical instruments, leather shoes, wood carvings, textiles–are available in Olympos.
Karpathos is a great destination for adventures. By land, head out on some of the hiking trails. By boat, find hidden coves for sun and surf, or head to Saria, the fingernail-size island to the north (once attached to the rest of the land). The ancient city ruins of Argos offer spectacular views over the Aegean Sea.
In the largest city, Pigadia, and in villages across the island, restaurants serve up great views, homemade breads and pastas, fresh salads, roasted peppers, and salty seafood. Friendly conversation simply happens, at no extra charge.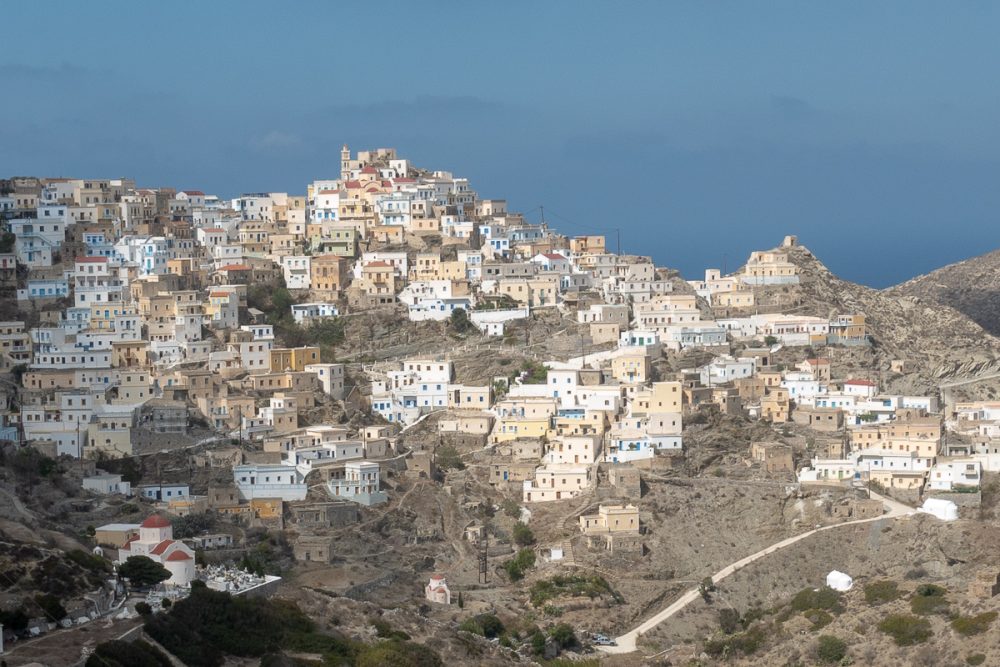 Recommended places to stay:
Karpathos is another really tiny island so there's only a handful of places to stay. Two of the best places to stay are Silene Villas (around £120 per night) and the Althea Boutique Hotel (around £104 per night).
Paxos
Submitted by Daria from thediscoverynut.com
Paxos (or Paxi) is the smallest in the group of Ionian islands. Unlike popular Greek mainstays, it offers a peaceful atmosphere, uncrowded beaches and tiny villages that sit near crystal-clear waters.
While there are not so many things to do in Paxos, people come here mostly to relax, take in the gorgeous nature and enjoy the delicious food.
Located just 14km south of Corfu, Paxos is easy to access by boat. The main port of Gaios (the capital of the island) serves as a transportation hub from where you can take a water taxi to the stunning bay called Vrika.
The east side of the island is sheltered and boasts many picturesque beaches with pebbles rather than sand. Some of the most popular ones are Marmari, Kipos, Lakkos and Monodendri, among others.
The west coast of Paxos is home to the towering cliffs and gorgeous limestone caves that have been created by the Ionian Sea. Many visitors can come here with boar tours that allow them to dive into the turquoise waters and also tour the caves.
Don't miss the famous Tripitos arch of Paxos along which you can walk. The view is truly remarkable!
A popular beach on the west coast of Paxos is Erimitis, a small bay surrounded by tall limestone cliffs. It's an awesome place to take photos and relax after a day of exploring.
Recommended places to stay:
There are some gorgeous hotels on Paxos, mostly at the higher end of the scale. Paxos Fairytales (from £309 per night) is a beautiful spot as is the Paxos Club Resort (£116 per night).
Spetses
Submitted by Megan from meganstarr.com
There are so many Greek islands that are immensely popular amongst tourists. But Spetses is not really one of them.
The quiet and affluent island sits near the Saronic Gulf and is an easy hop from Hydra and some of the other islands. A ferry ride from Athens takes around two hours to the island and is approximately $40 (€34) per person each way.
There are many amazing things to do in Spetses. One of my favourite things to do on the island is to eat. I found the tastiest Greek salad at Clock Eatery there, a wonderful and family-owned business with an international flair.
Several sights on Spetses are worth exploring. From the Bouboulina Museum to the famous Kaiki Beach, I recommend renting a scooter and perusing the island at your own pace. It is a slower way of life there and not nearly as many tourists as you'll find on other Greek islands, so it is enjoyable and relaxing.
If you're seeking a great place to stay on Spetses, try heading for Villa Marina, a fantastic guesthouse with epic ocean views and terraces. It is located not far from the ferry port and the views and hospitality of the guesthouse make it such a worthwhile stay!
For those looking for a chilled out Greek Island getaway, definitely add Spetses to your list!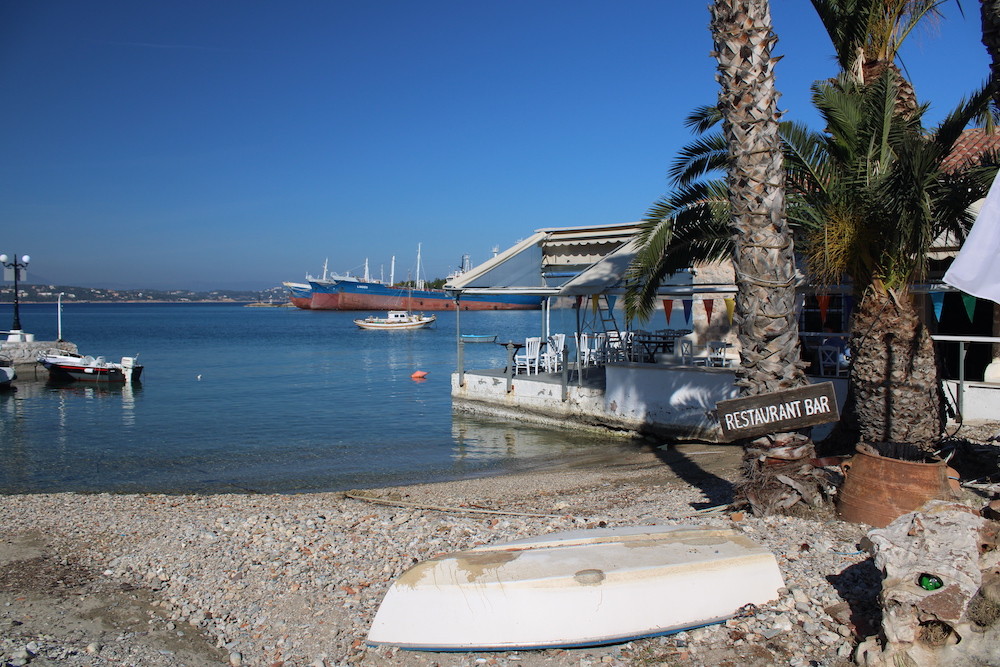 Recommended places to stay:
Ios
Submitted by Tiffany from agirlandherpassport.com
The small Cycladic island of Ios is known for many things, including being a party spot for young people in July and August. However, there are tons of things to do on this island without having to step foot inside a nightclub.
Ios has some of the best beaches in Greece. Ios is small, so reaching most of them is accessible by bus or a rental car. Some are even within walking distance of some of the popular places to stay in Ios. Mylopotas beach is reachable by bus and is one of the most beautiful on Ios. The sand is deep and soft. The water is deep enough to swim, as well.
Along the beach, you can rent a stand-up paddleboard, a boat, or a sea kayak. If you are hungry, there are several restaurants and bars on the beach to eat. Most of these places have beach umbrellas and sunbeds to rent, and you can order food and drinks to be brought to you.
If history is more your thing, then head to the small but well put together archaeological museum in the main village or Chora. Much of what is on exhibition is from the island, including the archaeological site of Skaros. Visiting Skaros is also a must-see as it is an early Bronze Age settlement. It is within walking distance of the Chora and the museum.
Despite the island's small size and limited population, it is also host to many great restaurants offering many types of cuisine. You can have authentic Greek food, Thai food, and Mexican all in one day here. For the classic Greek taverna experience, try Octopus Tree in the port.
Overall, just enjoy this stunning Greek Island and relax.
Recommended places to stay:
Antiparos
Submitted by Paulina from paulinaontheroad.com
If you're looking for a lesser-crowded island in Greece, then Antiparos Island is the best destination to stop by.
One of the most under-radar Greek islands, Antiparos, earlier known as Oliaros, is located next to Paros island. It is a charming dot in the southern Aegean Sea, established at the centre of the Cyclades, Greece. The tiny island is an ideal stop for relaxing trip to Greece, or as an interesting excursion from Paros.
There are various attractions on the island, from swimming (at Camping Beach), water sports (at Psaraliki Beach), & scuba diving (at Agios Georgios Beach). Make sure to head to Sunset Beach or Agios Sostis for an enchanting sunset too!
Apart from the beach fun, you can visit the town Hora, or explore the Antiparos Sea Cave on Ayios Ioannis Hill. There's also the Historical and Folklore Museum as well as beautiful churches. You can also visit a small nearby uninhabited island, Despotiko, by a little boat trip.
However, as there is no airport or any direct ferries available, the best way to reach Antiparos is by ferry from Pounda port in Paros. You can also reach Antiparos from Pounta, Parkia, or other villages via Paros through buses/ferry.
The best seasons to visit Antiparos are during April-June and September-October. There are many accommodation options on the island which makes it tricky when looking for the best hotels in Paros. Some great hotel suggestions include Parilio, Summer Senses Luxury Resort, Archipelagos Resort & Villa and Paros Agnanti Hotel.
Recommended places to stay:
Andros
Submitted by Devashree from thecrazyindianfoodie.com
Sandy beaches, rocky mountains, winding roads, green valleys, chaotic coastlines, rugged terrain, beautiful streams and a host of fun things to do make the Cycladic island of Andros a MUST visit when in Greece.
Andros is the northernmost island in the South Aegean sea and at 40km long, it's also the second largest Cycladic island.It's just a two hour ferry ride away from Athens with regular ferries throughout the day.
Andros packs plenty of things to do whether you're an adventure lover or a laid back traveller. Some of the top things to do in Andros are visiting some of the fascinating sites, such as the incredible Foros caves formed millions of years ago, the Sariza springs or the encapsulating beauty of the Holy Monastery of Zoodochos Pigi or Agia.
Make sure to also wander through the vibrant Chora (heart of the island) lined with many cafes & shops, as well as sample some delicious local cuisine in Batsi by the blue sea. Stop by the modern art museum or go swimming in the crystal clear waters. There are more than 80 magnificent beaches to visit, or why not drive through the rugged mountains offering mesmerising views of the sea.
The best time to visit Andros is between May-September and there are plenty of affordable and luxury stay options at gorgeous beach resorts, B&Bs and small home stays.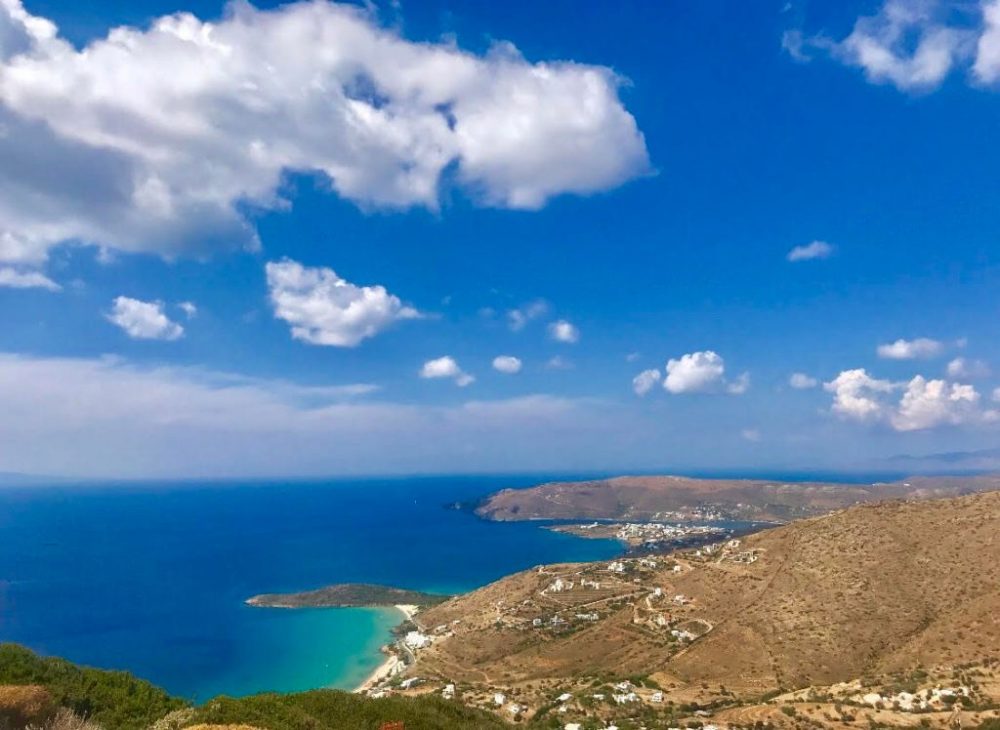 Recommended places to stay:
Kefalonia
Submitted by Elena from carryonchronicles.com
Kefalonia (Cephalonia), located in Western Greece, is the largest Ionian island.
It's home to breathtaking landscapes, unique beaches, and picturesque fishing villages just waiting to be discovered. The magic of this island has remained relatively under-the-radar due to Greece's more touristy alternatives, making it one of the country's best-kept secrets. As such, prepare to encounter more goats than people as you weave through the mountainside switchbacks!
To reach Kefalonia, you can either fly into Kefalonia International Airport – the island's only airport – or travel by boat from a neighbouring island or the mainland. Renting a car is your best bet for exploring all that this remote island gem has to offer. Here you'll encounter windy roads and spectacular mountain views, making for an exhilarating driving experience.
While you're here, be sure to pay a visit to the island's colourful fishing villages, including Fiskardo and Assos. Each village offers forgiving hikes with impressive views, charming tavernas, and easy access to quiet beaches. In particular, don't miss the hike up to Assos Castle, where you'll explore ancient ruins and salivate over spectacular hilltop views.
Regardless of how you spend your time, a visit to Kefalonia will leave you wanting to explore more of Greece's under-appreciated greatness!
Recommended places to stay:
Hydra
Submitted by Jennifer from worldonawhim.com
It's surprising that the island of Hydra is lesser known considering it is just two hours away from Athens by ferry. That might start to change as more tourists discover Hydra, the island that local Greeks already love.
Hydra is part of the group of the Saronic islands and it's especially unique because Hydra is pedestrian only. Yes, cars are banned from the island which creates an incredibly quaint and charming atmosphere.
Many travellers visit Hydra as a day trip from Athens. You can only get to Hydra by ferry but the boats do leave from the Piraeus port in Athens many times daily.
There are a few museums to visit like the Historical Archive Museum or the Koundouriotis Mansion. Stop by whichever one seems more of interest to you before dining at one of the traditional tavernas for some seafood and local delicacies.
After lunch, you can determine just how ambitious your day trip to Hydra is going to be. Don't forget a swimsuit on your Greece packing list because you might want to take a water taxi to explore Hydra's beaches and go swimming or sunbathing.
This decision, of course, depends on what time your ferry departs back to Athens. If you don't have much time, stroll the streets of the main town and enjoy a cappuccino freddo at one of the port cafes.
Recommended places to stay:
Skyros
Submitted by Alex from swedishnomad.com
Skyros is one of the lesser known islands in Greece, especially when it comes to international visitors. There are several flights weekly from Athens and Thessaloniki during the summer months, so it's easy to reach, although one has to make a stopover in either city. There is also the possibility to take the ferry, but the flight is often cheaper and more convenient.
As for the island, it's particularly known for its gastronomy of Greek food. If you want to eat authentic dishes at very reasonable prices, this is the place to go. Basically, it's a foodies' heaven. Furthermore, it's a wild island with only a few organised beaches. The rugged landscape offers incredible views and a large number of small bays where you can go on a day trip.
One of the best ways to experience Skyros is to join a sailing boat that will take you around the island. With stops at some of the most beautiful caves, bays, and islets. Dioni hotel is one of the best hotels on the island, which mixes traditional Skyrian interior with modern comfort. There are also several hiking trails that one can follow up to the mountains, where you will see lots of wild goats roaming the mountainous areas.
Recommended places to stay:
Lefkada
Submitted by Oksana and Max from drinkteatravel.com
Lefkada is a picturesque paradise with its white washed cliffs, sandy beaches, and turquoise waters. Yet, it remains one of the lesser known islands in the Greek archipelago.
It is located off the western edge of the Greek mainland and you don't need a ferry to get there. There is a bridge connecting Lefkada to the mainland and the drive from Athens to Lefkada is about four and a half hours.
Once in Lefkada, make sure to explore the island's plethora of stunning beaches. Milos was one of our favourites. It is located 14 kilometers from Lefkada town, and has a long stretch of white sand which is great for sunbathing and swimming. There are no restaurants or cafes on the beach but you can rent a sunbed and umbrella.
For a heart pumping activity head to Vassiliki. It has been dubbed one of the top windsurfing destinations in Europe. However, it also features a nice beach for swimming and a lovely town to explore.
If you would like to go sailing or exploring hidden coves and bays, there are some tours available. The most common islands to visit from Lefkada are Skorpios Island, Sparti Island, and Meganisi Islands. However, to get even more off the beaten path head to Kalamos Island on a tour. It is one of the least known inhabited Greek islands, located past the islands of Meganisi and Skorpios, to the east of Lefkada.
Recommended places to stay:
Lesser-known Greek Islands to Visit
So there you have our suggestions for the best quiet Greek islands to visit. Greece is a truly magical destination, offering holidays like no other. From the traditional whitewashed villages, diverse and spectacular beaches to the sublime food, trips to Greece are always incredible.
I do hope this guide has been helpful and inspires you to explore some of these lesser-known Greek islands! Please, as always, do let me know if you have any questions!
Disclaimer: This guide has no involvement from the local tourism board or a hotel.
Enjoyed my guide to the best quieter islands in Greece to visit? Pin it!