The Dutch city of Rotterdam was such a pleasant surprise. I barely knew anything about the destination beforehand, but I left feeling really quite impressed with Rotterdam. It's the city of cool and is well worth a weekend away, or even just a day trip from Amsterdam.
From futuristic architecture, to the old historical district of Delfshaven, Rotterdam has an awful lot to offer. Some even describe the city as an 'open-air museum of modern and contemporary design' and a brief walk along its charismatic streets, it's easy to see why.
The city was largely destroyed following World War 2, but has since been largely re-built. The city has certainly emerged to be an interesting and multi-cultural destination. In fact, its urban developments are particularly cool and contemporary, with some very quirky design. Rotterdam offers excellent shopping, endless unusual cafes and bars, pumping nightlife and an eclectic arts scene, I already can't wait for a return trip!
Read on for my Rotterdam Travel guide featuring all the main districts in the city. I've also included attraction recommendations and a few foodie suggestions too. If you'd like a more detailed overview of some of the best cafes in Rotterdam, check my guide here.
Districts of Rotterdam
Rotterdam is a compact city, with some very cool and unexpected districts. The best way to get around Rotterdam is on foot, or of course, bicycle.
Another option is to join a tour, and I've picked out a couple below that would be great:
Central Rotterdam
The famous yellow cube houses
Known in Dutch as Kubuswoningen, these are Rotterdam's famous Cube Houses, built by Piet Blom in 1984. These are genuine homes and truly like nothing else in the world – a real 20th century icon. Apparently, the architect wanted to create a mini village within the city and you really get a sense of that. Each of the cube houses is tipped facing downwards. So three sides face the ground and the other three face skywards. You can even go inside a 'Show Cube' to see what it's like to live here!
Markthal
A giant indoor food market, shaped in a giant inverted U-shaped design and lined with glass walled apartments on the upper levels, Markthal is a completely unique destination. Remember, arrive earlyish and it isn't open too late into the evening!
Rotterdam Centraal
The city's central station is one of the most iconic architectural sites in Rotterdam. Not only is it striking and a wonder to walk around, but its it runs largely off the energy generated from the solar panels on the roof. Some of the original features from the previous station, such as the clock above the front facade and the letters spelling 'Centraal Station'.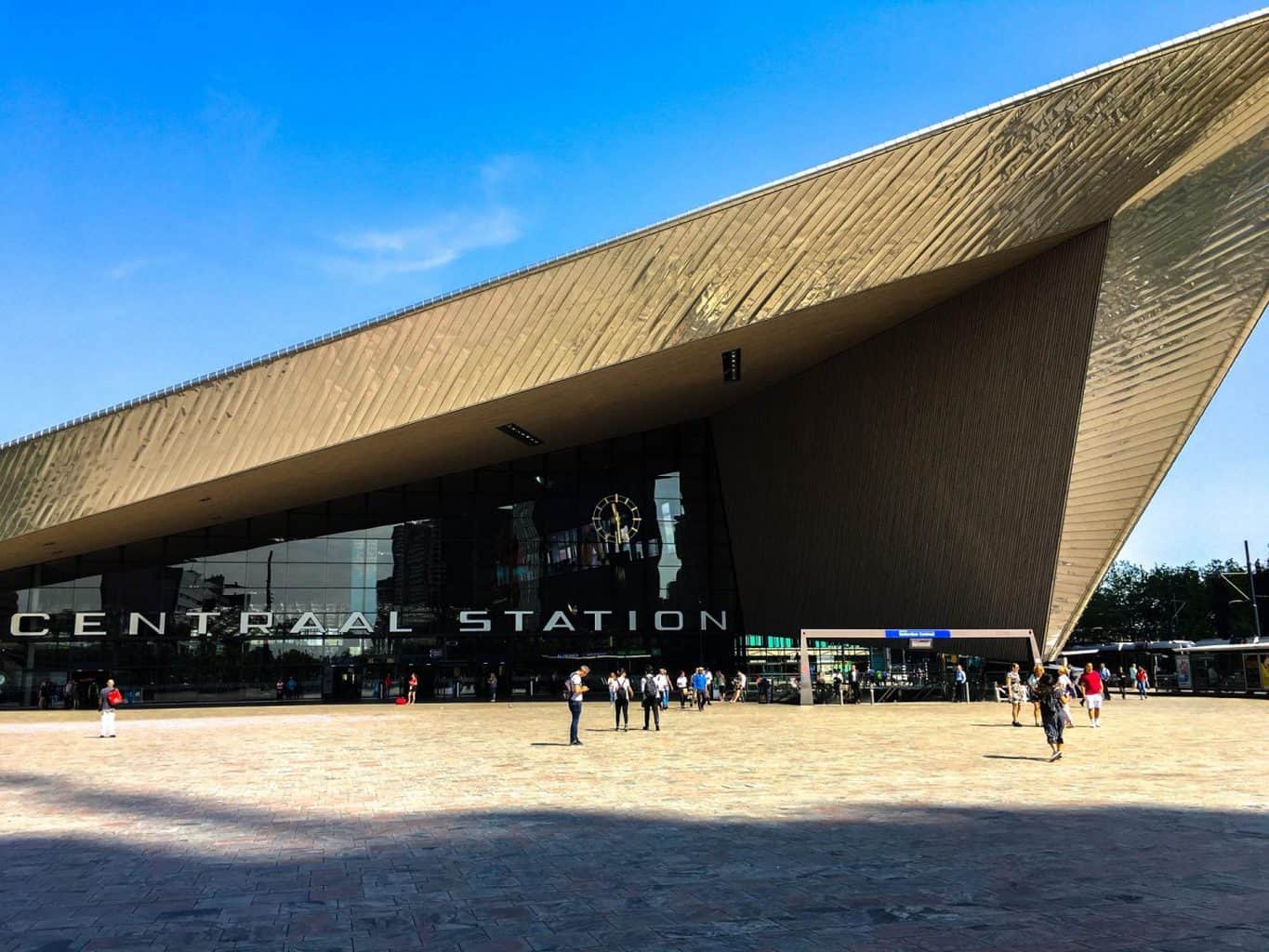 Witte de Withkwartier
This lively district is home to the heart of Rotterdam's art and culture. At the centre of it all is the famous Witte de Withstraat, an eclectic street showcasing the best of Rotterdam's multiculturalism and artistic nature. The street is lined with buzzing galleries, independent fashion boutiques, hip restaurants and bars. And of course, the most creative and colourful street art around.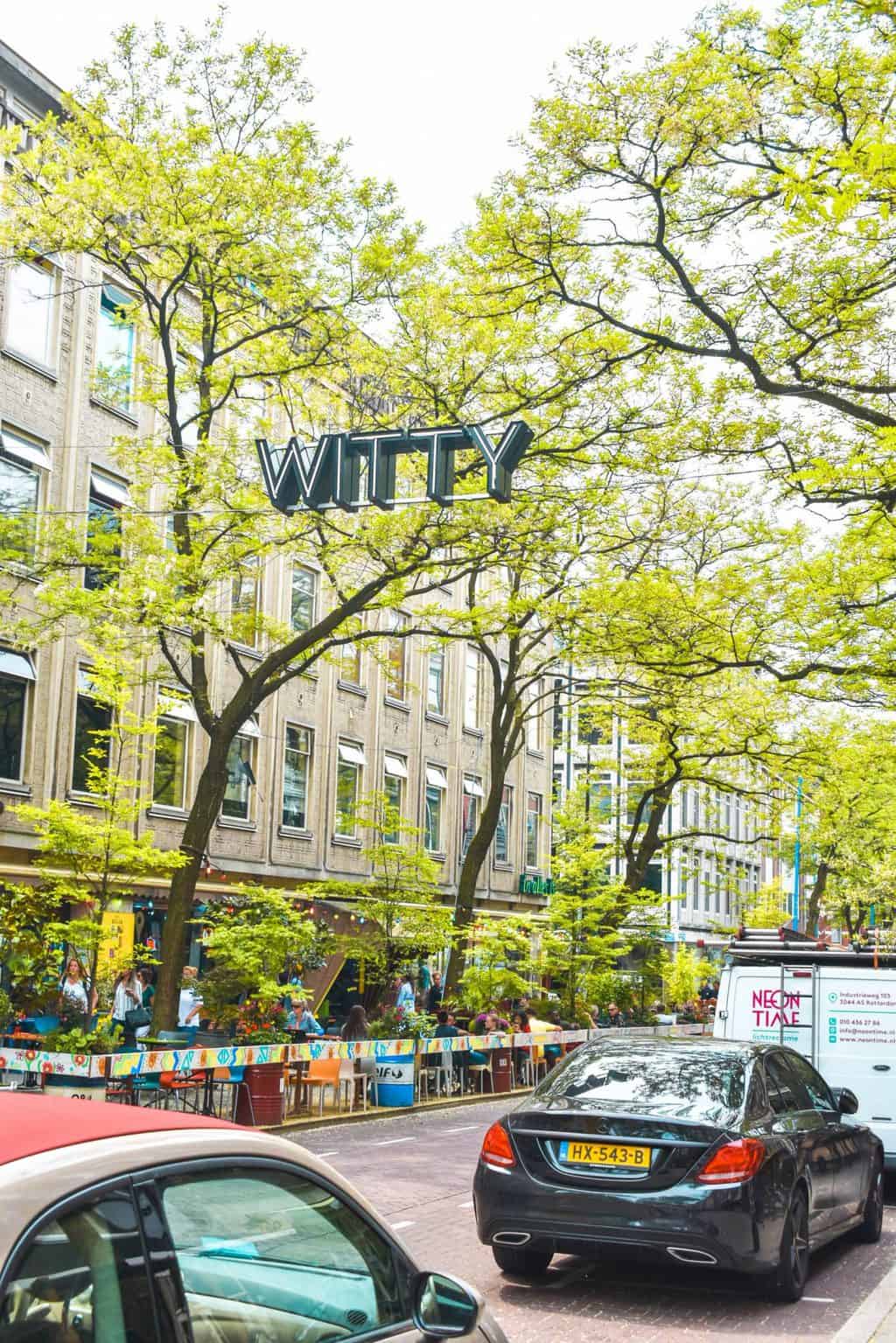 Restaurants to try here include:
Delfshaven
Located in the west of the city, around a 30 minute walk away, or a short tram ride, lies the picturesque district of Delfshaven. One of the few parts of Rotterdam city that survived the World War 2 bombings, this beautiful area is worth a visit to see how the city used to look. The area came to be in the 16th century as a rich harbour town, and has continued to be historically important for Rotterdam, as it was even the departure point for the Pilgrim Fathers who sailed to America. The historical canal houses are similar to Amsterdam, but the vibe is very different. Now home to a couple of riverside cafes and pubs, and a handful of antique stores, it's a delightful place for a wander.
Museum Park
Rotterdam has plenty of open green spaces – always a big tick for me in any city. Museum Park is a vast and pleasant location and a delightful place to wile away a summer's day. The park is also home to Rotterdam's iconic Euromast observation tower which was constructed in 1960. Visitors can go 185m above the city to the observation deck and restaurant. Visit the Museum Boijmans Van Beuningen, one of the Netherland's oldest museums, featuring art from the likes of Van Gogh, Dali and Rembrandt!
Buy your tickets to the Euromast observation deck here.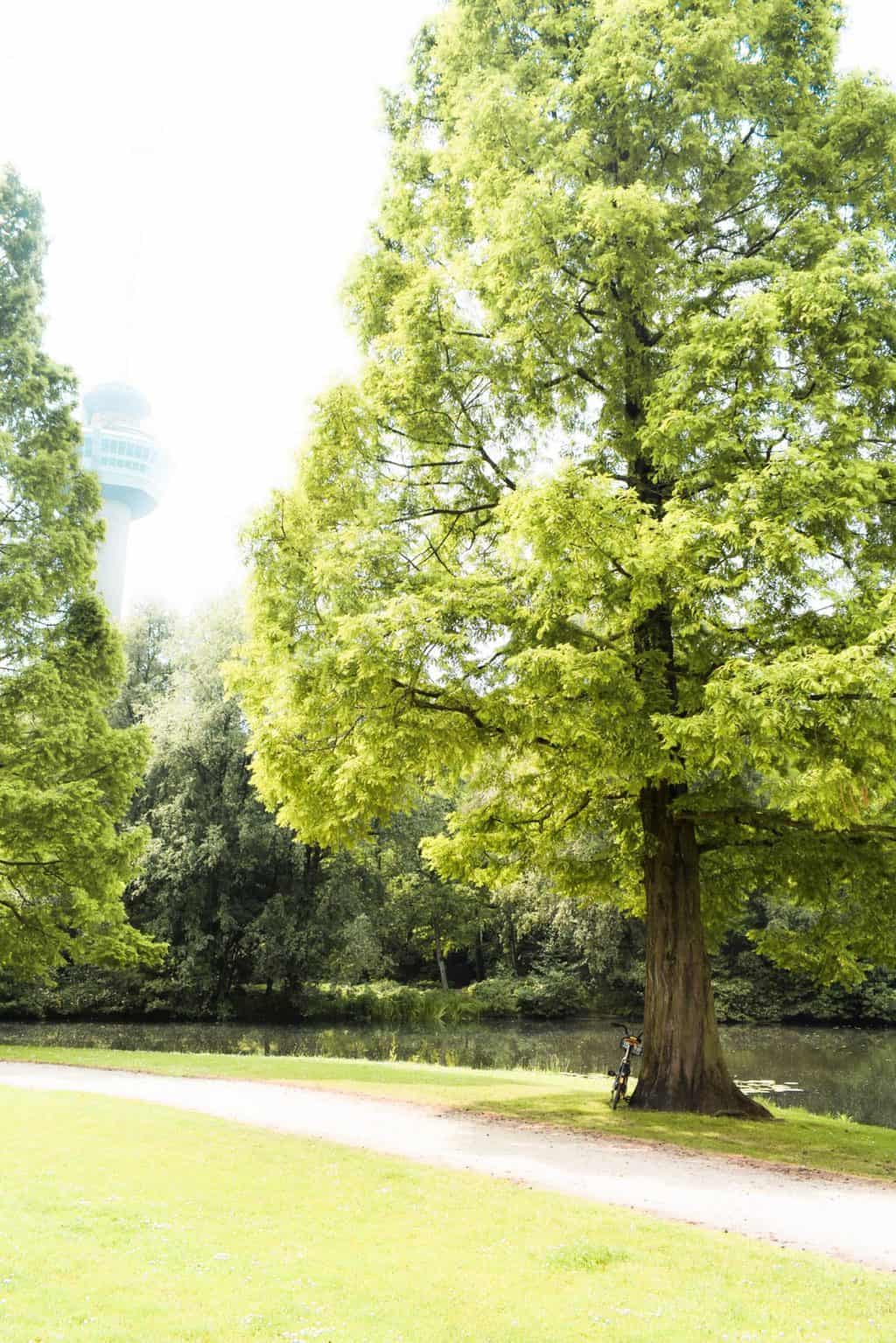 Erasmusbrug and Katendrecht
Rotterdam's iconic bridge, the Erasmusbrug spans the Nieuwe Maas River, linking the two sides of Rotterdam. I enjoyed glorious cycles across this bridge plenty of times and would recommend crossing by bike or by foot to explore the Katendrecht area. Built in 1996, it finally connected the South to the Centre of Rotterdam and opened up development to an area once known as the red light district.
Another famous Rotterdam landmark is the Hotel New York which must be one of the most beautiful historic buildings in the city. It used to be the headquarters of the Holland-America Cruise Line but is now an elegant hotel and restaurant, offering fantastic views across the water.
The view from this nhow hotel's sky-high bar is rather stunning. Located 30m above ground level and also home to a restaurant and rooftop terrace, the nhow bar is the perfect place for a craft cocktail overlooking the Erasmusburg bridge and city.
Located on Katendrecht, the ss Rotterdam is the former flagship cruise liner of the Holland-America Line. The ship was built in 1959, but stopped sailing several decades later. Since 2008, has been docked in Rotterdam at the tip of the Katendrecht peninsula. Now, it has been re-purposed as as permanent hotel and events venue. You can wander on-board for free to explore but you'll see and learn more if you join a guided tour. Also, make sure to head to the terrace for a different perspective of Rotterdam!
Where to Stay in Rotterdam
I enjoyed the most fantastic stay at the Citizen M Hotel, located near the Markthal and the Cube Houses.
I'm a huge fan of Citizen M Hotels, and love everything they stand for. The rooms are unbelievably well-thought out and practical, which is a total dream for an organisation geek like me!
Check rates for the excellent Citizen M Hotel here.
But of course, a Rotterdam Travel Guide wouldn't be complete without some other suggestions for places to stay in the city. I've covered several price ranges with my accommodation choices below:
Luxury:
Mid-range:
Budget:
Rotterdam Travel Guide
If you're heading to Rotterdam in The Netherlands soon, I do hope this post on the city's districts is helpful. I've also written a detailed foodie guide to Rotterdam here too. I really found Rotterdam to be a wonderful and surprising destination, with a lot to offer. I couldn't recommend a long weekend here enough. Although, as you'll most likely still arrive in Amsterdam, then why not check out this guide to one day in Amsterdam here!
Feel free to drop me a line if you would like any advice or further recommendations for planning your trip to Rotterdam. If you've enjoyed this Rotterdam Travel Guide, then please do share using the below links!
Wanna see more? Check my Instagram here, my Facebook here or my Twitter here!
Disclaimer: This visit to Rotterdam was entirely paid for by myself. There was no involvement from the tourism board or a hotel. This is an independent guide.
Enjoyed my Rotterdam Travel Guide? Pin it!