Budapest had been high on my European city break checklist for a long time. I'd been curious to visit the city to marvel at its incredible Parliament Building, as well as see the Danube River for the first time. In fact, my trip to spend two days in Budapest marked a few other 'firsts' – it was also my first visit to Eastern Europe.
So many people told me that Budapest was their favourite European city they had been to, and I just knew I had to go. So I booked myself a weekend in Budapest, unsure of how much I could do in just two days.
But I was pleasantly surprised! Two days in Budapest is plenty of time to explore this beautiful city and immerse yourself in the Hungarian culture and lifestyle. So here's my guide on how to spend a weekend in Budapest.
Two Days in Budapest: Essential Things to Know
A Quick Overview
Budapest in Hungary is a city with a rich history, which has been somewhat turbulent. At one point, Budapest was part of the Ottoman Empire, and during World War 2, the Germans took control of the city, leading to severe suffering for the Jewish people of Budapest. Following this, Budapest came under the control of the then Soviet Union. Today, Budapest is an independent nation, although part of the European Union.
Budapest consists of two cities, Buda and Pest, located either side of the Danube River. The two cities formally came together in 1873, but the iconic Chain Bridge that straddles that Danube opened before that, in 1849.
Buda is where you're likely to spend less time, as it is more residential, however it is home to the impressive Fisherman's Bastion and Buda Castle.
Pest is the east side of the river and is home to the majority of Budapest's key tourist attractions. These include the impressive Parliament building, many of the famous bath houses, such as Szechenyi Baths and the famous St. Stephen's Basilica.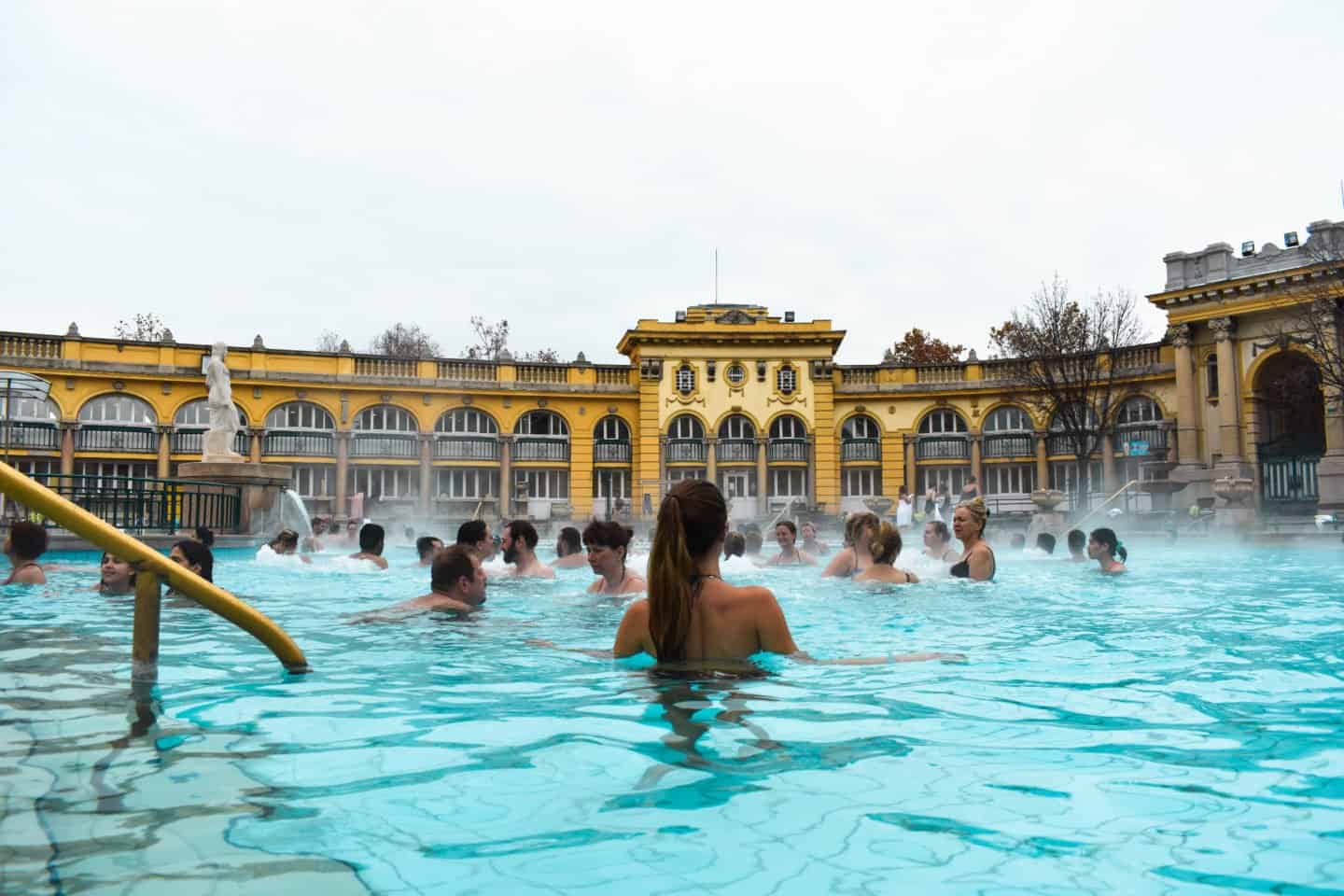 When to Go to Budapest
Budapest is a wonderful city to visit year round, however the experiences to be had can vary greatly. In the summer, Budapest is at its most crowded and the temperatures soar. It can be stifling hot at 35 Celsius.
The winter months can be extremely cold and snow is likely, but this can make for a magical time to visit if the Christmas Markets are on (end of November through to late December).
Spring and Autumn are probably the best times to visit for moderate temperatures.
Getting Around
Fortunately, the city is brilliant to explore on foot, even with just two days in Budapest. However, it does also have an excellent and inexpensive public transport system, primarily made up of trams, the metro and buses.
Alternatively, a sightseeing tour is one of the best ways to understand Budapest and can save your feet a little too. There are plenty of local tour companies operating in Budapest, but you can arrange a brilliant day tour in advance through GetYourGuide:
The Budapest Card
One thing to consider for a two day visit is whether to buy the Budapest Card. The 48-hour card costs 9,990 forint (approx. £28) and provides unlimited travel on the city's public transport. It also offers free admission to several museums, discounts to places such as the Szechenyi Baths and two complimentary walking tours. So I would highly recommend this for a weekend city break in Budapest.
Where to Stay
There are plenty of accommodation options in Budapest to suit all budgets. As you may know, Budapest is considered a great value destination in Europe, and fortunately, this goes for accommodation too.
I stayed at the Radisson Blu Beke Hotel. Its location was excellent for all of the main attractions in Budapest, and the beds were especially comfortable. Otherwise, it was a great practical hotel, and perfect for just two days in Budapest. Check rates at the Radisson Blu Beke Hotel here.
For future visits, I'd stay somewhere a little more funky in Budapest or classical.
Here are some great suggestions:
Alternatively, if you're in Budapest for a party weekend, why not stay at The Hive. It has more than 300 pod style beds (very much like a beehive) AND its own ruin bar called Ellátóház.
For the ultimate luxury hotel in Budapest, that is also an interesting attraction in itself, stay at the Four Seasons Hotel Gresham Palace. Not only is the hotel excellent, but the building itself is especially grand and built in Art Nouveau style.
Check rates for the Four Seasons in Budapest here.
Where to Eat in Budapest
A must-visit attraction in itself, Budapest's New York Cafe is world renowned for its incredible interiors and a truly decadent experience. It's attached to the New York Palace Hotel, and I would highly recommend making an afternoon reservation for a late lunch or an afternoon coffee and cake here. They say it's the most beautiful restaurant in the world, and it's hard to disagree!
For breakfast, we loved the little Luft Cafe, tucked away at Krúdy Gyula utca 4 (see location on Google Maps here). For about 1900 Hungarian forint (£5.50), I enjoyed a delicious 'Luft guac' and a pretty good coffee. This was brown bread toast, filled with homemade guacamole, baby tomatoes, bacon strips, sunny side up egg and cheddar cheese.
Another great spot for coffee is Ebrestzo, near to Parliament and the Danube river (see its exact Google Maps location here) . Having heard great things about it, the cafe was minimalist but cosy in its interiors, and the coffee was good!
For dinner in Budapest, you could try one of the many Middle Eastern cafes around the city. We enjoyed hummusbar, right by St Stephen's Basilica. For about £10, (3500 forint), we tucked into a delicious meal of shakshuka, falafel, chicken, multiple salads, and of course, hummus! It was pretty delicious and so cheap!
There's also actually a good number of vegan restaurants in Budapest too, more than 30 spots in fact!
For one of the best brunches in Budapest, check out Liberté (Google Maps location here). Top marks for atmosphere and interiors, for sure.
Where to Drink in Budapest
Visiting the world famous ruin bars in Budapest is a must-do activity, even with just two days in Budapest. The most famous of the ruin bars in Budapest is Szimpla Kert. A crazy, messy, haphazard collection of old abandoned homes, full of character and old discarded items. Oh and lots of alcohol. This is an excellent guide to 6 of the best ruin pub crawls in Budapest, another great way to sample the nightlife in Budapest!
Lastly, and sadly, we ran out of time to eat at Le Petit Bistrot. We stumbled across it and adored its exterior – so for next time, we're heading there!
Best Things to Do in a Weekend in Budapest
We found the rather gloomy and dark winter weather quite a factor during our two days in Budapest. However, we did our best to avoid the drizzle and still had a fantastic time. Had the weather been clearer, we know our viewpoints would have been more incredible. This guide to the most Instagrammable spots in Budapest definitely makes me want to return!
One great way to explore the city no matter the weather is on a city sightseeing cruise. Book your tickets here!
See the Parliament Building
No matter the weather, this a complete must-visit.
Surely one of the most architecturally impressive governmental buildings in the world, the Hungarian Parliament is incredible. Not only is it the world's third largest parliament building, but its a stunning example of Neo-Gothic architecture.
Because of the regular meetings held inside, it can be quite tricky to co-ordinate a visit to explore the rooms. However, I would definitely recommend visiting the outside both in the daytime and in the evening to see it all lit up.
Book tickets for a 45 min guided tour of the parliament here!
Stop by the 'Shoes on the Danube'
Located just near the Parliament building is this well-known Jewish memorial. 60 pairs of shoes created from steel are placed alongside the riverside to represent the Jews killed at this location by the Nazis. You can read more about this here on the Budapest tourism board website.
Cross the Chain Bridge and Visit Buda
One of the must see attractions on this side of the river is the Fisherman's Bastion, offering some of the best views to be found in Budapest. Built by fisherman in the late 1800s, it added to the already existing defensive walls from the Middle Ages. To get to the Fisherman's Bastion, either walk up the very steep path, or ride the funicular which departs just near the Chain Bridge.
You can also visit Buda Castle too. Interestingly, this castle was built in the 18th century on the site of a previous castle dating back to the 13th century. Inside, you'll find the National Gallery and the Budapest History Museum. This whole area is a designated UNESCO World Heritage Site and definitely worth a visit.
Enjoy a Dinner Cruise
I see a dinner cruise as a two-in-one activity. Not only do you get served a fantastic meal onboard a river cruise boat, but you get a sightseeing cruise too from a different perspective. In Budapest, this means sailing down the Danube River past several UNESCO World Heritage Sites.
Book your dinner cruise in advance with Get Your Guide:
Wander the city centre streets
Get a real feel for Budapest with a stroll along some of its most iconic city centre streets. Wander Andrássy Avenue and visit the Vörösmarty Square. If you're there in the winter months, enjoy the fantastic Christmas Market in Budapest. Open from November 8 2019 – January 1 2020.
One of the most enjoyable things to do whilst exploring Budapest (and most cities), is to simply explore by foot. Both sides of the river (Buda and Pest), as well as meandering through the streets are a great way to get a feel for the city.
Visit St. Stephen's Basilica
Not only is it the largest Roman Catholic church in Hungary, but it is pretty exquisite too. Inside, you'll find the mummified right-hand of St Stephen, who was the first King of Hungary. Where else can you see a hand that is 100 years old? Again, the church offers fantastic views of Budapest from its upper levels.
Go Shopping
Budapest's main shopping area is along Váci Utca (Váci Street). This pedestrianised street offers some of the city's best shopping.
Sample local foods
Get to know typical local Hungarian cuisine with a visit to the Great Market Hall, home to dozens of small food stands serving up many local dishes. Try Palinka (a type of fruit brandy they made in Hungary) and langos, a fried flat bread offered up with different toppings. Check out this guide here to some of the must-try local market foods in Budapest.
Visit the City Park
This beautiful park, located near Heroes Square and near to the Széchenyi Thermal Baths, will be different depending on the month you visit. We enjoyed an autumnal scene, but as it was approaching Christmas, there was also an ice rink in place.
In the summer months, you'll find plenty of locals here enjoying picnics or summer sports.
Heroes Square
This iconic square is dedicated to several significant people in Hungary's history, including 14 important leaders noted by each of the pillars that make the colonnades.
It just happened by chance to be the opening weekend of the city's Christmas Markets so the city was full of tourists and locals exploring the stalls and tasting all of the Hungarian goodies and treats. A lot smaller than my first Christmas market experience in Nuremberg, Germany (read about this here), but a lovely warming market for sure!
Enjoy the Széchenyi Thermal Baths
Located near Vajdahunyad Castle are the Szechenyi Baths. The thermal baths in Budapest are a top activity to do in the city, and for good reason. Aside from the incredible architecture at Szechenyi, , there are 18 pools to choose from and all are heated by naturally hot spring waters. Some say the water has medicinal properties, and this is a reason the locals still come so often
You need around 2-3 hours for a visit although you could even go at night and enjoy one of the bath's notorious Saturday night sparties!
Book your skip-the-line tickets for the Szechenyi Baths here!
Two Days in Budapest
I hope this has been helpful if you're planning on spending two days in Budapest. A weekend is a good amount of time to see all the main attractions in the city.
I've there are any topics in this that I haven't addressed, do feel free to ask any further questions in the comments section below. If you've enjoyed this post, feel free to share using the below links!
Make sure to check out some of my other European city guides too, such as Rotterdam, Nuremberg and Edinburgh.
Wanna see more? Check my Instagram here, my Facebook here or my Twitter here!
Disclaimer: This visit to Budapest was paid for by myself, and there was no involvement from the local tourism board or a hotel.
Enjoyed my guide to spending two days in Budapest? Pin it!