Benicassim Festival has been possibly some of the best weeks of my life. Benicassim is a festival like no other and I knew nothing before I headed over. So I thought with upcoming 2019 edition drawing closer, it would be a great idea to put together a useful guide.
This year, Beniccasim festival is from 18-21 July 2019 and like every other year, features some epic headliners.
If you're heading over this year, or are considering it.. Read on for my ultimate Benicassim Festival Guide!
Getting to Benicassim
Benicassim is a lovely beach town on the Spanish coast, reasonably near Valencia. The best option is to fly into Valencia and take a train or shuttle bus to the festival but these flights are often STEEP!
Realistically, Spain is actually very well connected and you can fly into any airport and find some form of transport onwards. On one of my visits, I took a bus with Avanza at the end of the festival to Madrid Airport and it was pretty easy 🙂
Alternatively, and if you fancy an adventure, join the few who drive from the UK all the way down to Benicassim. We did it the first year (because the flights had got way too expensive) – and it was the most incredible journey. After driving out the port in Calais, we meandered through France overnight and enjoyed a lovely 2 night stay in a villa in the South of France before continuing on down to Valencia.
It was of course a huge luxury to not have to carry anything and we filled the car up with our supplies (and kept our valuables there) HOWEVER, the journey homewards after the festival was unbelievably exhausting – more about this later..
Where to Stay in Benicassim
So Benicassim has improved hugely since I first went (in 2010). Now there's tarpaulin stretched over the entire campsite keeping the incredibly hot sun off the roof of your tent. The first time I went, this did not exist and I'm not sure I ever really slept.
If you're camping and bringing your own stuff – arrive early! Both years, we have camped out the night before (literally on the beach where 100s of others are doing the same) and have got up early to trudge up to the campsites to be some of the first to be allowed in. Totally worth it to get a spot under a canopy.. The Benicassim campsites open days before the festival begins, and many head there for a beach holiday before the party starts.
If you're glamping – lucky you! Perhaps if I went back now (18 y/o vs. 26 y/o), I would definitely glamp. There's no 2 ways about it, camping at Benicassim is hard work! The sun is hot, the showers limited and cold.. yet the atmosphere is electric. Swings and roundabouts..
On the other hand, some really do upgrade for an apartment and I can see the appeal. Air con and fresh clean water would be the most amazing thing… but for me, the atmosphere in the campsites at festivals is sometimes the best part of a trip!
Benicassim Festival Guide – Ultimate Packing List
So I'm writing this section from the perspective of someone who is camping on this trip. Accept that showers are few and far between and that it's going to be hot 35c every single day.
Sleeping:
A tent – essential in terms of keeping your belongings in, but don't expect to sleep in it much (Heat +too much fun = lots of snoozing in hammocks or on lilos)
So if you have one, bring a hammock and some rope
And a lilo, definitely essential for daytime floating and nighttime snoozing
A sheet as opposed to a sleeping bag – it's gonna be HOT
A pillow – there will be no greater pillow than laying your head on a pillow. Honestly. See below. The exhaustion is real.
Torch. Always handy.
Things like mosquito spray really isn't necessary (luckily)
Eye mask (you will only ever be trying to sleep during the daytime..Promise)
Hygiene/Health:
A towel (or two) – compact travel towels are a great idea!
Face wipes (lots and lots and lots) – the showers can be limited / run out of water / be too grim / may not have time
Tissues (lots and lots and lots)
Bar of Soap
Lots of painkillers and berocca (everyone gets sick)
Hand sanitiser!
Deodorant (And all the other normal wash bag bits)
Mini first aid kit – you will get blisters, you will cut yourself..
Lots of SPF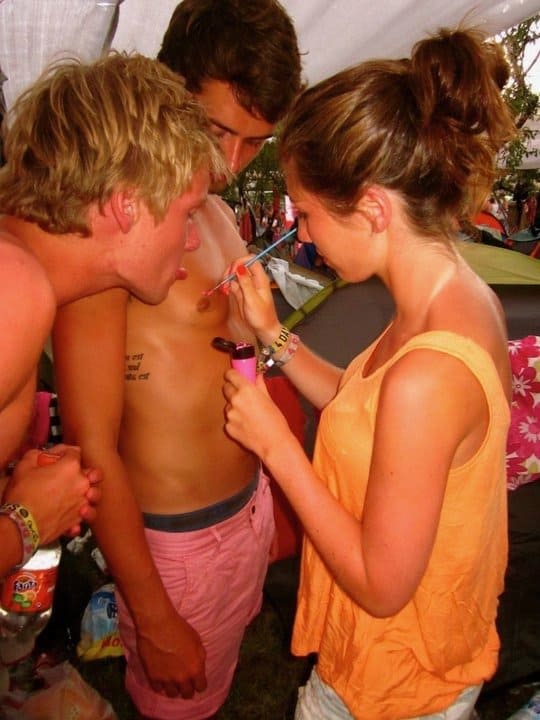 Useful bits:
Portable charger(s) – charging up camera and phone is a luxury….prepare well
Disposable camera (it's just more fun)
Bring solar charged speakers if you can!
Packs of cards for all the drinking games
Facepaint
Many pairs of bikinis/swim shorts – it's all you'll wear!
Lots of pairs of cheap flip flops or sneakers – they'll break BUT the ground is rocky so shoes are essential!
Lots of snacks or non-meltable goodies. 
Benicassim Festival Guide – The Actual Festival
Most crucially, it's essential to know that the music at Benicassim doesn't begin each day until gone 10/11pm. It finishes at 5/6am – you WILL be exhausted by the end. Once the sun comes up, it's hard to sleep.
The beach is packed all day long with snoozing festival-goers and every single patch of shade in the sun WILL be taken. Imagine people sleeping outside the supermarket, the petrol stations, under any palm tree in town. It's like nothing you've seen before.
Go to the supermarket in town with plenty of time (it runs out of stock every day VERY quickly) – especially alcohol. The prices are ridiculously cheap. My top tip here would be to buy one of the frozen tubs of lemon granizado and poor a bottle of vodka in it. Then you have loads of mixer but also a nice icy cold drink to work with. Warm wine just doesn't compare and I always despaired if they'd run out out of granizado by the time I arrived.
In terms of food otherwise, a great suggestion is to buy fresh baguettes and enjoy them with ham or cheese. Also, eating out for paella is delicious but the prices are a little elevated.
Personal Security / Safety at Benicassim
The most important thing I can share is in regards to personal safety and security. Benicassim is a town with little going on in the rest of the year – it is predominantly reliant on repeat Spanish visitors and it's nothing like the other big towns on the coast. For this reason, Spanish gangs flock to the area while the festival is on to take advantage of foolish travellers. For instance, I had ALL my belongings stolen from the beach one night (the night before we headed to campsite). I asked my friends to look after my bags while I went to the loo – I returned and the gang members crept along and stolen everything under the noses of my friends…
I was terribly upset, the police didn't care – in fact no-one cared. I was that 'stupid and foolish' traveller. Now, to cut a long story short – many of my belongings, passport included washed up in the sea the next day. They just wanted my cash and then they essentially chucked the rest. I was lucky but many people lose everything at Benicassim. There are lockers – USE THEM.
Don't light cigarettes or any kind of flame – it is unbelievably hazardous in such a dry and barren location.
Drinks LOTS AND LOTS of water. It's scorching hot everyday, and that, mixed with lots of alcohol and barely any sleep makes it one of the most tiring weeks of my life.
MOST importantly though, is to have fun! After all, you're in a beautiful part of Spain with awesome fellow festival goers – everyone wants to be friends! We made friends at every moment in Benicassim, some of whom I am still very good friends with 6 and 7 years later.
To finish my Benicassim Festival Guide..
I hope you've found my Benicassim Festival Guide useful, and that maybe I've inspired you to visit this epic festival on your travels! If you've already been or would like any further tips or information on Benicassim, please don't hesitate to contact me! I'll get back to you as soon as I can 🙂
If you've enjoyed my Benicassim Festival Guide, feel free to share using the below links!
If you're heading anywhere after to relax, check my guide on Marbella here – an ideal town to relax and recuperate!
Wanna see more? Check my Instagram here, my Facebook here or my Twitter here!