Benicassim Festival will be one of the best weeks of your life. Because I've been twice, and it most definitely counts as two of mine. As a veteran of Benicassim, I've pulled together this detailed guide to Benicassim. It's a festival like no other and I knew nothing before I headed over for the first-time.
So for Benicassim 2023, I thought it would be a great idea to put together a useful guide on everything you need to know about the festival. This includes what to take to Benicassim Festival, as well as all the other essential logistical information.
Take a read of my first-timer's guide to Benicassim Festival below, and let me know if you've got any burning questions I haven't managed to answer!
Benicassim Festival Guide 2023
When is it and who is headlining?
The dates for 2023 edition of Benicassim are set for the 13-16 July 2023. The lineup includes acts such as Franz Ferdinand, Bastille, Crystal Fighters, Kaiser Chiefs, Clean Bandit and The Wombats.
Although the dates of the music festival (four nights of music from Friday to Monday) are those listed on their site, the party starts on the previous Monday. If you can arrive this early, I would highly recommend doing so as this is when the campsites open, and if you want a good spot (thinking in terms of shade!), definitely come as early as possible. The whole week is an amazing build up to the weekend of music, with parties happening every night. Plus, the beaches are fun and lively – it's a great week!
Benicassim Festival 2023: Essential information
How much are the tickets to Benicassim?
In 2023, a 4 day ticket on the official site costs just EUR 62.50. This is amazing value!
This does not include access to the main campsite. But this isn't expensive. If you're happy roughing it up a little, you can attend an unbelievable 4-day festival and have a holiday in the sun for seriously good value!
How to get to Benicassim Festival
Benicassim isn't just the name of the festival, but also a lovely beach town on the Spanish coast. However, there are no flights to Benicassim!
Benicassim is near Valencia (90km) and this airport is the best option to fly into. Book flights into Valencia well-ahead of time as airlines really increase their prices because they know everyone is going to Benicassim mid-July.
Other airport options include Barcelona, Madrid or Alicante. The organisers of Benicassim are making it a lot easier to get to the festival site than in previous years, by offering official bus transfers from all of these airports. You can buy transfers here. The best thing about using Benicassim's official transfers is that they can drop you into the festival site. So no walking with heavy belongings and camping equipment in the heat!
If these transfers get fully booked, you can also take a train – which you can book here. It's really straight-forward to book and to take the train, however it's worth noting that the train station is quite a walk from the Benicassim campsites.
I have also used local Spanish bus company Avanza to take the bus from Benicassim to Madrid Airport (approximately a 4 hour drive). No problems with this company at all.
Driving to Benicassim on a road trip
This is a great alternative and one I would highly recommend if you have the extra few days to spare.
A complete adventure, we drove from our hometown to Dover, and then took the ferry to Calais. From here, we drove the length of France, passing by Paris and Lyon, before skirting around Barcelona. We then headed on down to Benicassim.
We did this the first year because we left it too late to book flights and they were shockingly expensive. It definitely turned into a real road trip adventure when we stopped in the South of France for a few nights on the way.
That being said, it is a long way and you need at least two drivers to complete the journey.
The luxury of driving is that it means you can bring everything you want for camping and for the festival in the boot of your car. You can also use the car for driving around the town or to go to the beaches surrounding Benicassim. It's also a safe place to store things like passports and money too – it was actually lovely having a car the first year!
Of course, driving isn't a realistic option for many people but if you can, you wouldn't regret it!
Where to Stay in Benicassim during the festival
The majority of festival goers tend to stay in the main campsite for the atmosphere. This year, this is not included in the price of the ticket.
However, due to the extreme heat and a preference to stay in more comfort, a growing number of revellers are choosing to stay in apartments in the town.
Here's my guide on where to stay during Benicassim festival:
Camping at Benicassim
The camping situation at Benicassim Festival has improved hugely since I first went (in 2010).
These days, the festival organisers have learnt that shade is quite important. They now stretch tarpaulin over the entire campsite, keeping the incredibly hot sun off the roof of your tent.
The first time I went, this did not exist and I'm not sure I ever really slept.
The campsite included in your ticket is Campfest. It's wild and a lot of fun. There's a bar in here, as well as a basic supermarket and foodie outlets. The showers are cold but, in the Benicassim heat, that's not a bad thing.
If you're camping in Campfest – arrive early! Many festival go-ers even camp on the beach the night before, then dashing up to the campsite to get a good spot in the shade and ideally away from the toilets.
Unfortunately, the main issue with the camping (as with any festival) is keeping your personal possessions and luggage safely stored away.
Villacamp is the newer style of VIP camping, covering bell tents or individual/double capsules. This didn't exist a few years ago but if I went now (aged 27 instead of 18), I'd probably opt for here and pay for the additional ticket.
Apartments in Benicassim
The alternative to camping is to upgrade to an apartment stay. The advantages are obvious – clean, cool, comfortable.
But, opting for this really means missing out on the amazing atmosphere in the festival campsites.
A few excellent apartments to stay in Benicassim:
Some highly recommended luxury hotels to stay in Benicassim:
Recommended budgets hotels in Benicassim:
Ultimate Packing List for Benicassim
The next really important part of my guide – what to pack for Benicassim!
If you're staying in an apartment or glamping, all you really need is clothing and toiletries. Normal holiday stuff.
If you're camping however… take note of all the below:
Camping essentials for Benicassim Festival
A tent – necessary for keeping your belongings in but don't actually expect to sleep in it much. The heat and the late nights mean you'll find snoozing on a lilo in some shade by the beach far preferable. If you're flying to Beniccasim, find a compact tent that you can fit in a large backpack like this one.
A hammock – you can get one online like this one. Tie it up between two trees and you may get some cooler kip.
A lilo – as mentioned, definitely essential for daytime floating and nighttime snoozing. Check these ones out.
A thin sheet sleeping bag, as opposed to a typical sleeping bag – it's hot! Something like this one.
A camping pillow – there will be no greater feeling than laying your head on a pillow like this travel one. Honestly – the exhaustion is real.
Hygiene and health essentials for Benicassim Festival
A towel (or two) – compact travel towels are a great idea!
Face wipes or baby wipes (lots and lots and lots) – the showers can be limited / run out of water / be too grim / you may not have time. These bio-degradable ones would be great!
Tissues (lots and lots and lots). These pocket tissues are ideal
A bar of soap
Lots of painkillers and berocca (everyone gets sick)
Hand sanitiser! These ones are great for travel
Travel deodorant (And all the other normal wash bag bits)
Mini travel first aid kit – you will get blisters and you probably will cut yourself on something. This one here is excellent
Lots of high SPF factor sun tan lotion like this one here.
Other useful items for Benicassim Festival
Portable charger(s) – the queues for the charging points can be very long. A solar power bank is a great idea, like one of these
Old-school disposable cameras (it's just more fun)
Bring solar charged speakers are a great idea and a game changer for pre-drinks. Check out these ones here!
Packs of cards for all the drinking games like these
Face paint and brushes for the evenings
Many pairs of bikinis/swim shorts – it's all you'll wear!
Lots of pairs of cheap flip flops or sneakers – they'll break BUT the ground is rocky so shoes are essential!
Lots of snacks or non-meltable treats like these Nakd snack bars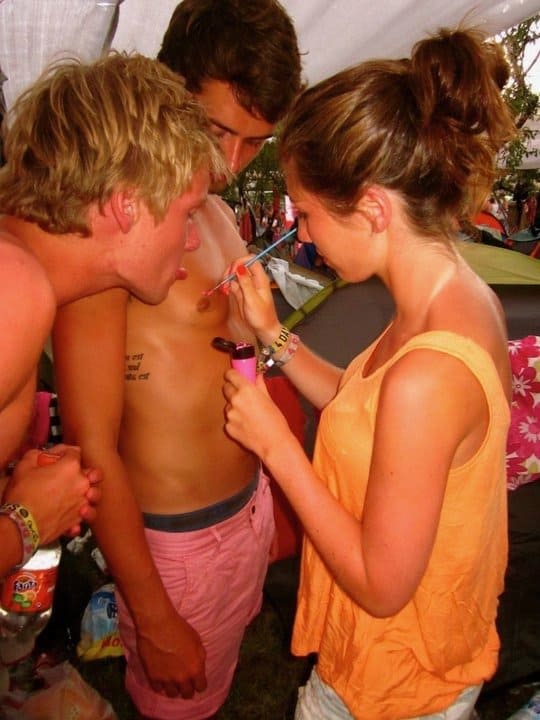 Benicassim Festival Guide – The Actual Festival
The most important thing to know is that the music at Benicassim Festival starts each night at 10 or 11pm. It finishes at about 5 or 6am. This is why you do not get much sleep each night. You WILL be exhausted by the end of the festival as once the sun comes up, it's very hard to sleep.
The beach is packed all day long with snoozing festival-goers and every single patch of shade in the sun is taken. Imagine people sleeping outside the supermarket, the petrol stations, under any palm tree in town. It's like nothing you've seen before.
Go to the Carrefour supermarket in town with plenty of time (it runs out of stock every day very quickly) – especially alcohol.
The prices for alcohol and food are ridiculously cheap. My top tip here would be to buy one of the frozen tubs of lemon granizado and pour a bottle of vodka in it. Then you have loads of mixer but also a nice icy cold drink to work with. Warm wine just doesn't compare and I always despaired if they'd run out out of granizado by the time I arrived.
In terms of food, a great suggestion is to buy fresh baguettes and enjoy them with ham or cheese. Also, eating out for paella is delicious but the prices are a little elevated.
Personal Security and Safety at Benicassim Festival
Crime
The most important thing I can share in regards to personal safety and security:
Benicassim is a town with little going on in the rest of the year – it is reliant on repeat Spanish visitors and it's nothing like the other big towns on the coast.
For this reason, Spanish gangs flock to the town while the festival is on to take advantage of foolish travellers and festival go-ers.
The gang members prowl the beach day and night in search for unattended belongings or distracted beach-goers. You don't notice them, they blend in, but unfortunately crime is not uncommon at all.
There are lockers at the campsites for your personal belongings and for your luggage – USE THEM.
Fire
Don't light cigarettes or any kind of flame – it is unbelievably hazardous in such a dry and barren location.
Stay hydrated
Drinks LOTS AND LOTS of water. It's scorching hot everyday, and that, mixed with lots of alcohol and barely any sleep made it one of the most tiring weeks of my life.
But most importantly..
MOST importantly though, is to have fun! After all, you're in a beautiful part of Spain with awesome fellow festival goers – everyone wants to be friends! We made friends at every moment in Benicassim, some of whom I am still very good friends with 9 years later.
To finish this Benicassim Festival Guide
Benicassim Festival could be one of the best weeks of your life. It takes a little bit more preparation than the average festival, but it is so worth it. It's the perfect festival and beach holiday in one!
I hope you've found my Benicassim Festival Guide useful, and that maybe I've inspired you to visit this epic festival on your travels!
If you would like any further tips or information on Benicassim, please don't hesitate to contact me. I'll get back to you as soon as I can.
If you've enjoyed my Benicassim Festival Guide, feel free to share using the below links!
If you're heading anywhere after to relax, check my guide to Marbella here – an ideal town to relax and recuperate! Or if you're looking for a different kind of festival experience entirely, what about Obonjan island in Croatia?
Wanna see more? Check my Instagram here, my Facebook here or my Twitter here!
Disclaimer: My experiences at Benicassim have been entirely paid for by myself and there has been no involvement from the festival, the tourism board or a hotel. This is an independent guide.
Enjoyed my Benicassim Festival guide? Pin it!