A safari is one of the best adventures to be had. And Southern Africa is known as one of the best regions in the world for wildlife experiences. South Africa and Botswana are the most well-known destinations, especially the world-famous Kruger National Park. But Zambia, Zimbabwe and Namibia also offer exceptional safari experiences, a little further off the beaten track. So if you're looking for the best places to go on safari in Southern Africa, I've got you covered!
South Africa
Kruger National Park
Kruger is undeniably one of the famous places in the world to go on safari. It is often the first place that comes to mind for a lot of travellers to Africa. Located in the northwest of South Africa, the park occupies a vast area of land and even extends into Mozambique. Kruger is around 20,000 sq km, and is home to more than 200,000 mammals! As well as hundreds of variety of birds, reptiles and interesting insects.
Kruger is served by daily, regular flights into three airports: Nelspruit, Hoedspruit and Skukuza. These are mainly from Johannesburg and also a few from Cape Town. There is also an excellent direct flight on SA Airline from Nelspruit to Livingstone in Zambia, which is very useful to visit Victoria Falls too. You can visit as a day trip from Johannesburg too, but it's a very long day, with a very early start!
In my option, Kruger can offer the ultimate game drive experience, whether with a local guide or self-driving. Some South Africans even spend weeks here at a time, staying in the park and exploring all its wonders. Accommodation in Kruger varies from the epitome of luxury, such as Lion Sands Tinga Lodge, to park-run rest camps. Personally, I've stayed at the mid-range Needles Lodge in the southern part of the park and found it to be excellent.
I've written a complete guide to visiting Kruger in South Africa here. This covers everything you need to know about going on safari here.
Addo Elephant Park
This beautiful national park is particularly famed for its huge elephant population. But you can actually see all of the Big 5 here. Addo is located around 45 minutes from Port Elizabeth in the Eastern Cape. It offers an accessible and affordable safari experience.
Addo is South Africa's third largest national park. However, due to its close proximity to Port Elizabeth, it is far easier to visit as a day trip than Kruger.
That being said, there are some amazing lodges in Addo. Such as the Gorah Elephant Camp or the Addo Rest Camp if you want to stay for several nights. Addo also makes a magical final stop on a Garden Route itinerary from Cape Town to Port Elizabeth.
Arrange your day trip to Addo from Port Elizabeth here
Pumba Private Reserve
Unlike Addo and Kruger, which are both government run national parks, Pumba is a private game reserve. It is located in the Eastern Cape, around 1h20 from Port Elizabeth and 20 minutes from Grahamstown. The airport to fly into would be in Port Elizabeth.
There are many private game reserves in South Africa, all of which are located on privately owned land. They have fenced boundaries, meaning the distinct difference is that the animals have been brought into the reserve. They are typically far less in number. But as there is less ground to cover, you can have a higher chance of seeing animals.
At Pumba, you may see less packs or herds of animals, but instead you may have a potentially closer encounter with an animal. So it really comes down to a personal preference.
Another key difference is that at private game reserves, all drives are guided. And in terms of accommodation, they typically only have high end lodges.
One of the best things about Pumba is that it's home to the second-known population of white lions in the whole of Southern Africa. We were fortunate enough to see them, and even saw a male white lion chase a territorial male golden lion. We raced alongside them. It was a whole different level of magic!
At Pumba, you can visit as a day trip from Port Elizabeth or on an Eastern Coast road trip. You can stay overnight in its 5* luxury lodge.
Book your stay at Pumba Private Game Reserve
Aquila Private Game Reserve
Aquila is another private game reserve located near Cape Town in the Western Cape. This is the closest place to Cape Town to go on a game drive, as it just a 2 hour drive from the city centre.
The game reserve may not be huge at just 10,000 hectares of land, but it still offers an excellent opportunity to see the "big five". There's also an animal rescue and conservation centre.
You can either visit Aquila as a day trip, or stay overnight. There is a huge range of lodge options at Aquila, covering all kinds of budgets. Check the options here.
Zambia
South Luangwa National Park
This is Zambia's most well known and diverse park, both in terms of scenery and wildlife. Located in the north west of the country, near the border to Malawi, South Luangwa receives low tourist numbers. The park is well off the beaten track, particularly due the difficulty in getting there. It's either a long drive from Lusaka, or a small charter plane. And partly due to the Zambezi National Park, the other main park in Zambia, being located so close to the popular tourist attraction of Victoria Falls.
One of the best ways to see the wildlife in South Luangwa is to join a walking safari. This is always with an armed guide, but offers a unique up-close experience walking through the bush.
There's a great range of accommodation in South Luangwa. Chikunto Safari Lodge offers an opulent stay, and the Msandile River Lodge is a more affordable option.
Zimbabwe
Hwangwe National Park
Due to decades of political struggle, together with a decline in commercial flights to Zimbabwe, Hwange is one of the least visited parks in this guide. And that's despite being only a few hours drive from the Zimbabwean side of Victoria Falls. However, it offers exceptional game viewing and was once considered the best place in Southern Africa to go on safari.
Fortunately, Hwange has been well managed, and despite extreme water scarcity, the park has managed to conserve countless watering holes throughout. Lions are frequently spotted in Hwange, as well as rare African wild dogs.
To get to Hwange, you can fly into Victoria Falls Airport and arrange a 1 hour transfer to the park.
Most people tend to stay in Hwange for a couple of nights, and there's a great range of accommodation to suit all budgets. The Hwange Safari Lodge is a great affordable option, and Elephants Eye offers an awesome luxury stay.
You can also visit as a day trip, such as this one from Victoria Falls here.
Botswana
Chobe National Park
Chobe National Park in the north of Botswana offers some of the best game viewing in Africa. There are regular daily sightings of the Big Five, as well as other animals such as wild dogs, hippos and the rare puku antelope. Chobe is also famous for being home to the biggest elephant population in the world – as many as 120,000!
To get to Chobe, you can fly into Kasane airport which is a short drive from the park. You can also visit Chobe as a day trip from Victoria Falls (either the Zambia or Zimbabwe side), which ties in two epic adventures.
Book your trip to Chobe from Victoria Falls here.
Chobe National Park offers two types of game viewing: the land-based drive and a boat trip on the Chobe River. The river is considered one of the best water-based animal spotting destinations in the world. A day trip includes both, or you could spend longer doing each by staying for a couple of nights.
In Chobe, there are countless lodges, both luxury and affordable, as well as unique stays on houseboats moored on the Chobe River. Check rates for lodges and houseboats in Chobe here.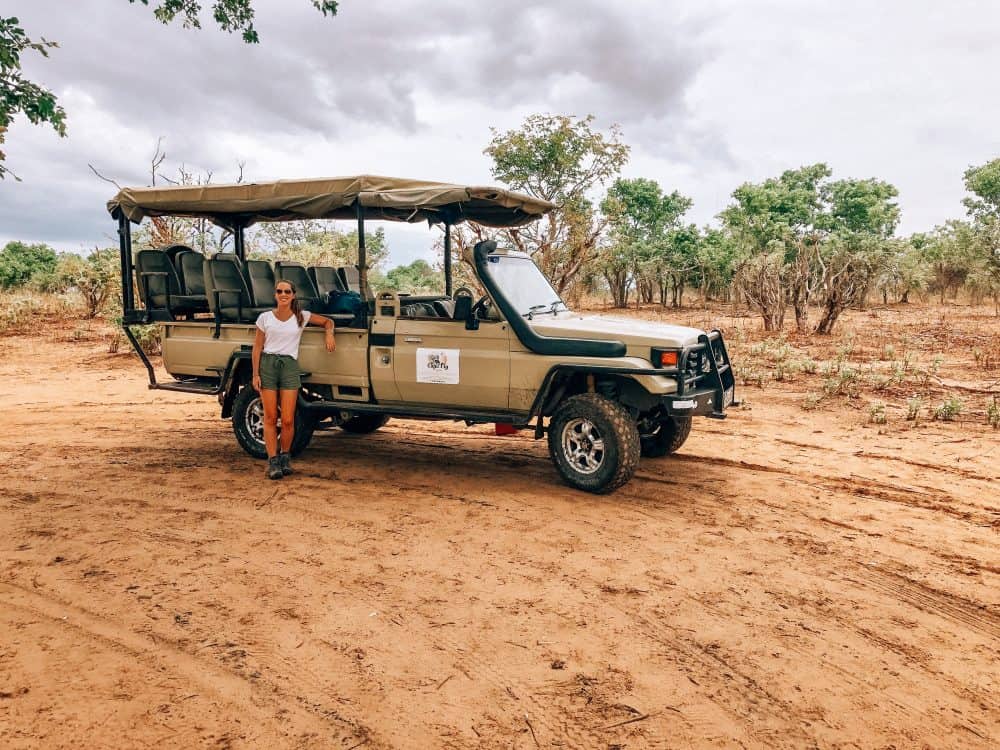 The Okavango Delta
The Okavango Delta, located in northwestern Botswana is a vast inland delta. It covers between 6,000 and 15,000 sq km of the Kalahari Desert, depending on the season and subsequent water levels. It is essentially a huge oasis, and is Africa's largest inland delta.
Unlike Chobe, the Okavango Delta is harder to get to for most tourists. The main nearest airport is Maun, with connections to Cape Town and Johannesburg. From Maun to the Okavango Delta, the drive is 4-5 hours. An alternative is to take a mokoro boat, seating two people along the river towards Okavango. The mokoro boat is a traditional wooden dug out canoe, pushed along with a local and a pole. You can also visit as a day trip from Muan, by mokoro boat.
The wildlife is highly diverse in the Okavango Delta, with more than 160 species of mammals and over 500 species of birds. There are also more than 85 recorded species of fish and over 1,500 species of plants. The park is split into a number of concessions, all offering different habitats and experiences. Make sure to read up on these before you plan your trip!
A safari in Okavango Delta is generally quite expensive. The lodges are also typically on the luxury end such as the incredible Nokanyana lodge. A more affordable option is the Thamalakane River Lodge.
Namibia
Etosha National Park
Etosha National Park offers some excellent game viewing in a very different landscape to the other parks on this list. It is located in the north of Namibia on a vast barren salt pan covering 22,000 sq km. One of the key advantages of viewing game in this arid environment is that the lack of rain forces the animals to spend a lot of time at watering holes. This can make them easier to spot. Etosha is famous for having the world's greatest concentration of the rare black rhino.
Etosha is a little bit off the beaten track, but with excellent roads and a low entry fee, it can be a fantastic place to go on safari in Southern Africa. There are also far fewer lodges here, meaning that the park never gets crowded. You can compare rates for different lodges in Etosha National Park here.
Arrange your safari in Etosha National Park here.
The Best Safaris in Southern Africa
So there's my overview on the best safari experiences to be had in Southern Africa. From Zimbabwe and Zambia to Botswana and Namibia, each of these parks offer something distinctly different. South Africa offers the most accessible safari parks, but often larger crowds.
Wherever you go, you're bound to have an incredible travel experience.
Feel free to drop me a line if you would like any further advice on where to go on safari in Southern Africa. And if you've enjoyed this guide, then please do share using the below links!
Wanna see more? Check my Instagram here, my Facebook here or my Twitter here!
Disclaimer: These visits to the above national parks were mostly independent, although my visit to Chobe National Park was discounted by Get Your Guide. Otherwise, there was no other involvement from the tourism boards or a hotel.
Enjoyed my guide to the best places to go on safari in Southern Africa? Pin it!