The underrated city of Bologna in the northern Italian region of Emilia Romagna is rising in popularity. But until recently, it always sat in the shadow of its tourist-magnet neighbours, including Florence, Rome, Venice and Milan.
Not only is Bologna the true home of some of the best food in Italy, such as tagliatelle al Ragù, lasagne and mortadella ham, but it is also an excellent base for exploring the region. This is mostly thanks to the efficient train network. Some of the best day trips from Bologna include Modena, home of Ferrari and Lamborghini and the Traditional Balsamic Vinegar. Or Reggio Emilia, famed for Parmigiano Reggiano (aka Parmesan cheese) and Ravenna, known for its UNESCO World Heritage Sites.
There's an endless list of charming destinations in Emilia Romagna to visit as day trips, but here are my favourites.
So let's jump in!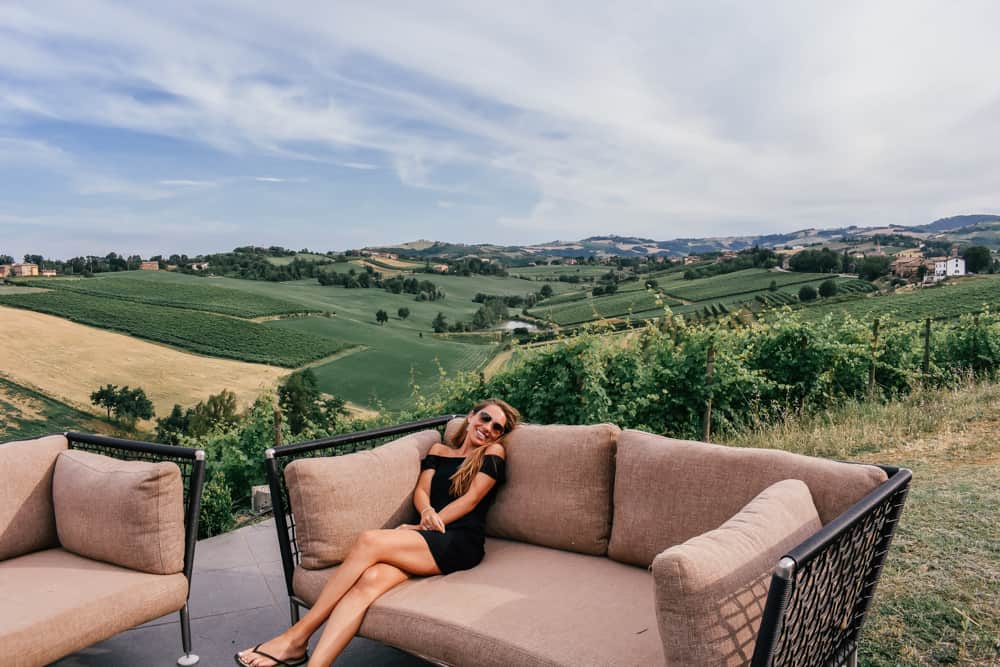 Day trips from Bologna: Travelling by train
All of these day trips are based on using the highly efficient train network in northern Italy. Bologna Centrale station is conveniently located at the heart of the north-south route and the east-west route.
Trains are cheap, regular and comfortable on Italy's high-speed train network.
You can either book trains on the day, or join a tour with a local guide who will handle all the logistics and transportation.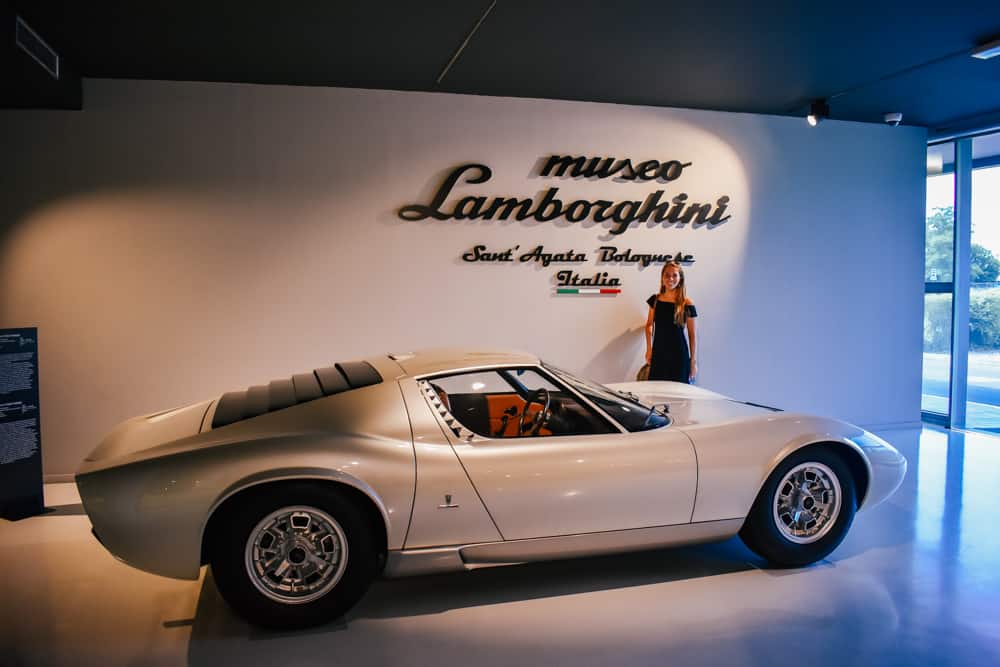 How to buy train tickets
At Bologna Centrale station, head to the main ticket hall. You can either queue and pay at a counter, using the ticketed line system. Or you can use one of the machines, all of which have the option to select English instructions. The machines are very straight forward to use, and accept both card payments and cash.
You must validate your train tickets before boarding a train. They are easy to buy at the small machines on the platform.
Generally, the day trips from Bologna in this guide, will be fine to book on the day. If it is the height of summer, then perhaps book one day before for ease.
Trains leave to all these destinations multiple times an hour in summer months. However, to guarantee a seat on to the destinations further afield, i would definitely book in advance.
When you get your ticket, make sure to double check which platform the train departs from. Confusingly, there are east and west platforms with the same number. The best way is to check the boards for the exact train number, instead of the destination.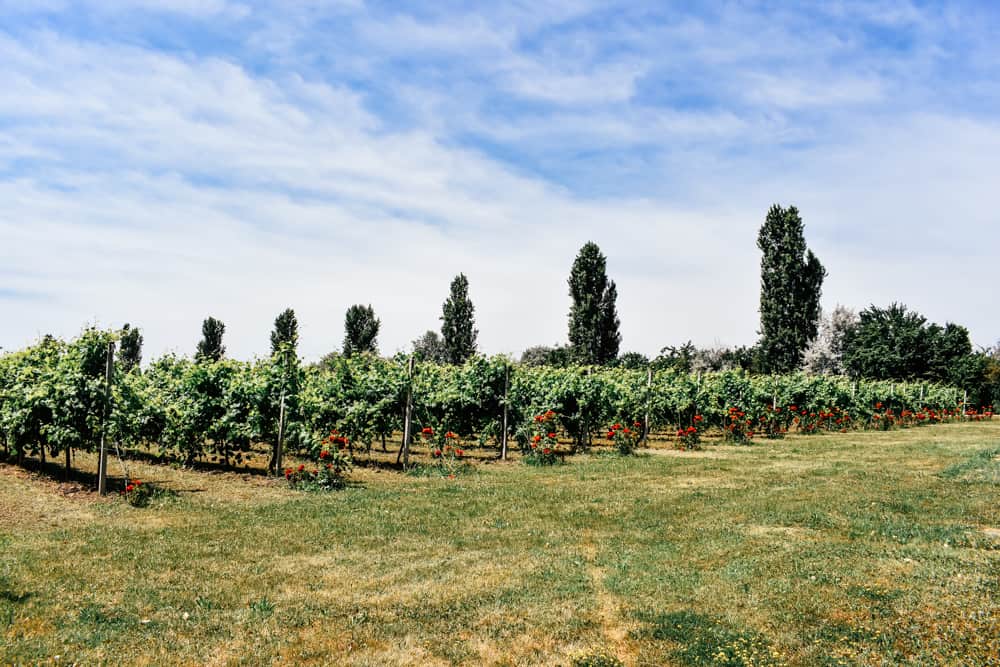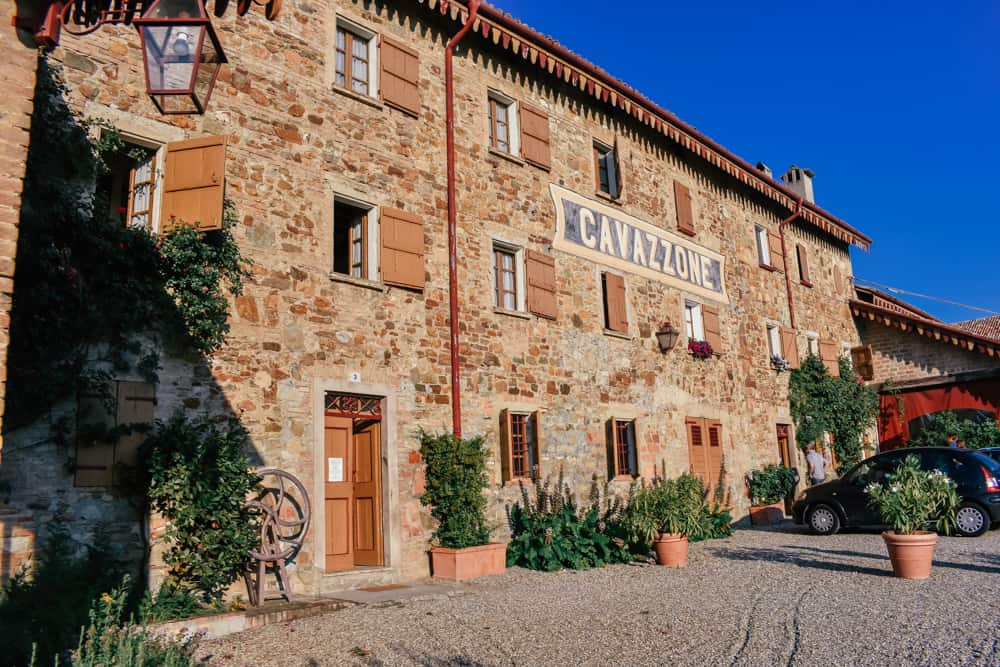 Where to stay in Bologna?
Bologna's train station is around a 25-30 minute walk from Piazza Maggiore at the heart of the city. If you're planning day trips from Bologna, then I recommend staying near the train station. There are a couple of great hotels nearby, including the NH Bologna de la Gare and the Mercure.
If you'd prefer to stay in the city centre, then I highly recommend staying at the Hotel Cavour. A beautiful hotel in a very central location. Other fantastic options include Art Hotel Commercianti, I Portici and Corona d'Oro.
Best day trips from Bologna – within Emilia Romagna
Parma
Famous for: Prosciutto di Parma ham and Parmigiano-Reggiono cheese
Train travel: 50 minutes / 99 km / approx. €6 each way
Parma is world-renowned for its famous export of Parma ham, locally called Prosciutto di Parma. And together with its nearby neighbour, Reggio Emilia, it also produces Parmigiano-Reggiano cheese, aka parmesan. Both of these are certified DOP (designated origin of protection), so this is an essential day trip for all foodies.
Parma offers the chance to learn about the production, as well as plenty of opportunities to sample the produce. The city also earned the title of UNESCO Creative City for Gastronomy in 2015.
The town itself is also charming, and in 2020 is actually Italy's Capital of Culture. Parma's best known attractions include the medieval Piazza Duomo, the Cathedral, the Teatro Farnese, and the famous octagonal baptistry. You could also plan to attend the opera at Teatro Regio.
I recommend joining a morning walking tour, such as this one. Following this, you can browse the markets and sample some of the local wines, such as the fizzy Lambrusco. In the afternoon, visit the production factories for Parmigiano-Reggiano cheese and Parma ham. But note you must join a tour to visit these. The factories are generally closed to public-viewing, except for tours. Here is an excellent tour taking in both factories.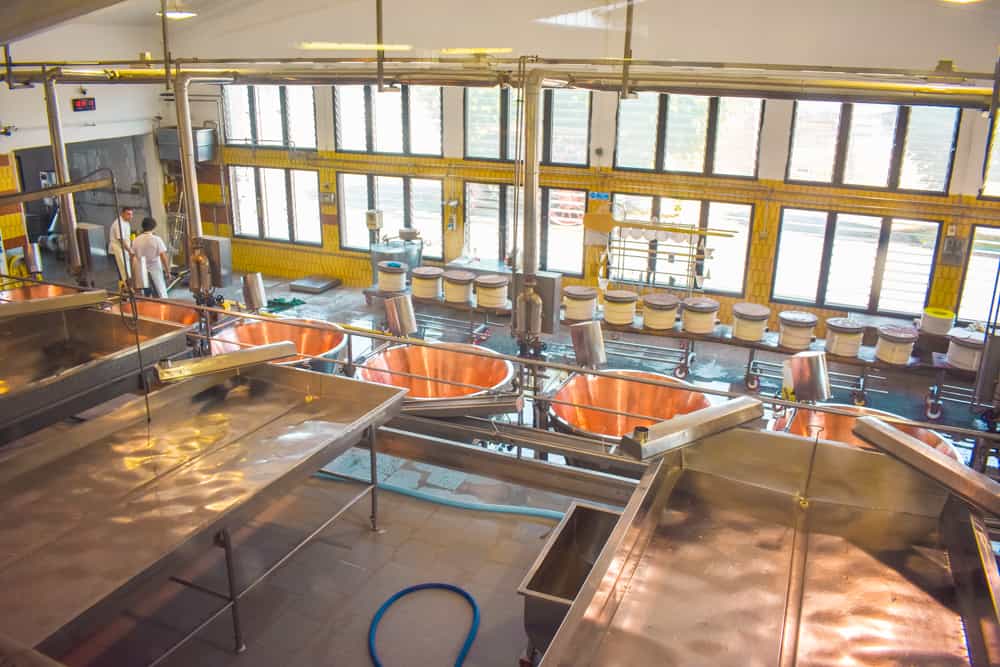 The production factories are generally still family-run, so you're likely to be following a family member for the tour. You can learn the history behind the production, as well as the storage of the cheese and the curing of the ham. It was fascinating, plus it finished with delicious tastings!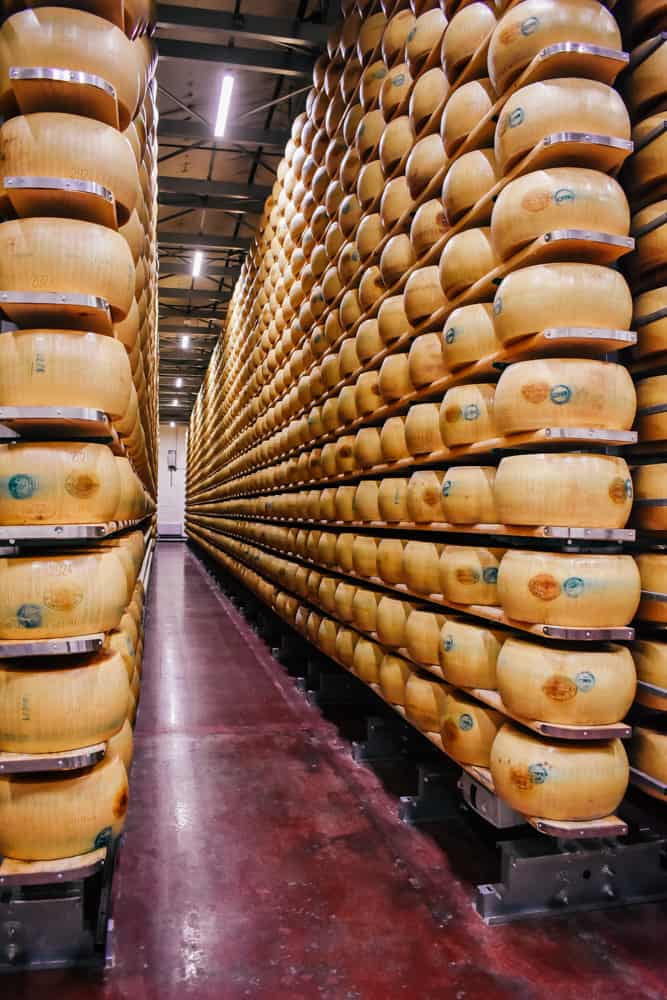 Modena
Famous for: Fast cars! As well as Traditional Balsamic Vinegar, the chef, Massimo Bottura and the singer Pavarotti
Train travel: 32 minutes / 50 km / approx. €4 each way
Modena is a fantastic day trip, offering a wide variety of attractions to appeal to everyone. And of course, it is the birthplace of two very famous Italians, Enzo Ferrari and Luciano Pavarotti. This tour here takes in the best of the city, including local food tastings.
Some of Modena's most famous exports are its supercars. Ferrari, Lamborghini, Maserati and Pagani all originate from Modena, and are still designed and built here. Whether or not you're a petrol head, the car museums and production factories are fascinating.
I highly recommend visiting the Enzo Ferrari Museum, where you can learn about the history of the car. Unfortunately, Ferrari's production line is closed to the public (unless you are a Ferrari owner). But you can visit Lamborghini's incredible factory on a guided tour.
Note: All phones, cameras and personal belongings must be put in a locker before entering the production line.
You can also arrange a visit to nearby Maranello to take a Ferrari test drive tour on the track. This is a true a once-in-a-lifetime experience! To get to Maranello, you can take a quick taxi from Modena. Or you can join a tour such as this one, which will include transport.
As well as being the home of the supercar, Modena is also famous for its production of Traditional Balsamic Vinegar. One of the best things to do in Modena is to visit one of the famous family cellars. Here you can learn how and why they produce the world-famous sweet Balsamic Vinegar.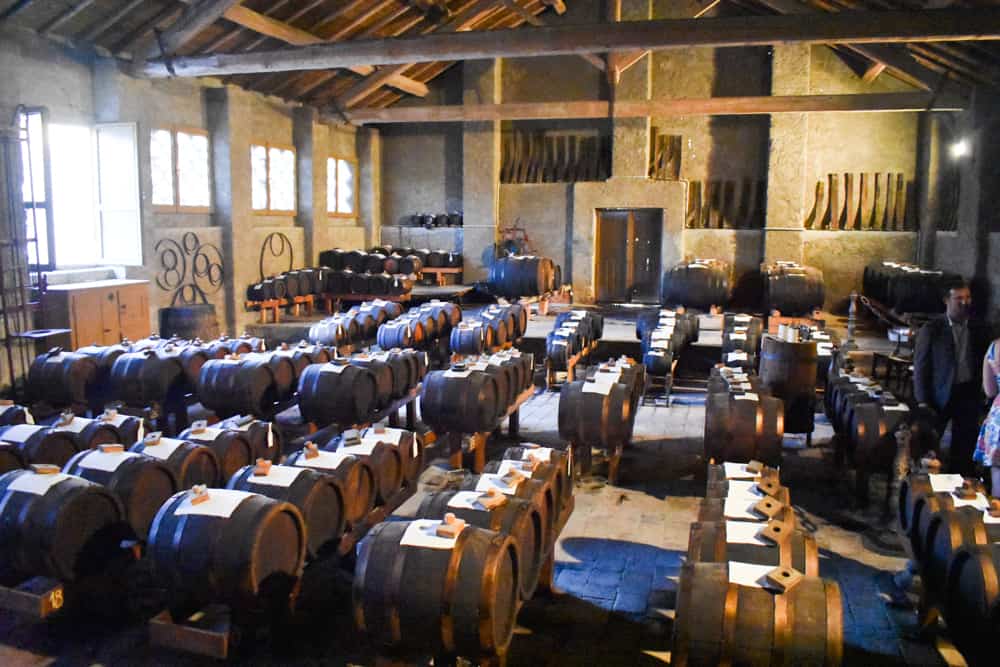 Finally, if you enjoy fine dining, make sure to visit Osteria Francescana. You will need to save up and book WELL in advance for lunch or dinner here. Winning the award for the World's Number 1 Restaurant for several years running is no mean feat. The restaurant is owned by Massima Bottura who is world-renowned for serving some of the very best food in the world.
Modena's picturesque city centre is also worth visiting, with the UNESCO World Heritage Piazza Grande at the centre. Spend an hour wandering the pretty cobbled streets, and make sure to visit the Mercato Albinelli food market. This tour here is an excellent 2-hour walking tour of the city with an English-speaking guide.
Ferrara
Famous for: The prominent Este family, and its Renaissance architecture
Train travel: 35 minutes / 48 km / approx. €5 each way
Ferrara, in the east of the region, was designated as a UNESCO World Heritage Site in 1995 for its art and culture.
The Este family ruled this town for centuries, living in the imposing 14th century Este Castle in the centre. You can head inside on a tour to view the lavish rooms, and wander or cycle alongside the moat outside.
To fully appreciate the history, I recommend joining an insightful tour with a local such as this one. Or this tour here which includes travel from Bologna too.
Ravenna
Famous for: Being the capital of the Western Roman Empire in the 5th century, for the early Byzantine mosaics, and as the final resting place for Dante.
Train travel: 1hr10 minutes / 84 km / approx. €7 each way
Ravenna is famous for its dazzling collection of early Christian churches and Byzantine mosaics. The city is a must-visit for all lovers of art history!
Some of Ravenna's basilicas or mausoleums look quite unassuming from the outside. But inside they are adorned with intricate mosaics, all of which are magnificently preserved.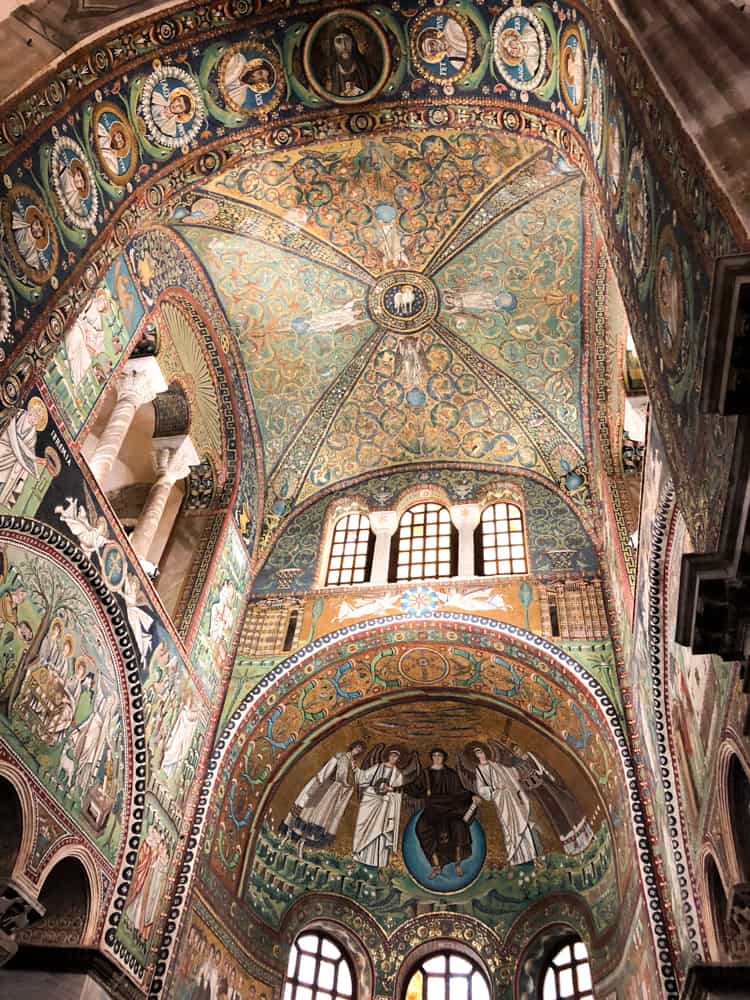 Three key attractions not to miss are the Basilica San Vitale, the Basilica di Sant'Apollinare and the Galla Placidia Mausoleum. A combination ticket grants you access to these and several other sites and costs €9.50. I highly recommend joining a guided walking tour to fully appreciate these sites.
Ravenna is also the final resting place of the poet Dante Alighieri. I recommend visiting his tomb in the heart of town to learn about the fascinating history.
The city is also adjacent to a glorious stretch of beach at Marina di Ravenna, so you could also make a beach day too.
Make sure to read my detailed guide on the best things to do in Ravenna here.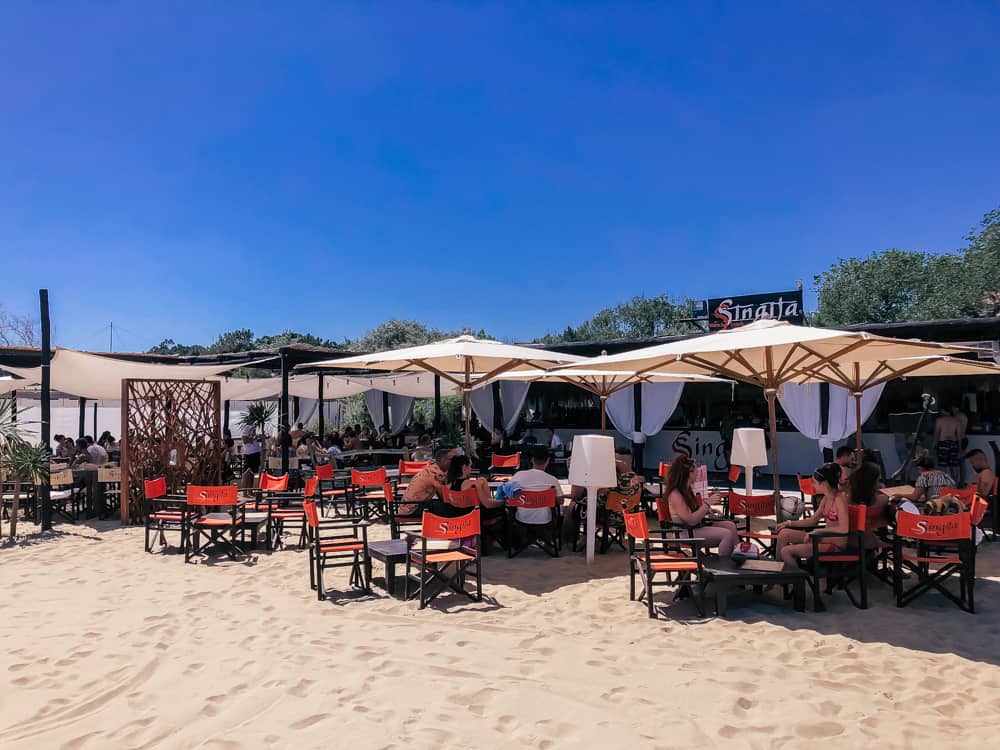 Rimini
Famous for: Being a popular Italian beachside town, as well as the home of the famous filmmaker Federico Fellini
Train travel: 1hr30 / 121 km / approx. €8 each way
This iconic beach resort on the Adriatic Sea is much loved by Italians. But there's so much more than the nine mile stretch of golden sand. Rimini is the birthplace of world-renowned Italian filmmaker Federico Fellini. His most well- known films are La Dolce Vita, Amarcord and 8 /12.
He was born in the city and many of his films draw inspiration from his childhood and life here. His favourite hotel was the Grand Hotel Rimini, which is well worth a visit. He also frequented many other areas, including the Cinema Fulgor.
There are also countless Roman ruins, museums and historical sites peppered throughout Rimini. Make sure to also visit the charming neighbourhood of Borgo san Giuliano. This colourful district dated back to the 11th century, and is awash with quirky street art and family-run trattorias. I recommend joining a walking tour here to make the most of your time in Rimini.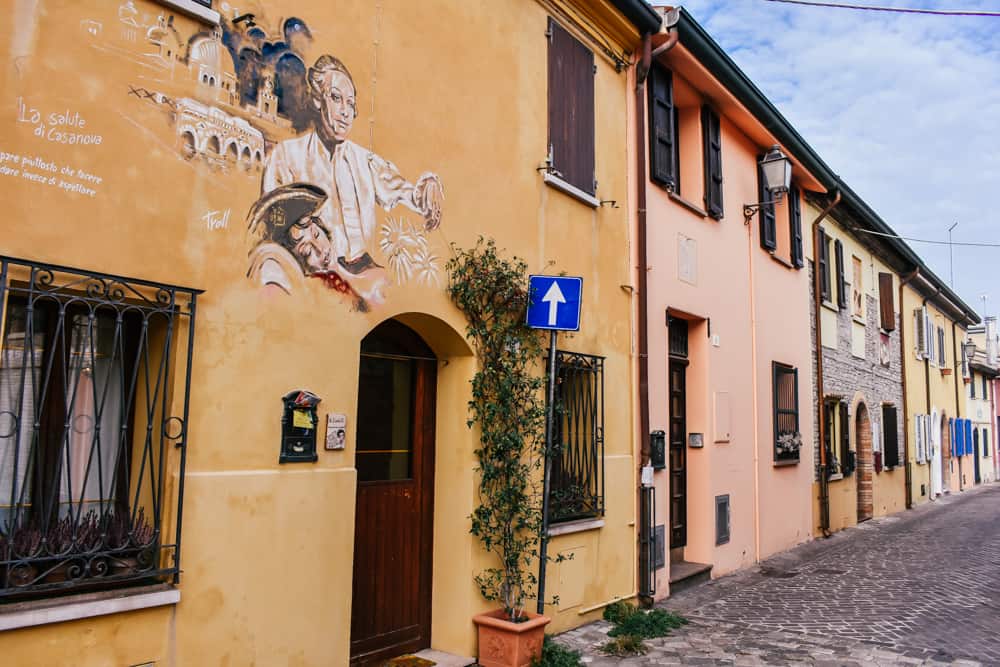 Best day trips from Bologna – further afield
These day trips are a little further afield, but definitely worth considering if you want to explore the neighbouring regions of Lombardy and Veneto.
Milan
Famous for: Its global influence in fashion and design, as well its stunning Duomo Cathedral. It is also home to The Last Supper, by Leonardo di Vinci.
Train travel: 1hr30 / 201 km / approx. €10 each way
A global powerhouse in the world of fashion and design, Milan has one of the world's most iconic fashion weeks. Brands such as Dolce & Gabbana, Armani, Missoni, Moschino, Prada and Versace all started in Milan.
It's also packed with historical and cultural gems, as well as financial institutions as it is the economical capital of Italy. Milan is a huge city, but the best things to do are in its centre. This small group 3-hour guided walking tour takes in the all the best sites in the city, as well da Vinci's The Last Supper at the Convent of Santa Maria delle Grazie.
Of course, make sure to visit the city's central square at Piazza del Duomo. It's popular with locals and tourists alike, and is typically very busy every day of the week. It's a hive of activity with excellent shopping streets nearby, and plenty of places to eat and drink whilst watching the world go by. Nearby is also Italy's oldest shopping mall, the Galleria Vittori Emanuele. It has a stunning glass dome and intricating detailing and design throughout – although the stores are typically very expensive, it's worth walking through here just to admire the architecture.
For an amazing viewpoint of the square, make sure to visit La Rinascente shopping mall just nearby. Take the lift to the top and enjoy well-priced drinks and an excellent view. There are other more expensive bars bordering the square with entry as high as £25, so I recommend visiting this roof bar instead.
There are plenty of things to do in Milan, but one lesser known place to visit is the Terme Milano QC, a city centre thermal day spa. It has two floors, with an open air pool and an indoor pool, where you can spend the day swimming and relaxing. There are countless treatment rooms, with massages starting from around €88/£78/$99 (with all day entry). Finally, it has bottomless food and drink from 7-9pm, so at (€48, £43, $54), it offers excellent value.
Make sure to also visit Lievita Pizzeria, which serves some of the best pizza in Milan at reasonable prices and best of all, no tourists!
Verona
Famous for: As the setting for the Romeo & Juliet and for the Arena di Verona, which is still in use today
Train travel: 1hr / 144 km / approx. €9 each way
Verona is a beautiful, compact city that is easy to explore and enjoy in a day trip. Once in Verona, you can of course visit the Casa di Giulietta which is one of the most popular things to do in Verona. There is the option to pay to go inside, but visiting the courtyard and seeing the balcony is free.
The Arena di Verona located in Piazza Bra in the heart of the city is magnificent and the 8th largest amphitheatre from Roman times. The opera performs here, as well as other concerts, with the amphitheatre seating nearly 22,000 people. The Arena di Verona is actually better preserved than the Colosseum in Rome, with far fewer crowds and tourists!
Other gems in Verona are based around its Centro Storico, and the beautiful piazzas, castles and towers dotted around the city. The city is best explored on foot or on bikes, and I recommend this walking tour here if you're looking to join an English-speaking guide to explore Verona.
I highly recommend Liston12 in Piazza Bra for a delicious affordable lunch, as well as one of the best wine bars in Verona at Vini Zampiera alla Mandola.
Make sure to read my detailed guide to Verona here, covering all of the best things to do the city.
Venice
Famous for: Its canals, gondola rides, St Marks Square and its nearby islands
Train travel: 1hr46 / 153 km / approx. €9 each way
Venice, one of the most famous cities in the world and one of the most popular places to visit in Italy. Drawing tourists from across the globe, arriving in their masses by both air and cruise ships, Venice is notorious for its crowds.
That being said, it's still an iconic city and well worth a visit. Visiting as a day trip from Bologna also means avoiding the expensive hotel prices in Venice too.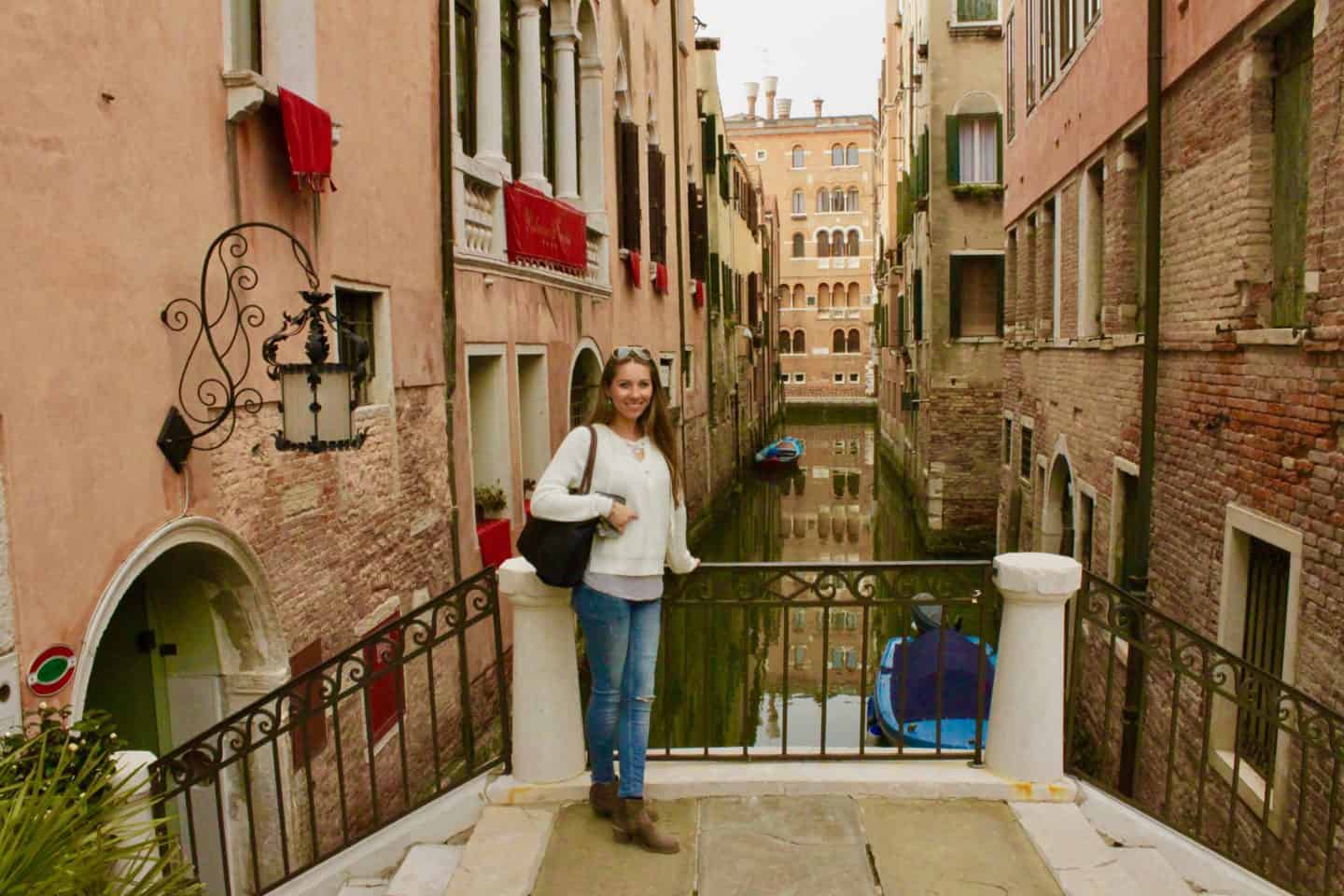 The key sites in Venice are centered around the famous Piazzo San Marco (St Mark's Square), Saint Mark's Basilica and the Rialto Bridge. And of course, exploring the canals. You can easily explore these on foot, which allows you to freely wander in the stores and cafes. But the most romantic thing to do in Venice is of course to enjoy a ride in a gondola, but this is rather expensive (often €70 per hour).
This self-guided discovery tour is an excellent way to explore the city, using an audio guide and a walking map. Alternately, this 2 hour small-group walking tour is another great to explore Venice.
Make sure to read my longer guide to visiting Venice here.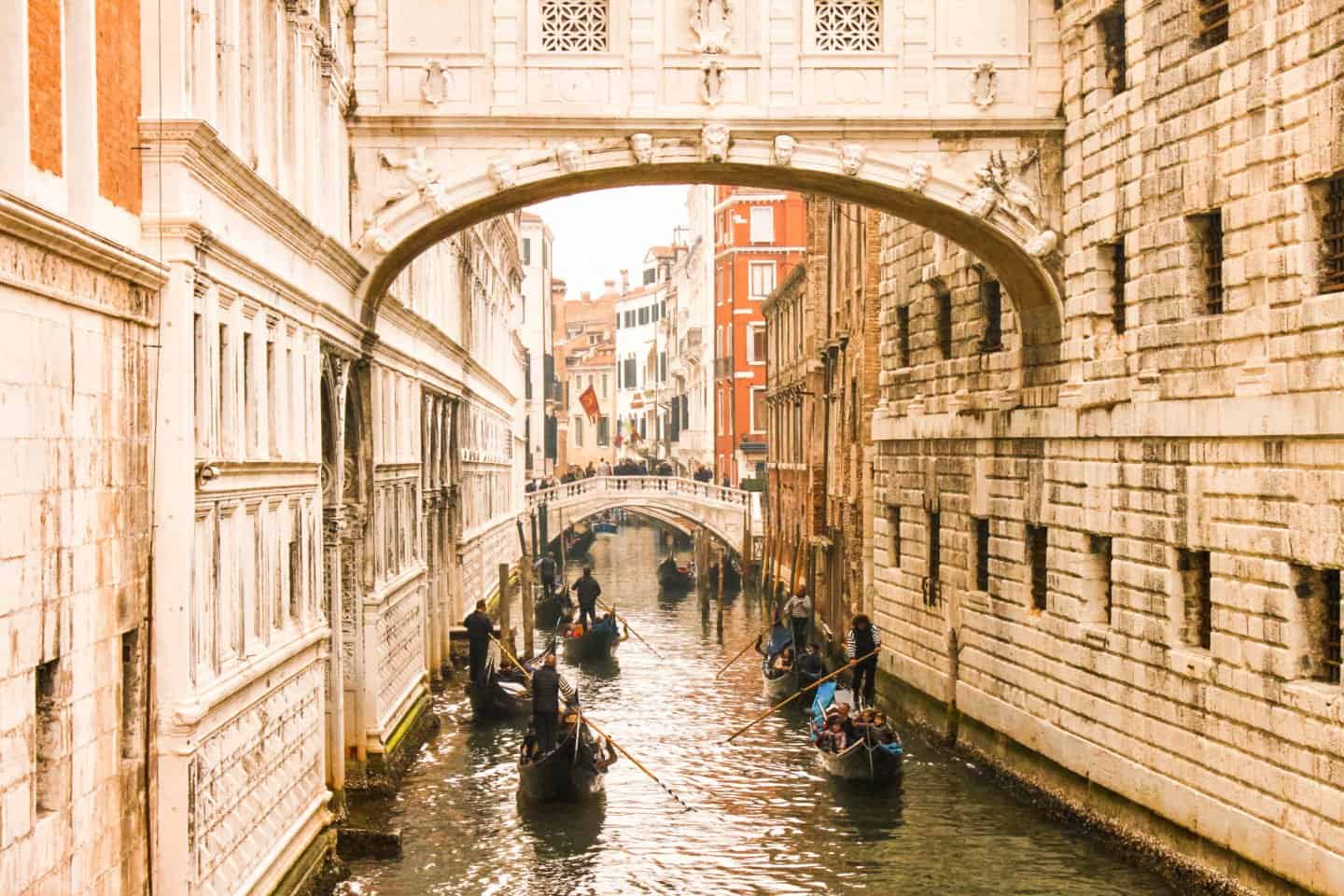 Places to Visit near Bologna, Italy
So there's my guide covering the best day trips from Bologna, in the northern Italian region of Emilia Romagna. It's really easy to explore the surrounding area around Bologna and there are endless things to do and see.
I hope this is useful but please do let me know if you have any questions!
Don't forget to also check out my Italy guides too, which are below: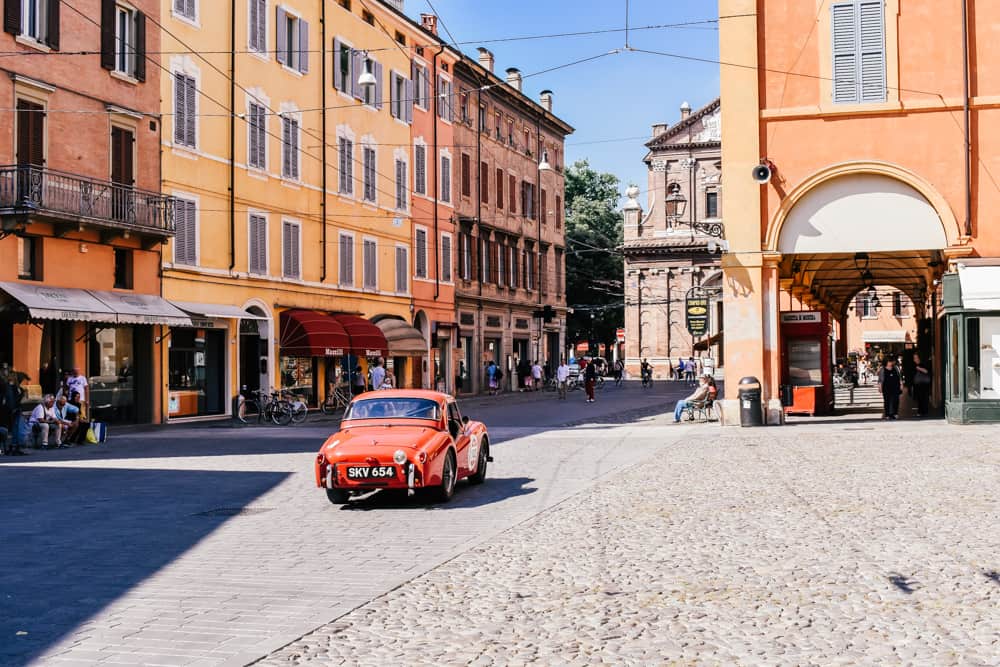 Wanna see more? Check my Instagram here, my Facebook here or my Twitter here!
Disclaimer: This is an independent guide to day trips from Bologna and is based on multiple visits to Bologna. The tourism board has supported some of these visits.
Enjoyed my guide to the best day trips from Bologna? Pin it!