A long weekend in Miami is a great amount of time to spend in the city. If it's your first visit, or you're spending a few days in Miami pre or post cruise, you'll be surprised by how you can see and do in this time. Many of the best neighbourhoods in Miami are fairly close to each other, which can make for an exciting and varied itinerary.
From the beautiful beaches, vibrant street art, exciting foodie offering to the outdoors adventures, there are plenty of things to do and see in Miami. And of course, don't forget experiencing and exploring the Hispanic culture that influences everyday life in the city. So, here's my Miami long weekend itinerary guide and all the best things to do and see in 3 days!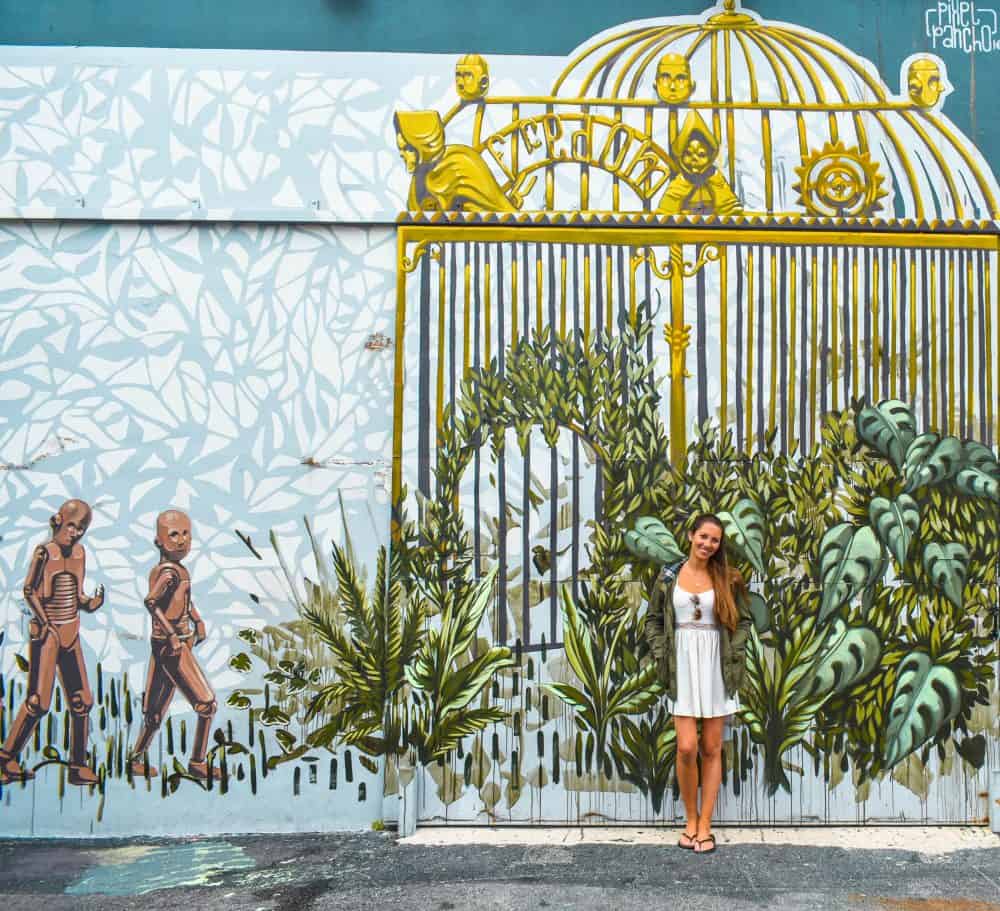 Long Weekend in Miami: Essential information
So you've got a long weekend in Miami? And you're not sure where to start? Not sure whether to stay in South Beach, or maybe Downtown Miami? What about both?
This guide will help you plan your time in Miami, based on my own suggested 3 day itinerary. But of course, this could easily be shortened or extended if needed. Having visited Miami many times, often for three or four days each time, I know the city pretty well.
I'd also recommend reading my detailed guide to the best neighbourhoods in Miami. This will give you a clearer overview of all the best areas to visit in the city. In this guide, I'll often provide a couple of alternatives on how to spend 3 days in Miami. Hopefully this will be helpful so you can decide which would work better for you.
Where to stay in Miami?
So first things first, where to call your base for your long weekend in Miami. This comes down purely to what the main focus of your trip will be.
If you're inclined to spend more time at the beach, then I'd definitely recommend staying by the beach. I'd recommend South Beach, or Mid-Beach for a slightly quieter alternative.
One of the best things about the destination is that travelling to and from different neighbourhoods is really straightforward. And although Miami Beach (incorporating South Beach and Mid-Beach) is located on a barrier island adjacent to the mainland, it's easy to cross over the bridges on foot or using public transport.
So if you do choose to stay at the beach, but fancy heading elsewhere, it's easy by public transport or by Uber.
Miami Beach is home to some of the best and most iconic hotels in Miami, many of which are in stunning Art Deco properties. For example, the Delano South Beach is an luxury Art Deco hotel and one of the most famous hotels in Miami. Alternatively, SLS South Beach makes for an ultra chic stay, and 1 Hotel South Beach has one of the best rooftop bars in Miami.
Some more affordable stays by the beach include The Betsy South Beach, located at the quieter end of Ocean Drive and The Plymouth which is a luxury Art Deco boutique hotel.
I personally love staying at the Loews Miami Beach. It has an awesome pool with great daybeds and the seafood at the Lure Fishbar is some of the best I've ever had. Check rates at the Loews Hotel Miami Beach here!
If spending time at the beach isn't a priority, then I'd recommend staying in Downtown perhaps, and visiting Miami Beach for an afternoon, for example. I've listed some of my favourite stays in Downtown Miami in the next section.
Pre or post cruise stays in Miami
Are you staying in Miami before or after a cruise? It's useful to know that PortMiami is where every cruise ship company will depart from. And PortMiami is located right by Downtown Miami/Brickell area, so for pure convenience, it may make more sense to stay in this area.
This map below displays just has close Downtown Miami is to PortMiami.
One of the best hotels for pre and post cruise stays is the InterContinental Miami, which you can see on the map above, directly by Bayfront Park.
Alternatively, on Brickell Key is one of my favourite hotels in Miami, the Mandarin Oriental. It has some exceptional dining options, including La Mar by Gaston Acurio, as well as a private beach and an excellent swimming pool.
Another alternative in the Downtown/Brickell area is the super cool EAST Hotel.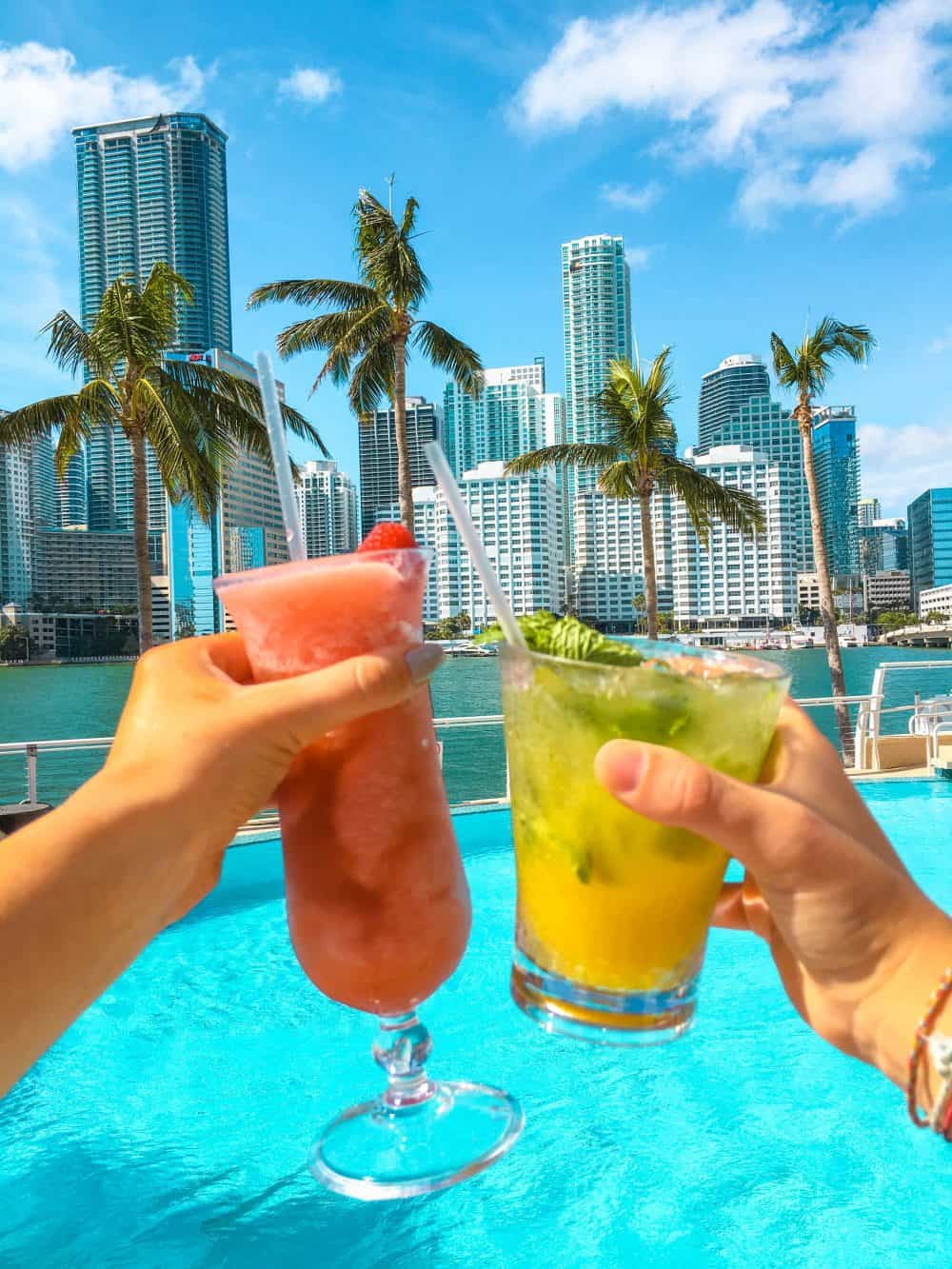 Getting Around Miami
As mentioned, the city Miami is well-connected on public transport, particularly the bus network. This makes a trip without a car quite simple, especially as Ubers are cheap and plentiful. In Downtown and Brickell, the local train, called the Metromover is free for both locals and visitors.
South Beach and Miami Beach are best explored on foot. Although you could live like a local and hire roller-skates or a bike for the boardwalk!
Miami is also a great place to cycle and using the Citi Bike programme makes it easy. You can use a bike at an hourly rate. When the time runs out, dock the bike and grab another!
As parking can be quite difficult in Miami, I wouldn't recommend hiring a car to explore the city.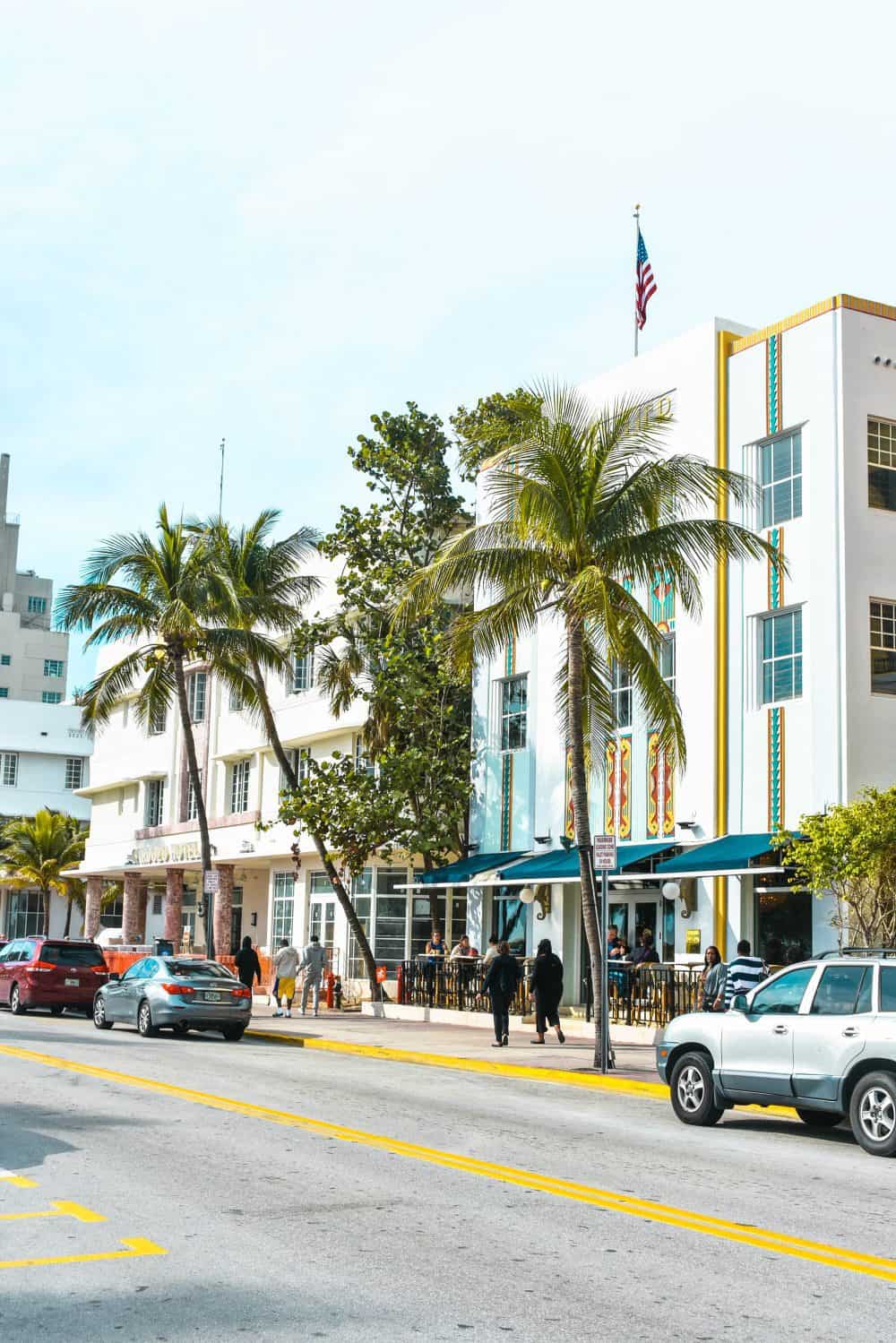 Resort Fees and Tipping
Like the rest of America, tipping is customary. Most of the time, the service charged is added automatically. This tends to be 15-20% and can add up quickly if you eat out often.
Another thing to keep in mind is that most Miami Beach hotels add a resort fee for each night of your stay. These often aren't listed in the room rate, but are included on the bill at the end. It supposedly covers things like beach towels and other amenities.
When to go to Miami
Beautiful Miami is a brilliant year-round destination to visit.
The peak season to visit Miami is between November and March, which is the North American and Europe winter. This can make it a very expensive time to visit Miami, with hotel rates round Christmas and New Year especially steep.
March can be extremely busy in Miami with Spring Breakers coming to party. But, fortunately, April and May are also good months to visit Miami. From June to September, Miami can receive very heavy rains in the afternoon.
3 Day Itinerary for Miami
OK, so you've decided where to stay in Miami, but wondering what to prioritise in terms of things to do and see in the city?
If it's your first time in Miami, the key areas to visit would be South Beach, Little Havana, Wynwood and Downtown Miami. For those returning to Miami, why not also visit Coral Gables, Coconut Grove, Little Haiti and the Design District too?
Make sure to check out my detailed guide on the best neighbourhoods in Miami for more information on each area.
Below is an example 3 day itinerary for a long weekend in Miami. It's based on a return visit to Miami, but I've noted an adaption for each day if it's your first visit to the city. So let's get to it!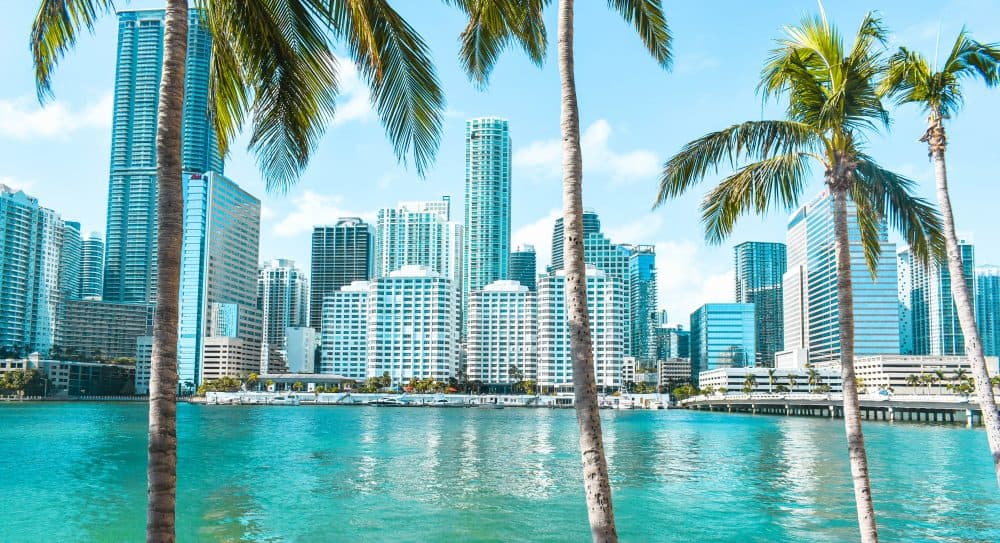 Day 1: Miami Beach
So you've landed in Miami or you've just arrived in PortMiami after your cruise. Chances are, you probably want a chilled first day.
Why not spend your first day at South Beach. From soaking up the sun, swimming in the turquoise ocean or walking along the boardwalk towards Mid-Beach, a day in South Beach can certainly be relaxing.
Slightly more active ideas for things to do in South Beach include:
Taking a walk along Lincoln Road Mall, which is a large pedestrianised shopping street with some great boutique stores and cocktail bars.
Consider joining a guided walking tour of the Art Deco District with a local tour guide from the Miami Design Preservation League (MDPL). The guides are local historians who are truly passionate about conserving and protecting this unique architectural style. They can share tons of information on the fascinating history of this area. Or why not join a South Beach Art Deco Bike Tour?
Strolling along to South Pointe Park which is located at the southern tip of South Beach. The views of the Miami skyline are incredible.
There are also some fantastic places to eat around South Beach, including the brilliant Time Out Market food hall or Le Sandwicherie, for the best sandwiches in Miami. Alternatively, why not head to Nikki Beach near South Point Park. You can spend hours here for lunch, enjoying some live music and access to the private beach too.
Or why not join a food tour? Book a fun foodie tour in South Beach directly here.
If you're staying nearby in South Beach, I highly recommend visiting Espanola Way for dinner and cocktails. The best tapas in Miami can be found here, and it's magical setting and live flamenco dancing will have you embracing the Hispanic culture of Miami in no time.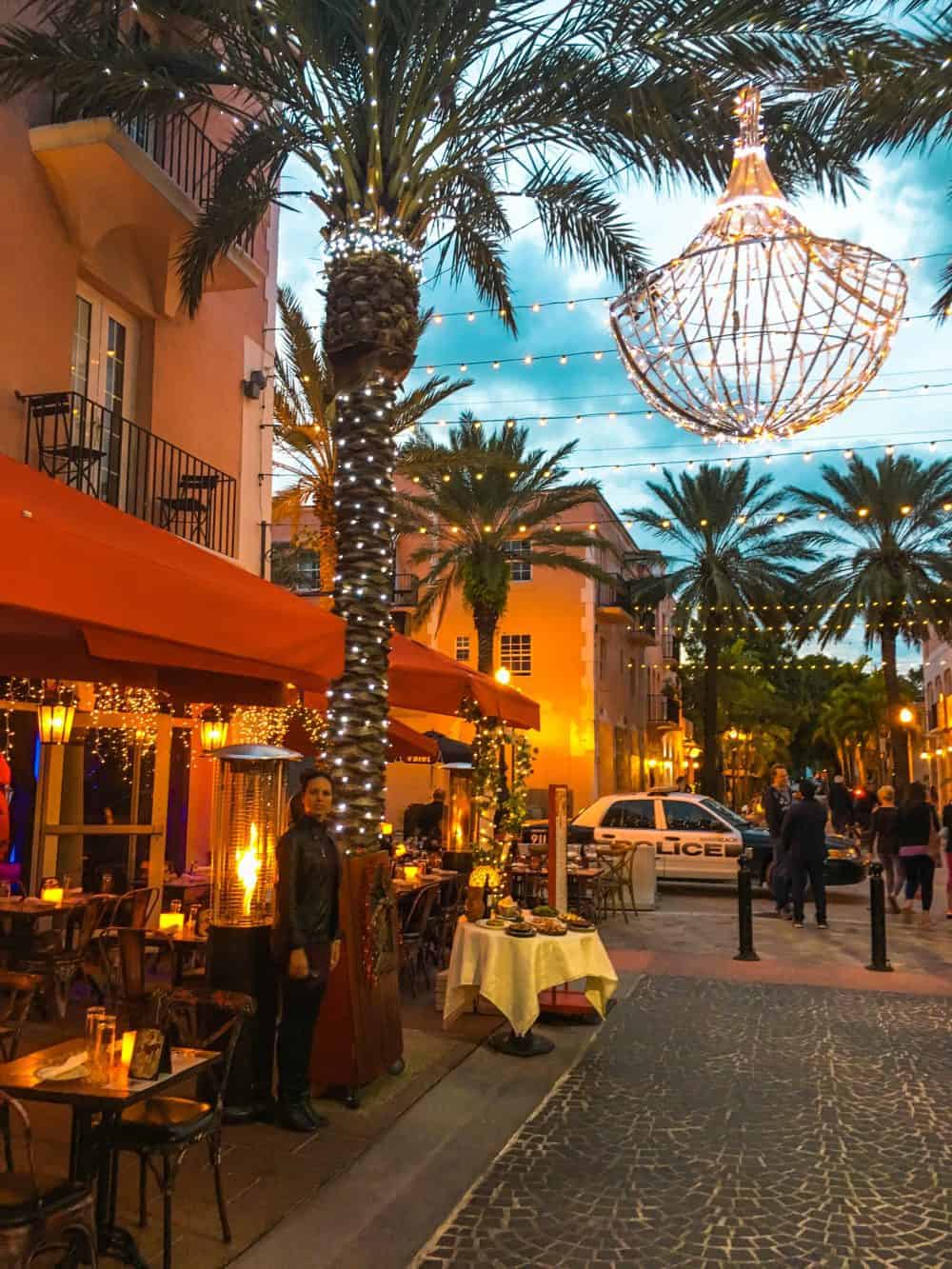 Day 2: Wynwood Arts District and Little Havana
Time to soak up some of the arts and culture scene in Miami! I recommend combining Wynwood Arts District and Little Havana into one full day of sightseeing, as they are reasonably close. The drive between the two neighbourhoods can be as quick as 12 minutes in low traffic, and 25 in high traffic.
I would probably prefer to visit Wynwood in the morning when it would be slightly less quieter. Little Havana would be better in the afternoon so you can kick back with a cocktail to enjoy the live music and atmosphere of the area.
Alternatively, why not do this twin tour, including both Wynwood and Little Havana in one excursion?
Wynwood Arts District
So starting the morning in Wynwood, you could stop by Panther Coffee for a take-out coffee. Other great picks are Zac the Baker or the Salty Donut for a mid-morning snack.
Wynwood is famous for local artists transforming this area from a neighbourhood of disused factories, into a colourful ever-changing outdoors art exhibit. Today there are dozens of art galleries to visit, as well as great cafes and stores. Even if you're not typically into art, it's hard not to like the energy and buzz of Wynwood.
Wynwood Walls is the heart of the district and is a pedestrianised outdoor art gallery. Make sure to also visit Wynwood Walls Shop, which sells curated gifts, books, prints and artwork created by the local artists in Wynwood.
You could either have lunch in Wynwood at one of the great eateries such as Wynwood Bar & Kitchen, Coyo Taco or 1-800-lucky, a vast Asian cuisine food hall.
Little Havana
After a colourful morning in Wynwood, head down to Little Havana. As I mentioned, this is just a short drive away.
The best way to explore Little Havana is to join a guided tour. Often these are with a local who is from the Cuban community and who can give insight into the history and culture like no other.
Calle Ocho is the core of all activity in Little Havana, and most of your visit will be centered around this street. A lot of best things to do in Little Havana are focused on food and drink, so make sure to save some room!
Things not to miss in Little Havana:
Dropping by Maximo Gomez Park (aka. Domino Park), where every day you will see locals playing dominoes, often with a cigar in hand. It's a longstanding tradition, particularly for the older community and often where they come together to catch up with each other.
Make sure to drop into one of the cigar shops, for example Havana Classic or El Titan de Bronze. It's great to learn and watch how the cigars are hand-rolled, as well as how the tobacco leaves are prepared and stored.
Then as mentioned, so much of the activity in Little Havana is centered on food, here are some spots not to miss: Los Pinarenos Fruteria which is a popular family-owned cafe and tropical fruit store. It's been going since the late 1960s. It's an eclectic little store, and the tropical fruit juices to-go are delicious! Azucar Ice Cream Company is the best spot in the neighbourhood for homemade Cuban ice cream and the traditional pastries at the Yisell Bakery are excellent.
I recommend going to Old's Havana restaurant for lunch (if you didn't eat in Wynwood), or for a late afternoon bite to eat. It's one of the best places to try a Cuban sandwich, often accompanied by excellent live music.
Finally, make sure to visit Ball & Chain in the afternoon for a refreshing mojito. This is a famous bar and live music venue, with a beautiful outdoors patio at the back with a huge pineapple stage.
If you fancy exploring some of Miami's nightlife one evening, I highly recommend coming here.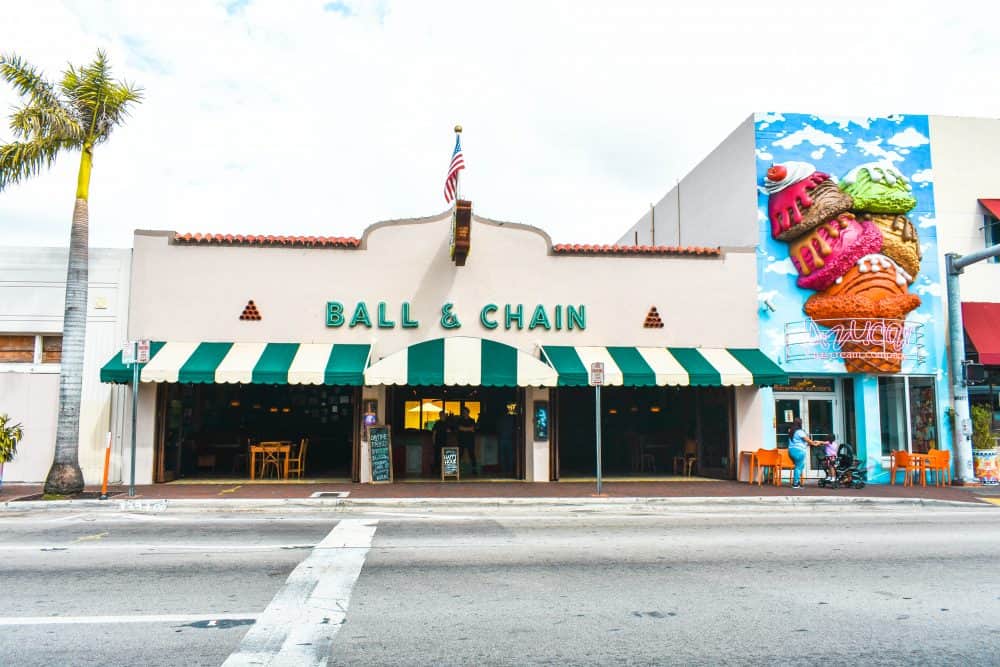 Day 3: Downtown, Coral Gables or Key Biscayne
Day 3 in Miami! You've explored some of the Art Deco architecture and the soft white sands that have made Miami famous, as well as the vibrant arts and culture that makes the city so distinctive.
So for day 3, I have suggested three different areas to explore, with two options for combining areas too. This has been based on geographical proximity.
Downtown and Brickell
Downtown Miami and Brickell is a must-visit area in Miami. It has simply changed so much over the past decade, it is unrecognisable from around 15 years ago. We used to stay in the Intercontinental Miami post-cruise. We used to find that walking around the surrounding area often felt pretty unsafe. And other than the Bayside Marketplace, there wasn't much else to see or do.
Today however, there's plenty of things to do and see in Downtown Miami and Brickell. Here are some of my suggestions:
Visit the relatively new Brickell City Centre. This is a vast new retail, dining and entertainment space spanning an entire three blocks. It's the perfect place to visit if you have a rainy day in Miami too.
Head to Museum Park (aka. Maurice A, Ferre park), which is a magnificent new cultural and education district developed on unused waste land. Here you will find the ultra-modern Frost Science Museum, which is home to a super-cool Planetarium and an Aquarium. Tickets to the Frost Science Museum start are USD $30.
The other key new museum here is PAMM (the Perez Art Museum Miami) which is spread over 200,000 feet and houses contemporary and modern art from around the world. Tickets to PAMM are USD $16.
You can also learn about some of city's interesting history with a visit to HistoryMiami, located in the heart of Downtown which offers several city tour options and exhibitions.
Another area to visit is Bayside Marketplace, which has been in Downtown for a while now. The complex is positioned on the water's edge, and has some great shopping and restaurants as well as a marina. This is the departure point for many boating tours. For example, Island Queen which provides various tours such as Millionaire's Row Cruise and Thriller which offers high speed tours of Key Biscayne.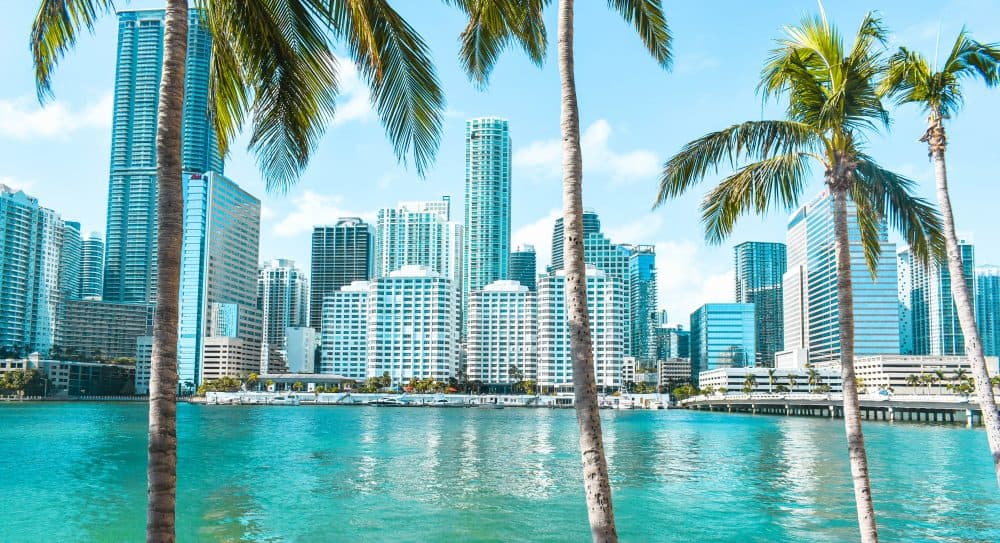 So as you can see, there's plenty to do in Downtown alone. However, visiting museums, art galleries and taking historical tours will not suit everyone.
Two other areas I recommend are Coral Gables, a beautiful Mediterranean inspired neighbourhood just south of Downtown, or Key Biscayne, which is a tropical oasis with skyline views of Downtown.
Coral Gables
Often referred to as the 'City Beautiful', Coral Gables must be one of the prettiest areas in the whole of the US. Inspired by Mediterranean architecture, Coral Gables is filled with tree-lined avenues, palatial homes with terracotta tiles and beautiful parks. It's really laid-back and a world away from the action on South Beach.
One of my favourite places in Coral Gables is the stunning Venetian Pool, a natural public swimming pool dating back to the 1920s. It was created from a former rock quarry which is filled with fresh water from a natural underground aquifer. It's easy to lose a day here relaxing under the palm trees and swimming in the coral grottos. There is an entry as a non-resident of Coral Gables, which is $13 per adult and $8 per child.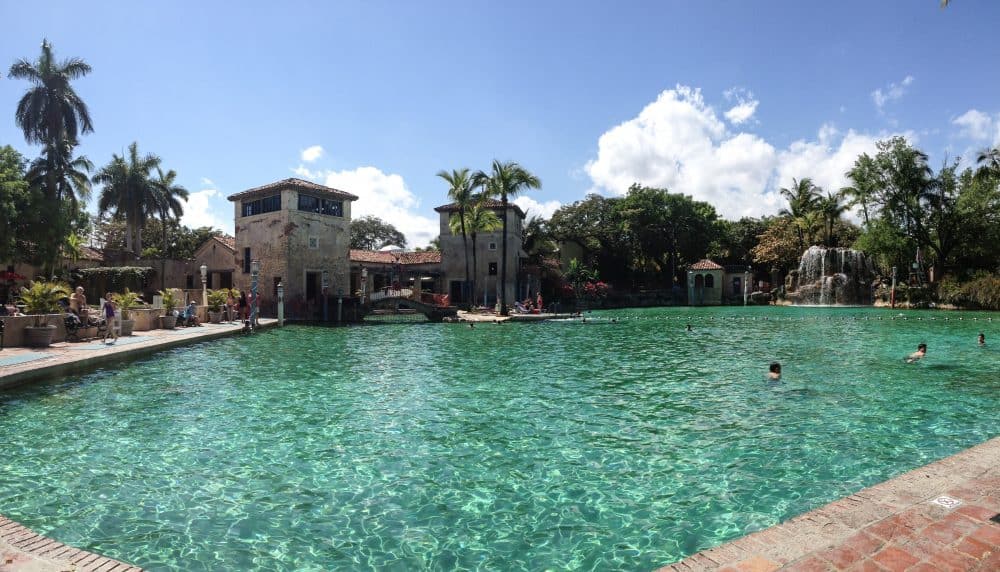 Other things to do in Coral Gables include shopping and eating along Miracle Mile. You could also play a round of golf at the ultra-luxurious Biltmore Hotel, or spend a peaceful afternoon at the Matheson Hammock Park. This is a beautiful manmade beach set at the edge of Biscayne Bay. Here you can kayak, stand up paddleboard or go hiking along the trails in the surrounding woodlands.
The drive from Downtown Miami takes around 30 minutes or you can take the Metrorail train directly to Coral Gables. Once in Coral Gables, you can use the free trolley service around the area. As they are easy to travel between, you could spend the morning in Downtown Miami and the afternoon in Coral Gables, for example.
Key Biscayne
If you're craving some outdoor space, and something a little more energetic, definitely head to Key Biscayne.
From Downtown Miami, you must travel over the scenic Rickenbacker Causeway to the island paradise of Key Biscayne. There are buses that cover this route (#102), or you can take an Uber.
This beautiful tropical oasis used to be a coconut plantation. Some people are even lucky enough to live here in some of the residential areas!
The main attraction of Key Biscayne is the number of outdoor activities on offer here, including kayaking, swimming or cycling.
My favourite thing is to cycle along the scenic paths in Bill Baggs Cape Florida State Park, as well as visit the beach at Crandon Park.
You can even jump off the bus earlier, as there are beautiful beaches located off the Rickenbacker Cause. For example, Hobie Beach which is dog-friendly or the watersports focused beach at Virginia Key Beach Park.
Again, as the gateway to Key Biscayne is at Downtown, combining the two areas work well for a full day adventure. Personally, I'd love to spend a whole full day in Key Biscayne as I love outdoor activities so much!
Long Weekend Itinerary for Miami
So that's rounds off my guide on how to spend 3 days in Miami. Unless you don't like the beach, I think that visiting South Beach even for a few hours is a must-do. But there are so many great neighbourhoods to explore in Miami, it's definitely worth trying to squeeze in as much exploration as possible.
If you're feeling short on time, or want to combine lots of city sightseeing in one day, the why not join this half day tour around Miami?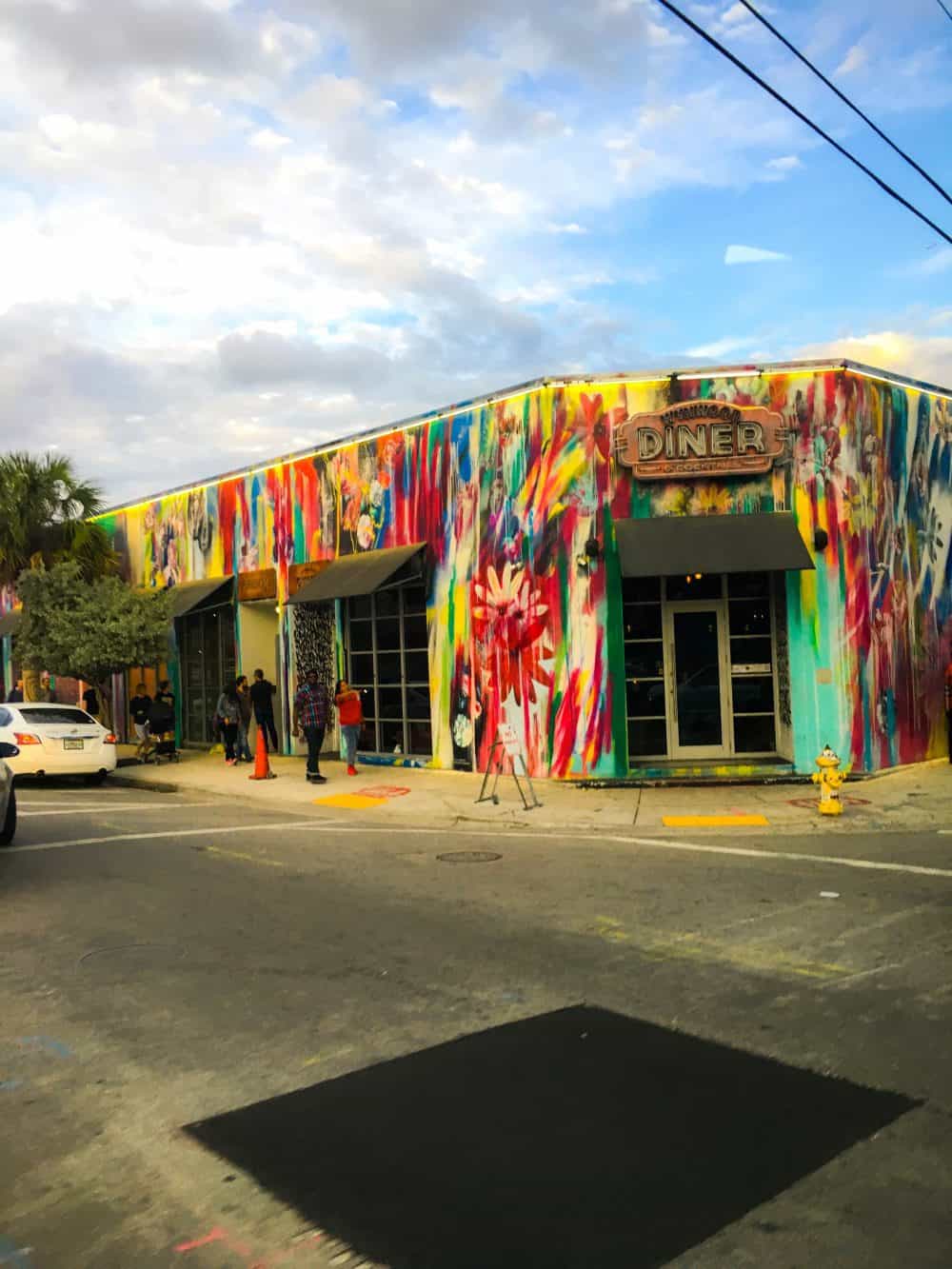 In this guide, there were a few neighbourhoods I didn't include. This was mostly as I felt they were too far with just 3 days in Miami.
However, other areas to consider are:
Little Haiti, which is north of Wynwood and the heart of Caribbean culture in Miami.
Coconut Grove, which is south of Coral Gables and known for sailing and its Bahamian culture.
Bal Harbour, in the north of Miami, known for high end shopping and premium experiences.
Design District, which is near Wynwood and Little Haiti. This newly regenerated area is home to high end shopping, galleries and great dining options.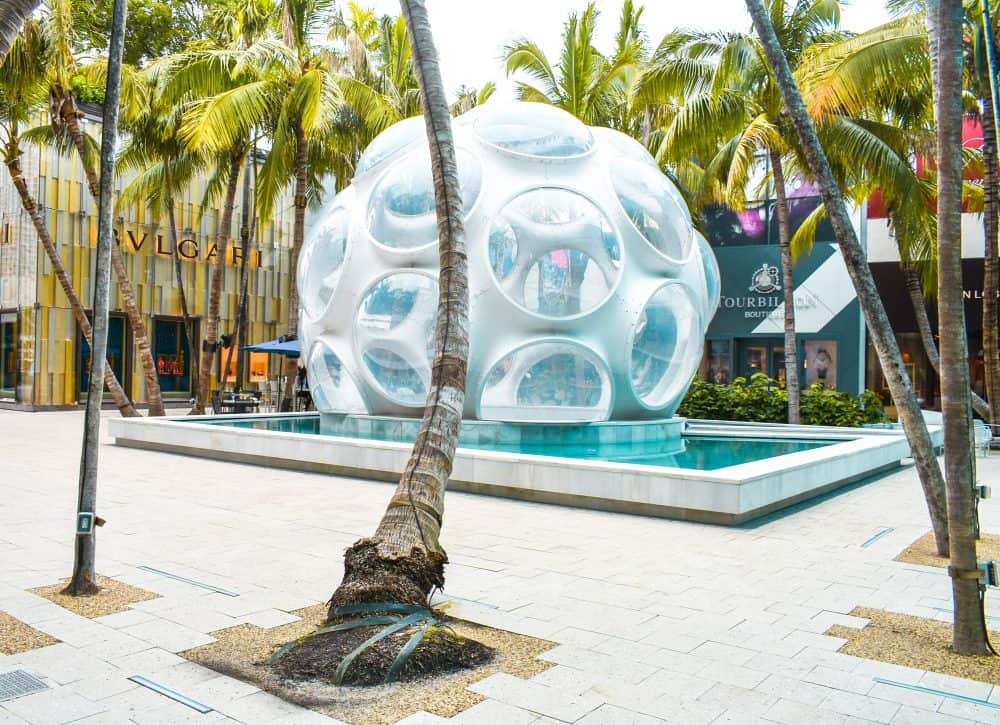 Feel free to drop me a line if you would like any advice or further recommendations for planning a trip to the city. If you've enjoyed long weekend in Miami itinerary guide, then please do share using the below links!
Wanna see more? Check my Instagram here, my Facebook here or my Twitter here!
Disclaimer: This guide is based on multiple visits to Miami. Most of these have been paid for by myself, and however the tourism board has supported one of these visits.
Enjoyed my guide to a long weekend in Miami? Pin it!