On our two week trip around Sri Lanka, we knew that Yala National Park was a must visit attraction, but we were sure where to stay in Yala. Whilst searching for accommodation near the national park, I came across the stunning Chena Huts by Uga Escapes and realised I'd seen these private-pool wooden thatched villas all across Instagram.
How many minutes did it go from seeing Chena Huts online to booking ourselves a night's stay there? Not long at all. It was a bit of a no brainer. If you're looking for a ultra-luxury hotel in Yala National Park, then look no further.
Chena Huts by Uga Escapes are in a class of their own. Never have I stayed in a luxurious safari lodge like it, nor had such wonderful days in total harmony with nature. It was a very special stay and totally unforgettable. So whether it's a luxury honeymoon in Sri Lanka, a romantic safari stay or even, a few days with the kids, Chena Huts will ensure your stay is total magic. Of that, I am sure.
So if you're planning on heading to this paradise island, then here's my guide to one of the best luxury places to stay in Sri Lanka.
Best Luxury Hotel in Yala National Park, Chena Huts
Location
Chena Huts by Uga Escapes is located at the very edge of Yala National Park. Whereas most visitors to Yala would stay in Tissamaharama (around a 30-40 minute drive away), staying at Chena Huts means being just a 3 minute drive from the gates of Yala National Park.
Chena Huts are located adjacent to a number of competitor hotels, including Cinnamon Wild Yala and Wild Coast Tented Lodge. This unique location is also right by the ocean, something not many lodges in safari parks can boast!
The drive from Colombo or Colombo airport is between 5.5 and 6 hours, which is pretty lengthy. Due to the cost of a stay at Chena Huts, most people don't tend to stay more than 2 or 3 nights (we stayed for 1 night!). So most visitors will be going to Yala National Park as part of a wider Sri Lanka itinerary. You can see the full route from Colombo to Chena Huts on Google Maps here.
Cost
How much does it cost to stay at Chena Huts? This question is quite key, as it is not cheap… but in terms of value for money, it definitely delivers. A stay at Chena Huts, depending on the time of year can vary from £500 to £900 a night. This is of course quite steep, however, every guest stays at Chena Huts on an all-inclusive basis.
All-inclusive at Chena Huts by Uga Escapes means all alcohol and food during your stay, including a complimentary minibar. You most certainly will not be hungry. They even give you packed lunches for your game drives and serve up 'welcome back' drinks and canapés on your return from the evening safari.
You can book directly through their website, but I must say I got a better deal for the dates I was visited by booking through booking.com.
You can check out the latest prices and availability at Chena Huts by Uga Escapes here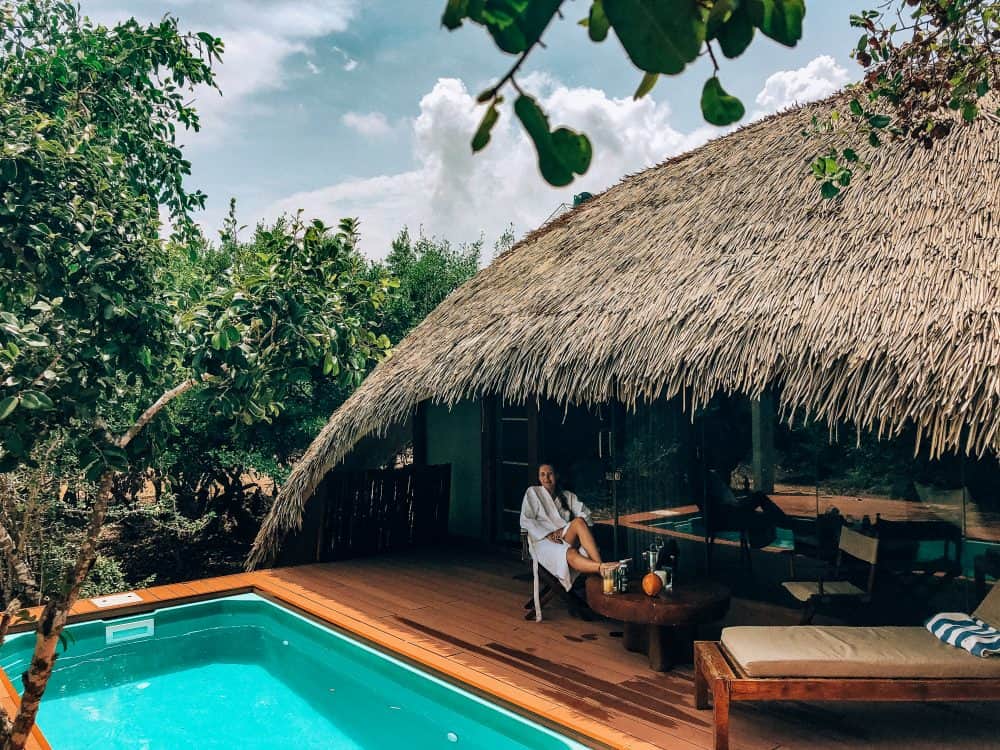 The Room
The room, or the safari lodge, is really like nowhere else I have ever stayed. Chena Huts only has 14 huts, each accessed via little elevated wooden pathways.
Walking in to our hut, I was initially blown away by the sheer size of our room. It was absolutely massive, with a huge vaulted ceiling. The back-wall was entirely glass and opened up onto our private deck and swimming pool. One side of our hut was devoted to the bathroom area, with a shower on one side and a separate toilet on the other, with a huge standalone bathtub in the middle. Here, you can lay and soak in the bath, whilst spotting animals through the glass window at bath height to the side.
There are also his and her sinks, plus all the bathroom goodies you could want from a luxury hotel stay.
On the other side of the hut is a living room area, with a fully stocked mini fridge, a table and chairs and a huge lounging sofa to watch the TV from.
In the centre of the room is the masterpiece, aka. the bed. An absolutely huge, ultra-comfortable bed, guaranteed to give one of the best night's sleep imaginable. It honestly felt like sinking into a cloud.
Next to your bed is one the most extensive control panels I've seen. You can adjust every light in the room, as well as temperature and volumes.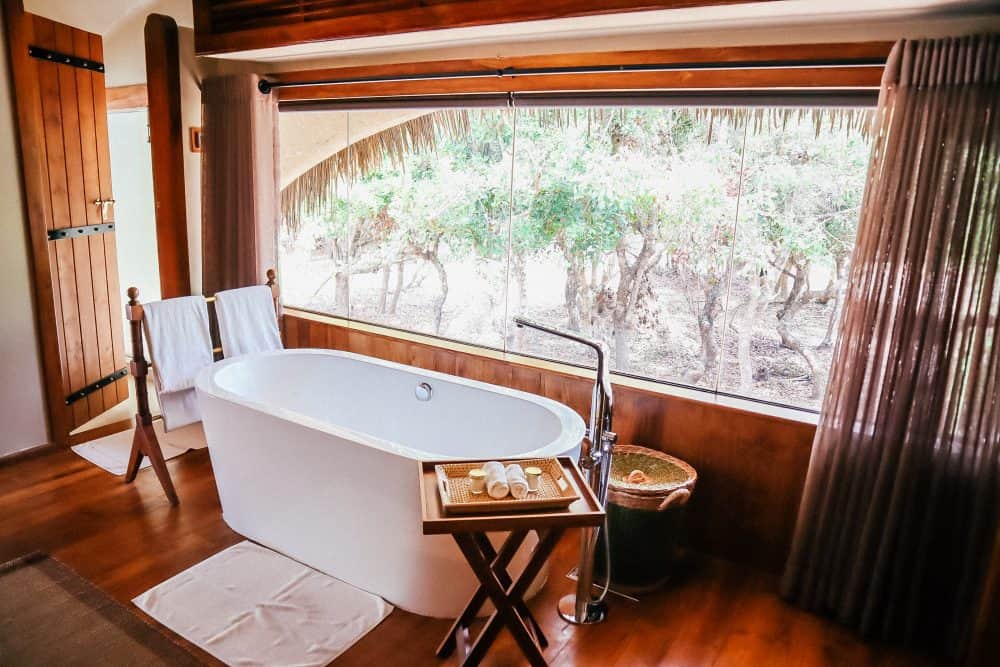 The Private Pool
Any accommodation that offers a private pool is simply in a league of their own. The private pool and decking area outside each Chena Hut is just stunning. The pool is the perfect temperature to cool off in and offers a jetpool option should you want. It also has lights so you can swim at night in the pool.
There are two sun loungers on wheels, so are easy to move around, as well as safari style chairs and a table. I could have spent days here, looking out for animals and sipping wine straight from the mini-fridge. Truly epic!
Dining
As mentioned, Chena Huts is only available on an all-inclusive basis. This means breakfast, lunch, dinner, snacks on the safari drive, drinks and canapés upon arriving back and your minibar are all included.
This does however mean you cannot really order food out of these times, and they do not do room service. Trust me – this won't a problem as you'll be completely full from breakfast and lunch!
Breakfast is served up after you return from the safari drive at around 9.30am. You're provided with a great selection of options, and you can even choose as many as you want!
Lunch and dinner, like breakfast is served up at The Basses restaurant and also have a wonderful variety of dishes to opt for. Again, the meals were cooked perfectly and were definitely some of the best food we had in Sri Lanka. You're also offered a drinks menu and can order as many as you wish, from a range of cocktails, wines and beer.
You most definitely will not be hungry!
They also do BBQs on the beach and can arrange candlelit dinners too for special occasions. Just let the team know in advance!
Safari Drives
Two safari drives a day are included in your stay at Chena Huts. One early morning at around 6.30am (varies with sunrise times), and the second in the afternoon at around 3.30pm. Both drives are around 3 hours a long and we saw a similar number of animals on both drives. The morning drive definitely had more 4x4s around and the routes were a little busier.
Our guide, Danu, was fantastic and could answer all of our questions. He really scouted out the best spots to find the animals and taught us an awful lot, which was great! We weren't as lucky as some of the other guests with our game drives (we only had two as we stayed for two nights). We shared our 4×4 with a honeymooning couple who stayed for three nights. They saw sloth bears and far more leopards than we did. We spotted two leopards on our drives, but they weren't particularly close and there were several other 4x4s all jostling for space around the area.
Other Activities and the Spa
The main focus of Chena Huts by Uga Escapes is the twice daily safari drives and soaking up the luxury private pool. There is a huge beach, which is pretty rugged and stunning. They've placed sun loungers and safari chairs out, so it's a lovely place to relax but you definitely cannot swim here. The waves are far too rough and it is definitely too dangerous.
There is a huge swimming pool for all guests to enjoy, although it was completely empty when we went after check-out and before our taxi back to Tissamaharama. There is a pool attendant there, serving unlimited drinks from the bar but it was a very quiet and soothing experience.
Adjacent to the swimming pool is the spa. The perfect way to relax and unwind on a trip around Sri Lanka, the spa at Chena Huts is known to be one of the best spas on the island. We didn't get to experience any of the treatments as we didn't really have long enough, but you can check out the information on the treatments and prices here.
Final thoughts on staying at Chena Huts
So there you have it! My review of a luxury stay at Chena Huts by Uga Escapes in Sri Lanka. From the decadent lodges, to the excellent food and wonderful atmosphere, it was certainly a stay to remember. The staff make for the most relaxing and luxurious stay, where everything just works seamlessly and nothing is too much work for them at all! It was a sad moment to leave this ultra luxury hotel in Yala National Park, but I have no doubt that I will be back one day – maybe with my own children. In fact, if you're planning to stay at Chena Huts with kids, then make sure to check out FlashpackingFamily's excellent guide to a Yala Safari with kids here.
You can check out the latest prices and availability at Chena Huts by Uga Escapes here
I do hope my guide to staying at the unbelievable Chena Huts by Uga Escapes in Yala National Park, Sri Lanka been useful. Feel free to ask any further questions and I'd love if you shared this post on any of the below links!
If you are planning a longer trip around this stunning island, you might find my guide to the best beaches on the South Coast of Sri Lanka useful, as well as my Ella Travel Guide.
If you're looking for other luxury hotels in Sri Lanka to stay in, you might also enjoy my review of the delightful Anantara Peace Haven Resort, Tangalle.
Wanna see more? Check my Instagram here, my Facebook here or my Twitter here!
Disclaimer: This stay at Chena Huts was entirely paid for by myself and there was no involvement from the hotel. This is an independent guide
Enjoyed my review of Chena Huts by Uga Escapes in Yala National Park, Sri Lanka? Pin It!