This tiny nation island just south of Malaysia and north of Indonesia is full to the brim with things to see and do. In fact, I doubt anywhere in the world can offer as much to do as Singapore in such a small space!
Singapore is a land of visionaries. Its founders have realised their vision to create one of the most forward-thinking and futuristic places in the world. Yet the city is not all metal and glass – the city is still as Asian as can be, and a quick visit to a Hawker Centre or one of the cultural neighbourhoods will remind you of this.
This small city-state island is the envy of much of the world – it's free from corruption, has little violence or crime, excellent infrastructure and health systems and its streets are clean and orderly. That being said, there are some strict rules in Singapore that all locals and tourists need to abide by. These include no drinking or eating on public transport, no littering (of chewing gum or rubbish) and no smoking in any public areas. All of these crimes are punishable by law, and fines are often given out as high as SGD $1,000.
History of Singapore
Today, Singapore is considered one of the most wealthy and developed countries, or city-states in the world. It's one of those places where everything just works. Its citizens abide by the law and Singapore is an all-round great place to live, work and visit.
But what is interesting about Singapore is how young it is. Modern Singapore was only founded in the 19th century, thanks to Sir Thomas Stamford Raffles. He was a British colonial explorer and employee of the East India Team Company. Whilst looking for a new base for the company and for the British merchant fleet, he came across Singapore. At the time, it was already a growing trading post. Thanks to Singapore's position at the tip of the Malay Peninsula, the city's location made it an ideal base and trading station.
After WWII, Singapore became a British colony in 1946. The Singapore of today only achieved independence from the British and separated from Malaysia in 1965.
Prime Minister Lee Kuan Yew was the first to lead the country. For the first few decades of self-government, his challenge was to turn the country from one of the world's most corrupt (under British rule). He put in place dozens of economic and financial policies to stimulate growth, with a primary focus on export manufacturing and trade. Singapore, despite having no natural resources and a tiny land mass, has seen phenomenal economic success. This has led to high standards of living, and Singapore is now one of the richest countries in the world. It also one of the least corrupt nations too.
Today, Singapore's economy is reliant on manufacturing and exporting electronics and machinery, as well as financial services, tourism and shipping.
Why not visit the National Museum of Singapore to learn all about the island's fascinating history? Buy tickets here!
Alternatively, why not join a guided walking tour around the heart of Singapore, covering all of the city-state's key historical attractions?
Singapore Travel Guide: Useful Information
How to get to Singapore?
Changi Airport in Singapore is one of the best connected airports in the world. Did you know there are more than 100 airlines flying in and out of Singapore to more than 400 cities around the world?
Singapore's Changi Airport is also renowned as the very best airport in the world too, and wins dozens of awards every year. In fact, the airport is actually one of Singapore's highlights – you can visit without flying. Make sure to read more about Changi Airport below.
From the UK, you can fly direct to Singapore on British Airways, Qantas and Singapore Airlines. Or on Emirates, Abu Dhabi, Qatar, Thai or Malaysian Airlines with a connection.
From the US, you can fly direct on American Airlines, United and Singapore Airlines from a number of cities across the US.
You can also fly direct on Singapore Airlines to Johannesburg and Cape Town in South Africa, as well as India, Australia and all across Asia and Europe.
Another option is to arrive in Singapore by train, from several destinations in Thailand or Malaysia. There are two train lines going through Malaysia, so you can either opt for the Main Line, via Penang or the Jungle Line. I've taken the Jungle Line to read the Perhentian Islands from Singapore – what an adventure that was!
Visiting Singapore on a layover
If you're visiting Singapore as just a layover, then the first thing you may want to do is store your bags for the duration of your visit. There's reasonably-priced luggage storage in each terminal at Singapore Airport and they're open 24 hours a day. You can even leave bags in one of these for a couple of days, if you need to.
Something many people don't realise, is that Singapore's Changi Airport actually offers free guided tours of Singapore!
The only caveat is that your layover must be at least 5.5 hours, and less than 24 hours. You can't book ahead as they only accept walk-ups on the day, and the tours fill on a first-come-first-served basis. Inside the airport, you just need to find the 'Free Singapore Tour' booths inside the Transit Malls in T2 and T3.
There are two main types of tours: the Heritage Tour running five times a day and the City Sights tour which runs twice a day.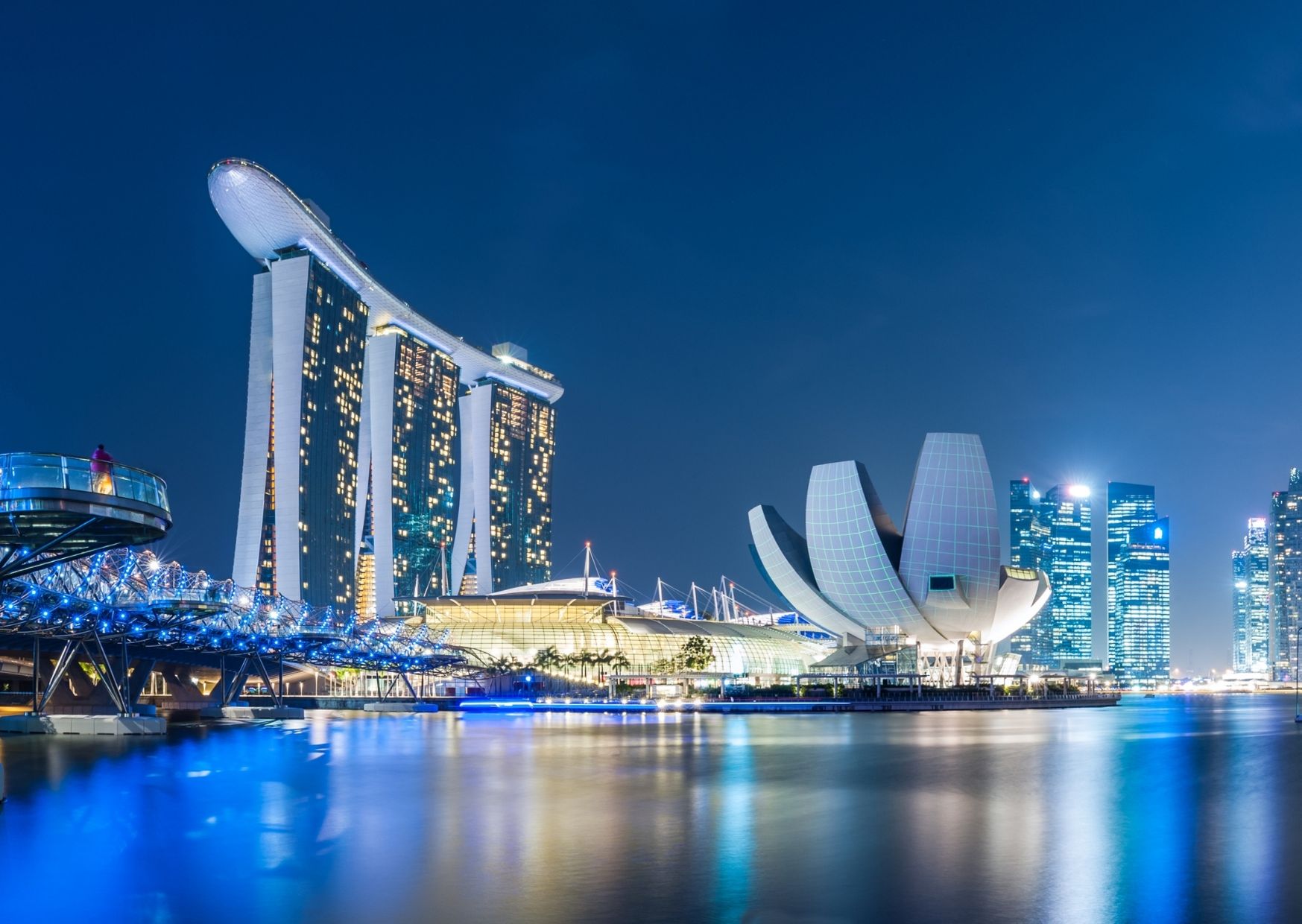 Singapore Visas
Most nationalities do not need a visa for Singapore, including Australia, New Zealand, the UK, the US, as well as most of Europe, North America and South America. This generally covers stays for up to 90 days.
Make sure to check with your home countries' embassy before arriving. A few examples of countries that do need a visa include China, Turkey, Russia, India, Nigeria and Morocco.
How to get around Singapore?
Although Singapore is a relatively small island (725km²), you will need to use public transport to get around its dense city centre. Singapore's MRT (the Mass Rapid Transit) is a highly efficient and well-connected train network that charts the whole city.
You can buy a Singapore Tourist Pass (STP) which offers the best value for travel around Singapore. Unlimited travel for one day costs SDG $10 (/USD $7.50, two days costs SGD $16 (USD $12) and SDG $20 (USD $15) for three days. You can use this pass on the MRT and on the excellent air-conditioned buses.
Taxis in Singapore are reasonably priced and should always be on the meter. A taxi from Singapore Airport to the city centre is around SGD 20 and takes around 15 minutes. Or you can arrange a private transfer in advance here, for a guaranteed fixed fare.
You can also rent bikes and cycle in Singapore, which is a surprisingly easy city to get around on two wheels as it has a decent route network. Book a city bike tour here!
When is the best time to go to Singapore?
Singapore is located very close to the equator meaning it's hot and humid all year-round. There's no better or worse season to visit Singapore, as the weather is consistently over 30 Celsius every day. There are two key monsoonal seasons in Singapore. From December to March and June to September, but as a tropical destination, you really expect rain at any time of the year.
Currency and Budget
Singapore uses the Singapore dollar. In late 2020, the exchange rate was around 1 SGD to 0.55p (GBP) or $0.74 (USD).
Cards are widely accepted across Singapore. And as the city pushes to become cash-less, you may not need to withdraw money at all. But, if you do need to, you will find ATMs everywhere to withdraw. Even hawker centres (street food markets) are moving towards cash-free!
Well, Singapore isn't cheap. In fact, it's one of the most expensive destinations in the world to visit. And it's certainly not as cheap as it's South East Asian neighbours.
But it's not unaffordable and is similar in price to London, New York or other major global cities. But as with those destinations, there's always dozens of free or low cost activities and sights to see!
Accommodation
Hotels and hostels are not cheap in Singapore. A bed in a dorm room will set you back as much as $20 SDG per night (£11/USD $15). And a private room in a hostel or guesthouse is likely to be nearer $45-70 SDG (£25-40/USD $34-52) per night.
Mid-range hotels and luxury hotels are at a similar price point to other major cities, such as London.
You can find rooms for around $90-110 SDG (£50-60/USD $45-67) per night. But a night at an iconic hotel, such as Marina Bay Sands, will easily be around $445 SGD per night (£350/USD $331).
Food
Fortunately, you can eat on a budget in Singapore especially if you eat at the city's iconic street food markets, called Hawker Centres. Full meals there can be around $2-6 SDG (USD $1.50-4.50). And don't dismiss these often chaotic Hawker Centres, they can actually be home to some of the best food in Singapore! For example, the world's cheapest Michelin starred meal can be found at Liao Fan Hong Kong Soya Sauce Chicken Rice & Noodle, and costs just $3 SDG (USD $2)!
Regardless of your budget, any trip to Singapore should include at least a couple of visits to eat in Hawker Centres. They're busy and bustling, and the perfect place to see Singapore daily life in action.
Eating in Little India or Chinatown will also help you save some dollars on eating out in Singapore too.
You can also eat in casual restaurants for around $15-20 SDG (USD $11-15) but otherwise, fine dining restaurant prices can be similar to New York, London, Paris etc. And there are certainly some special places to dine in Singapore!
Activities
Singapore has a great number of free activities to do in the city, from exploring Clarke Quay, Merlion Park and the Singapore Botanical Gardens, to visiting Bukit Timah Nature Reserve.
However, those that do cost can be quite expensive. For example, entry to the SkyPark Observation Deck at Marina Bay Sands is $23 SDG (USD $17), entry to the Singapore Zoo is $48 SGD (USD $36 and entry to Universal Studios is SGD $81.
Finally, joining walking tours are a great way to see the city too. Singapore Footprints offer great free tours around the city, but do keep in mind to take some cash as a tip for your guide.
Transport
Public transport is really well-priced in Singapore and offers a great value way to explore the city. As mentioned above, purchasing a Singapore Tourist Pass (STP) is the best way to get around with unlimited travel costing just SDG $10 (£5.60/USD $7.50) for one day. Far cheaper than London!
Taxis are also reasonable and should always be on the meter. And despite the heat and humidity, Singapore is a great city to walk around.
Places to See & Things to Do in Singapore
City Centre & Areas to Visit
Singapore is a multi-cultural and diverse city that is packed with historical monuments that sit in direct contrast to the modern, glass skyscrapers. Many national monuments are located in the city's colonial district, most of which date back to the days the Singapore was a British colony.
Singapore's national icon is the Merlion, which is a lion's head sitting atop a fish's body. This reflects the city's earlier name, Singapura which means 'Lion City' and the tail represents Singapore's early history as a quaint fishing village, called Temesek.
At the heart of the city, in Merlion Park, you will find a large fountain of a Merlion which was unveiled in 1972.
Clarke Quay
This historical riverside quay area is at the heart of Singapore. The boardwalk is lined with dozens of restaurants, cafes, bars and nightclubs. It's an easy place to come for a delicious meal or drink right in middle of the action. As night falls, it's a particularly lively area.
Following on from Clarke Quay, you can continue towards the famous Merlion park where you will find the Merlion Fountain.
The views from here are stunning in all directions, and this is a great place to snap Marina Bay Sands from across the water.
Hawker Centres
Submitted by Nicholas from ramblingfeet.net
Where in the world can you find a Michelin-starred meal for S$2.80 (US$2)? Only in a hawker centre in Singapore! In concept, it's a collection of street food stalls and tables under one roof. The oldest ones were built by the Singapore government to put street food vendors in fixed locations that had proper sanitation. However, new ones are still being established to feed the millions who eat out on a budget.
When you visit a hawker centre, you'll be greeted by tens, sometimes hundreds of food and drink stalls. Each sells and specialised in one or a handful of local specialities. Line up, order your food, pay and take it back to your table. Repeat this a few times and you and your friends will have assembled a smorgasbord of traditional Chinese, Indian and Malay delights such as chicken rice, roast pork, satay, roti with curry, kueh-kueh (steamed desserts) and many, many more, to be washed down with tropical fruit juice, tea or sugar cane.
Even if you go it alone, there are many one-person meal options for less than S$5. It's one of the cheap pleasures in an otherwise pricey country. Due to the lower overheads, it's not uncommon for younger chefs to use hawker stalls to test more contemporary or foreign offerings like protein bowls, ramen, and even craft beer.
You'll seldom be far from a hawker centre in Singapore, and those that are especially famous, close to tourist landmarks and have even become attractions of their own include Amoy Street, Chinatown Complex, Maxwell, Golden Mile, Newton Circus, Lau Pa Sat and Adam Road Food Centres. If you have a hard time choosing, the stalls with the longest queues are often those that are well-known for tasty food. Certain stalls have achieved cult status among locals, including two that received Michelin stars in 2016. As a tourist, make sure you're armed with cash. Only some stalls accept contactless payment methods like Grabpay and Alipay, and even fewer accept credit cards.
If the idea of exploring these hawker centres is a little daunting, then why not join a guided foodie tour? It even covers includes sampling Michelin star chicken and rice! Book a hawker centre foodie tour here!
Singapore Flyer
Submitted by Bec from Wyld Family Travel
Seeing a city from above is always an amazing experience and one that definitely needs to be done in a city like Singapore.
The Singapore Flyer will give you a ride like no other and the best views over Singapore at any time of the day.
During the daytime, you may find that the lines can be long and the pods are quickly filled. But if you wait until a little later into the evening, you may be able to get on quickly and see the lights of Singapore with hardly anyone in a pod with you.
You can see the stunning Gardens by the Bay lit up, as well as the iconic Marina Bay Sands hotel, with the city lights as the perfect backdrop.
A full rotation in The Singapore Flyer takes around 45 minutes with small stops along the way. The pods are air-conditioned for your comfort and there is a bench seat in the middle if you need to sit. If you have small children or mobility issues you can get help from the attendees to easily enter the pods as they stay moving along a platform.
There are also opportunities for you to have a different experience on the Flyer if you choose to do so with pods that are set up for dinners or for champagne rides. It would be the perfect way to end your trip to Singapore.
Even if you are travelling to Singapore on a budget it is one experience you should not miss.
ArtScience Museum
Submitted by Matilda from thetravelsisters.com
ArtScience Museum is a must-see attraction in Singapore for both adults and kids. The museum, which explores the links between art and science, is not only fun and educational, it is also one the most instagrammable places in Singapore.
The museum, which is part of the Marina Bay Sands integrated complex and hovers over the waterfront, can be easily spotted thanks to its iconic and unique architectural design. The exterior of the museum resembles a white lotus flower to symbolize the welcoming hand of Singapore with ten fingers. The building was designed with the environment in mind – the windows at the tips of each finger allow natural light for the galleries and the reflecting pool lily pond at the base collects rainwater from the dish-shaped roof which is recycled for restroom use.
The museum houses several changing exhibitions and is also home to the permanent exhibition, FUTURE WORLD: Where Art Meets Science, which is produced by teamLab, an international art collective. Here visitors can immerse themselves in a digital universe of interactive art installations revolving around the themes of Nature, Town, Park and Science.
The museum is popular with both tourists and locals, so it is recommended to visit in the morning when it is less crowded.
Helix Bridge
This iconic pedestrian bridge opened back in 2010 and links the Marina Centre and the Marina south area. A visually stunning and unique piece of complex architecture, it is constructed by four different inner spirals winding around a central walkway. There are also several viewing platforms along the bridge to take in the panoramic view. At night, the Helix Bridge is lit up, providing a beautiful, dazzling experience.
The best way to explore the whole of the Singapore city centre key sights and attractions is by hop-on hop-off bus. Buy your bus tickets in advance here.
Cultural and Ethnic Neighbourhoods
These vibrant and lively districts are home to different ethnic communities in Singapore. Each is full of eye-catching sights and attractions – make sure to visit at least one or two on your trip to Singapore.
Little India
Submitted by Lotte from phenomenalglobe.com
Little India is without a doubt the most colourful neighbourhood in Singapore. A visit to this charming area should definitely be on your Singapore itinerary, allow at least half a day to explore this part of the city.
Some of the best places to visit include the Sri Veeramakaliamman Temple. This is one of the oldest Hindu temples in Singapore and certainly one of the most colourful. It's dedicated to the goddess Kali, the destroyer of evil. Both the exterior as well as the interior are impressive. If you go inside the temple, please dress respectfully as this is a place of worship.
Make sure to also stop by the The House of Tan Teng Nia. This brightly coloured house is actually Chinese structure. It was built around 1900 and one of the most famous and Instagrammable buildings in Little India. Another thing to do is to wander down Serangoon Road, which is the main road of the neighbourhood. Along this street you can find lots of excellent restaurants as well as tailors and jewellery shops.
Other places to add to your Little India sightseeing list are the The Abdul Gafoor Mosque and the Mustafa Centre (a shopping centre). Make sure to also visit the Sakya Muni Buddha Gaya Temple (also known as the Temple of a 100 Lights). Little India has its own stop on the MRT so it's easy to get to. There are many boutique hotels in the area. A particularly lovely place to stay is the Wanderlust hotel which is housed in a beautiful Art Deco heritage building.
Why not join a guided food and cultural tour in Little India?
Chinatown
One of the longest standing ethnic enclaves in Singapore, Chinatown is wedged in the heart of the city centre. As you guess from the name, Chinatown was home to the early Chinese settlers in Singapore.
The busy maze-like streets are lined with food stalls, Chinese medicine stores, craft stores, temples and restaurants. It's a colourful mix of old and new, with pre-war shophouses still selling the same wares today.
It's full of hustle and bustle, and a great place for a casual dinner sitting in one of the lively street restaurants.
There's several temples to visit, but I think Sri Mariammam is one of the best. This Hindu temple was built in 1827 in Chinatown in a style known as the Dravidian, and is devoted to the goddess Mariamman. She was best known for curing diseases and illnesses. This is the oldest Hindu temple in Singapore and is highly colourful and orange. You can visit daily from 7am to 12pm, and 6pm to 9pm.
Finally, make sure to visit the Chinatown Complex Food Centre, it's a popular Hawker Centre on Smith St.
One way to explore Chinatown is on this popular night tour, including dinner, a trishaw journey and boat ride!
Kampong Glam
This vibrant and diverse city enclave is home to the Malay-Arab community in Singapore. Just off North Bridge Street, you will also find Sultan Mosque which is the biggest in Singapore. It's well worth a visit to marvel at its golden domes. You can also visit the Malay Heritage Centre, which is located within an old-colonial style building. Come here to learn all about the history and background of the Singapore Malays, the second biggest ethnic community in Singapore.
Exploring this area is a calmer affair than Little India or Chinatown. Arab street in particular is a must-visit. This pedestrianised street is lovely to walk along, with colourful restored shophouses housing coffee shops and modern art galleries. You will a number of traditional business too, such as carpet or fabric stores. Arab Street is adjacent to Haji Lane and the MRT stop you want is Bugis.
Haji Lane
Submitted by Tom and Zi from wearecravingadventure.com
Kampong Glam, the Malay-Muslim quarter in Singapore, is a prime example of an old charming quarter full of culture that has been revived in recent years. And Haji Lane takes the crown as one of the best places to discover in the area.
Haji Lane is known for the colourful graffiti in the streets, but its charm extends beyond just paint on a wall. As you walk around remember to look up – there are sculptures and all sorts of decorations, as well as restaurant furniture complementing the murals for a truly fabulous display. On Haji Lane, you'll find hip bars, boutique shops and an array of wonderful restaurants making this the place to be at any time of the day.
Mornings are perfect if you want to avoid the hustle and bustle and take some photos with the famous graffiti. If you want to shop at the cute boutiques or grab a delicious cup of barista coffee then head over to Haji Lane for lunch or in the afternoon. Haji Lane is also great for dinner and evening drinks. There's plenty of restaurants and bars for you to choose from. Most nights you'll get to enjoy live music performances and there's even some night clubs if you wish to dance the night away.
Koon Seng Road
Another area to visit is Koon Seng Road, which is packed with colourful, narrow houses dating back to the 1920s. Koon Seng Road is a little further out from the city, but it's worth it to explore this charming area – but don't expect tourist attractions or sightseeing around here.
Gardens of Singapore
Singapore Botanic Gardens
The Singapore Botanic gardens are close to the city centre, and are home to the National Orchid Garden. Entry is free and the gardens were Singapore's first UNESCO World Heritage Site. There's rainforest to explore, streams, waterfalls and even a ginger garden!
The gardens are open from 5am to 12am, and the perfect place for a relaxing stroll.
National Orchid Garden
Submitted by Elena from passionforhospitality.net
The National Orchid Garden located in the Singapore Botanic Garden is the largest exhibit of orchids in the world. The garden is home to 2,000 orchids of 1,000 different species, along with 60,000 other flowers. Singapore's national flower, which is the Papilionanthe "Miss Joaquim" orchid, is also on display in the garden.
The Orchid Garden is located in the highest hill of the Botanic Garden, occupying three hectares of landscaped slopes. The Garden is naturally divided in four colour zones: the spring zone, the summer zone, the autumn zone and the winter zone.
In the spring zone bright shades of yellow, gold and cream are spread out, while in the summer zone red and pink orchids are sovereign. In the autumn zone orchids of matured colours as dark green and deep yellow prevail and in the winter zone white and cool blue orchid flowers.
There is also a VIP area for 200 orchid hybrids which have taken their name after famous politicians and head of states, royal family members and other important socialites, like Obama, Nelson Mandela, Princess Diana, Prince Willam and Kate Middleton, Margaret Thatcher, Jackie Chan, to name a few. A preservation and conservation program running in the Orchid Garden ensures the preservation of endangered species in order to distribute them in green spaces throughout Singapore.
The Orchid Garden opens its door daily at 8:30am and closes at 7pm. Entrance costs SGD $5. Buy your tickets in advance here.
Gardens by the Bay
Submitted by Caroline from cktravels.com
The spectacular botanical architecture of the Cloud Forest and Flower Dome in Gardens by the Bay are some of Singapore's most popular attractions and a must do when visiting the city.
Almost like a grandiose conservatory, this greenhouse-like glass dome is made up of more than 3,300 individual glass panels and is climate-controlled with jets of cool vapour. It is one of the best spots to cool off from Singapore's heat with temperatures inside ranging between 23-25°C.
The Cloud Forest holds the world's tallest indoor waterfall, which descends from the top of the ceiling 30 metres above and is one of the most instagrammable spots in Singapore. Thoughout the mist-filled landscape there are spiralling walkways where you can wander amongst orchids, pitcher plants, ferns and tropical vegetation.
Cloud Forest's smaller brother, Flower Dome is next door and has different colourful gardens such as the Mediterranean Garden and Succulent Garden. The gardens feature a wide range of exotic plants from all five continents and thousand-year-old olive trees.
Tickets are required to enter and cost SGD $28 per adult and SGD $12 per child (to access both conservatories). It is a great family friendly attraction and a perfect place to visit on a rainy day.
Arrange your e-ticket for Gardens by the Bay here.
Supertree Grove and OCBC Skywalk
Submitted by Krisztina from shewandersabroad.com
Located in the heart of Gardens by the Bay, the Supertree Grove is undoubtedly one of the most famous icons of Singapore. These unique looking trees are not actual trees, they are made of concrete and steel and they work as vertical gardens, home to more than 158,000 plants. Each Supertree has a different planting scheme and most of their canopies are embedded with environmentally sustainable functions.
There are 18 Supertrees in total, scattered around Gardens by the Bay. You can find 12 of them in the Supertree Grove. The other 6 are placed in two different clusters, one at the Golden Gardens and the other one in the Silver Gardens. Although Singapore is expensive, visiting the Supertree Grove is totally free which definitely makes it one of the best things to do in Singapore.
If you want to see the garden from a different point of view and get an up-close look at the Supertrees, you can purchase a ticket for the OCBC Skywalk, which is a 128-metres long aerial walkway among the trees. The skywalk is open between 9am-9pm and an adult ticket costs SGD $8 per person.
Another thing not to miss in Singapore is the Garden Rhapsody by the Supertree Grove. Each day when the night falls the Supertrees come to life and perform a magnificent music and light show. Even if you have only one day in Singapore, seeing this incredible performance is a real must!
Supergrove Light Show
Submitted by Dave from davechant.com
Imagine staring at a concrete core (probably the ugliest building material ever). And yet it's been covered in a steel frame and then planting panels to form a living skin. It's 50m tall and on top stretches a canopy like an upturned umbrella. Moreover, it's lit up with the sound of music drifting toward you.
This is the Supertree Grove, one of many phenomenal structures that adorn the Gardens by the Bay in Singapore. 18 Supertrees live in the Gardens, 12 of which are in the Grove, including the tallest at 50m high.
Made using environmental technologies that use photovoltaic cells to harness solar, they "breath" like plants. So they even "photosynthesis" like plants and the rainwater is collected for use in irrigation. The concept is mind boggling.
Every night at 745pm and 845pm, the Garden Rhapsody begins. This is the Supergrove Light Show, a 15minute light and sound show. You can admire the power of 158,000 plants clinging vertically to the trees. This comprises of more than 700 species including orchids and bromeliads.
The show is completely free. However if you want to witness the show from the OCBC Skyway, the 128m long aerial walkway between two of the biggest supertrees, you will need to buy tickets.
However, the light show is best viewed from the ground. It's definitely recommended to get there early for a pick of the best spaces. Arriving before sunset means you can see the trees at dusk in the light and then in the dark for the show. Also at present due to Covid, the show has been replaced with lights and background music from 7pm to 10pm.
Sentosa Island
Sentosa is the home of entertainment – from nightlife to amusement parks. But there's also some important historical sites. For example, the former British naval base called Fort Siloso. Visiting here provides a interesting insight into Singapore's complex history. You can explore the last remaining fort on Singapore's coastline, which is still replete with guns and ammunition. Fort Siloso is open everyday from 10am to 6om, and entry costs SGD $6. (£3/USD $4).
S.E.A Aquarium
Submitted by Sharon from diveintomalaysia.com
One of the best places to visit in Sentosa and Singapore is the S.E.A Aquarium. Not only is it the largest aquarium in the world but possibly the best. It has dozens of fantastic displays and opportunities to get up close and learn about life under the sea.
With over 100,000 marine animals here and over 800 different species, it can feel like every sea animal is represented here. There is much to love about this aquarium including the long tunnels surrounded by water and marine life swimming above you. It's the perfect way to an up-close personal experience with all kinds of animals from the sea. When walking around, make sure to also look down as there are glass-floored aquariums beneath your feet too, giving a totally different perspective.
Make sure to also visit some of the tanks for feeding displays too, as well as educational presentations. There is also the Shark Seas Habitat, containing over 200 of these predators, from endangered species such as the scalloped hammerhead shark to more gentle shark species.
For little travellers, there are many kid focused activities throughout the aquarium from making fins to doing puzzles.
Its location on Sentosa Island makes this huge aquarium easy to visit. Plus it is surrounded by shopping, restaurants and other Sentosa attractions. Being inside also means it's great to visit at any time of year and in any weather. The afternoon can be a good time to visit, as respite from the steamy heat outside.
Book your entry tickets to the SEA Aquarium here!
Adventure Cove
Submitted by Karen from bigadventuresforlittlefeet.com.au
For a hot, sunny day in Singapore nothing beats a visit to Adventure Cove Waterpark which is located within the Resort World Sentosa complex.
One of the most fabulous water parks in the world, Adventure Cove has everything. From the most thrilling, high-adrenaline rides to the more family friendly slides and attractions. You will definitely need a full day to fully enjoy all the attractions of the waterpark!
For slightly out of the box options on your visit, try out the snorkelling over Rainbow Reef. Or upgrade your ticket to include an interactive experience in Ray Bay, where you can touch and feed the large stingrays. The duelling racer slides are fun for all ages too, or for a more intense ride experience, test out the riptide rocket. This ride has been built to simulate a rollercoaster experience – but in the water!
If you're travelling in Singapore with kids, make sure to head to the Big Bucket Treehouse. Kids will also love the Adventure River. This lazy river meanders throughout the whole park, under tunnels and adjacent to aquatic wildlife of all kinds.
There is plenty of space to relax and enjoy the day, with lots of sun loungers in the sun and also in the shade of palm trees. Alos, there is the option to book your own cabana if you are after a little more luxury.
Food is plentiful and easy to purchase in the park or you can bring a picnic with you.
The easiest way to get to Adventure Cove Waterpark is via the MRT. From the city centre take the line to Sentosa with regular connections across to Resort World.
Note that in the peak school holiday periods, the wait to get back on the trains to Sentosa can be lengthy. So it is best to plan your day to arrive early and leave before the peak rush back into the city.
Universal Studios
This epic theme park is located within Resorts World Sentosa Island and is the ultimate place for thrills and excitement. There are more than 28 exciting rides to enjoy across seven themed zones. For the younger ones, there's all kinds of fun rides and adventure to be had, such as the Sesame Street Spaghetti Space Chase. And there's lots of interactive characters to meet too, such as Po the Panda and the Minions.
Adult day tickets cost SDG $81 and children ticket (aged 4-12) cost SDG $61.
Book your tickets with hotel pick-up here!
Outdoor Activities in Singapore
Bukit Timah Nature Reserve
This nature reserve is situated within the last remaining section of rainforest in Singapore, just 30 minutes from the city centre. Entry is free and you can hike or bike along the trails, and there's plenty of opportunities to get up close and personal to the local wildlife. You'll be able to spot flying lemurs and macaques, as well as dozens of species of tropical birds.
Try and visit on a weekday, as the weekends can be really busy with locals spending their downtime there.
Singapore Zoo
Submitted by Nichola from familyhotelexpert.co.uk
Singapore Zoo is a wonderful destination for any age visitor. This is a zoo which really cares about the animals it is looking after. They set out to remove barriers and cages ever since it opened in the 1970s, to give the animals a more natural living environment.
Today there are over 300 different species (34% of which are threatened) and you get the opportunity to join in with some of the feeding of the animals which is a wonderful experience.
In particular feeding the elephants is a really fantastic opportunity to get up close to these gentle creatures. Throughout the 26 hectare grounds there are signs and reminders about caring about the wildlife closer to home and the things we can all do to help keep animals safe and protected.
Within the zoo there are some great dining options including the sweetest panda bao buns.
If you are looking for the best family hotel in Singapore, there are a number close to the zoo. This can make it easier to visit more than once – which you will definitely want to do! The zoo is just huge, and one day probably won't be enough!
Mount Faber Peak
Submitted by Jackie and Justin from lifeofdoing.com
Mount Faber is one of the highest hills in Singapore. An adventurous way to reach the summit of Mount Faber at 94m (308 feet) is to hike. A beginner-friendly out and back trail is Marang Trail. It's easy to get to from the Harbourfront MRT station. Plus, the trail isn't technical as there are plenty of staircases and paved routes but wearing running or walking shoes is suitable.
It'll take between 30 minutes to over 1 hour, depending on your speed, to reach the top. Take the time to go up and observe the greenery from the forest area.
Once you reach the top, you're at Mount Faber Park. One side will have gorgeous views of the forest area overlooking the bay, while the other side has tall apartment buildings. If you continue down the road, you'll end up at a small park area and will see a small Merlion statue.
There is a Faber Peak building that has restaurants overlooking the scenic area. It also has a cable car station so you can take the cable car to Sentosa Island, making for a great twin-area day out. You can arrange your cable car tickets to Faber Peak here, which also includes lunch at Arbora Hilltop restaurant.
Since Singapore gets hot and humid as the day continues, add this hike to your Singapore itinerary for the early morning. Bring lots of water to rehydrate, snacks to refuel, and a towel to wipe off the sweat.
Tree Top Walk in MacRitchie Reservoir Park
Submitted by Geena from beyondthebucketlist.co
First-time visitors to Singapore are always surprised at the vast green spaces inside this bustling modern metropolis. Travellers looking for a bit of a break from the city streets can spend a day exploring the MacRitchie Reservoir. This is a lush, sprawling forested park packed with hiking trails circling a lovely man-made lake. It's a little slice of nature in an otherwise modern and futuristic city-state.
The Tree Top Walk is undoubtedly the most scenic trail in the park. A high-hanging suspension bridge offering panoramic views of the lush green Singapore jungle. It's also home to plenty of rambunctious monkeys so be careful where you choose to eat your snacks!
There are multiple routes that you can take to get you to the Tree Top Walk depending on where you start your hike. If you get a taxi from the city you can begin at Rifle Range Road Trail for a 7km hike. But if you're a backpacker on a budget trying to visit Singapore for under $30 per day, you can also take the metro. This will drop you just outside Macritchie Reservoir Park. From here, you can take the MacRitchie Nature Trail to the Tree Top Walk. Be warned that this is a much longer route (10-12km) and you should start early to avoid peak heat of the day. Despite the length, the trails are easy, clearly marked, and there are several water refill stations near the Tree Top Walk trail itself.
It's an absolute must-see for a well-rounded visit to Singapore.
Night Safari
Submitted by Sally from our3kidsvtheworld.com
The Singapore Night Safari is the world's first nocturnal zoo and one of Singapore's most popular attractions. It's a unique experience taking visitors on a 40 minute safari journey around all the different exhibits. Each showcasing different nocturnal animals from across six geographical regions of the world. The live commentary is engaging and will provide tourists with a better understanding of the animals of the night. The attraction is very popular with families especially those with young kids.
Home to over 900 animals including 100 different species, 41% of which are threatened species. The Night Safari focuses on promoting biodiversity and on the captive breeding of threatened species. The park has bred Malayan tigers, Asian elephants, fishing cats, red dholes, anoas, markhors, bantengs, Malayan tapirs and Asian lions, among other threatened species. This is likely the only place you will be able to view these animals.
If you prefer a more private experience, you could book a private guided tour. This provides a more personalised safari and enables you to ask as many questions as you like. There are also walking tracks around the park so you can where you can explore on foot for a closer look. Don't miss the conversation presentation in the auditorium. They run presenations about every 30 minutes during peak times and focus on the message of reduce, reuse, recycle. They're a fantastic experience for kids and involve some help from a few furry friends.
Arrange a private transfer and night safari tickets here!
Changi Airport
Singapore is surely the only destination in the world where an airport is a worthy attraction in its own right. Not only does the airport win dozens of awards every year, but it is actually worth a visit even if you're not flying.
Its latest development, called Jewel is a lush, green sanctuary – a unique destination where nature meets retail. Guests who are not flying can visit Jewel on a 2.5 hour walking tour. You can hike through the Shisheido Forest Valley and take in the incredible 40m rain vortex – the highest indoor waterfall in the world. The Forest Valley itself is magnificent, with 900 trees and palms, and approximately 60,000 plants are bathed in natural sunlight through its stunning glass roof.
The canopy park at the top level of Jewel is a huge play area. Both adults and kids are permitted to enjoy the park, which is packed with bouncing nets, giant slides and mazes. You can arrange your admission tickets to the Canopy here.
There's even a chance to experience a hawker centre in the airport at Five Spice which showcases plenty of the best street food in Singapore. You can also visit the Singapore Coffee museum to learn about the destination's coffee heritage.
Hotels in Singapore
Where to Stay
Firstly, I'd highly recommend staying in the city centre for pure ease of access to public transport. Singapore is of course home to some of the most iconic hotels in the world – Marina Bay Sands and Raffles. You can visit both as day guests, but if you can, it sure makes for a special stay.
Double rooms at the elegant and glamorous Raffles start at around £500 per night, but you check the most up-to date rates here. Check room rates here!
And then of course, the ultra-iconic Marina Bay Sands hotel. Double rooms on a lower floor start at around £271, and double rooms on higher floors start at around £350 but all rooms include rooftop pool access. Check up-to-date room rates here!
There are plenty of other luxury hotels in Singapore to opt for however that won't break the bank:
And if you don't need all the amenities of a 5* hotel, these are the best affordable stays in Singapore, some of which are very stylish:
If you want the best of a beach break, but with easy access to the city, then staying on Sentosa is best for you. There are some amazing resort hotels on Sentosa including:
Visiting hotels as a day guest
Fortunately, Raffles Hotel and Marina Bay Sands are open to external guests for day visits.
Raffles Hotel
One of the most iconic things to do in Singapore is to visit Raffles Hotel's famous Long Bar. Home to the iconic drink, the Singapore Sling, I think this is a must-do in Singapore. That being said, the drinks here are expensive (unsurprisingly perhaps).
The Long Bar in Raffles is also the only place in Singapore where littering is encouraged! You're invited to brush your peanut shells onto the floor, in keeping with the long-standing tradition.
Cocktails start at around SDG $30 (£17).
The Long Bar doesn't actually have a formal dress code, unlike the other restaurants and bars in the hotel. Kids are also welcome.
You could also visit for afternoon tea at Raffles in the Grand Lobby. This is another way to spend a beautiful afternoon at the hotel. Prices for this start at around SDG $78 but taxes and service charge is still added on top of this.
Top of Marina Bay Sands
Submitted by Samantha from samseesworld.com
There is no better place to visit in Singapore than the top of the iconic Marina Bay Sands hotel. This hotel is one of the most famous attractions in Singapore. People flock to the top of the hotel to experience Singapore from above. Not only is Marina Bay Sands an ultra-luxury hotel, but its rooftop is home to the world's longest elevated infinity pool. There are also several restaurants, bars, and an observation deck. The pool is only accessible if you are a hotel guest, but the other areas are open to the public.
To visit the top of Marina Bay Sands, you can either make a reservation at one of the restaurants or pay for a ticket to the observation deck. With these options, you get to go to the very top of the hotel get 360 degree views of Singapore's stunning skyline and ocean views. Although both are great, booking a reservation at one of the rooftop bars is the best option. This is because with this you can sit and enjoy a drink and a meal while viewing the skyline in all its beauty.
The best time to get to the top of Marina Bay Sands is right before sunset, so you can enjoy the views in daylight, at sunset and in the dark. This is why visiting Marina Bay Sands is one of the top things to do in Singapore at night.
Organise your tickets to the Marina Bay Sands Observation deck here.
Singapore Travel Guide
So there's my guide to exploring Singapore. As you can see, there's plenty to see and do in Singapore. So much more than can be done just in a layover.
From the cultural delights in the ethnic enclaves, to the futuristic museums, shopping malls and indoor gardens, Singapore is packed with great things to see and do.
I do hope this Singapore travel guide has been helpful and inspires you to visit this awesome island at this tip of the Malay peninsula. Please, as always, do let me know if you have any questions!
Singapore works really well other destinations in South East Asia, such as Thailand, Laos and Vietnam. Check out my other South East Asia blog posts here:
Disclaimer: This guide has no involvement from the local tourism board or a hotel.
Enjoyed my guide to the best things to do in Singapore? Pin it!