The beautiful Phi Phi Islands are stunning and often included on adventures in Thailand. In fact, I'd say that visiting the Phi Phi Islands from Phuket or Krabi is one of the best things to do in the whole of South East Asia. For many people, it is one of the main reasons to go Thailand.
Undoubtedly, the islands are stunning. They are home to some of the world's most gorgeous beaches and impossibly clear waters. Days spent in the Phi Phi islands are picture-perfect paradise. Silky soft white sand and huge karst limestone rocks rise from the turquoise waters. If you've seen the film 'The Beach' with Leonardo diCaprio, you'll recognise this area. It's certainly one of the reasons these islands have become so popular.
To visit the Phi Phi Islands, you have two main options. You can either visit as a day tour from one of the neighbouring larger towns (Phuket or Krabi). Or you can travel on the ferry to the islands and spend a few days there. I've done both options over the past few years and it really comes down to a personal preference, and time.
So in this guide, I'll share some of the options on offer for visiting the Phi Phi Islands from Phuket or Krabi, whether as a day trip or few a couple of nights. I'll cover options for getting there, potential day trip companies and places to stay, so you can make an informed decision for your trip.
Where are the Phi Phi Islands?
The Phi Phi Islands are located in the Andaman Sea on the western side of Southern Thailand. The main points of access are Phuket and Krabi, both of which are similar distances from the Phi Phi Islands (approx 46km). You can fly in on regular daily flights from Bangkok and other destinations in South East Asia into both these places. You can even fly to these places on airlines such as Emirates from Dubai, meaning you can miss out Bangkok entirely, if you want.
However, from Phuket or Krabi, there are no flights, so the only way to arrive is by water.
Why go to the Phi Phi Islands?
As mentioned, you have two main options.
You can either visit as a day trip, or for several nights. When I first visited the Phi Phi Islands in 2010, all the accommodation options were pretty poor and basic (although great as a backpacker). If I went now (in my late 20s), there's not a chance you'd find me sleeping some of those places today. However, several beautiful hotels have opened covering all budgets.
In fact. the Phi Phi Islands has had a real tidy up. Back in 2010, I found the main island Koh Phi Phi Don to be covered in litter, particularly the beach nearest town. It was filthy. There was also a lot of construction work going on, due to a rebuild following the 2004 tsunami – you may remember the Phi Phi islands was one of the worst hit areas.
Today, the islands have been restored to their former beauty, and are better than ever. Eco-friendly initiatives have been implemented across the islands, meaning the water is far cleaner and the beaches have little to no litter. It's far better.
Further, Koh Phi Phi used to be an absolute must-visit on any backpacker's itinerary in South East Asia. Before other places in Thailand were 'discovered', Koh Phi Phi received the majority of the tourists. The infrastructure was buckling under the weight, and bars and hotels were being built in very rushed conditions to meet the demand of tourists. Whilst it was a lot of fun, it attracted an irrespsonsible kind of tourist and all kinds of accidents were happening.
But things have really changed. There are now so many other beautiful beach destinations to visit from Phuket and Krabi that it has really relieved the pressures on Koh Phi Phi.
The overall quality of everything has now improved. It's back to being the stunning island paradise it once was.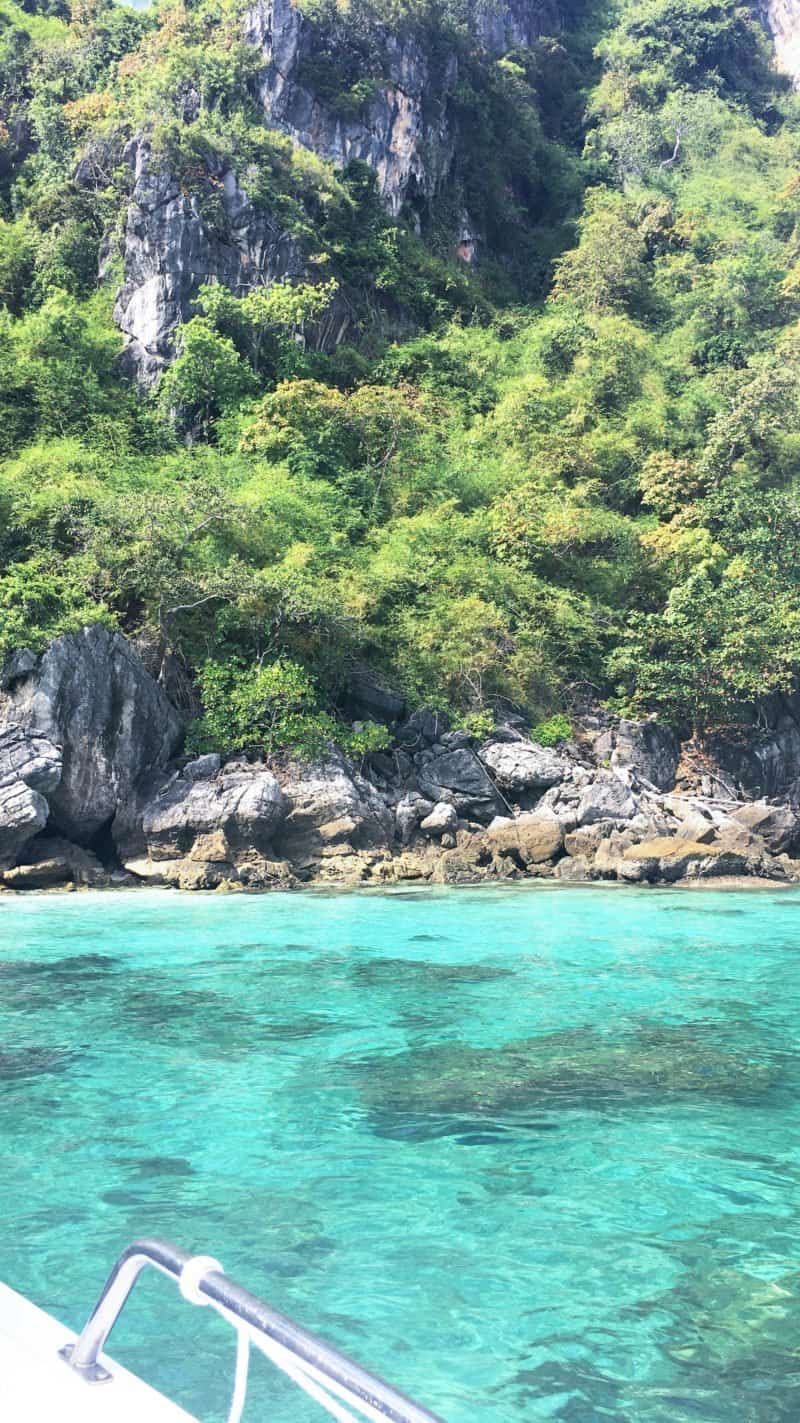 Visit the Phi Phi Islands as a day trip or stay for a few nights?
If you visit for the day from Phuket or Krabi, you can still spend time on some of the most beautiful islands but obviously, for far shorter. It's possible to see the main sites such as Maya Bay and other stunning beaches and coves, but you wouldn't visit Koh Phi Phi Don, the main island.
If you stay for several nights, you'd still need to join an organised boat tour in order to visit some of the scenic spots in the Phi Phi Islands. But you would have the luxury of spending several days relaxing at one of the well-priced hotels.
Visiting the Phi Phi Islands for the day from Phuket is probably the better option if you're short on time. It's one less extra transfer/movement, which means less risk of inclement weather and therefore cancellations. However, the cost of a day trip from Phuket or Krabi can be quite steep.
On the other hand, doing a day tour to some of the scenic spots around the Phi Phi Islands from a hotel already located there does mean you might get to some of the spots before the crowds arrive.
Anyway, please find my mini guides to either visiting as a day trip or staying in the Phi Phi Islands below.
Visiting Phi Phi Islands as a day trip from Phuket or Krabi
So if you think visiting the Phi Phi Islands as a day trip makes best sense, than this section is for you.
For this, I would recommend booking a day tour ahead of time. There are so many companies all over Phuket and Krabi offering tours, it's hard to know which one to go with. If you book a day trip through your hotel, you're likely to pay a premium, and if you book with a tour operator at a local agency, you can't really be sure of the quality of the tour.
There, I strongly advise pre-planning your tour in advance. Not only you can read reviews of other customers, but you can also see photos of the boat and other inclusions.
I've popped a few tour suggestions below, covering departures from both Krabi and Phuket.
Group tours – between £40-£120 per person. Prices varies based on boat type and inclusions.
Departures from Krabi
Departures from Phuket
Private tours – far more expensive but a truly special experience. If you have the full group size, you might find it to be really good value. These tours cost from around £400- £780 per group of 10, so £40 or £78 per person.
Alternatively, another company I can recommend is Phuket Sail Tours who have some brilliant TripAdvisor reviews.
What to expect on a day trip from Phuket or Krabi
Most boat trips include pick-up at your hotel and transfer to the marina.
On arrival to the marina, you may have to fill in a couple of forms, and you may receive breakfast.
Following this, you'll jump on board your speedboat (or similar). I recommend finding a company that either only takes small groups, or one that states it doesn't over fill the boat. You'll see many boats through the day that are huge and crammed with people. It definitely isn't a nice experience!
The first stop is often Bamboo Island. If your tour arrives early, you might get the chance to enjoy unbelievable paradise before anyone else arrives. The beach is immaculate and the sea crystal clear – a really unbelievably gorgeous spot.
Throughout the day, you'll enjoy a number of snorkeling stops, and a delicious lunch prepared by the team.
Most tours include a stop at Maya Bay. Made famous by 'The Beach' film, it is this very beach where mass tourism has taken over. Boats jostle for space up alongside the bay. However, I have seen some recent reports that Maya Bay has been closed to tourists. I wouldn't be surprised if this is still the case. I visited in 2010 and was one of a handful of people on the beach. On my most recent visit in early 2018, it was completely packed.
Staying in the Phi Phi Islands: A Travel Guide
So you've decided to base yourself in the Phi Phi Islands for a few nights? Great! Here's a helpful travel guide.
Getting there
If you're not joining as a day tour, you'll most likely need to work out your own arrangements.
Fortunately, taking a public ferry or a speedboat from Phuket or Krabi to the Phi Phi Islands is very straight forward. You can even connect on boats from other towns or islands in the region now, making it more efficient than ever. For example, you can take a high speed ferry directly from Koh Lipe, Koh Lanta or Railay, which is very convenient!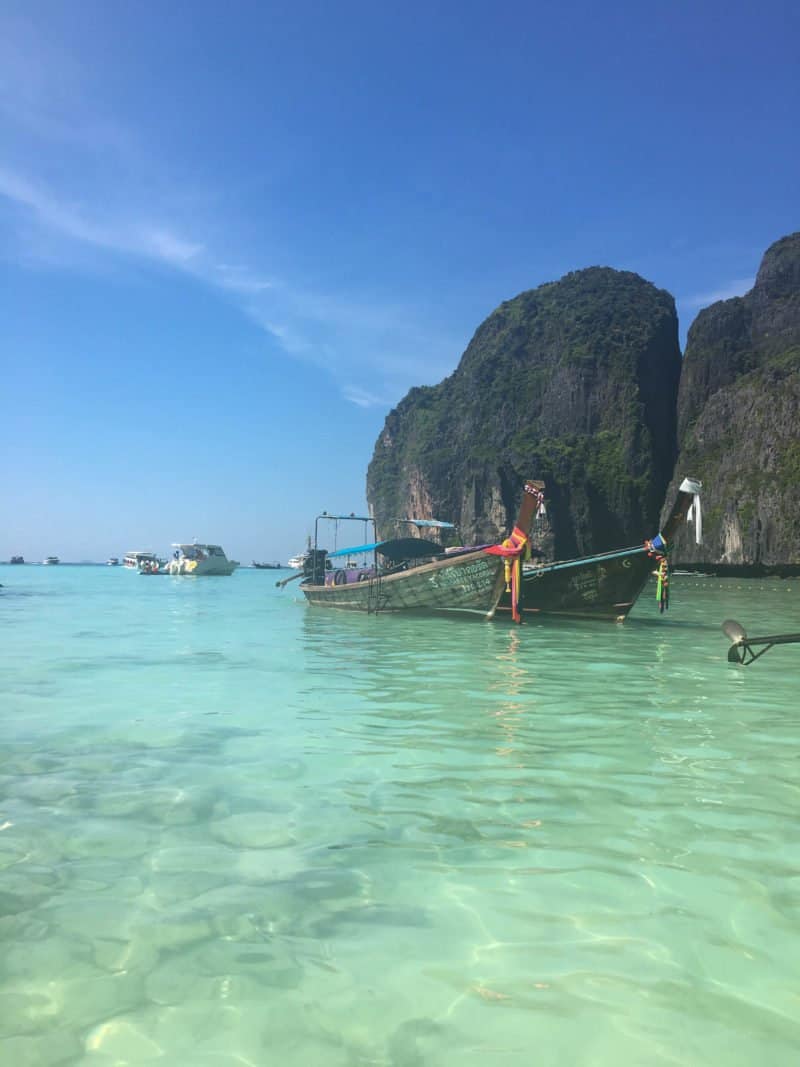 The public ferry is the most popular way to travel to the Phi Phi Islands. It takes around 1-2 hours from Phuket or Krabi. In Phuket, the main port is Rassada Pier, located in Phuket Town. In Krabi, the port is Klong Jirad Pier. Neither are that close to Phuket/Krabi's airports.
You can book on tickets on the day, but I'd recommend getting to port early. Alternatively, you can book your ferry transfers here.
Ferry transfer Phuket to/from Phi Phi or even all the way from Phuket airport to Phi Phi here.
The ferries are pretty good now. Some have open decks for sunbathing and the inside cabins have aircon.
The other alternative is a private speedboat transfer. This can be really convenient to take you right to the drop-off point for your hotel. Particularly if it's not on the main island. This is a more expensive mode of transport, but can be really good value if it's a group travelling.
Book your speedboat transfer from Phuket to Koh Phi Phi here or Krabi beaches to Koh Phi Phi here.
Where to stay in the Phi Phi Islands
So in this blog post, I've been talking about the main island – Phi Phi Don. But realistically, if you're going to base yourself in Phi Phi for a few days, you can stay in any of the six islands. They're called Phi Phi Don, Phi Phi Leh, Koh Yung, Koh Phai, Bida Nok and Bida Nai.
I've listed a few hotels in the Koh Phi Phi area that would all offer a wonderful stay. It's important to note however that there aren't any really ultra-luxurious hotels in the area. If you're looking something a bit more higher end, I'd recommend staying in Phuket and doing a day visit.
Luxury hotels:
Mid-range hotels:
Budget:
Visiting the islands in Southern Thailand
So there's my guide on visiting the Phi Phi Islands from Phuket or Krabi in Thailand. Whether you stay for a couple of nights, or if you visit the Phi Phi Islands from Phuket or Krabi as a day trip, I hope this guide helps you decide and plan your trip. If you're looking to spend longer exploring the area, then here's a great guide to the best islands in Krabi.
If you've enjoyed this post, feel free to share using the below links. Do let me know if you have any questions too and I'll be happy to help.
If you're looking for other destination guides in South East Asia, please do check out some of my other posts. I have several guides on Bali, including the best beach clubs to visit in Bali and the best beaches in Uluwatu. I've also written a complete guide to the beach towns in beautiful Sri Lanka too, another destination I really love.
Wanna see more? Check my Instagram here, my Facebook here or my Twitter here!
Disclaimer: This visit to the Phi Phi Islands in Thailand was entirely paid for by myself. There was no involvement from the tourism board or a local company. This is an independent guide.
Enjoyed my guide to visiting the Phi Phi Islands from Phuket? Pin it!
x