The 2023 edition of Wimbledon is set to take place from Monday 3 July 2023 – Sun 16 July 2023.
The two week tennis celebration during Wimbledon is one of my favourite times of the year. If anything, it's like the signal that the British summer really is in full swing. From tucking into fresh strawberries and cream, and getting sunburnt on Murray Mound, to the roars of the crowd on Centre Court, I am truly fond of this annual event and look forward to it every year.
If you're not fortunate enough to be enjoying the world-class Wimbledon hospitality or be a lucky recipient of a ticket in the ballot, then you'll need to join 'The Queue'. A line so infamous, it really is considered a proper noun now.
This renowned queue is honestly one of a kind. No other major global sporting event sells tickets in the way that Wimbledon does. Nowhere else do day visitors have to queue from the early hours in order to get a ticket, or even (if you're unlucky) not get a ticket at all…
So in order to ensure you have a successful experience in The Queue for Wimbledon, I've put together this blog post detailing all you need to know before joining The Queue. Hopefully this will be useful in your planning for this brilliant British day out.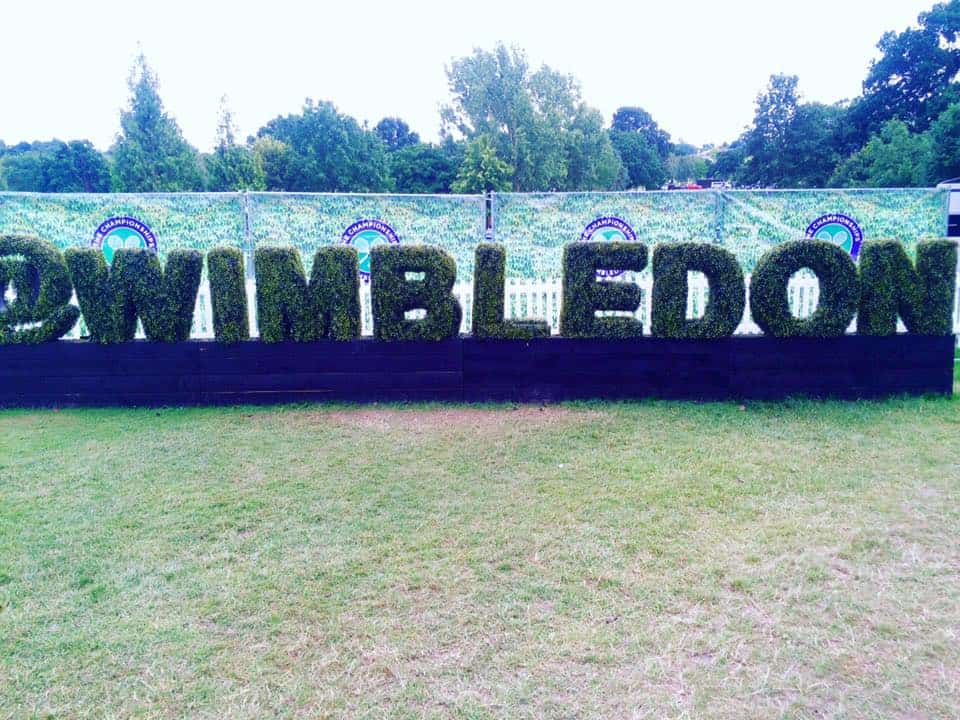 Top tips for The Queue at Wimbledon
Arrive early
Definitely not ground-breaking advice, but without a doubt, one of the most important things to know before joining The Queue. You will need to arrive super early and plan your public transport around this. Early meaning 5am, and tube/trains/buses are not all running this early. Using the CityMapper app might be the best option and Ubers might help you with this journey too.
The earlier you arrive, the higher your chance is of being able to buy one of the few coveted Centre Court, Court 1 and Court 2 tickets they keep for day visitors. There are so few of these 'Show Court' tickets, but if you're there early enough, you might be able to purchase one!
Note: these tickets are not available on the final four days of the competition.
Go to Southfields Tube Station
This is the closest and most convenient tube station to the park. On this note, make sure you get to the All England Lawn Tennis and Croquet Club, not Wimbledon Tennis Club..
Consider staying somewhere local the night before
To not run the risk of transport trouble (and pesky strikes!), another idea is to consider staying the night before in a hotel in Wimbledon. Then you guarantee an early start – and you can leave your belongings with the hotel concierge too!
Some options include:
Hotel du Vin (from around £700 per night) – the most opulent option in the area
The Wimbledon Hotel (from around £85 per night) – located between the village and the AELTC
Dog and Fox (from around £130 per night) – above a great gastro pub and adjacent to the park
Or there are plenty of Airbnb options or locals renting out their homes for the duration of the championships. Check what's still available here.
Don't try and queue jump
Queue Cards are handed out daily to each person as they arrive in The Queue. These Cards are to represent each person's exact place in The Queue. They can only be given to people present, so don't rely on getting a friend to collect one in your place. The Queue Cards are dated and numbered, and are checked again upon entry to the Grounds. Super strict!
Don't forget about later entry too…
The other opportunity to go to Wimbledon and snag your chance to see top quality tennis, is by joining The Queue in the afternoon. The turnstiles open at 10am for those who waited from the early hours to see a full day of tennis, and then again later in the day. This is ideal for those who want to soak up the incredible Wimbledon atmosphere, but not spend the whole day there. I've been before at 5pm and managed to get hold of tickets to see Murray and Tsonga play on Centre Court. Which brings me to my next point…
You can buy top tickets in the late afternoon..
Hang around near the small hut at the top of Murray Mound (near gate 18) at around 4/5pm. Ticket holders from Centre Court and Court No.1 who've left at some point during the day hand their tickets back in, which are re-sold with the proceeds going to charity. This means that some lucky people can get last minute top tickets to watch the final sets of some of the day's biggest games.
These tickets cost £15 for Centre Court or £10 for No.1 and No.2 Court.
Wimbledon Dress Codes
Visitors in The Queue seeking day ground admission passes don't need to adhere to any dress code. BUT should you be hoping to find your way onto one of the top courts, it's definitely best to dress the part.
If you're planning to spend a good amount of time watching the big screen on Murray Mound, you'll want to opt for more comfortable clothing. Also, days at Wimbledon tend to mean a lot of walking and standing, so wear comfortable shoes.
A grounds admission ticket costs around £27
And Grounds Admission means access to courts 3-18 and of course, the famous Murray Mound. Bring yourself a picnic and some Pimms, and soak up the atmosphere here.
You can bring your own alcohol to Wimbledon
Yep, you heard that right! It is limited to one bottle of wine or Champagne per person, or two cans of beer. You're not allowed to bring in bottles of spirits and you are requested to drink your alcohol in special designated areas.
So there's my guide to The Queue at Wimbledon and how to succeed in a brilliant day at one of the best tennis events in the world. If The Queue sounds like all too much, then don't forget to consider Wimbledon hospitality
For full detailed information and to answer anything else you might need to know, please check the 2023 Guide to Queuing here.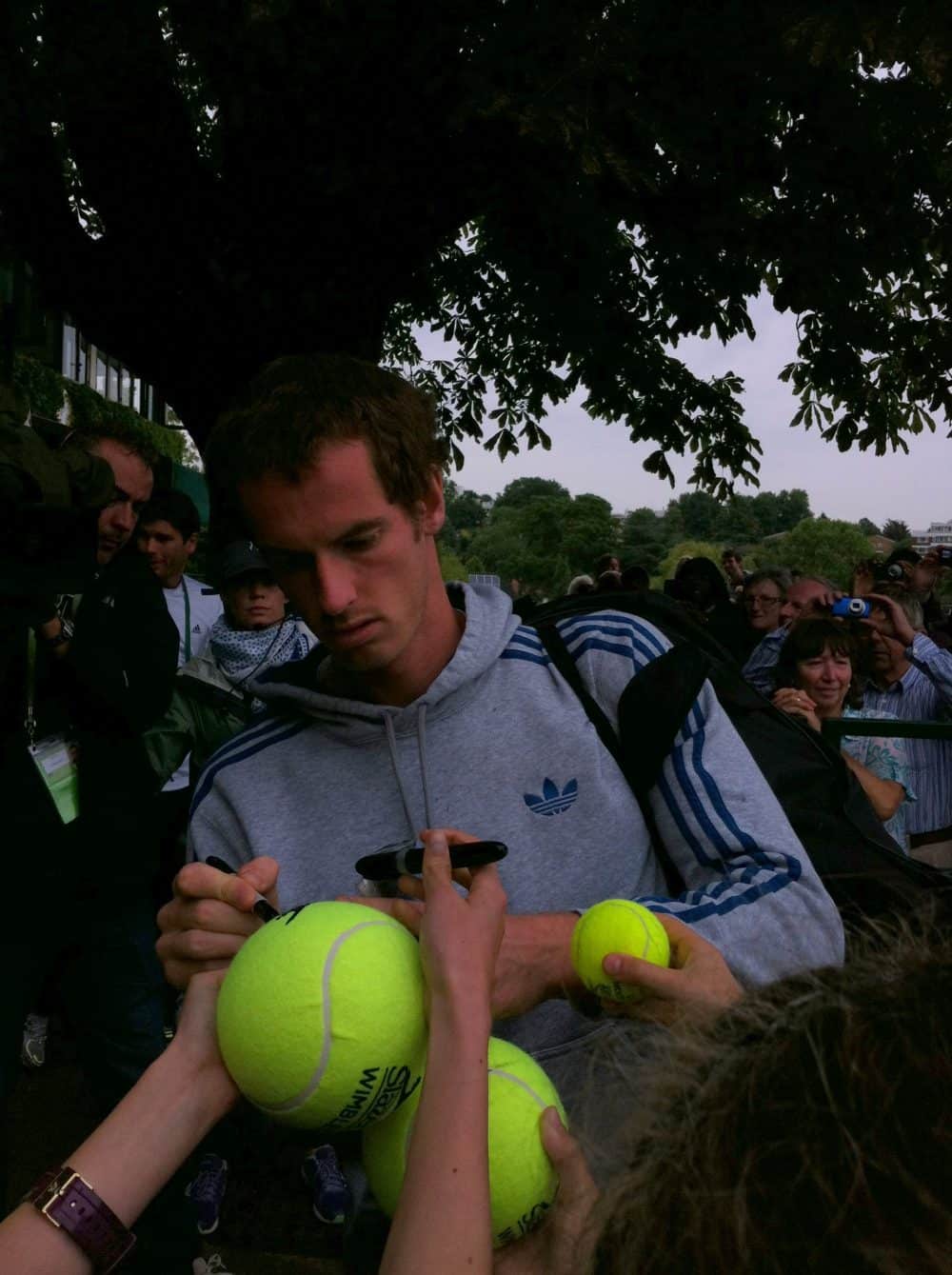 I hope this guide proves useful if you're planning on going to Wimbledon for the first time and I hope it answers all your questions on The Queue. My last tip is keep your eyes on the watch out – you can spot famous tennis players all over the place!
Disclaimer: This guide has no involvement from the local tourism board, a hotel or Wimbledon.
Enjoyed my guide to the Queue at Wimbledon? Pin it!