Driving from Cairns to Cape Tribulation, home to The Daintree, the world's oldest rainforest, was one of the first adventures I had in Australia. I was living in Melbourne, and having spent 6 weeks in the city during the Australian winter months of July and August, I was keen for some sun and warmth.
So my friends and I headed to Cairns in Tropical Northern Queensland, with no set plans but an overwhelming need for heat and adventure at the end of August. Only when I got to Cairns did I find out more about the Daintree Rainforest and realised I needed to go!
We quickly formulated a plan to get a hire car and a map, and the next day, we headed north from Cairns to Cape Tribulation. In no time at all, we had left the city centre of Cairns and were cruising up the Captain Cook Highway. And what a road trip adventure we had.
Cape Tribulation is unique in that it is the only place in the world where two UNESCO World Heritage Sites meet. The slogan used by the local tourism board of 'reef meets rainforest' is perfect, as the beautiful Daintree Rainforest reaches the wild beaches of Cape Tribulation, where it is met by the Great Barrier Reef. It is quite something.
So here's my guide on the Cairns to Cape Tribulation road trip, which is must-do adventure, whether you're travelling the East Coast of Australia, or enjoying a holiday in Cairns.
Cairns to Cape Tribulation: Essential information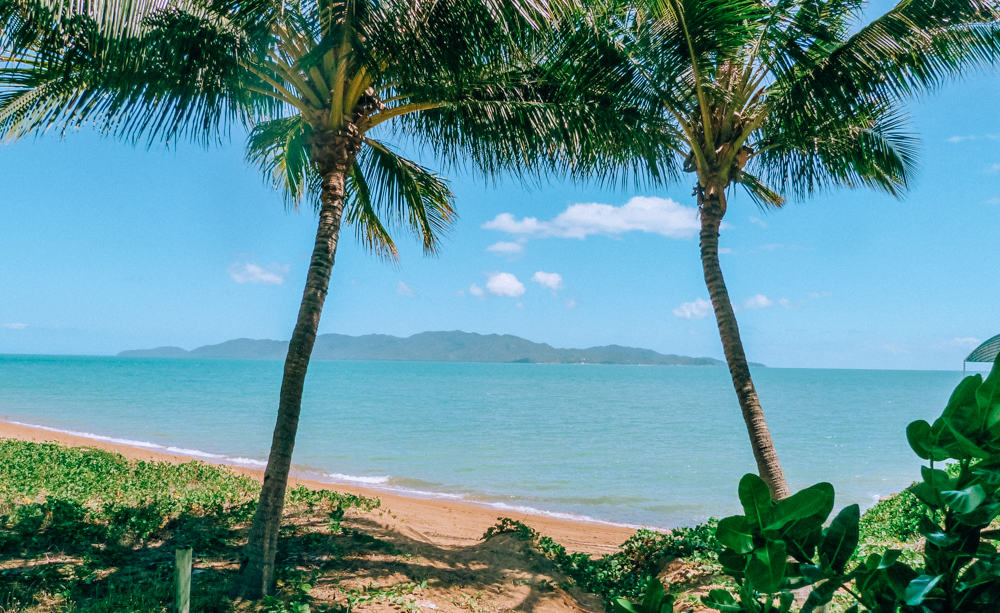 Best time to visit Cape Trib & the Daintree Rainforest
Ideally, I would recommend avoiding the months between January and March, which is the height of the Australian summer. This brings the hottest, wettest and most humid weather to Tropical Northern Queensland. It is also 'stinger season' during these months, which means the presence of box jellyfish in the waters which have painful (and sometimes fatal) stings.
The best time to go to Cairns and Cape Tribulation is between May and September when the area sees hot, sunny and dry days. This also means better visibility underwater, which is key if you're planning to also visit the Great Barrier Reef.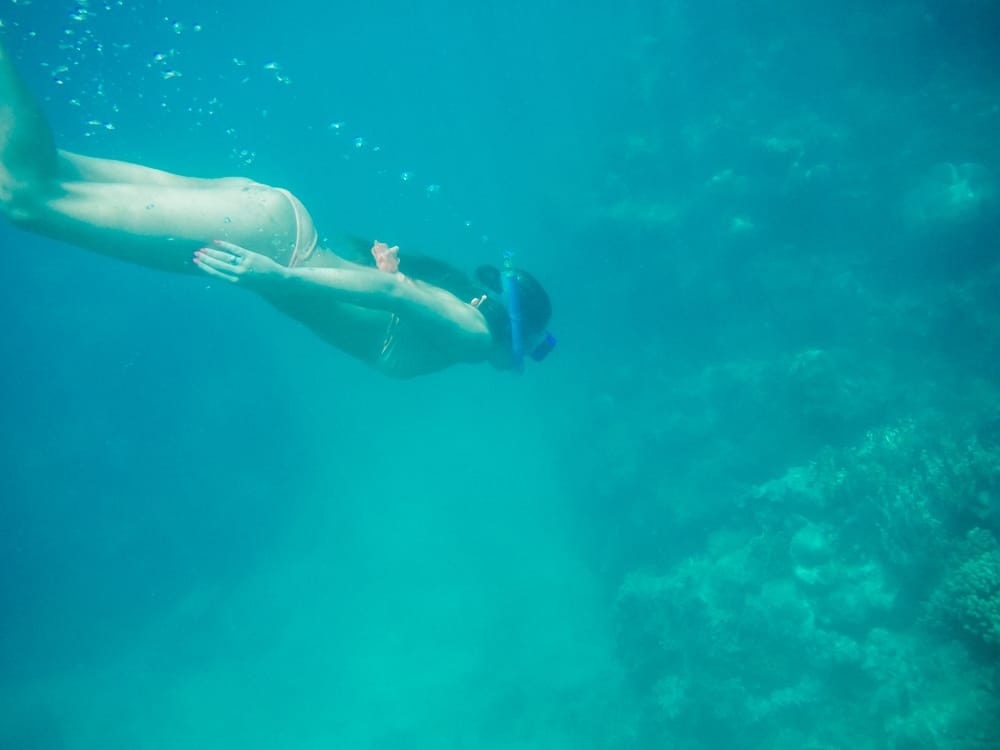 Should I do a one day trip road, or stay overnight?
This entirely depends on the time you have available and how much you want to spend on the experience.
It is perfectly do-able to do the the Cairns to Cape Tribulation road trip in one day, if you leave around 8am or 9am in the morning. You'll definitely return after dark, if you choose to have dinner in the rainforest.
Alternatively, it is a special experience to sleep in the rainforest and there are plenty of small lodges, cabins and eco-stays to pick from. I would always recommending booking these beforehand, if possible. It wouldn't be ideal to suddenly be stuck in the Daintree Rainforest as you realise nowhere has any availability!
I've popped several accommodation suggestions for the rainforest and Cape Tribulation later down in this post.
Can I take my camper van, or rent a car?
I do not recommend driving a camper van past Port Douglas. The rainforest roads are very winding, and narrow and would be difficult to navigate in a camper van.
Also, it's worth noting that if you were to consider driving further north from Cape Tribulation towards Cooktown and the Cape York Village, this requires a 4WD. The tracks here are very challenging.
Are there tours to Cape Tribulation?
Definitely – and if you want to have the driving taken care of for the road trip, then this is a great idea.
Here are some great tours to consider:
Cairns: The Starting Point
The starting point for all trips further north, and the last large city before the huge impenetrable rainforests of the Cape York Peninsula. Cairns is a tropical city that is action-packed with things to do. In fact, I have never been anywhere with some many exciting and varied activities in one concentrated location.
Of course, one of the most popular things to do in Cairns is to take boat trip to the incredible Great Barrier Reef. You can either do this as a day trip, or book an overnight stay on the awesome Sunlover Reef pontoon. I've done several snorkelling trips out to the reef, and visited both the stunning Fitzroy Island and Green Island, both of which were amazing.
The waterfront in Cairns is incredible and the heart of the city's action. Make sure to spend time at the Cairns Esplanade Lagoon, which is one of my favourite pools anywhere.
Other than explore the vibrant underwater world of the Great Barrier Reef and the city itself, there are simply so many other things to do in Cairns. From discovering waterfalls, to bungee jumping or a foodie tour and wine tasting in the Atherton Tablelands, you could easily spend two weeks in Cairns alone. Here's my pick of some other top activities: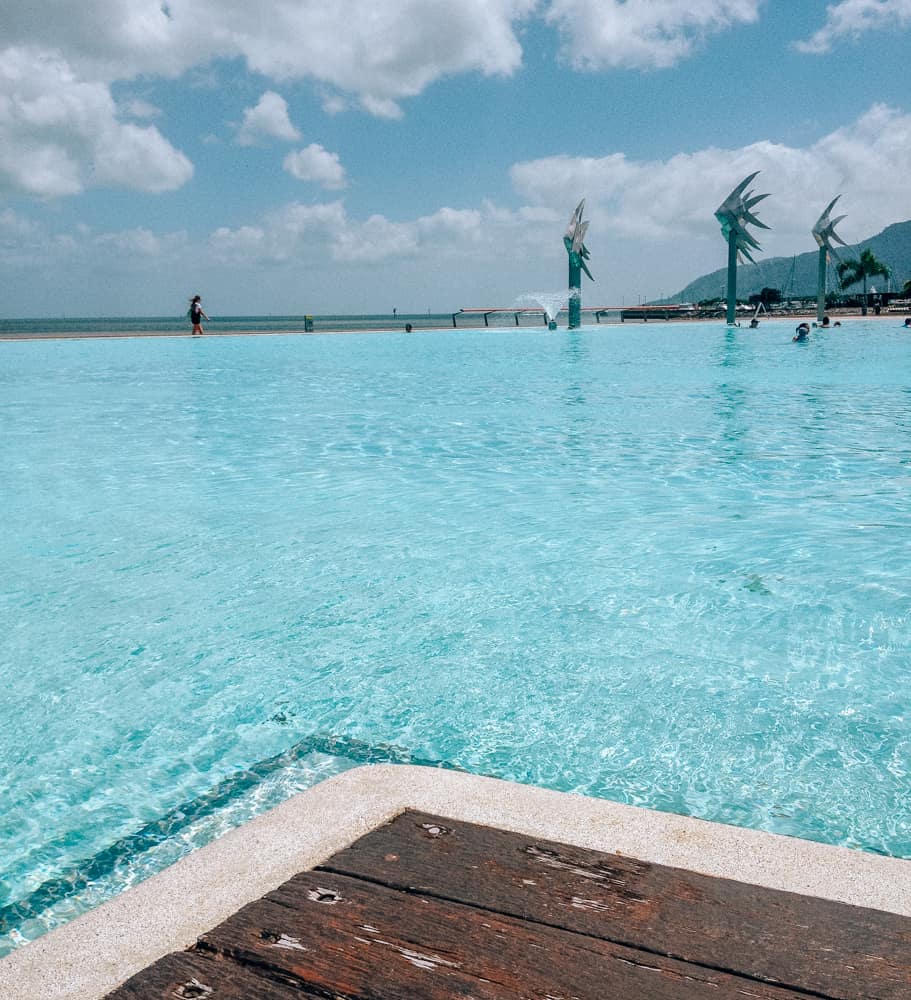 Where to stay in Cairns
Cairns offers some great value for accommodation, meaning normally expensive hotel brand, can be quite affordable. For example, the Shangri-La at The Marina (£90pn) or the Pullman Reef Casino (from £97pn)
A great value centrally-located hotel would be Pacific Hotel Cairns (from £63pn). Or for those on a lower budget, there is the Gilligans Backpacker Resort (dorm from £17pn, private room from £70). This huge complex has some of the best facilities I have experienced anywhere. It's a lively party place but does also offer great value if you book out a 4 or 6 bed dorm for your group.
If you're looking to camp, or are travelling the East Coast in a camper van, then it's worth noting that there are no free camping options in the city. But there are some great paid campsites on the edge of town – make sure to check this guide on camping near Cairns.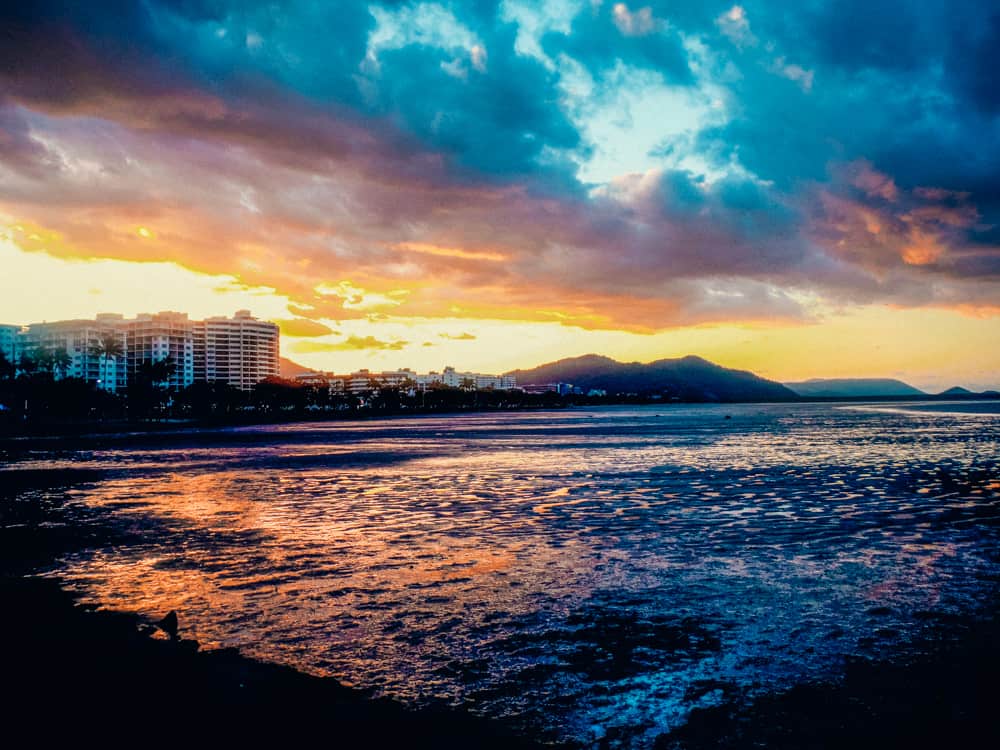 Cairns to Cape Tribulation Road Trip Itinerary
Driving distance from Cairns to Port Douglas: 68km (1hour) along the Captain Cook Highway
Driving distance from Port Douglas to Cape Tribulation: 75km (1h30)
Starting from Cairns, you head north on the Captain Cook Highway towards the rainforest. The scenic route winds its way along the coastline, offering incredible views at every turn. There are plenty of stunning viewpoints to stop at along the way, as well as gorgeous stretches of sandy beaches.
Port Douglas
The upscale resort town of Port Douglas is definitely worth a stop. The main street is well worth exploring, as it is lined with boutique stores, charming cafes and excellent restaurants. There's also a beautiful four mile sandy beach to relax on (but beware of potential roaming crocodiles!).
If you were doing this road trip over the course of a few days, then I'd definitely recommend spending a night or two in Port Douglas.
Here are some of the best places to stay in this beautiful town: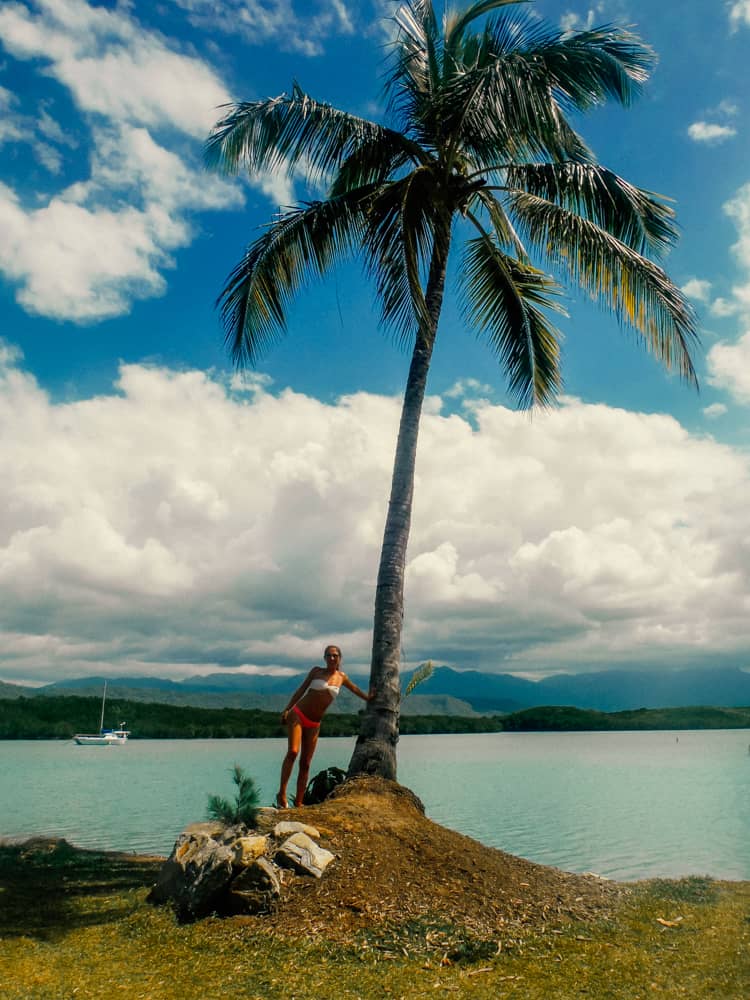 Mossman Gorge
After Port Douglas, and as you continue further north, you'll pass by the awesome Mossman Gorge. If you fancy cooling off with a dip in the waterfalls, this is a great place to do so – but note the water can have strong currents. Alternatively, there are some hiking tracks in the rainforest here and an awesome suspension bridge.
The Daintree River Crossing
There's a small car and passenger ferry which you must take to cross the Daintree River Crossing. This water is crocodile-infested, and if you're lucky enough, a guide might help spot them for you. On our way back, we were fortunate enough to see some thrashing in the water under the bright lights of a guide's torch beam.
Daintree Rainforest
Now you're in the heart of the world's oldest rainforest, and it was just a 2 hour drive from Cairns! The towering canopies create tunnels almost as you drive the narrow, winding roads – it's amazing. I recommend first heading to the Daintree Discovery Centre where you can pick up a map and an audioguide.
Entry costs $35 AUD per adult and includes access to many of the elevated canopy walkways, which are awesome. There's also zip-lining (locally called 'jungle surfing' at an extra cost ($109 per adult) or river cruises to spot more crocs.
You can easily spend a couple of hours exploring this area.
Cape Tribulation
From the Daintree Discovery Centre, I recommend driving on through the stunning rainforest road until you arrive at Cape Tribulation. The winding road weaves past stunning beaches, and you can stop and park up at any of them quite easily. The beaches were nearly always totally deserted and we'd have them entirely to ourselves. They really were the perfect reminder that you are in a near-untouched corner of the world. Amazing!
Note, you should not swim in the sea at these beaches as there are crocodiles. These beaches are considered some of the most dangerous in the world. Partly due to crocs, and also the potentially fatal stings from box jellyfish (if you visit between Jan and March).
There are a good number of eco-lodges and rainforest accommodation between the Discovery Centre and Cape Tribulation. So if you choose to stay overnight, I recommend the following:
It's a super special experience staying in a cabin in the heart of the towering canopies. You're surrounded completely by the magical sights, sounds and smells of the rainforest. And if you wanted to see some of the most infamous snakes, spiders and creepy crawlies of Australia – a stay in the Daintree Rainforest will make sure of this!
There are also plenty more activities in Cape Tribulation, from beach horse riding, wildlife spotting and hiking.
Cape Tribulation to Cairns
On the drive back to Cairns, why not stop at some of the other awesome attractions on route? One of my favourite places is the Kuranda Skyrail, which you could also visit as a day trip from Cairns too. This is another unique way to get up close and personal to the rainforest in a totally unique way.
So that's the end of my road trip itinerary guide for Cairns to Cape Tribulation drive. This is definitely a bucket list experience on any Australia adventure, and can be done in one day, or spread over a couple of days. And of course, as noted, you can join a tour if you'd prefer not to drive.
I hope this is useful for you if you're planning a trip to Cairns and Tropical North Queensland. If you're planning to travel the East Coast of Australia, then do make sure to check out my detailed road trip itinerary guide here.
If you enjoyed this Cairns to Cape Tribulation guide, then please do consider sharing through one of the below links. Also, if there's anything else I can share or answer for you, please do let me know in the comments below.
For further Australia guides, please do check out my guide to the Whitsunday Islands too.
Wanna see more? Check my Instagram here, my Facebook here or my Twitter here!
Disclaimer: This Cairns to Cape Tribulation road trip itinerary is an independent guide. There was no involvement from any local companies or the tourist board.
Enjoyed my guide to a Cairns to Cape Tribulation road trip? Pin it!