Australia's East Coast is one of the most popular places in the world to travel. It spans the length of Queensland and into New South Wales, and features the larger cities of Cairns and Brisbane. With its world class beaches, ancient rainforests, endless adrenaline activities and charming towns, it's truly a destination like no other. So the main aim of this guide is to equip you with everything you need to know to plan your own Australia East Coast road trip itinerary.
I've done three road trips along Australia's East Coast. The first time, I joined an organised tour from Brisbane up to Cairns. It was fast paced and more fun than I could have ever imagined. The second time, I chose to do the journey more slowly in a camper van south from Cairns to Byron Bay. For the third visit, I did an awesome but far shorter one week road trip from Byron Bay to Noosa. So I feel I've got really sound experience in devising an East Coast itinerary.
One of the best things about the East Coast of Australia is the sheer variety in things to do. On each East Coast trip, I've ended up doing completely different things and each road trip has been equally incredible.
If you're trying to decide which direction to travel the East Coast, there aren't really any overarching reasons to go one way and not the other. The biggest factors will be around your plans before and after the East Coast, plus the time you have available. If you are planning to take 6+ weeks, I would suggest perhaps starting in Cairns. Then you could carry on driving south past Brisbane and on towards Sydney and Melbourne.
For the purpose of this blog post, I will share an Australian East Coast road trip itinerary starting in the tropical city of Cairns in the north. From here, the itinerary will weave south past pristine beaches, rugged mountains ranges, waterfalls, tropical rainforest, charming surf towns, some of the world's best diving spots, as well as the epic K'gari island (also known as Fraser Island).
This guide is aimed at all travellers, with suggestions for both backpackers and those on a slightly larger budget throughout. It can be used for anyone travelling in Australia as it covers all the best things to do along the East Coast.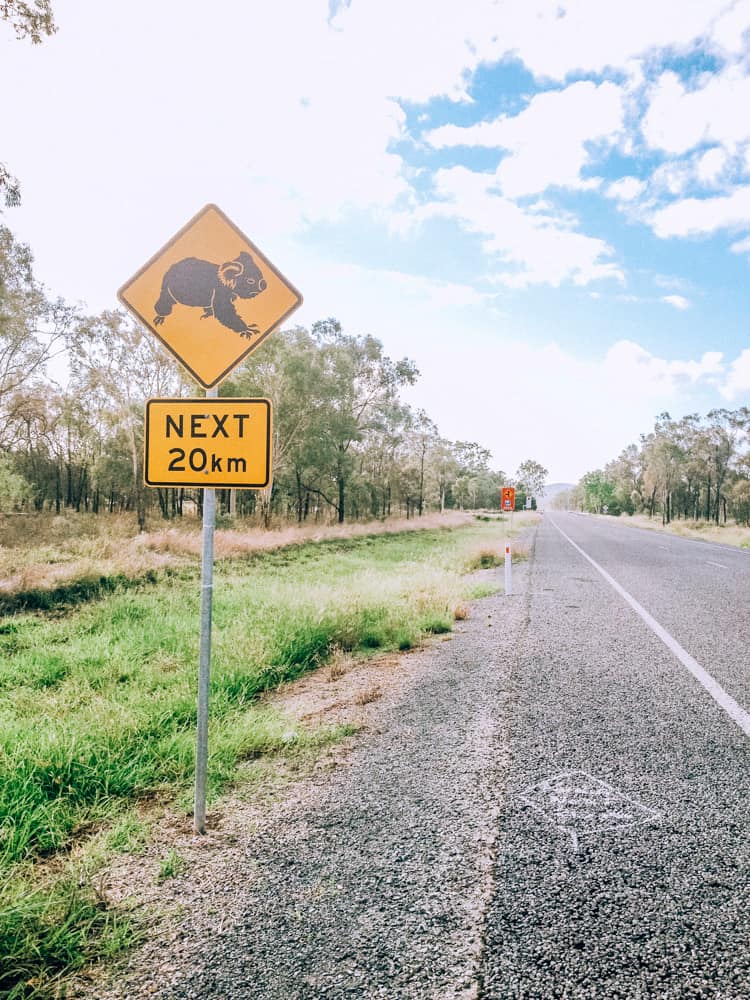 Australia East Coast Road Trip Itinerary: Essential things to know
Wow, so where to start! Some of the most important things to consider for an Australia East Coast road trip itinerary are time of year to visit, vehicle type and budget. So let's get stuck in!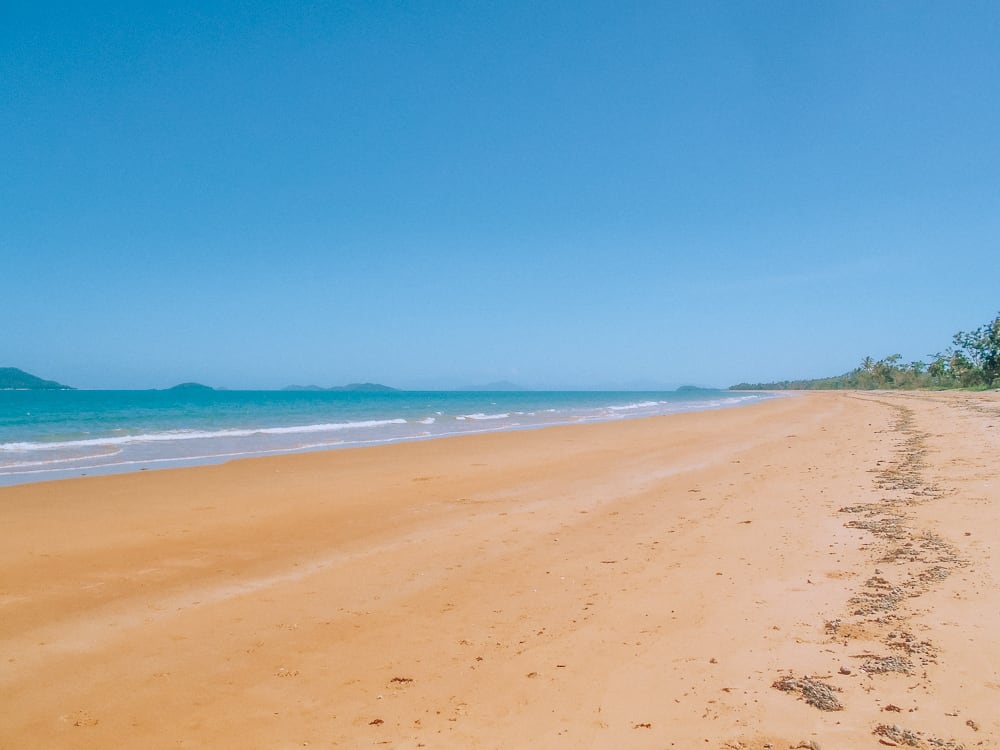 When is the best time to travel the East Coast of Australia?
First things first – when is the best time of year to plan a road trip for Australia's East Coast?
As you can see below, Australia is a huge country. You can fit about two thirds of Europe into its land mass. And therefore, the weather across the whole of Australia does vary, especially more so in the Australian winter months (May to September). I've summarised this below, but do make sure to check out my detailed Australia climate guide too.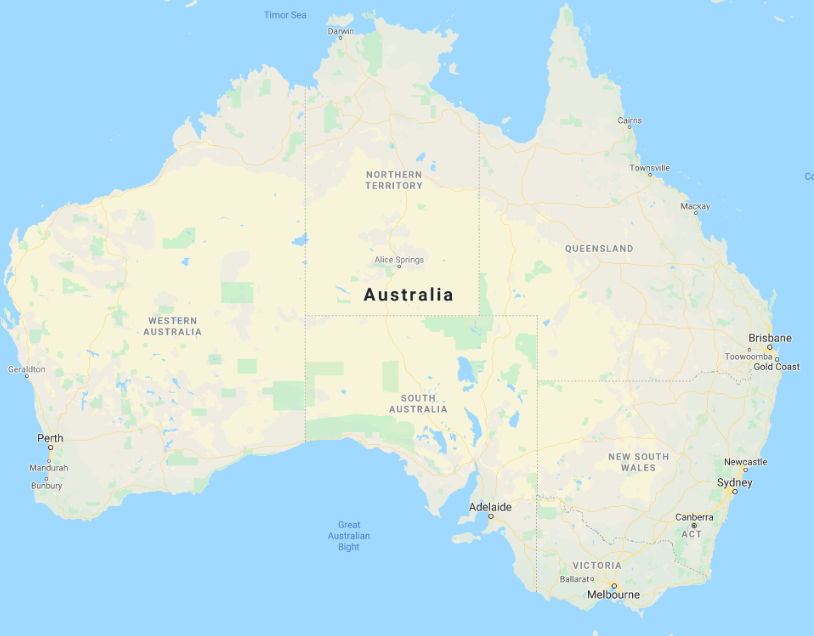 Cairns, in Tropical North Queensland, is the largest northernmost town on the East Coast and has hot weather year-round. However, this is divided into two distinct seasons – wet and dry.
During the Australian winter (May to September), Cairns experiences warm, dry weather and low crowds.
During the Australian summer (November to April), Cairns is hot and humid, with plenty of rain. This tropical monsoonal starts building up in December and by January, the rains are mostly daily and can be torrential.
Although the days can still be hot and sunny, the tropical rains can make diving conditions more challenging, and visibility worse for seeing underwater life. And as Cairns is popular for diving, it could be a real shame to visit and not be able to enjoy this fully.
Another key factor with Cairns and the surrounding area is stinger season. This refers to the presence of tiny stinging box jellyfish in the water. The sting can be extremely painful, and can be fatal in some cases. If you do visit in the months when this is at its worse (Jan to March), you will have to wear stinger suits in the water.
So, where possible, visiting Cairns in the Australian winter means long, sunny days, with minimal rain and no stingers in the water. As mentioned above, conditions for diving in the Great Barrier Reef are optimal with perfect water temperatures and visibility in excess of 50m. It's also an excellent time to see the magnificent Daintree Rainforest at its best and full of life. Furthermore, the water levels are ideal so white water rafting is an awesome activity to during this time, but can often be too dangerous during the months from January to March.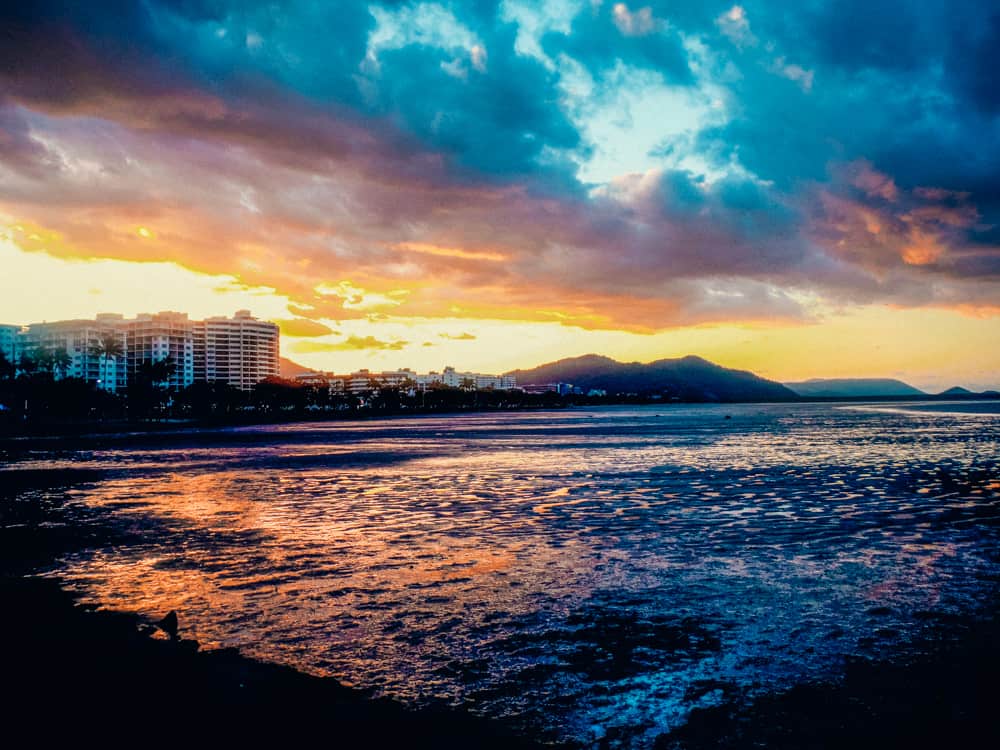 From personal experience, I found the weather in Cairns during August/September to be perfect. We were able to experience every activity and as this is the start of spring, there was plenty of colour and life in the plants and trees. Cairns in the month of December was also good, although noticeably hotter and humid. It was early December and we experienced no rainfall, but prices for accommodation were higher. I also got stung by a rogue stinger who had made an early arrival into the waters in the Great Barrier Reef. It was very painful for about 30 minutes, and then the sting subsided.
So to summarise, it depends on the activities you plan to do in Cairns as to when is the best time to visit, but generally the months from May to September are best.
Then, at the southern end of Queensland is Brisbane. It receives some of the most enjoyable and reliable weather in Australia throughout the year. It has a warm-temperate climate, meaning there are few days you'd need a jumper.
As with Cairns, the Australian summer from January to March bring the hottest and most humid weather. During this period is the highest chance of heavy rainfall and thunderstorms, although they are mostly in the late afternoon.
The best time to visit Brisbane is April to May and September to November, when temperatures are comfortable and humidity and rainfall are low. However, June through to August is also a great time to go to Brisbane, but the temperatures are slightly cooler.
I found Brisbane in the months of September and December to be really lovely, with long hot, sunny days. However, visiting Brisbane and the surrounding area in February did bring a lot of rain.

So when should I plan my East Coast road trip?
Overall, visiting Queensland, which spans from Tropical North Queensland to just south of Brisbane, is best avoided from January to March in order to have the best experience for most activities. If you're embarking on a longer Australia trip, then it might be best to spend these months in New South Wales (Sydney and surrounds) and Victoria (for Melbourne and surrounds), as the weather here is at its peak from January to March. The same goes for visiting the Outback, which is generally best visited from April to October/November.
If your Australia trip is focused purely on the East Coast, with the Cairns to Brisbane road trip being the primary focus, then a trip from May to August would be the best time. This also avoids stinger season completely. It would be slightly cooler in Brisbane, but you would still unlikely need a jumper or a jacket.
If you're on a longer trip in Australia, then as just mentioned, you could spend December – March exploring Victoria and New South Wales, before then heading to the East Coast from April onwards. Alternatively, you could do the Australia East Coast Road Trip Itinerary during August, September and/or October, before heading down to Victoria and New South Wales onwards for the better weather during the Australian summer.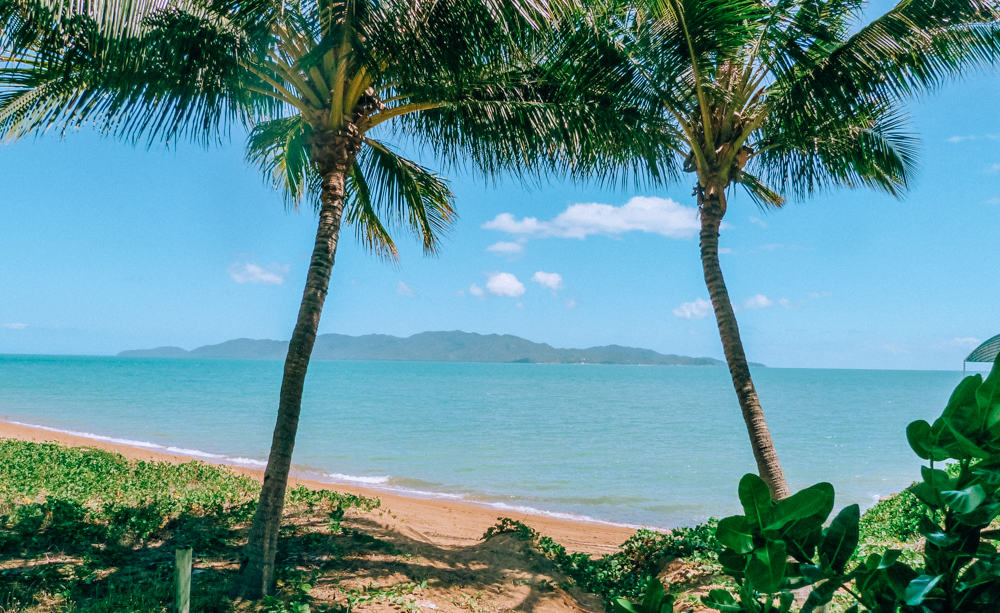 How long does it take to travel East Coast Australia?
If you're short on time, then it can be done in two weeks. This would cover the highlights. If you can spare longer, perhaps 4-6 weeks you'll have enough time to see and do just about everything, and have some time to relax!
If you have two months or so, then an awesome adventure would be to drive from Cairns to Melbourne which would easily take in some of the very best parts of Australia. You'd traverse through some seriously different climates and experience both the tiniest beach towns as well as the huge, cosmopolitan cities of Sydney and Melbourne.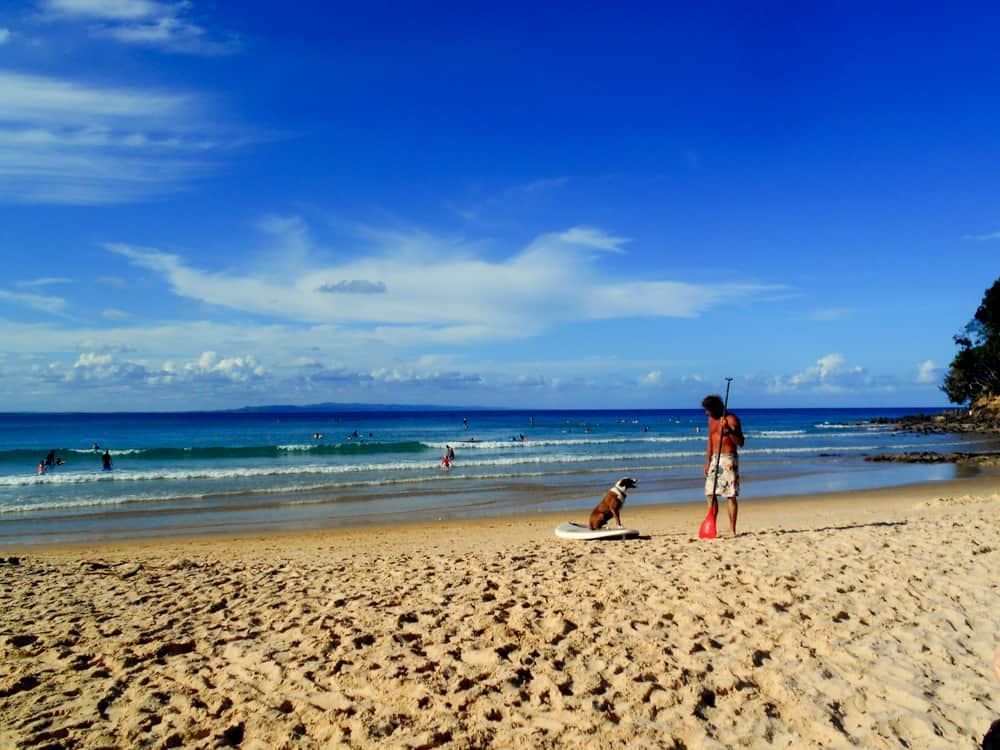 Should I go for a car or a camper van for my East Coast road trip?
Any road trip in Australia is best with a camper van. The freedom is unparalleled and you can truly travel at your own pace.
With a camper van, you can adjust your itinerary more easily and generally, it offers better value as the camper van doubles up as your accommodation each night. However, a camper van isn't for everyone as space can be challenging.
The main camper van companies in Australia are:
Camperman
Jucy
Spaceships Rentals
Wicked Campers
Britz
Mighty
Pros and cons of a camper van
Pros:
Can save costs on more expensive hotel or lodging accommodation
It can save money on food costs as you have your own stove/kitchen area in the van which is great for easy breakfasts and some dinners
Is a good way to split fuel costs between friends if there's a few of you
You can easily stay longer somewhere you like if you don't need to look for accommodation
There are many free campsites, motorway rest stops or areas to park and sleep overnight (check Wikicamping and the state parks' app/websites)
You can sleep and wake up so much closer to nature
You don't need to carry suitcases or bags in and out of hotels
Cons:
In the busiest months, the cost of a camper van can be steep
You will spend more on fuel as the vehicle is heavier
Making the bed each night can get a little tiring and sand from the beaches gets everywhere
You can't really keep the air-con on overnight without draining the battery, so it gets hot!
Also, it's likely you will lose stuff within the van all the time. There are just way too many cubby holes and spaces for things to fall down
There may be some days you go without a shower
Can be moments where it's difficult to park, especially if you visit cities like Brisbane
There are many ways to lose money from your deposit with a camper van as there are so many more parts to it to break!
If you really fancy resting your head somewhere a little more comfortable each night, then a car is a great option. You still have a huge amount of freedom, but just slightly less freedom as you do need to find somewhere to sleep each night.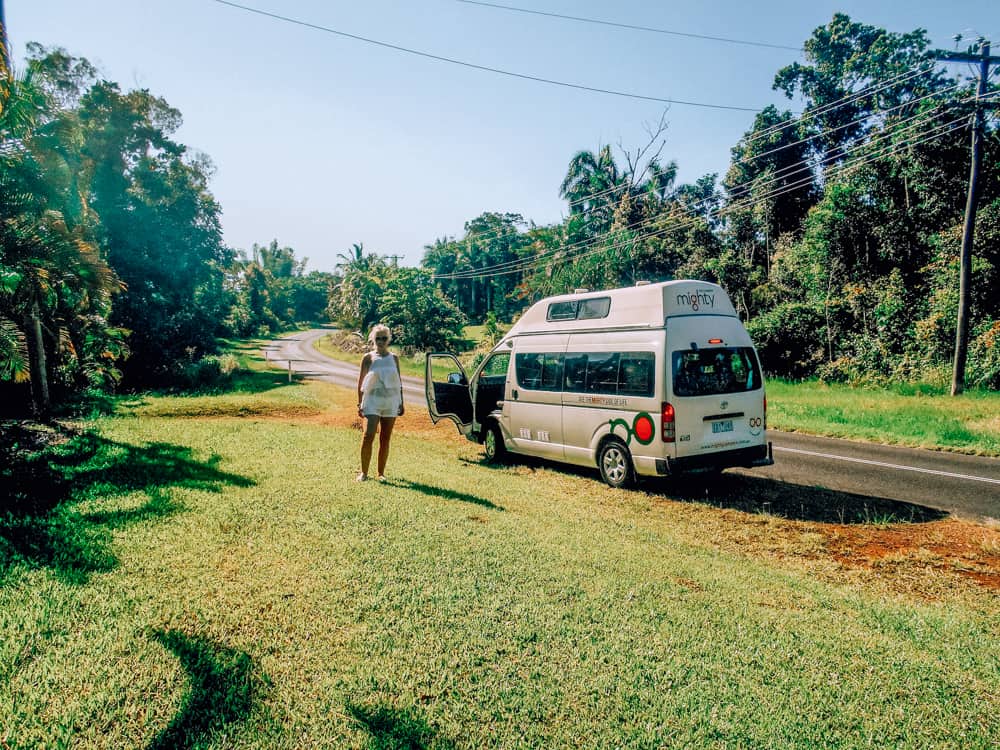 Pros and cons of hiring a car
Pros:
Lower initial cost for renting a vehicle
Also lower petrol costs
Easier to park in general
You have a boot to keep your suitcase in, and act as an on-the-go wardrobe space
Less risk of losing things as the vehicle is way smaller
No need to go without showers and guaranteed a slightly more comfortable and cooler sleep every night
May save money if hotels, lodges etc include breakfast in the rate
Cons:
Need to find a place to stay each night, which can be expensive and time consuming/stressful in peak season
In my option, there's a slight less feel of 'adventure' with a normal hire car, as opposed to a camper van
Joining an organised tour or using bus services
I joined an organised tour one year with Topdeck (read all about the trip here). Generally, I don't tend to join multi-week tours but it was aimed at students and more than 40 of my friends booked on. So as you can imagine, it was one of the best experiences of my life. I enjoyed some awesome adventures each day, with nearly all meals and activities included, it was excellent value. Except for skydiving, all other activities were already paid for, including bungee jumping, white water rafting and admission to the Australia Zoo.
Organised tours along the East Coast of Australia are very popular, but naturally, they don't allow for any freedom or adjusting the itinerary at all. However, it can be a great way to meet people and have all logistics taken care of.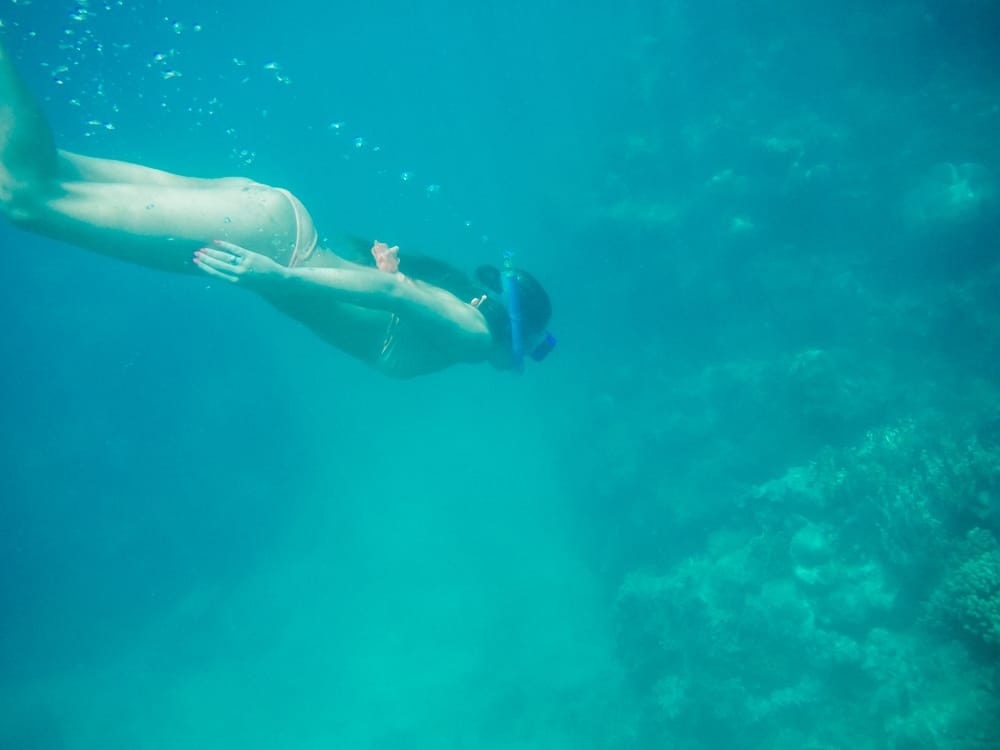 Some great companies include: Contiki, G Adventures, the Oz Experience, Intrepid
Stray also has a great value Cairns to Sydney bus pass, which you can book online here.
Another alternative is to use bus services such as Greyhound or Premier. Both of these companies offer dozens of buses stopping at hundreds of convenient stops across the East Coast every day. Plus, you can book the tickets just the day before and sometimes on the day, which can be really handy. If you don't fancy driving the East Coast yourself, this is a great way to travel. They also offer hop-on hop-off bus passes which can be great value – for example, Greyhound have a bus pass that covers you for 90 days and starts at around $349.
Greyhound offering the slightly more expensive bus tickets of the two, but the buses are comfortable and offer on board Wi-Fi.
Finally, I wouldn't recommend planning to do this trip by hitchhiking. It's not as common as movies might suggest!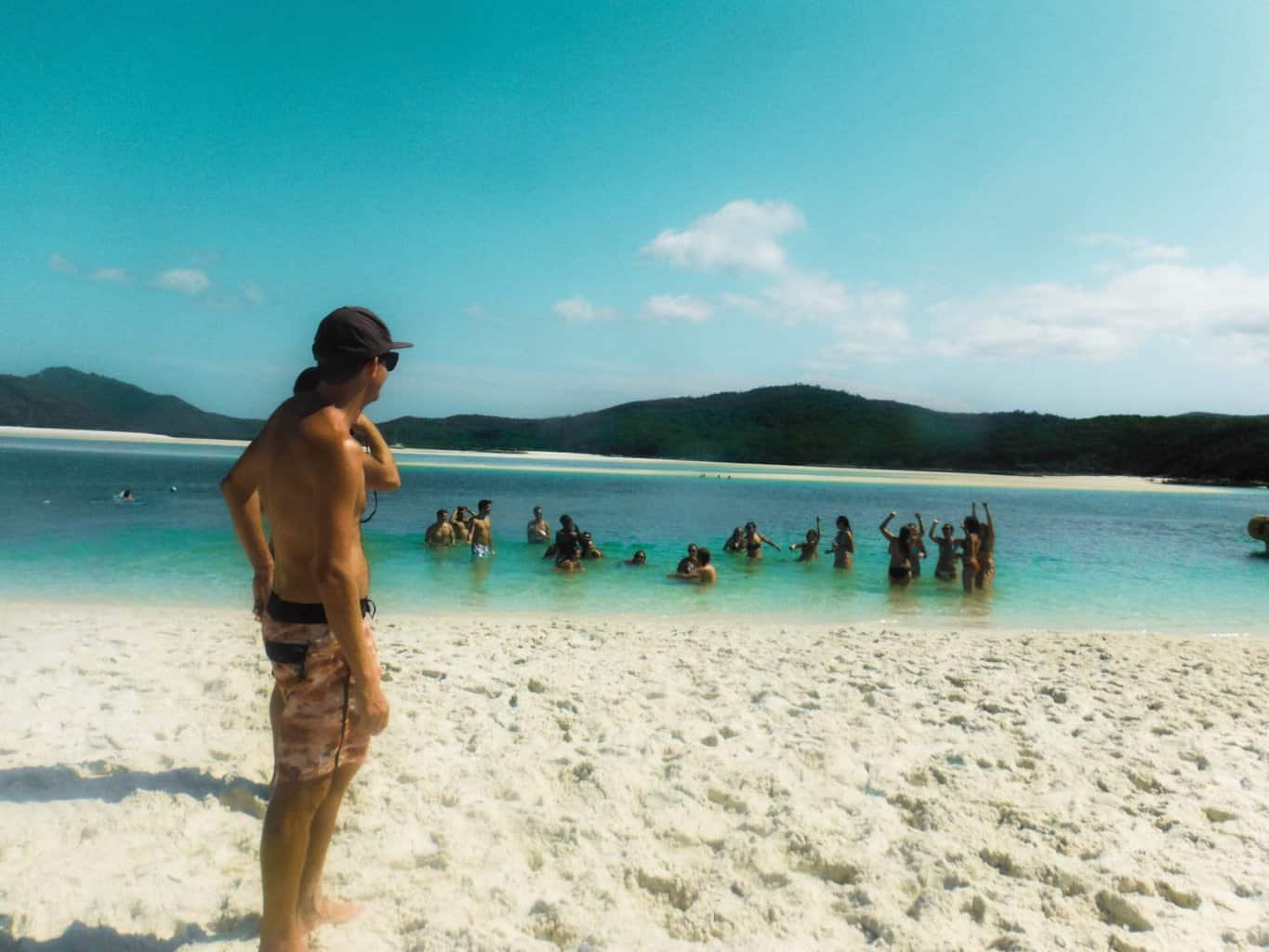 Eating on the East Coast
Three meals a day, plus snacks and coffees/drinks can add up quickly when travelling in Australia.
Fortunately, BBQ-ing in Australia is every bit as popular as you might imagine. There are gas BBQs all over Australia in parks, by beaches, in national parks and next to boardwalks. They are free to use and really easy to operate, most having utensils to use too. There's always plenty of table space nearby and it's one of the most easy ways to assimilate into Australian life, as these are equally popular with locals and tourists.
Supermarkets are really geared up to this, and their meat section sells all kinds of meats in different marinades, making it really easy. Furthermore, they always have a delicatessen section with choose-your-own salad bowls and side dishes. It couldn't be more easy to pull together an amazing BBQ spread in Australia.
The big supermarket chains are Woolworths and Coles, which have the most competitive pricing and a huge range. In some smaller locations, you might find an IGA or a SPAR which can be a tad more expensive.
When you don't feel like cooking or don't have the chance to do a food shop, there are popular fast food chains such as Hungry Jacks and Pie Face, or smoothie chains like Boost. I personally prefer to sample the local food in cafes in town, or a family-owned fish and chip shop instead. There are also plenty of pubs in Australia, which are pretty cheap but the quality can be a bit iffy (like Wetherspoons in the UK).
A popular place for a pub-like meal on a Sunday is the local Surf Life Saving Club, and you'll see these dotted all along the coastline – particularly in the Gold Coast. Mostly aimed at local members, they nearly all welcome in tourists (with sign-in at the door). It's a very Australian experience if you like beer, local live musicians and ridiculously big portions of chips, nachos and battered fish!
Then of course there are excellent restaurants all across the East Coast.
Deciding where to stay on the East Coast – hotels, lodges, hostels or camping
Even if you do the road trip along the East Coast in a camper van, there will be some nights where you'll need to opt for a campsite for its shower facilities.
And there are hundreds of campsites along the East Coast. Some are your traditional pitch and stay camping grounds, and some are huge, expansive holiday resorts. Whilst these are typically aimed at domestic travellers, everyone is welcome and you may be blown away by the facilities.
The best resources for campsites on the East Coast of Australia are:
The East Coast is also home to hundreds and hundreds of hostels. There are also some hostel chains in Australia, and nearly always one where you're travelling. The two biggest chains are Nomads and Base. Staying in one of these means a fairly reliable and comfortable experience. The dorms are clean and secure, and the social areas are often amazing. Staying in hostels add to a quintessential Australia experience. I've had some brilliant stays and met some awesome people.
However, I prefer now to travel and stay in hotels where possible. On my most recent visit to Australia, we had a hire car and spent our nights in various Airbnbs and hotels along the East Coast. We stayed in some amazing Airbnbs, including a treehouse in the Gold Coast and a Balinese style villa in Noosa.
However, throughout this itinerary I will suggest a couple of options for each destination that cover campsites, hostels and hotels. I've managed to stay in all three types nearly everywhere along the East Coast now, so I've got some good experience!
Money and Budget
The currency in Australia is the dollar (AUD). Generally across Australia card payments are widely accepted, and contactless is very popular as the limit is $200.
For slightly more remote locations or for any really small villages you visit, I would recommend keeping cash on hand.
In terms of budgeting, prices are approximately the below:
Accommodation:
Camping site (tent) – $10-20 per night
Camper van spot at campsite – $20 – $50 per night, depending on size and facilities of the campground/holiday resort
Double room in a value hotel or holiday resort: $100-140
Double room in a 4 or 5 star hotel: $200 – $300 depending on time of year you visit
Food (based on two people):
On-the-go coffees: $9
Fast food or take away meal: approx $20
Local cafe or pub meal: $60
3 Course meal in a good restaurant: $140-200
In terms of alcohol, it's not sold at supermarkets but instead at bottle shops such as Dan Murphy's. Prices are a little more than in the UK and the US, but they do sell boxed wine, affectionally called 'goon' in Australia. Boxed wine doesn't taste the best BUT it's cheap and lasts longer than a bottle!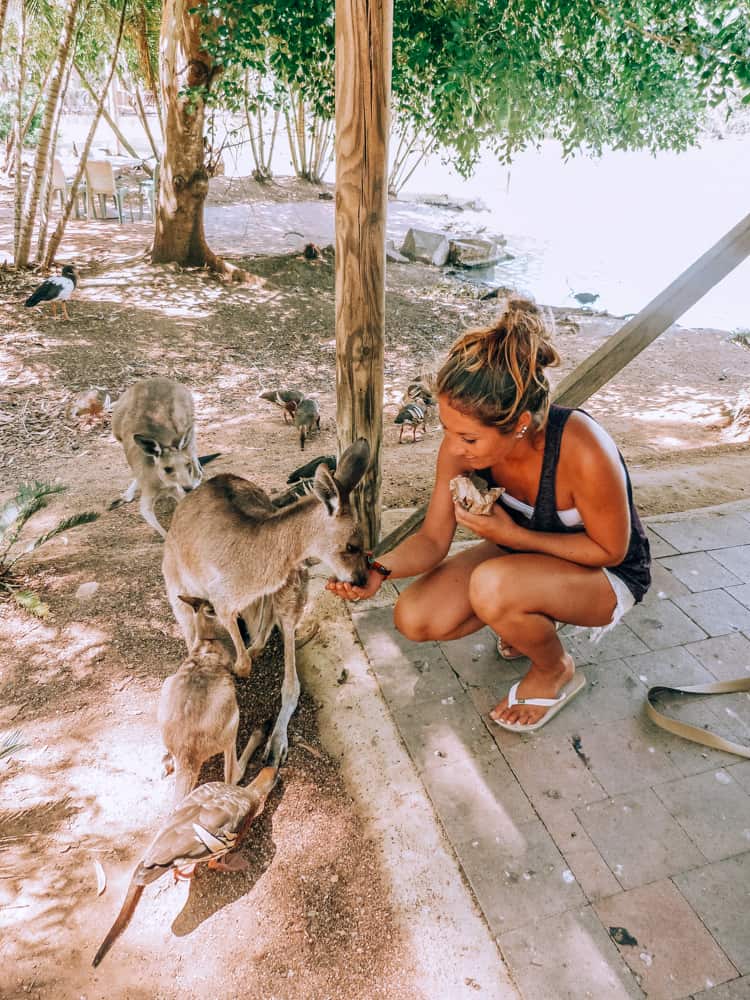 Excursions and activities are likely to be your greatest expenditure. There are so many bucket list activities on the East Coast that I highly recommend putting budget aside so you can make the most of these. As an indication, here are the approximate prices of several activities:
Animal sanctuary entrance fee: approx $40 per adult
15,000 ft sky dive in Cairns: $359 per person (not including video or photos)
Entry to Daintree National Park and canopy walk: $35 per adult
As an approximate guide, the AUD to GBP conversion is roughly half. So animal sanctuary entrance is around £20 ($40).
The AUD to USD conversion is about 1.5, so animal sanctuary entrance is around USD $25 (AUD $40).
Finally, fuel in Australia is similar in price to the UK, but more expensive than the USA. Fuel for the whole route could cost around AUD$600-800, or more depending on detours you might take.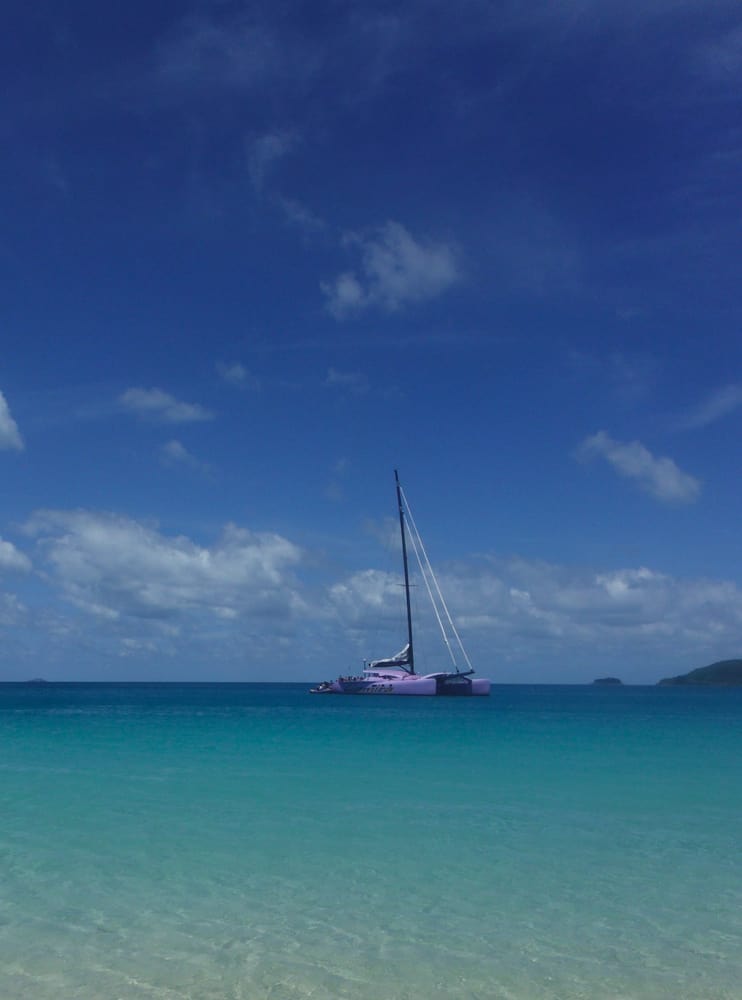 Deciding where to go on your Australia East Coast Road Trip Itinerary
So you've decided when to embark on your epic road trip, and you've got your vehicles or bus pass sorted. Now the fun part – deciding where to go!
If you can't already tell, I love the East Coast of Australia. It has everything AND warm weather year round.
As mentioned above, I have driven the route in both directions but my favourite was probably the Cairns to Brisbane drive. This would also be considered the most iconic road trip for the East Coast of Australia too. It spans world class beaches, dozens of stunning national parks as well as incredible Great Barrier Reef and the twinkly Whitsunday Islands.
So for the purpose of this blog post, we'll be starting in Cairns but this itinerary can be modified in any way, and of course started in Sydney, Byron Bay or Brisbane. I also list the minimum to maximum number of days needed in each place to help you plan and decide where to visit.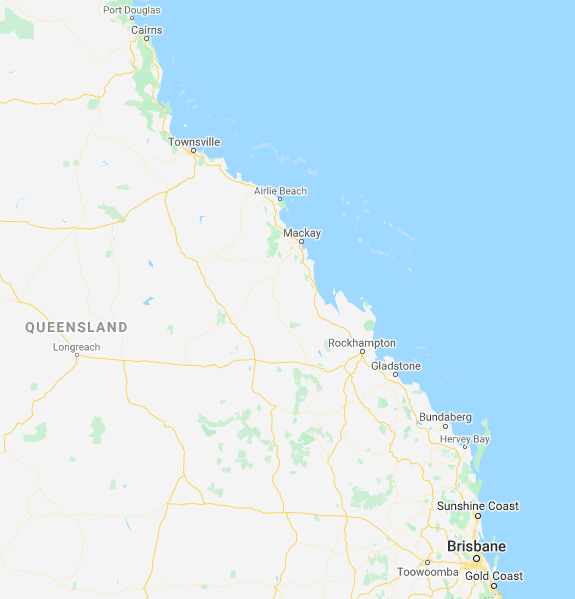 The most important thing to remember is that Australia is BIG. The Cairns to Brisbane road trip spans 1,682km (or 1,045 miles), and that's taking the most direct route without any detours. It's around 19 hours of driving if you were to go straight through. There are also some seriously long stretches of driving without any major towns or stops too.
One thing you must remember is to fill your car or van with fuel whenever you can. Never leave a town with less than a full tank – I speak from experience!
So without further ado, let's jump in with our first stop, Cairns!
Cairns
Suggested time for Cairns: 3-5 days
This tropical city is one of my favourite places in Australia. Although the town is somewhat unassuming, the adventures to be had in and around Cairns are epic!
The relaxed tropical lifestyle in Cairns will ease you in to an Australia road trip, but could also make a relaxing end point too to your road trip.
Cairns could easily be one of the places where you choose to spend longer, but only if your budget allows. There are countless awesome sights to see and places to visit in Cairns, but the tours can add up and makes Cairns quite an expensive stop. That being said, one of the best things to do in Cairns is free – and that's spending the day at the incredible Esplanade Lagoon in the heart of town.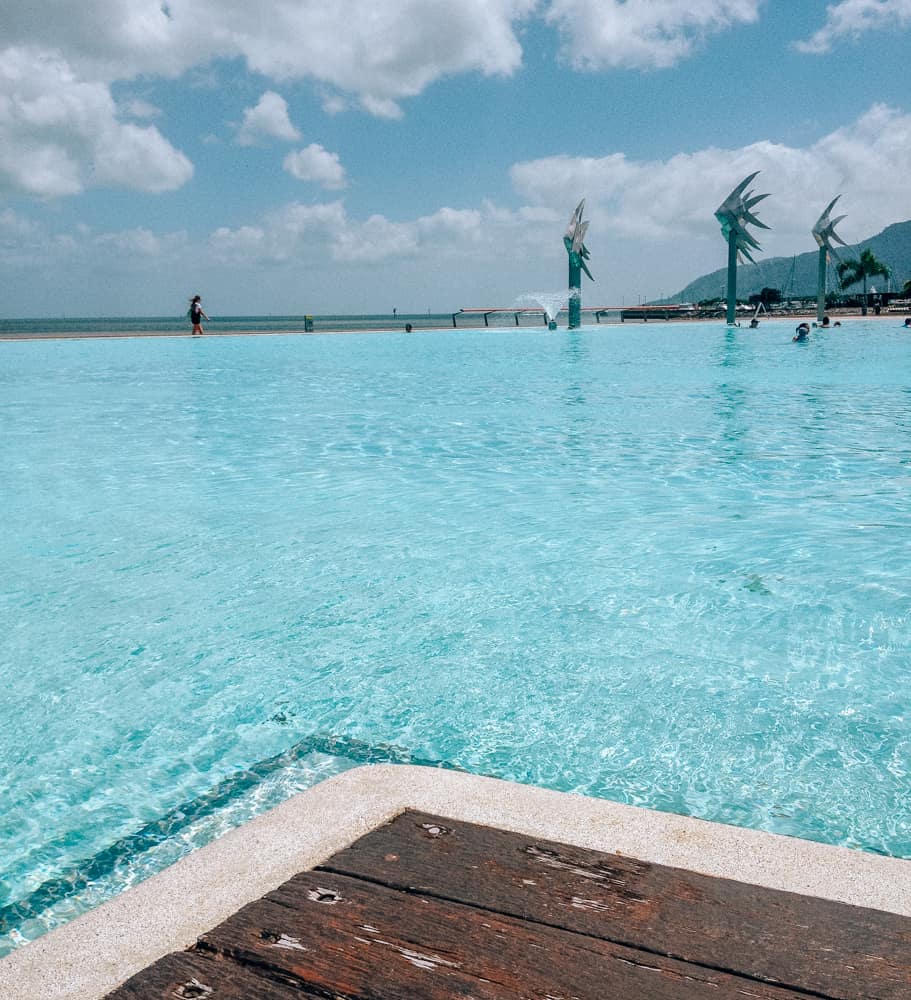 Best things to do and see in Cairns
Free or low cost:
Cool off and relax in the magnificent Cairns Lagoon
Spend the day in the Behana Canyon, a swimming hole surrounded by dense rainforest. Why not join this tour.
Eat and drink your way around some of the beautiful waterside restaurant and bars
Visit the Tjapukai Aboriginal Cultural Centre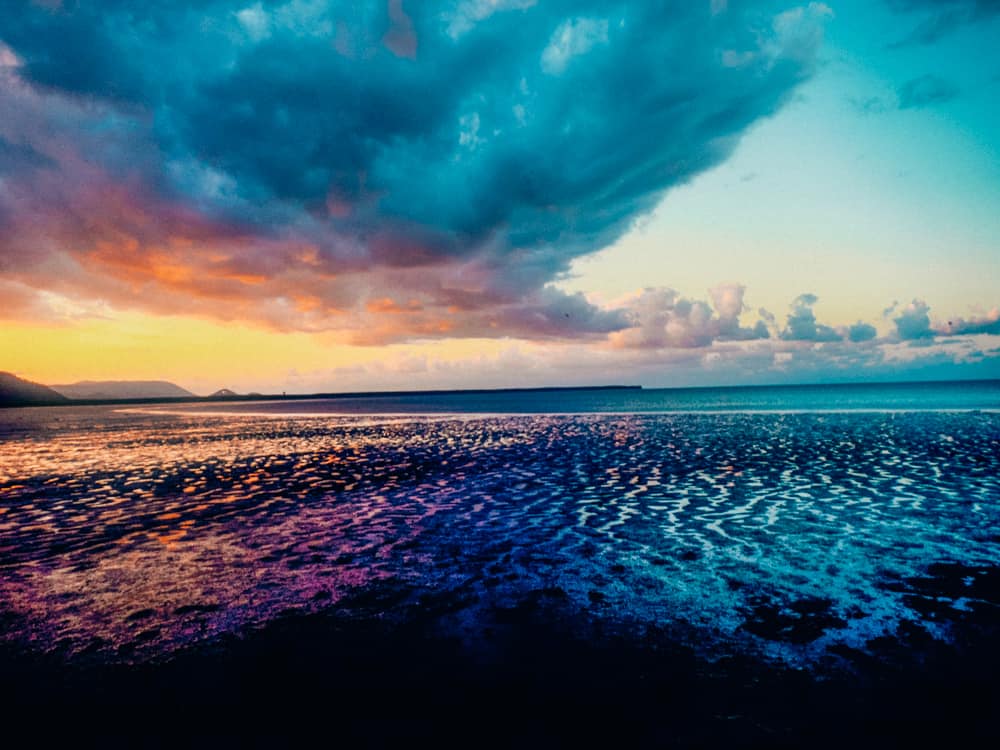 More expensive but bucket list activities:
Blow-the-budget fun:
Book a super special day on the Sunlover Reef pontoon, where you enjoy all the activities at this mini village floating on the Great Barrier Reef
Organise a helicopter ride over the Great Barrier Reef, a true once in a lifetime experience, or even a scenic flight!
Where to stay in Cairns
In Cairns, there are no free camping options in the city centre, but there are some paid campsites on the edge of town. Make sure to check this guide on camping near Cairns.
And here are my best picks for accommodation in Cairns:
Best luxury stay: Shangri-La at The Marina (£90pn) or the Pullman Reef Casino (from £97pn)
Great value mid-range stay: Pacific Hotel Cairns (from £63pn)
Best hostel: Gilligans Backpacker Resort (dorm from £17pn, private room from £70) has some of the best facilities I have experienced anywhere. It's a lively party place but does also offer great value if you book out a 4 or 6 bed dorm for your group.
Cape Tribulation, Port Douglas and the Daintree Rainforest
Suggested time for the Daintree Rainforest: 1-2 days
Driving distance from Cairns to Port Douglas: 68km (1hour) along the Captain Cook Highway
Driving distance from Port Douglas to Cape Tribulation: 75km (1h30)
This beautiful corner of Australia is home to the Daintree Rainforest, which is the world's oldest! It is also unique as it the only place in the world where two UNESCO World Heritage-listed sites meet – the Daintree Rainforest and the Great Barrier Reef.
Cape Tribulation however is considered one of the most dangerous beaches in the world. This is due to the huge population of crocodiles that reside here, as well as the often-fatal stings from Box Jellyfish in the water.
Whilst driving to Cape Tribulation can easily be done as a full day trip, it's well worth an overnight stay if you have the time. I would perhaps recommend opting for a small hire car for the day, instead of taking a camper van however. The roads can be narrow and difficult to drive, especially as you get deeper into the rainforest. Note that driving further north from Cape Tribulation towards Cooktown and the Cape York Village requires a 4WD and some previous experience essential as the tracks here are very challenging.
Port Douglas on route is also a beautiful upscale resort town which is definitely worth a stop for a few hours. The beach is beautiful and over four miles long, and its main street is packed with quirky shops and independent cafes and restaurants. If you visit on a Sunday, make sure to check out the beachside markets too.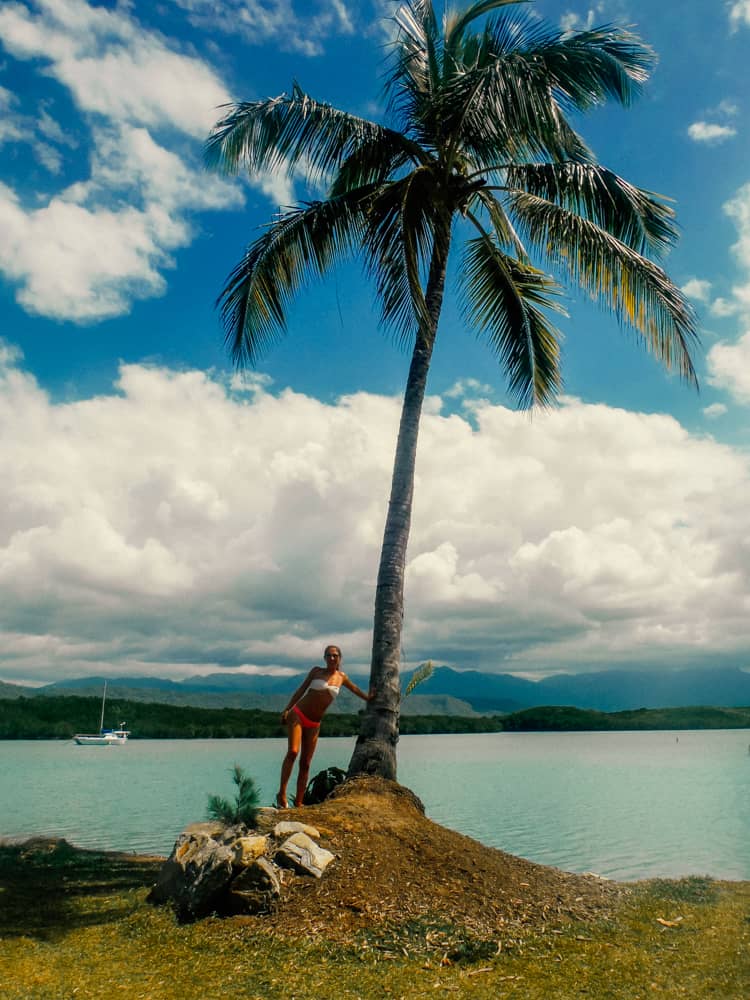 In terms of activities in the Daintree forest, there are plenty:
Soar above the rainforest on a zipline adventure
Explore the rainforest from the elevated walkways
Take on some of the best hikes, including the Mount Sorrow hike
Spot crocodiles on a river cruise on the Daintree River
River drift snorkelling near Port Douglas
Explore the deserted and untouched beaches, and see where the rainforest meets the reef
Visit the Daintree tea plantation
Swim in the Mossman Gorge
The Cairns to Port Douglas drive is spectacular, with the road weaving between the rainforest and the azure ocean. The views are stunning. From Port Douglas to Cape Tribulation, the road is often surrounded by the dense, lush rainforest and you have to take a small ferry to cross the Daintree River. I've written a complete itinerary guide to driving from Cairns to Cape Tribulation, so make sure to check this out.
In terms of places to stay in Port Douglas or Cape Tribulation, there are some wonderful eco-stays including:
In Port Douglas, there is also the beautiful Sheraton Grand Mirage Resort (from £129 pn) too or the stunning Shantara Resort (from £229 pn).
Alternatively, you can of course join a day trip, such as this one which is a full day exploring the Daintree rainforest, the Mossman Falls and Cape Tribulation. Or this day trip, which includes a stop at Port Douglas and Wildlife Habitat.
Mission Beach
Suggested time for Mission Beach: 1-2 days
Driving distance from Cairns to Mission Beach: 139km (1h50)
Next stop, Mission Beach. In my opinion, the drive from Cairns south is stunning with the Bruce Highway bordered on both sides by sugar cane plantations, followed by banana trees. The first moderate sized town is Innisfail, which I personally don't think is worth a stop. So I recommend heading straight to Mission Beach. Make sure to look out for cassowaries at the side of the road!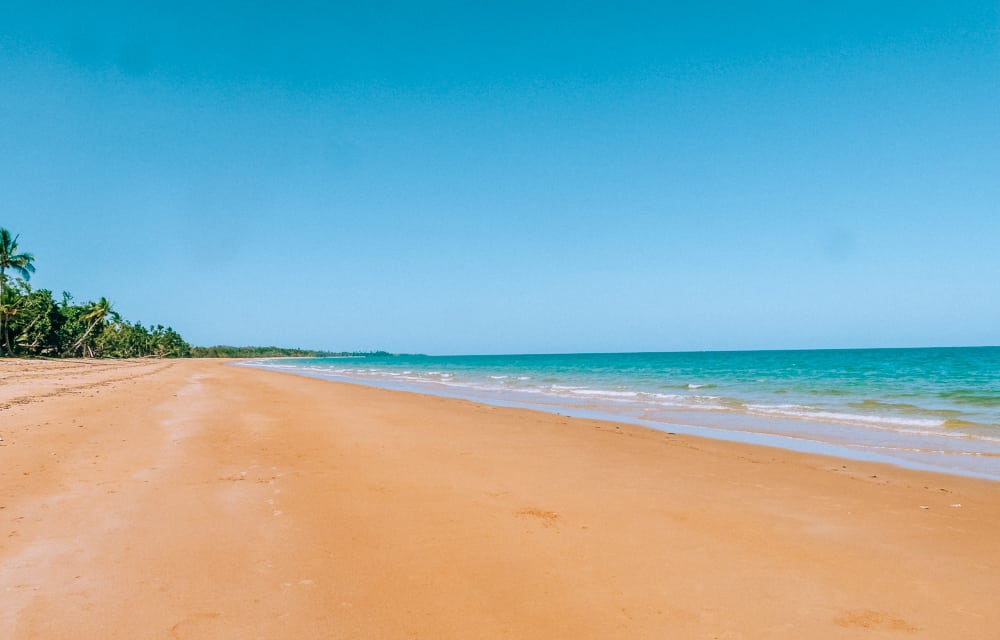 Mission Beach is popular with backpackers for its laidback vibes and excellent beaches. What it lacks in obvious activities and sightseeing opportunities, it makes up for in huge stretches of glorious sandy beaches and walking tracks in the rainforest. I've only ever stopped at Mission Beach in October and December which is stinger season, so we could not enter the water.
I would recommend a night in Mission Beach, especially as it provides a decent break in the long drive between Cairns and Townsville, which is the next large town (347km, 4hrs). Mission Beach is also right next to Tully's River, which is home to some of the best white water rafting in Australia.
Book your white water rafting trip to Tully's River here!
Where to stay in Mission Beach
Townsville & Magnetic Island
Suggested time for Townsville: half day (but longer if visiting Magnetic Island)
Driving distance from Mission Beach to Townsville: 235km (2h40)
This large town is largely residential and also home to a big Australian military and naval base. I personally don't think there's a huge amount to see in Townsville but it is home to my absolute favourite wildlife sanctuary in Australia, which is the Billabong Sanctuary.
I cannot recommend stopping at this amazing wildlife sanctuary more! It's the perfect place to meet a whole host of the most iconic Australian animals, such as the echidna, wombat, koala and kangaroo. Billabong Sanctuary is a really well-run wildlife centre, with lots of opportunities for animal interaction, plus the location itself is beautiful. It's located 17km south of Townsville, so you could spend the afternoon there as you continue on your road trip south.
Townsville is the starting point for the ferry to Magnetic Island. This slice of paradise is popular with backpackers but a little less frequented by other types of tourists. I haven't been to Magnetic Island, so I cannot comment from personal experience but I understand it's super-laidback and full of beautiful, scenic spots. Make sure to book your ferry tickets from Townsville to Magnetic Island in advance here.
If you do choose to spend a night in Townsville, the Oaks Gateway Suites offer great rooms at a good price (£67 pn). Alternatively, there is a BIG4 Holiday Park at Rowes Bay with beachside cabins from £50.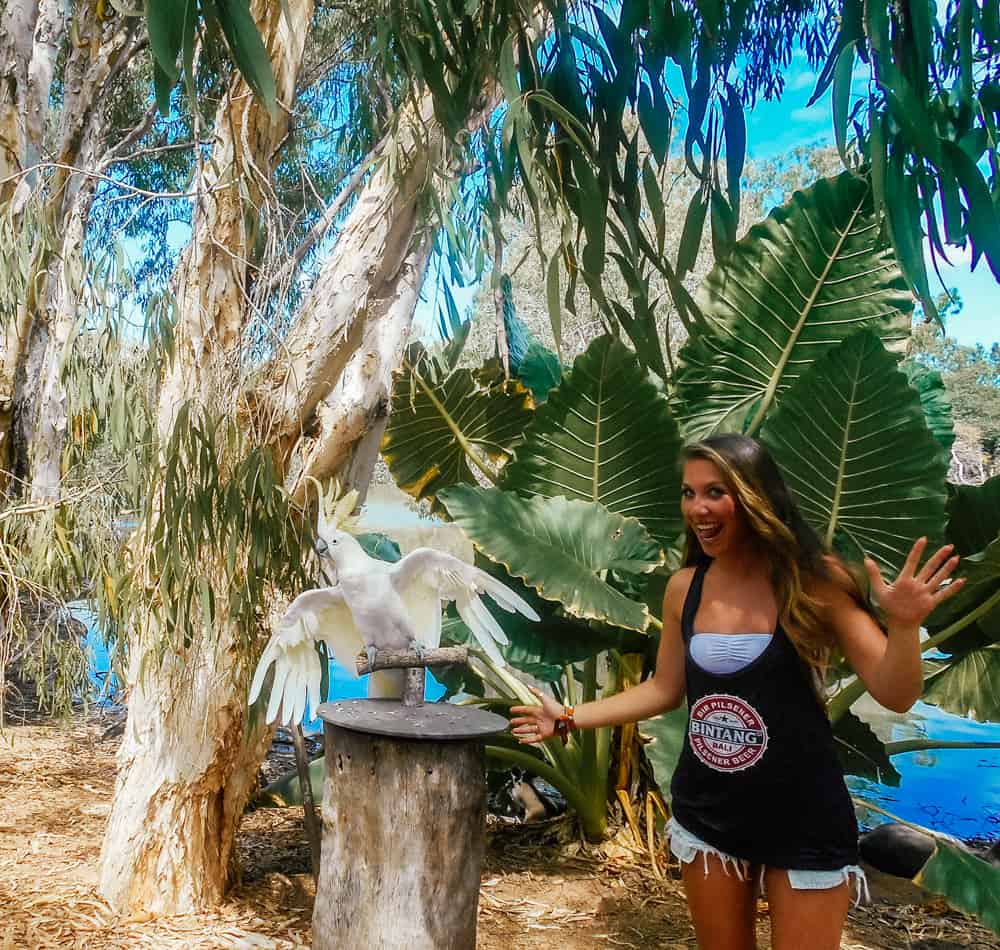 Airlie Beach & The Whitsundays
Suggested time for Airlie Beach & The Whitsundays: 2-5 days
Driving distance from Townsville to Airlie Beach: 273km (3h10)
Airlie Beach is the gateway to The Whitsundays, and this stop is a must-do on any East Coast road trip itinerary. Make sure to read my detailed guide to visiting the Whitsunday Islands here.
The town itself is popular with backpackers, although there are few luxury hotels. Those on a slightly tighter budget or tighter time frame can visit The Whitsundays on a full day boat trip.
But if you have time, then I highly recommend splurging on a sailing trip around the Whitsundays. You can spend around 2-3 days on living onboard a sailing boat, where you can snorkel in the Great Barrier Reef and visit Whitehaven, one of the most beautiful beaches in the world.
Alternatively, you could stay on one of the Whitsunday Islands for a couple of nights, for the ultimate barefoot paradise experience.
There are some amazing resort hotels in The Whitsunday Islands, with the InterContinental Hayman Island being one of the very best stays.
I've done both a sailing trip and a 3 night stay on the islands, and I honestly couldn't say which I preferred. Both were incredible.
For day sailing trips, you could wait to book this in Airlie Beach, but you risk the boats being full, so I recommend booking a tour in advance. Here are a few excellent suggestions: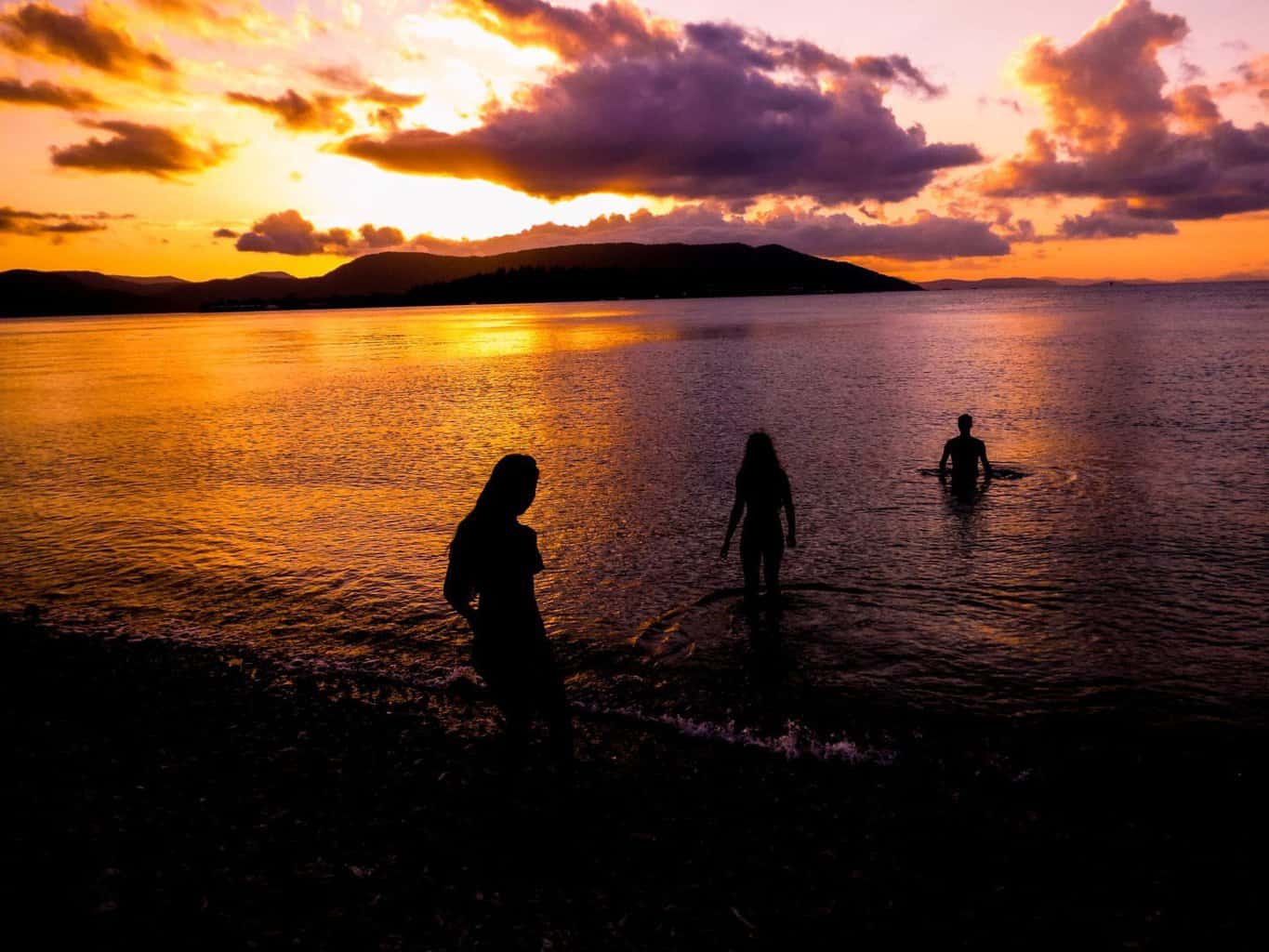 For 1 or 2 night sailing trips, you could check the below companies: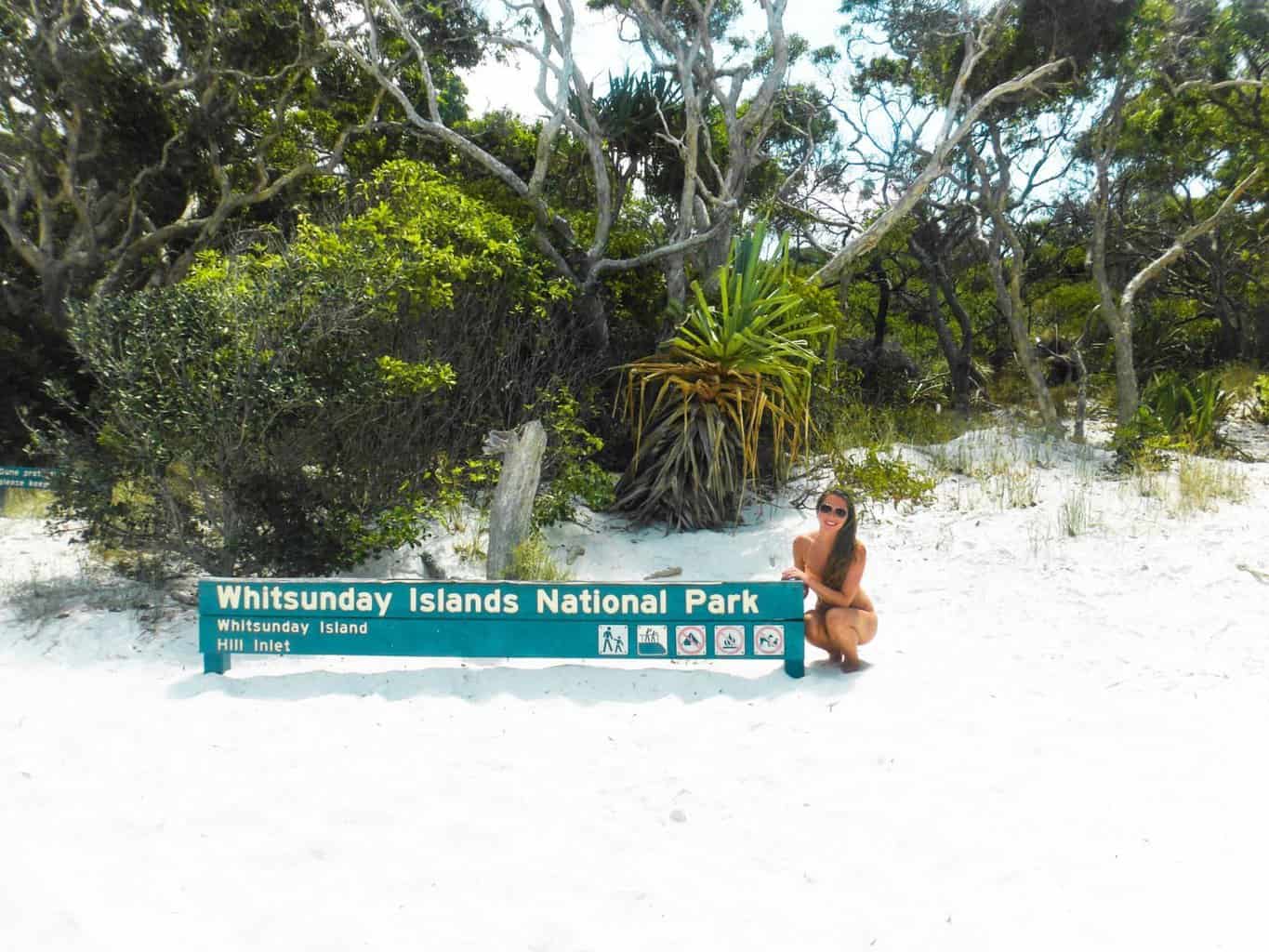 Back on Airlie Beach, there isn't a huge amount to do, so if you choose to visit the islands as a day trip, you could spend a relaxing day at the Airlie Beach Lagoon.
But this could be a place to splurge and explore the Whitsundays from a difference perspective entirely. For example, this 1-hour scenic flight over the Whitsundays Island archipelago looks incredible, or what about a tandem skydive over the Whitsundays?
Or you could go all out with a helicopter trip to the Whitsunday Islands. It even lands on Whitehaven beach – possibly the most incredible day imaginable.
Slightly further inland from Airlie Beach (and slightly more affordable), there are some great hiking routes in the Conway National Park and waterfall swimming at the beautiful Cedar Creek Falls.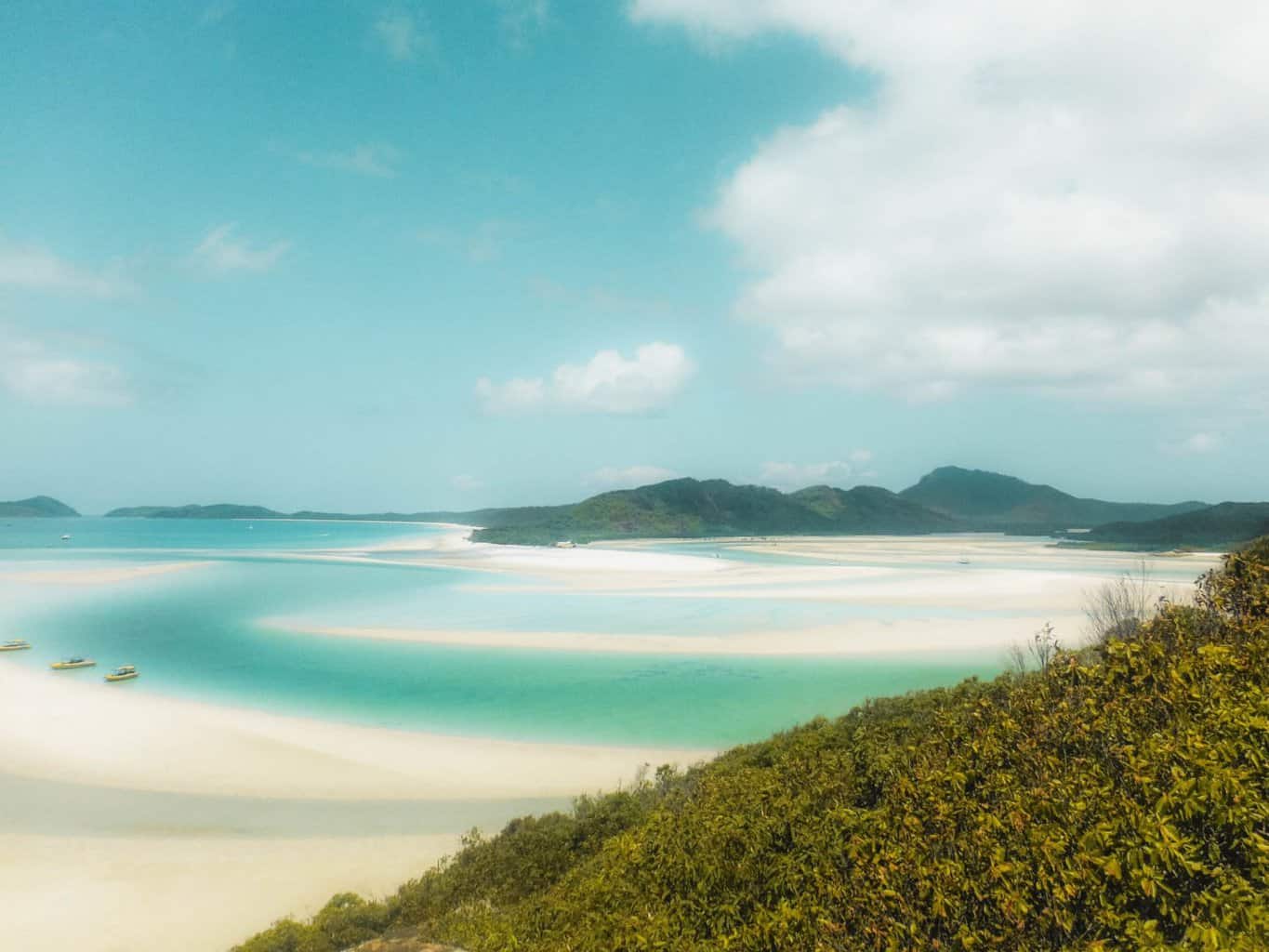 Where to stay in Airlie Beach
There's a huge number of places to stay in Airlie Beach, covering every budget. In fact, you can find some seriously nice stays at very good value. Here's my pick:
Where to stay on the Whitsundays
I've written about all the various options in the Whitsundays in more detail, which I recommend you check out.
Fortunately, there's a good range of tropical island resorts to stay on, with Daydream Island offering excellent value. Rates here start from £150 per night.
One of the most luxurious resorts to stay in in the Whitsunday islands is the InterContinental Hayman Island (formerly the One&Only). Rates start from around £450 per night.
Alternatively, some other ultra-lux options include:
Beach Club, an opulent hotel on Hamilton Island . Rates start from £397 per night
Elysian Retreat can only host 20 people at any time, and is the ultimate in barefoot luxury with all stays on all-inclusive basis. Rates start at £630 per night.
Or, the exceptional Paradise Cove Resort. I recommend this excellent boat tour and 2 nights all inclusive in a secluded villa at the island resort. (£311 per person)
Capricorn Caves
Suggested time for the Capricorn Caves: 1/2 day
Driving distance from Airlie Beach to the Capricorn Caves: 460km (5hrs)
The stretch south from Airlie Beach is a long one – I think the second longest stretch of driving on this road trip. Optional stops before the Capricorn Caves include Mackay, a small quiet town with some lovely cycling and hiking, but no essential bucket list adventures. After Mackay, the next potential stop point would be Rockhampton, where (without exaggerating) there is nothing to do.
I recommend breaking up the long drive from Airlie Beach to the next key stop (Hervey Bay/K'gari Island) with a visit to the Capricorn Caves. These are fairly near to Rockhampton, so depending on the time you arrive in this area, you may want to consider an overnight stay near Rockhampton or a little further south at Gladstone (137km/1hr41).
The Capricorn Caves are called this because they are located on the Tropic of Capricorn. They are an awesome complex of caves, with over 1.5km of passages to explore. They only way to visit is on a tour, often called the 'Cathedral Tour' as they all take in the incredible largest cave, which often holds wedding and special events. The acoustics are incredible and it was like nowhere I'd seen before.
Book a tour to the Capricorn Caves here!
Taking around one hour in total, it's well worth a visit and is often missed of travellers' East Coast itineraries.
Suggestions for affordable places to stay around this area:
Rainbow Beach
Suggested time for Rainbow Beach and K'gari Island: ideally 3-4 days
Driving distance from Rockhampton/theCapricorn Caves to Rainbow Beach: 601km (6hrs40)
From the Rockhampton area onwards, there are a few stops to consider including Agnes Water/1770 and Bundaberg. The latter is famous for its rum, and visiting the Bundaberg Distillery makes for a brilliant stop. Make sure to book a tour to the local brewery too!
The town of 1770, sometimes written as Seventeen Seventy, is the second spot in Australia that James Cook and his crew landed in the year 1770. We did stop here and I was fairly disappointed with the lack of things to do and see, so I wouldn't necessarily recommend visiting.
So unless you make a brief stop at Bundaberg, I recommend driving straight through to the Rainbow Beach area. It's a long old drive, that's for sure! Looking back, that was why we stopped at 1770 – to break it up!
Rainbow Beach is located in the Great Sandy National Park and is a tiny backpacker town, surrounded by huge, towering sand dunes. The town is mostly a starting point for Fraser Island tours, but you can definitely spend a relaxing day here too.
One of my favourite things to do in Rainbow Beach is climb the huge Carlo Sand Blow and admire the spectacular views across the ocean. The Great Sandy National Park is well worth exploring too – you can even do this on horseback!
Where to stay in Rainbow Beach
There are quite a few places to stay in Rainbow Beach, many of which offer great value stays. Here are my suggestions:
K'gari Island
K'gari Island, previously referred to as Fraser Island, is one of the most popular things to do in Australia. Most tours here are typically aimed at a young backpacking crowd and last 2 days/1night or 3 days/2 nights. There are several other options, including day trips too but as the world's largest sand island, there's something special about staying overnight if you can. Unless you have a 4WD drive and significant experience driving on sand, you won't be able to take your own car to K'gari Island. Several tours however let tourists drive the company's 4WD vehicles though on what they call a 'tag along' basis.
If you book an overnight K'gari Island tour you will have a briefing the evening before departure at 6pm, so you'll always need to stay the night before in Rainbow Beach. You may also want another night in the town once you come back from K'gari so you don't have to rush straight off. However it's worth nothing that you can also start a K'gari Island from trip from Noosa or Hervey, if you prefer.
K'gari Island is a bucket list activity in Australia and for good reason. For many people, K'gari Island is the highlight of their Australia trip!
You definitely should book your K'gari Island tour in advance. Do not leave it for on arrival in Rainbow Beach/Hervey Bay/Noosa, unless you're arriving several days in advance (at least).
These are the best K'gari Island tours:
Best things to do on Fraser Island
If you're over 21 and on a tag-along tour, you'll have the opportunity to drive the 4WD along the sand, which is epic
Swim in the crystal clear freshwater Lake Mackenzie
Bathe in the beautiful Champagne Pools
Drift along the natural lazy river at Ely Creek
Explore the tropical rainforest
Spot dingos (wild dogs) from afar
If on an overnight tour, spend the evenings around the campfire drinking and relaxing with new friends
Drive along 75 Mile Beach
Hike up to Indian Head to spot sharks and stingrays
Explore the Maheno shipwreck
Hike to Lake Wobby
If you visit Fraser Island on a one day tour from the mainland, you'll be able to do most of the above, but at a quicker pace.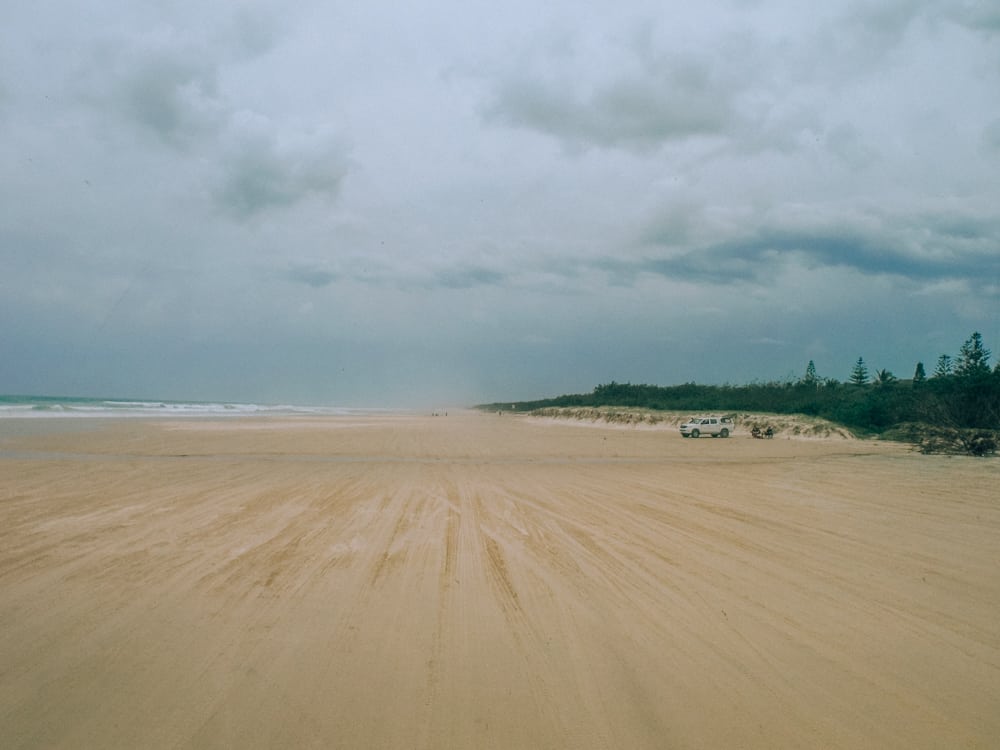 Noosa
Suggested time for Noosa: 2-4 days (or as long as possible..)
Driving distance from Rainbow Beach to Noosa: 117km (1hr37)
Noosa is an absolute must-visit on any East Coast road itinerary and is hands down my favourite place in Australia. Whether you're a backpacker, on honeymoon, a group of friends or a family, Noosa is the perfect place. The town centre is charming with some brilliant shopping, the beaches are phenomenal and the surrounding scenery is just breathtaking. It's also the place in Australia where I've seen the most koalas in the wild.
Best things to do in Noosa
Explore the magnificent Noosa National Park, which is easily accessed whether on foot from the town centre or if you drive to its entrance and park
Beach hopping from Noosa Main Beach to the dog-friendly waters at the Noosa Spit and over in Noosaville too
Get surfing or take part in a surf lesson
Go on a dolphin-watching safari by kayak, where your chances of seeing dolphins are super high
Bar hopping along Main Street
Tucking into some of the town's best food, including the phenomenal Spanish set menu at 10 Hastings Street
Hike nearby Mt Coolumb
Get stuck into the craft beer scene in Noosa
Drive to nearby Emundi to go to the popular Farmer's Market, running Wednesday to Saturday until 1pm or so
Go hiking in the magnificent Glasshouse Mountains
Most of Noosa's main attractions revolve around the beautiful beaches, the National park, the surf and the food. It's pretty easy to see why I love it so much.
Where to stay in Noosa
There are some beautiful places to stay in Noosa, covering all budgets and preferences.
Best luxury hotels: There are some amazing hotels in Noosa. Some of top luxury stays would be Noosa Shores (£350), Netanya or the beautiful Sofitel Pacific Resort (from £158 per night). However, there's also the more affordable Peppers Resort on the beach (from £92 per night) and Tingirana.
Good value stays: My favourite good value spot is 10 Hastings Street Boutique Motel. It also has one of the best restaurants town downstairs! Rates start from about £60 per night.
Best hostels: Nomads Backpackers is the best spot in town. Dorm rooms start at £37, or a double is £44.
Brisbane
Suggested time for Brisbane: 1-2 days
Driving distance from Noosa to Brisbane: 141km (1hr44)
Queensland's big city! Brisbane is a modern metropolis, with year-round warm weather and unique city beaches. I like Brisbane, but not even half as much as Melbourne and Sydney.
It's probably a great city to live in, but visiting for a couple of days at a time, I have never fallen for Brisbane. However, it does have a fantastic manmade city beach at South Bank where I have spent many hours catching the rays.
I also have to recommend my favourite restaurant in Brisbane, which is New Shanghai located in the Myer Centre on Queen Street. There's a few of these dotted across Australia, but for me, the Brisbane one is just amazing.
Things to do in Brisbane
Brisbane as a city may not be quite as cosmopolitan and lively as Melbourne and Sydney, but it does happen to make a fantastic base to visit other nearby areas. The winter months are an especially lovely time to visit the city, so make sure to check out this guide to the top things to do in Brisbane in the winter.
For example, if diving is your thing, then there are some impressive shipwrecks at Moreton Island.
You can also visit the famous Australia Zoo near Brisbane, which is of course known for being founded by Steve Irwin himself.
Take a boat ride along the river onboard a Kookaburra River Queens Cruise, which are old style paddlewheel vessels
Hike a bike to explore the city or join a guided segway tour
Spend some time in the city's magnificent Botanical Gardens
Visit the city's impressive collection of museums and art galleries
Take the river boat to the popular Lone Pine Koala Sanctuary on this excellent city tour
Take a day trip to the beautiful Stradbroke or Bribie Islands
Where to stay in Brisbane
Best luxury hotel: W Brisbane is the coolest place to stay, with rooms starting from £127 per night. Another great luxury hotel would be The Westin (from £155 per night).
Great value stay: Royal on the Park is a beautiful hotel, and a steal with rooms starting from £53 per night
Best hostel: Bunk Hostel (dorms from £21) or Base Brisbane (dorms from £11)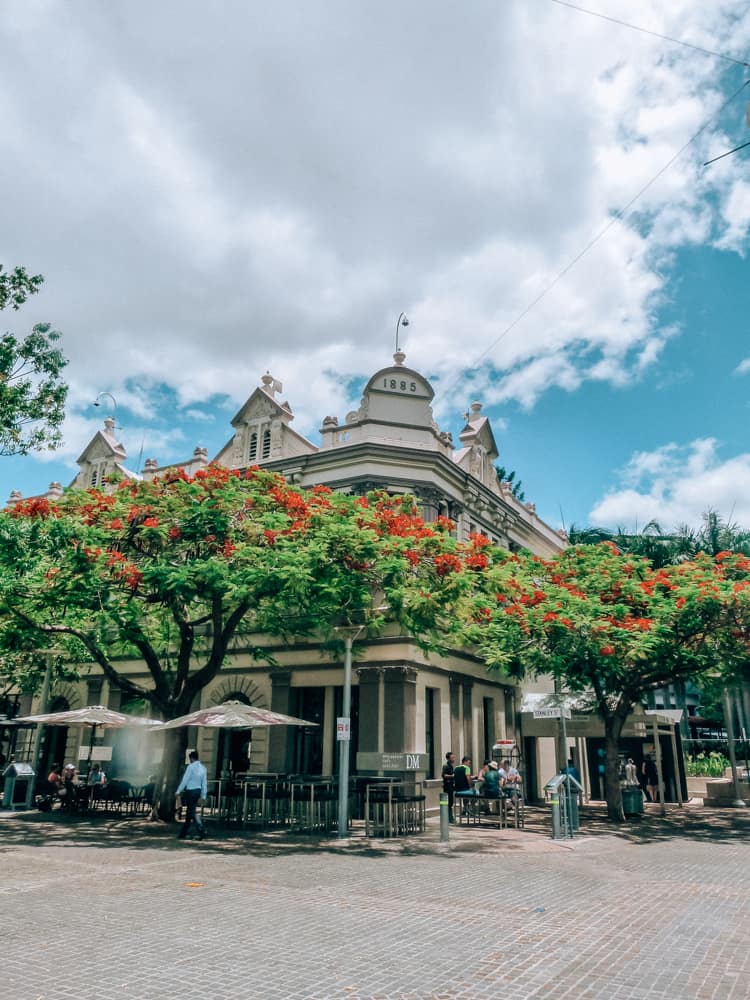 Cairns to Brisbane road trip itinerary
So there's my Australia East Coast road itinerary, covering the Cairns to Brisbane drive. As you can see, this route takes in countless iconic Australian experiences. I would say this is easily one of the best road trips in the world.
For international travellers coming to the end of the trip, Brisbane makes a wise finishing point as it has an international airport.
However, for those flying onto Australian domestic destinations or with more time, then I highly recommend continuing your journey. For example, onto the Gold Coast and Byron Bay where there are domestic airports in both destinations. If you have plenty of extra time, you could do the Brisbane to Sydney drive. Although this is another 1000km and 10hrs driving, the beaches are fantastic. However, as mentioned before, the drive from Byron Bay to Sydney would be quite cool if done in the Australia winter (May to August).
Brisbane to the Gold Coast and Byron Bay
Driving distance from Brisbane to the Gold Coast: 99km (1hr10)
Suggested time for the Gold Coast: 1-4 days
Driving distance from Brisbane to Byron Bay: 166km (1hr50)
Suggested time for the Byron Bay: 1-4 days
Driving distance between Gold Coast and Byron Bay: 93km (1hr)
Both Gold Coast and Byron Bay are popular holiday destinations with Australians as well as international travellers. And as mentioned, with domestic airports near both locations, you could potentially also finish your road trip itinerary further south of Brisbane. For example, we finished our road trip from Cairns at Ballina Airport, which is just near Byron Bay. This was really convenient as there were rental companies to return you car or camper van.
Gold Coast and Surfer's Paradise
Gold Coast is a city made up a dozens of smaller beach areas, with expansive stretches of white sand and some of the best surfing in Australia. This whole area is the most popular tourist place in Australia. It's like visiting a beach resort town in Florida, USA or a resort in Spain. Gold Coast is where young Australians flock to party and have fun every summer, and there are a lot of bars and activities geared towards this. Surfer's Paradise is at the heart of all the action but I wouldn't recommend spending long here, unless partying is something you're keen to do.
The other beach areas surrounding Surfer's Paradise are amazing, and a great spot to recoup for a couple of days. In fact, the challenge can be deciding which beach to spend the day at.
Alternatively, Gold Coast is packed with all kinds of tourist attractions, including theme parks like Wet'n'Wild and Dreamworld. My personal favourite thing to do in Gold Coast is to visit Currumbin Wildlife Sanctuary. This is a brilliant place to spend a full day. Plus, they have their own wildlife hospital with huge glass windows so you can see all kinds of animals being operated on. On the day we went, I saw birds, tortoises and koalas being treated!
Best things to do in Gold Coast
Go hiking in nearby Tamborine Mountain or get your adrenaline pumping at the high ropes course
Or why not visit Mt Tamborine and stop by the beautiful wineries and distilleries on this tour with lunch
Meet some of Australia's most unique wildlife at Currumbin Wildlife Sanctuary
Head to the farmer's markets at different beaches – my favourite is at Burleigh
Rent bikes and cycle from one point to another, for example Burleigh Heads to Mermaid Beach
Explore the stunning waterways of Coolangatta
Visit the World-Heritage Listed Lamington National Park and explore the beautiful waterfalls and landscape
Check out the incredible views from the Sky Point Observation Deck
Where to stay in the Gold Coast
There is a seriously huge amount of places to stay in the Gold Coast. It's hard to even know where to start.
If you are looking to get stuck into the nightlife, then you could stay right in the heart of Surfer's Paradise.
Otherwise, I recommend picking a beachside community for a couple of days such as Burleigh or Coolangatta. Due to the sheer number of hotels and places to stay in the Gold Coast, you can definitely find some good value stays!
Check rates for all hotels, lodges and holiday parks in the Gold Coast here.
I've stayed in several areas around the Gold Coast, and I particularly love the InterContinental Sanctuary Cove Resort. This resort is beyond stunning, with a huge lagoon beach swimming pool, and access to an amazing health club with golf and tennis.
I could have stayed here for weeks, so I'd say, if there was once place to splurge en route, it would be this resort!
Book your stay at the InterContinental Sanctuary Cove Resort here.
Byron Bay
There's a certain magic in the air in Byron Bay that makes so many fall in love with the town. So many travellers arrive for a couple of days, but end up staying for weeks.
The main thing Byron Bay is known for is surfing, but there's so much going on away from the away from the waves. The town is particularly popular with backpackers who get quickly drawn into Byron Bay's hippy, bohemian, anything-goes lifestyle. But there's increasing appeal for honeymooners, families and even those looking for a spot of luxury.
Best things to do in Byron Bay
Hit the waves, or take the chance to learn to surf
Beach hop – as well as the main beach, visit Clarks Beach, Tallow Beach, Belongil Beach and The Pass
Hike to the Cape Byron lighthouse, the most eastern point in Australia
Visit one of the many local markets, for example the Byron Bay Artisan Market (every Saturday evening from October to March)
Enjoy live music at one of the awesome bars
Shop at some the wonderful unique boutique stores
Stop for happy hour at some of the excellent cafes
Explore the craft beer scene in Byron Bay
Experience a scenic hot air balloon journey over Byron Bay
Get up and close personal with the elusive platypus a nature walk with a local guide
Take a day trip to nearby Nimbin, a small hippie town stuck in the 60s which is famous for its very liberal attitude towards. There's an iconic bus tour which you can book onto.
Dance the night away with local musicians performing on Main Beach
Explore the beautiful Nightcap National Park with waterfalls and great hiking routes
Go hiking along the trails in the Arakwal National Park, followed by a swim in the ocean
Have a delicious dinner at The Roadhouse, just on the edge of town
Drive to Byron Bay Farm for day surrounded by farm animals, and for some seriously delicious food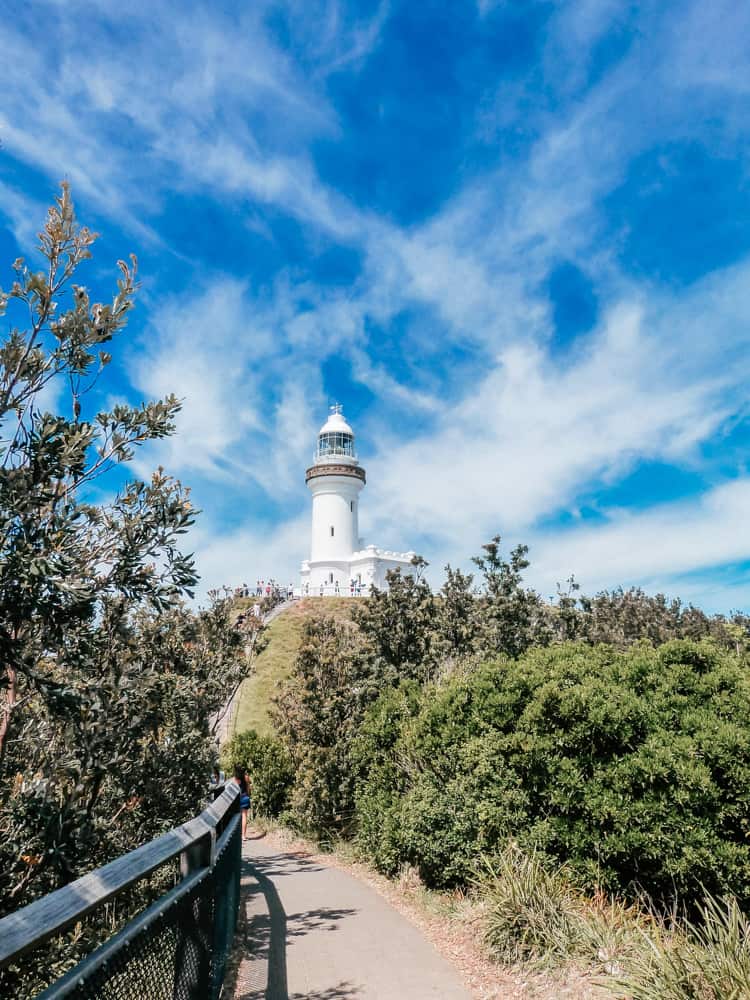 Where to stay in Byron Bay
Best luxury hotel: Far and away, the most opulent hotel is Elements of Byron Resort & Spa. It's perfect for couples, groups of friends and honeymooners. Rates start from around £245 per night, per villa.
Other great upscale stays include Atlantic Byron Bay (from £130 per night), Azur Villas (from £142 per night), The Bower Byron Bay (from £151 per night).
Great value stays: Bayhaven Lodge (from £71 per night) or Byron Palms (from £70 per night)
Best hostels: There are plenty of hostels in Byron Bay, as it's so popular with backpackers and Australians visiting for 'schoolies week'. There is the Byron Bay YHA, Nomads and Wake Up! all with similar rates for double rooms and dorm rooms (around £33 per night).
Finally, I couldn't not mention the iconic Arts Factory Lodge. Located just outside of town in a beautiful forested area, this a mammoth campground, lodge and artsy bohemian stay all in one.
We chose to stay here with our camper van which was great – it has a pool, on-site cafes and bars, and even things like didgeridoo lessons! A dorm bed here is around £14 per night, and a double room around £68 per night.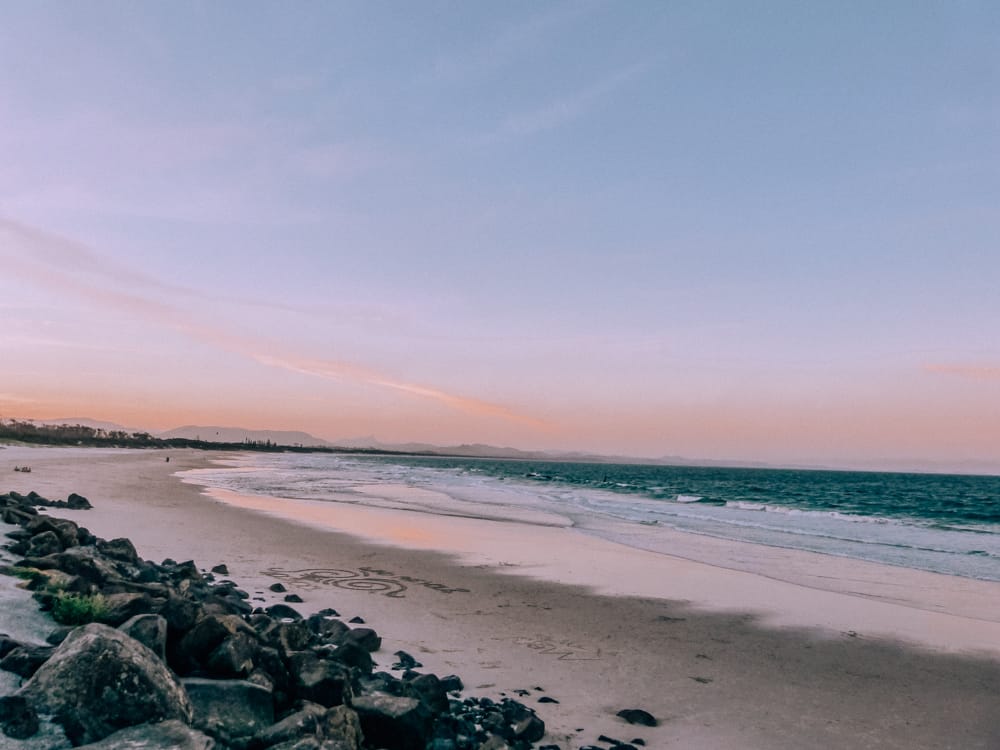 Australia East Coast Road Trip Itinerary
So that rounds out my super long and very detailed itinerary guide for an East Coast Australia road trip.
I really hope this is useful for you if you're planning a trip to the beautiful East Coast of Australia. As you can see, there is literally so much to do, particularly on the Cairns to Brisbane stretch. And as I said, you can do the highlights in two weeks, but the longer you have, the more you'll be able to take in and soak up. Ideally, a month to 6 weeks would be the best for an Australia East Coast road trip itinerary.
If you enjoyed my Australia East Coast road trip itinerary guide, then please do consider sharing through one of the below links, that would be amazing. Also, if there's anything else I can share or answer for you, please do let me know in the comments below.
For further Australia guides, please do check out my other guides:
Wanna see more? Check my Instagram here, my Facebook here or my Twitter here!
Disclaimer: This Australia East Coast road trip itinerary guide is based on multiple visits to Australia. There was no involvement from any local companies or the tourist board. However icelolly.com arranged two local tours on the East Coast: dolphin watching in Noosa and entry to Currumbin Wildlife Park.
Enjoyed my guide to an Australia East Coast Road Trip Itinerary? Pin it!