New Zealand is the best place in the world for adventure. There are hundreds and hundreds of things to do in New Zealand, ranging from the gentle and scenic to the ultimate in thrill-seeking adventures. The country is divided into two distinct geographical areas. These are North Island, also known as Te Ika-a-Māui, and South Island, known as Te Waipounamu, with each offering distinctly different landscapes and adventures. This guide aims to cover all of the very best places to visit on North Island in New Zealand.
North Island is the smaller of the two, but is home to nearly three quarters of the New Zealand population. Where South Island is dominated by mountain ranges, glaciers and lakes, North Island's landscape is famous for its volcanic activity, national parks and vibrant, bustling cities.
Experiences on the North Island are endless. In fact, you could spend months on this island alone, enjoying all its attractions through summer and winter. From the paradise beaches in the Bay of Islands, to the geothermal action in Rotorua and world-class surfing of its extensive coastline, there's really no end to its offering.
I've spent a glorious month exploring the North Island – and I sometimes feel I only scratched the surface. So in order to make this guide as complete as possible, I've enlisted the help of some fellow travel bloggers to share their favourite places to visit on North Island too.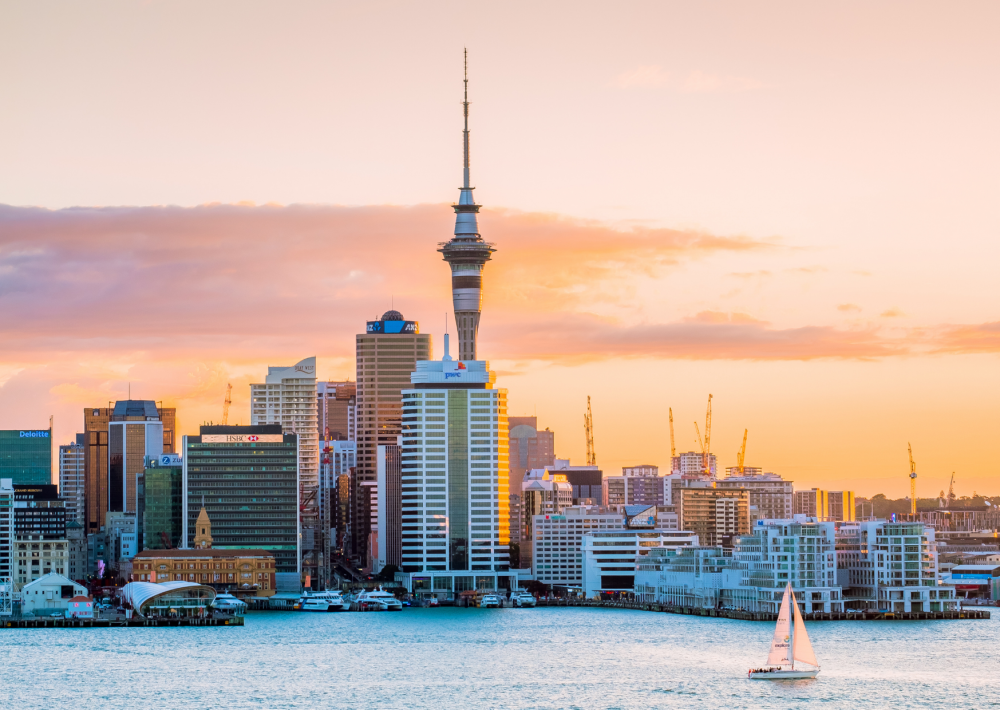 History of New Zealand
Before planning a visit to any country, it's always a good idea to have an understanding of the country's history.
Ancestors of the Māori were the first people to settle in New Zealand, most of whom likely arrived from Polynesia. This was around 1200-1300 AD as they explored the Pacific Ocean.
It was until the mid 1600s that Europeans arrived. First were the Dutch, which is where the name New Zealand comes from – as they named the island nation ' Nieuw Zeeland'.
Later the British came in the late 1700s, with Captain James Cook leading the exploration. This was followers by whalers, sealers and traders arriving from across Europe.
The Treaty of Waitangi was signed in 1840 by William Hobson, New Zealand's first governor, as well as 500 Māori chiefs across the country. Although this marked the British claiming New Zealand as a colony, the treaty was put in place to govern the relationship between the Māori and non-Māori (known as Pakeha).
The principles of the Treaty have an important role in New Zealand daily life still today, and ensure that the Māori iwi (tribes) keep their right to protect their way of life and to control the resources they own. The government is also required to act fairly and in good faith towards the Māori iwi.
If you compare this with the experience in Australia, another Pacific nation also colonised in the late 1700s – it is far better. In many ways, New Zealand was able to learn from the huge mistakes made by the British in their colonising of Australia, and the harrowing treatment of the indigenous people – which is still a major issue today.
Although New Zealand hasn't done everything perfectly, it is widely considered to be one of the best governed countries in the world. The nation's current prime minister, Jacinda Ahern, regularly finds herself in the news across the world for simply doing things well.
You can read more about the history of New Zealand here and more about Jacinda Ahern here.
North Island, New Zealand: Useful Information
How to get to the North Island, New Zealand?
The major international airport on the North Island is Auckland. You can fly on Air New Zealand, as well as Cathay Pacific, Singapore Airlines, Emirates and Qatar to Auckland, often with just one layover from many destinations around the world.
Wellington, the capital of New Zealand is another option, but there are fewer direct flights here, with most routes still connecting through Auckland (or Sydney, Australia) anyway.
Because of New Zealand's remote location, flying is the main way to arrive.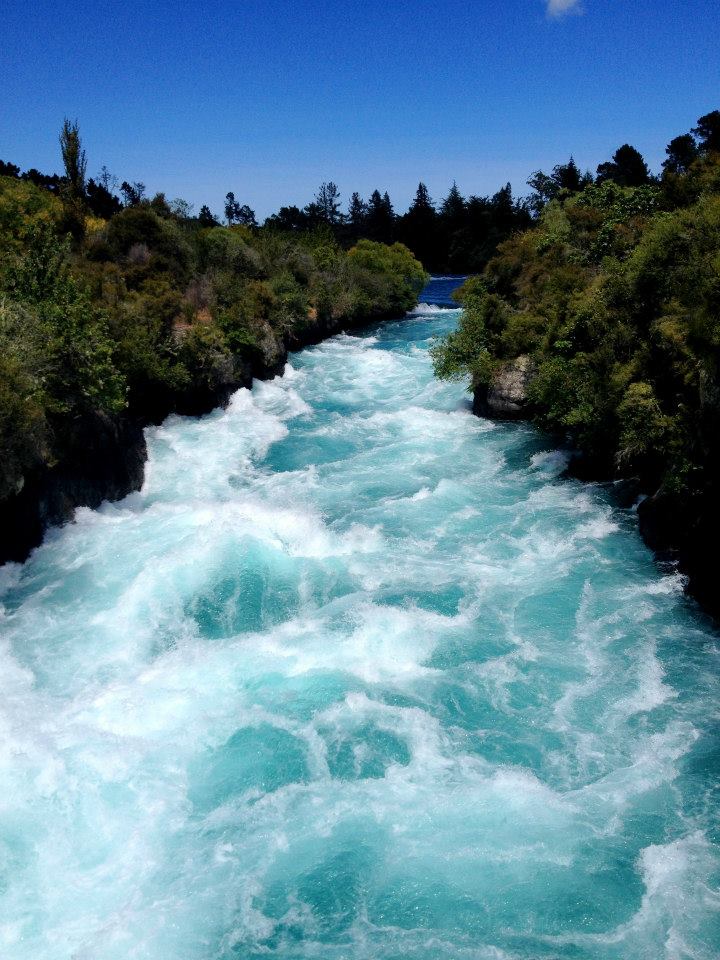 New Zealand Visas
As one of the most peaceful and most respected countries in the world, New Zealand has a very good reciprocal visa waiving agreement. Dozens of countries can enjoy visa-free visits to New Zealand including the UK, the USA, the UAE, most countries in the EU and plenty of other countries across the continents. You can see the full list here. You must still hold an NZeTA (New Zealand Electronic Travel Authority) which you can get online for NZD$12 (or NZD$9 on the app).
Other countries not listed above need a visitor visa.
How to get around New Zealand?
To travel between North and South Island, the two ways are to take a domestic flight, with the main carrier being Air New Zealand, or take a ferry between the two islands.
The main ferry route is from Wellington on the North Island to Picton on the South Island, which means crossing the Cook Strait – widely considered to be one of the most beautiful sailings in the world. From the decks, you may be able to spot dolphins, whales, seals and all kinds of birds!
There are a couple of ferry ports and ferry companies to opt for, with the sailing taking around 3.5hours each way. Please check here to find out everything you need to know about the ferry between North and South Island. The cheapest fare is typically around NZD$65 each way for an adult foot passenger.
On the North Island, the very best way to explore is to hire a car. The roads are very well-maintained, parking is typically plentiful and you can stop and explore whenever your heart desires. Find out more about renting a car in New Zealand here. Or alternatively, why not consider renting a motorhome or campervan in New Zealand?
Something many people don't realise is that New Zealand has some incredible train journeys. The Northern Explorer traverses the North Island from Wellington and Auckland, and passengers can enjoy stunning scenery including the Tongariro National Park. Otherwise, the main mode of public transport is by bus and coach. There are also the Coastal Pacific and the TranzAlpine routes.
Hop on, hop off coaches are very popular and can make intercity travelling a breeze. I've personally travelled around on the Kiwi Experience, which was awesome. The routes offer great flexibility and freedom in your journey.
Buses in general are the main way to get around North Island, with the two main bus companies being InterCity and Skip. Fares are reasonable and buses are frequent.
When is the best time to go to New Zealand?
Generally, the best time to go to North Island are the spring, summer and autumn months, from October through to April. For the warmest, driest trip, aim for January and February, which would be the ideal time to enjoy all of the best places to visit on North Island in New Zealand.
Even within North Island the weather can vary hugely. Cape Reinga, in the very north of the island is tropical and warm, seeing gorgeous mild weather year round. On the other hand, Wellington at the very bottom of the North Island experiences some of the heaviest rainfall on the planet, even in the summer months – and don't even start me on the fierce winds!
Currency and Budget
This section needs to be pre-faced with the crucial information that New Zealand is one of the most expensive places in the world to travel.
That being said, you can of course keep costs down by camping or driving in your own car/van and going self-catering.
Plus of course, plenty of the natural wonders and best places to visit in New Zealand are free.
The things that add up are eating out, alcohol and activities. I guess this is the same in any destination, but these are particularly steep in New Zealand.
New Zealand uses the NZD$, which is roughly 1 NZD$ to 1 AUD$.
The exchange rate is approximately 1 NZD$ = 0.75c USD$ and 1 NZD$ = 50p GBP.
Accommodation
Even if you're backpacking through New Zealand, the cost of dorm rooms will add up. Most rooms throughout the country are around NZD$30 per night, which really adds up considering most trips to the country are minimum two weeks. These often don't include WiFi or breakfast either, but this is becoming more common across the two islands.
A private room in a hostel is likely to cost more towards NZD$70-75, which is the same as a budget hotel. Again, this really does add up and for this reason, camping or campervan trips across New Zealand become increasingly appealing, even with petrol and rental costs included. Spots in a campsite are around NZD$ 10 per night.
Food
Eating out in New Zealand can be expensive, but frustratingly, so can food shops in major supermarkets. The super popular breakfast dish of smashed avocado and toast will set you back around NZD$20-25 on the North Island (slightly cheaper on the south).
I found however that once I'd bought eggs, avocado and nice sourdough bread from a supermarket such as Countdown, I was only about NZD$6 off the price of the restaurant version. And so, for the pure convenience of not having to prepare my meal in the shared kitchen facilities in my hostel, I'd head out for brunch. I also found it hard to transport my fresh food from place to place, so I found it also helped me reduce wasting bread and eggs that I couldn't transport by bus.
I definitely don't recommend travelling like this though, but this example is just to illustrate that actually supermarket prices are quite steep in New Zealand. Of course if you're camping with a rental car, or have a campervan, you'll find it a lot easier to store and transport produce, and therefore can keep prices down.
Dinners at restaurants can become quite expensive, and if you're travelling on a budget, you may end up finding it better value to join your hostel's BBQs each evening.
Transport
Fortunately, travelling around New Zealand and the North Island isn't too expensive.
In the larger cities of Auckland and Wellington, buses and trains on their city network are pretty inexpensive. Make sure to get a Snapper card in Wellington for major savings, as well as AT HOP card for Auckland. Generally fares are around NZD$3 and increase based on distance.
For one of the longer distance scenic trains mentioned above, the fares start at around NZD$100 depending on the route, class and date.
Flying can be a little expensive in New Zealand, and it does mean you miss out on all the wonderful destinations and attractions on land, so I wouldn't recommend. If you're pressed for time and need to flight hop, plan to spend NZD$150-200 per flight.
Buses are the best and most budget-friendly way to get around the country. You can use the InterCity bus service for frequent and affordable journeys starting from as low as NZD$10, or the other option is to join a backpacker bus, such as the Kiwi Experience. The ticket prices cost upwards from around NZD$500 but the flexibility and convenience these passes give you is unparalleled.
Best Places to Visit on North Island in New Zealand:
So now we've got the basics covered, let's jump into the best places to visit on North Island in New Zealand. There's really a huge variety of things to do and see across the North Island, so I've organised this blog post into sections working from the island's northern tip and heading south. So you'll find firstly a section on the destinations in the Northern Cape, before Auckland and the surrounding area, then beautiful areas in the centre of island all the way down to Wellington.
North of Auckland
Bay of Islands
Contributed by Ellie from elliestraveltips.com
As one of the most beautiful destinations in New Zealand, the Bay of Islands needs to be on any list of things to do on North Island.
The Bay of Islands is best explored by a passenger ferry service, however, plenty of New Zealand cruises also frequently visit this gorgeous area every year. The Bay of Islands is home to miles upon miles of pristine beaches and rugged coastlines, dotted with 144 tiny islands.
The beauty of the islands is exactly why one needs to see the Bay of Islands. Once you arrive, you can explore the beach, go dolphin sightseeing, try sea kayaking, and take fishing trips.
If you prefer to get into the refreshing waters via snorkeling or scuba, there are two notable wrecks to explore in the region—the Rainbow Warrior and the HMNZS Canterbury.
To learn about the history of the Bay of Islands, head inland to the local Russell Museum. Here, you will receive an in-depth explanation of the Bay of Island's historic past. The museum contains plenty of exhibits and a large collection of Māori artifacts, historical photographs, with a massive replica of Captain Cook's ship for you to explore.
Lastly, head out to Rainbow Falls to discover one of New Zealand's most accessible and stunning waterfalls. This 88-foot-high waterfall is beautiful from all viewpoints, whether you hike to the top or bottom of the falls.
Te Paki Giant Sand Dunes
Contributed by Adriana from svatbeni.cz
Beautiful views of the Tasman Sea combined with a nice dose of adrenaline are waiting for everyone visiting Te Paki Giant Sand Dunes in New Zealand's Northland.
It's the perfect place for all adventure seekers and sand-boarders. Sandboarding is easy and a lot of fun! You don't need to bring your own sandboard because you can rent one for NZD $15/day directly at the car park. There is no entrance fee to Sand Dunes. You can leave your car either in the car park, or (if you have 4WD) you can follow the stream and drive through the river (sand dunes are going to be on your right-hand side).
Practical tips for sandboarding beginners: Be prepared that you will have sand everywhere and also bring sunglasses to protect your eyes (but not your favourite ones, because the sand could scratch them).
The best way to get to the Te Paki Sand Dunes is by car, although there are some bus tours from Auckland, Paihia, Mangonui, and other towns going around Northland.
Once you are there don't forget to visit also the famous 90 Miles Beach, where you can drive your car directly on the beach. You should wait for the low tide and ideally have a 4WD. However, some parts can be handled without a problem even with a classic car or camper van without 4WD.
Auckland and Surrounds
Auckland is New Zealand's biggest city. It is a gorgeous city located by the twinkling turquoise sea. It is affectionately known by its locals as the 'City of Sails'. The Māori were the first to settle in the area back in 1350, and since, the city has prospered and developed into a hub with an interesting history, excellent shopping and a vibrant, fun cultural scene. But did I mention how scenic the city is? Whether you're wandering its two harbours, or hiking its local volcanos, Mount Albert or Mount Eden, panoramic views surround you in Auckland, making it truly one of the most beautiful cities in the world.
One excellent area to visit is the redeveloped Wynyard Quarter. This is a lively waterfront district packed with bars, cafes, a street park and community garden. Auckland Central is home to dozens of great museums and galleries too. Make sure to visit Auckland Museum to learn about Maori history and traditions or explore the beautiful Brick Bay Sculpture Trail.
Another favourite in Auckland is the area of Matakana, which is home to stunning beaches, boutique vineyards, a vibrant local arts scene all within a walkable picturesque village. At the heart of all the activity is its farmers' market. Stop by and savour some freshly baked goods by the river's edge.
Auckland also has its own set of thrill seeking activities, right in the heart of the city centre. For example, you can do an AJ Hackett Bungy Jump right off the Auckland Harbour Bridge or even jump off New Zealand's highest building, the Sky Tower at 328m tall!
But if you're looking for something a tad more restful, then why not head to a nearby beach? There are plenty close to Auckland, and some especially gorgeous stretches on the West Coast.
The Waitakere Ranges
Contributed by Caroline from cktravels.com
The Waitakere Ranges are a gorgeous part of the north island and an essential part of any Auckland itinerary. Comprising of 16,000 hectares of lush native rainforest and rugged black sand surf beaches, this area feels a world away from the nearby metropolitan city, The Waitakere Ranges are just a short 40 minute drive from Auckland city centre on the west coast.
The park is a nature lover's paradise and is rich in native flora and fauna, plus it is home to the huge kauri tree. There are also 250 kms of stunning walking trails which take you up close to pretty waterfalls such as Karekare Falls or Fairy falls. Kitekite Falls is great to visit on a hot summer's day as you can swim in the pool at the bottom!
Some of the country's best surf spots are at the beaches here. Piha beach has some powerful waves and is an iconic spot for surfers (so it can get very busy). Nearby Karekare beach was used as a filming location for the Kiwi film The Piano, and Muriwai beach is famous for it's huge cliff-top gannet colony!
End your visit to the Waitakere Ranges with a visit to Titirangi village where there are many lovely local cafes, or head to Kumeu to visit the boutique wineries.
Muriwai Beach and Gannet Colony
Contributed by Maureen from somanyplacessolittle.com
Muriwai Beach and Gannet Colony is one of the best day trips from Auckland as it is just an hour's drive from the city through very pleasant rural farmland, a couple of small villages, vineyards, orchards, and some native bush, out to the very rugged west coast.
Stretching for 50 to 60km along the Tasman Sea, this windswept, black iron sand surf beach with its high cliffs, sand dunes, dramatic coastline, huge ocean swells and rolling breakers is very popular with the local surfers.
But surfing is not the only activity that draws people to Muriwai Beach. One of the main attractions here is the gannet colony situated on the cliff tops at the southern end of the beach. Drive up the hill opposite the beach cafe to the parking area and follow the well-signposted tracks to the viewing platforms high up on the cliffs. From here you can enjoy great views out over the ocean and coastline, and fascinating close up views of the large gannet colony.
The gannets weigh about two and a half kilos and have a wingspan of about two meters. From August to March each year about 1200 pairs of gannets mate, nest and have their chicks on these windswept clifftops. From the viewing platforms you can observe them going about their daily business. And smell them too! If you're there in December and January you'll also be able to see the cute chicks.
Islands near Auckland
Rangitoto Island
Contributed by Roxanne from farawayworlds.com
At only 600 years old, Rangitoto Island has the distinction of being New Zealand's youngest volcano. Now dormant, the island is well worth a visit and makes a great day trip from Auckland.
Only a 25-minute ferry ride from Auckland CBD, it's clearly visible from the shore and is one of the most recognisable landmarks in Auckland's Hauraki Gulf. When you arrive at Rangitoto Island, you'll find yourself in a beautiful, relatively isolated environment, with dark lava flows and green, native bush. The island is pest-free, and you can choose from multiple walks, with only birds for company.
Spend a morning or afternoon here, making your way up to the summit. It takes about an hour to walk up and the views at the top are remarkable. If you have longer on the island, there are a number of interesting walks, including a route to the nearby island of Motutapu, only accessible at low tide.
If you come on a week day, the island can be very quiet and peaceful, and you can enjoy your time there in relative solitude (unless you happen to arrive at the same time as a school group). Just remember that it can get hot in the summer, so be sure to bring water, lunch, sunblock and a hat with you, as there aren't any shops on the island. Good shoes are also a must, as there are rocks and lava flows to walk over.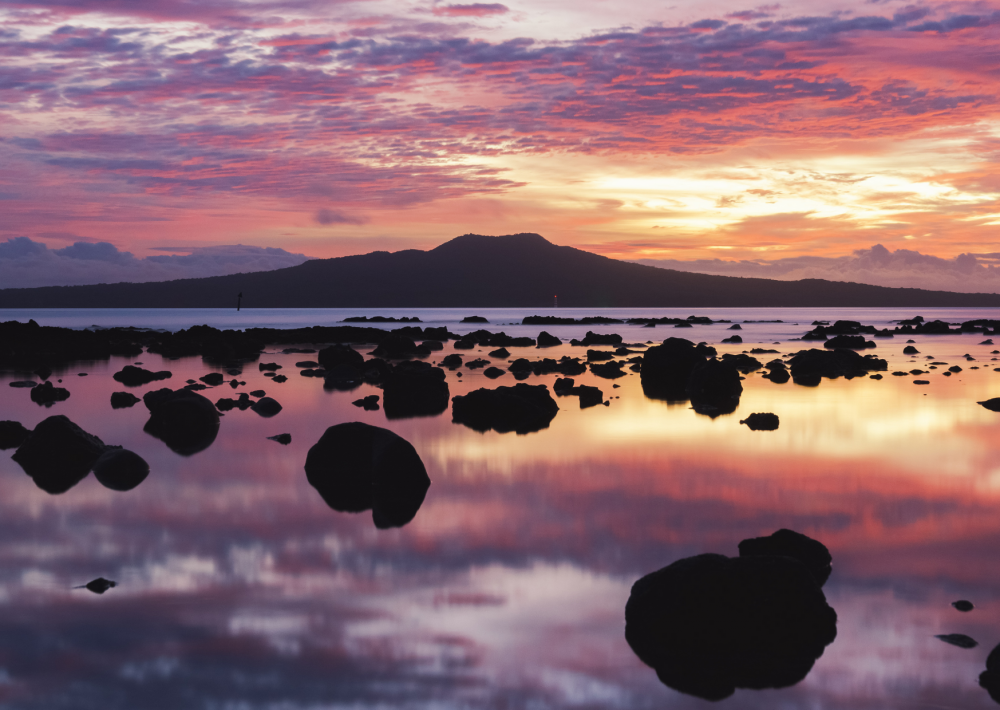 Waiheke Island
Waiheke Island is just a 40 minute ferry ride from Auckland city centre, and is another easy day trip from the city.
The island is the second largest in the Hauraki Gulf, blessed with over 83 miles of coastline. In fact, Waiheke is renowned for its beaches. Oneroa Beach, Palm Beach and Onetangi are three of the best beaches on Waiheke island, all with soft sand and calm waters – ideal for swimming and kayaking.
But there are plenty of other things to see and do on Waiheke, and with regular buses traversing the island, as well as taxis or car hire, it's easy to explore.
An ideal day on Waiheke could be spent at the beach in the morning before enjoying a midday hike in the cooler native forest inland. Then followed by an afternoon wine tasting at one of the island's renowned vineyards. Many of these have excellent, charming restaurants too which make them the perfect place for a long lunch with stunning panoramic views too. My personal favourite wine farm on Waiheke is Cable Bay Vineyards – I highly recommend visiting!

The island also has a vibrant arts and culture scene. Its main town, Oneroa is home to dozens of bustling art galleries and independent boutiques. Make sure to head to the Waiheke Community Art Gallery. It's a fantastic showcase of the best art, ceramics and glass from across New Zealand.

To get to Waiheke Island, simply head to the ferry port in downtown Auckland and embark one of the regular ferries. You don't need to book in advance, and the ferry costs just NZD$21 per adult each way.
Coromandel Peninsula
Around 2 hours drive east from Auckland lies the rugged Coromandel Peninsula, which stretches 85km up like a pointed finger. This area is home to some of North Island's most popular areas including Cathedral Cove and Hot Water Beach.
The name Coromandel is taken from a British warship, HMS Coromandel, which anchored in the harbour back in 1820. This peninsula is blessed with some of New Zealand's best coastal weather and a pleasant sub-tropical climate, making its pristine beaches and unspoiled native forests a delight to visit for most of the year.
This region was formed by volcanic activity thousands of years ago. Still today, it experiences plenty of geothermal activity – for example the bubbling hot spring water at Hot Water Beach.
Cathedral Cove
One of the most beautiful areas in the Coromandel Peninsula is Cathedral Cove (also known as Te Whanganui-A-Hei). The best way to reach it is via the spectacular coastal walk from Hahei Beach to Cathedral Cove. It's an easy trail taking around 45 minutes each way and offering staggering views of the cliffs and bays on route. Nearby is the popular hippie town of Thames which is lined with independent artisan stores.
Cathedral Cove is also part of marine reserve, so another popular activity in the area is kayaking. You can easily book a guided tour, or if you fancy getting even closer to the abundant underwater life, then make sure to arrange a dive excursion.
Hot Water Beach
Contributed by Daniel from destinationlesstravel.com
One of the most unique things you can do on the North Island of New Zealand is visit Hot Water Beach. Not only is this one of the most stunning beaches in New Zealand, but it has one very special feature – thermals that create hot water!
When it is low tide, there are certain spots on the sandy beach where you can dig a hole. The hole will fill with hot water thanks to the thermal vents beneath the earth's surface. It is a really neat phenomenon that you just have to experience for yourself!
Hot Water Beach is located on the Coromandel Peninsula and it is only a short 10-minute drive from the town of Hahei, the starting point for the walk to Cathedral Cove. For this reason, many people stay in Hahei as a base, and wait to visit Hot Water Beach for a couple of hours during low tide.
It is important that you check the tide times to visit Hot Water Beach. During high tide, the ocean water covers the area on the beach where you need to dig. Visiting with two hours on either side of low tide is ideal. Also, be sure to bring a shovel as digging a hole isn't as easy as it sounds without one!
Kuaotunu Beach
Contributed by Hannah from hannahhendersontravel.com
The beach town of Kuaotunu is a summer paradise on the east coast of the Coromandel Peninsula. And as the drive from Auckland to the Coromandel doesn't take too long, this area is the perfect North Island weekend getaway.
Kuaotunu is one of those beach getaways that has the small-town nostalgia of simpler days, but a few choice amenities that boosts its appeal. You have a corner shop, fish and chips, and lots of B&Bs. But you also have an amazing café and restaurant – Luke's Kitchen – which serves wood fired pizzas and delicious New Zealand wines, and hosts live music.
A long sweeping white sand beach is the jewel in Kuaotunu's crown. The curve of the beach ensures that there are usually some calmer spots, as well as some great surfing or body-boarding opportunities. The sand dunes are the nesting ground for shorebirds, and many other conservation efforts in the area, which protect this slice of heaven.
You can also use Kuaotunu as a base, as its location is also great for exploring the Coromandel with ease. In addition to driving down to Hot Water Beach and Cathedral Cove, you can also find secluded or near empty beaches to collect shells or take a boat tour out of Whitianga for fishing or just a day on the water.
Donut Island
Contributed by Tom & Zi from wearecravingadventure.com
Donut Island is one of a group of islands off the coast of Whangamata on the Coromandel Peninsula and constitutes part of the Whenuakura Wildlife Sanctuary.
The official name of Donut Island is Whenuakura Island which is an old dormant volcano submerged in the sea. Centuries of erosion created a cave through which the crater filled up with water, making it look like a donut from above, hence the nickname.
The best part? You can enter the internal lagoon by sea through the cave!
Once inside, you'll enter a place of pure bliss. Because Donut Island is a wildlife sanctuary and Māori sacred ground, you are not allowed to step on land once inside. However, there is no rule against swimming or floating inside the lagoon. The sun shines through the open roof and while you enjoy the gentle sway of the waves, the sound of water splashing onto the shore and the playful song of native birds.
It is a short and extremely rewarding paddle to Donut Island and we can't recommend it enough! While the paddle itself isn't demanding, finding the entrance can be tricky and there are some safety precautions you should take. Learn all you need to know about exploring Donut Island here.
Karangahake Gorge
This is a must-visit in the Coromandel Peninsula, but not every traveller heads down into the gorge to fully explore this old mining town. There are several different walking trails to explore the gorge, with the shortest being the 'Rail Tunnel Loop' or the 'Windows Walk Loop' both of which are just 2.5km and around 1-1.5 hour return loop. The longer routes (Waitawheta Tramway and Karangahake Mountain) are 8 hours (19km) and 4 hours (4.3km) respectively.
No matter which route you take, you'll have the opportunity to explore this stunning gorge and the old mining tunnels. You can also see plenty of old mining buildings and machinery along the walkways.
Rotorua and surrounds
Rotorua
Contributed by Samantha from haveseatwilltravel.com
When considering your options for places to explore on the North island of New Zealand, Rotorua is an absolute must. The downtown area is a classic, picturesque spot with great places to eat and shop!
But just outside of the downtown area lies big attractions for thrill seekers, culture cravers and wildlife wanderers. There are so many options that no matter what you are after you're bound to find the perfect experience to add to your itinerary.
If you are an adrenaline junkie like me, Skyline Rotorua is the place to be. They have a luge, gondola, sky swing and ziplines over redwood forest treetops! Just around the corner is ZORB where you can dive into a giant inflatable ball and race down a hillside or zig zag your way to the bottom.
For culture cravers there is the Māori village just outside of downtown Rotorua. It is an immersive experience complete with dinner and a show. You'll see how they prepared feasts, celebrated life events and holidays as well as a glimpse into their day-to-day life as a native tribe of New Zealand.
For wildlife wanderers, Rotorua is home to Rainbow Springs Nature Park which is one of the few places you can see a kiwi up close. Since kiwis are nocturnal this is an activity best experienced at night. The nature park is also home to many native New Zealand birds and animals. No matter what kind of New Zealand you're hoping to experience, Rotorua has a taste of it all!
Wai O Tapu
Contributed by Lindsey from have-clothes-will-travel.com
Wai-O-Tapu is an active geothermal area about a half-hour away from Rotorua, New Zealand. It has rightfully been dubbed "New Zealand's most colourful volcanic area." It is an incredible spot to see geothermal activity.
Wai-O-Tapu has everything from boiling mud baths to green pools (made green by sulfur) and steaming waterfalls. Then, at 10.15 am. every day, Lady Knox Geyser erupts to heights of 10-20 metres! The colourful "Champagne Pool" and "Devil's Bath" are also two not-to-be-missed sights.
You should plan to spend between 2-3 hours walking through Wai-O-Tapu. There is an easy-to-navigate wooden walkway that takes you to each of the sights. Be sure to grab a map at the entrance and wear comfortable shoes!
There are a couple different ways to get to Wai-O-Tapu from Rotorua. It's a very easy drive if you have access to a car. Another option is to take a full or half-day tour (pick up from your hotel/hostel included) or to take a shuttle bus from Rotorua's visitor center "i-Site." For accommodation, some of the coolest Airbnbs in New Zealand can be found not far from Wai-O-Tapu.
Tamaki Maori Village
Contributed by Francesca from littlelosttravel.com
Tamaki Maori Village is located close to Rotorua on New Zealand's North Island. It's an absolute must-visit for anyone wanting to learn about Māori history and culture. This replica of a traditional Māori village invites guests to a session of authentic cultural performances, stories and games from the minute they arrive.
The best way to get there is by coach from Rotorua which is nothing short of entertaining in itself. Once you arrive, you're a guest of the Māori people. You're greeted with a welcome haka dance and a member of your group (appointed on the bus) steps forward to address the leaders on your behalf.
What ensues next feels like you've stepped back in time. You'll be guided around huts, learning about Māori history and playing interactive games. The experience finishes off with a performance and a chance to meet your hosts with a delicious sitdown dinner.
The highlight of the dinner is the 'hangi', a traditional Māori technique that involves cooking meat and vegetables in the ground. The food comes out succulent and tender. It's absolutely divine and you get to see the whole process in action from start to finish. Dietary options are also available if you're vegan or vegetarian.
Tickets for the Tamaki Māori Village are about NZD$120 per person. You can even take it a step further and stay the night as part of their homestay experience which will cost you about NZD$215.
Central North Island
Raglan
Contributed by Cassie from cassiethehag.com
The surf town of Raglan, and nearby Bridal Veil Falls, make a fantastic stop while on a North Island, New Zealand road trip. Raglan itself is a cosy, dreamy coastal retreat, perfect for taking a breather while on a busy itinerary. That said, there's still a lot to do here, especially for outdoor enthusiasts.
Aside from great breaks for surfing, you can also enjoy lazing on Ngarunui beach or kayaking out to Pancake Rocks. The five hour Mt Karioi summit track (or caving below) is a fantastic option for those who prefer to explore by foot. Wainui Nature Reserve or a comfortable beach walk around the town are more relaxing options for anyone looking for a break from New Zealand's more strenuous activities. Michael Hope Lookout is another scenic viewpoint you can easily drive too on a Raglan day trip.
Bridal Veil Falls are my favourite natural attraction in the area. This 180-foot waterfall has four different platforms, allowing you to enjoy the falls from different angles, which helps you appreciate its beauty. It's over 250 steps to the bottom platform, but it's worth it for the lush green scenery and water gushing off the cliff below.
Hamilton Gardens
Contributed by Nadine from lelongweekend.com
Hamilton may not be the first place that comes to mind when planning your trip to New Zealand's North Island. So you might be surprised to learn that this unassuming city is home to an internationally acclaimed garden!
The Hamilton Gardens are a remarkable attraction located just south of the central business district of Hamitlon, and they make a fabulous day out for all ages.
Unlike most botanical gardens, these unique gardens are grouped into collections – all with their own unique appeal. Be transported around the world as you tour the enchanting Paradise collection that includes wonders like the Italian Renaissance Garden, the Japanese Garden of Contemplation, and the colourful Indian Char Bagh Garden.
Take your senses on a trip in the Cultivator Collection with its fragrant flower arrangements, learn about sustainable gardening practises in the Productive Collection, and be entertained for hours in the Fantasy Collection.
You'll also find a fabulous children's playground, a flower-framed lawn for picnics and ball games, a duck pond, and a visitor's centre where you can pick up activity sheets to keep the kids busy while you wander. Entrance to the gardens is completely free – making it an excellent choice for those travelling New Zealand on a budget.
Hobbiton
Contributed by Alanna from periodicadventures.com
One of the best things to do on every North Island itinerary is to visit Hobbiton, whether you're a Lord of the Rings fan or not! Hobbiton is located in Matamata, 2 and a half hours from Auckland or 45 minutes from Hamilton. It makes for a great stop on a road trip around the North Island.
This area of farm land was scouted for use in the Lord of the Rings films due to its beauty and because it has a massive tree that was needed for a birthday party scene. Soon, the set was built with many hobbit holes of varying sizes, props, gardens, and signs.
Now you can stroll through Hobbiton on guided tours only where you'll get a chance to take photos in hobbit hole doorways, see Bilbo Baggins' house, and the famous party tree. You can even enjoy a signature craft beer at the Green Dragon Inn! On the tour you'll learn about the design of the set, while enjoying the serenity of the area.
It's truly a beautiful and unique destination, even if you aren't a Lord of the Rings fan. You can't help but feel at peace there.
As a tip, book tours ahead of time as they do sell out. Early morning and evening tours are less crowded, which is favourable as large tour bus groups do have excursions at Hobbiton making it a popular place during peak hours!
Waitomo Glowworm Caves
Contributed by Trisha and Modi from trywanderingmore.com
The Waitomo Glowworm Caves are a must-visit as they have a large population of a glowworm species, Arachnocampa Luminosa, found exclusively in New Zealand. These bioluminescent worms create a magical setting as they illuminate caves like the starry night sky. When visiting these 30-million-year-old caves, you will also learn about the caves' fascinating history and explore beautiful rock formations.
There a few options for your cave tour – a 45-minute boat ride in the Waitomo Glowworm Cave (the most popular option), a 1-hour guided walk to see dazzling cave formations at the Aranui Cave (this one has no glowworms), and a 1.5-hour walk in the Ruakuri Cave (can click pictures of glowworms here). You can also opt to do a combination of two or all three caves. These tours go on between 9:30 am to 3:30 pm and depart every 30 minutes. In the summer months, it'll be better to pre-book your tours to save time.
If you're looking for adventure, try Black Water Rafting which has a 3-hour ( Black Labyrinth) and a 5-hour option (Black Abyss). This is an extremely fun caving experience where you'll zipline, abseil, and tube through the Ruakuri Cave all while taking in the tremendous sight of shining lights above you!
Seeing glowworms at Waitomo is one of the best things to do on a New Zealand road trip. You can visit here as a day trip from major towns and cities on North Island (Auckland, Rotorua, Tauranga, Taupo) or on your route between cities.
Tongariro National Park
Contributed by Rachel from averagelives.com
Tongariro National Park is the oldest national park in New Zealand. Its raw beauty is well-known by outdoor lovers for having one of the best day hikes in the world. The national park has UNESCO World Heritage status and many special natural features, such as emerald lakes, steaming craters and glacial wonders.
The natural wonderland has activities and sights to please everyone. These range from the famous Tongariro Alpine Crossing, a full one-day hike full of volcanic delights and surprises at every turn. If you're a Lord of the Rings fan, you will notice the breathtaking Mt Ngauruhoe, better known as Mount Doom, along the route – which is truly exciting!
You can also do multi-day hikes, such as the Northern Circuit, which takes 4 days to complete and the Mountain track, a six-day walk. If you're not a keen hiker, you can still enjoy the scenery by going on one of the shorter nature trails or discover many stunning waterfalls.
The national park is home to New Zealand's highest café, 'Knoll Ridge', which is a fantastic place to take in the awe-inspiring scenery. Alternatively, if you visit in winter, you can take advantage of the snow and go skiing in Mt Ruapehu's ski areas.
Before you visit the 80,000-hectare national park, you should always check the up-to-date information about any volcanic activity and weather announcements. Be prepared for conditions to change without notice.
Lake Taupō
Contributed by Ben from ticket4twoplease.com
With a surface area of 616sqkm, Lake Taupō is roughly the same size as Singapore – and also the largest lake in New Zealand. Although the lake itself is something to be explored and marvelled, there are a number of adrenaline-fuelled activities on offer nearby that cannot be missed.
The stunning Huka Falls are located 1km downstream from Lake Taupō and provide the phenomenal sight of 220,000 litres of water cascading over the 11m waterfall every second.
The footbridge running over the falls gives you a bird's eye view of the water barreling over the cliff edge below you, but the raw power of the falls can only be truly appreciated up close, and for that, you need to be on a boat.
Operating since 1990, HukaFalls Jet boats send you careering along the Waikato river at a staggering 80km/h, before diving into dizzying 360 degree spins. In between the mayhem however, you are given the perfect view of Huka, right from the very mouth of the falls.
With your feet safely back on dry land once more, it's time to head to the highest cliff-top bungy jump in New Zealand to get yet another adrenaline-fix.
Taupō Bungy Jump positions you at a chilling 47m above the Waikato River below. With your toes dangling on the very edge of the cantilever platform, you're told to make the decision of whether you want to stay dry or be dunked in the water. It's not an easy decision to make when you're peering into the depths down below.
Lake Taupō itself is a scene of perfect serenity and calmness, but hair-raising adventure is only a matter of minutes away.
Māori Rock Carvings in Lake Taupō
Another must-do in Lake Taupō is to join a sailing trip out on the calm and tranquil waters to learn more about the Māori culture at the Mine Bay rock carvings. With your guides, you will have a special opportunity to embark on a peaceful sailing journey right across the lake.
Māori legends are brought to life through the carvings and masterful artistry of Matahi Whakataka-Brightwell. He was the last master creator whose contemporary carvings depict their amazing story and explore the culture, history, and sustainability of the region.
One of the most famous carvings is the Ngatoroirangi which towers 14m above the waters of Lake Taupō. Surrounding Ngatoroirangi are smaller carvings depicting tupuna (ancestors) and kaitiaki (guardians), both of which are important in the history of the local Māori tribe.
There are several cruise and sailing companies heading out daily (weather dependent). We headed out whilst the sun was setting – it was pretty magical!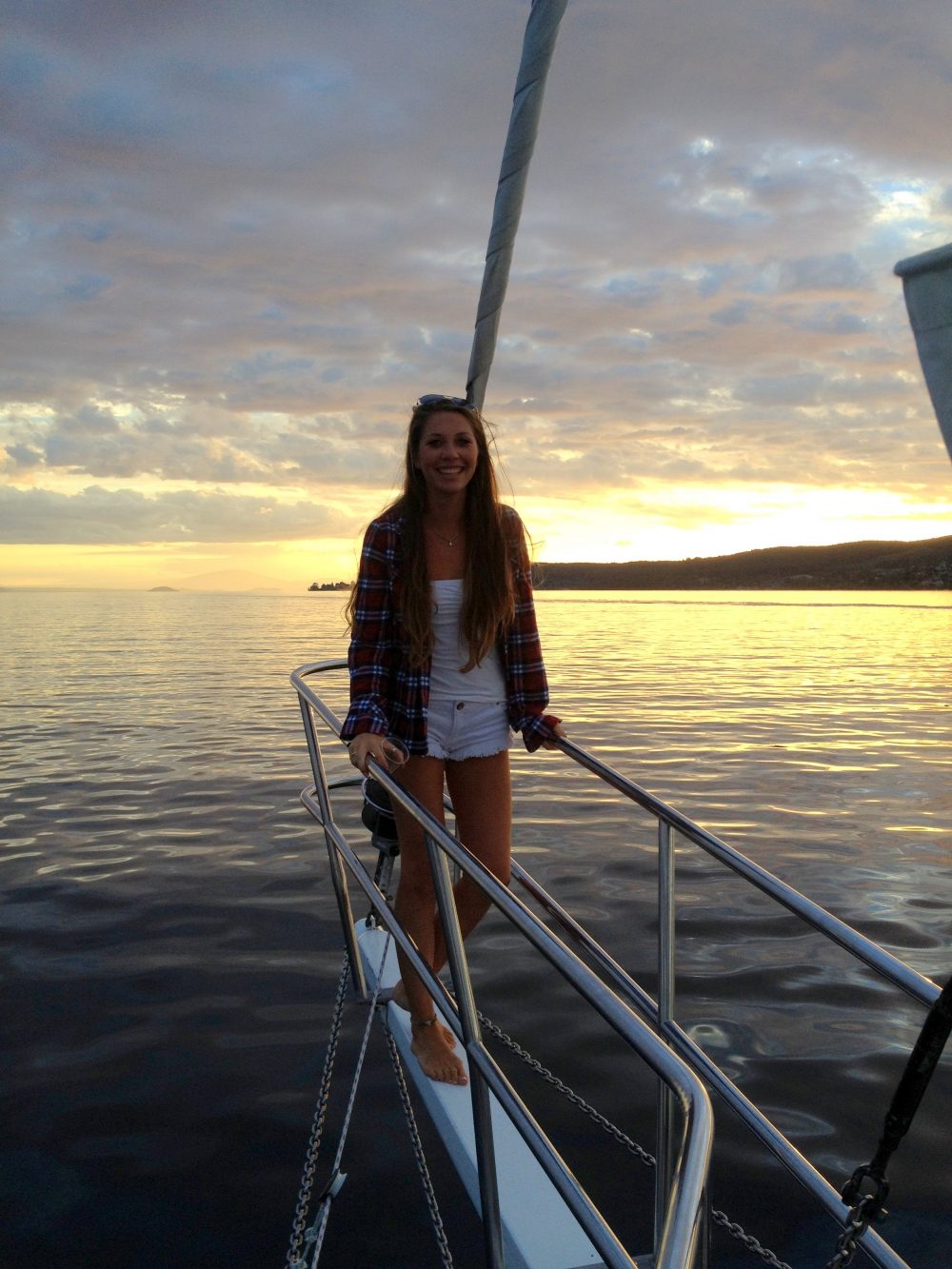 Mt Taranaki from the Pouakai Tarn
Contributed by Bailey from myqueenstowndiary.com
One of the most amazing sites you can see on the North Island is the perfectly symmetrical Mt Taranaki. The cone-shaped dormant volcano is absolutely breathtaking, and there is no better way to view it than from the Pouakai Tarn. On a calm day, this small tarn (lake) reflects Mt Taranaki perfectly and makes for an amazing photo opportunity. Without a doubt, it's one of the best things to do in all of New Zealand!
The only way to reach the Pouakai Tarn and see this view for yourself is to hike. You can either hike the longer 25-kilometre Pouakai Circuit, or do what most do, and hike the shorter Mangorei Track to the tarn and back. Mangorei Track is 5kms long (one way) and starts from the end of Mangorei Road in Egmont National Park.
You can either hike the Manorgei Track on a day hike, to the Pouakai Tarn and back in one day, or choose to spend a night at the nearby Pouakai Hut. At the hut there is a basic kitchen and bunk beds for hikers to stay overnight. Spending the night is a super unique experience and you can visit the tarn for sunset or sunrise more easily.
Wellington and surrounds
Wellington
Contributed by Claire from clairepins.com
Many travellers will pass through the capital city of New Zealand to take the ferry that departs from Wellington.
This compact city has a vibrant and unique culture, and features many historic, artistic and cultural attractions, along with easy access to nature activities. Wellington has been called the world's 'coolest little capital' and it is well worth stopping here for a few days.
Start your visit with a walk along the waterfront at Wellington harbour and stop by the Museum of New Zealand. This world renowned museum presents the history of the country with a focus on Māori cultural heritage and the natural environment. There are also innovative art works and interactive exhibitions.
Visit the colourful and quirky Cuba Street to find cafes, restaurants, independent shops and several galleries, along with the fun 'Bucket Fountain' sculpture in the Cuba Street pedestrian mall. Check out Hannah's Laneway, a recently restored industrial area, which is now home to boutique bakeries and eateries.
From the central business district, you can take a five minute ride on the classic red Wellington Cable Car to reach the Wellington Botanic Gardens in the hills overlooking the city. Another option for panoramic views is the Mount Victoria Lookout, which is a one hour hike, or a fifteen minute drive east of the city.
Tip: Check out the Harbourside Market on Sunday mornings to sample some local favourites at Wellington's most popular open-air market !
Red Rocks Walk
Contributed by Cecilie from wowiwalkers.com
One of the best things to do in New Zealand's North Island is to go on the incredible Red Rocks Coastal Walk. It's a short day hike that offers a fresh sea breeze, beautiful coastal views, and the chance to see fur seals.
The Red Rocks Walk is situated just out of Wellington in Owhiro Bay, and it's easy to get there by car or by bus. You start the hike from Te Kopahou Visitor Centre and just follow the coastal track.
About a small hour into the hike, you'll walk by an area full of big boulders of red colour. The trail is named after these big red rocks, which are more than 200 million years old and important to the Māori history. If you're lucky, you might even be able to spot a seal here!
But the best place to spot seals is 30 minutes further down the coast at a place named Sinclair Head. It's an area full of grey rocks in the sea, and here you'll often be able to spot seals playing around in the ocean or sleeping on the rocks. It's such a great way to experience the wildlife of New Zealand!
The walk ends at Sinclair Head, and you return back by the same coastal trail. The full hike takes between 2-3 hours, depending on how fast you walk. But you can easily spend longer time on this beautiful trail because it's so much fun to watch the seals.
Kapiti Island
Contributed by Jub from churnewzealand.com
If you've got any inner bird nerd in you (it's often developed while touring New Zealand), one of the best things to do on the North Island is visiting Kapiti Island.
Kapiti Island makes for a great day trip from Wellington as it's less than one hour's drive to the departure point.
You'll need to book your trip in advance with one of the two companies (Kapiti Island Eco and Kapiti Island Nature Tours) that have permits. These permits are used to limit the number of visitors allowed on Kapiti Island each day. That's because Kapiti Island is a pest-free island that allows some of the countries rarest birdlife to thrive.
Located around 5km offshore from the coastlinet, Kapiti Island's 20 sqkm is mostly covered in native bush with a few walking tracks you can explore. The most popular trip to take is to the Rangatira arrival point on the island. Once you arrive, the first thing is an introduction to the island by a guide. This will include a mention of some of the birds you'll likely see on your adventures.
When exploring the island, you've got the option to take a guided walk where you'll likely see more birdlife, but most people will explore on their own. You really do see a lot of birdlife, and it's not all sparrows and blackbirds.
If you've got the fitness, walk to the summit of the island (521 metres above sea level), from where you'll have some amazing views.
Kapiti Island is an amazing day out, but whatever you do, keep an eye on your belongings. You never know when the sneaky weka will attempt to steal your belongings. If you really want to see a kiwi, you can stay on Kapiti Island overnight which gives you a good opportunity to see the little spotted kiwis at night (they're nocturnal).
North Island, New Zealand Guide
So there's my guide to the best things to do and see on the North Island of New Zealand. As you can see, there's a huge amount to do and see just on the island! But naturally, the longer you have, the more you can see.
If I had to pick just a handful of highlights for two week trip to New Zealand, with just one week on the North Island, then I'd split my time between Auckland, Rotorua and Lake Taupo – but I'd get planning my return trip to see the rest!
I do hope this guide to the best places to visit on North Island in New Zealand is helpful and inspires you visit beautiful New Zealand. Please, as always, do let me know if you have any questions!
If you're planning a longer trip around Australia and/or South East Asia, then make sure to check out my other South East Asia and Australia blog posts here:
Disclaimer: This guide has no involvement from the local tourism board or a hotel.
Enjoyed my guide to the best places to visit on North Island in New Zealand? Pin it!