Cairns is the first destination I visited whilst living in Australia and is one place I have returned to time and time again. I simply can't get enough of this beautiful coastal city, which is widely considered Australia's adventure capital. There's certainly no shortage of day trips from Cairns. Located in Tropical North Queensland, Cairns is blessed with some magical ecosystems. These include the world's oldest rainforest – the Daintree, and of course, the Great Barrier Reef, the world's largest reef system.
Cairns makes the perfect starting or finishing point for an East Coast Australia road trip itinerary. The city has an international airport, a great range of accommodation options and a fantastic (free) public Esplanade Lagoon. But of course, it's the amazing day trips from this tropical city that it has become so well known for. So let's get started. First with the essential information to know before planning a trip to Northern Queensland, as well as all the best day trips from Cairns.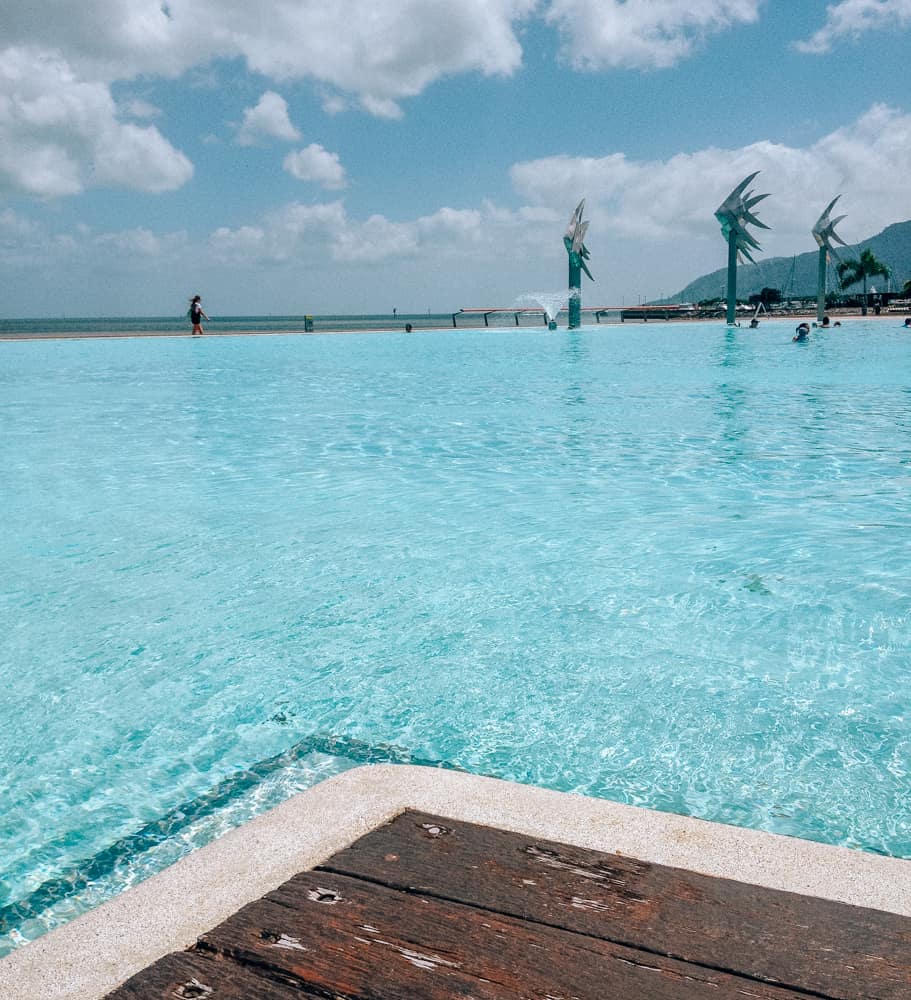 Cairns: Essential information
When is the best time to visit Cairns?
So, first things first: when to go to!
Cairns is located in the Tropical North of Queensland, meaning it experiences warm, tropical weather all year-long. However, in the height of the Australian summer (from January to March), the weather in Cairns becomes extremely hot, humid and wet. In fact, the rains can be monsoonal and the area is at risk of tropical cyclones.
Therefore, I'd recommend avoiding visiting in these months if you're planning to do quite a few day trips from Cairns. For example, visibility in the Great Barrier Reef can be severely reduced during these months, plus there is the presence of box jellyfish in the waters. Known as 'stinger season', these jellyfish deliver painful stings, which can sometimes be fatal.
Torrential daily rains may also make some areas inaccessible. For example, along the tracks within the Daintree Rainforest, or in some areas such as the Atherton Tablelands. Heavy rains can also make the flow of water at some of the beautiful waterfalls near Cairns too dangerous to swim in.
I've been to Cairns as late as December. During this time, we were blessed with gorgeous daily weather – but the stingers were starting to emerge in the waters.
The best time of year to go to Cairns is between around May to October. These months cover the Australian winter, so can provide some needed warmth and sun from the cool weather further south. I've also been to Cairns in August and September, and both of these visits were absolutely glorious with no rain and long sunny days.
How long to spend in Cairns
There's simply so much to do in and near Cairns, you could easily spend two weeks here. I think 5 days is the minimum amount of time to spend in Cairns. Especially as you need at least a day on the Great Barrier Reef and a day in the rainforest.
Although, if you're driving the East Coast of Australia, you could perhaps visit the Great Barrier Reef further south near the Whitsunday Islands. But the marine reef near Cairns is so spectacular, I would strongly advise to plan to visit it here.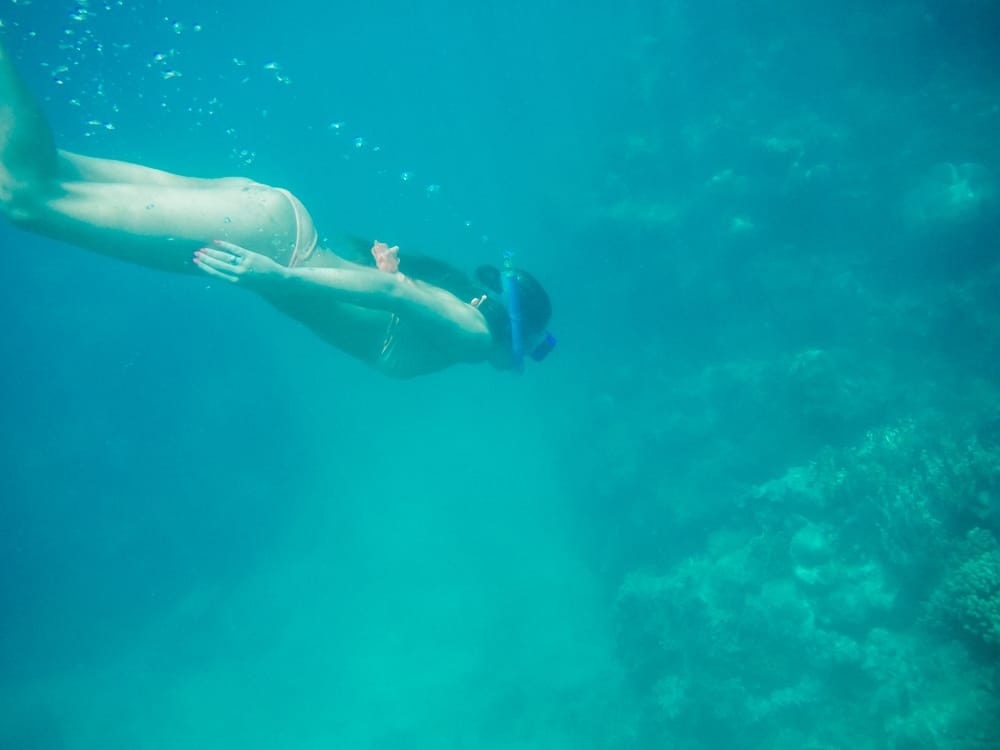 Budget for Cairns
The Australia Dollar (AUD) is the main form of currently, and card payments are widely accepted in Cairns. Contactless card payments are very popular as the limit is $100 in Australia.
Whilst there are plenty of free things to do in Cairns, a lot of the day trips and activities near Cairns can add up. However, as Tropical North Queensland is so unique, with so many bucket list activities, it would be a shame to travel here and not do these.
So I do recommend saving and putting some budget aside to make the most of your time in Cairns.
To give you an idea, here are the approximate prices of several activities in and near Cairns:
15,000 ft sky dive in Cairns: ($309/£162) per person (not including video or photos)
Entry to Daintree National Park and canopy walk: ($35/£18) per adult
Kuranda Rainforest Skyway ($141/£73 per adult)
Bungee jump and giant swing ($280/£140 per person)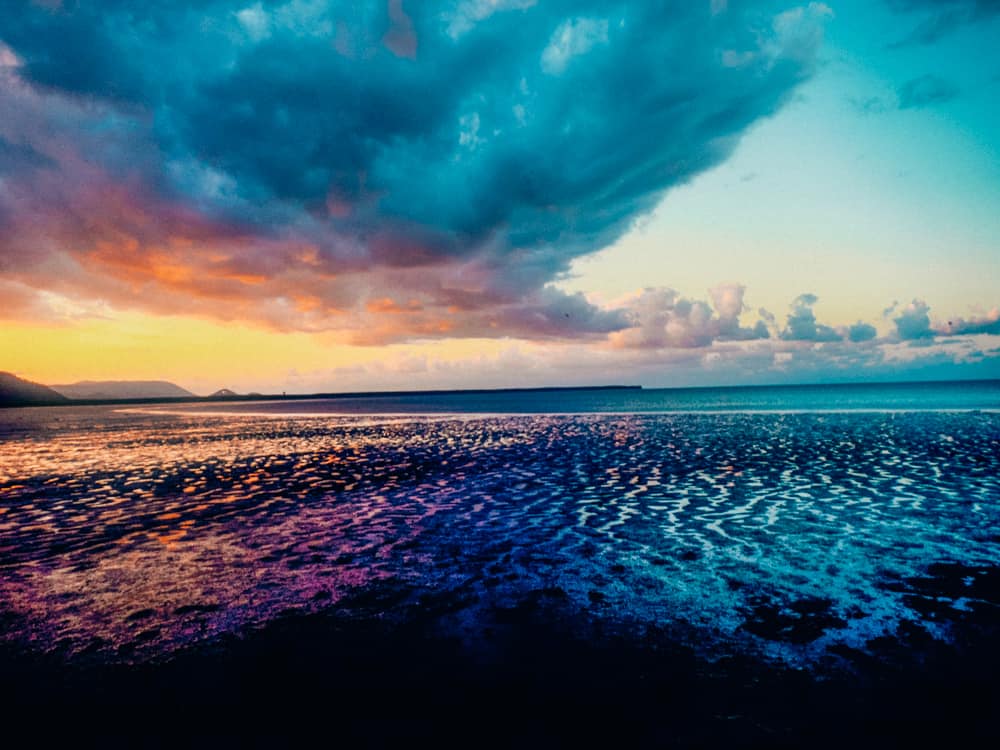 In terms of budgeting for other things such as accommodation and food, prices are approximately the below:
Accommodation in Cairns:
Camping site for a tent – $10-20 (£5-£10) per night
Camper van spot at campsite – $20-$50 ($10-£25) per night, depending on size and facilities of the campground/holiday resort
Dorm room: $30-40 (£15-£20)
Double room in a holiday resort or a budget resort: $100-140 (£50-£70)
Double room in a 4 or 5 star hotel: $180-$300 (£90-£150) depending on which time of year you visit Cairns
Food and eating in Cairns (based on two people):
On-the-go coffees: $8 (£4)
Fast food or take away meal: approx $20-30 (£10-£15)
Local cafe or pub meal: $40-50 (£20-£25)
3 Course meal in a good restaurant: $100-140 (£50-70)
Finally, fuel is quite affordable in Australia. Never leave Cairns for a day trip without a full tank. Make sure to read my complete East Coast Australia guide here, covering budget in more detail.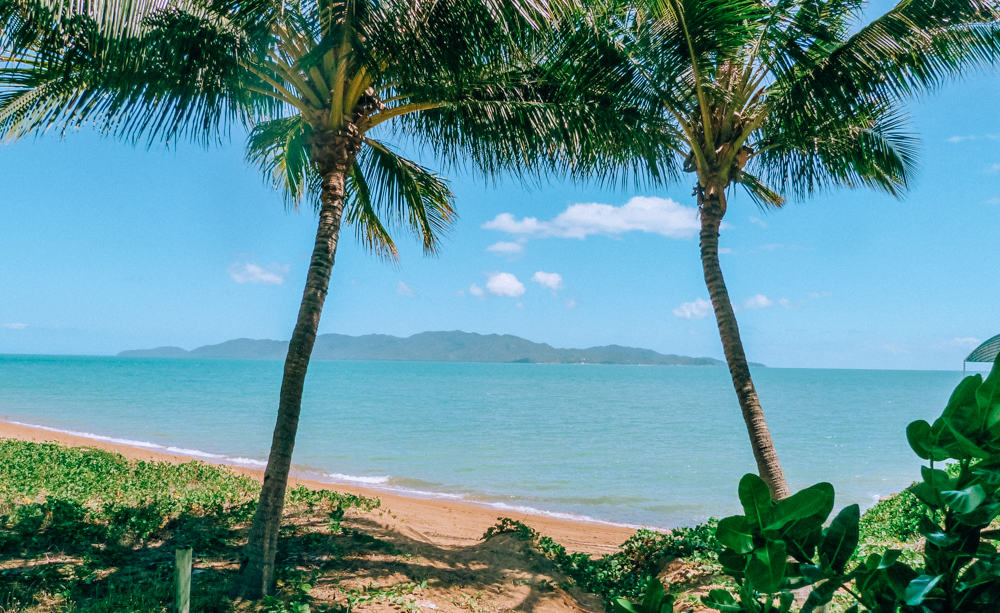 Where to stay
Cairns offers pretty good value accommodation, with even luxury hotels coming as less expensive than other destinations in Australia. For example, the Shangri-La at The Marina (£90pn) or the Pullman Reef Casino (from £97pn) both offer great value.
Even the Pacific Hotel Cairns (from £63pn) is an excellent hotel, at a really reasonable price.
Alternatively, there is the somewhat infamous Gilligans Backpacker Resort (dorm from £17pn, private room from £70). This massive complex has some of the best facilities I have experienced anywhere. Gilligans offers excellent value if you book a 4 or 6 bed dorm for your group. But it can be quite lively!
If you're planning on camping, then it's worth noting that there are no free camping options in the city centre. However, there are some paid campgrounds on the edge of town. Make sure to check this guide on camping near Cairns.
10 Activities Not to Miss Near Cairns
Great Barrier Reef
One of the seven natural wonders of the world, the Great Barrier Reef is often one of the main reasons people come to Queensland. And Australia for that matter!
It is the largest coral reef system on the planet, composed of over 900 islands. They stretch for over an astonishing 2,300 kilometres along the East Coast of Australia in the Coral Sea. The Great Barrier Reef can even be seen from space!
There's no doubt that visiting the Great Barrier Reef is a must-do on any trip to Australia. Whether or not you like diving, there are still plenty of ways to take in the Reef.
Fun fact: There are more than 1,500 fish species living on the reef, 17 species of sea snake and more than 30 species of whales, dolphins and porpoises.
The most common day trip to the Great Barrier Reef is joining a boat trip. These are usually for a full day, and you sail out to the reef where you can snorkel, dive or even learn to dive with qualified instructors. Alternatively, you can take a boat to the stunning Fitzroy Island and spend the day here, snorkelling from pristine white beaches.
Suggested tour: Premium Great Barrier Reef Snorkelling & Diving Trip
If you want to extend your day trip into a special overnight stay you can. These is an amazing opportunity to visit the Sunlover Reef pontoon for the night, with the unique experience of sleeping and floating on the reef.
For a total blow-the-budget experience, you can even organise a helicopter ride over the Great Barrier Reef or a scenic flight, both of which are true once in a lifetime experiences.
Atherton Tablelands
Located inland from Cairns at a much higher altitude, the Atherton Tablelands are a world away from the coast.
It's far cooler and breezier up in the Tablelands, meaning farming and agriculture are the two main industries. For visitors, there are wonderful local tours taking in some of the excellent wineries and foodie stops to be found in the Atherton Tablelands.
There are also some awesome waterfalls, including the famous Milla Milla Falls which was the famous location for the Mysterious Girl music video, and the Herbal Essences TV ad. You can arrange exciting tours taking in the waterfalls, local wildlife and nearby rainforest too.
Suggested tour: Atherton Tablelands Food and Wine Adventure
Road trip to Cape Tribulation & the Daintree Rainforest
This epic road trip adventure is one of the best things I've ever done in Australia. Although this drive is a great day trip, you can also stay overnight for an awesome experience of sleeping in the rainforest.
The route leaves Cairns on the Captain Cook Highway and winds its way along the stunning coastline towards the Daintree Rainforest. There are stunning beaches on route, and I highly recommend stopping to take in their beauty.
The first place you arrive in is Port Douglas. This is a beautiful upscale town with some excellent boutique shopping and charming cafes. It's worth taking a few hours here to soak up the resort-like atmosphere, and relax on the four mile beach.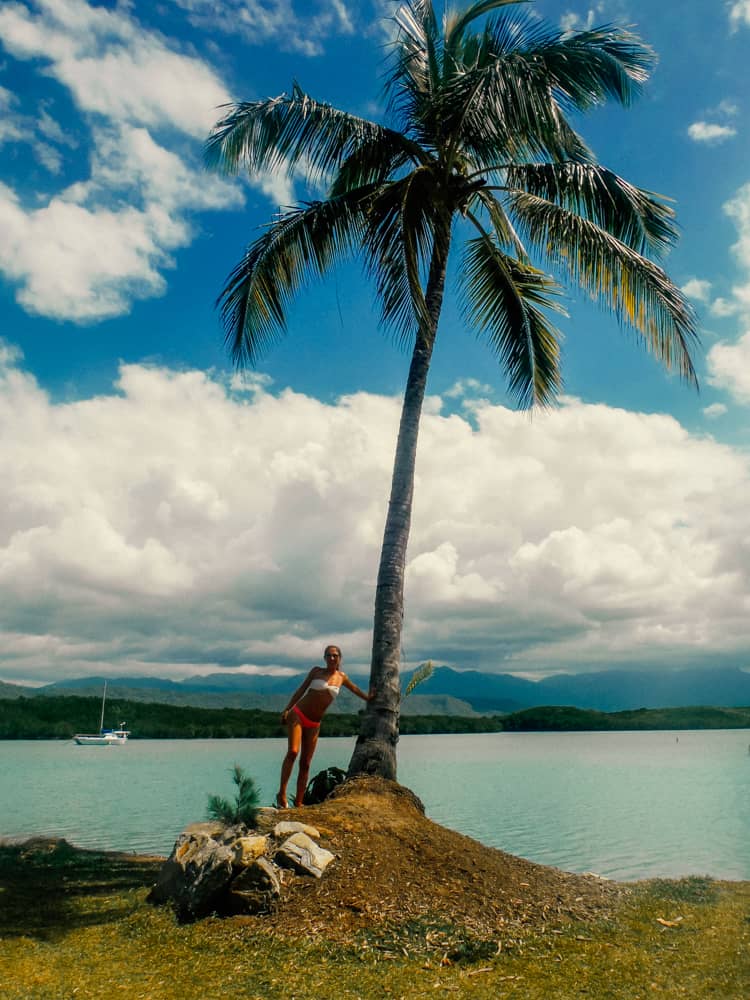 From here, you drive north with optional stops at the stunning Mossman Gorge and the Daintree River if you want to go crocodile spotting on a cruise. Soon, you find yourself in the heart of the lush Daintree Rainforest and surrounded by the towering tree canopies.
There are plenty of things to do in the Daintree Rainforest and Cape Tribulation, from canopy walks, wildlife spotting, hiking, waterfall swimming and ziplining. Make sure to check my detailed guide to the Cairns to Cape Tribulation road trip here.
You can either hire a car and self-drive this road trip, or join a local tour. I've popped some great suggestions below:
Cascade Falls
The beautiful Cascade Falls are just 20 minutes or so from the city centre, and are some of the best waterfalls nears Cairns. This fresh water swimming hole is secluded and nestled deep in the rainforest.
Several small streams and waterfalls gush into a larger central pool, offering wonderfully refreshing swims and natural rock slides. You can easily spend a full day here, with plenty of shade provided by the trees. There are BBQ facilities, picnic tables and toilets too.
You can't get here on public transport so you'd need to join a tour, or rent a car.
Suggested tour: Rainforest, waterfalls and volcanoes
Visit Green Island National Park
Green Island National Park, just 45 minutes from Cairns, is a world famous tropical cay in the Great Barrier Reef. This tiny island is blessed with white sandy beaches, beautiful aquamarine waters and over 126 native plant species and has been one of Cairn's biggest tourist attractions for over 50 years. The entire perimeter of the island can be walked in just 20 minutes and you can join eco walks through the central island rainforest. Other activities on offer include glass bottom boat tours, snorkelling and scuba diving.
Green Island is a beautiful coral cay that's found hidden away in the Great Barrier Reef.
It's protected as a national park, and offers visitors from Cairns a great escape into the marine world, with fantastic snorkelling to be found all around the island.
If you would rather stay dry, then there are even glass bottom boat tours that explore the surrounding coral, and although Green Island is a perfect day trip from the city, there's also a high-end resort here for those looking to spend the night in luxury.
Suggested tour: Green Island & Reef Full-Day Sailing Cruise
Babinda Boulders
The swimming hole is becoming more well known, but it's still absolutely worth a visit. Emerging from the lush rainforest, you're greeted with a sparking, crystal clear pool where you can swim, bathe and relax.
It's well worth a day trip, so pack up a picnic and make a full adventure. You can also take in the beautiful nearby Devil's Pool, which depending on the season, can make for an exhilarating jump!
Suggested tour: Babinda Boulders & Rainforest
Kuranda Rainforest Skyrail
Kuranda is a small town that's found in the mountains just outside of the city, and it makes for a great place to visit to escape the tropical humidity of Cairns.
The journey to Kuranda is a trip in itself. Although you can drive from Cairns to the town, many people choose to take the spectacular scenic railway to Kuranda.
Top tip: Why not enjoy afternoon tea with a difference at the beautiful tea rooms located at the Kuranda railway station?
Once here, you can continue your adventure through the rainforest on the awesome Skyrail system, which is like cable cars. Except these have glass bottom floors so you can really take in the beauty of the canopies below.
You can jump off the Skyrail system at several points to enjoy the canopy walkways so you can really immerse yourself in the sights, sounds and smells of the rainforest. At the Red Peak Station, you can also follow a guided tour with ranger.
Kuranda is also home to some of the area's best markets, and there are plenty of opportunities to try local foods and to enjoy the vibrant local life.
Suggested tour: Skyrail Rainforest Cableway & Kuranda Rail from Cairns
Mission Beach
Although I've included Mission Beach as the first point on my East Coast Road Trip itinerary, it's not too far way for a day trip from Cairns. The drive from Cairns to Mission Beach is 139km, taking around 1h50mins.
This beautiful 14km stretch of golden sand may even be yours for the day, as Mission Beach receives far fewer visitors than others on the East Coast. The glorious beaches around here are backed by a tropical wall of palm trees, and there are some excellent walking tracks in the rainforest behind.
If you visit this beach between December and March however, you will not be able to swim in the sea as it is stinger season.
You can get to Mission Beach easily by rental car, or by bus.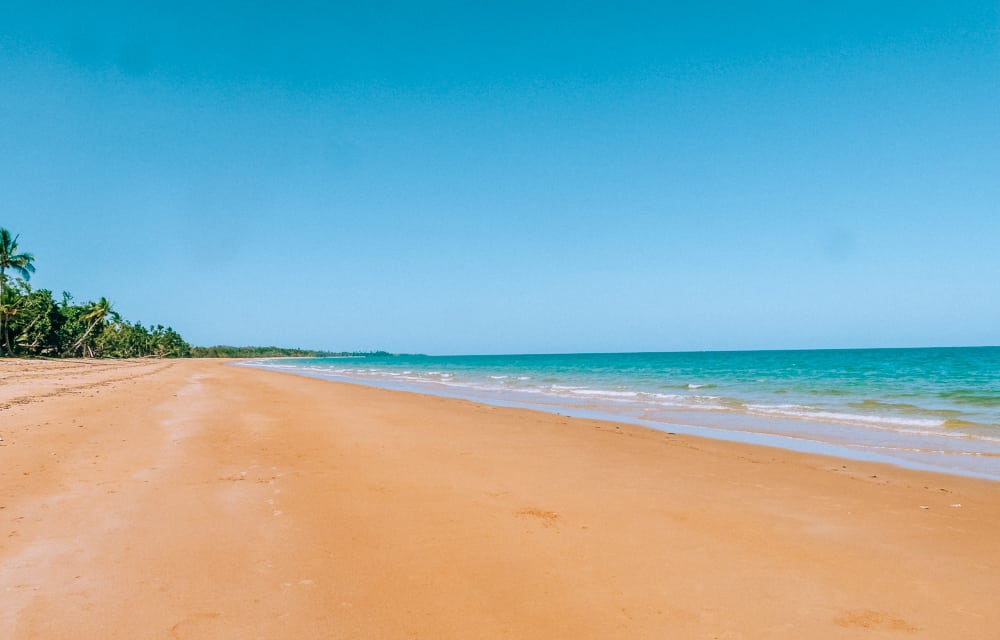 AJ Hackett
Cairns is known as the adventure capital of Australia, and this adrenaline-pumping location is one of the reasons behind this. Located just 21km from Cairns, visitors can spend a full day here taking on each of their thrill-seeking challenges. From bungee jumping, to giant swings, to their famous BMX bike jump.
I did both the bungee jump and the giant swing. I loved the giant swing, especially as you can be strapped up with two friends if you wish. But I personally hated the bungee jump. It might have been because I did it in the afternoon after a skydive, which was awesome! The bungee jump was a different kind of thrill. It's over in a split second, and there's no build up like there is with a skydive and the ascent in the small plane.
The AJ Hackett bungee jump is infamous for the pool at the bottom of the jump. You're given the option as to whether your ropes are slacked slightly so you dip your head in the pond.
I also ended up putting off my jump for so long in the day, that I ended up being one of the last to go. I ended up jumping in near pitch-black darkness and I would not recommend this either!
Suggested tour: Rainforest Bungy Jump with Transfers
White Water Rafting on Tully River
This is one of the best places in Australia to go white water rafting, and it's not hard to see why. The rapids are Grade 3-4 and offer an exhilarating and drenching experience weaving through the rainforest. I thought this was one of the best activities I did in Australia, but looking back, I'm glad I didn't research the rapids too much beforehand!
The experience is definitely for thrill-seekers, and not the faint-hearted!
White water rafting on Tully River makes for an ideal day trip from Cairns. However, it is fairly close to Mission Beach so if you're self-driving, you could include the both in one excursion from Cairns.
Recommended tour: White water rafting trip to Tully's River from Cairns
Best day trips from Cairns
So that's the end of my guide to the best day trips from Cairns. This beautiful city, jam-packed with adventures and activities is unmissable on any trip to Australia.
I hope this is useful for you if you're planning a trip to Cairns and Tropical North Queensland. If you're planning to travel the East Coast of Australia, then do make sure to check out my detailed road trip itinerary guide here.
If you enjoyed this guide to the best day trips from Cairns, then please do consider sharing through one of the below links. Also, if there's anything else I can share or answer for you, please do let me know in the comments below.
For further Australia guides, please do check out my guide to the Whitsunday Islands too.
Wanna see more? Check my Instagram here, my Facebook here or my Twitter here!
Disclaimer: This guide to the best day trips from Cairns is an independent guide. There was no involvement from any local companies or the tourist board.
Enjoyed my guide to the best day trips from Cairns? Pin it!