Kitesurfing is one of the most popular activities to do on the tropical island of Boracay in the Philippines. The island draws many travellers from across the world who are keen to learn how to kitesurf, as well as advance riders looking to progress their skills.
Boracay's near-perfect conditions, together with plenty of kitesurfing schools for those who are learning for the first-time makes Boracay an ideal place to pick up the sport. Kitesurfing, (or kiteboarding – they are often interchanged) can be difficult to initially master, but once you've got the basics, it offers exhilarating freedom as you skim the waves and learn to ride with the wind.
So on my second visit to Boracay, I saved up my pennies and decided to embark on a fast-track course. And yes – I was up and riding by day two and it was just as exhilarating as I had hoped! But that's not to say kitesurfing wasn't hard. So for anyone else thinking about learning to kitesurf in Boracay, I've put together the ultimate guide below. I've included all of the essential information, such as how to get to Boracay and when to go, but also a guide to learning to kitesurf on the island.
Learning to Kitesurf in Boracay: Essential things to know
Why learn to kitesurf in Boracay?
Crystal clear and warm turquoise waters, year-round warmth and reliable winds, has helped Boracay emerge as one of the best destinations in the world for the sport. There are many kitesurfing schools to pick from, with several offering accommodation packages too. Boracay is also a very popular destination in itself, so ideal for those who want alternative activities to do too!
When is the best time to go to Boracay to kitesurf?
There is a very distinct season for kitesurfing in Boracay and also for visiting this region of the Philippines in general.
The best time to visit Boracay for optimal kitesurfing conditions is from November until April when the wind is consistent and the weather considerably more predictable.
However, visiting over holiday times such as Christmas, New Year and Easter swells the crowds – and the prices.
How do I get to Boracay?
Most international flights come into Manila, the capital of the Philippines. Some airlines such as Emirates also fly into Cebu. From both cities, you can catch flights down to either Kalibo or Caticlan.
Kalibo has long been served by budget airlines such as Cebu Pacific and Air Asia but more flights are being scheduled to Caticlan. If possible, fly to Caticlan as it's just 15 minutes by boat to Boracay. Kalibo has a lot more flight options but the transfer to Boracay can take as long as three hours in bad traffic.
You can arrange a private airport transport from Caticlan to Boracay here. And if you land at Kalibo, make sure to organise your transfer in advance to avoid any hassle at the airport.
Where should I stay in Boracay?
There are two main options in Boracay if you're learning to kitesurf.
The main kitesurfing beach is Bulabog Beach, which is not the main Boracay White Beach. However, the two beaches are less than a 10 minute walk away, you simply walk through the famous D Mall and through a signed pathway.
Along Bulabog Beach, there are several accommodation options, many of which offer a package with your kitesurfing lessons. However, it's worth noting that few tourists would stay on Bulabog Beach if they are not kitesurfing.
The alternative to Bulabog is to stay elsewhere on the island, of which a number of beaches are within easy walking distance.
Boracay's famous White Beach has hundreds of hotel options, for every kind of budget. We stayed at Diniwid Beach at the incredible Spider House (see my review here – however I believe it has closed down now).
Other options include one of Boracay's gorgeous boutique hotels, of which I've popped some suggestions below:
How do I pick a kitesurfing school in Boracay?
There are more than 10 kitesurfing schools dotted along Bulabog Beach.
You can wait to arrange your kitesurfing lessons once you're in Boracay. Or you can arrange in advance, which gives you the opportunity to ask any questions you have over email beforehand.
This half-day Discovery Kiteboarding Course is just £51 and helps you understand the basics, and is a great way to find out if you want to do the full course.
Or if you've already decided, then this is an excellent 3 day course similar to the one I did. It costs around £325 and by day 3, you're very likely to be up and kitesurfing the waves!
We arranged our lessons at a kitesurfing school called Habagat Kitesurfing Centre, which I would highly recommend. Habagat also have their own accommodation at Aissatou Resort, just behind the beach, as well as absolutely delicious food in their cafe!
All their instructors are IKO certified and their equipment is of the highest quality. Oh, and there's the most gorgeous husky!
How much does a kitesurfing course cost in Boracay?
There are a number of different level courses on offer at each kitesurfing school in Boracay.
The instructors tend to make an assessment based upon your experience in other water sports.
At Habagat Kitesurfing Centre, each lesson costs 7000 PHP per person, which is around £100. These lessons are 3 hours if you're solo, or 4 hours if you're 2 persons or more. Most people need three lessons to get up and riding, but they will progress you as fast as you're able to and feel comfortable with. This does mean that a course (3 lessons over 3 days, for example) costs around 21000 PHP, which is around £300.
The kitesurfing course prices are inclusive of all the equipment.
What do the kitesurfing lessons involve?
Lesson 1 (Day 1)
As eager as you might be to get out on the water, you have to learn to fly a kite first. I didn't pick this up half as quickly as I was hoping, which I found very frustrating.
The first step in your kitesurfing course is actually to watch a theory video to learn about the crucial wind window. You cannot learn to kitesurf if you don't understand the wind window.
After this, and back out on the beach, you practice flying a small kite to perfect the technique before moving onto a 7ft or 9ft kite.
It is essential to be able to do this safely as these kites can be lethal if handled incorrectly.
We learnt how to launch a kite from the beach as well as simple kite maintenance.
Having hopefully mastered the techniques after a couple of hours, you then progress into the water to work on the power strokes using the kite.
Controlling the kite with the strong wind requires excellent technique and timing, which is probably the trickiest aspect to learn.
Lesson 2 (Day 2)
Having learnt how to safely control the kite, the next step is to learn to body drag. This involves steering the kite in a controlled manner and positioning your body to cut through the water in the desired direction.
You can really pick up speed here, so it can be quite tiring and you do get quite a bit of water in your mouth!
During this stage, you will also learn the crucial skill of how to re-launch the kite (after it crashes into the water) and self rescue.
Lesson 3 (Day 3)
By lesson number 3, hopefully you will be ready to start standing and riding the waves with the kite! Depending on how comfortable you are, your instructor might even let you ride freely and spend extra time out in the water.
Kitesurfing in Boracay – is there anything else to consider?
The only downside to kitesurfing in Boracay is that there are sea urchins in the water which you must avoid – they will really sting!
All kitesurfing schools provide water shoes and it's essential you wear them.
The sun is strong in the Philippines and since you're out on the water for such long periods, it's essential to slather your face in sunscreen and wear a wet suit top. Your instructor will explain all the other safety procedures while you're out there and what to do in an emergency.
Also, the water can be quite busy with other, more experienced kitesurfers around you. Do not worry – your instructor will keep you out of harm's way and the other kitesurfers are skilled enough to avoid you in good time.
Boracay for advanced level kitesurfers
The kitesurfing schools in Boracay all have top quality equipment to rent, or safe storage areas if you're bringing your own.
Bulabog Beach receives a strong onshore wind and kitesurfers should know that at high tide, the beach is quite small so it can be a little tricky launching the kite.
On the other hand – although the beach is more than a kilometre in length, when it is low tide, it is almost impossible to get out on the water.
However, the water is usually choppy all day and there's a reef about 100 away from the beach which creates some extra waves.
How can I check weather conditions for kitesurfing in Boracay?
Windguru has detailed charts which you'll find useful!
Kitesurfing in Boracay
I really hope you've found my guide helpful if you're planning on learning to kitesurf in Boracay in the future! If you're not, I hope you feel inspired to give this awesome sport a go!
As you may have gathered, not only is this dreamy island one of the most beautiful islands in the world, but Boracay is brilliantly geared up for kitesurfing and is often considered one of the best places to learn globally.
If you've already been to Boracay kitesurfing, let me know in the comments if you have any more top tips or any feedback! I'd love to hear from you ?
You might also find some of my other posts useful, including my 3 week itinerary for the Philippines and my top tips for travelling in the Philippines.
If you've enjoyed this kitesurfing Boracay post, feel free to share using the below links!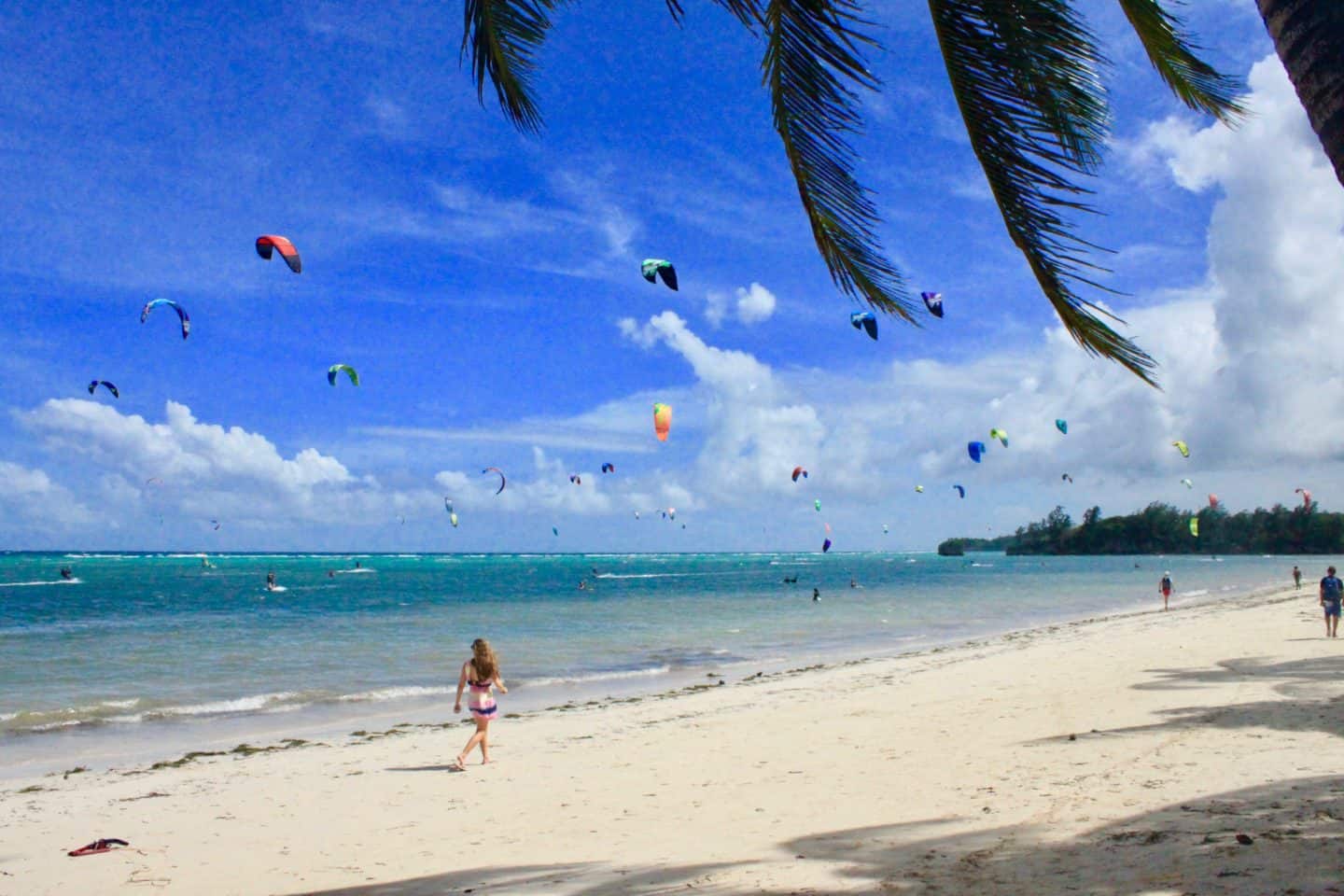 Wanna see more? Check my Instagram here, my Facebook here or my Twitter here!
Disclaimer: This visit to Boracay was entirely paid for by myself and there was no involvement from the tourism board or a local kitesurfing company. This is an independent guide.
Enjoyed my guide to kitesurfing in Boracay in the Philippines? Pin it!