Boracay is an island in the Philippines that is being left out from travellers' itineraries in this beautiful island nation. Tourists hear it is overcrowded, dirty, polluted and too commercial. But I disagree, and I think it is a beautiful island that is absolutely worth being included – especially in 2023 following its closure a couple of years ago.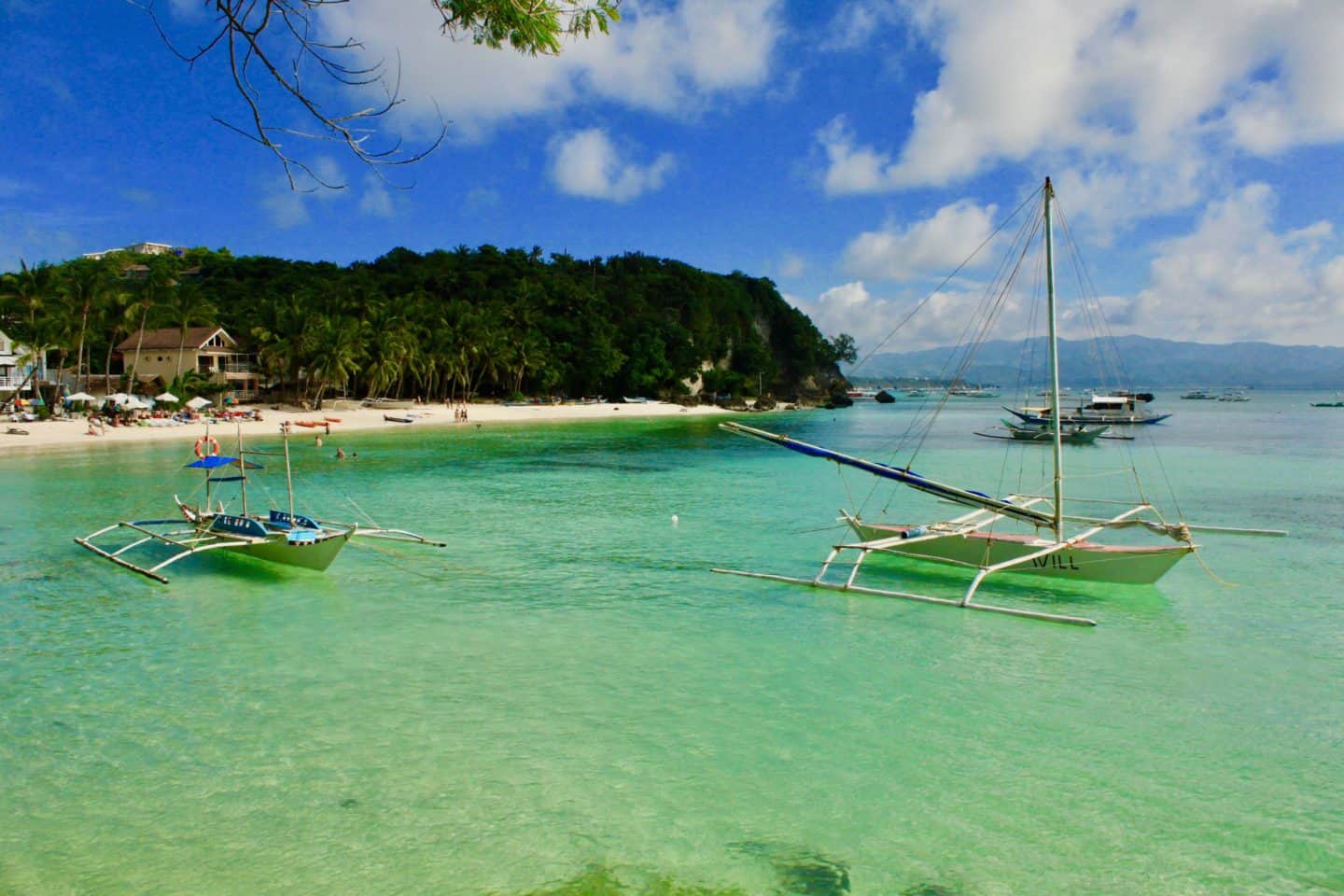 Reasons to visit Boracay on your trip to the Philippines
Beautiful Boracay offers stunning beaches, some of the best hotels in the Philippines, exciting nightlife, excellent watersports and a huge variety of dining options.
It is the complete resort island. If you're looking for a trip, similar to visiting almost anywhere in Europe at the height of summer, Boracay is your place. It's great for everyone. There are plenty of day trips and activities for families to do in Boracay, as well as for groups of friends. Even for couples, there's many romantic things to do in Boracay.
If you head to Boracay to find blissful silence and a back-to-basics visit, of course the island is going to disappoint. If you want to holiday where Filipinos holiday, as well as nationalities from across the world, Boracay is definitely worth still keeping in your Philippines' itinerary.
That being said, Boracay has had no shortage of bad press in the last few years.
Temporary closure of Boracay in 2018
As mentioned, in 2018 the president of the Philippines, Rodrigo Duterte decided to shut the island down for 6 months from April 2018 until October 2018.
It was a bold move for the most visited island in the Philippines. As a key source of tourism income for the Philippines, this really demonstrates the government's intentions to clean up the island and improve its sustainability for years to come.
The main reason for the closure of the island was to allow for environmental rehabilitation. Boracay has unfortunately long suffered with terrible sewage and sanitary conditions, as well infrastructure challenges. Many buildings have been poorly constructed across the island.
Like other places in South East Asia, Boracay's tourism development was rapid and unprecedented. Only a few years earlier, Condé Nast Traveller voted Boracay the Best Island in the World! The reality of winning accolades like that, together with Instagram portraying a picture-perfect tropical island has led tourists to flock to Boracay in their droves.
This has, understandably, meant that local companies have built hotels, restaurants and roads in a huge rush to meet the rapid demand. Unfortunately, many of these violate building standards in the Philippines and Duterte ordered these to be pulled down. Since the island re-opened, hotels and restaurants have only been granted licenses to operate if they met building regulations, as well as sustainability and environmental benchmarks.
The future for Boracay in 2020 and beyond
Apparently, more than 400 hotels and restaurants were ordered to close for violating environmental laws. This demonstrates the government's commitment to ensuring that future Boracay is safe, secure and sustainable for years to come.
Furthermore, the local government limited the daily number of tourists able to visit the island to 19,000. This is having a hugely positive impact, especially as he has also prohibited smoking and drinking alcohol in public places. This is limited to designated areas, particularly beach bars.
Other informal work such as masseuses, beach touts, vendors, fire eaters and sand castle builders have also been banned from the beach front. They also introduced electric tricycles which is transforming the noise and air pollution in the streets behind the beach. They've also banned single use plastics across the entire island.
Why you should visit Boracay in 2023
Don't disregard Boracay because of its past. A lot of the Philippines' islands are struggling with poor infrastructure and poor environmental practices, even El Nido in Palawan, Panglao in Bohol and Oslob in Cebu. The problems Boracay has suffered with are not unique to the island, and the unprecedented growth in tourism across the Philippines is putting a strain on many islands.
Boracay's beaches are the cleanest they have been in more than a decade, and as you can see from above, informal tourist-focused activities have been eliminated. White Beach is as peaceful, safe and clean as it can be, making for a gorgeous beach experience.
I love Boracay – from the kitesurfing, to the beach atmosphere. I love the contrast of Boracay, which has plenty of fantastic restaurants, bars and hotels, with the other quieter islands, which although beautiful, are far more limited in their offering.
So with this in mind, I have put together my top 10 reasons to visit Boracay on your itinerary through the Philippines!
The Beaches in Boracay
Boracay's picture-perfect beaches are a definite reason to visit.
Of course, there is the world-famous White Beach, which TripAdvisor has ranked within its Top 25 Beaches in the World. The gorgeous beach, although the most lively with beach bars and hotels, actually stretches for 4km along the island, meaning you can always find your own quiet and calm spot. The sand is so white, it is actually dazzling!
Other beautiful beaches in Boracay include Puka Beach, also known as Shell Beach, which is rustic and pretty, and then there's Bulabog Beach, where tourists can kitesurf.
Diniwid Beach is just a few minutes walk away from White Beach along a little undercliff walkway, and has such a chilled out beach vibe.
There are several other beaches to visit, some of which are private and only accessible via the hotels, but they're beautiful and well worth venturing to. Namely, these are Banyugan Beach (Access through the Shangri-La Resort) or Punta Bunga Beach (access through the Shangri-La again, or the Mövenpick).
Kitesurfing in Boracay
Boracay is a firm favourite for kitesurfers (and windsurfers) from the world over – and it's no surprise. The conditions are near perfect; the sea is warm and clear, and the wind is very reliable. The beach for this is Bulabog, located just on the other side of the island (and just a 5 min walk from White Beach). The beach is home to a host of kitesurfing schools and chilled out hotels and lodges. I've written a full guide on learning to kitesurf in Boracay here.
Nightlife scene
Whether you're seeking a chilled-out beach bar or something more lively, Boracay has it all. Since the 2018 closure, and as mentioned above, drinking alcohol on the beach and in the streets is no longer permitted.
However, the vibe is still there for cocktails on a bean bag, with your toes in the sand. The infamous party pub crawl somehow still exists, but don't let that put you off.
Even in the more 'tranquil' and more remote islands, nightlife is becoming more like a Thai Full Moon party. So don't let the livelier nightlife put you off Boracay – enjoy a drink and a gorgeous sunset.
The sunsets
Boracay has some amazing sunsets. Especially, on White Beach. Somehow, night after night, I saw incredible sunsets whilst having an evening cocktail.
It's such a magical view seeing all the Filipino sailing boats out together on the water as the sun goes down. A sight to behold!
Some beachfront bars get really busy at sunset time, so it's wise to get there early or reserve a spot in advance.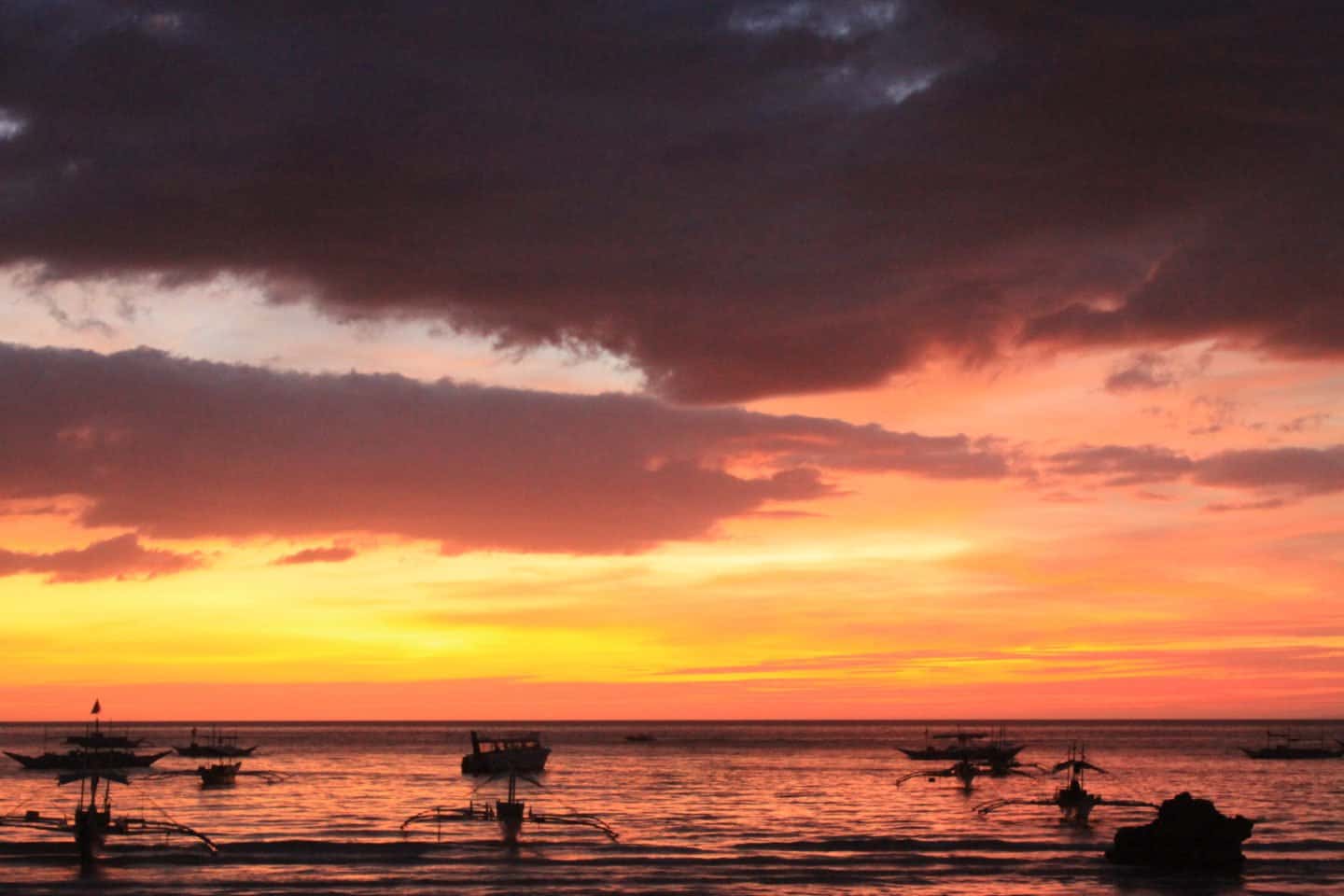 The foodie scene in Boracay
Boracay has the biggest variety in foodie places after Manila and Cebu. Whilst it's harder to find local food stands and food markets, Boracay is definitely the place to try out lots of great cafes, coffee shops and restaurants.
Along the White Beach at night, many hotels put out their tables onto the sand. Together with the twinkly lights and the ocean lapping at your feet, it can really make for a special meal. We highly recommend the Ambassador Hotel on White Beach for its wonderful staff, delicious food and awesome atmosphere!
The day trips and excursions from Boracay
There are so many great daytrips and excursions to pick from on Boracay. There's some really diving around at Maniguin, Carabao and Panay or you can go cliff diving at Ariel's Point.
I've listed some of the best day tours to do from Boracay here:
Meeting Filipinos
Boracay may be well known with tourists from Europe and the US, but it is also very popular with Filipino holidaymakers too. It's a wonderful opportunity to get to know Filipinos relaxing on their holidays too – and they're always up for fun!
Staying in great value hotels in Boracay
One of the best things about Boracay, in my opinion, is the sheer number of excellent hotels you can stay in. Luxury hotels in Boracay are actually affordable, as opposed to El Nido where the few luxury options are completely out of many travellers' price range.
Boracay's Shangri-La Hotel is probably its most famous luxury resort. However, there are a number of Henann hotels in Boracay. Henann is a large Asian hotel chain across the region who have the Henann Prime Beach Resort, as well as the Henann Crystal Sands Resort.
Boracay is home to plenty of stunning smaller boutique hotels, here are some great suggestions:
On the other end of the spectrum, there's a huge number of budget hostels too. Many of which offer good value and know what travellers' seek in a hostel experience.
Some budget hotel suggestions in Boracay:
In between the luxury and the budget, you have the unusual hotels like Spider House (read my review here), but also the option to rent out apartments or villas – whatever suits you best, Boracay has.
The Locals in Boracay
We found the locals in Boracay to be so lovely (as with everywhere in the Philippines).
Unlike some of the famed party islands of Thailand, there is far less crime in Boracay, and there is less of a tourist money-grabbing feel. If a beach vendor comes along to you and you're not interested in their offering, a smile and a pleasant "no" is enough – and they're not likely to bother you again.
As we were staying just along from White Beach at Diniwid Beach, we found it really easy to meet locals, simply by walking away from the beach. All of a sudden, we would be walking along muddy roads and greeting local families.
Atmosphere
Granted, if you're looking for absolute peace and serenity, then White Beach won't be for you. However, its atmosphere is fun and definitely not as tacky as you might expect – especially since Boracay re-opened at the end of 2018.
Boracay is still a long way to travel for many people around the world, so it is definitely not full of Brits or Americans jetting off for a boozy holiday or Spring Break. The atmosphere on White Beach is fun and friendly!
So is Boracay worth visiting on a trip to the Philippines?
My simple answer is yes. Boracay is definitely an island to still include on a trip to the Philippines. From the stunning beaches and the excellent watersports to the chilled out nightlife, I hope you've found my guide to Boracay useful and that it gave some good reasons to visit Boracay.
I hope that maybe, just maybe, I've inspired you to visit this fun island on your travels!
If you've already been to Boracay, let me know in the comments! I'd love to hear from you.
You might also find some of my other posts useful, including my 3 week itinerary for the Philippines and my top tips for travelling in the Philippines.
If you've enjoyed this post, feel free to share using the below links!
Wanna see more? Check my Instagram here, my Facebook here or my Twitter here!
Disclaimer: This visit to Boracay was entirely paid for by myself and there was no involvement from the tourism board or a hotel. This is an independent guide.
Enjoyed my post on whether to visit Boracay in the Philippines? Pin it!